Cross Checks:

Jordan Staal
August, 22, 2014
Aug 22
12:29
PM ET
The
Carolina Hurricanes
made significant changes in their front office and behind the bench --
Ron Francis
took over as general manager while former
Detroit Red Wings
assistant coach Bill Peters replaced Kirk Mueller as head coach -- following the team's 13th-place finish last season. But the personnel has not fluctuated much.
And considering that the roster remains largely intact, Carolina's top players really have to step it up, according to former Hurricane Jeff O'Neill.
"When you have a lot of long-term [contracts], guys locked in to big money, there is a philosophy around the league that you are only as good as your bad contracts," O'Neill told ESPN.com in a recent telephone conversation.
And that leaves at least a few players under some pretty intense scrutiny for the 2014-15 season. Chief among them, according to O'Neill, is goaltender
Cam Ward
.
[+] Enlarge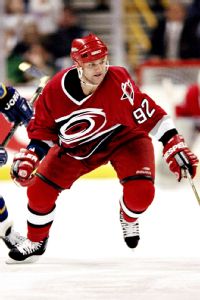 Getty ImagesFormer Hurricane Jeff O'Nell laments a lack of identity and one bad contract in particular in Carolina.
Ward, who is signed through 2015 on a six-year, $37.8 million deal, was hampered by injury for much of last season. But his performance even before that had waned significantly.
"I look at their team and they have some really good pieces there, but Cam Ward, he's gotta be to the Carolina Hurricanes what
Jonathan Quick
is to the LA Kings," O'Neill said. "I love the guy, but he hasn't been good enough or consistent enough to give the team a chance to win every night."
O'Neill, who played seven seasons for the Canes, expects
Anton Khudobin
to push even a healthy Ward for the starting position, leaving Ward in a pressure-laden spot heading into camp.
"This is probably the last chance for him in this organization because he's being pushed to the brink by Khudobin," said O'Neill, who now works as a television analyst.
O'Neill also said that
Eric Staal
and
Jordan Staal
both need to be better to form the power tandem the Hurricanes envisioned when they united the brothers in Carolina. And young defenseman
Justin Faulk
has to be at his best for the 'Canes to truly compete for a playoff spot.
And don't even get O'Neill started on
Alexander Semin
, whose contract he finds "disgusting" and suspects will go down as "the biggest mistake" former GM Jim Rutherford has ever made.
Semin is inked through 2018 on a five-year deal that pays him $7 million annually.
"I like him for five-minute segments, but when the going gets tough, he just doesn't compete," said O'Neill, who is known for both his colorful personality and unapologetic opinions. "If he had any work ethic or intangibles, he'd be better than [Alexander] Ovechkin. He's that talented."
But O'Neill does see some positive things on the horizon for his former club, namely Francis' unwavering desire to win and the hire he made to help lead the way.
Though many suspected that Francis would hire Rangers assistant coach
Ulf Samuelsson
, the GM opted instead for Peters in a move that few expected.
"I give Ron Francis a lot of credit, because I thought he'd go with one of his close friends like Ulf Samuelsson. It's pretty easy to go with someone you know, but he went outside of the box with someone that was talked about a lot in coaching vacancies," O'Neill said. "I really don't know a whole lot about [Peters], but he will have fresh ideas. What I like about [having] a new coach is there are no ties there, it's a fresh start, and it's an opportunity for everyone to prove themselves right off the hop."
O'Neill isn't buying into the idea of a culture change just because of those changes, though. That starts from the top down, but ultimately it's for the players to enforce, and the Hurricanes have to prove they are up for the task.
"I hear the term 'culture change' tossed around quite frequently, but that only happens when you have a visiting coach come in and you hear, 'These guys are tough to play against,'" O'Neill said.
Playing against the
New Jersey Devils
, O'Neill was always aware that there was no margin for error, no leeway for making stupid plays. He sees that in a similar fashion with the
Los Angeles Kings
right now.
"You know every time you touch the puck, they are going to kill you," O'Neill said. "Toronto, Carolina, the Islanders, they just seem to have no culture right now."
February, 27, 2013
2/27/13
10:01
AM ET
Jordan Staal
is a cool customer, but he's not going to pretend.
When the NHL schedule came out last month for the shortened season, he scrolled down to find out just when he would first be facing his former teammates from Pittsburgh.
"I definitely looked," Staal told ESPN.com this week. "There's a few games that you check out, whether that's against the Rangers [against brother
Marc Staal
] or against Pittsburgh. I was real excited about this game. It was certainly in the back of my mind."
Staal doesn't actually return to Pittsburgh for the first time until the regular-season finale April 27, but facing his former buddies Thursday night will be a special event nonetheless. These are the guys he grew up with after breaking into the NHL as an 18-year-old seven years ago. These are the guys he won a Stanley Cup with in 2009.
"It's going to be a lot of fun, I know that for sure," Staal said.
You always wonder what gets said on the ice in these situations. His longtime linemates in Pittsburgh,
Matt Cooke
and
Tyler Kennedy
, might have a word or two for him.
"That's a good question," Staal said when asked who he thought would do the most chirping at him on the ice. "I played with TK and Cookie for a long time. It's going to be interesting and a unique experience for myself. It's going to be a lot of fun. Hopefully, we can shut up their chirping by winning the game."
Let's be real here. Staal is going to want to have a big game for all kinds of reasons. He left Pittsburgh because he knew he could never be a front-line center behind
Evgeni Malkin
and
Sidney Crosby
. Now he has that opportunity in Carolina, riding shotgun with his brother
Eric Staal
as a one-two punch as center that teams not named the Penguins would only dream of.
While Staal might never say it quite in this fashion, you bet there's going to be a lot of pride on the line Thursday night as he gets to not only face off against his former team but also show it the new version of himself as an offensive center, not the third-line checker he was for most of his time in Pittsburgh.
"Obviously, my role is a little bigger in Carolina, more opportunity to play in different scenarios. It's a very exciting time," said Staal.
It's why Penguins GM Ray Shero understood what needed to be done once Staal turned down a 10-year, $60 million contract extension in June. Even though Staal still had one more year left on his deal this season and wasn't going to be an unrestricted free agent until this upcoming summer, Shero wasn't going to waste an entire season letting things play out. If a player is turning down $60 million over 10 years, it's clear this wasn't about money.
"We had lots of conversations with him and his agent at the end of the year," Shero told ESPN.com this week. "It was hard to appease him in terms of where he was wanting to go with his career. It had nothing to do with the organization or the city; he loved it in Pittsburgh. But assuming with a healthy Crosby and Malkin, he was wondering where he fit in with his role, and I think that's really what it came down to. He never asked for a trade. But after we made the offer, which he appreciated, he thought about it for a while and his role here."
Being in Carolina was what Jordan wanted.
"To be able to play alongside Eric was important," said Staal. "Pittsburgh offered that deal, but being able to play with Eric would have been slim and none [had he signed it]. It was a time in my career when I could make decisions for myself."
Once Staal turned down the offer, Shero didn't waste any time.
"It didn't make sense for me to wait," said the Pens GM. "I didn't want him going to the end of the contract. There were smoke signals about Carolina. I have no problem with what happened. Jordan handled it with class, and I have nothing but good things to say about him. He had six great years here."
Veteran Carolina GM Jim Rutherford had read this situation beforehand and approached Shero about his interest last spring. He had heard rumors in the past that the Staal brothers had always wanted to play together in the NHL, so he focused on his target. But Rutherford didn't think it was going to happen as quickly as it did.
"I was a little bit surprised to get the call," Rutherford told ESPN.com this week. "About three hours before the draft, Ray phoned me and said he was going forward and making the move. It all happened really quick. But we had had several [internal] conversations and meetings about the possibility of a trade, so we were ready to offer what we ultimately offered in order to acquire him."
Staal was dealt to Carolina on June 22 just before the first round in exchange for
Brandon Sutter
, Brian Dumoulin and Carolina's first-round choice in that night's draft. (Pittsburgh took Derrick Pouliot.)
"I basically told Jimmy what I thought was a fair deal, and we hammered it out pretty quickly," said Shero.
The Hurricanes gave up three assets to get their man. Given Jordan's desire to join his brother in Carolina, there was the opportunity for Rutherford to lowball Shero, given Pittsburgh's apparent lack of leverage. But Rutherford never once entertained that thought.
"There's several things that could have happened," said Rutherford. "First of all, he's got two brothers in this league. So there possibly could have been another team involved. Or with Jordan not having a no-trade clause, Ray could have traded him anywhere, potentially to a big market. Then perhaps that team tries to persuade Jordan over that year to stay there and sign. So this wasn't a situation that you want to play hardball with when there's other things that could have happened. We negotiated a deal a couple of hours before the draft. It was a fair and professional negotiation, and we paid what we had to pay to get a player we really wanted."
Sources confirmed at the time that the Rangers and Penguins did talk regarding Jordan Staal, but a deal between divisional rivals would have cost the Blueshirts undoubtedly more than what Carolina paid.
Talk about a day Staal will never forget. On his wedding day in his native Thunder Bay, Ontario, he gets dealt to brother Eric's team.
"A lot of emotion that day, for sure. It was a great night," said Staal.
"I'm very happy for him and for his family," said Shero. "It's a great place to play. It's a nice story and I wish him all the success."
In Carolina, Staal has cherished taking on a bigger role, and the Hurricanes have been impressed with his impact.
"The No. 1 thing is that [coach] Kirk [Muller] can roll out two big centers," said Rutherford. "But also, anytime you can get a center of Jordan's style that can skate and play in all situations, it's a real big addition to our team. But on that top of that, in a compressed season, and I really see it sometimes now, when we're playing three games in four nights or back-to-back nights, I've seen in the past when we would wear down a little bit; those are times when Jordan is going even stronger. He can play over 20 minutes a game in all situations, and he's strong enough to play in situations that are difficult for some players."
On Thursday night, Jordan Staal will line up against Crosby. It's one thing to have done it in practice over the years. Now it's the real deal. Front-line center versus front-line center.
Bring it on.
"He was a lot of fun to play with," Staal said of No. 87. "It's exciting to have watched him from the bench over the years. Now to try and defend him and keep him off the score sheet, that's a huge challenge but one that I'm looking forward to and our whole team is looking forward to."
July, 30, 2012
7/30/12
11:14
AM ET
June, 21, 2012
6/21/12
6:54
PM ET
PITTSBURGH -- Bombshell news on the eve of the NHL draft with my TSN teammate Bob McKenzie breaking the story that local star
Jordan Staal
has turned down a 10-year contract extension from the
Pittsburgh Penguins
.
I reached Staal's agent, Paul Krepelka, who confirmed the news.
"He is not prepared to enter into a contract extension at this time," Krepelka told ESPN.com.
All of which has obvious and major ramifications if the Penguins are unable to change Staal's mind. The talented, two-way center has one year left on his deal with Pittsburgh at a $4 million cap hit before hitting unrestricted free agency. (The Penguins' 10-year offer is believed to be worth $60 million).
If Staal doesn't change his mind this summer about an extension, it forces the hand of Penguins GM Ray Shero to possibly trade him before losing him for nothing a year from now.
As
I wrote on June 8
, the
Carolina Hurricanes
are an obvious front-runner for Staal, wanting to unite the Staal brothers, Eric and Jordan, in Raleigh, N.C.
There would be a long list of teams vying for Staal, including the likes of Toronto, Buffalo and Anaheim just to name a few. But as one NHL GM told ESPN.com Thursday evening, "Let's be honest, Carolina has the hammer."
If it's true that Jordan wants to join Eric in Carolina a year from now via unrestricted free agency, then the Hurricanes indeed have the hammer.
June, 8, 2012
6/08/12
4:51
PM ET
Keep an eye on the
Carolina Hurricanes
when it comes to how things play out on the
Jordan Staal
front with the
Pittsburgh Penguins
.
As I wrote recently, the Penguins' top priority is to sign
Sidney Crosby
and Staal to contract extensions this summer -- both centers are UFA-eligible on July 1, 2013 -- but if they can't get both done in a cap-sensible manner, it could open the door for Staal to be dealt.
Several teams have already expressed an interest regarding Staal, but I believe the Hurricanes will be aggressive in trying to trade for him, with the idea to have him on same team as his brother, Hurricanes captain
Eric Staal
.
If the Penguins decide to open the trade market on Jordan Staal, Pittsburgh could get more out of Carolina in a traditional hockey deal than from other teams.
Why? While other teams might point to the fact that Staal has only one year left on his deal and won't want to give up too much for a pending 2013 UFA, the Hurricanes may be willing to take more of a long-term gamble that, given the sibling tie-in, they could re-sign Staal.
Either way, the Hurricanes are going to be an interesting team this summer. I believe they're going to add to their payroll and want to upgrade with one or two forwards.
Crosby update
Speaking of Crosby, no surprise that the Penguins have already begun talks with the captain's camp on an extension.
"Yes, we've had preliminary discussions with the Penguins. I've talked to [GM] Ray Shero about a contract extension for Sidney," Crosby's agent Pat Brisson told ESPN.com on Friday. "It's early in the process. Hopefully we're able to make some progress, obviously."
Deals can't be officially signed before July 1.
Thomas' future
Tim Thomas
certainly chilled his trade value with his decision not to play next year. Or did he?
As one NHL team executive told ESPN.com, there is perhaps one solution still out there for the Bruins. There will be a few teams struggling to get to the minimum payroll floor -- expected to be around $54 million -- and they might be willing to pick up Thomas' $5 million cap hit just for that reason alone. As a suspended player next season, they wouldn't have to actually pay him his $3 million salary, but they would get his cap hit. Pretty good deal for a low-payroll team looking to make up the gap to $54 million.
Having said that, there will be a new collective bargaining agreement starting next season (whenever that is). What that new system entails in terms of the salary cap and the payroll floor remains unclear -- not to mention the rules governing cap hits on suspended players, etc.
Still, it might be something to keep an eye on.
Sens interest in Kuba
Senators GM Bryan Murray told ESPN.com on Friday that he has touched base with
Filip Kuba
's camp (including agent Richard Evans) and hopes to do so again in a week or so.
Kuba played most of the season alongside offensive machine
Erik Karlsson
in Ottawa and is set to become an unrestricted free agent July 1.
"We're interested in keeping him, but obviously it has to make sense for us financially," Murray said.
Kuba, 35, just finished a three-year deal that paid him $3.7 million per season. My guess is that Ottawa would want him back for south of that figure.
Karlsson, meanwhile, will be a restricted free agent July 1. Murray said there was nothing new on that front at this point.
Suter thoughts
No news on the
Ryan Suter
front in the wake of his daylong meeting in Madison, Wis., on May 31. But here is what I believe is going to transpire: UFA-to-be-Suter goes to July 1 and explores what's out there on the market while keeping Nashville in the mix. Two years ago,
Ilya Kovalchuk
did this with New Jersey and ended up re-signing with the Devils.
Whether the Predators could match the kind offer Detroit is likely to lay out there, well, that's another question.
May, 31, 2012
5/31/12
8:35
PM ET
Tim Thomas
might be playing elsewhere next season, or he might not be playing at all.
A source told ESPN.com on Thursday that the 38-year-old
Boston Bruins
netminder was contemplating taking next season off. Which doesn't mean he will, but it's something he's apparently raised.
Thomas has one year left on his contract that pays him $3 million, although his cap hit is $5 million. His no-trade clause lifts July 1.
The Bruins have a No. 1 goalie in waiting in
Tuukka Rask
, so they'd be open to trade offers, especially after a controversy-filled season sparked by Thomas' decision not to attend the Cup champions' visit to the White House.
Calls about Staal
Teams have begun to call the
Pittsburgh Penguins
about
Jordan Staal
. That's not to say the Penguins are looking to move him, though.
I believe the plan for the Penguins is to try to extend both Staal and
Sidney Crosby
once they're allowed to begin talks the first week of July -- both players are one year from unrestricted free agency. If the Penguins can pull it off -- get both signed -- I think they're fine keeping the big three together (
Evgeni Malkin
has two more years on his deal).
But should the Penguins hit a snag in contract talks, it might make them rethink their stance on the big three, notably Staal.
Parise might just stay -- or go west
So much speculation about
Zach Parise
's future, and it certainly might still include New Jersey.
But should the top UFA forward of the 2012 class decide to explore the market, one team to keep an eye on is the team he's trying to beat right now in the Stanley Cup finals.
Most people think the
Los Angeles Kings
can't go after Parise after they splurged in acquiring
Jeff Carter
's big contract, but what I'm hearing is that the Kings still believe they can take a run at the highly coveted Devils captain if he hits free agency.
No question the
New York Rangers
,
Minnesota Wild
and
Detroit Red Wings
will also be among a very long list of teams leading the charge for Parise, but don't forget about the Kings.
Where's Alfie going?
With
Nicklas Lidstrom
announcing his retirement, I got to thinking about his fellow Swede
Daniel Alfredsson
. Still no decision on that front.
"I've left it up to Daniel to let me know when he wants," Senators GM Bryan Murray told ESPN.com on Thursday. "I assume he'll let me know before the draft, but I don't know that for sure. I certainly hope he comes back, that's for sure."
Crease chatter
Two goalies I believe are on the radar for the
Toronto Maple Leafs
in their quest to upgrade their goaltending are veteran UFA-to-be
Tomas Vokoun
and young Nashville backup
Anders Lindback
(RFA on July 1).
And what of the
Tampa Bay Lightning
? I believe they spoke to Los Angeles last season about young Kings backup
Jonathan Bernier
, although it didn't get very far. I think Bernier would love to go to Tampa if given the chance this summer. With Vezina Trophy nominee
Jonathan Quick
the man in L.A. for years to come, Bernier has to move on to become a No. 1 goalie. Mind you, with one year left at $1.25 million, would the Kings prefer to wait another year before they move him? Food for thought.
Now what for Wings?
Lost somewhat in the enormous news of Nicklas Lidstrom's retirement and the Wings' likely pursuit of UFA-to-be
Ryan Suter
, is that
Brad Stuart
is also likely out the door in Detroit. It's believed he wants to move back to California for family reasons. So there's two of your top three blueliners gone in Detroit.
October, 25, 2011
10/25/11
7:06
PM ET
Penguins forward Jordan Staal has been on both the giving and receiving ends of hard hits with his hockey-playing siblings plenty of times.
But rarely have the effects been as devastating as this past February, when oldest brother Eric dished out a thundering blow on Marc during a game between the Hurricanes and Rangers. The 24-year-old defenseman, 20 months Jordan's senior, has yet to play a game because of post-concussion headaches stemming from the hit.
"Obviously I feel bad for both my brothers," Jordan Staal said after the Penguins morning skate Tuesday at Nassau Coliseum. "It's not a great situation, but again, it happens in the games. Hopefully, it will be over soon enough."
The incident isn't exactly dinner-table conversation at the Staal homestead back in Thunder Bay, Ontario. It's a family that has already produced three NHL players -- youngest brother Jared, 21, plays for an AHL team in Charlotte -- and with that comes the knowledge of the risks inherent in a physical game.
"We haven't really talked about it a whole lot," Staal said. "It's unfortunate that it was Eric who ended up taking out Marc, but it's part of the game. I'm sure Marc will be back soon enough."
Staal, who first disclosed he was still battling post-workout headaches when camp opened in September, has yet to practice fully with the team.
It was a startling revelation for the team's top defenseman, who led the Rangers with 24:55 of ice time last season. He missed five games following the injury last season, but symptoms did not seem to worsen until his workouts resumed over the summer.
Staal is currently on injured reserve and has yet to resume skating, but Jordan is hopeful that he will return soon.
Jordan has witnessed the slow, steady and well-chronicled progress made by his Penguins teammate Sidney Crosby, who has been out with a concussion since last January, and has seen how difficult the road to recovery can be.
"There always is a light at the end of the tunnel. Sometime it's harder to see for most guys," Staal said. "Marc's still got a little bit of a road ahead, for sure. He's starting to feel better than he was before but it's a long road, obviously."
Regardless of the circumstances surrounding the hit, Marc has a strong support system, Staal said.
"It's not easy, but our family's going to help support him as much as we can."
March, 4, 2011
3/04/11
5:26
PM ET

Stock Up
Matt Calvert, Columbus Blue Jackets:
The playoff ship may have sailed for the Blue Jackets, who are winless in three including a disappointing loss Thursday to Edmonton, but what a find Matt Calvert has been. The 21-year-old, a fifth-round draft pick in 2008, has been lighting it up with 11 goals in 23 games since being called up from Springfield of the AHL. He has seven goals in his last six games for the Blue Jackets, three of which have come on the power play. For a team with the 26th ranked power play, that bodes well for the future.
Antti Niemi, San Jose Sharks:
Talk about smokin' hot. Both netminder Antti Niemi, he of the new contract extension, and the Sharks are on fire. With their big win over Detroit Thursday, the Sharks are just three points back of Detroit for the second seed in the Western Conference. Niemi, by the way, has won eight straight starts. He has allowed just 13 goals over this period, including two wins over Detroit and victories over Pittsburgh, Washington, Calgary and Nashville.

Stock Down
Jordan Staal, Pittsburgh Penguins:
Bereft of top scoring talent like
Sidney Crosby
,
Evgeni Malkin
and
Chris Kunitz
, the Penguins are struggling to find enough offense to cobble together wins. The Pens are 1-2-3 in their past six games and have scored just 13 times over that period and six of those goals came in their lone win over Toronto. One guy who will have to pick up the pace if the Pens find themselves without Crosby come playoff time will be center Jordan Staal who has just one goal in his last eight games. Still one of the premier two-way forwards in the game, Staal also has top end offensive skills and needs to bring them to bear more often.
Tim Connolly, Buffalo Sabres:
The Sabres missed a golden opportunity to jump into the playoff bracket in the Eastern Conference Thursday night, losing in overtime to Carolina.
Brad Boyes
looks early on to be an astute trade deadline pickup with his second goal in as many games for the Sabres, but it's another forward, Tim Connolly, who will need to help out as well if the Sabres are going to push their way into a postseason berth. Blessed with great skill but hampered by injury much of his career, Connolly was rumored to be on the block at the deadline but remained a Sabre. He has gone 11 straight games without a goal and has only eight goals on the season.
February, 10, 2011
2/10/11
11:44
PM ET
Matthew Barnaby makes his stars of the night the three guys that scored in overtime with less than 30 seconds left: the Devils' Ilya Kovalchuk, the Penguins' Jordan Staal and the Sabres' Tyler Myers.
January, 1, 2011
1/01/11
12:46
PM ET
PITTSBURGH -- And now we finally see the great experiment begin.
Evgeni Malkin's shifting to wing alongside Jordan Staal on a potent second line was the buzz item of Penguins camp, but frustrating setbacks in Staal's recovery delayed, and delayed, and delayed that plan. Finally, after eight months without game action and four surgeries (three to his foot and the latest to his hand), Pittsburgh's dynamic, two-way center makes his return Saturday night on no less a stage than the Winter Classic.
"I feel ready to go," Staal told media after the morning skate at Consol Energy Center. "The coaches think the same thing. It's kind of funny how it kind of falls on me being ready for this game, but it's exciting and I'm happy to be back in the lineup."
The Penguins will tell you the timing is pure coincidence, but one has to think missing the Winter Classic would have been a brutal blow for a player who has had to overcome more than a few bumps in his long recovery.
"I guess there's more drama to it because of the Winter Classic, but we approached the decision as if this was any other game," insisted head coach Dan Bylsma. "If this was a game in Buffalo today, would he play? The answer to that is unequivocally yes. And so that's why for sure he's playing this game. But he's had a tough go of it. And he's had some tough injuries and he's had to battle through that, more emotionally than physically. It's been tough for him that way."
Staal had never faced this kind of adversity in his young career.
"It's been a lot of ups and downs," Staal said. "Almost three times I was ready to play and it got taken away from me. Now it's here and it doesn't even feel real yet. But I know as soon as I get out there on that ice, it'll sink in. It gives me chills now and I'm really excited about it."
Mother Nature lent a helping hand, pushing the game seven hours later Saturday because of rain, a change that Staal figures helped.
"I think it did a little bit," Staal said. "I don't think I really had taken any faceoffs, but I took a couple today and it felt great. It's just nice to get some video in and stuff like that. I feel more relaxed and prepared for the game. It definitely helped me a little bit that it starts at 8 p.m."
Now Staal has to find his legs over the next little while, and get the chemistry going with Malkin. The Russian star needs a kick in the pants and maybe this is just what he needs. Malkin is on pace for the lowest offensive output of his impressive career, and the tandem with Staal could be the tonic he needed.
Bylsma will be careful about how he uses Staal early on, though.
"He'll play on a line with Geno [Malkin] some parts of the game," Bylsma said. "He won't play the normal number of minutes. He was a 19-and-a-half-minute guy for us last year. So there are circumstances or times when he might not be on that line, but yes, he will be. On my lineup card, he's playing center, with Geno on the wing."
The Penguins lead the Eastern Conference, and got there without Staal in the lineup and with an inconsistent Malkin not being his old self on some nights. If the Staal/Malkin combo takes off, imagine what kind of support that would give top-line center Sidney Crosby in his sensational season.
Scary, that's what it is.