Cross Checks:

Jose Theodore
March, 5, 2013
3/05/13
12:38
PM ET
Not sure if Dale Tallon was holding a clipboard when announcing these medical updates, but he had a long list of injury news to deliver Tuesday.
Topping the list was the big news that No. 1 center
Stephen Weiss
is out for the season, needing wrist surgery. That removes one of the bigger names from the NHL's trade market. Weiss will be a UFA in July.
Other injury updates from Tallon:
• Veteran goalie
Jose Theodore
(lower body, but we believe groin) is out six to eight weeks.
• Top-four defenseman
Dmitry Kulikov
(lower body) is out three to four weeks.
• Top-six forward
Kris Versteeg
is day to day with a lower-body injury, so he should be back soon.
• Forward
Scottie Upshall
(lower body) is out seven to 10 days.
• Defenseman
Mike Weaver
(lower body) is out four to six weeks.
• Captain
Ed Jovanovski
is out seven to 10 days with a lower-body injury.
And yes, the Panthers will ice a lineup Tuesday night against Winnipeg.
March, 4, 2013
3/04/13
1:03
PM ET
It is tough enough to take as it is, seeing the star goalie of your team go down.
But for
Carolina Hurricanes
backup netminder
Dan Ellis
, what's eating at him even more is that he was supposed to start Sunday when Ward was injured.
"The way in which he went down when he's covering your start for you because you're not feeling well, it just stinks to see your partner go down in a situation like that," Ellis told ESPN.com on Monday.
Flu-ridden, Ellis figured it was better that Ward should go against Florida on Sunday.
"I wasn't feeling well at all," Ellis said. "I knew Cam was feeling and playing really well, I just figured it was probably better putting the healthy guy in. Now you wish you would have found a way to get through it."
As it turns out, Ellis played the last half of the game after Ward was injured. Now Ellis, 32, will be counted on even more with Ward out six to eight weeks with an MCL injury.
"It's a good opportunity to play some games but at the expense of losing a guy like Cam, it's definitely got a bittersweet type of feeling to it," Ellis said. "You never like to see your partner go down. But I've got to go out there now and pick up where Cam left off."
That four-point lead at the top of the Southeast Division for the Hurricanes will be severely tested after the news about Ward on Monday.
What's unusual for Carolina is that Ward has been just so durable over the years (fourth most games played by a goalie in the NHL since the start of 2006-07), the Canes aren't used to playing without him.
"He's played through injuries and he's been a healthy guy that's given us a lot of games and obviously carried our team at times," veteran Carolina GM Jim Rutherford told ESPN.com on Monday. "So he will be missed. It's just part of our game that you have to deal with."
Ellis has experience as a No. 1 netminder from his days in Nashville. Also, with Anaheim in 2010-11, he became the starter for the injured
Jonas Hiller
.
"It was similar when I was traded to Anaheim when Hiller was out," Ellis said. "I've been given this opportunity in the past. You just want to draw on your past experience from Nashville and Anaheim and go out there and give your team a chance to win every night."
Ellis has rock-solid numbers this season as the backup: a .923 save percentage and 2.53 goals-against average.
Youngster
Justin Peters
has been terrific with Charlotte of the AHL, posting a .921 save percentage and 2.29 goals-against average, and will be the backup.
"It's tough for any team, you can never fully replace your No. 1 guy," Rutherford said. "But we have two capable guys. Peters has had an outstanding season in the American Hockey League."
Rutherford might be on the lookout for goalie depth at the AHL level but don't expect any big goalie trade otherwise. Ward will be back, the Hurricanes just have to survive until then.
Carolina continues, however, to look for help on defense. That's been the main area of focus for a while now and if/when the Hurricanes make a deal, it will likely be for a defenseman.
Panthers hobbling
Meanwhile, in South Florida, there's no truth to the rumor Dale Tallon is coming out of retirement to play.
But the GM of the Panthers is running out of bodies, that's for sure.
Jose Theodore
,
Dmitry Kulikov
and
Scottie Upshall
were all injured Saturday and joined a group that already included
Mike Weaver
,
Kris Versteeg
and
Ed Jovanovski
on the sidelines.
It's not clear yet how long Theodore, Kulikov and Upshall will be out, although it's expected Theodore (groin) is a long-term situation.
"We don't have any firm results yet on anybody, they are getting checked today, we'll have more to say tomorrow," Tallon told ESPN.com on Monday.
Theodore is a sizable loss as the No. 1 netminder, but the reality is that the Panthers were eventually this season going to hand the reins over to 23-year-old
Jacob Markstrom
in net anyway. He's going to be their No. 1 netminder when next season opens. Instead, he gets his shot now.
The Panthers, a surprise playoff team last season, have yet to ice a healthy roster this season and it doesn't bode well for the rest of the season.
"We got off to a bad start; first game of the season, we had six guys out and second game of the season we had four guys out, we've had 4-5 guys out every game almost all year," Tallon said. "Now, we've 6-7 guys out. It's just how it is. The good news, our kids are good.
[Jonathan] Huberdeau
is lighting it up. Every day he's getting better and better.
[Peter] Mueller
has been outstanding and so is
[Drew] Shore
.
[Erik] Gudbranson
was good yesterday. So you know, we look at the bright side."
Huberdeau has indeed been incredible to watch.
The Panthers are last in the East, although five points out of the last playoff spot isn't the end of the world.
"We're still not out of it; we need to get on a little bit of a roll. It's going to be hard to do obviously with our lineup decimated by injuries," Tallon said.
Realistically, the injuries will likely force the GM's hand, in my opinion. It's pretty close to white-flag time. I would look for the Panthers to take calls on some veterans in the not too distant future and turn the page to focus on youth.
Oilers grab some grit
The Leafs moved rugged winger
Mike Brown
to the Oilers on Monday for a conditional 2014 fourth-round pick, which becomes a third-rounder if Edmonton makes the playoffs this season.
It was a tough move for GM Dave Nonis, who liked what Brown brought but, in the end, the return of
Matt Frattin
from injury forced a roster decision. This came down to keeping Brown or
Frazer McLaren
and the latter is a bigger dude who can take on the big guys in this league. Brown is game but more of a middleweight. Mind you, Brown is also a better skater.
The Oilers are in dire need of grit up front. The young Edmonton team is getting pushed around. The Oilers are dead last in the NHL with four fighting majors (Toronto leads the league with 24).
Lots of skill on this Oilers team, but very little sandpaper. Brown will bring that, but I suspect the Oilers aren't done trying to toughen up between now and next season.
April, 27, 2012
4/27/12
11:01
AM ET
By
Elias Sports Bureau
| ESPN.com
•
Adam Henrique
scored in the second overtime period to give the Devils a 3-2 victory over the Panthers. The only other rookie to score an overtime goal in the seventh game of a NHL playoff series was
Claude Lemieux
for the Canadiens against the Hartford Whalers in a second-round series in 1986.
Martin Brodeur
(age 39) and
Jose Theodore
(35) were the goaltenders in the Devils victory over the Panthers. It marked only the third time in NHL history that a pair of goalies, both age 35 or older, faced each other in Game 7 of a playoff series. The others were
Dominik Hasek
(Red Wings) vs.
Patrick Roy
(Avalanche) in 2002, and
Tim Thomas
(Bruins) vs.
Dwayne Roloson
(Lightning) last year.
•
Marc Staal
and
Dan Girardi
gave the Rangers a two-goal lead and
Henrik Lundqvist
turned aside 26 shots in the Rangers' 2-1 victory over the Senators. It was first time in Rangers history that a pair of defensemen gave them a 2-0 lead in a playoff game, and it was only the second Game 7 in NHL history in which defensemen provided all the scoring for the winning team. Maybe some of our senior-most readers would know the name of Leo Reise Jr., a Red Wings defenseman who scored an overtime goal in Detroit's 1-0 victory over Toronto in the 1950 NHL semifinals.
Honorable mention to
Brian Leetch
, who scored the first two goals for the Rangers in a playoff victory over the Flyers in 1995, as did Ott Heller in a 1932 win over the Canadiens.
November, 9, 2011
11/09/11
12:47
PM ET
For better or for worse, the value of a good goalie cannot be underestimated. Craig Custance and Pierre LeBrun look at which teams are flourishing and foundering because of their netminders.
Custance:
Hey, Pierre, hope Toronto is treating you well despite another loss by the Maple Leafs, who are slowly starting to negate their fantastic start. They followed Saturday's ugly 7-0 loss to the Bruins with a 5-1 loss at home Tuesday night to the Panthers.
Before we get to the Leafs, let me say this about the Panthers: I'm starting to wonder whether Scott Burnside was right all along. Has Dale Tallon already turned this group into a playoff team? The Panthers haven't lost in regulation since Oct. 27 and have earned at least one point in seven of their past eight games. I chatted with Tallon on Monday night and could tell he was pleased with the way his team is playing. He enjoys its exciting brand of hockey. I wanted some insight on his decision to send talented rookie goalie
Jacob Markstrom
to the AHL (and not just because I had him in our hockey pool), and he expressed his faith in the current goaltending duo.
"Goaltending has not been an issue for us," Tallon said. "Jose [Theodore] has been good. [
Scott Clemmensen
] is a real pro. We're thinking big picture."
Theodore rewarded that faith with a strong, 38-save performance Tuesday night in Toronto. On the other side of the ice, the goaltending wasn't so strong for the Leafs. Toronto still has 19 points, good for the No. 2 spot in the East, but hasn't played well in November the past few years. So if you had to pick one -- who makes the playoffs this season, Florida or Toronto?
LeBrun:
Well, I picked neither to make it in September, so why bother changing my mind now, right? The Panthers certainly have been impressive, however. One of the reasons I thought they wouldn't make it is that when a team brings in so many new faces, the adjustment period and the search for chemistry usually takes a long time. But I chatted with Panthers blueliner
Brian Campbell
last month, and he was amazed by how they all came together quickly and credited head coach Kevin Dineen for the way he handled camp and practices for that. The Leafs? They miss
James Reimer
a lot. Jonas Gustavsson's 3.78 goals-against average is ranked dead last among goalies who qualify among the statistical leaders. Ouch.
Ben Scrivens
was terrific in Columbus in his NHL debut last week but also has struggled since then. Until Reimer returns, the Leafs are in big trouble.
Custance:
I agree. You'd hate to see goaltending sink this franchise again, but you're right: The Leafs need Reimer in the lineup. The good news for Leafs fans is that there are plenty of veteran goaltending options on the market if Brian Burke should wake up one day and decide he needs to make a changes, but I'm sure that depends on how close Reimer is to playing. Goaltending is an unpredictable thing, eh? Just look at Tuesday night's games. We saw
Ryan Miller
allow five goals in Buffalo's win over Winnipeg, and some Sabres fans even gave him the Bronx cheer after an easy save. To his credit, though, I do like how Miller battled through that game after allowing three first-period goals. Then in Montreal,
Nikolai Khabibulin
was outstanding again in stopping 28 of 29 shots against the Canadiens. He leads all starting goalies with a 0.98 goals-against this season and is battling
Josh Harding
for the league's best save percentage. He earned his seventh win of the season after winning just 10 all of last season. What an incredible story he's turning out to be for the Oilers.
LeBrun:
There's an interesting career pattern when it comes to Khabibulin. When he arrived in Tampa Bay in 2001, the team was a cellar dweller and missed the playoffs again in his first full season. But it rose from the ashes and, of course, won the Cup in 2004. When he went to the Blackhawks in 2005-06, they were bottom-feeders. In his last season there, he helped backstop the young, rebuilding team to the Western Conference finals. Had he signed a five-year deal instead of a four-year deal, he likely would have another Cup ring. Now he's in Edmonton with the Oilers, who have been bottom-feeders for a few years but are now on the rise with Khabibulin again in net. Just a coincidence? Or a goalie who thrives in that setting?
Custance:
Great question. So by that math, the Oilers should be playing in at least the conference finals this season, right? There are certainly some comparisons to be made between this Oilers team and the Blackhawks squad that Khabibulin helped guide to a pair of playoff series wins. Both bottomed out and accumulated young talent like
Jonathan Toews
,
Patrick Kane
,
Taylor Hall
and
Ryan Nugent-Hopkins
. The only issue with Edmonton: Who is the Oilers'
Duncan Keith
and
Brent Seabrook
? I like the effort coming from Americans
Tom Gilbert
and
Corey Potter
, but it's a lot to ask for it to continue all season. We said this current six-game road trip would be a great test to see whether the Oilers are legitimate, and they're 2-1 halfway through it. They'll finish up with the Bruins, Red Wings and Blackhawks, though, so it doesn't get any easier.
LeBrun:
The Oilers were outplayed for long stretches Tuesday night in Montreal, but the Bulin Wall bailed them out. If Edmonton can remain in the playoff mix come the Feb. 27 trade deadline, my sense is that the Oilers will try to beef up that blue line. Lots of hockey to be played between now and then, my friend.
Until we speak next, Mr. Custance.
September, 23, 2011
9/23/11
5:25
PM ET
CORAL SPRINGS, Fla. -- It would seem that the skepticism surrounding
Jose Theodore
's ability to lead the
Florida Panthers
out of the hockey wilderness is in opposite but equal measure to the confidence the veteran goaltender has that he can get the job done.
From the outside there remains, at best, a wait-and-see attitude with the new-look Panthers. At worst, there is dismissiveness.
One top Canadian columnist referred to the Panthers as the "floor lickers," a reference to this summer's spending spree by GM Dale Tallon, which critics said was merely an exercise in meeting the minimum requirements of the salary cap.
But regardless of the position, most will agree that the Panthers' ability to make a surprise -- some would insist miraculous -- appearance in the playoffs next spring will hinge on whether Theodore has still got it.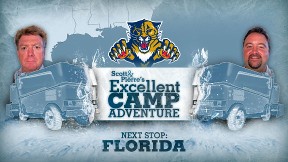 ESPN.com Illustration
Standing next to him in the Panthers' locker room at their training facility, we get no sense of angst or aggravation at what the outside world may be saying about him.
When you are 35 years old and have won a Hart Trophy and a Vezina Trophy, and have been traded and discarded and, perhaps, more to the point, have endured the tragic loss of a son, you gain perspective.
There is always pressure when you come to a new team, Theodore told ESPN.com. But it's different than when you're a young player and you're trying to establish yourself.
"Now you know what to expect. You've proven that you can play and you want to play well," Theodore said. "I'm not playing to prove anything to anybody but myself and my teammates."
People can say what they want. They can think what they want. But Theodore isn't about to engage in any debate one way or another. Neither does he particularly need to use it as motivation.
"I think that brings a negative energy when you start thinking about who you have to please," he said.
Here is the thing that's more than a little mystifying:
Theodore went 15-11-3 with a .916 save percentage for a pretty average
Minnesota Wild
team last season, playing well when starter
Nicklas Backstrom
was injured. The two previous years, he won 62 games for the
Washington Capitals
, going 30-7-7 in 2009-10. During his final 24 starts during that season, Theodore did not lose in regulation (he did get pulled in one game and
Semyon Varlamov
took the loss).
Theodore said he enjoyed his experience in Minnesota and felt it proved he was still capable of stepping into a No. 1 netminder's role.
Obviously Tallon felt the same way and when it became clear
Tomas Vokoun
was going to test the free-agent waters on July 1, the Florida GM made a quick call to Theodore's agents.
"They called right away," Theodore said.
When the netminder heard Tallon's plans for this team and saw the mix of youth and skill that was being assembled, Theodore signed a two-year deal worth $3 million total.
"As a player you want to be part of that. I was really excited," he said.
"With all the new faces we know what it takes."
Florida goaltending coach Robb Tallas recalls facing Theodore in his first exhibition game when Tallas was in Boston and Theodore was about to become the darling of Montreal with the hometown Habs.
"I know a lot about him," Tallas said. And after the Panthers signed Theodore, Tallas went back and began going over Theodore's game tapes.
Tallas agrees that in some way Theodore's play the past few years has been under the radar. Playing in a wide-open system in Washington, Theodore faced a lot of quality scoring chances and still put up good numbers.
"He's a guy that wants to win in the third period," Tallas said.
Whether you're up a goal or down a goal in the crucial moments, Theodore thrives on those critical situations, he said.
"And that's not something you really teach," he said.
Florida winger
Matt Bradley
played with Theodore in Washington and thinks the veteran netminder is the right guy for this renovated Panthers squad.
"To me, he's one of the top goalies in the league," Bradley told ESPN.com. "He doesn't get rattled by things. I love playing with Jose," he said.
In the summer of 2009, Theodore lost his infant son, Chace, who was born prematurely in Washington. He returned and found solace at the rink and in the routines of the game.
He remains at peace with his own game and where his career has been -- and where it's taking him.
What he has gone through "reminds you that the most important thing is to be healthy and to be with the people you love," he said.
"I was always a guy that stayed positive. But these things make you realize we're playing a game."
August, 18, 2011
8/18/11
12:07
PM ET
For two weeks, we asked for your opinion on everything ranging from which team will win the Stanley Cup to where the next NHL franchise should go. Now, Scott Burnside weighs in with his thoughts on your votes.
Interesting that in this category, fans were unequivocal about who they think will win the scoring title, and it was No. 87 from Pittsburgh,
Sidney Crosby
.
You'll see below that fans were a little more mixed in their thinking when it came to separating Crosby from longtime nemesis
Alex Ovechkin
for the coming season, but 46 percent of voters believe that Crosby will best Ovechkin as well as other former Art Ross winners Henrik and
Daniel Sedin
and
Steven Stamkos
to win his second scoring title. It's an interesting voting trend given that there remains so much uncertainty surrounding Crosby's health. And it was a bit shocking that the talented Sedin twins from Vancouver, the past two scoring champions, managed to garner just 7 percent of the votes combined. It is hard to bet against Crosby if he's healthy, but so much is unknown about his ability to return from a concussion that it wouldn't surprise us if we saw Ovechkin bounce back with a strong season to grab another Art Ross.
I love this poll, and it's clear that fans have a long memory, as they picked
Tim Thomas
in a landslide (69 percent) over fellow Vezina nominee and Stanley Cup finals foil
Roberto Luongo
. Maybe fans recall Luongo's erratic play in the finals and his strange comments about Thomas. Our question is whether Thomas can be as good as he was a year ago, when he ran away with the Vezina Trophy voting, then was the runaway winner of the Conn Smythe Trophy as playoff MVP.
Fans were likewise united (67 percent) that of the two former Philadelphia stars dealt before the draft, former captain
Mike Richards
and sniper
Jeff Carter
, Richards who would have more success in his new home in Los Angeles. We agree.
One of our favorite polling matchups involved current and former Florida netminders
Jose Theodore
and
Tomas Vokoun
. Fans left no doubt that they felt Vokoun, now in Washington, would have the better season (82 percent to 18 percent for Theodore). We're not as sold on that proposition being a lock, but Vokoun will sure have a lot more offense going for him than he ever did in Florida. But we also think Theodore has a lot more game left than many give him credit for.
A couple of other players who swapped places,
Martin Havlat
and
Dany Heatley
, gave fans more pause. Voting sided with Heatley, now in Minnesota, by a 57-43 percent edge, but we're not so sure. If Havlat can stay healthy (we know, a big if), he'll have an opportunity to put up big numbers, say, 80 points or more. Heatley's numbers have been declining, and Minnesota isn't exactly an offensive juggernaut even with the arrival of the former 50-goal man and his former teammate
Devin Setoguchi
.
Finally, the age-old question of who will have a better year, Alex Ovechkin or Sidney Crosby, also had fans wondering, as Crosby edged Ovechkin with 53 percent of the vote. Still, the uncertainty over Crosby's health as he tries to recover from a concussion that cost him the last half of last season and a curiously down season for Ovechkin make this a toss-up.
Lots of options here, although fans picked the
Buffalo Sabres
just ahead of the
New York Rangers
as the team they believe made the biggest strides in the offseason. (Twenty-nine percent picked the Sabres, and 22 percent selected the Rangers.) Both are worthy choices with the Sabres spending like crazy under new owner Terry Pegula. They added free agents
Christian Ehrhoff
and
Ville Leino
after acquiring
Robyn Regehr
and
Brad Boyes
, who came over at the trade deadline in March. And it's hard not to like the Rangers' chances of stepping up with the addition of top free-agent center
Brad Richards
.
But for us, the team that underwent the biggest makeover and took the biggest steps toward improvement is the
Florida Panthers
. Assuming good health, the Panthers will be looking to incorporate as many as a dozen new faces into their everyday lineup, including smooth-skating defenseman
Brian Campbell
, onetime Panthers hero
Ed Jovanovski
, former Hart and Vezina Trophy winner Jose Theodore in goal and a clutch of forwards with good scoring potential (
Tomas Fleischmann
,
Kris Versteeg
and Tampa's playoff scoring machine
Sean Bergenheim
). Throw in rookie head coach Kevin Dineen, and you've got a lot of moving parts to get in sync, but we like the Panthers to make it work and join the playoff crowd in the Eastern Conference.
Most fans -- 33 percent, in fact -- believe that the
Phoenix Coyotes
are poised to take the biggest step backward this coming season. We tend to agree, although it's never wise to bet against one of the best coaches in the NHL. Former Jack Adams Trophy winner Dave Tippett is a crucial asset to the Coyotes. Still, Tippett will see his coaching acumen put to an extreme test this season, as the Coyotes remain mired in ownership limbo and, as a result, have struggled to keep core pieces of the team in the fold. Even though the Yotes qualified for the postseason for the second straight season this past spring, they never really filled the void created by the departure of defenseman
Zbynek Michalek
, who signed with Pittsburgh in July 2010. This summer saw the departure of veteran Ed Jovanovski and former Vezina Trophy nominee
Ilya Bryzgalov
. The team still looks to struggle offensively unless
Mikkel Boedker
and
Kyle Turris
really step forward.
Fans also seemed to think the
New York Islanders
would slide, but we disagree. With a healthy
Mark Streit
and
Kyle Okposo
ready from the get-go in training camp, we think the Isles are ready to jump back into playoff contention in the very tough Atlantic Division.
There doesn't seem to be much debate among voters about where the NHL will land next if there's movement afoot: Quebec City. More than half of voters (51 percent) believe the former home of the Nordiques will follow Winnipeg's footsteps in returning a team to the NHL. Us? Not so sure. Given that building a new NHL-style arena remains a political hot potato in Canada, specifically in the province of Quebec, we will be shocked if the NHL moves to Quebec City in the near future. And given the uncertainty surrounding the situation in Phoenix, the league may be forced to make such a decision before a new arena is assured in Quebec. There is no chance the league agrees to return to Quebec City until the shovels are firmly in the ground to build a new barn.
Given that, we're going to suggest that Kansas City will be the next stop for the NHL franchise carousel. Yes, only 8 percent of voters agree, but given there is an NHL-ready building simply awaiting a new owner, that might be the most logical of moves if the NHL gets pushed into the relocation corner again in the near future. Our second choice? Seattle. Yes, there are arena issues there, but having lost a big American market in Atlanta this past offseason, the NHL would rather see nothing other than a move to a big U.S. market, and Seattle has lots going for it.
It's not uncommon for players to light it up in their rookie seasons only to fall back the next season. (See
Steve Mason
of Columbus and
Tyler Myers
of Buffalo as recent examples.) Some of that is mental, expecting things to come easily. Some of that is opposing teams' knowing how to handle the youngsters. Voters feel that won't be a problem for the defending rookie of the year,
Jeff Skinner
, and Calder Trophy nominee
Logan Couture
, who led the polling with 26 percent of the votes apiece. Given that Couture is older (Skinner was the youngest player in the NHL last season), we're expecting he may have an easier time in his sophomore season. We also like another Calder nominee,
Michael Grabner
, to continue his ascension given that he will play under the radar on Long Island and the Isles should be an improved squad. As for Skinner, he is wise beyond his years, but it will be a tall order for him to repeat his success from last season.
Almost half our readers, 42 percent, believe that Capitals head coach Bruce Boudreau is on the hottest of hot seats. We don't. Given that general manager George McPhee added significant character in
Joel Ward
,
Jeff Halpern
and
Troy Brouwer
up front while bringing in veteran Tomas Vokoun to backstop the Caps, we figure this team is finally ready to make a deep run into the postseason. Boudreau showed his coaching chops last season, arresting what could have been a disastrous midseason slide and taking a much better defensive squad to the top of the Southeast Division standings.
In our mind, other coaches will find themselves in much more precarious positions this season, and you can start with Ron Wilson in Toronto. The Leafs have failed to make the postseason tournament since the lockout, and perhaps more telling is that the team has failed to make strides in the crucial special-teams area. Only so much of those shortcomings can be attributed to personnel. At some point, the coach has to take the fall for not coming up with the proper systems for success on the power play and penalty kill. A slow start in Toronto will almost certainly spell the end for Wilson. Another coach to keep an eye on is Terry Murray in Los Angeles, where the stakes are high for a young Kings team that needs to step forward.
For the record, 17 percent of voters think Boudreau will have the most successful season, but the runaway winner in this category is Penguins coach Dan Bylsma, the defending Jack Adams Trophy winner who garnered 34 percent of voters' support. It is hard to argue with that pick assuming Sidney Crosby returns to full health in the coming months. We already know that
Evgeni Malkin
is champing at the bit after knee surgery and
James Neal
will be fully integrated into the Pens' lineup. If
Steve Sullivan
can stay healthy, the Pens should return to being one of the most deadly offensive teams in the NHL, which will balance nicely with the defensive mindset that Bylsma has imposed in Pittsburgh, making them one of the most difficult to play (and score) against in the league. For the record, though, if we had to go to a Plan B, we'd go with Boudreau.
August, 9, 2011
8/09/11
12:27
PM ET
Some players will face comparisons to each other for their entire careers. See Sidney Crosby and Alex Ovechkin. Whether it is goals scored, trophies received or games won, you can't mention one without the statistics for the other guy quickly following. And most people have a strong opinion about who is better.
Other comparisons are brought on by playoff battles, trades or whether or not one goalie remembers to pump the other guy's tires.
But now is time for you to make the call. We picked the matchups, now you tell us: Which player will have a better season?
Previous results: Art Ross Trophy? » Stanley Cup winner? »
Conference champions? » East divisions? » West divisions? »
Which player will have a better season?
---
---
---
---
July, 27, 2011
7/27/11
1:47
PM ET
Of all the dizzying offseason moves -- coaches appearing out of nowhere, defensemen coming here, centers parachuting in over there -- are there any moves that have more potential for impact than the movement of goaltenders?
Take last season when San Jose first signed
Antero Niittymaki
and then added another Finn in
Antti Niemi
after Chicago walked away from an arbitrator's decision.
Niemi picked up where he'd left off in 2010 by leading the Sharks to a second straight Western Conference final this past spring.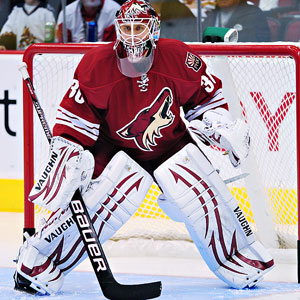 Matt Kartozian/US PresswireIs Ilya Bryzgalov the netminder who will solve all of the Flyers' problems?
Chicago, meanwhile, added veteran
Marty Turco
a year ago in the hopes of supplying enough veteran savvy to get back to the promised land.
It didn't work out that way as Turco was supplanted by rookie
Corey Crawford
and the Hawks snuck into the playoffs on the final evening of the regular season but were ousted in the first round by Vancouver.
The revamped
Tampa Bay Lightning
thought former Nashville netminder
Dan Ellis
might be the answer last summer. He wasn't. So rookie GM
Steve Yzerman
brought in veteran
Dwayne Roloson
on Jan. 1 and ultimately shipped Ellis to Anaheim as the Bolts marched to the seventh game of the Eastern Conference finals.
Atlanta brought in veteran
Chris Mason
a year ago, but Mason couldn't deliver the goods when
Ondrej Pavelec
was injured, and the Thrashers faded out of sight and right into Winnipeg.
The
Montreal Canadiens
' 2010 playoff hero,
Jaroslav Halak
, was dealt to St. Louis last offseason, and the Blues signed Halak to a four-year deal. But the injury-plagued Blues fell short of the playoffs and Halak was only average.
This offseason has featured a number of teams making significant goaltending changes in the hopes those changes will yield playoff success or pay even greater postseason dividends. Here's a look:
Well, there's a shocker. The Flyers' goaltending carousel tops the list of offseason goalie moves. After using three goalies during their 11-game playoff run this past spring that ended with a shocking sweep at the hands of the
Boston Bruins
, owner Ed Snider declared he had enough, and GM Paul Holmgren went out and brought in the top free-agent netminder on the market: Ilya Bryzgalov.
The enigmatic Russian was a finalist for the Vezina Trophy in 2010 but his play was rather ordinary this past spring against Detroit as the Coyotes were swept by the Red Wings in the first round. Bryzgalov allowed 17 goals in four games and turned in a pedestrian .879 save percentage.
True, it's hard to compare the Coyotes, a hard-working but talent-strapped team, with the Flyers. Even with
Mike Richards
,
Jeff Carter
and
Ville Leino
among the departed, this is still a deep and powerful offensive squad with a terrific blue line, assuming that
Chris Pronger
returns to good health.
But gee, nine years, $51 million including $10 million this coming season is an awful lot of faith for a goaltender who's appeared in a total of 27 NHL postseason games.
Pressure? Bryzgalov is about to enter the mother of all goaltending pressure cookers.
Can he stand the heat? Or does he melt like a plastic souvenir stick?
Let's stay with the Russians for a moment, shall we?
If Bryzgalov represents the biggest offseason goaltending move, then the Avs' acquisition of former Washington netminder Semyon Varlamov on July 1 ranks as the most curious.
Varlamov was a restricted free agent who had fallen to third on the Caps' depth chart behind other newbies
Michal Neuvirth
and
Braden Holtby
. Disgruntled with his lot in life in the nation's capital, Varlamov was making noise about playing in the KHL this season when the Avs dealt a first-round and second-round pick to Washington for Varlamov.
That's a big roll of the dice for GM Greg Sherman, who eschewed going after established veteran
Tomas Vokoun
to make the play for Varlamov, who has a history of injury and has not yet established himself as a franchise-type netminder.
When he's been healthy, Varlamov has put up good to great numbers -- 2.23 GAA and .924 save percentage in 27 appearances this past season -- but his durability remains a significant issue for an Avalanche team that was the runaway worst team in goals allowed per game this past season.
A number of NHL sources contacted by ESPN.com believe Washington GM George McPhee took the Avs to the woodshed and may end up with a lottery pick for a goaltender who was virtually off the radar for the Caps.
The Avs are banking, instead, that they've found their goaltender of the future.
Those are the gambles that can directly effect job security.
The Avs also signed veteran free agent and former Stanley Cup winner
Jean-Sebastien Giguere
to battle with Varlamov for playing time in Denver.
Not only did McPhee add (steal?) assets in moving Varlamov, he managed a day later to add the second-best goaltender on the market for a pittance. Tomas Vokoun looked like he'd be a terrific fit in Denver, but the Avs never made an offer to the veteran. Instead, Vokoun signed a one-year deal with the Caps for $1.5 million. Holy bargain basement.
Now, many have overstated Vokoun's potential to get the Caps over the proverbial playoff hump, but the fact still remains Vokoun is very much an unknown when it comes to playoff netminding. And since the talented Caps are all about the playoffs, the jury will be out on this signing until the spring. Still, Vokoun put up good numbers with a Florida team that struggled offensively. In four years in South Florida, Vokoun's save percentage ranged from .919 to .926. Impressive.
He'll get a lot more run support in Washington and coach Bruce Boudreau has already tabbed him as the No. 1 guy ahead of Neuvirth given Vokoun's experience.
Still, Vokoun has appeared in just 11 NHL playoff games and really has very little playoff experience at any level. Does it matter? We'll let you know come mid-April.
Dwayne Roloson, Tampa Bay Lightning
Roloson didn't actually go anywhere, of course. And it wasn't all that surprising that Yzerman signed Roloson to a one-year deal worth $3 million even though Roloson will turn 42 during the second week of the regular season.
Roloson proved in the playoffs that even though he might have the occasional wobble he is as mentally tough as anyone in the business. His duel with eventual playoff MVP
Tim Thomas
in Game 7 of the Eastern Conference finals was a classic.
Yzerman did go for a little more stability in the backup role, though, bringing in
Mathieu Garon
, who has toiled in relative anonymity for years in Edmonton, L.A., Pittsburgh and Columbus but has always delivered quality starts when asked. One has to imagine he'll be asked to carry a bigger load working with Roloson, but the two should make for a solid tandem and the Lightning should again be a playoff team in the East.
We admit to having a soft spot for the big netminder who was mentored early on by Turco in Dallas and might have saved his NHL career with a couple of terrific performances for the Lightning during the playoffs.
At one point last season, Smith had been waived and sent to the minors but was given another chance by Yzerman, and Smith repaid that with hard work, a great attitude and quality performances in relief of Roloson.
With Bryzgalov off to Philadelphia, the Coyotes were in the market for a new No. 1 netminder and goaltending coach
Sean Burke
convinced GM Don Maloney that he could replicate his success with Bryzgalov with Smith, whom they signed to a two-year deal.
Smith will also be reunited with coach Dave Tippett, for whom he played in Dallas.
Smith is highly motivated and seems to be in a position to marry a top technical game with a mental side that has taken some time to mature. If he can put them both together, maybe the Coyotes won't miss Bryzgalov as much as most people expect they will.
The Panthers did make a couple of overtures to Vokoun in the days leading up to free agency in an effort to keep him in the fold, but when the money started flying on July 1, GM Dale Tallon wanted to make sure he found himself a No. 1 netminder to go with his re-made Panthers lineup.
Now critics will suggest Tallon never quite got there, but signing the former Hart Trophy and Vezina Trophy winner gave Tallon a guy who has actually compiled a pretty impressive body of work the past few years. Two seasons ago Theodore went 30-7-7 for the Capitals. In his last 24 starts that season, Theodore did not lose in regulation (he was pulled in one game, but Varlamov took the loss).
This past year, he was 15-11-3 for an offensively challenged
Minnesota Wild
team. Yes, Theodore was given the hook in his last two playoff series for the Caps in 2009 and 2010, but the Panthers are a team that hasn't played a playoff game since 2000, so let's not put the blocker ahead of the puck (or something like that).
Theodore will turn 35 on the eve of training camp and, like many of the new-look Panthers, Theodore has lots to prove and maybe more than a little to give.
July, 1, 2011
7/01/11
7:38
PM ET
Watching the dramatic transmogrification of the long-suffering Florida Panthers and their gung-ho dive into free agency Friday, we can't help but think of the situation GM Dale Tallon was in during the first couple of seasons after the lockout.
Then with Chicago, Tallon knew he had some good young talent in Duncan Keith, Brent Seabrook, Jonathan Toews and Patrick Kane. He also knew he needed to try to accelerate the growing curve, and to do that meant spending money and, in some cases, over-spending.
Not everything worked out, but when the Hawks hoisted the Cup in 2010, Tallon's fingerprints were all over that team even if he'd been replaced by that time by Stan Bowman.
Now in Florida, Tallon has a bevy of top young talent, including what they hope will be a young franchise defenseman in Erik Gudbranson, centers Nick Bjugstad and Quinton Howden and junior scoring star Jonathan Huberdeau (selected third overall in last week's NHL draft).
[+] Enlarge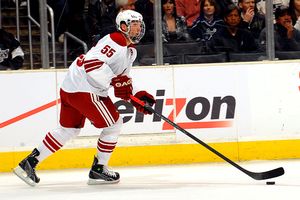 Juan Ocampo/Getty ImagesEd Jovanovski returns to the team that drafted him with the first overall pick in the 1994 NHL draft.
But to try and bridge the gap between the team's ugly past and its promising future, Tallon has within a matter of days completely retooled the Panthers' lineup with an interesting mix of veterans and emerging young players. Florida signed Tampa Bay playoff hero Sean Bergenheim and one-time Panthers star Ed Jovanovski to a four-year deals after acquiring Brian Campbell and Tomas Kopecky via trades in the past week.
From top to bottom, front to back, Tallon has quickly remade this team.
"It changes our whole personality," Tallon told ESPN.com on Friday.
Unable to get Tomas Vokoun to return to Florida, Tallon also elected to give former Hart and Vezina Trophy winner Jose Theodore a chance to recapture the magic, signing him Friday to a two-year deal worth $1.5 million annually.
"He's really rebounded nicely the past few years," Tallon said of his new No. 1 netminder. "He's turned his career around. He's a winner."
Tallon also brought in oft-injured but skilled center Marcel Goc (three-year deal worth $1.7 million annually) and forward Scottie Upshall (four-year deal worth $4.5 million per), who scored 22 goals last season in Phoenix and Columbus. The GM then acquired former Blackhawk Kris Versteeg from Toronto via trade.
Late in the day, Tallon finished his buying spree by signing Tomas Fleischmann to a four-year deal worth $4.5 million per year. The skilled center missed the last half of the 2010-11 campaign with blood clots in his lungs, but is believed to have the condition under control and is expecting to be at full health come training camp.
Upshall, Fleischmann and Goc should help take the pressure off Stephen Weiss, who has struggled as the team's "franchise" player. Throw in Kopeck and a rookie head coach in Kevin Dineen, and it's a lot to throw at the wall all at once.
But it was the same way in Chicago; while not all the pieces stuck, enough did to create the core of a team that would win the Stanley Cup.
Now, is four years at $3.5 million per year too much for Upshall?
Is four years at $3 million too much for Kopecky?
Is four years at $4.125 million overpaying for Jovanovski?
It's only too much if it doesn't work and you continue to flounder, as the Panthers have done in failing to qualify for the playoffs for 10 straight seasons.
Assistant GM Mike Santos explained that Friday's moves were part of a clearly defined process.
"We didn't just come in here this morning and start making calls," he said.
It's funny how people have belittled the eight-year deal Tallon gave to Campbell when both were in Chicago, but we don't think anyone complained when the Hawks held their Cup parade. People forget Campbell actually turned down more money elsewhere to sign in Chicago and agreed to go beyond his limited no-trade clause to follow Tallon to Florida.
In the end, sometimes it's about more than the money, it's about credibility, and sometimes credibility costs more when you don't have any.
Maybe Campbell and Jovanovski and the rest of the players brought into the fold can help kids like Gudbranson and the rest mature into winners.
Imagine that, a winner in South Florida. If it happens, folks will remember this July1 as the day the franchise perhaps turned an elusive corner in the land that hockey forgot.
"A lot of players wanted to come here," Tallon told ESPN.com, "and that's really exciting."
September, 26, 2010
9/26/10
12:02
AM ET
VANCOUVER, British Columbia -- The NHL's head office may soon add another former big-name player to its ranks.
Having already brought in Brendan Shanahan last year as the league's vice president of hockey and business affairs, two sources have told ESPN.com that Rob Blake could be next.
Blake, who retired this past summer after a star-studded career, is slated to meet with league officials this upcoming week to see if there's a fit for him. The idea is he would work alongside Shanahan, although remain based in Southern California.
Blake told ESPN.com during this past postseason that he wanted to remain involved in hockey after his playing career was over. He's always been one of the brighter minds in the game, taking an active role in NHL Players' Association affairs and being an original member of the competition committee after the lockout. Colin Campbell, the NHL's executive vice president and director of hockey operations, has spoke highly of Blake for his competition committee work.
Blake's relationships with Campbell and Shanahan are key factors in the league's interest in him.
Theodore in Minny?
With Josh Harding likely out for the season with a serious knee injury, a source told ESPN.com on Saturday that the Minnesota Wild are looking at unrestricted free-agent netminder Jose Theodore as a possible replacement for the backup netminder. It doesn't mean the Wild will end up signing him, but a source confirmed they were looking at the veteran Theodore.
Redden update
Talk about the high and lows of life these days for Wade Redden.
On the one hand, he just welcomed his first child into the world this past week, a baby girl. Then, on Saturday morning, he finds out from New York Rangers GM Glen Sather that he's been put on waivers, which will pave the way for his eventual demotion to the AHL. The Rangers want to erase the defenseman's $6.5 million cap hit.
"There's a lot of stuff going through my head right now," Redden told ESPN.com on Saturday.
He said the birth of his child outweighs anything else.
"That kind of takes precedence over everything," Redden said. "We just got home yesterday from the hospital. Everyone is doing well."
Redden's waiver period ends Monday at noon ET. Then, if he clears waivers, the cap-challenged Rangers will at some point officially send him to Hartford of the AHL. It is then up to Redden to report if he wants to protect the four years and $23 million left on his contract.
"I really don't have any conclusions right now," Redden said. "I got to take this time and see what develops. But at this point, I don't have any answers for you. We'll see what happens. I haven't made any decisions yet. I have some time to think about it."
He's not shocked it has happened since it's been rumored all summer long, but he wished he could have played at least one preseason game. The next logical step is to resume his career in Hartford and see where that takes him.
"Hopefully I can get somewhere where I can play and enjoy the game again," Redden said.
Redden is a classy guy; hopefully this all works out for him.
Savard update
Marc Savard cleared the air on his situation after meeting with local media in Boston on Saturday.
Apart from confirming he's been grounded by post-concussion syndrome, he also revealed to reporters that one of the most prevailing symptoms in his battle was depression. That's common for players recovering from post-concussion syndrome.
"I talked to him today, he's getting better," Bruins GM Peter Chiarelli told ESPN.com on Saturday. "I'm not a doctor, but in talking to him and having seen him the week before and a week and half before that, he's getting better."
But he's not skating right now, and that's not going to happen soon.
"He'll have to go through normal protocol and pass all the tests, and once he's through that, we'll bring him along slowly," Chiarelli said. "He may be a month, a month and a half from officially getting on the ice. It could be two months, I don't know. It's tough to tell."
This and that
• Marek Svatos, unable to land an NHL job this summer, was in his native Slovakia on Saturday, arranging for a Russian visa after agreeing to join Omsk of the KHL on Friday.
• The Ducks have tried Bobby Ryan at center during camp/preseason, and if they like what they see, that'll stick with it and make Saku Koivu their third-line center. Having Ryan Getzlaf and Ryan and Koivu as your 1-2-3 punch at center certainly wouldn't be too shabby. Ryan played center with Teemu Selanne on his right wing Saturday night in Vancouver.
• Speaking of the Ducks, word is they covet Canucks blueliner Kevin Bieksa; but, for the time being, with Sami Salo injured long-term, Vancouver isn't in a hurry to move a defenseman.