Cross Checks:

Jussi Jokinen
March, 6, 2014
Mar 6
2:48
PM ET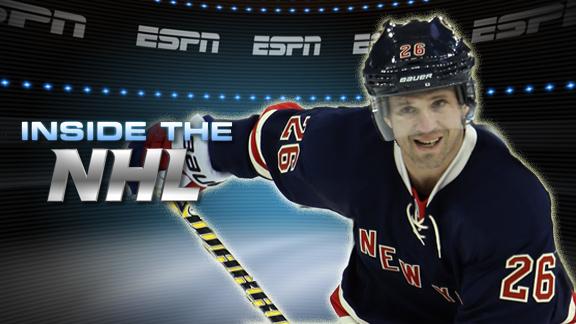 The
St. Louis Blues
,
Montreal Canadiens
and
Minnesota Wild
tallied the most mentions in an unscientific poll of NHL general managers who were asked which clubs impressed them the most with their trade deadline moves.
The Blues were the most cited among responses from 10 GMs on Thursday, their blockbuster acquisition of netminder
Ryan Miller
and gritty forward
Steve Ott
solidifying St. Louis as a Cup contender. Blues GM Doug Armstrong got lots of kudos from his peers in our little survey Thursday.
"[Armstrong] gave up a lot, but he got the goalie he needed," said a Western Conference GM. "He's got conviction. He went for it. I admire him for that."
Added an Eastern Conference GM: "St. Louis for sure got better. Ott is a bit overrated, but [coach Ken Hitchcock] has had him before and will get the best out of him. Miller obviously is the key guy there, a huge upgrade in goal."
The Habs and Wild were tied for the second-most mentions after Montreal nabbed
Thomas Vanek
and Minnesota got busy over a 48-hour period, adding goalie
Ilya Bryzgalov
and scorer
Matt Moulson
.
[+] Enlarge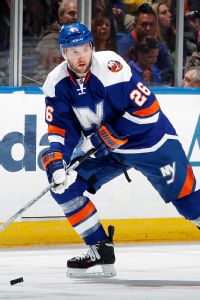 Paul Bereswill/Getty ImagesGetting Thomas Vanek for a bargain price earned praise for Marc Bergevin.
Montreal GM
Marc Bergevin
got high marks from his peers for getting Vanek at a discount rate from the
New York Islanders
, while Minnesota GM Chuck Fletcher got praise for his industrious few days.
"Bergevin did a really good job on Vanek," said a Western Conference GM in a comment that was repeated by many.
The two Florida teams also got a few mentions and for the purpose of this survey would rank tied for third.
Tampa Bay Lightning
GM
Steve Yzerman
had only one team to deal with in meeting the trade demand of his captain,
Martin St. Louis
, but Yzerman still got a decent deal out of it from the
New York Rangers
.
"I thought Steve did an excellent job managing that situation. He got a nice return," said a Western Conference GM.
Said another Western Conference GM via email: "To me, Steve Yzerman did the best job. He was dealt a bad hand. And nobody could have played that hand any better. Plus he did it with class (as always)."
Panthers GM Dale Tallon also got some attention for stunningly getting
Roberto Luongo
out of Vancouver. "Dale Tallon had the best deadline of all," said one Eastern Conference GM.
The Penguins were mentioned by one Western Conference GM, with Pittsburgh adding forward
Marcel Goc
and
Lee Stempniak
. "Pitt was strong with quality, under-the-radar players," a GM said via email.
Buffalo Sabres
rookie GM Tim Murray has been busy over the past week, beginning a rebuild and getting a vote from one Western Conference GM for his efforts.
"Tim Murray certainly added a lot of long-term assets," said the GM.
The
Anaheim Ducks
struck out on Canucks center
Ryan Kesler
but did add veteran blueliner
Stephane Robidas
. Ducks GM Bob Murray got a vote from a fellow Western Conference GM.
"[Murray] always sees the big picture. He is two steps ahead of what is in front of him," said the GM. "No one has come close to doing the job he has done the last five years. He inherited a very difficult situation and executed flawlessly."
Other post-deadline notes and thoughts:
• Interesting to find out from a source Wednesday night that Toronto was among the teams that inquired about Vanek. Imagine the Leafs' reaction when rival Montreal got him, especially given the modest price the Canadiens paid.
• Needless to say, the Canadiens were never going to get Vanek if the Islanders' asking price continued to include a first-round pick, which it did for quite some time. Once the first-round pick was eliminated from the equation, the Habs jumped in with both feet.
• Vanek is on record saying he's going to the free-agent market on July 1, and at this point there's no reason to think that won't happen. Still, in the back of my mind I wonder whether this is a repeat of the Alexei Kovalev situation, with a presumed rental player ending up staying around because he falls in love with the electric market that is Montreal. Food for thought ...
• The Penguins made an effort on Kesler and also had a line in the water on
Ales Hemsky
, the
Edmonton Oilers
forward who went to Ottawa instead. I thought Hemsky would have been a nice fit in Pittsburgh, but Goc and Stempniak are solid additions. Goc is versatile and provides depth at center while Stempniak could surprise some people after being given a fresh start, like
Jussi Jokinen
has done since joining the Pens at last year's trade deadline.
And this, from our friends at Bovada:
June, 14, 2013
6/14/13
7:03
PM ET
The NHL announced its first round of award winners Friday, and ESPN.com's Scott Burnside and Pierre LeBrun break down the winners of the Frank J. Selke (best defensive forward) and Jack Adams (coach of the year) trophies, as well as the GM of the Year award.
BURNSIDE:
Well, my friend, thanks to the lockout the annual NHL awards extravaganza in Las Vegas has been revamped and spread over two days during the Stanley Cup finals, with the first batch of winners unveiled Friday afternoon. The balance of the major awards will be revealed Saturday before Game 2 of the finals. Let's take a look at the three significant awards handed out Friday.
For me, the Selke was the most compelling because it was really a two-man race between
Chicago Blackhawks
captain
Jonathan Toews
and defending Selke winner
Patrice Bergeron
of the
Boston Bruins
. Toews and Bergeron are the heart-and-soul leaders of their teams, and Toews edged Bergeron for his first-ever Selke by a scant 10 voting points. I know you thought Toews should have been a finalist for the Hart Trophy (as league MVP), but he's certainly deserving of the Selke, which some folks consider one of the most prestigious awards in the game given that it recognizes a player's complete game. Now, what will be interesting is which of these two great forwards ends up wearing a Stanley Cup ring in the next couple of weeks. What was your take on the Selke voting?
[+] Enlarge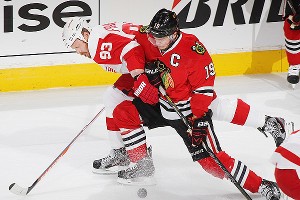 Dave Reginek/NHLI/Getty ImagesJonathan Toews' all-around game earned him his first-ever Selke Trophy this season.
LEBRUN:
I had Bergeron first on my official ballot and Toews second, but I'm not upset that Toews won it. I think they're both equally deserving, tremendous 200-foot players. Total toss-up for me. What upsets me more is that Toews didn't make it as a nominee for the Hart Trophy. I just can't believe that at all. But I guess that's a conversation for Saturday when the Hart is handed out (rumor is that
Alex Ovechkin
has won it). One thing I can tell you is that I was tremendously pleased to see Paul MacLean of the
Ottawa Senators
winning the Jack Adams Award as NHL coach of the year. Like many other media members, I've been touting him all year. Totally a slam dunk given what he did with the injury-ravaged Senators this season. It would have been an absolute travesty had the NHL Broadcasters' Association not voted him the winner.
BURNSIDE:
I fear you and I might come to blows when the Hart Trophy winner --and the NHLPA companion, the Ted Lindsay Award -- are announced, but I can certainly understand the Hart Trophy discussion as it relates to Toews. That's how important he is to the Blackhawks. And I agree entirely on MacLean. This is the second year in a row he was on the final ballot for coach of the year, and he easily outdistanced the second-place finisher, Joel Quenneville of the Chicago Blackhawks. Bruce Boudreau of the
Washington Capitals
was third.
The Jack Adams is a tough one because often it goes to a coach who gets his team to overachieve or does more with less, but there's no question MacLean's job in keeping his team on track without
Erik Karlsson
,
Jason Spezza
and
Craig Anderson
for long stretches of time reinforces that he is one of the keenest coaching minds in the league.
The other award of note announced Friday was the GM of the Year, and the
Pittsburgh Penguins
' Ray Shero earned that honor. I'm sure he'd rather his Pens were still engaged in playoff hockey, but he is full value for the honor given the moves he has made dating back to last June's blockbuster trade of
Jordan Staal
to Carolina, and continuing through his trade deadline acquisitions of
Jarome Iginla
,
Brenden Morrow
,
Douglas Murray
and
Jussi Jokinen
, even if those deals didn't quite pay off the way Shero had imagined.
LEBRUN:
People no doubt will question Shero winning given how the Pens were dominated in being swept by Boston in the Eastern Conference finals, but you have to understand that these are regular-season awards. To me, Shero is absolutely deserving and one of the very top GMs in the game. What I found curious, though, is that Scott Howson, fired as GM in Columbus early in the season, received two third-place votes, while Greg Sherman in Colorado also got a third-place vote. Um, are the GMs not taking their voting duties seriously? Honestly.
BURNSIDE:
I will point out that
Martin St. Louis
won the Lady Byng Trophy as the league's most gentlemanly player for the third time in the past four years. I know you were anxious about how that award voting was going to go. Saturday will be interesting, though, as there are rumors that
P.K. Subban
is going to win the Norris Trophy, which boggles my mind more than a little given the season
Ryan Suter
had in Minnesota. And I know there's going to be lots of debate if Ovechkin does walk away with the Hart, but we'll have plenty of time to kick that around on Saturday.
LEBRUN:
In defense of voters, I will say it was a challenging ballot for many voters given that the Eastern Conference and Western Conference did not play each other during the lockout-shortened season. So voters were limited somewhat in what they were able to witness firsthand from night to night. That's why I reached out to a bunch of scouts, who travel the most, to help form my opinion on the awards I voted on.
And we shall indeed see what Saturday brings, my friend.
May, 22, 2013
5/22/13
3:08
PM ET
OTTAWA, Ontario -- The
Ottawa Senators
are hoping to catch lightning in a bottle with the introduction of winger
Mark Stone
to their lineup, but whether the
Pittsburgh Penguins
try to counter with a little
Jussi Jokinen
magic has yet to be determined.
Ottawa coach Paul MacLean more or less confirmed that the 6-foot-2 Stone will enter the lineup for Game 4 on Wednesday night, replacing the diminutive
Cory Conacher
. The expectation is that Stone will go into Conacher's spot on the top line with
Jason Spezza
and
Milan Michalek
.
MacLean said the coaching staff has long envisioned that Stone, who finished tied for the team lead with 38 points with the Senators' American Hockey League affiliate in Binghamton, could be a good linemate for Spezza, but the circumstances didn't allow it.
Until now, apparently.
"He really had a very good season [in Binghamton]," MacLean said.
Stone played in just one playoff game last year for the Senators, but it was a memorable one as he assisted on the winning goal in Game 5 of Ottawa's series against the
New York Rangers
.
"It was probably the best experience of my life," Stone said Wednesday.
The Winnipeg, Manitoba, native played in four regular-season games with the Senators this season but did not register a point.
"Obviously watching the games, you want to be a part of it, so I'm obviously excited, looking forward to the opportunity," Stone said.
If there's one thing that has marked the Senators this season, given all the injury issues that have afflicted them, it's been the ability of young players to come to the big club and step almost seamlessly into prominent roles with the team.
Spezza praised former NHL player
Luke Richardson
, the head coach in Binghamton, and his staff for preparing the young players who have been key contributors to the Senators' surprising run to the second round of the playoffs.
"Organizationally, we're all playing the same way now. Luke, he demands the same things of the guys down there as Mac does here, and when they get the call, they don't have to change anything," said Spezza, who will be playing in just his second game of the postseason after suffering a back injury that caused him to miss all but five games in the regular season.
With the teams coming off a double-overtime effort in Game 3, the Senators emerging as 2-1 victors thanks to
Colin Greening
's goal, it would seem that both coaches are looking to coax a little more offense out of their rosters.
Indications are that Pittsburgh coach Dan Bylsma may pencil Jokinen back into the lineup. He came out in Game 5 of the first round against the
New York Islanders
after registering two assists in the first four games.
"Jussi is a guy who's been out of our lineup, and you're sitting out a guy who can make plays, score big goals," Bylsma said. "He's a faceoff guy, been very good on the left faceoff circle. He's also a guy who would see time on our second power-play unit as well."
Jokinen was dynamic after coming over from the
Carolina Hurricanes
at the trade deadline, scoring 11 points in 10 games down the stretch.
But with Bylsma looking for a little more sand in a difficult series against the Islanders, he inserted
Joe Vitale
into the lineup. Jokinen hasn't been able to get back on the ice since. But with Vitale out the last game and replaced by an ineffective
Tanner Glass
, it looks like the stars are aligning for Jokinen to return.
"Obviously, I haven't sit down too many games in my career," he said. "Obviously, it's not an easy situation.
"It's all about the team. The only thing you can do is keep yourself in good shape, keep working hard and stay positive."
He conceded he doesn't envy the roster decisions facing Bylsma each game.
"Right now we've got up here 16 forwards and nine D who are all really good NHL players, who could play every night on some other team," Jokinen said. "It's not easy to be a coach on this team, that's for sure."
May, 20, 2013
5/20/13
6:52
PM ET
OTTAWA -- In theory, these are the moments when experience counts, when the combined years of ups and downs and playoff battles won and lost help forge a protective covering that allows misfortune to fall, well, like water off a duck's back.
That's the theory, of course.
We'll find out how the
Pittsburgh Penguins
deal with the fact they allowed a shorthanded tying goal with 28.6 seconds left in regulation in Game 3 and then went on to lose in double overtime to affect them as they move forward in their Eastern Conference semifinal series against the
Ottawa Senators
.
"I think everyone's disappointed," Pittsburgh defenseman
Brooks Orpik
admitted Monday as the Penguins took a day away from the rink. "That was probably the best we've played in the playoffs for 59½ minutes, and [we] kind of gave it away at the end. I think everyone's still a little disappointed today."
Game 4 won't be played until Wednesday, as the Penguins and Senators enjoy the second extra day off in this series. Orpik figured this extra day would be nice for a team that blew a chance to take a stranglehold 3-0 series lead on Sunday night but couldn't close the deal in spite of a star-studded, battle-tested lineup.
"I think two days off are probably good for us physically and mentally," Orpik said. "I think we've played well for three games and carried the play for the most part for three games. I think we'll learn from it and move on pretty quickly."
The veteran defenseman, who was part of a Penguins squad that advanced to two straight Stanley Cup finals in 2008 and 2009 -- they won the Stanley Cup on the return trip -- believes that a less-experienced team might have more trouble getting beyond such a disappointing loss.
"I think with a younger team you might be a little more fragile, maybe tiptoe into the next game," he said, "where I think a veteran team, as disappointed as you are giving it away the way we did, I think you learn from it and I think you look more at how we got all the way 'til the 30-second mark -- how well we played there -- and just try to piece together what went right for us."
Teammate
Brenden Morrow
agreed that despite the outcome --
Colin Greening
gave the Senators their first victory in the series, scoring off a rebound 7:39 into the second overtime period -- the Penguins have a lot to be enthusiastic about heading into Game 4.
"I think 5-on-5, without a doubt, that was our best 60 minutes, 59 minutes," said Morrow, who came over from Dallas at the trade deadline. "I think that's been something this team's been good at, is kind of (turning) the page and wiping it clean and starting fresh in that next game."
Head coach
Dan Bylsma
talked about the tying goal by
Daniel Alfredsson
, and how the team didn't manage the puck as well as they would have liked -- especially given that they were on the power play, with
Erik Karlsson
in the box for slashing. They were also trying to execute a line change when the Senators found a seam and Alfredsson tipped home a great
Milan Michalek
pass to tie the game and send it to overtime.
"You're looking at being up 3-0 (in the series), and the Senators get back into the game and the series by getting that win. That's the story," Bylsma said. "I thought that was our best road game in the playoffs for 90 minutes of hockey."
It wouldn't be a shock if Bylsma alters his lineup slightly for Game 4, although it's not known if
Joe Vitale
, an energy forward who drew into the lineup in Game 5 of the opening round and has been effective in a limited role, will be available. He could not play in Game 3 and was replaced by
Tanner Glass
.
It's possible veteran
Jussi Jokinen
, a healthy scratch since Game 5 of the first round, could find his way back onto the ice, especially given his ability to take faceoffs on the left side of the ice.
"He's a guy who's played big games," Bylsma said. "He's a skill guy he's done real good things for us."
May, 1, 2013
5/01/13
11:36
PM ET
PITTSBURGH -- The
Pittsburgh Penguins
showed up for work Wednesday morning wearing T-shirts with the No. 4 on the back, a nod to the immediate task of winning four games to get out of the first round of the playoffs.
No word on whether those same shirts will be worn Thursday with the "4" crossed out and replaced by a "3" after the Penguins whipped the
New York Islanders
5-0 in Game 1 of their Eastern Conference quarterfinal series.
They're just T-shirts, of course: some fabric and a little lettering, including the phrase, "Here We Go."
But the shirts speak to a mindset, a narrowing of the focus to the task at hand.
When you are a team as deep and talented as the Penguins -- and when there is as much discussion about a long playoff run, a possible trip to the Stanley Cup finals, another championship -- it might be easy to forget about first things first.
If you look at the big picture, if you look at what is needed to win a Cup, "It's a bit overwhelming," Pittsburgh forward
Craig Adams
said after Wednesday's game.
And if you start thinking about that, "you'll never get there," he said.
"Everyone wanted to hand us the Cup last year, and we saw how that turned out," Adams added.
And there's the rub.
In an interview before Wednesday's game, Pittsburgh GM Ray Shero went to great pains to reinforce that his team was very mindful of the Islanders, even though the Pens were the top seed in the Eastern Conference and the Isles the eighth seed.
"I know this team has a great deal of respect for the Islanders," Shero said. "There's no way we'll be underestimating them."
Those are the kinds of sentiments that are on display when you're coming off a 2012 playoff season that really ended before it began with the Penguins blowing a 3-0 lead against Philadelphia in Game 1 and quickly falling behind 3-0 in the series en route to a six-game loss. It was the second consecutive one-and-done playoff spring for the Penguins, and they have won just one playoff round since winning the Stanley Cup in 2009.
So you can understand if there is an emphasis on the details this time around.
"We've been preaching that all year," Adams said. "I think we've been humbled."
After one game, it would appear the message has sunk in, as the Penguins methodically took apart an inexperienced Islanders team that is playing in the postseason for the first time since 2007.
The Pens took advantage of an early power play to go up 1-0 after a terrific play by
Beau Bennett
, who cut in from the right side and roofed a shot over veteran netminder
Evgeni Nabokov
. Bennett wouldn't be in the lineup if it weren't for the fact that doctors declined to let captain
Sidney Crosby
suit up for Game 1.
Talk about taking advantage of your opportunities: Bennett scored in his first-ever playoff game.
The Penguins would add another power-play goal early in the second period by
Kris Letang
before
Pascal Dupuis
, the king of even-strength goals, added two while the teams were playing five aside.
Tanner Glass
rounded out the scoring with his first-ever postseason goal.
Defensively, the Pens killed off four Islander power plays and limited the Isles to 26 shots, providing netminder
Marc-Andre Fleury
with ample protection. Fleury, who endured a nightmare series last postseason against the Flyers, earned his sixth postseason shutout.
"Everything went great tonight," Dupuis said. "Yes, we did play the right way, but you have to keep saying to yourself it's only 1-0."
If there was cause for concern for the Penguins, it was the loss of
James Neal
, who got tangled up with
Travis Hamonic
early in the second period and did not return. There was no information on his status for Game 2 Friday.
Also,
Jussi Jokinen
, who added two assists and continues to be a point machine since coming over from Carolina at the trade deadline, went off the ice gingerly after a collision with Islanders forward
Marty Reasoner
, who was assessed a kneeing major with 2:10 left in the game.
The Islanders, meanwhile, looked like a team whose most important players (outside Nabokov) were playing in their first playoff game. Reasoner, playing in his 24th career postseason game, was the player with the most playoff experience among Islander skaters, and he'd been a healthy scratch for the final 10 regular-season games.
John Tavares
, who figures to be among the finalists for the Hart Trophy as the league's MVP, was a nonfactor, finishing the night without a shot. Likewise,
Brad Boyes
and
Matt Moulson
weren't the players who combined for 25 regular-season goals.
Head coach Jack Capuano said the team's work ethic and determination weren't what they had been during the final month of the regular season, when the Isles secured an unexpected playoff berth, and the execution was lacking.
Nabokov, a player Capuano referred to as an extension of the coaching staff given his experience, was given the hook just 1:51 into the second period after the Pens made it 4-0 with two goals in 32 seconds.
Although he was beaten twice by hard, high shots courtesy of Bennett and Letang on the power play, this loss wasn't a function of poor goaltending. Instead, this was a loss that was, pure and simple, about one team being light years ahead of another in terms of getting the job done.
"Obviously, I think it was a little bit too easy for them, for the Penguins. All-around game has to be better. Better saves, more saves. I guess it's got to start with me," Nabokov said.
"I've got to make key saves at the key times and give the guys a chance to battle. But the game was over basically at the beginning of the second period, it's four-zip, and it's really tough to come out of it against that type of team. So [I] have to find a way to tighten up and be better," he said.
Of course, as the Pens' T-shirts remind us, this series is not the best of one.
The Islanders have a chance to regroup, and one imagines whatever nerves and butterflies might have invaded their bodies Wednesday will have dissipated by the time Game 2 rolls around Friday night.
"I don't think anything is easy. You have to come out, and you have to work hard. It's got to hurt to play; I heard somebody in the locker room actually say that: It's got to hurt to play," Nabokov said.
"I think we have to come out next game, and we have to be ready, be more physical and just make it hard on them everywhere, every inch of the ice. We have to battle for every inch of the ice, everywhere. I think that's the only way we can play with that team because, otherwise, they're too skilled. They're too good."
April, 4, 2013
4/04/13
2:48
PM ET
The day after the trade deadline is often like the day after a big family wedding. Lots of stuff to sift through. Maybe you'll find an unexpected and unopened gift, or maybe you'll be reminded that the gift you thought stunk the day before still stinks today.
Speaking of gifts, could the
New York Rangers
have scripted their big day any better? After unloading their top pure scorer in
Marian Gaborik
to the
Columbus Blue Jackets
in an effort to redefine their personality, the goal-starved Rangers poured six past the
Pittsburgh Penguins
en route to a 6-1 shellacking of the Eastern Conference leaders. And wouldn't you know it: Three newcomers,
Ryane Clowe
,
Derick Brassard
and
John Moore
, figured prominently in the win by combining for four goals and four assists -- and this after racing from Columbus and, in Clowe's case, San Jose to join their new team.
The goals were the first two of the season for Clowe, who illustrated the sometimes bizarre nature of the trade-deadline period as he became one of the hottest properties available in spite of the goose egg in the goal column. No more. And now the Rangers hope this makeover in midstream will carry them not just to the postseason but to something more grand come playoff time. Certainly the earliest returns are sparkling, as they jumped into seventh in the conference, although they have same number of points as the eighth-place
New Jersey Devils
and ninth-place
New York Islanders
.
Speaking of the Penguins, that's two lopsided losses in a row for a team that began the week on a 15-game winning streak and with an eye toward making history. Didn't happen, of course, as they were whipped 4-1 by the
Buffalo Sabres
at home Tuesday, then were spanked at Madison Square Garden after GM Ray Shero added another piece to the Pens' arsenal in the form of veteran forward
Jussi Jokinen
.
Probably not a bad thing to have a few stinkers down the stretch, just in case anyone in that locker room was thinking the 15-game win streak meant they could just throw their sticks on the ice and come away with a W. We were in Chicago recently and talked to some there who weren't all that disappointed to see the
Blackhawks
' record 24-game point streak come to an end, what with all the media attention.
Sometimes it's easier for a coach to get his team's attention when it's facing a little adversity. But the twin Pittsburgh losses also highlight the challenges in integrating a handful of new, prominent faces into your lineup with a dozen or so games left in the season. The Pens are also battling the injury bug, with captain
Sidney Crosby
out indefinitely with a broken jaw,
Kris Letang
recuperating from a toe injury and defenseman
Paul Martin
out until playoff time or longer with a hand injury.
Lots of moving parts for coach
Dan Bylsma
to figure out in the next 3½ weeks.
The curious case of Steve Mason
It wasn't the classic Paul Holmgren "holy cow" move, a la obtaining
Chris Pronger
or moving
Mike Richards
or
Jeff Carter
, but the
Philadelphia Flyers
GM did not disappoint Wednesday, even if the move he made was a little more subtle. The acquisition of former rookie of the year
Steve Mason
from the Blue Jackets for
Michael Leighton
(remember him from Game 6 of the '10 Stanley Cup final?) and a third-round pick has the potential to create an interesting ripple effect in Philly.
Never mind the roller-coaster Mason has been on since bursting onto the scene with 10 shutouts in his first season (2008-09). In fact, if you're a fan of irony, one of the reasons the Blue Jackets were surprise buyers Wednesday was the play of former Flyers netminder
Sergei Bobrovsky
, who was dealt to Columbus in the offseason. Bobrovsky may win the Vezina Trophy and the Blue Jackets may make the playoffs, so Mason was deemed expendable. Go figure.
Now Holmgren is going to give Mason a look in the final weeks of the season as he wrestles with a rather huge decision regarding
Ilya Bryzgalov
, who has been OK this season. With two amnesty buyouts available to him, Holmgren will have to look hard at what remains on Bryzgalov's nine-year, $51 million contract. There were multiple reports Thursday that Mason was on the verge of signing a new deal with the Flyers, which means Holmgren's plan is to give Mason a chance -- if not as a starter than certainly to replace the depth that went out the door with the Bobrovsky deal.
If Mason impresses, does it change Holmgren's mind about Bryzgalov?
For the record, Bryzgalov got the win over the
Montreal Canadiens
on Wednesday night, as the Flyers kept their playoff heart beating faintly. They were four points out of eighth place with 12 games remaining heading into play Thursday.
Kudos to Sharks GM Wilson
We have often been critical of the
San Jose Sharks
for their inability to capitalize on what is a perennially talent-laden lineup. But you have to tip your hat to GM Doug Wilson, who appears to have navigated the competing waters of trimming fat and maintaining a competitive team with great skill. The Sharks are the hottest team in the NHL with six wins in a row, the latest coming Wednesday night over the
Minnesota Wild
. The win moved them into a tie with the Wild and
Vancouver Canucks
with 44 points and gave the Sharks a good shot at getting home-ice advantage in the first round as the conference's fourth seed, something that seemed implausible even a month ago.
Meanwhile, Wilson got good return for Clowe: a second-, a third- and a conditional second-round pick from the Rangers. He also obtained a fourth-round pick from Chicago for
Michal Handzus
, and got two more second-round picks from Pittsburgh for
Douglas Murray
(the second of which is conditional). And then Wilson added some grit and tenacity in the form of
Raffi Torres
.
The moves give Wilson all kinds of options in terms of assets with which to help restock a barren prospects cupboard, as well as additional cap space. That doesn't even take into account the potential for a long playoff run. That's a pretty good bit of work.
Can Sullivan restart Devils?
If ever there was a team that's all about bringing things full circle, it's the Devils. And so it was that GM Lou Lamoriello brought home veteran winger
Steve Sullivan
almost 19 years after the team selected him with the 233rd pick in the 1994 draft. Sullivan played in 16 games for the Devils in 1995-96 and 33 the next season before he was dealt to the
Toronto Maple Leafs
in a trade that would see iconic Leafs captain
Doug Gilmour
and defenseman
Dave Ellett
go to the Devils. Gilmour would go on to finish a Hall of Fame career while Sullivan, 38, continues his hockey odyssey after being dealt for a seventh-round pick by the
Phoenix Coyotes
on Wednesday.
We've had the opportunity to catch up with the Timmins, Ontario, native (dubbed by some the "Timmins Tornado") at various stops along the way, and he has proved to be unfailingly upbeat even in the face of injuries that threatened his career a few years back. Although it hasn't been a banner year for Sullivan, who signed with the Coyotes after a one-season stop in Pittsburgh and had just five goals in 33 games, there's something about the Devils' culture that allows guys like Sullivan to thrive. He'll need to, as the Devils are sliding their way out of the playoff picture without the injured
Ilya Kovalchuk
.
No easy answers in Buffalo
Say what you will about the state of the Sabres, but GM Darcy Regier did well to maximize his return for captain
Jason Pominville
on Wednesday. He coaxed a first- and a second-round draft pick and two prospects out of Minnesota (the Wild also got a fourth-round pick from the Sabres). That's two years in a row Regier has done a nice job in making the most of what has become an unsightly mess in Buffalo by bringing in young players and draft picks.
But there's the rub, no? Who made the mess?
It's not just Regier; every year, a GM of an underachieving team sets about trying to restock the shelves with picks and assets after plans go awry. If it's a blip on the radar kind of thing -- as we saw with playoff bubble teams Phoenix and Nashville shedding assets in recent days after being competitive playoff teams the past few years -- that's one thing. But what if it's a systemic kind of thing?
Given that the Sabres fired longtime coach Lindy Ruff already this season and look likely to miss the playoffs for a second straight season, there is an expectation that owner Terry Pegula will finish the top-end makeover by relieving Regier of his duties after the season. If that's the plan, then where is the logic in having Regier make these kinds of significant moves (he also traded
Robyn Regehr
to the
Los Angeles Kings
)? It's not easy to replace a GM in midseason, although the Blue Jackets showed it can be done with impressive results.
Buffalo is not unique in dealing with this dynamic, and there are certainly lots of problems that will be left over for a new GM to deal with if a change is made. But it remains an annual curiosity in the NHL as some GMs' final moves may end up having significant long-term impacts on teams they're about to part company with.
April, 1, 2013
4/01/13
1:07
PM ET
On the
Jaromir Jagr
front, it was still unclear as of Monday afternoon what will transpire. The
Dallas Stars
approached the Jagr camp three weeks ago about a contract extension, and the two sides have gone back and forth since. But still no contract extension.
Why? I'm hearing the Stars' front office is debating whether the team should sign or trade Jagr. And that decision had not been made as of Monday afternoon.
Other teams are absolutely calling with interest on Jagr. No surprise there, as he'd be a perfect rental. Hello,
Boston Bruins
?
But the Stars, who already dealt pending UFA
Brenden Morrow
, have to figure out if they should cash in on pending UFA Jagr or keep him around for another season. After all, the Stars were only two points out of a playoff spot Monday morning.
Sign him or trade him? To be determined.
Sens fielding calls on Bishop
A source told ESPN.com Monday that the
Ottawa Senators
have received "several calls" regarding goalie
Ben Bishop
the past day or so.
The Senators, I don't think, feel pressed in moving Bishop before Wednesday's deadline. They're more than happy to wait until the summer to figure out their three-goalie situation with Bishop,
Craig Anderson
and
Robin Lehner
.
However, if a team made a strong enough push on Bishop (hint, hint: top-six forward), then he could certainly be moved over the next few days.
Meanwhile, pending UFA blue-liner
Sergei Gonchar
is more than likely staying put. The Senators need him for the playoff run.
McBain's name comes up
One new name popped up Monday as potential trade bait: defenseman
Jamie McBain
.
I'm told the
Carolina Hurricanes
would be willing to move him if the offer was right. McBain is not a rental; he has one more year on his deal at $1.9 million in salary and $1.8 million on the cap. He's an intriguing name, to be sure, a guy who can provide some offense from the back end.
Speaking of the Hurricanes, I'm also hearing that, despite clearing waivers last week, forward
Jussi Jokinen
continues to generate interest from other teams that want Carolina to take a player back in return. So he could definitely move before Wednesday's deadline.
Jokinen is a player the
Vancouver Canucks
have on their radar, although I would say he's not at the top of their list.
All quiet for Clarkson, Devils
A source told ESPN.com Monday that the
New Jersey Devils
and
David Clarkson
's camp have still not held any talks regarding the pending UFA. Again, not entirely surprising. Veteran Devils GM Lou Lamoriello traditionally doesn't view the trade deadline as any kind of pressure point when it comes to his UFAs.
Jackets willing to trade a first-round pick
My TSN colleague Darren Dreger was first to report this, but I can also confirm that the
Columbus Blue Jackets
, suddenly in a playoff spot, are willing to move one of their three first-round picks in the June 30 draft if they can get a scoring forward in return. (In today's edition, the Columbus Post Dispatch
also reported
that the Jackets would be willing to move one of their picks.) Mind you, they wouldn't do that for a rental player; it has to be a player with term past this season, a source told ESPN.com.
Still, that's a shift in thinking from when new GM
Jarmo Kekalainen
took over earlier this season and had only the long-term view in mind. It seems the incredible run the Jackets have been on over the past month-plus has forced him to try to throw his team a bone.
It also wouldn't surprise me if Columbus was willing to move a defenseman to get that top-six, scoring forward.
March, 27, 2013
3/27/13
3:31
PM ET
Here's something important to keep in mind as the
Ryane Clowe
situation plays itself out before next Wednesday's trade deadline.
Clowe has a full no-trade clause. The
San Jose Sharks
have to run this thing by him in order to get a deal done.
Which means if, for whatever reason, Clowe doesn't believe a certain team is a good fit, he can nix it. Although, in the same vein, Sharks GM Doug Wilson did well by
Douglas Murray
in the move to Pittsburgh, and the sense is that Wilson and Clowe have a good line of communication on what's transpiring.
A solid playoff performance on a top contender would augment Clowe's UFA market value this summer, so he's not against a trade if it makes sense for him.
Of interest is where Montreal fits into all this. Boston is tracking Clowe, among other players on its short list, as a possibility in case it strikes out on
Jarome Iginla
.
Clowe, though, is exactly what the Habs need, a power forward to complement the skill they have up front. But GM
Marc Bergevin
isn't terribly keen, I think, about the idea of giving up prime, future assets for a rental player. He knows his team, despite its success this season, isn't in the all-in mentality of Boston and Pittsburgh when it comes to the trade deadline. And the Canadiens don't have the same depth of prospects in the organization as the Bruins and Penguins do.
The early price on Clowe, I'm told, is a first-round pick and another young asset. There's zero chance the Canadiens trade a first-round pick. Bergevin wants to continue to build his base. He's got the long-term view in mind.
So my sense is that the Canadiens keep tabs on the Clowe situation but, unless the price comes down, they're not getting him.
The Rangers are also interested in Clowe.
One more interesting twist here on the Clowe situation: Don't just assume he's 100 percent headed to an Eastern Conference team. I'm told there are Western Conference teams, the
Vancouver Canucks
among them, that also covet Clowe.
Given that the Sharks may make the playoffs, you wouldn't think Wilson would want Clowe in his own conference come playoff time, but I guess it all comes down to who steps up the most in trade talks.
I know this: Clowe is a warrior. Despite his struggles this season, he would be a big-time addition to any contender. The games become more of a grind in the playoffs and he's the type of guy who excels in that context.
Jokinen clears waivers
Jussi Jokinen
cleared waivers Wednesday and that seemed to come as a surprise to many given the reaction on Twitter.
Certainly there are teams out there looking to add a top-nine forward, no question.
But as one NHL GM told ESPN.com Wednesday morning, he would have loved Jokinen more if he were an unrestricted free agent after the season. That extra $3 million left on his deal for next season made him hesitate, so he didn't put in a claim for the player.
What's at play here is that the salary cap next season goes down to $64.3 million from this season's $70.2 million maximum. Teams will be careful and picky in the kind of dollars they add to next season's payroll over the next week.
It's not over on the Jokinen front though. There are teams interested in him but they want Carolina either to eat some of his salary or take a player back in return.
Meanwhile, how about Boston claiming
Kaspars Daugavins
off waivers from Ottawa on Wednesday? He's the same player, of course, who had Bruins players raising their eyebrows earlier this month with a shootout move heard around the world. Now he brings his shootout skills to Beantown. Go figure.
Extension talk with Visnovsky
New York Islanders
GM
Garth Snow
, I'm told, reached out to Lubomir Visnovsky's camp Tuesday to see if there was any interest on the player's part in talking extension.
It's not clear whether it will lead to a deal, but agent Neil Sheehy's answer was sure, let's talk.
Visnovsky, 36, is slated for UFA status this summer, a five-year, $28 million deal expiring ($5.6 million cap hit).
If contract talks don't produce a deal, you can bet Snow's phone will ring April 3. As a rental, Visnovsky is the kind of puck-moving blueliner that many playoff-bound clubs covet and, in fact, other teams have already been calling on him.
Of course, the Islanders themselves aren't out of the playoff running -- they pulled off a huge win Tuesday night in Washington -- so Snow might not have any inclination in moving Visnovsky even if he's not signed.
Cowen on the mend?
The
Ottawa Senators
might make their best late-season addition from within.
Local media were stunned Wednesday when they arrived at the rink and saw
Jared Cowen
practicing with teammates.
The top-four blueliner originally was expected to be out for the season after undergoing hip surgery in mid-November.
Sens GM Bryan Murray, while watching Cowen skate Wednesday, told ESPN.com over the phone that there's a possibility of a late April return, although truthfully he said it wasn't clear at this point if/when the player could return.
Still, a welcome sight for the Senators on Wednesday; Cowen has been missed this year.
Tell you what, if the Senators can get Cowen, goalie
Craig Anderson
and star center
Jason Spezza
all back in time for the playoffs, hold on to your seats.
Hemsky, again
It wouldn't be a trade deadline without banter about Ales Hemsky's availability. A year ago the rumors were put to bed when Hemsky signed a two-year, $10 million extension. Now his name is surfacing, although almost it seems out of habit in media commentary as opposed to actual signs that the Oilers are shopping him.
I don't think Edmonton is actually going out of its way to shop him, but I do think they're taking phone calls on him and at this point, they have to be receptive to many things because the rebuild is lasting a bit longer than the ticket buyers had hoped in Edmonton.
The Oilers want to get tougher/grittier in their top-six forward group and they also need more help on defense. They've got lots of skill in their top-six forward group, but a little more room to skate for
Jordan Eberle
and
Ryan Nugent-Hopkins
would go a long way. Acquiring a power forward, however, is easier said than done.
I suspect you'll hear Hemsky's name out there right up to the deadline. He's got one more year left on his deal at $5 million and he does not have a no-trade clause, so Edmonton is free to do what it wants with him.
No guarantee he moves, though.
Meanwhile, there have been contract talks between the
Ladislav Smid
camp and Oilers brass. Smid is UFA after the season. He's a dependable blueliner, but if they can't sign him before April 3 and the Oilers remain out of a playoff spot, he could be a trade target. But the hope with the Oilers right now is to sign him and keep him.
Ribeiro's future
So what do you do if you're the
Washington Capitals
?
Mike Ribeiro
is a pending UFA who also happens to be leading your team in scoring.
The 33-year-old center told Washington reporters earlier this week that he'd like a long-term deal, whether that's staying put or hitting the free-agent market.
There has been a conversation between the Caps and Ribeiro's camp and word is veteran agent Don Meehan is slated to circle back to GM George McPhee before the end of the week.
The decision here isn't just intriguing from the Caps' point of view, in terms of whether they want to invest long-term in a 33-year-old Ribeiro. The player has a call to make here, too. The free-agent market isn't terribly deep this summer and he might enter the marketplace as the top-scoring player available.
It all depends, in the end, on how far Washington is willing to go with him.
March, 18, 2011
3/18/11
3:14
PM ET

Stock Up
Jamie Benn, Dallas Stars: Benn had a goal and an assist in the Stars' 5-0 rout against the Chicago Blackhawks on Thursday night to stretch his points streak to nine games. The 129th pick in the 2007 draft has eight goals over that span and has stepped up nicely since the trade of James Neal to Pittsburgh in advance of the Feb. 28 trade deadline. The Stars, meanwhile, continue to impress. Their win over Chicago moved them into a tie with the defending Stanley Cup champs for sixth place in the Western Conference.
Christian Ehrhoff, Vancouver Canucks: When you think of the Canucks' blue line, you think injuries instead of point production. That's a function of having dynamic scorers up front like Daniel and Henrik Sedin, who are vying for Hart Trophy consideration, and Ryan Kesler, who will likely be a Frank J. Selke Trophy finalist. But Ehrhoff has helped stabilize a blue line that has been ravaged by injuries this season, regularly logging more than 25 minutes a night in ice time in recent weeks. The former San Jose Shark has eight points (all assists) in his past seven games. The Canucks also have taken a stranglehold on the top seed in the Western Conference, as well as the Presidents' Trophy race.

Stock Down
Jussi Jokinen, Carolina Hurricanes: If the youthful Hurricanes are going to reassert themselves as a playoff team in the final three weeks of the regular season, they are going to need to get offense from more than just captain Eric Staal. That means veteran forward Jokinen, always a bit of a streaky producer, will need to get back on track -- and soon. The forward has just two points in his past eight games and has not scored a goal over that period of time. The Canes have just one win in their past six outings and were in ninth overall in the East.
Alexei Kovalev, Pittsburgh Penguins: Hey, we know the Penguins didn't acquire the veteran scorer to put up points in relatively meaningless regular-season games, which we guess is good since Kovalev has managed to score just once and add two assists in nine games since coming over from Ottawa. The big winger has managed only 14 shots with the Pens and has had three shots in one game just once. None of this means anything if Kovalev can somehow find the range come playoff time, but it is mildly troubling given he is regularly averaging more than 17 minutes a night in ice time. Maybe he's just saving up.
February, 22, 2011
2/22/11
11:06
PM ET