Cross Checks:

Justin Abdelkader
May, 6, 2013
5/06/13
10:54
AM ET
The road to
Brendan Shanahan
's door should be renamed The Path of Least Resistance.
Whatever is guaranteed to create the least amount of fuss, whatever allows the latest ugly on-ice mess to dissipate into the ether as quickly as possible, that's what will be brought forth by the office the league's Lord of Discipline.
As was the case a year ago when the first round of the playoffs erupted in a frenzy of cheap shots and dangerous hits, the NHL's opening round this spring has seen bloodshed and suspensions.
Looks like the message is really getting through.
But it's not really about the message, is it?
It's about smoothing things over.
[+] Enlarge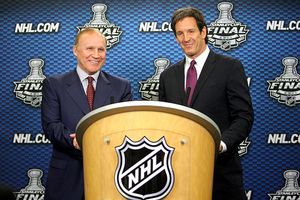 Dave Sandford/Getty ImagesBrendan Shanahan, right, and his predecessor, Colin Campbell, have created more confusion than clarity when it comes to NHL discipline.
That's why Shanahan suspended
Eric Gryba
for what most hockey observers, including coaches, players and general managers we've spoken to in recent days, believe was a perfectly legal hockey hit on Montreal's
Lars Eller
.
Listen to Shanahan's video announcing the two-game ban, and he might as well have been explaining cold fusion. So much gobbledygook and double-speak to mask what was in the end another missed mark.
Had Shanahan simply come out and said "this is a hit we don't want in our game, and we are going to take it out, and it's going to start now with a 10-game ban," then we could have lived with that. In fact, a number of executives we spoke to in the wake of Gryba's devastating hit on Eller believe the hit needs to be taken out of the game.
That doesn't change the fact that the suspension wasn't framed that way, and that by the letter of the law, that's how defenders are taught to play.
If you want to call something an apple, then call it an apple. But don't say apple and then explain oranges, which is what the Gryba suspension became.
What confuses the issue even further -- and if there is a word to describe the NHL's attempt to modify on-ice mayhem in recent years, both under Shanahan and his predecessor Colin Campbell, it's confusion –- is the subsequent suspension of Detroit's
Justin Abdelkader
for two games for launching himself at a vulnerable
Toni Lydman
of the
Anaheim Ducks
.
Same suspension, so it must be the same play, right?
Ha-ha. Just kidding. They're two completely different scenarios.
Abdelkader launched himself at Lydman, targeting the head with the shoulder, exploding up and into the unsuspecting player.
The Ducks revealed that Lydman has severe headaches and a sore neck, and he is bothered by bright lights, all of which points to Lydman having suffered a concussion. That's no shock given the dangerous nature of the hit. He also isn't expected to play in Game 4 of the Wings/Ducks series. Again, no surprise.
This is the kind of activity the NHL has been trying for a number of years to eradicate, but we continue to see those kinds of hits on a regular basis.
Whatever the league thinks it's doing in terms of education and/or supplemental discipline, it's not working. The
Minnesota Wild
are without top forward
Jason Pominville
as they try to keep pace with the
Chicago Blackhawks
after a sneaky dirty elbow to the head from
Dustin Brown
late in the regular season.
The Kings' captain received a nice two-game break at the end of the regular season, which allowed him to rest up for the playoffs while Pominville's absence could cost the Wild millions of dollars in playoff revenues.
The tendency in the playoffs has been to modify down the number of games a player is suspended for because the value of each game is greater, and so a five-game suspension in the regular season might be rationalized into a one-game ban in the postseason. Where's the logic in that?
What if Lydman cannot return to the series against Detroit? Yet Abdelkader, who has been playing on the Wings' top line with
Pavel Datsyuk
and
Henrik Zetterberg
, will be back for what could be deciding games?
How does that make sense? How is that justice?
Truth is, it has always been less about justice and making sense than simply making things go away when it comes to the NHL's peculiar efforts at controlling its on-ice mayhem.
May, 5, 2013
5/05/13
10:25
AM ET
DETROIT -- Red Wings forward
Justin Abdelkader
will have a 4 p.m. ET phone hearing with the NHL's department of player safety on Sunday regarding his hit on Anaheim defenseman
Toni Lydman
. Abdekader hit Lydman 15:11 into the second period of the Ducks Game 3 win, appeared to leave his feet and make contact with Lydman's head. He received a five-minute charging major and game misconduct.
The league announced that the hit is being considered for supplemental discipline on the grounds of charging.
Lydman didn't return to the game and Anaheim coach Bruce Boudreau said he was suffering from headaches and doubtful for Sunday's practice in Detroit. Lydman has a history of concussions.
"We just want our guy to be OK," Boudreau said.
May, 5, 2013
5/05/13
12:31
AM ET
DETROIT -- For the most part, the
Anaheim Ducks
passed. Passed on a chance to make their case. Passed on an opportunity to offer up their opinion regarding
Justin Abdelkader
's hit on
Toni Lydman
that earned the Red Wings forward a five-minute charging major, game misconduct and possibly a call from league disciplinarian
Brendan Shanahan
.
"I didn't get a chance to really look at it," said Ducks forward
Nick Bonino
, who scored 18 seconds into the ensuing power play in Anaheim's 4-0 win. "I'm going to stay out of it."
Said captain
Ryan Getzlaf
: "Sorry, guys. That's got nothing to do with me. If I had an opinion that mattered, I'd give it to you. But my opinion doesn't. We just wait and see."
Ducks coach Bruce Boudreau took the high road as well, complimenting the league's history on handling suspensions before declining to offer his opinion.
"Mr. Shanahan can look at it, he can read into what he thinks," Boudreau said. "We just want our guy to be OK."
Late in the second period, Abdelkader left his feet on a hit that appeared to make contact with Lydman's head, a typical recipe for a suspension. It's the combination the league has worked hard to try to eliminate from the game over the past couple years as concussions emerged as a serious issue in the NHL. Lydman did not return to the game and he was still dealing with a headache afterward. Boudreau didn't sound optimistic that Lydman would be on the ice for Ducks practice on Sunday afternoon.
But Red Wings coach Mike Babcock didn't see a guy targeting the head, but instead hitting shoulder-to-shoulder.
"He is low when he hits him," Babcock said. "When he explodes through him, he's not low anymore. When he makes contact, his legs are bent and he's low ... I didn't think his arms were up or anything like that. I thought he hit him on his shoulder."
The hit will be debated before and after Shanahan makes a ruling, but there's no debating the impact of Anaheim's response in Game 3. Ducks defenseman
Cam Fowler
described Anaheim's play in the second period until that moment as flat.
It wasn't flat from then on.
With previous Ducks teams, the hit on Lydman might have led to a fight. Or at the very least losing their cool. But according to Bonino, Getzlaf addressed some of the players leading up to the ensuing power play with a message:
Settle down.
Getzlaf wanted to see a calm reaction but also called for urgency during the Ducks' five-minute power play. Too often, he said, teams get lackadaisical when they have five minutes of power play. He didn't want to see that happen at this critical moment, and he let his teammates know.
Bonino scored 18 seconds later.
"It's definitely what we were looking for," Getzlaf said.
It ended up being the game winner, although it wasn't the goal that broke the Red Wings' spirit. That came in the third period, when Getzlaf stripped
Damien Brunner
of the puck in front of
Jimmy Howard
and beat him for a short-handed goal 6:33 into the final period. That was the back-breaker. Another moment for the Ducks captain.
But the hit and the Ducks' reaction to it changed the course of the game. Maybe the series. During the regular season, the Ducks were 17-0-2 when leading after two periods, a lead Bonino's power-play goal allowed them to seize. They know how to close out a game. Now, with a 2-1 series lead, we find out if they're just as good closing out a series.
August, 14, 2012
8/14/12
9:07
AM ET
By
Sarah Goldstein
| ESPN.com
July, 18, 2012
7/18/12
10:11
AM ET