Cross Checks:

Keith Aulie
September, 10, 2014
Sep 10
11:52
AM ET
Toiling at the bottom of the league standings for years, the
Edmonton Oilers
have stockpiled through the draft what is considered a loaded pool of prospects.
The Oilers boast a roster with a promising crop of talented young players, including
Taylor Hall
,
Ryan Nugent-Hopkins
and
Nail Yakupov
. But despite that bevy of potential, the club still hasn't been able to put it together.
Will this be the season it turns the corner?
Former Oilers forward
Eric Belanger
isn't betting on it quite yet. The talent is there, but the experience is still lacking. And what the Oilers have done is thrust some of these bright young stars into the type of roles that have traditionally taken years to earn.
"I remember when I started in the league, guys started on the third or fourth line and were working their way up. You have good veterans, you don't have the pressure to perform every night," Belanger, 36, told ESPN.com in a recent phone conversation. "I think the game has changed dramatically in that way.
[+] Enlarge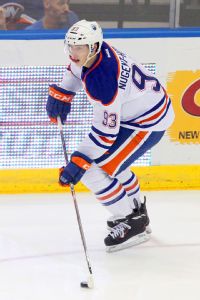 Brad Penner/USA TODAY SportsRyan Nugent-Hopkins and the Oilers' other young talents still have some learning to do.
"A lot of the young players coming into the league play right away and it's tough for them. I saw Taylor Hall putting so much pressure onto himself. They want to make the playoffs. It's tough because they have to perform every night and they don't have that veteran presence if they don't do well for a few games."
The difficulty Edmonton has had in attracting free agents compounds the problem. To lure players and compete with other more enticing locales, the Oilers have had to dish out both dollar and term. The team plunked down $20 million over five years for free-agent forward
Benoit Pouliot
and added defenseman
Mark Fayne
on a four-year, $14.5 million deal.
Belanger, who will be working as an analyst for RDS this season, said the key will be to stand behind those players they've committed to long term and hope to add veterans via trade. Even that is becoming increasingly difficult, however, with the proliferation of no-move or no-trade clauses among top players.
"They try to sign veterans, but it's a tough place to sign, to get free agents to go there," he said. "They try to do it via trade but now all the top-liners are on long contracts and they have no-trade [clauses] and [Edmonton] is not on the top of the list. It's tough for them, but I feel bad for the fans because they are the ones paying the price for the last eight years."
Edmonton has not earned a posteason berth since the team's stunning run to the Stanley Cup final in 2006. And though rookie coach
Dallas Eakins
was supposed to bring about a definitive culture change, with promises of "bold" moves and aggressive retooling from general manager Craig MacTavish, last season still left a lot to be desired.
The Oilers, at 29-44-9, finished in 28th place in the league. They ranked dead-last in goals-against per game, giving up 3.26 on average.
"I just think, first of all, there is a question mark in net," said Belanger, even though the Oilers acquired
Ben Scrivens
in a trade with Los Angeles in January and added
Viktor Fasth
as well. "I just don't know. There are a lot of question marks there. The young guys were given a big role early in their career, which I don't think was the right thing to do."
Still, there have been positive signs. Belanger loved last summer's trade to acquire
David Perron
from St. Louis. MacTavish made moves to try and improve the team's defense, adding
Nikita Nikitin
and
Keith Aulie
.
Belanger, a 16-year NHL veteran, hopes to see the rest of the kids flourish as well this season. He said the team's shortcomings aren't for lack of effort, but rather experience. So, what is reasonable to expect of the Oilers this season?
"It's hard to say. Everybody thought this team was going to be good last year or two years ago, but they didn't really respond to the expectations," Belanger said. "This year, I don't see them making the playoffs."
December, 10, 2013
12/10/13
1:10
PM ET
While we await word on just how big a whack Boston's
Shawn Thornton
will get for hunting down and pummeling unsuspecting Penguin
Brooks Orpik
(the guess is a dozen games for sending Orpik to the hospital with a concussion and to the injured reserve list), league disciplinarian
Brendan Shanahan
got it just about right with the five-game suspension handed down to
James Neal
for kneeing
Brad Marchand
in the head in the same game.
In a game with plenty of ugliness, Neal's cheap shot to an equally unsuspecting Marchand was the most senselessly bizarre. One wonders how the suspension will effect Neal's standing with the Canadian Olympic group. It's not just the five games he'll miss, but the question of whether in a tournament in which special teams will play a prominent role, you can afford to have someone on your team who has so little self-control.
[+] Enlarge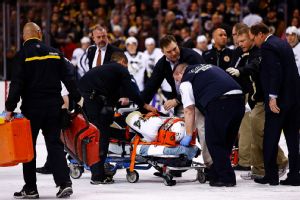 Jared Wickerham/Getty ImagesThe notion that Brooks Orpik should have to defend himself or risk getting injured after a legal play is part of the problem in today's game.
Finally, the Bruins not only lost
Loui Eriksson
to a hit from Orpik in that game, but also
Chris Kelly
to a broken leg courtesy of
Pascal Dupuis
. The replay of Kelly's injury shows that Dupuis isn't even looking at Kelly but is instead trying to make contact with a bouncing puck, but that won't make Kelly or the Bruins feel any better.
One NHL executive at the board of governors' meetings in California suggested that if Orpik had simply fought Thornton -- as Thornton had wanted after Orpik's heavy hit on Eriksson -- none of this would have happened. Oy.
If there is a problem the league's GMs and competition committee need to address, it's the notion that players should have to fight after delivering a legal body check. Whatever happened to simply taking a hit?
The sooner the league moves to punish players who go looking for fights in the aftermath of clean hockey hits -– there was no penalty assessed on the Orpik hit on Eriksson –- the sooner we have fewer incidents like the debacle in Boston on Saturday.
Lightning bitten by injury bug
While the Bruins deal with several injuries and the loss of Thornton (and continue winning, by the way), no team has it quite as bad as the
Tampa Bay Lightning
.
After being relatively injury-free through the first six weeks of the regular season, Tampa Bay lost
Steven Stamkos
to a broken leg in November and has been besieged by other key injuries since.
"It was exactly like the injury dam broke," head coach Jon Cooper told ESPN.com Monday.
The Lightning have piled up 101 man-games lost to injury, and at one point last week had 13 players in the lineup with fewer than 100 NHL games to their credit, and eight with fewer than 50 games.
On the night the Lightning got defensemen
Eric Brewer
and
Radko Gudas
back from injury,
Keith Aulie
and
Victor Hedman
both went down with long-term injuries. The two defensemen join Stamkos and veteran winger
Ryan Malone
among those with significant injuries.
One of the first things Cooper did when talking to his players about the spate of injuries is to make it clear they weren't going to use them as an excuse for on-ice performance.
"The one thing we'll never do is use injuries as an excuse because once you do that, we're done as a team," Cooper said. "The mindset has been, 'These are the 20 guys we're going with on any given night, now how do we get the most out of them?'"
But the rash of injuries that totaled more than 2,800 games of NHL experience has tested the team's organizational depth and forced players to play out of their comfort zone.
Valtteri Filppula
, for instance, is now the team's No. 1 center and
Tyler Johnson
is in Filppula's normal spot on the second line, meaning both are playing against a class of players they're not used to seeing.
Overall, Tampa has four rookies among in the top 30 in scoring among first-year players.
The team has held its own since Stamkos went down, going 5-5-2 overall and 4-1-1 at home. The team defense and goaltending have been excellent, but the team's offense has, perhaps predictably, gone south.
"The problem is we're really struggling to score," Cooper said.
Surprise for Sabres?
Among the interesting names being bandied about for the vacant
Buffalo Sabres
GM job is that of Tim Murray. The current assistant GM in Ottawa, Murray had a hand in building the Anaheim Ducks' Stanley Cup winner in 2007 as director of player personnel responsible for college free agents.
He has also served with the
New York Rangers
and
Florida Panthers
in various scouting capacities. Bloodlines don't hurt, either, and Murray is the nephew of current Ottawa GM Bryan Murray and former NHL head coach Terry Murray.
Fisher making a Selke case
Of all the trophies hockey writers vote on, the one that gives us most pause is narrowing the field for the Frank J. Selke Trophy as the league's best two-way forward. It is always difficult to balance the offensive side of the game with the work a player does killing penalties, taking key draws and shutting down the opposing team's top players.
So we listened with interest as Nashville head coach Barry Trotz talked about his top shutdown center,
Mike Fisher
. The team has struggled and Fisher's offensive numbers (seven goals, 12 points) aren't what he or the team hoped for, but he remains a key figure even though his work goes largely unnoticed.
"He's always been a guy, top centerman in the league, he ends up playing a lot of times head-to-head [against opposing stars] and I think he hasn't got any credit for that here the last couple of years," Trotz said in a recent interview. "He's scored and all that, but he's sort of under the radar and I think this year, especially this year, he's played really back to the level that I think has made him a real hard player, a Selke candidate.
"His numbers are modest, but they're solid for our team. He plays against the top guys almost every night. He plays heavy minutes and he plays a heavy game. He doesn't play a light, shadowy game.
"At the end of the night, you know you played Mike Fisher. At the same time he still operates on the penalty kill, still operates on our power play," Trotz continued. "Plays head-to-head against people, plays in all the key situations, takes key faceoffs, him and
Paul Gaustad
. He really is a guy who is very important to their team, but at the same time contributes on both sides of the puck.
"He's not a pure shutdown guy; that's why I don't think he gets the credit that he deserves. It's a hard league and he's a hard guy to play against."