Cross Checks:

Keith Ballard
May, 22, 2013
5/22/13
8:43
PM ET
So
Vancouver Canucks
GM Mike Gillis fed head coach Alain Vigneault and assistants Rick Bowness and Newell Brown to the lions.
Hardly a surprise.
That's what happens when a talented, Stanley Cup-hopeful team goes 1-8 in the playoffs over the past two years. The Canucks owned home-ice advantage in both series, and lost the first two games of the series at home both times.
Someone has to pay the price for that kind of underachievement.
And let's not forget, Vigneault was inherited by Gillis when Gillis took over five years ago. Every GM should get to hire at least one coach before any final judgments are issued on his tenure.
But does anyone anywhere think this was strictly a coaching issue? Does anyone think that as this team stands now it's simply a matter of getting a new voice behind the bench?
Maybe Gillis, who met with the media in Vancouver on Wednesday afternoon and opined that people have been after both him and Vigneault for the past five years, actually believes that.
And while Vancouver does have its own unique dynamic with the media and a fan base still waiting for the franchise's first Stanley Cup, is there a GM in Canada or any major American market who doesn't feel the same kind of pressure to produce and, moreover, to answer when there are failures?
Maybe in the coming days and months Gillis will be vindicated with this move.
Maybe someone like
Dallas Eakins
comes in and takes this team to the greatness foretold when the Canucks advanced to the seventh game of the 2011 Stanley Cup finals. Or maybe it's Lindy Ruff who does it. Or Dave Tippett, pending the resolution of ownership issues in Phoenix.
[+] Enlarge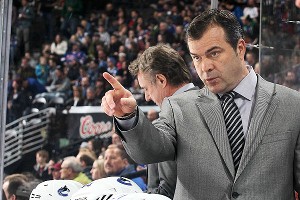 Michael Martin/NHLI via Getty ImagesAlain Vigneault took the fall for Vancouver's recent failures, but there's more blame to go around.
But if the media and the fans are this day feasting on Vigneault, this is without question a failure that extends far beyond Vigneault's game plans and his inability to get his team to play at a higher level in the postseason.
Gillis shares that burden of failure, having presided over a team that has fallen in a shocking manner from the ranks of the NHL's elite.
Gillis grossly miscalculated the trade market for goalie
Roberto Luongo
and in the end couldn't even give the veteran netminder away at the trade deadline, despite his best efforts to peddle Luongo to Toronto for a couple of draft picks.
And so the one issue that absolutely needed to be dealt with -– moving Luongo in order to allow
Cory Schneider
to fully grow into the starting role bequeathed to him at the end of the disappointing first-round loss to Los Angeles last April -- remained the elephant with pads that never left the Canucks' dressing room.
Think the Luongo market will pick up before the start of free agency? Ha.
When you get swept as the Canucks did at the hands of the
San Jose Sharks
, with Schneider allowing nine goals on 75 shots in two losses to close out the series after Luongo started and played well enough in the first two games, let's just say no other GM is going to be throwing Gillis a life preserver.
Unless he is prepared to use a compliance buyout on Luongo, which brings with it a host of salary-cap issues, Gillis is going to have to eat some of Luongo's salary and/or take on some other team's contract baggage.
And it's not as if the Canucks don't already have some of that kind of baggage. Winger
David Booth
has two more years at $4.25 million, defenseman
Keith Ballard
has two more years at $4.2 million, and Vancouver has five more years of
Jason Garrison
at $4.6 million, for the former Florida Panther who recorded zero points in the playoffs after taking a long time to get going during the regular season.
According to Capgeek.com, the Canucks are already at the cap threshold for next season with 17 players under contract.
The addition of center
Derek Roy
at the trade deadline didn't pan out at all –- he had one assist in the Sharks series -– and Roy will likely be headed somewhere else this summer as an unrestricted free agent.
So this promises to be an interesting and perhaps seminal summer for Gillis and the Canucks.
There are still too many elemental pieces on the Canucks' roster to dismiss them entirely. The Sedin twins -- Henrik and Daniel -- are cornerstone players, even if they combined for zero goals in the four-game sweep by the Sharks.
Center
Ryan Kesler
has proved to be as good a two-way forward as there is in the game, but his durability remains a nagging problem.
Kevin Bieksa
,
Alexander Edler
and
Dan Hamhuis
represent what should be the defensive foundation of a contending team.
But there remains the overwhelming feeling that this isn't a team that has simply hit a speed bump like the
Pittsburgh Penguins
or
Chicago Blackhawks
have the past couple of years. Rather, Vancouver is a team that with no obvious second wave of young talent on the horizon is on the verge of seeing its window to glory quickly closing and a window to uncertainty opening.
Maybe it was time for Vigneault to go. He won a Jack Adams Award as coach of the year, and led the Canucks to a pair of Presidents' Trophies and a Cup finals berth, but they blew series leads of 2-0 and 3-2 to Boston in the 2011 Cup finals and couldn't get out of the first round the next two years.
It was likely time for change, even as it seems likely Vigneault will find NHL employment elsewhere quickly, whether in Dallas or Colorado, depending on whether the Avalanche hire
Patrick Roy
.
But if the clock ran out on Vigneault in Vancouver on Wednesday, then the same clock is now ticking loudly in the ear of Mike Gillis.
May, 21, 2011
5/21/11
10:30
PM ET
SAN JOSE, Calif. -- The betting money is on Keith Ballard and Andrew Alberts to lace them up for Sunday's Game 4 of the Western Conference finals in the place of injured Vancouver Canucks blueliners Christian Ehrhoff and Aaron Rome.
Mind you, as is his custom, Canucks coach Alain Vigneault would not confirm that.
"We'll see tomorrow," he said Saturday after practice.
Vigneault, meanwhile, would not speculate on how serious the injuries to Ehrhoff and Rome were and how long they'd be out.
"You guys know we don't discuss injuries, so ... not going there," Vigneault said.
It would be stunning not to see the $4 million man Ballard not finally reinserted into the lineup. At some point, the Canucks have to give this guy another chance.
"I have a lot of faith in Keith," Vigneault said. "He has played some good hockey for us. Obviously, I think that he'd probably like to have a little bit [of a] bigger role on our team. I mean, nobody hides that. He's been used to more minutes in the past with the prior teams he's played with. But on this team, we feel that there are some guys right now that are playing better than him. ... He's got an opportunity, probably tomorrow, to step in and show us what he can do."
Ballard is champing at the bit; he hasn't played since Game 2 of the second round against Nashville.
"It's not an ideal situation to come in like that when two guys that have been playing real well for us go down, but it's been the same story all year," Ballard said Saturday. "We have to use our depth again, and if it happens, I'm excited to get back in."
Despite being in and out of the lineup, Ballard insisted his confidence isn't shaken.
"My confidence is good," he said. "There have been some ups and downs this year, definitely, and lately it has been tough sitting out and watching and seeing what the guys are going through, how hard they're playing and how fun it is on the ice. But one thing I haven't lost is my confidence."
If Alberts does not go, another option for Vigneault is rookie Chris Tanev.


No suspension for McGinn
Sharks forward Jamie McGinn avoided suspension from the NHL on Saturday. The league reviewed his hit on Rome and decided his five-minute major and game misconduct Friday was enough discipline.
"I'm not going to comment on how the league interprets certain hits," Vigneault said. "Going to leave that up to them. That's all I want to say there."
Couture OK
Sharks center Logan Couture confirmed he'll be playing in Game 4 despite getting his bell rung Friday night after colliding with linemate Ryane Clowe.
"I felt a little dazed," Couture said of the collision. "I went out, got checked out. The doctor said I was fine, but they didn't want me coming back in the game. I feel fine. Did all the tests, all that stuff. He said I didn't have a concussion."
Marleau heating up
For now, the heat is off Patrick Marleau after putting up five goals in his past four games. He said he's not doing anything different.
"Amazingly, I think it's the same. I'm going to the same areas," he said Saturday after practice. "Pucks are coming through and I'm getting some breaks. It's a game of inches, and right now, the inches are going our way."
Playing hurt
Both the Canucks and Sharks have players playing through pain. That's the NHL playoffs, Sharks coach Todd McLellan said Saturday.
"There's ice bags, there's treatments going on all over the place," he said. "When the Islanders' dynasty was in existence, I remember hearing a story about the Oilers walking by the Islanders' locker room. Those guys were bleeding, they were taped up, there were ice bags everywhere when they should have been celebrating a Stanley Cup championship.
"I think if I remember the story correctly, that was the moment the Oilers needed to become their dynasty, was to see that. If you're not hurt right now, if you're not banged, bruised, you're not sore, you're not tired, I guess the question would be, why?"
Playing with Boyle
Sharks defenseman Douglas Murray said it's no issue at all playing with an offensively gifted blueliner like Dan Boyle, who likes to join the rush.
"Believe it or not, he has a pattern in how he does things," Murray said. "Maybe that's because I've played alongside him so much. The best part of it is that we communicate a lot. I know the times when he wants to take off for the offensive zone. He's not a defenseman that has a lot of risk in his game. He picks his spots really well."
October, 20, 2010
10/20/10
5:51
PM ET
A Montreal radio report surfaced via Twitter on Tuesday that the Habs were close to signing star blueliner Andrei Markov to a long-term extension.

"I have not had any negotiations whatsoever with Montreal," veteran agent Don Meehan, Markov's agent, told ESPN.com on Tuesday afternoon. "These reports of a signing are absolute nonsense.''

Still, Meehan obviously expects to talk contract with Habs GM Pierre Gauthier at some point this season. Markov is eligible to become an unrestricted free agent July 1 and would be the headliner among blueliners (not counting Nicklas Lidstrom).

I think Meehan and Gauthier will be able to get a deal done before July. I don't think Markov wants to go anywhere.

It makes sense for the Canadiens to wait and see how Markov plays once he returns. He had ACL surgery in the offseason.

Senators looking at trade possibilities
Senators GM Bryan Murray has been working the phones this week in view of his team's dismal start to the season.

"I've talked to a few managers, not everyone by any means, but I've called a few people," Murray told ESPN.com on Wednesday afternoon. "But there's nothing going on at this point. I think most everybody feels it's too early [for a trade]."

But at 1-4-1 to start the season, especially for a team with playoff aspirations, Murray has the itchy trade finger.

"Obviously we're not happy with how we've played," Murray said. "We feel we've given up too many scoring chances and goals. So we're trying to find a little bit of a solution there. The main one would be if a couple of guys played better. But we might look at what's out there."

The Sens are on the lookout for a defenseman. They miss Filip Kuba, who's likely out another two weeks as he recovers from a broken leg. And before you mention Sheldon Souray's name, I don't think he's an option. The Sens can't take on that money under the cap. They need to make a money-in, money-out trade. I think if Murray does something, it'll be more along the lines of a five- or six-type blueliner.

Tallon gets his ring
A few weeks ago, Panthers GM Dale Tallon got a text message from Blackhawks president John McDonough saying the 2010 Stanley Cup rings were in. McDonough asked Tallon, the former Hawks GM, whom he wanted to get the ring from.

"I texted him back and said I would like him to come down," Tallon told ESPN.com on Tuesday, hours after receiving the ring. "So he responded in kind and delivered it today. That was real classy of him."

Classy indeed, especially when you consider the bad blood that might or might not have existed more than a year ago when Tallon was pushed out as GM (most believe by McDonough) and replaced by Stan Bowman.

That wasn't a move that was welcomed by many national media members who value Tallon's keen eye for talent and of course his gregarious demeanor. He had rebuilt the Hawks, and it was seen as unfair for him to be bumped off just because he took the blame for the botched qualifying offers in late June 2009.

Whatever, it's all water under the bridge. The Hawks, led by McDonough, have been first class in the way they've treated Tallon in the wake of their Cup triumph, and the former Hawks GM has genuinely appreciated it.

"Having my name on the Cup and now this ring, it's a beautiful thing," Tallon said.

He said the Hawks also gave his wife a pendant.

"All of it is first class," Tallon said.

And now all of it is closure.

"I'm looking ahead to this challenge with the Panthers," he said.

Canucks' blue line
During a training camp stop in Vancouver last month, I remember the reaction of Canucks GM Mike Gillis when I asked him about carrying too many defensemen and most notably what he was planning to do once Sami Salo returned from injury later this season.

"We went into last year with nine defensemen, and at the end of the season, we didn't have enough," Gillis told ESPN.com in late September. "There's a lot of time, and a lot of things can happen between now and when Sami is able to return."

Talk about prophetic. Newly acquired blueliners Keith Ballard (concussion) and Dan Hamhuis (foot) both missed Tuesday night's game at Minnesota. They had missed a total of six games -- combined -- in the past three seasons before then. It's that durability that Gillis was keying on when he acquired them. Go figure.

As much as Kevin Bieksa (UFA on July 1) has been given his rites of Canucks passage several times since the summer by fans and media, the fact that Vancouver has been riddled with blue-line injuries the past few years, especially at playoff time, makes me think the Canucks will try to keep as many defensemen as possible for the long haul.