Cross Checks:

Keith Tkachuk
August, 20, 2014
Aug 20
12:04
PM ET
No one was happy in St. Louis when the highly touted Blues made a hasty exit from the 2014 NHL playoffs.
The Blues built a 2-0 series edge against the
Chicago Blackhawks
in the Western Conference quarterfinals only to surrender that lead to their hated division rival in a stunning six-game set.
That bitter defeat will be a sore subject when training camp begins next month, no doubt, but according to former Blues star
Keith Tkachuk
, it may serve as quite the learning experience as well.
[+] Enlarge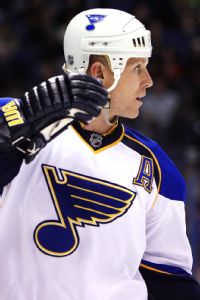 AP Photo/Jeff RobersonKeith Tkachuk likes how his former team is building for postseason success.
"I think everyone in the organization was disappointed, fans clearly were, when we were up two games to none [and lost]," Tkachuk told ESPN.com in a recent phone interview. "The young guys, I think it will be beneficial to them to be a little aggravated, to see them knocked off by Chicago, which is a good rivalry here in town.
"I think you'll see a lot of angry guys, pissed-off guys [in camp]."
Those young guys are the key to the Blues' future and remain a bright spot for a team that has gone into recent postseasons as one of the elite squads out West and then run into some of the most fearsome opponents.
Tkachuk, who recorded 1,065 points in 1,201 NHL games and spent nine seasons with the Blues, sees defenseman
Alex Pietrangelo
thriving this season with another year of experience under his belt. And he views
Jake Allen
as a strong competitor who will push Brian Elliott for the starting goaltending job.
Tkachuk says the 24-year-old Allen has done things "the proper way," paying his dues and rising up the ranks steadily after years in junior hockey and the American Hockey League. He also has good size, keen stickhandling skills and a growing sense of confidence. Tkachuk thinks his development, and the Blues' stability in net, will benefit from that.
"This is the perfect situation. Elliott is a little bit later [into his career] and Allen who needs more NHL seasoning," said Tkachuk. "If you have Elliott, who is a great pro, and they push each other in practice, Elliott's working habits in practice will have a big-time influence in Allen. Whoever's playing well is going to play."
That's not to say that Tkachuk did not support the Blues' bold move to trade for
Ryan Miller
in February last season. It was a bold decision from management, namely general manager Doug Armstrong, that indicated the club was ready to go all-in on the 2014 postseason.
But the acquisition did not go as planned. Miller posted a pedestrian 10-8-1 record with a 2.47 goals-against average and .903 save percentage for St. Louis, and the Blues chose not to re-sign the longtime
Buffalo Sabres
netminder, who subsequently signed a free-agent deal with the
Vancouver Canucks
in July.
"It was definitely worth a shot," said Tkachuk, who spends the majority of his time traveling to watch his two teenage sons play hockey and coaching his youngest in midget minor. "Last year, there were a lot of question marks with
Jaroslav Halak
, so [the Blues] made the move and I'd have done the same thing. It didn't work, but it's not all on him. As a team, sometimes you need a change. Jake Allen, as well as he did in Chicago, deserves to be here."
Tkachuk also said he loves the signing of center
Paul Stastny
, which adds depth down the middle and gives captain
David Backes
some help at the position.
"It brings some much-needed offensive help, not just 5-on-5 but on the power play, which is huge," Tkachuk said.
Heck, in a Central Division that keeps raising the caliber of competition, the Blues had no choice but to ante up.
"It's a challenge every night," Tkachuk said. "You've got the two-headed monster in
[Patrick Kane]
and
[Jonathan] Toews
, who really played well [in the playoffs]. You know Colorado is going to have another good year, especially adding
[Jarome] Iginla
. Dallas has gotten better with [trade acquisition
Jason] Spezza
.
"I think Stastny was a huge move shown by management and ownership that we want to take it to the next level, but it's definitely a tough division. We have to close out teams when we have them."
June, 29, 2013
6/29/13
5:30
PM ET
NEW YORK -- Of the many memorable hours leading up to the epic gold-medal game at the Vancouver Olympics in 2010 between Canada and the United States, this is one that has stayed with us.
It was a conversation with then-U.S. associate GM David Poile the day before that game.
He had spoken earlier in the process about the importance of the Olympics, specifically the impact a strong showing might have on future generations of U.S. players. About how the 1980 Miracle on Ice team became a beacon for a generation or more of American players as well as -- to a lesser degree -- the U.S. team that defeated Canada in the 1996 World Cup of Hockey championship.
As the gold-medal game approached, it was hard not to be swept up in the emotion of what lay ahead.
"I don't think anybody knew how good we'd be. We didn't know how good we'd be," Poile said that Saturday. "Let's call it like it is."
The Americans would be denied a shot at Olympic immortality by the slimmest of margins, a
Sidney Crosby
goal in overtime, from a bad angle at that.
We were reminded of the legacy -- or at least the potential legacy -- of that team Saturday, when we were swept up once again in the quest for Olympic glory as Poile was formally announced as GM of the U.S. team for the 2014 Olympics in Sochi, Russia.
Part of the charm of the Vancouver team was the fact it was the youngest team in the tournament. As GM, Brian Burke was fond of repeating that no one gave the Americans a spit of a chance to earn a medal, let alone battle for gold.
No question the dynamics will be dramatically different in Sochi on a host of fronts.
"In Vancouver, we were turning the page," Poile told ESPN.com on Saturday.
That team was the first that didn't hearken to the glory days of
Brian Leetch
,
Chris Chelios
and
Keith Tkachuk
et al. The idea was that if the team had any success at all, it would provide a good base on which to build for 2014.
The Americans' run to the silver (going 5-1 in the tournament) means they will not sneak up on anyone in Sochi. Not with the past two Conn Smythe Trophy winners on the roster in
Patrick Kane
and
Jonathan Quick
. Throw in top-end talent like
Ryan Suter
, who in our book was the hands-down best defenseman in the NHL this season (finished second to
P.K. Subban
in Norris Trophy voting),
Minnesota Wild
teammate
Zach Parise
,
David Backes
,
Joe Pavelski
,
Phil Kessel
and
Dustin Brown
and there will be a strong core returning from the Vancouver squad.
Still, trying to handicap Olympic contenders based on results from a tournament four years in the past is a mug's game. Yes, some continuity is important. Understanding the routines of an Olympic tournament, the media, the schedule and the ebbs and flows of a short, high-drama competition is critical to how a team comes together.
But each tournament represents a different world, and that is where the management structure and coaching staff are so critical to a team's success.
USA Hockey neatly sidestepped a potential public relations problem early on by structuring its management team in the manner it did. Poile moved up the ladder and will be joined by
Pittsburgh Penguins
GM Ray Shero, who will act as associate. The two worked together for the
Nashville Predators
and were part of the U.S. management committee that helped put together the 2010 team.
But Burke, the architect of that team, has been kept in the fold as director of player personnel. He will accompany the team to Sochi.
It was Burke who came up with the idea of opening the process of selecting teams for international competition to American GMs. He invited colleagues like Paul Holmgren (
Philadelphia Flyers
), Dean Lombardi (
Los Angeles Kings
), Stan Bowman (
Chicago Blackhawks
), Dale Tallon (
Florida Panthers
) and former Atlanta Thrashers GM Don Waddell to join in the process.
The openness and inclusiveness established by Burke was universally praised by those involved, and as Poile pointed out Saturday, the validation of the process was in the result -- a silver medal.
That Burke, dismissed from his post as GM and president of the
Toronto Maple Leafs
on the eve of the lockout-shortened regular season in January, continues to have a strong voice in the building of the 2014 team is an important nod to what he's accomplished. To have marginalized him would have sent a disappointing message.
"He will have a big part in the formation of this team in 2014," Poile said.
But a nod to the past is also being balanced by a nod to the future, which is critical given that neither Canada nor the U.S. medaled in the two Olympics held away from North American soil since the NHL began participation in 1998 in Nagano. (2006 in Torino was the other.)
A bigger ice surface, time issues and different cultures will conspire to make life in Sochi exponentially more difficult than it was in Vancouver and, before that, Salt Lake City in 2002, when Canada defeated the U.S. for the gold medal.
The committee, which represents 150 years of NHL GM experience and six Stanley Cup championships, will have to keep all those things in mind, Poile said, when making selections, just as it did in choosing the Pens'
Dan Bylsma
as head coach.
Burke built a team that could play an NHL-style game with a blend of hard-nosed forechecking, strong defense and goaltending mixed with opportunistic scoring, but the style of play in Sochi may make some of those qualities less important.
Clearly, skating and puck movement will be at a premium on the big ice surface, which suggests players like
Keith Yandle
,
Kevin Shattenkirk
and perhaps
Matt Carle
or
John Carlson
may be more attractive than other, more physical defensemen.
What about a speedy, skilled forward like
Alex Galchenyuk
, who had a strong rookie campaign for the
Montreal Canadiens
?
"Our philosophy is going to be a little bit different because this is in Europe," Poile said. "We have to tune up our thinking a little bit."
One thing Poile made clear is that, while a résumé of strong play has historically been a factor in inclusion on the final roster handed in late in December, getting off to a good start next fall will be key in the committee's final decisions.
In introducing the management team Saturday in New York, president of USA Hockey Ron DeGregorio suggested that an American team is no longer the stuff of miracles but rather the stuff of expectations.
A fine sentiment, and after Vancouver, it would seem it is true. Now it's up to Poile and the rest to meet those heady expectations.
"This is the ultimate honor and challenge," Poile said.
March, 11, 2013
3/11/13
12:16
PM ET
According to sources, Boston University hockey coach Jack Parker, who has coached a number of future NHLers -- including Chris Drury and Keith Tkachuk -- will soon announce his retirement.


February, 2, 2010
2/02/10
9:49
AM ET
Editor's note: There's the March 3 trade deadline, and then there's the Olympic roster freeze that goes into effect on Feb. 12. Between now and Feb. 12, ESPN.com's Scott Burnside and Pierre LeBrun will look at 10 potential trade baits and which teams have a chance to land some much-needed help.
Paul Kariya and Keith Tkachuk, St. Louis Blues
Scott Burnside: Hello, Pierre. We talked Monday about Ray Whitney and how he might be a nice secondary catch for teams that can't afford Ilya Kovalchuk, but many teams are looking to add some offensive depth before March 3 or even the Feb. 12 Olympic roster freeze. St. Louis is one place teams will look. The Blues are one of those teams that don't know whether they'll be buyers or sellers, but they do have a couple of assets who will draw interest: Paul Kariya and Keith Tkachuk. Both have no-movement clauses, but I have to think one or both would be agreeable to a move if it was the right situation.
Pierre LeBrun: Beginning Wednesday night in Chicago, the Blues play seven games before the Olympic break. Those games will decide whether they will be buyers or sellers at the deadline. Blues president John Davidson told me Monday night it's impossible to tell where they are in terms of the trade deadline; they just don't know right now. The team's performance in the next two weeks will make that call. But how much of a market is there really for Kariya in particular? He makes a whopping $6 million and, at age 35, has only 24 points in 49 games to show for it.
Burnside: I disagree. (Hard to believe, eh, my friend?) I think there would be significant interest in Kariya because it's only short-term pain and the asking price would have to be pretty modest. (I'm guessing something along the lines of what Pittsburgh gave up for Bill Guerin last season, a third-round draft pick.) And I think there is a tremendous upside to having a player like Kariya. He won't go to a team and have to be the guy, but rather a complementary player in the way Doug Weight and Mark Recchi were in Carolina when the Hurricanes won the Cup in 2006. You know the Pens won't mind spending the money if they can fit a skilled winger under the cap, and it doesn't cost much in futures. How about Vancouver, Kariya's hometown? Or Los Angeles, which has the money and could add a couple of pieces before March 3?
LeBrun: The Kings are focused on Kovalchuk, so let's leave them out of this. The point is, a $6 million cap hit for the season is fairly hefty even as late as March 3. A team that trades for Kariya would need a little more wiggle room under the cap than most. Tkachuk, 37, would be an easier pickup capwise, at a salary of $2.15 million. And he's still a useful, veteran presence. Remember, he nearly was dealt to Boston at last season's trade deadline (the Bruins really wanted the Massachusetts native), but the Blues decided to keep him for their playoff drive at the last minute. It was the right call, because the Blues did indeed get in and Tkachuk was terrific down the stretch.
Burnside: I agree. (Thought I'd throw that in just to mix things up!) Tkachuk will be attractive to many teams because of his tough, abrasive style of play. You mentioned the Bruins; once again they will be looking to boost their moribund offense, and you have to imagine they'll take another look at Tkachuk. Two seasons ago, he came to Atlanta as a rental, so he knows the drill. And if this is his last hurrah, it's hard to believe he wouldn't want to give it one more push. How about Phoenix? He's played there before, but he could help out a Coyotes offense that will be short on playoff experience come April.
LeBrun: Because Tkachuk has a no-movement clause, however, and he and his family love St. Louis, you wonder whether he won't just want to just ride it out in a Blues uniform and retire with the team that has meant the most to him. That's if this is his last season, and he's made no public announcement on that yet. About Boston, I disagree with you. I think Kovalchuk and Whitney would be better options because the Bruins need goals more than they need leadership or sandpaper. My prediction? Neither Kariya nor Tkachuk will be moved. We'll see!
• You can also get up-to-the-minute discussion in Rumor Central.