Cross Checks:

Kevin Shattenkirk
June, 29, 2013
6/29/13
5:30
PM ET
NEW YORK -- Of the many memorable hours leading up to the epic gold-medal game at the Vancouver Olympics in 2010 between Canada and the United States, this is one that has stayed with us.
It was a conversation with then-U.S. associate GM David Poile the day before that game.
He had spoken earlier in the process about the importance of the Olympics, specifically the impact a strong showing might have on future generations of U.S. players. About how the 1980 Miracle on Ice team became a beacon for a generation or more of American players as well as -- to a lesser degree -- the U.S. team that defeated Canada in the 1996 World Cup of Hockey championship.
As the gold-medal game approached, it was hard not to be swept up in the emotion of what lay ahead.
"I don't think anybody knew how good we'd be. We didn't know how good we'd be," Poile said that Saturday. "Let's call it like it is."
The Americans would be denied a shot at Olympic immortality by the slimmest of margins, a
Sidney Crosby
goal in overtime, from a bad angle at that.
We were reminded of the legacy -- or at least the potential legacy -- of that team Saturday, when we were swept up once again in the quest for Olympic glory as Poile was formally announced as GM of the U.S. team for the 2014 Olympics in Sochi, Russia.
Part of the charm of the Vancouver team was the fact it was the youngest team in the tournament. As GM, Brian Burke was fond of repeating that no one gave the Americans a spit of a chance to earn a medal, let alone battle for gold.
No question the dynamics will be dramatically different in Sochi on a host of fronts.
"In Vancouver, we were turning the page," Poile told ESPN.com on Saturday.
That team was the first that didn't hearken to the glory days of
Brian Leetch
,
Chris Chelios
and
Keith Tkachuk
et al. The idea was that if the team had any success at all, it would provide a good base on which to build for 2014.
The Americans' run to the silver (going 5-1 in the tournament) means they will not sneak up on anyone in Sochi. Not with the past two Conn Smythe Trophy winners on the roster in
Patrick Kane
and
Jonathan Quick
. Throw in top-end talent like
Ryan Suter
, who in our book was the hands-down best defenseman in the NHL this season (finished second to
P.K. Subban
in Norris Trophy voting),
Minnesota Wild
teammate
Zach Parise
,
David Backes
,
Joe Pavelski
,
Phil Kessel
and
Dustin Brown
and there will be a strong core returning from the Vancouver squad.
Still, trying to handicap Olympic contenders based on results from a tournament four years in the past is a mug's game. Yes, some continuity is important. Understanding the routines of an Olympic tournament, the media, the schedule and the ebbs and flows of a short, high-drama competition is critical to how a team comes together.
But each tournament represents a different world, and that is where the management structure and coaching staff are so critical to a team's success.
USA Hockey neatly sidestepped a potential public relations problem early on by structuring its management team in the manner it did. Poile moved up the ladder and will be joined by
Pittsburgh Penguins
GM Ray Shero, who will act as associate. The two worked together for the
Nashville Predators
and were part of the U.S. management committee that helped put together the 2010 team.
But Burke, the architect of that team, has been kept in the fold as director of player personnel. He will accompany the team to Sochi.
It was Burke who came up with the idea of opening the process of selecting teams for international competition to American GMs. He invited colleagues like Paul Holmgren (
Philadelphia Flyers
), Dean Lombardi (
Los Angeles Kings
), Stan Bowman (
Chicago Blackhawks
), Dale Tallon (
Florida Panthers
) and former Atlanta Thrashers GM Don Waddell to join in the process.
The openness and inclusiveness established by Burke was universally praised by those involved, and as Poile pointed out Saturday, the validation of the process was in the result -- a silver medal.
That Burke, dismissed from his post as GM and president of the
Toronto Maple Leafs
on the eve of the lockout-shortened regular season in January, continues to have a strong voice in the building of the 2014 team is an important nod to what he's accomplished. To have marginalized him would have sent a disappointing message.
"He will have a big part in the formation of this team in 2014," Poile said.
But a nod to the past is also being balanced by a nod to the future, which is critical given that neither Canada nor the U.S. medaled in the two Olympics held away from North American soil since the NHL began participation in 1998 in Nagano. (2006 in Torino was the other.)
A bigger ice surface, time issues and different cultures will conspire to make life in Sochi exponentially more difficult than it was in Vancouver and, before that, Salt Lake City in 2002, when Canada defeated the U.S. for the gold medal.
The committee, which represents 150 years of NHL GM experience and six Stanley Cup championships, will have to keep all those things in mind, Poile said, when making selections, just as it did in choosing the Pens'
Dan Bylsma
as head coach.
Burke built a team that could play an NHL-style game with a blend of hard-nosed forechecking, strong defense and goaltending mixed with opportunistic scoring, but the style of play in Sochi may make some of those qualities less important.
Clearly, skating and puck movement will be at a premium on the big ice surface, which suggests players like
Keith Yandle
,
Kevin Shattenkirk
and perhaps
Matt Carle
or
John Carlson
may be more attractive than other, more physical defensemen.
What about a speedy, skilled forward like
Alex Galchenyuk
, who had a strong rookie campaign for the
Montreal Canadiens
?
"Our philosophy is going to be a little bit different because this is in Europe," Poile said. "We have to tune up our thinking a little bit."
One thing Poile made clear is that, while a résumé of strong play has historically been a factor in inclusion on the final roster handed in late in December, getting off to a good start next fall will be key in the committee's final decisions.
In introducing the management team Saturday in New York, president of USA Hockey Ron DeGregorio suggested that an American team is no longer the stuff of miracles but rather the stuff of expectations.
A fine sentiment, and after Vancouver, it would seem it is true. Now it's up to Poile and the rest to meet those heady expectations.
"This is the ultimate honor and challenge," Poile said.
April, 10, 2013
4/10/13
1:52
PM ET
No one likes it when they're going through it, but the adversity the
St. Louis Blues
faced this season could easily be the best thing that ever happened to them.
Winners of five straight and suddenly just two points out of fourth in the Western Conference, the Blues are peaking at the right time, with just 10 games to go in their regular season.
Reminds me so much of the way the
Los Angeles Kings
played survival hockey in the second half of last season; by the time the puck dropped in the playoffs, they were a hardened group and a dangerous foe.
"I think that ideology makes sense where you learn some great lessons during the regular season when going on a (losing) skid and finding out your true identity," Blues captain
David Backes
told ESPN.com Wednesday. "It doesn't mean your season is over. Where if you wait until the playoffs to have those experiences, you might be watching on TV before you have a chance to right the ship."
It's taken 38 games but the Blues appear to have righted the ship.
"We're starting to manage the game the right way," coach Ken Hitchcock said. "We still have a whole other level offensively that we have to get to from a continuity standpoint. We still have to create more. But we're playing with a real spirit right now and a real energy. We just want to keep it up."
It certainly has been quite the journey for a team many picked to do great things this season.
A 6-1-0 start seemed to validate the preseason hype (yours truly picked the Blues to go the Cup final), but that was followed by a sobering five-game losing streak and a stretch of up-and-down hockey that left the team at 11-9-2 on the morning of March 6.
One month later, thanks to an 11-5 run, the Blues are coming out of the worst phase of that journey and look stronger for it.
"This is a really good lesson for anybody: Don't just assume, because you have the same players back, you're going to have the same chemistry, because things change," Hitchcock said. "We looked really good early, but it was on last year's energy. And I think the players recognize that they had to re-create new chemistry, they couldn't rely on the old chemistry.
[+] Enlarge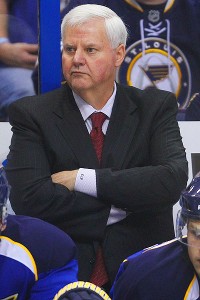 Dilip Vishwanat/Getty ImagesKen Hitchcock said the Blues "needed to re-connect with each other again. That's hard stuff."
"So there was a lot of stuff where they needed to re-connect with each other again. That's hard stuff. Creating new chemistry and creating new awareness is hard to do. I think our players had to dig in and do that. We had to grind both emotionally and physically, and it's helped us become a team again. We have ups and downs like everybody else, but now we have a foundation we can go back to."
Case in point: In watching Tuesday night's 1-0 win over the
Nashville Predators
, one thing you noticed was that even at 0-0 for almost two periods, the Blues looked poised with or without the puck, seemingly confident that good things would eventually come if they stuck to their game plan.
That's a confidence in their game that wasn't there a month ago.
"Yeah, I think with the goaltending we've had, especially as of late, we've been able to feel comfortable in a one-goal game, or a 0-0 game; we just stay with our game and we don't have to get crazy trying to score four goals to win," Backes said. "We know just a couple on most nights will be enough."
The goaltending. You can't write a Blues story this season without touching on that eventful issue.
Rookie
Jake Allen
has been called upon for 12 starts, an absolutely unforeseen turn of events. But between injuries and the inconsistent play of
Jaroslav Halak
and
Brian Elliott
, Hitchcock was desperate for a fix.
With Halak hurt now, however, a timely development has helped save the season: the return of the Elliott, circa 2011-12.
Elliott was a healthy scratch 11 times this season behind Halak and Allen -- that's how badly his game had gone. To his credit, Blues GM Doug Armstrong said, Elliott never allowed his struggles change his work habits.
"He continues to work hard during practice and after practice," Armstrong said. "That says a lot of about him."
To Elliott's credit, he accepted a two-game AHL stint late in March which, frankly, may have been the turnaround. He stopped some pucks under less pressure and got his mechanics back in order, and ever since he has looked like the Brian Elliott who led the NHL in save percentage last season.
Elliott has won four straight starts, including back-to-back shutouts this week.
"He swallowed hard, he went back to the minors to get some games in," Hitchcock said. "He deserves a lot of credit for being willing to look into the mirror and work to get his game back. He had to eat some humble pie, but in the end, it's paid off."
National TV analyst
Ed Olczyk
has caught two of the Blues' last five games, including the shutout win at Detroit on Sunday. He also says the turnaround starts in net.
"Up until this point, they've gotten below-average goaltending; that's just fact," Olczyk told ESPN.com Wednesday. "Now what has happened with that team as well is getting a top-2 defenseman in
Jay Bouwmeester
and a top-five guy in
Jordan Leopold
. You can argue now and say that St. Louis' defense corps one through six is top-five in the NHL. That's huge. The new guys, along with
(Kevin) Shattenkirk
and
(Alex) Pietrangelo
, can skate them out of trouble."
Olczyk said the third defense pair of
Roman Polak
and
Barret Jackman
also provides excellent toughness in a shutdown role, and he called Polak one of the most underrated blueliners in the league for what he does.
"But certainly it starts with the goaltending," Olczyk said. "Elliott played really well in Detroit in the game I worked. That's great for his confidence and for the team's confidence. They're a very good team. I'm not surprised to see them on a roll."
Certainly the additions of Bouwmeester and Leopold cannot be glossed over. They've had a major impact on the Blues' back end.
And while Bouwmeester has been as advertised -- a top minutes-eating star doing his thing -- Armstrong pointed as well to Leopold as being a bit under the radar for his impact, a comment that Backes echoed.
"Just the poise and the veteran know-how back there has been welcomed," Backes said of Leopold. "There's really no panic. He has the ability to jump in on the rush offensively but also recovers defensively, he helps us not getting hemmed into in our own end. Those things give our guys energy and confidence."
In no way is anyone in the organization relaxing. But the fact is, the Blues are only two points out of fourth place and five points ahead of the danger zone. It's OK to start setting new goals.
"For the first time all year, I told the players last night: 'At some point in time, we have to stop looking over our shoulders and start looking up,'" Hitchcock said. "I know this is hard to do with this season and how close the standings are, especially when you're not one of the top three seeds, but I told our players that sometime I really want our players to start looking up in the standings."
It's been a roller coaster of a season. But you get a sense the best is yet to come for the Blues.
"There's been some growing pains and some adversity faced, and through that I think you grow as a team and learn to have success," Backes said.
April, 8, 2011
4/08/11
1:47
PM ET

Stock Up
Cam Ward, Carolina Hurricanes:
The Canes control their playoff destiny, and it's no surprise that netminder Cam Ward, a former playoff MVP, has been at the heart of the squad's unlikely late-season surge. Ward is 5-1-1 in his last seven games and has a 1.97 GAA and .941 save percentage over that period. Those are the kinds of numbers that spell "playoffs."
Kevin Shattenkirk, St. Louis Blues:
A lot of the attention surrounding the mid-season blockbuster trade between St. Louis and Colorado has been on former No. 1 draft pick
Erik Johnson
(now in Colorado) and power forward
Chris Stewart
(now in St. Louis). But the forgotten piece might just be Kevin Shattenkirk, a fine young defenseman from New Rochelle, N.Y., who has collected eight points (one goal, seven assists) in his past seven games for the suddenly trending Blues. Too little, too late for the Blues this season, but this is already a team that looks like it should be in the thick of the playoff debate a year from now, and Shattenkirk looks like he'll be a big part of that future.

Stock Down
Wojtek Wolski, New York Rangers: Lots of blame to go around if the Rangers collapse out of the playoffs on the final weekend of the regular season for the second straight year. Marian Gaborik's one-shot effort in a crushing loss Thursday to Atlanta comes to mind. But with Ryan Callahan out with a broken ankle, the Rangers need someone to step up and one might have thought this would be a good spot for Wolski to shine. Or not. Although he was good in the Rangers' come-from-behind win Monday against Boston, Wolski has simply not delivered the goods since coming over at the trade deadline, failing to score in his past 17 games for the Rangers. Maybe there was a reason the Coyotes were happy to dump Wolski, just as there was a reason the Avalanche were happy to move him a year ago.

Dustin Penner, Los Angeles Kings: Speaking of stepping up, the Kings have secured a playoff berth and still have designs on home-ice advantage in the first round, but they're going to need someone to jump into the breech given the absence of top-six forwards Justin Williams and Anze Kopitar, both lost long term to injury. Memo to Dustin Penner, that would be you. Penner has taken more than a little time to get adjusted to the Kings since coming over at the trade deadline from Edmonton. The big forward has gone without a goal in 11 straight games and has just one assist over that period. That kind of production spells one-and-done for the Kings.
February, 19, 2011
2/19/11
1:06
PM ET
Scott Burnside and Pierre LeBrun break down Saturday's blockbuster Blues-Avalanche trade:
Burnside: Well, my friend, while the rest of us were sleeping, GMs Greg Sherman (Avs) and Doug Armstrong (Blues) were cooking up what has been the blockbuster of the trade-deadline period so far. Wow.
Former No. 1 overall pick Erik Johnson, defensive specialist Jay McClement and a first-round pick (either 2011 or 2012) to the Avs for Chris Stewart, Kevin Shattenkirk and a second-round pick (either 2011 or 2012). Did I say, wow? I saw the Blues and Avs last month in Denver and both teams were struggling. I think it's fair to say they are beyond long shots to make the playoffs this season. But for two young teams that had disappointing seasons, this is about shaking up the foundation.
[+] Enlarge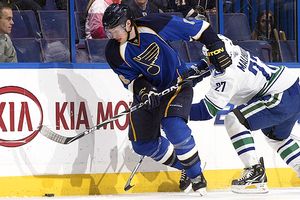 Mark Buckner/NHLI/Getty ImagesErik Johnson was the No. 1 overall pick for the Blues in the 2006 NHL draft.
Johnson is the key for me. I thought he was emerging last season after a strong Olympic tournament, but he has never become that Chris Pronger-, anchor-type defenseman the Blues anticipated when they picked him first overall in 2006. With the development of Alex Pietrangelo, another top defensive pick, I guess Armstrong thought it was worth the risk to move Johnson. If he does take a step forward in Denver, Johnson could be the defenseman to replace Rob Blake from the Avs' glory days.
LeBrun: A stunner. Spoke with several GMs this morning and they were buzzing about it. But if you take a step back, you understand the trade: The Blues can't score goals and the Avs can't stop goals from going in. Both teams wanted to address their glaring needs with one swoop.
"I just felt that after watching our team play, the ability to add a power forward and to open up some our offense was going to be important for us," Armstrong told me today. "To get something of quality, you have to give up something of quality, and I think Erik Johnson is going to go on to Colorado and become a very good NHL player. We think Stewart is going to be that for us, and a key component for us was to get Shattenkirk included. He can help our transition game with Erik's departure.
"But I like our forward group now with [T.J.] Oshie, [David] Backes, Stewart, with [David] Perron coming back some point, and [Patrik] Berglund, and [Alexander] Steen."
Having Backes and Stewart, two of the NHL's top power forwards, up front is a tantalizing duo. But it's interesting that the reaction was mixed among the team executives I spoke with around the league. Some thought St. Louis got the better of the deal; others believed Colorado will win out because they think Johnson is the best player in the trade. I think it's too early to tell either way. Let's talk in five years.
Burnside: You're right; it's impossible to tell how this will work out because there is so much raw and untapped talent involved in this deal. Shattenkirk was on fire after being called up from the Avs' AHL team earlier this season, but like the rest of the Avs his production has dropped off. But if he develops into a top-four defenseman, maybe they won't miss Johnson that much.
It was an interesting day for the Blues, who earlier shipped veteran defenseman and captain Eric Brewer to Tampa Bay for prospect Brock Beukeboom and a third-round pick. Brewer played with Lightning GM Steve Yzerman during the 2002 Olympics (Canada won the gold medal), and I'm sure Brewer's stability on the ice and leadership in the dressing room will dovetail nicely with what is already in place.
LeBrun: Apart from maybe a minor move, I think the Blues are done trading. They don't have any other unrestricted free agents of note. Brewer was really the big rental piece they could move. Going back to the blockbuster with Colorado, however, I'm reminded of comments Armstrong made when training camps opened. He talked about this being a make-or-break season for his young squad and a chance for them to prove they could bring this team to another level. I think this trade shows Armstrong was somewhat disappointed with what he saw from that young core, and he responded big time.
"I want to make sure that it's not an indictment on any one player, but the season hasn't gone the way we had hoped," Armstrong told me today when I asked him about that. "Now I understand we've had injuries, debilitating injuries, for a long period of time, but you have to overcome injuries.
"Our group showed good flashes at times, but we're on the outside looking in for the playoffs and that's not a position we want to be in. Some of the players we were hoping to see more from this year, I would say the grade is incomplete. I'm talking about Oshie and Perron because of their injuries. So it's difficult to pin everything on those statements [from September], but we aren't where we want to be. We had to make changes to try and get it there. Our fan base has been patient and I'm hoping to reward that patience with getting us closer to the playoffs and having success in the playoffs. This trade I hope expedites that."
Burnside: Well, you have to hand it to Armstrong for making the call on shipping out Johnson. The optics will be bad if the former No. 1 pick flourishes in Denver. Still, even if people say the best player in the deal is Johnson, the feeling in St. Louis was that he wasn't good enough given his potential.
And once again, Sherman has shown he isn't afraid to mix it up. For a relative newcomer to the position, he has been very active and daring. He still needs a No. 1 goaltender (his acquisition of Brian Elliott for Craig Anderson doesn't accomplish that), but I will make a (daring?) prediction here and say the Blues and Avs will be in the playoffs next year. Of course, I had them both in my playoff bracket this season, for what it's worth.
Interesting week all around. There was an obvious sale on defensemen in Aisle 4! Along with the Avs/Blues dealings, Ian White landed in San Jose and Tomas Kaberle was finally shipped to Boston. Thankfully, we'll never have to ask Toronto GM Brian Burke about Mr. Kaberle again.
LeBrun: Well, Armstrong and Sherman didn't cook this up overnight.
"Greg Sherman and I have talked off and on over the season. He's one of the managers I enjoy talking to, so we've talked about different things as the season progressed," Armstrong said. "As his team started to go one in direction, he said he might want to do something major, and I said, 'Well, what are you thinking?' It just sort of evolved from that.
"It's certainly not something that either one of us woke up two days ago and said, 'Let's try this.' I hope it's an excellent trade for Colorado also. It's a trade I really believe can be a win for everybody involved because both teams are getting excellent players."
The deal capped off a mad Friday on the NHL trade front. I think the Bruins paid a high price for Kaberle, but they're a much better team for it. He's going to be such a beast on that power play. Now that all those defensemen moved yesterday, Bryan McCabe in Florida becomes the target for teams that still need defensive help. Panthers GM Dale Tallon can't be unhappy with the price Boston paid for Kaberle.
Enjoy the rest of your weekend, my friend.
December, 20, 2010
12/20/10
2:32
PM ET

1. Devils most valuable asset?
You have to imagine the
New Jersey Devils
' embarrassing 7-1 thrashing in Atlanta on Saturday night might represent rock bottom in a season seemingly without a bottom. Thus far, president and GM Lou Lamoriello has resisted the urge to fire rookie head coach
John MacLean
. Not sure why this is the case, unless it is out of pure vanity. MacLean isn't the only problem -- injuries to
Zach Parise
and
Martin Brodeur
among others have been crippling -- but it seems patently clear MacLean is at a loss as to how to motivate the players who do show up.
If Lamoriello feels he's got a young Scotty Bowman in the making, he is going to let MacLean work through his growing pains. Fair enough. But the hard reality is that this season is lost. As of Monday, the Devils are 18 points out of a playoff spot and have won twice in their last 10 games. They are dead last in the league in goals scored per game and 26th in goals allowed per game. The power play is ranked 24th.
The sobering aspect of this lost season is that the future looks equally grim. The Devils are poorly constructed, and the Ilya Kovalchuk deal and all of the assets lost in that misguided pursuit of the underachieving superstar mean things aren't going to get better, unless the Devils take drastic action. There are no young stars waiting to step into prominent roles, a function of having made the playoffs in 13 straight seasons. They are already facing the prospect of being unable to bring restricted free-agent star Parise under contract after this season (would you sign a long-term deal with this team?) and needing to create space for him contractually. They put Brian Rolston on waivers, but there were no takers. They might be able to move the sullen Jason Arnott, although he has a no-movement clause, or captain Jamie Langenbrunner.
But, what is the team's most valuable asset? Is it not Brodeur? The game's greatest goaltender is back from an elbow/arm injury but has played poorly, a function perhaps of rust and the team in front of him. He has another season left at $5.2 million in salary and cap hit. Hard to imagine he would play beyond the end of his current deal with the team in such dire straits. Would Brodeur waive his no-trade clause for another shot at a Cup? Who knows, but what would Brodeur's value be to a Cup-hungry Washington team that has two promising young goaltenders and a bevy of young prospects? Or to Tampa? What was once unthinkable (Brodeur in a jersey other than the Devils) now must become part of the discussion for a team at the bottom of the well.

2. Kings puzzle not complete
Interesting days ahead for
Los Angeles Kings
GM Dean Lombardi. Despite lofty expectations heading into this season, the Kings began the week below the playoff bubble in the tightly packed Western Conference. Now, it would be a major shock if the up-and-coming Kings don't work their way comfortably into a playoff spot, but it's no longer just enough to sneak into the postseason for Lombardi's crew.
The Kings' GM was fortunate that he wasn't successful in his pursuit of Kovalchuk in the offseason, but he still needs to add a big-time scorer up front to keep up with the big boys in the Western Conference in Detroit, Chicago and Vancouver.
Perhaps more troubling than adding an offensive piece, though, has been the failed Willie Mitchell experiment. Lombardi was lauded when he signed the injury-plagued Mitchell in the offseason; the theory being that if the veteran defenseman stayed healthy, Mitchell represented a minute-munching presence to compliment Rob Scuderi and to work with young defensive stars Drew Doughty and Jack Johnson. But Mitchell has played in only 15 games for the Kings and is now out week-to-week with what is believed to be a knee injury (Kings refer to it as a lower body injury).
Regardless of when he returns to action, Lombardi has to accept that he cannot count on Mitchell for any length of time and must be looking to add key defensive piece to the Kings' puzzle before the Feb. 28 trade deadline.

3. Goalie conundrum in Philly
The assumption has been that once
Michael Leighton
gets healthy,
Brian Boucher
will be the odd man out in the
Philadelphia Flyers
' game of goaltending musical chairs. After all,
Sergei Bobrovsky
is putting up numbers that are garnering him rookie of the year discussion with a 2.32 GAA and .923 save percentage, so sending him back to the minors seems a non-starter. But Boucher, 33, is making things difficult for GM Paul Holmgren by actually outplaying Bobrovsky. Boucher has a sparkling 2.11 GAA, fifth best in the NHL. He was recently tabbed by head coach Peter Laviolette for big games against the New York Rangers, Pittsburgh and Boston, and he won all three, giving up just four goals. Boucher has gone 6-0-1 in his last seven starts.
Holmgren told my colleague Pierre LeBrun that he was content to carry three goaltenders now that Leighton has returned from a back injury that kept him out of NHL action all season. Carrying three netminders isn't a viable option, but the issue is finding time to get Leighton into game action with Bobrovsky and Boucher playing so well. Does Holmgren try to get Leighton some starts and then move him? Boucher's stock will never be higher than it is now, and he is affordable at $925,000. Can Holmgren get away with sending one of his veterans to the minors or would he almost certainly be nabbed by another team if Holmgren tries to bring him back up?
None of these are particularly palatable options and certainly they have been made less palatable by Boucher's inspired play.

4. The Avs' Shattenkirk making case for Calder
It appears that San Jose's
Logan Couture
has the edge in the race for the Calder Trophy as rookie of the year, and why not. The kid has been terrific for the up-and-down Sharks. But there's another first-year player that has been, in our eyes anyway, equally as impressive:
Colorado Avalanche
defenseman
Kevin Shattenkirk
.
Perhaps overwhelmed in training camp, Shattenkirk (14th overall pick in 2007 entry draft) was sent to the Avs' AHL farm team, the Lake Erie Monsters, in Cleveland to begin the season.
"It wasn't a great training camp for Kevin," head coach Joe Sacco told ESPN.com this week. "He didn't play the way we expected him to."
But when injuries piled up for the Avs and Shattenkirk was called up, he returned to the big league a different player.
"The biggest difference was he was moving his feet," Sacco said.
Shattenkirk, a 21-year-old native of Greenwich, Conn., was able to make smart plays and get himself out of trouble by keeping his feet moving.
And, oh yeah, he began putting up points like a demon.
In 22 games since being summoned from the AHL, Shattenkirk has 19 points, the most among all rookie defensemen, even though he's played far fewer games. In fact, as of Monday, he was tied for 14th among all NHL defensemen, most of whom have played 10 or more games than Shattenkirk. No gradual learning curve, either, for Shattenkirk, who is logging 19:56 in ice time a night and is a plus-1.
"He's really very comfortable right now," Sacco said.
Sometimes "comfortable" and "rookie" are a dangerous combination, but Sacco said he thinks Shattenkirk is skilled and mature enough not to take things for granted.
"He does a lot of things that you can't teach," Sacco said.

5. Orpik happy to avoid spotlight
If one of the reasons to open your doors to an enterprise like HBO's "24/7: Road to the Winter Classic" is to draw in the casual fan, the first episode suggests the gamble is paying off. At least that's assuming
Brooks Orpik
's friends are any barometer.
The Pittsburgh defenseman admitted he was a bit taken aback by the language in the first episode.
"Yeah, there was a lot of swearing," Orpik said. "That was the one thing we heard. I thought it came out really good besides the language could have been really better."
But he did say friends, who are not necessarily hockey fans, enjoyed the production.
"I got texts from a lot of people that watched it, people I hadn't heard from in awhile, people that I'm friends with but besides being friends with me really aren't hockey fans," Orpik said. "So obviously getting people to tune in that wouldn't normally tune into hockey."
Did they like the show?
"Yeah they were positive. A couple of people asked me if I was still on the team because they didn't see me on the show. That's the way I like it, so keep it that way," Orpik joked this week.