Cross Checks:

Kimmo Timonen
July, 10, 2014
7/10/14
2:01
PM ET
By
Sarah Goldstein
| ESPN.com
The
Nashville Predators
don't have the longest history. After all, it was just 16 years ago that the franchise was created. (Their first game was Oct. 10, 1998.)
But a short history doesn't mean there hasn't been plenty of talent to pass through Bridgestone Arena.
[+] Enlarge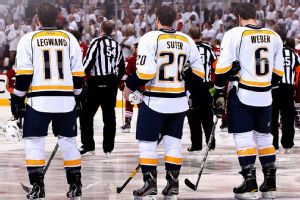 Christian Petersen/Getty ImagesDespite the Predators' short history, the franchise is long on talent.
David Legwand
, the first pick in franchise history (No. 2 overall in 1998), played 956 games and posted 566 points (210 goals, 356 assists) before getting traded to Detroit this past season.
Martin Erat
was in Nashville for 11 seasons before requesting a trade in 2013.
You can't forget about departed defensemen
Kimmo Timonen
and
Ryan Suter
.
And what about the goalies:
Tomas Vokoun
and
Pekka Rinne
?
Last, but obviously not least, the current face of the franchise: defenseman and three-time Norris Trophy finalist
Shea Weber
.
Weber has 131 goals and 216 assists in 607 games for the Predators.
So who is truly Mr. Predator?
You can cast your ballot in three ways: in the comments section below, through our
Facebook page
or, if you're hitting us up from
Twitter
, use the hashtag #ESPNplayerNHL.
April, 19, 2014
4/19/14
4:44
PM ET
NEW YORK -- With the
Philadelphia Flyers
sorting out their goaltending situation -- starter
Steve Mason
declared himself out for Game 2 on Sunday (
click here for the full story
) -- the
New York Rangers
have paid little attention to what is happening on the other side of the series.
Regardless of which goaltender is in net each game -- Mason or
Ray Emery
, the Rangers feel no need to deviate from the plan that propelled them to a 4-1 win against the Flyers in Game 1 on Thursday night.
They have a blueprint moving forward, and they plan to stick with that as much as possible.
"We know our game plan works if we all buy into it," said top-line winger
Rick Nash
.
Nash helped spark that effort against Emery Thursday night with a team-high seven shots on goal against the Flyers backup. He picked up one assist by game's end and said he hopes to drive the net even harder in Game 2.
"We have the same game plan. To get traffic, try to shoot from all angles. No matter what goalie you're playing, you're going to have to out-work him to score," Nash said.
By comparison, the Flyers' top line struggled to create chances, with both captain
Claude Giroux
and
Jakub Voracek
failing to register a shot on goal.
The team had a decent start against the Rangers in hostile territory at Madison Square Garden, but the forecheck faltered and the Flyers ended up chasing play all night.
"In my mind, we didn't play Flyers hockey," said veteran defenseman
Kimmo Timonen
.
So what is that exactly?
"It's more skating and hitting," he said. "We've got to forecheck really hard."
Look for the Flyers to be more aggressive in that facet of their game on Sunday, when they aim to even the series 1-1 before the best-of-seven set shifts back to Philadelphia.
Meanwhile, the Rangers will look to make some small adjustments as well.
"Five-on-five there were a couple of areas as far as getting more situations in front of the net," Rangers coach Alain Vigneault said when asked where he'd like to see his team improve.
Indeed, if there was any area in which the Rangers struggled, it was the prolonged stretches in which they were kept to the perimeter.
That's not ideal for the type of pressure they'd like to create, obviously.
Instead, the Rangers aim to attack the middle of the ice and wreak havoc in front of Emery down low.
"If that's not where we are, that's where we need to get," said veteran center
Brad Richards
, who finished Thursday's game with a goal and two assists.
The Rangers sealed the game with a pair of power-play goals on Thursday, but Richards admitted it could've gone the other way had the team not killed off a huge penalty at the beginning of the third period.
Richards said the team expects much more from the Flyers on Sunday. And the Rangers will be ready.
"This is where we have to realize the level is going to go way higher and we can't get caught resting on Game 1," Richards said. "It's a whole new game. It's going to be a whole new speed, intensity level and we've got to rise to that."
March, 18, 2014
3/18/14
11:58
AM ET
There was an enthusiasm in the voice of
Philadelphia Flyers
captain
Claude Giroux
we hadn't heard much last season or earlier this season.
But when you're on a 9-2-1 run and you've rescued a season that began 1-7-0, you're certainly in a better frame of mind.
"Man, it's been fun," the star center told ESPN.com by phone Monday night.
No time to rest, though, because a weekend home-and-home sweep of the rival
Pittsburgh Penguins
is already old news and the
Chicago Blackhawks
are in town Tuesday night, followed by other tough tests with the playoff-desperate
Dallas Stars
on Thursday and visits from Stanley Cup contenders St. Louis and Los Angeles.
Quite the home stand, indeed, for a Flyers team beginning Tuesday second in the Metropolitan Division but only three points away from the danger zone.
"It's going to be a good test for us," Giroux said. "I think it's good timing for those teams to come to Philly and play us. We're aware that all of those teams have been playing well this year. We need to get those wins if we want to stay in the playoffs. They're going to be interesting games, and good games, too."
The sweep of the Pens, albeit against a Pittsburgh team missing some key injured players, gave the Flyers an emotional boost.
[+] Enlarge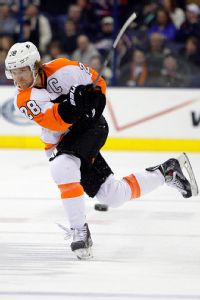 AP Photo/Jay LaPreteClaude Giroux has fueled the Flyers' resurgence this season.
"I think anytime you get a couple of wins in a row against a good team, it builds your confidence, you believe a little bit more in your play," said Giroux, the pride of Hearst, Ontario. "Anytime we play Pittsburgh it's always a good game and I thought we did a pretty good job of it."
Kind of amazing this team began the season 1-7-0, right? It's 34-18-7 since then.
"Once we won a couple of games we started getting our confidence back and we started to believe again," said Giroux, who wore the early season struggles heavily as team captain, just as he did last season when the team missed the playoffs.
No coincidence that the Flyers are soaring just as their top player is, with Giroux entering Tuesday tied for fourth in NHL scoring with 69 points (23-46), playing his best hockey in perhaps two years.
A little motivated after being overlooked by Team Canada for the Sochi Olympics?
"A little bit, but I try not to think about it anymore," said Giroux, who was crushed he didn't make the team that would eventually win gold in Sochi. "Obviously, I was disappointed and wanted to go to play for my country. But now that it's over with, I had a chance to get some rest, had a vacation, mentally and physically it was good and hopefully that's going to help me for the stretch run and the playoffs."
Led by Giroux, the Flyers have been a dangerous offensive outfit and are keeping the opposition on its heels. It's the kind of fluidity in their game that just wasn't there earlier in the season.
"They can get up and go offensively as good as any team in the league," said
Ed Olczyk
, who worked a pair of Flyers games for NBC over the past 10 days. "They're playing a much faster game. Their back end, too, is playing much faster which really helps the way that they're built. That's the one thing that's been very noticeable, they're playing a much faster game. And they're finishing their chances, earlier in the year they were real fragile and weren't doing that.
"The strength of their team is that they can get and up and go and play a real offensive game but they can also play a slugfest, too. If they find a way to make it, and I believe they will, they become a real dangerous team. The only question I have is whether they can defend enough."
Indeed, the team's Achilles' heel remains the blue-line, although veterans
Kimmo Timonen
and
Mark Streit
are playing their best hockey of the season right now and the acquisition of
Andrew MacDonald
has helped stabilize things back there a little.
Still, when push comes to shove, that's going to be their weak spot.
Which is why for the Flyers -- much like the
Colorado Avalanche
in the West -- it's about keeping the puck on the stick of their forwards and spending as little time as possible in their own end.
The Flyers looked slow in transition in early October, but since
Craig Berube
was elevated to head coach three games into the season the club has improved its ability to transition out of its own end.
And it's quite obvious the players on this team are buying what Berube is selling.
"He's good with the players, he really wants to know what we think," said Giroux. "He's really strong on the system and how we play. He's also pretty relaxed behind the bench. People may not think that because of how he was as a player but he's really calm back there."
In a season in which the Eastern Conference appears to be wide open, don't count out this hard-charging Flyers team, folks.
October, 2, 2012
10/02/12
9:18
AM ET
By
Sarah Goldstein
| ESPN.com
April, 13, 2012
4/13/12
12:57
PM ET
Look for veteran defenseman
Pavel Kubina
to get back into the Flyers' lineup after being a healthy scratch in Game 1.
Marc-Andre Bourdon
is considered day-to-day with an upper-body injury and his equipment was unused Friday morning. Kubina was brought in from Tampa at the trade deadline to add depth to a Flyers blue line that has been without captain
Chris Pronger
since before the new year.
"It's always hard when you're not playing. But I do understand it," Kubina said Friday morning.
"Hopefully, I can help the team in the future," he said.
***
Flyers defenseman
Kimmo Timonen
has played almost 1,000 NHL games and said he cannot recall ever winning the first two games of a playoff series on the road. But he said he has always enjoyed starting the playoffs on the road because there are fewer distractions and less pressure.
As for coming up with a second straight win to start this series, Timonen said it's obvious the Flyers cannot replicate their start in Game 1 when they were down 3-0 after the first period.
"We all know what was the reason we had a bad start," Timonen said.
The Penguins, meanwhile, liked their start in Game 1 but weren't happy with allowing the Flyers to dictate the terms in the second and third periods and then win 4-3 on Jakub Voracek's overtime goal.
"We know we have better and we know what our game looks like," Penguins center
Sidney Crosby
said.
***
Many of the Penguins were wearing a special T-shirt Friday that, among other things, featured a stylized captain's "C." The "C" harkens back to a time earlier in the season when there was a local story that the Penguins wanted to name an interim captain while longtime captain Sidney Crosby rehabbed from concussion issues. The team denied that such a discussion took place, and in solidarity, the players showed up on the ice one day wearing a "C" taped to their practice jerseys.
That marked a turning point in the season for the Penguins, who ended a brief slump and began a period of winning.
It was a time when the team became closer,
James Neal
said Friday after an optional morning skate.
"That's why we're wearing it [now]," Neal said.
Coach
Dan Bylsma
noted that there were a couple of different items on the shirts that were made a couple of weeks ago.
"It's not a today thing, but that's a playoff T-shirt they made and there's more than one or two things on the shirt," Bylsma said.
"We've got a few things that have gone on throughout the year, little symbols on the T-shirt," Crosby added.
January, 27, 2012
1/27/12
9:07
PM ET
Ryan Suter's decision to share
the news that he won't be signing with the Predators
before the trade deadline dominated discussion during Friday's media availability with one player a little more interested than most.
Flyers defenseman
Kimmo Timonen
's interest was piqued mostly because Philadelphia could use a replacement for
Chris Pronger
. But partly because he can relate.
Timomen enjoyed playing in Nashville, but his rights were traded to the Flyers in 2007 when the Predators couldn't afford to keep him or forward
Scott Hartnell
.
[+] Enlarge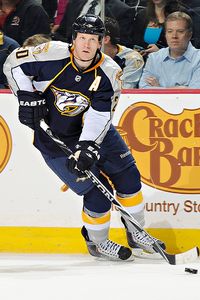 John Russell/Getty Images"I feel it would be more of a distraction than anything," Ryan Suter said of signing an extension now.
"They were going to be unrestricted free agents, demanding and worth more money than we could afford," Predators GM David Poile said.
History might be repeating. And it's not just one franchise defenseman this time around. The future remains uncertain for both Suter and teammate
Shea Weber
.
"It's not easy," Timonen said. "I'm sure these two guys want to stay in Nashville. I wanted to stay in Nashville, too. Sometimes it comes to money and business and that side of things. I'm sure these guys are talking to the team and trying to see, 'Is there any way we can work this thing out?' If not, then you have to move on. It's a bad part of the business but it has to happen."
And if it has to happen, Timonen would love for his current team to be the beneficiary. Pronger has been ruled out for the rest of the season and the playoffs with a concussion, and the addition of Suter would come the closest to replacing him.
It would immediately catapult the Flyers back among the Stanley Cup favorites.
"Obviously if we can get one of [Suter or Weber], we'll be happy to take them," Timonen said. "All the help you can get going into the playoffs and try to win the Stanley Cup -- we need it."
-- Craig Custance
Hossa: Rumors are unavoidable issue
Suter's decision to put contract talks on hold will lead to a frenzy of rumors surrounding the defenseman as the trade deadline closes in.
It's a world
Marian Hossa
remembers well. He made the same declaration about halting talks with Atlanta in 2008 and was traded to Pittsburgh five minutes before the trade deadline that year. Making it worse, Hossa was in Montreal on deadline day, playing against the Canadiens, a team feverishly pursuing him in trade talks with the Thrashers.
Hossa can laugh about it now.
"Lots of questions. Lots of media attention," Hossa said, smiling. "You never know what can happen; I think that's what he's going through right now."
Hossa managed the distraction well but admitted it becomes an unavoidable issue that teammates have to deal with.
"It's a little bit of a distraction maybe in the dressing room," Hossa said.
The best solution was the drop of the puck.
"When I jump on the ice, I was with my teammates and didn't think about what was going on," Hossa said.
-- Craig Custance
Campbell recalls Sabres trade
Florida Panthers
defenseman
Brian Campbell
went through the same situation as Suter with the
Buffalo Sabres
during the 2007-08 season when his contract was expiring before he was slated for unrestricted free agency. He declined to sign an extension during the season and ultimately was traded to San Jose.
Campbell said Friday that he understands the pressure and stress Suter is going through.
"It's not fun at times -- going through all that experience," Campbell said. "It should be a great time, but you never know what's going to happen. I'm not sure. Hopefully, he probably wants to stay in Nashville and have a home there. Myself, it takes time to see what develops. I'm happy. Everything's worked out great for me. I'm sure it'll work out well for him."
Weber is a restricted free agent July 1. Together with Suter, he forms the NHL's top defense pairing, and Campbell finds it hard to picture Nashville without that stud duo.
"It's kind of hard to picture [the]
Nashville Predators
without those two guys in the back end," Campbell said. "They realize how much they mean to that team, and it'd be pretty hard to see them not there."
-- Pierre LeBrun
November, 2, 2011
11/02/11
4:00
PM ET
This week, we take a look at the early candidates for the Norris Trophy, and we've got a few surprises here:

Where would the Penguins be without him so far this season, given all the big names who have missed time through injury on this club? He plays in all key situations and is gold at both ends of the ice.

No wonder Darryl Sutter got shown the door in Calgary last season. The Leafs' trade with the Flames from a few years ago is looking like a total steal. Phaneuf has been a demon at all facets of the game and is a big reason for Toronto's quick start in October.

Let's face it, it's his trophy to lose this season. Ask most NHL GMs and they'll tell you Weber is their top-ranked blueliner. But with five points in 11 games to start the season, he has another level to go.

Edler was only one point off the defenseman scoring lead as of Wednesday morning but brings so much more than that to the plate.

He plays against the top offensive line from the opposing team every night and still manages to produce offensively. Underrated as ever.
Honorable mentions: Erik Karlsson, Ottawa; Sheldon Souray, Dallas; Ryan Suter, Nashville; Nicklas Lidstrom, Detroit; Duncan Keith, Chicago.
March, 11, 2011
3/11/11
11:16
AM ET

Stock Up
David Legwand, Nashville Predators:
With the Preds crippled by injuries down the middle, the pressure is on guys like veteran center David Legwand to answer the bell. A former No. 2 overall draft pick who has never produced the kind of offense one expects from such a coveted prospect, Legwand has points in four straight games and has hit the score sheet in six of his last seven contests (two goals, seven assists) as the Predators continue to scratch and claw their way toward a playoff berth in the Western Conference.
Andy McDonald, St. Louis Blues:
If this is indeed the season of the concussion, it is nice to see Andy McDonald bouncing back after his season was marred by a head injury sustained when he fell into the knee of an opposing player in early December. McDonald has seven goals in his last 12 games and seven points in his last four games. The playoffs are a non-starter for the injury-ravaged Blues, but McDonald's ability to return to form as a skilled player in spite of the concussion has to bode well for the revamped Blues next season.

Stock Down
Kimmo Timonen, Philadelphia Flyers:
One of the reasons folks love the Flyers as a Stanley Cup contender is their depth up and down the lineup, and especially along the blue line. But over the past 15 games, veteran blueliner Kimmo Timonen has managed to chip in just three points (one goal, two assists), as the Flyers have tried to fight off the late-season doldrums. Timonen's dry spell may help explain in part why the Flyers' power play ranks a disappointing 20th in the NHL.
Rich Peverley/Chris Kelly, Boston Bruins:
Just to show you how difficult it can be to move seamlessly from one team to another, we look at the struggles of the Bruins' two forward acquisitions at the trade deadline. Rich Peverley and Chris Kelly have 20-goal potential but between them have managed just one goal in a combined 17 games since arriving in Boston from Atlanta and Ottawa, respectively. The Bruins, meanwhile, are winless in three.