Cross Checks:

Kyle Turris
March, 18, 2013
3/18/13
12:05
PM ET
STEWART, TURRIS AND BOBROVSKY NAMED NHL 'THREE STARS' OF THE WEEK
NEW YORK (March 18, 2013) –
St. Louis Blues
right wing
Chris Stewart
,
Ottawa Senators
center
Kyle Turris
and
Columbus Blue Jackets
goaltender
Sergei Bobrovsky
have been named the NHL's "Three Stars" for the week ending March 17.
FIRST STAR – CHRIS STEWART, RW, ST. LOUIS BLUES
Stewart led the NHL with seven points and tied for the League lead with five goals, including two game-winners, in three contests. He opened the week with two scores, his first multi-goal performance since Jan. 19, in a 4-2 win over the
San Jose Sharks
March 12. Stewart then totaled three points (2-1—3), including his first game-winner of the season, in a 3-0 victory over the
Phoenix Coyotes
March 14. He capped the week with the overtime winner and an assist in a 2-1 triumph over the
Anaheim Ducks
March 16. Stewart has 7-7—14 in his last seven outings and leads the Blues with
14 goals and 28 points in 28 games this season.
SECOND STAR – KYLE TURRIS, C, OTTAWA SENATORS
Turris recorded points in each of his four games, tying for second in the League in points (six) and third in goals (four). He scored one goal in regulation, plus Ottawa's lone marker in the shootout, in a 3-2 loss to the
Boston Bruins
March 11 and collected one assist in a 4-3 shootout loss to the
Montreal Canadiens
March 13. Turris then helped the Senators pick up a pair of weekend wins, posting three points (2-1—3) and the overtime winner in a 4-3 victory over the
Buffalo Sabres
March 16 and netting his eighth goal of the season in a 4-1 triumph over the
Winnipeg Jets
March 17. In 29 games this season, he leads Ottawa in both goals and points (19).
THIRD STAR – SERGEI BOBROVSKY, G, COLUMBUS BLUE JACKETS
Bobrovsky led the League with a 0.62 goals-against average and .983 save percentage in three starts as Columbus stretched its points streak to a franchise-record 10 games (6-0-4). He began the week with a pair of 2-1 shootout losses, making 37 saves against the
Vancouver Canucks
March 12 and tying a season high with 39 stops versus the
Chicago Blackhawks
March 14.
Bobrovsky equaled that number two nights later, this time leading his team to a 1-0 shootout victory over the Phoenix Coyotes March 16. In his last eight games, the Novokuznetsk, Russia, native has a 6-0-2 record with a
0.74 goals-against average, .976 save percentage and two shutouts, the first two of his career.
October, 8, 2012
10/08/12
9:46
AM ET
By
Sarah Goldstein
| ESPN.com
September, 21, 2012
9/21/12
10:01
AM ET
By
Sarah Goldstein
| ESPN.com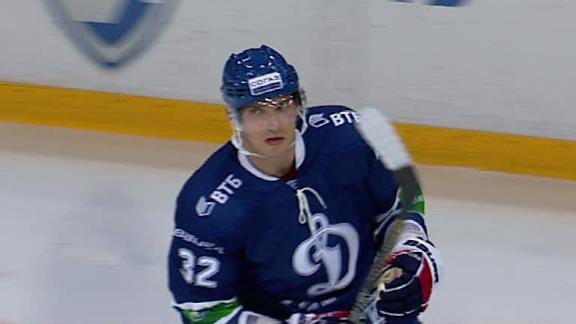 April, 2, 2012
4/02/12
9:29
AM ET
By
Elias Sports Bureau
| ESPN.com
•
Patrice Bergeron
scored the game-winning goal and won 17 of 19 faceoffs in the Bruins' 2-1 win against the Rangers that clinched first place in the Northeast Division for Boston. Bergeron is the first NHL player to score a game-winning goal and win more than 89 percent of his faceoffs in that game (while taking at least 15 draws) since former
Joe Thornton
did that for San Jose on Oct. 15, 2007, at Vancouver. Thornton won 18 of 20 faceoffs in that game.
•
Claude Giroux
snapped a three-game point drought with a goal and two assists in the Flyers' 6-4 win at Pittsburgh. By boosting his total to 61 assists this season, Giroux became the first Flyer to reach the 60 mark in one season since 1999-2000, when
Mark Recchi
had 63 assists.
•
Jiri Hudler
, who scored the Red Wings' only goal in their loss to the Predators on Friday, scored the lone Detroit goal in the Wings' shootout win on home ice against the Panthers on Sunday. Hudler has scored a goal in each of the Red Wings' last four games at Joe Louis Arena. It's the longest home-ice goal-scoring streak of Hudler's NHL career and the longest goal-scoring streak by any player at "the Joe" this season.
•
Kyle Turris
tallied two goals and two assists to lead the Senators to a 5-1 win over the Islanders that clinched a playoff spot for Ottawa. It was the second four-point game in the NHL for Turris, who ranks fifth on the Senators with 28 points (12 goals, 16 assists) since Ottawa acquired him from Phoenix on Dec. 17. The Senators are 10-1-0 in the 11 games in which Turris has scored goals and 16-2-1 when Turris has posted at least one point.
• Minnesota extended its winning streak to three games with a 5-4 shootout victory at Chicago. It's the Wild's longest winning streak since a run of seven consecutive wins from Nov. 28 through Dec. 10. Minnesota has won 14 of its 49 games since then and 11 of its 14 wins have been by a one-goal margin, including six via shootouts.
December, 21, 2011
12/21/11
11:56
AM ET
Scott Burnside and Pierre LeBrun talk about the surprise Senators, big names who should return soon and the befuddling Sharks.
Burnside:
Good day, my friend. Well, I must give credit where credit is due. The oft-maligned (by me, anyway)
Kyle Turris
set up the winning goal for the
Ottawa Senators
on Tuesday night to defeat Buffalo 4-1. The win propelled the Senators into the final playoff spot in the Eastern Conference -- over the Sabres. Nice for GM Bryan Murray to see immediate dividends from a deal with Phoenix that cost him a top defensive prospect in
David Rundblad
and a second-round draft pick.
The Coyotes also won, surviving a late penalty shot to defeat Florida 2-1. The Yotes are tied in points for eighth place in the Western Conference (they've played more games, so are technically ninth), so maybe this is one of those deals that works out for both squads. Rundblad did not play Tuesday, but he's part of a very impressive crop of youngsters along the Coyotes' blue line.
But let's look ahead to the Philadelphia Flyers' visit to Dallas on Wednesday night. I spoke with surprising young netminder
Richard Bachman
, who has had an immediate impact on the Stars in the absence of
Kari Lehtonen
, who is out with a groin injury (hardly shocking given Lehtonen's history). The Stars lead the suddenly weak-kneed Pacific Division, and Bachman has been a big part of keeping the team on track with a 4-1 record.
But the story of the night will be the potential for the pride of Hearst, Ontario (one of many hockey luminaries to come from the small, northern outpost) to return to the Flyers' lineup. With all the bad news surrounding concussions of late, this would be almost too much to hope for.
LeBrun:
It is certainly
Claude Giroux
's intent to return, from what I'm told, but we'll see whether the Flyers' training staff gives it the final green light. If so, what a relief for the Flyers and their fans, who held their breath when the league's leading scorer went out with a concussion. As we've all found out all too well, unfortunately, over the past few years, there's no timetable for a concussion. Everyone reacts differently to it. No one would feel better, by the way, of Giroux's returning than teammate
Wayne Simmonds
, whose inadvertent knee felled Giroux on a freak play.
You mentioned the Senators, however. It's hard to believe they're sitting in a playoff spot as we speak today, tied with the rival (and fading) Maple Leafs with 36 points. Murray made no bones in September about how he viewed this as a retooling season, one that could have some short-term pain to gain the long-term benefits of properly rebuilding the base in the hope of eventually cobbling together a contender.
He would never admit it, of course, but I'm telling you he'd be as surprised as the rest of us to see the Sens' immediate rise with so many young players playing crucial minutes. One of those young bucks is 20-year-old defenseman
Jared Cowen
, Ottawa's first pick -- ninth overall -- in the 2009 NHL entry draft. He's playing top-four minutes on the blue line and looks like he belongs. He's a big reason, along with the offensive machine that is
Erik Karlsson
, that Murray felt comfortable dealing Rundblad in the Turris deal.
Burnside:
Another guy who looks like he's making remarkable progress in coming back from what looked to be a potentially long-term injury is Tampa's
Martin St. Louis
. After taking a puck to the face courtesy of teammate
Dominic Moore
during the morning skate before a game against the
New York Rangers
on Dec. 8, no one could guess how long St. Louis would be out. Yet he joined his teammates on their western road trip and skated Tuesday with them in San Jose. There's a possibility St. Louis will play Wednesday night, but more likely he'll return after the Christmas break. Not a moment too soon for a Lightning team that has struggled to find the consistency that marked its advancement to the Eastern Conference finals this past spring.
As well as Steven Stamkos has played -- he leads the league with 20 goals and is sixth with 37 points -- I don't think there's any way the Lightning get a sniff of the playoffs without St. Louis, a surprise if well-deserved finalist for the Hart Trophy last season. The Lightning woke up Wednesday morning six points out of eighth in the Eastern Conference, in 13th place.
Meanwhile, your annual Cup-winner prediction, San Jose, is hanging on to eighth in the West, and it looks like the enigmatic
Martin Havlat
will be out of action at least short term.
LeBrun:
Well, let's be honest, the Sharks are either third in the West or eighth in the conference depending on the day. If they beat Tampa on Wednesday night, they're back into third in the conference. Which I think we can both agree is where they'll end up at the end of the regular season -- atop the Pacific Division. The Sharks have played well in the past few games after hitting a rough patch. It's unfortunate for Havlat, because after struggling for the opening two months, he was finally coming into form when he got hurt.
It's interesting to see the
Minnesota Wild
have extended their recent slide to five games (0-3-2). Injuries have taken their toll on the surprising team. The Wild are now dealing with the kind of key injuries that many teams have had to cope with this season. It was finally their turn. The Wild's five-game stumble has opened the door for the powerhouse Canucks to chase down first place in the Northwest Division. Vancouver is only three points back with two games in hand on Minnesota. Ever since you wrote that glowing piece on the Wild, Scotty, they've been snakebit.
Burnside:
Actually, it was interesting that in a conversation at the team hotel in Los Angeles, rookie head coach Mike Yeo acknowledged the team would go through a stretch like this. All teams do. And he predicted that people would assume this was the "same old Wild" revealing their true nature. The good thing for the Wild is that they built themselves a cushion that should see them ride out a rough stretch -- provided it doesn't turn into a month of losses. Their goaltending is too good, although I don't see any way the Wild actually finish ahead of the surging Canucks. The Canucks are looking very much like the team that dominated on both sides of the puck all last regular season.
As for the Sharks, I agree they should not just win the Pacific but also run away with the division given Anaheim's descent and the up-and-down nature of the Stars and Coyotes. But "should" and "can" are two entirely different things, so we'll see whether the Sharks can shake the cobwebs loose in the new year.
I think it may come down to a three-way battle in the Pacific between the Kings, Coyotes and Stars for that final playoff spot, and that's assuming Darryl Sutter can coax more offense out of the anemic Kings -- something I'm not entirely sold on, as you know.
LeBrun:
Coming into the season, I again labeled the Pacific Division the best in the NHL, but it has been far from it so far this season. Anaheim's dramatic plunge and L.A.'s surprising struggles have dragged down what was once last season the best division in the league. Right now, you'd be hard-pressed not to say the Atlantic is tops in the league with Philadelphia, Pittsburgh, the Rangers and Devils all holding down playoff spots as of today. Those first three teams are all playing like Cup contenders with a revived New Jersey team not too far behind. Tough sledding in that division, boy, that's for sure.
Until Thursday, Scotty.
December, 20, 2011
12/20/11
3:37
PM ET
Billionaire Terry Pegula has invested heavily both on and off the ice with the hopes of a championship run in Buffalo.
Days away from Christmas, the Sabres are not that team yet.
Some Sabres fans are calling for the heads of the head coach and GM. Other fans want trades.
Sabres president Ted Black, Pegula's trusted lieutenant, spoke with ESPN.com on Monday and his message was one of patience.
Our first question dealt with head coach Lindy Ruff. Is he on the hot seat?
"No, no, he's not the reason we are where we are right now," Black said. "Injuries and execution probably mean more than that.
"I don't know of a coach that has done so much with so little for so long than Lindy," added the Sabres team president. "We've only been on the job here for 10 months; we're going to give him all the assets he needs to be successful."
Black also gave GM Darcy Regier a vote of confidence.
"The job Darcy did in the offseason was fantastic," said Black. "He went out and traded for an experienced defenseman [
Robyn Regehr
] who waived his no-trade clause to come to Buffalo. Which is something this franchise hasn't experienced in a long, long time. Darcy also went out and acquired two of the more premier free agents available."
Don't get me wrong, Black sounded very sincere in backing his GM and coach. But ownership reserves the right to change its mind whenever it wants. That's the story of pro sports.
In the short term, Black is asking Sabres fans to be patient.
"And I also recognize the inherent cruelty of asking fans who have been through 40 winters of disappointment to have patience or to ask them to have a sense of hope and promise," said Black. "Never in the history of the Sabres has there been a time when the ownership put more resources in the pursuit of building a championship franchise. We're almost 10 months into this; we're not going to panic. We're going to do everything we can to improve the team whenever we can improve it."
But the Sabres president understands the fans' anger.
"I get it," he said. "I know these fans are so frustrated. I live in the city, I live in the community; I know how badly they want a championship team. We're going to do everything we can to deliver it. When I say be patient, I'm not asking for blind faith or blind belief or blind trust; because Buffalo fans are smarter than accepting those empty promises. We're asking them to stick with us. We're right on the trajectory. Maybe it doesn't feel like it. Maybe it doesn't feel like it today, but we are going to continue the vigorous pursuit to bring the Cup to Buffalo."
Next season's Winter Classic
This season's Winter Classic hasn't even been played yet in Philadelphia and some fans have asked me where I think the game will be played in January 2013.
The event generates so much interest that you can't blame them for asking. Everyone wants a piece of this thing.
I would certainly put the
Detroit Red Wings
in the mix as a possibility.
"Ever since we played in the one at Wrigley Field (Jan. 1, 2009), it was such a positive experience; we'd love to host one," Red Wings GM Ken Holland told ESPN.com on Monday. "We think it would be a wonderful thing for our city, our franchise and our fans. We've expressed that to the league and they know we're interested."
Given Detroit's stature in the league as an Original Six franchise and as the model organization it has been the past two decades, the league owes it to the Red Wings to give them one in my opinion, and I think it'll happen whether that's next season or within the next few years.
You can also add the
Minnesota Wild
and their passionate hockey fans as people wanting to host a Winter Classic, and that organization has also made that clear to the NHL.
"We'd take a game any year," Wild GM Chuck Fletcher told ESPN.com via email Monday.
And don't forget the
Washington Capitals
. In announcing the Caps-Penguins Winter Classic for Jan. 1, 2011, during a news conference at the June 2010 Stanley Cup finals, NHL commissioner Gary Bettman promised a game in D.C. "within the next two to three years."
Caps owner Ted Leonsis confirmed to ESPN.com via email Monday that his organization still wants to host a Winter Classic, but has not had any talks on the matter yet with the league.
"We will host one, one day -- but no year specifically was ever promised to us," Leonsis said.
Detroit, Minnesota or Washington -- that would be my list of three options for next season.
The league traditionally waits until the second half of the season to begin its focus on the following year's Winter Classic possibilities, wanting first to analyze the feedback from this year's game before moving on to the next one.
Ducks and Selanne
With each passing day it's becoming pretty obvious the
Anaheim Ducks
won't be a playoff team this season.
[+] Enlarge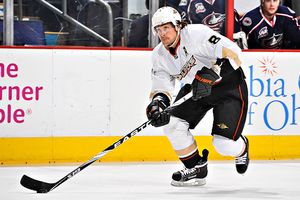 Jamie Sabau/Getty ImagesWill Teemu Selanne end his season in Anaheim?
Not exactly the way
Teemu Selanne
had envisioned ending his career, if this is in fact the last season for the 41-year-old winger.
Which brings us to a question a lot of people are beginning to ask: Could Selanne find himself on a contender come the Feb. 27 trade deadline?
"No, he's retiring a Duck and that's the way it's going to be," Ducks GM Bob Murray told ESPN.com on Tuesday. "But the way he's playing, why should he retire?"
Murray, meanwhile, took winger
Bobby Ryan
off the trade market earlier this month when he instead fired head coach Randy Carlyle in the hope that a shake-up would turn around Anaheim's season.
The turnaround hasn't happened. My guess is that if the Ducks are still near the basement come February, Murray will begin to listen on offers for Ryan again.
Turris Trade
Senators GM Bryan Murray woke up Friday morning not feeling at all like the front-runner to land
Kyle Turris
. About 30 hours later, the player was his.
The main stumbling block on Friday was the fact that the
Phoenix Coyotes
were still asking for a first-round pick to be part of the deal. That was a no-go for Murray.
By Friday night, Coyotes GM Don Maloney had downgraded to a second-round pick, and while the two sides still had not agreed to a deal, Murray felt better about his chances when he went to bed Friday night.
On Saturday morning, Maloney phoned back and the trade had changed in size -- it got smaller. On Tuesday, Murray confirmed that the original deal both teams had talked about last week involved "more players."
In the end, Maloney wanted a smaller deal -- Turris in exchange for David Rundblad and a second-round pick. Murray quickly thought about it Saturday and said yes. The Sens GM didn't have much time to waste. Maloney had two other clubs in the final mix also willing to trade for Turris and pressed Murray for a quick answer.
In the end, Maloney got terrific value in return in a young puck-moving blueliner with Rundblad's upside. But Murray felt the Senators could afford to move him given the presence of
Erik Karlsson
,
Jared Cowen
and all the other young depth the organization has on defense.
"We've been looking for a second-line center almost from the day I got here years ago," Murray said Tuesday. "I'm happy with the deal."
December, 20, 2011
12/20/11
11:46
AM ET
Craig Custance and Scott Burnside opine on the future of
Zach Parise
and whether
Kyle Turris
and his new team, Ottawa, are destined for the postseason.
Custance:
Good morning, Scott. Last night made for some fun hockey viewing with the Avalanche remaining perfect in the shootout to run their home win streak to six games. We know
Ilya Bryzgalov
already hates the shootout and having three Colorado shooters light him up might just provide something interesting for the HBO cameras.
Colorado still has some work to do to get into the top eight, and the Avalanche might want to avoid giving up late goals to send games into overtime. But it was a nice win for the Avs. I'm really looking forward to tonight's games. There are some interesting matchups, including the first game between the Rangers and Devils this season, which is strange since it's nearly Christmas. I barely recognize these Devils who have been lighting things up offensively of late and could enjoy an edge over a depleted Rangers defense.
I spoke to Pete DeBoer on Monday afternoon, and he said his aggressive up-tempo system is an effort to play to New Jersey's current strengths. "We have some depth and scoring talent up front," he said. "We've asked those guys to be more aggressive and attacking and get pucks to the net." With
Travis Zajac
back in the lineup, the Devils now have three potent lines. Will it be enough to slow a Rangers team that has been really strong on the road (10-5-2)?
Burnside:
Craig, I also enjoyed last night's tilts, including yet another win for
Richard Bachman
(wasn't that Stephen King's nom de plume?) moving his record to 4-1 for the Stars as they beat Anaheim 5-3. But you're right, a couple of interesting matchups tonight as we head toward the Christmas break. I also spoke to DeBoer last week, and we were talking about the two Adams, Larsson and Henrique.
Henrique, of course, was crucial for the Devils when they were so thin down the middle with Zajac and Jacob Josefson out. Now with Zach Parise cooking and
Ilya Kovalchuk
looking a little better, this is an interesting squad to be sure. All of which will add some urgency to the Parise contract talks that I expect will go into overdrive in January once he's able to sign a long-term deal with the Devils -- if he wants to, of course. I'm still not sure that's going to be in the cards for Parise and the Devils, which will make for some difficult decisions for Lou Lamoriello if he thinks Parise will walk on July 1 as an unrestricted free agent.
That said, the Devils' strong play and the blossoming of some of their young players may be enough to induce Parise to remain a Devil. As for the Rangers, like so many teams, they are absolutely beat up on the blue line with
Steve Eminger
, the latest to go down, out for a couple of months with a shoulder injury.
Brad Richards
scored with one second to go to give the Rangers a win over Phoenix on Saturday, and I wouldn't be surprised to see the Rangers-Devils tilt tonight decided by the slimmest of margins.
Custance:
The Devils' recent success certainly complicates the Parise issue. He's looking more and more like himself, which only drives up the price once negotiations heat up. It also means his trade value is going up, too. Can you imagine a trade deadline day in which both Parise and
Ryan Suter
are traded? It would be remarkable. I joked with
Johan Hedberg
, whom we both got to know well in Atlanta, about the potential for internal politicking in the Devils' dressing room to try to convince Parise to stay. He said the team has mostly left Parise alone.
"Everybody in the organization would like to have him as a teammate. It doesn't matter where you are, you want him as a teammate," he said. "I don't think anyone has any deeper thoughts, though, right now than we just want to win games."
In the meantime, we'll have to settle for Kyle Turris as the big blockbuster trade. He makes his Senators debut tonight, and Paul MacLean will give him every opportunity to be the No. 2 center behind
Jason Spezza
. I thought Don Maloney made the most out of a bad situation and was impressed with the return he received for a player everybody knew wanted out. But I'll certainly be watching closely to see if Turris responds to the fresh start with Ottawa.
Burnside:
I am fascinated as to how this deal is going to shake down both short-term and long-term. I must admit the notion of a player whining his way out of playing for Dave Tippett mystifies me. If I'm Kyle Turris, I am keeping my head down and trying to do exactly what Paul MacLean asks of me in Ottawa to try to break down the well-earned (in my book, anyway) perception that he's a prima donna. (Can you be a prima donna when you've done as little as Turris?)
And I agree with you that Phoenix GM Don Maloney did a good job in getting a top defensive prospect in
David Rundblad
plus a draft pick. It might take longer for Rundblad to make a visible impact on the Coyotes, but with
Keith Yandle
and
Oliver Ekman-Larsson
, the Coyotes have the makings of a long-term blue-line corps there. The Senators are in an interesting position, too, as they've managed to hang around the playoff bubble a lot longer than most people imagined they might.
They're still pretty iffy defensively, continuing to rank dead last in goals allowed per game, but a regulation win over the Sabres on Tuesday night will vault them over the Sabres and into the top eight. And given the injury woes the Sabres are confronting and their uneven play throughout the year, this game looms rather large.
[+] Enlarge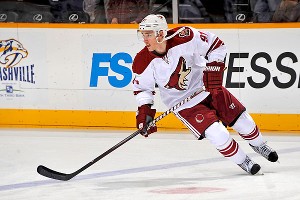 Frederick Breedon/Getty ImagesKyle Turris has a lot to prove to his new Ottawa Senators teammates.
Custance:
I'm firmly in the camp that this team isn't close to doing anything significant in the postseason, so Bryan Murray should commit to the rebuild. Adding a young talent like Turris is almost the ideal trade for the Sens. But if someone eventually comes calling for one of his veteran defensemen, I don't think Murray should hesitate to deal for future assets. I still think teams outside of the top eight such as Montreal and Washington have more of a realistic shot at the postseason than Ottawa.
And speaking of the Caps, interesting game tonight against the Predators. Nashville quietly owns the West's longest win streak at five games, although three of those wins came against the Ducks, Blue Jackets and Flames. Not exactly world-beaters.
We've heard so much debate over whether David Poile will deal one of his franchise defensemen, yet if this team continues to win, he may opt to go the other direction and add some offense through a trade. They can certainly use it and that might be the kind of move that helps convince Suter or
Shea Weber
to stick around.
Dale Hunter
's Capitals need a win, and it's never easy against Barry Trotz's group.
Burnside:
The bottom part of the Eastern Conference is once again dominated by the mediocre and the seriously flawed. The bottom line is that about three of those rarely spectacular teams is going to make the playoffs. Why not the Senators? (I mean, no other reason other than they can't keep the puck out of their net?) That's what's going to make the final 45 or 50 games so compelling and will make the trade deadline even more of a crapshoot.
I keep waiting for something to happen in Washington. Will the Caps finally hit that groove we've seen them find so often -- at least during the regular season -- the past four years? The Caps are just 15th in 5-on-5 scoring and given that lineup, that's a shame and one of the main reasons they're sitting in 11th place in the East. Still, just two points out of eighth, which goes to my point that you can still stink and be right in the playoff hunt in the Eastern Conference. Let's see how it all shakes down tonight, my friend. Until next time.
November, 1, 2011
11/01/11
10:48
PM ET
The
Calgary Flames
have been rumored as a potential suitor for
Kyle Turris
, but perhaps not quite clear is just how serious they are in their interest.
Well, consider the Flames very, very interested in the unsigned
Phoenix Coyotes
center. You can take that to the bank.
The Flames, a source told ESPN.com on Tuesday, have kept weekly tabs on the Turris situation, holding numerous discussions with both the Phoenix Coyotes and the Turris camp led by agent Kurt Overhardt.
The Flames also fully understand the message they're currently getting from Coyotes GM Don Maloney: That Phoenix is adamant it won't deal him while he remains unsigned.
If and when that stance changes, the Flames are determined to be in the mix. They view Turris as a potential No. 1 center, and that's an obvious area of concern on their squad.
It should also be mentioned as a point of practicality that the Flames can't sign Turris to an offer sheet because they currently don't have their second-round pick for next June's draft.
Another club that has serious interest in Turris, according to my TSN colleague Bob McKenzie, is the
Ottawa Senators
. McKenzie reported Tuesday night during our Insider Trading segment on TSN that the Senators have also had several discussions with the Coyotes, but like the Flames, they have been told by Phoenix that Turris won't be dealt while he remains unsigned.
The
Toronto Maple Leafs
have also checked in with Phoenix on Turris, although their interest doesn't appear to be quite as strong as their fellow Canadian clubs.
Leafs Trade Talks
The trade calls are heating up in Toronto, a source told ESPN.com Tuesday, with the
New York Rangers
among the clubs that have redialed the 416 area code of late.
As we reported last week, blueliner
Cody Franson
is available in Toronto.
Here's the quandary, however, for the Leafs according to the same source: Do you make a deal now and risk alienating the equilibrium you've got in a dressing room that's surprised everyone in the opening month? Perhaps you wait until later in the season to deal away a defenseman from that surplus you've got in Toronto. That's the debate inside the Leafs' front office.
Predators' Big Three
Neil Sheehy, the agent for
Ryan Suter
, told ESPN.com on Tuesday that he's slated to be in Nashville in two weeks' time to resume contract talks with the Predators. Suter, of course, is slated for unrestricted free agency July 1, just like star goalie
Pekka Rinne
.
Preds GM David Poile told ESPN.com on Tuesday that he chatted, once again, with Rinne's agent, Jay Grossman, on Monday.
The clock keeps ticking and the Preds have made it a priority to keep the lines of communication open with all three camps.
"I know these guys all want to sign here,'' Poile said. "But it's just a matter of getting it done. The better we do on the ice, I think the better chance we have of signing them.''
Jarrett Bousquet, one of Shea Weber's agents from Titan Sports Management, told ESPN.com that there have not been any real contract talks with the Preds since last summer's arbitration decision. As per the CBA, Weber would not be able to sign a new deal until Jan. 1 at the earliest in any case, but that doesn't preclude teams and agents from keeping the lines open -- and certainly Poile and Bousquet actually chatted the other day. At this point, it would appear Weber's camp wants to let things marinate a little after last summer's drama.
From this vantage point, it looks like Weber -- a restricted free agent July 1 -- wants to see what unfolds with Rinne and Suter before he makes his move.
If one of those two blueliners becomes available, there won't be a shortage of teams willing to move in on him, but keep a close eye on the
Detroit Red Wings
, especially if Nick Lidstrom retires. The Wings have the most cap room they've ever had entering the offseason, more than $23 million if Lidstrom retires and still north of $17 million if he comes back at around the same salary. If Suter or Weber is available, you can bet the Wings will try to be in on it.
October, 19, 2011
10/19/11
12:29
PM ET

1. Surprising Stars? Maybe we shouldn't be surprised
Maybe it was the loss of former playoff MVP Brad Richards to free agency, or the uncertainty surrounding the team's ownership, or the way the Dallas Stars collapsed down the stretch last season. But it was somehow easy to dismiss the team as the 2011-12 season approached.
Well, the Stars have roared to a 5-1-0 record and a share of top spot in the Western Conference in the early stages of the new season.
GM Joe Nieuwendyk pointed out that the Stars weren't exactly chopped liver with 95 points in 2010-11 (tied for the most points recorded by a team that failed to make the playoffs).
Yes, Richards signed as a free agent with the New York Rangers, but the Stars added Stanley Cup winner Michael Ryder and reclamation project Sheldon Souray, who was banished by Edmonton and spent last season in the American Hockey League. Souray has been terrific early on, and his five points tie him for the team lead with Mike Ribeiro, Steve Ott and Jamie Benn.
"You don't lose that big shot even if you've been out of the league for a year," Nieuwendyk told ESPN.com.
The Stars GM, a Hall of Fame player, knows firsthand Souray has a bit of a mean streak, and that mean streak has been on display for the Stars, who have allowed just 13 goals in six games. Perhaps most important, Souray doesn't have to be all things to all people, a burden he carried in his last two stops in Montreal and Edmonton (where he signed big-dollar contracts).
Ryder, too, has been a pleasant surprise, Stars rookie coach Glen Gulutzan told ESPN.com. Ryder had scored in two straight games but was also on the ice in the waning moments of Tuesday's 3-2 road win in Columbus.
"He's another guy that doesn't have the weight of the world on his shoulders," Gulutzan said. "His two-way game has surprised me, too."
Even with the early success, the Stars have struggled to attract crowds (the fall remains the domain of the Dallas Cowboys, college football and the World Series-bound Texas Rangers). But if, as expected, ownership is stabilized in the near future and the Stars keep playing as they have, they're going to be hard to ignore in Dallas and around the NHL.
"Hopefully our story will get out there," Nieuwendyk said.

2. Buffalo's latest rookie sensation
Buffalo Sabres red-hot rookie Luke Adam has seen this movie before.
After just one American Hockey League game last season, he was asked by reporters if he had it in him to follow in the path of two Sabres prospects, Nathan Gerbe and Tyler Ennis, who had earned top rookie honors the previous two seasons.
"That was after my first professional hockey game," Adam recalled with a laugh in an interview this week. Now, after going on to win top rookie honors in the AHL, the easy-going forward is answering similar questions about his ability to follow up Tyler Myers' rookie exploits in 2010 and take home the Calder Trophy as the NHL's top rookie.
"The guys have given me a little rookie razzing. It's cool," Adam said after posting three goals and three assists in his first five games for the 4-1-0 Buffalo Sabres.
It may appear as though the 21-year-old Adam has fallen out of nowhere to assume a share of the rookie scoring lead ahead of more high-profile first-year players such as No. 1 overall pick Ryan Nugent-Hopkins of Edmonton and Gabriel Landeskog of the Avs, but his production probably shouldn't come as a surprise. Adam was tied for the AHL rookie lead in goals, points and plus-minus, despite playing in just 57 games for Portland. Adam also got a taste of NHL life. He was called up six times last season, and his stays in Buffalo ranged from one day to one month.
Those periodic stays proved invaluable, and by the end of training camp, Adam wasn't just on the bubble to make the team, he was playing first-line minutes with Thomas Vanek and Jason Pominville.
The big winger's father, Russ Adam, was a Windsor native who played eight NHL games with the Toronto Maple Leafs in the early 1980s. He moved to Newfoundland to play senior hockey, and there he met and married Adam's mother, who owns a hair salon.
"He went there for two weeks, and 25 years later, he's still there," Adam said of his father.
Adam said he understands it's early for any talk of trophies. "There's lots of work to be done," he said.
Still, he wouldn't mind following in the steps of fellow Newfoundlanders Dan Cleary, who became the first Newfoundlander to bring home the Cup in 2008, and Ryder, who won a Cup with Boston last season.

3. The importance of Ryan Kesler
You don't have to go too far into the stats to figure out that Ryan Kesler is not just a key piece of the Vancouver Canucks' machinery, but maybe the key piece.
Take a look at the Canucks' penalty-killing unit.
Last season, the Canucks had the best penalty-killing squad in the Western Conference and were tied for second in the league with Washington (Pittsburgh was No. 1). The Canucks have stutter-stepped out of the gate with a 2-3-1 record following a 4-0 home loss to the Rangers on Tuesday. It was Kesler's first game back after nursing a sore hip from offseason surgery, and the defending Frank J. Selke Trophy winner played 19:02.
Without Kesler in the lineup, the Canucks' penalty kill had struggled, allowing six goals on 25 attempts and giving them the 26th-ranked unit in the NHL heading into action Tuesday night.
Although the Canucks somehow managed to give up four goals on 19 shots, they didn't give up a power-play marker Tuesday, and it will be a shock if Kesler's return doesn't spark a move up the standings for last season's Presidents' Trophy winners.
Big picture, no matter how often coaches try to talk around the issue, the biggest challenge in sports is to turn a long Stanley Cup playoffs run into a strong start the following season. The teams that reached the conference finals this past spring -- Boston, Tampa, Vancouver and San Jose -- have a combined 6-13-3 record and have allowed 70 goals so far.
No one is suggesting these teams can't right the ship; it would still be a major shock if all four didn't return to the playoffs. But it does help put the feat that Detroit and Pittsburgh accomplished -- reaching back-to-back Stanley Cup finals in 2008 and 2009 -- into perspective.

4. No payoff yet in Minnesota
Having spent some time with the Minnesota Wild during training camp, we got a sense of the anticipation for this season. We can also understand the angst Wild fans may be feeling because this new season is suddenly looking much like many other previous seasons in the State of Hockey.
Despite the addition of offensive sparkplugs Dany Heatley and Devin Setoguchi, the Wild are 2-2-2, including a disappointing 4-2 home loss Tuesday against a Pittsburgh Penguins team that was without Sidney Crosby, Evgeni Malkin, Tyler Kennedy, Kris Letang and Brooks Orpik.
Perhaps most disappointing for the Wild and rookie coach Mike Yeo is that the team's big line of Mikko Koivu, Heatley and Setoguchi has fizzled. The three have combined for three goals, one by Heatley and two by Setoguchi.
Part of the rationale for trading Martin Havlat to San Jose (he is out with a shoulder injury, by the way) for Heatley was to try to jumpstart Koivu's offensive production. It hasn't worked out. The big line was broken up during Tuesday's loss, with Setoguchi playing a bit with Matt Cullen and Guillaume Latendresse. Setoguchi leads the team with 20 shots, and Heatley has 17, but the pair needs to be doing more as front-line players.
The Wild have scored just 14 times and the power play ranks 18th with three goals. The unit was 0-for-5 against the Pens on Tuesday.
Without better production from the Wild's big three -- whether they play together or not -- Wild fans can once again kiss the playoffs goodbye.

5. The Turris-Coyotes stalemate continues ...
There is an interesting game of brinkmanship being played out in the desert as the Phoenix Coyotes continue to hold firm on their position that they will not trade disgruntled prospect Kyle Turris.
League sources told ESPN.com that Turris, the third overall pick in the 2007 draft, is looking for a three-year deal worth an average of slightly more than $4 million annually or a two-year deal worth slightly more than $3 million.
Those numbers would put Turris in the same high-rent district as James van Riemsdyk, who signed a six-year extension worth an average of $4.25 million with the Philadelphia Flyers before training camp. Another young player from that draft class who recently signed a new deal is Logan Couture, who signed a two-year extension at $2.875 million annually, a price tag that is generally considered a bargain for the San Jose Sharks.
The key part of the equation is that those have been Turris' demands of the Coyotes. Would he sign for less somewhere else? Almost certainly he would. A source familiar with the situation said money isn't the issue and Turris would sign a deal moments after being traded, if the Coyotes decided to move the young center. We have also been told at least half a dozen teams have made inquiries about Turris' availability.
But what is Turris' value? He has managed to score just 19 goals in 131 NHL games spread mostly over two seasons and has shown little to suggest he could become a player like van Riemsdyk or Couture, let alone Patrick Kane, who was the top pick in that 2007 draft year.
If Coyotes GM Don Maloney could add a young NHL-ready player to the roster (and we are told NHL teams are prepared to part with NHL-ready prospects), does he owe it to the Coyotes to move an unproductive asset in Turris for someone that will actually appear in the team's lineup? Or does Maloney stick to his guns and keep the top prospect and hope Turris signs before Dec. 1 and proves himself?
If Turris isn't signed somewhere by Dec. 1, he cannot play this season. That would be a terrible waste for the team and Turris if that's how it plays out.
October, 5, 2011
10/05/11
9:57
PM ET
So what now for Sean Avery?
The New York Rangers assigned him to AHL Connecticut on Wednesday, which, as a matter of due process, was a must.
The question is, where will he end up for good this season? His agent, Pat Morris, told ESPN.com on Wednesday that he was in talks with clubs in Sweden, Switzerland and Russia.
It doesn't surprise us at all that there is interest from those clubs. The Avery waiver story Tuesday created massive buzz around the hockey world. Say what you want about Avery, but there are a few teams overseas that would crave that kind of attention.
Whatever deal Morris ends up negotiating for his client, the Rangers must sign off on it because they will officially "loan" the player to a European club. That's if and when a deal is actually reached with a European club.
But know this: Morris said Avery still wants to play.
Turris waits
On the eve of the NHL season, Kyle Turris remains unsigned. Still no progress, either.
"We continue to have discussions with the Coyotes and are positive that over time Kyle will be playing," his agent, Kurt Overhardt, told ESPN.com on Wednesday. "Kyle is in great shape and training hard in B.C."
What Overhardt didn't say, but we believe is the case, is that they'd be open to a trade to end this impasse. However, we don't think Coyotes GM Don Maloney feels compelled to do that at this point. We'll see whether that changes.
Shanahan meets with TSN
NHL sheriff Brendan Shanahan met with a bunch of us at TSN headquarters in Toronto on Wednesday. His presentation was impressive, and his video examples of dos and don'ts helped explain the widened scope of Rule 48 that goes into effect this season.
Still, he's going to be met with controversy and anger from teams this season. He knows that but doesn't accept the criticism that his suspensions will take hitting out of the game.
"We want it to be hockey; we want it to be physical," Shanahan said. "We're not looking to get rid of hitting. We want to get rid of certain types of hits."
Doan in Coyotes' plans
Phoenix captain Shane Doan is slated for unrestricted free agency July 1, but the club is hoping to lock him up before then.
"Shane Doan will remain a Coyote for as long as he wants to remain a Coyote," Maloney told ESPN.com on Tuesday. "He is symbolic of who we are and how we want to play, both on and off the ice. I met with Shane in the offseason, and we agreed to defer contract discussions until our ownership situation is resolved. However, I am very confident, at the appropriate time, we will negotiate a contract that keeps Shane a Coyote for the remainder of his playing career."
If you're Doan and his agent, J.P. Barry of CAA Sports, you definitely want to wait until the ownership situation is finally settled. You can't take the chance of signing a contract with a team that could be on the move.
Jackets' surprise rookie
Cam Atkinson has been the rookie surprise of Blue Jackets camp; not only has he made the team, but he will open the regular season on the second line with R.J. Umberger and Antoine Vermette.
"He's had a really strong camp," Jackets GM Scott Howson told ESPN.com. "He's had two outstanding seasons at Boston College, won a national championship, had two seasons of over 30 goals. We're all a bit surprised he showed so well here, and he just kept getting better and better during camp. Now the real challenge is to see if he can keep it up during the regular season."
Atkinson, 22, was taken in the sixth round (157th overall) in the 2008 NHL draft. He's only 5-foot-7 and 172 pounds, but he showed he was a dangerous threat in the preseason. Meanwhile, 19-year-old rookie Ryan Johansen also made the team, although he needs to impress more if he's going to stick around all year.
"It's a week-by-week situation," Howson said. "He's here to start the season, and we'll see where it goes. We have to do what's right for the team and what's right for him. Right now, we think it's better for him to stay here. He's on the fourth line right now. There might be some games where he doesn't play. We'll take it week by week."
Meaning the Jackets will have to decide at the nine-game mark whether to send him back to junior or let him play the whole season in the NHL.
More tidbits ...
• Matt Duchene enters the final season of his entry-level contract. Sidney Crosby, Evgeni Malkin and John Tavares are among the young stars who signed their extensions a year out before their entry-level deals expired. At this point, however, there's nothing happening on the contract front with Colorado.
"No, we haven't had any talks," Duchene's agent, Pat Brisson, told ESPN.com.
• It's not a shock that the Vancouver Canucks claimed Dale Weise off waivers this week from the New York Rangers. A source told ESPN.com the Canucks actually tried to trade for Weise last season. He'll open the season in Vancouver on the fourth line alongside Maxim Lapierre and Aaron Volpatti.
• Mike Fisher is likely to miss the opening two games of the season as he continues to recover from offseason shoulder surgery. Nashville Predators coach Barry Trotz told ESPN.com the club is eyeing the third game of the season, the Preds' home opener, for his return.
• Veteran goalie Marty Turco is still hoping to catch on with an NHL team this season.
"Marty plans to play a few more seasons in the NHL, is in great shape and is training in Sault Ste. Marie [Ontario]," his agent, Kurt Overhardt, told ESPN.com. "We are patient but ready when a 1 [starting goalie job] or 2 [backup] opportunity opens up with an NHL club. He will be doing some weekend media with the NHL Network, but his priority is training to be ready."
• Rookie forward Brett Connolly, 19, had a knockout camp with the Tampa Bay Lightning. The sixth overall draft pick from 2010 has really improved his game compared to a year ago. We're told he trained a lot harder this summer, on and off the ice, which made him stronger and faster. He also worked on his skating and has improved his stride.
September, 14, 2011
9/14/11
2:57
PM ET
Contract talks with restricted free agents have hit high gear with the start training camps days away, as is always the case in these situations.
Players get antsy and teams don't want their players to miss the start of camp, which often bridges the gap in talks.
[+] Enlarge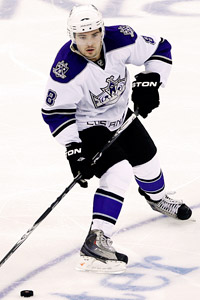 Ed Mulholland/US PresswireDoughty led the Kings in average ice time (25 minutes, 39 seconds) this past season and was plus-13, fourth-best on the team.
Drew Doughty
and the Kings remained at an impasse Wednesday, but that can change with one phone call. Sources told ESPN.com that the Kings won't pay Doughty more than the $6.8 million
Anze Kopitar
makes on average per season.
Further, Bob McKenzie of TSN reported late Tuesday night that the Kings won't do a deal for less than seven years.
In a nutshell, both term and salary remain an issue. But like I said, it just takes one phone call.
• (
Updated 5:07 p.m.
-- The
Jets agreed to a new deal with Zach Bogosian
worth $5 million over two years, a source told ESPN.com)
Zach Bogosian
's agent Bob Murray continues to chat with
Winnipeg Jets
GM Kevin Cheveldayoff on Wednesday.
"We've spoken today, will chat again later this afternoon, and we're going to try to move it forward," Murray told ESPN.com Wednesday afternoon.
While neither Cheveldayoff nor Murray would divulge any more details, it's believed the two sides are working on a short-term deal, not a long-term deal like many young RFAs are signing this summer.
The thinking here, in all likelihood, is that Bogosian can raise his game to another level in the next few years and then get a better contract next time around. At the same time, the Jets aren't exactly sure what they have in Bogosian right now so a short-term deal makes sense for them.
• RFA center
Kyle Turris
and the
Phoenix Coyotes
weren't any closer in talks on Wednesday.
"No movement on the Turris contract ... We are planning to start training camp without him," Coyotes GM Don Maloney told ESPN.com via email.
• The
Toronto Maple Leafs
and RFA blueliner
Luke Schenn
said nothing Wednesday, but it's believed both sides were getting closer to agreeing to a new deal.
"No comment," Leafs GM Brian Burke told ESPN.com.
•
As we reported earlier Wednesday
, the
Buffalo Sabres
and young star blueliner
Tyler Myers
are close to agreeing on a seven-year deal, which will pay the towering defenseman an average of $5.5 million per season starting next season. He's got one more year on his entry-level deal.
September, 6, 2011
9/06/11
12:40
PM ET
Most of the offseason contract news surrounding the NHL's top young players has focused on Shea Weber, Steven Stamkos and Drew Doughty.
Weber and Stamkos re-signed with their respective teams in Nashville and Tampa Bay, while Doughty remains unsigned by the Los Angeles Kings, although the two sides appear closer now than earlier in the offseason.
[+] Enlarge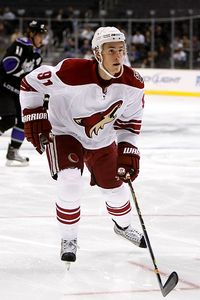 Jeff Gross/Getty ImagesKyle Turris was selected third overall by the Phoenix Coyotes in the 2007 NHL draft.
Beyond the obvious, though, there is an interesting situation developing in Phoenix with underachieving prospect Kyle Turris.
Turris, the third overall pick in the 2007 NHL draft, is at the end of his entry-level deal, but talks with the Coyotes have gone nowhere. Unless there is a seismic change in tenor between the two sides, it's hard to imagine he will be at camp when the Coyotes report for physicals in Glendale, Ariz., on Sept. 16. The team's first on-ice session is set for a day later.
In 131 NHL games spread mostly over two seasons, Turris has scored just 19 goals.
With the recent acquisition of veteran center Daymond Langkow, Turris now sits third on the team's depth chart (at best) behind Langkow and a healthy Martin Hanzal.
Still, league sources told ESPN.com that Turris is looking for a three-year deal worth an average of slightly more than $4 million annually or a two-year deal worth slightly more than $3 million. Those numbers would put Turris in the same high-rent district as James van Riemsdyk, who recently signed a six-year extension with the Philadelphia Flyers worth an average of $4.25 million. Van Riemsdyk is another player from that talent-rich 2007 draft class; he was the second overall pick behind No. 1 selection Patrick Kane of the Chicago Blackhawks.
While van Riemsdyk perhaps developed at a slower pace than Kane, who won rookie of the year honors and scored the Cup-clinching goal in Chicago's 2009-10 championship run, he has shown steady signs of evolution as a top young player. Van Riemsdyk scored 21 goals last season and was the Flyers' best forward in the playoffs (seven goals in 11 games).
While some raised eyebrows at the term and dollar van Riemsdyk received, it was a gamble by Philadelphia GM Paul Holmgren based on recently returns. The team's decision to trade proven forwards Mike Richards and Jeff Carter was based in part on the belief that van Riemsdyk has arrived.
Another young player from that draft class who recently received a new deal is 2010-11 rookie of the year nominee Logan Couture, who signed a two-year extension at $2.875 million annually, a price tag that is generally considered a bargain for the San Jose Sharks.
Couture, also a center, played 25 games in 2009-10 and had just five goals in a minor role for the Sharks. But last season, he jumped up the depth chart and might have been the team's best forward throughout the regular season (32 goals, second among all NHL rookies). He added 14 points in 18 postseason games for the Sharks.
Can Turris, who scored 24 goals in the American Hockey League in 2009-10, expect a similar blossoming this season? Or next? Perhaps.
But one thing appears clear: the cash-strapped Phoenix Coyotes will not pay the kind of dollars Turris is demanding, and if the stalemate continues, he will remain on the sidelines when training camp starts.
Turris' agent, Kurt Overhardt, told ESPN.com on Tuesday he doesn't discuss numbers with the media.
"Never have, never will," he said. "There's plenty of time left [to get a deal done]."
It's an interesting and some would say pivotal season for Turris and the Coyotes. It's far too early to label Turris a bust, although his development pales in comparison to his peers. And the Coyotes, still without an owner, face another season of uncertainty in Glendale and will ice a team that is going to throw even more responsibility at its young talent.
Another Coyotes prospect, Mikkel Boedker, recently signed a two-year deal with an average cap hit of $1.1 million. The speedy forward will get an opportunity this season to prove he is worthy of being the eighth overall pick in 2008.
The question that remains unanswered is whether Turris will get the same opportunity to prove his worth.
September, 22, 2010
9/22/10
8:54
PM ET
GLENDALE, Ariz. -- There's a guy turning heads so far at camp for the Phoenix Coyotes and you may remember him: Kyle Turris.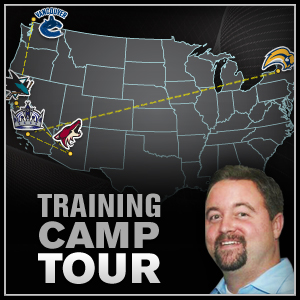 The third overall pick from the 2007 NHL draft is so far making a strong case to stick around, and his goal in Anaheim in a preseason game Tuesday night signaled he's here to make a statement.
"I've been impressed with Kyle so far," Coyotes GM Don Maloney told ESPN.com. "I think he's where he needs to be to make this team. So we'll see."
"Turris certainly hasn't done anything to hurt himself yet," Coyotes coach Dave Tippett added Wednesday.
While the Coyotes had their thrilling run last season, proving all the critics wrong by reaching the playoffs, Turris was in San Antonio, Texas, missing out on the desert party. And it was the best possible thing for him.
"I learned a lot last year -- faceoffs, defensive zone, anticipating on the rush -- a whole bunch of stuff I took with me," Turris told ESPN.com on Wednesday. "I feel like I grew as a player and I'm ready to take that next step."
Turris hasn't taken the most natural road here. He played 63 games with the Coyotes in 2008-09, but was physically overmatched at age 19. He just wasn't ready. He was sent to the AHL to hone his skills and mature as a player. But there are some in the hockey world who have rushed to judgment because of it, wondering what the Coyotes were thinking when they took him third overall in '07, two spots behind Patrick Kane.
Sitting at his office at Jobing.com Arena on Wednesday morning, we asked Tippett about Turris and the circuitous route he's taken so far in his pro career. He reminds us that Turris is only 21 years old.
"You have to keep in perspective where he is," Tippett said. "He came out early [after one year at the University of Wisconsin]. In fact, last year would have been his junior year at college. If he comes out after his junior year, the expectations aren't what they are right now. So you have to keep that all in perspective."
Looking back, it might have been wiser for Turris to have stayed in college at least one more year, but there's no point in playing armchair quarterback at this point.
[+] Enlarge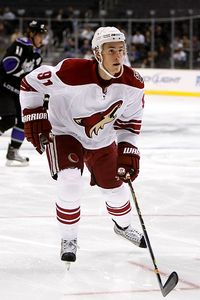 Jeff Gross/Getty ImagesKyle Turris was selected third overall by the Phoenix Coyotes in the 2007 NHL draft.
"There's several different situations that could have happened, but you can only do the one that you're living in," Turris said.
This is the here and now, and this is a big camp for Turris. He's a three-year pro and it's time for him to take that next step.
"It's really important," said Turris. "I want to take advantage of it. I just want to make the team, so I'm going to do everything I can to make sure I do."
The Coyotes would love for Turris to earn that promotion. With the losses of Matthew Lombardi and Robert Lang, there are openings at center. The team is experimenting with natural winger Wojtek Wolski at center, just signed Eric Belanger last week and invited Kyle Wellwood on a tryout. But there's a definite opening there for Turris if he's ready.
"What I notice in Kyle now on the ice is that he looks like a man now," said Maloney, who made the decision to demote Turris late in the 2008-09 season. "He doesn't look like a little boy that has good instincts but physically is continually overwhelmed. You watch how he's shooting the puck -- he's just thickened up.
"Whether it's good enough to start with us and help us win ... there's a role here for Kyle on this team. He has everything we want in a player in regards to his [competitiveness], his second effort, his will -- he's a very driven kid. The next 2-3 weeks will determine whether he can come in here and grab a spot or does he need more time to continue that maturation process."
It's a stretch to say it's now or never for Turris. After all, he could start the year in the AHL and then be called up and have great success. But he looks as ready as he's ever been to finally get his NHL career going.
"I feel stronger than I've ever been," Turris said. "I'm in probably the best shape of my career and feel the most comfortable I have, so I feel ready."
Coyotes' UFAs
Two prominent Coyotes players are eligible for unrestricted free agency next July: star goalie Ilya Bryzgalov and top-four blueliner Ed Jovanovski. But with the team's ownership situation still not resolved, Maloney doesn't have the financial wherewithal to hammer out extensions at this point.
"Bryz emerged as a top-five goaltender last year," Maloney told ESPN.com. "We need him to do it again. If he does it again, that puts him squarely in good position to get the kind of contract those top players get. He's going into his last year. Until we have our ownership situation clarified, we're just going to sit tight."
The same goes for Jovanovski, who understands the situation.
"We've had talks with Donnie," Jovanovski told ESPN.com. "In fairness to him, his hands are pretty much tied right now. Until he has an owner to fund the team, I think he's caught in a tough position. I've indicated that I like it here. I think the team is headed in the right direction. It's not something I worry about. I just try to lead by example, play hard every night and see where that goes. Things usually find a way to work themselves out."
Bryzgalov shrugged off his contract situation.
"I don't pay attention to that," he said Wednesday. "I just have to focus on my game and help the team to make the playoffs and go as far as we can. I think we have a good team in here and we can challenge for the Stanley Cup."
Scottie Upshall, Radim Vrbata, Vernon Fiddler and Belanger are also UFA-eligible next summer.
Blue-line jobs
The loss of Zbynek Michalek has left a hole on the Coyotes' blue line. The team remains strong in the top four with Jovanovski, Keith Yandle, Adrian Aucoin and Derek Morris. Sami Lepisto, who played in the Olympics for Finland this past February, is likely penciled in at No. 5.
After that, there are definitely two openings. Shane Hnidy and Kurt Sauer are in the mix, but so are youngsters such as David Schlemko, Oliver Ekman-Larsson, Maxim Goncharov. Ekman-Larsson, 19, is perhaps the most intriguing; the 2009 first-rounder (sixth overall) has puck-moving and offensive skills. "He's a dynamic young player," said Tippett.