Cross Checks:

Lee Stempniak
March, 6, 2014
Mar 6
2:48
PM ET
The
St. Louis Blues
,
Montreal Canadiens
and
Minnesota Wild
tallied the most mentions in an unscientific poll of NHL general managers who were asked which clubs impressed them the most with their trade deadline moves.
The Blues were the most cited among responses from 10 GMs on Thursday, their blockbuster acquisition of netminder
Ryan Miller
and gritty forward
Steve Ott
solidifying St. Louis as a Cup contender. Blues GM Doug Armstrong got lots of kudos from his peers in our little survey Thursday.
"[Armstrong] gave up a lot, but he got the goalie he needed," said a Western Conference GM. "He's got conviction. He went for it. I admire him for that."
Added an Eastern Conference GM: "St. Louis for sure got better. Ott is a bit overrated, but [coach Ken Hitchcock] has had him before and will get the best out of him. Miller obviously is the key guy there, a huge upgrade in goal."
The Habs and Wild were tied for the second-most mentions after Montreal nabbed
Thomas Vanek
and Minnesota got busy over a 48-hour period, adding goalie
Ilya Bryzgalov
and scorer
Matt Moulson
.
[+] Enlarge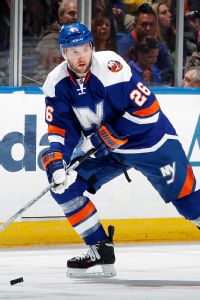 Paul Bereswill/Getty ImagesGetting Thomas Vanek for a bargain price earned praise for Marc Bergevin.
Montreal GM
Marc Bergevin
got high marks from his peers for getting Vanek at a discount rate from the
New York Islanders
, while Minnesota GM Chuck Fletcher got praise for his industrious few days.
"Bergevin did a really good job on Vanek," said a Western Conference GM in a comment that was repeated by many.
The two Florida teams also got a few mentions and for the purpose of this survey would rank tied for third.
Tampa Bay Lightning
GM
Steve Yzerman
had only one team to deal with in meeting the trade demand of his captain,
Martin St. Louis
, but Yzerman still got a decent deal out of it from the
New York Rangers
.
"I thought Steve did an excellent job managing that situation. He got a nice return," said a Western Conference GM.
Said another Western Conference GM via email: "To me, Steve Yzerman did the best job. He was dealt a bad hand. And nobody could have played that hand any better. Plus he did it with class (as always)."
Panthers GM Dale Tallon also got some attention for stunningly getting
Roberto Luongo
out of Vancouver. "Dale Tallon had the best deadline of all," said one Eastern Conference GM.
The Penguins were mentioned by one Western Conference GM, with Pittsburgh adding forward
Marcel Goc
and
Lee Stempniak
. "Pitt was strong with quality, under-the-radar players," a GM said via email.
Buffalo Sabres
rookie GM Tim Murray has been busy over the past week, beginning a rebuild and getting a vote from one Western Conference GM for his efforts.
"Tim Murray certainly added a lot of long-term assets," said the GM.
The
Anaheim Ducks
struck out on Canucks center
Ryan Kesler
but did add veteran blueliner
Stephane Robidas
. Ducks GM Bob Murray got a vote from a fellow Western Conference GM.
"[Murray] always sees the big picture. He is two steps ahead of what is in front of him," said the GM. "No one has come close to doing the job he has done the last five years. He inherited a very difficult situation and executed flawlessly."
Other post-deadline notes and thoughts:
• Interesting to find out from a source Wednesday night that Toronto was among the teams that inquired about Vanek. Imagine the Leafs' reaction when rival Montreal got him, especially given the modest price the Canadiens paid.
• Needless to say, the Canadiens were never going to get Vanek if the Islanders' asking price continued to include a first-round pick, which it did for quite some time. Once the first-round pick was eliminated from the equation, the Habs jumped in with both feet.
• Vanek is on record saying he's going to the free-agent market on July 1, and at this point there's no reason to think that won't happen. Still, in the back of my mind I wonder whether this is a repeat of the Alexei Kovalev situation, with a presumed rental player ending up staying around because he falls in love with the electric market that is Montreal. Food for thought ...
• The Penguins made an effort on Kesler and also had a line in the water on
Ales Hemsky
, the
Edmonton Oilers
forward who went to Ottawa instead. I thought Hemsky would have been a nice fit in Pittsburgh, but Goc and Stempniak are solid additions. Goc is versatile and provides depth at center while Stempniak could surprise some people after being given a fresh start, like
Jussi Jokinen
has done since joining the Pens at last year's trade deadline.
And this, from our friends at Bovada:
January, 28, 2011
1/28/11
4:13
PM ET

Stock Up
Lee Stempniak, Phoenix Coyotes:
The Coyotes continue to hold onto a playoff spot in the tough Western Conference thanks in large part to their balanced offense. Recently, it's been Stempniak, who became a Coyote just over a year ago at the trade deadline, taking the lead. Stempniak has a seven-game point streak during which he's collected 11 points. During the past two weeks, no one has delivered more points (although Stempniak is tied with Philadelphia's
Claude Giroux
during this stretch). The native of West Seneca, N.Y., has five goals during that span, all at even strength, and a plus-4 rating.
Sergei Bobrovsky, Philadelphia Flyers:
So much for hitting the rookie wall. After a slight wobble, Bobrovsky (Bob to most around the NHL) is on a tear heading into the All-Star break. Bobrovsky has won six straight starts and has allowed two or less goals in each of those contests, while facing just over 30 shots a game during the streak. No wonder the Flyers hit the break as the NHL's top team and the annual talk of Flyers goaltending uncertainty has quieted to a faint hum.

Stock Down
Jaroslav Halak, St. Louis Blues:
Yes, the Blues have been beset by injuries throughout this difficult season and maybe this is a factor in what appears to be the breaking down of Halak, last year's playoff hero in Montreal. Acquired by the Blues with the expectation he would lead them to the playoffs, Halak has just two wins in his last 10 appearances. Seven times over that 10-game span, Halak has allowed four goals. No wonder the Blues are slowly sinking beneath the surface in the Western Conference.
Daniel Alfredsson, Ottawa Senators:
It's as ugly as you can get in the Canadian capital these days with the Senators in freefall and ownership determined to keep the current management/coaching staff in place, at least until the end of the regular season. Even Alfredsson, the team's classy captain, has not been immune to the woes that have brought this team to its lowest point in well over a decade. Alfredsson has delivered one goal in his last nine games and just one assist over that period. A guy like Alfredsson deserves better.