Cross Checks:

Manny Malhotra
April, 30, 2014
Apr 30
2:12
PM ET
From the official NHL release:
JAGR, MALHOTRA AND MOORE NAMED MASTERTON TROPHY FINALISTS
NEW YORK (April 30, 2014) --
Jaromir Jagr
of the
New Jersey Devils
,
Manny Malhotra
of the
Carolina Hurricanes
and
Dominic Moore
of the
New York Rangers
are the three finalists for the 2013-14 Bill Masterton Memorial Trophy, which is awarded "to the player who best exemplifies the qualities of perseverance, sportsmanship and dedication to hockey," the National Hockey League announced today.
A $2,500 grant from the Professional Hockey Writers' Association
(PHWA) is awarded annually to the Bill Masterton Scholarship Fund, based in Bloomington, Minn., in the name of the Masterton Trophy winner.
The local chapters of the PHWA submitted nominations for the Masterton Trophy at the conclusion of the regular season and the top three vote-getters were designated as finalists. The winner will be announced Tuesday, June 24, during the 2014 NHL Awards from Encore Theater at Wynn Las Vegas. The 2014 NHL Awards will be broadcast by NBCSN in the United States and CBC in Canada.
Following are the finalists for the Masterton Trophy, in alphabetical
order:
Jaromir Jagr, New Jersey Devils
Jagr's unwavering dedication to the game has allowed him to continue playing at high level when most players his age are retired. The Devils named the 42-year-old right wing team MVP in 2013-14 after he led the club in assists (43), points (67), plus-minus (+16), game-winning goals (six) and shots (231). Admired throughout the League for his rigorous training regimen, Jagr credits working hard in practices to avoiding fatigue, allowing him to stay fresh and maintain an advantage over opponents late in games.
Manny Malhotra, Carolina Hurricanes
Malhotra, 33, was the
Vancouver Canucks
' Masterton nominee in 2011-12 after returning from a serious eye injury suffered the season before.
Refusing to believe his NHL career was over last fall, Malhotra signed a professional tryout agreement with the Charlotte Checkers, Carolina's American Hockey League affiliate, on Oct. 3 and signed as a free agent with the Hurricanes four weeks later. He appeared in 69 regular-season games, assumed a leadership role in serving as an alternate captain and ranked second among all NHL players in face-off percentage (59.4%).
Dominic Moore, New York Rangers
Moore, 33, returned to the NHL this season after taking a leave of absence from the League in the spring of 2012 in order to care for his wife, Katie, after she had been diagnosed with a rare form of liver cancer.
Katie passed away at the age of 32 in January of 2013. Moore thereafter established the Katie Moore Foundation (katiemoore.org), dedicated to helping patients and families with rare cancers through research, advocacy and community. He resumed his career as an integral part of a Rangers team that earned 96 points and a second-place finish in the Metropolitan Division.
History
The trophy was presented by the NHL Writers' Association in 1968 to commemorate the late Bill Masterton, a player with the Minnesota North Stars who exhibited to a high degree the qualities of perseverance, sportsmanship and dedication to hockey and who died on January 15, 1968.
October, 2, 2012
10/02/12
9:18
AM ET
By
Sarah Goldstein
| ESPN.com
August, 2, 2012
8/02/12
9:28
AM ET
June, 5, 2011
6/05/11
12:59
AM ET
VANCOUVER, British Columbia -- The crowd chanted "Manny! Manny!" as he took his first shift and again when his mug filled the Jumbotron.
Manny Malhotra's return Saturday night from a career-threatening eye injury almost three months ago got the crowd and his teammates going.
[+] Enlarge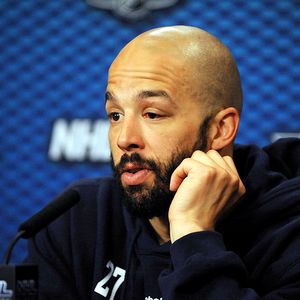 Anne-Marie Sorvin/US PresswireManny Malhotra logged 7:26 in ice time and won six of seven faceoffs in his Game 2 return.
"It definitely got me thinking from March 16 to where I am now," Malhotra said of the emotional reception. "It's a privilege to play in front of fans like this. When you come to Vancouver, to say that the fans here are passionate would be a gross understatement. So just to be able to be out there again, to hear them cheering, to hear an ovation like that, it definitely makes you feel like a Canuck. You just feel like a part of this family."
Malhotra had not played since a puck hit him in the face. He had two surgeries on his left eye, and he returned to practice two weeks ago.
Overtime hero Alex Burrows said Malhotra's reception was inspirational for the team.
"It was amazing. It really got us going early," said Burrows. "Two months ago, we never thought we'd see him back. It's a huge bonus for us."
Malhotra said he was telling the truth Saturday morning when he said he'd be a game-time decision.
"It wasn't until after lunch that I knew I was going to go," said Malhotra. "I was excited I was going to have the chance to play, but probably the most nervous I've been in my entire career. Coming to the rink felt really normal, going through the same game-day routine. Again, the nerves kept getting to me. I was telling the guys, right from warm-up, it was kind of sensory overload -- just the noise, the crowd into it, all the towels waving. It was the first time I've seen a home crowd that excited in playoffs.
"I guess I really didn't settle down until after my first shift. It was obviously a great feeling, the ovation I got for my first shift," he added. "I think it kind of put a little bit more nerves on me, wanting to do something out there, execute. Once I got out there, felt a little bit better, started to skate."
Vancouver coach Alain Vigneault believed the time was right.
"It was a real happy moment for our whole group to be able to put Manny in the lineup and to have him play the way he did," Vigneault said. "He did exactly what we all expected. He was real good on faceoffs. He was good on the ice. He created a scoring chance. ... So I'm excited to have him back and I think he's only going to get better as we move forward here."
Malhotra, wearing a full face shield and centering the fourth line, played 13 shifts for 7:26 minutes and won six of seven faceoffs. Hard to ask for much more after all the time he missed.
"The first one coming back from any time off is always a tough one, just things like spatial awareness, knowing how much time you have when you get a puck," Malhotra said. "As we go forward here, I'll become more confident with the puck again, start to try to make more plays, skate with the puck. But I think playing seven minutes in my first game back is a good transition into things."
May, 31, 2011
5/31/11
3:20
PM ET
Vancouver center
Manny Malhotra
was not at practice on Tuesday afternoon reportedly because he had at eye doctor appointment.
Malhotra was cleared to play in the Stanley Cup finals on Saturday, just 10 weeks after a deflected puck exploded into his left eye and almost cost him his vision.
Malhotra hasn't confirmed he'll play Game 1, but said his legs and lungs are getting better every day.
"I can assure you I wasn't flipping a coin in the change room deciding whether I was going to play or not," Malhotra said over the weekend. "I've been monitored almost daily for the past two months now and the doctors were pleased with the progression and the way things were looking.
"They felt and saw there was an opportunity, if I felt confident enough, physically ready enough with the contact and with the awareness out there, playing could be a possibility."
March, 21, 2011
3/21/11
6:36
PM ET
The Vancouver Canucks can still win the Stanley Cup, but they're going to have to do it without their top penalty-killing forward and best faceoff man.
Make no mistake, the loss of Manny Malhotra (serious eye injury) for the regular season and playoffs, which the club announced Monday, is a serious blow.
Last July, the Canucks made Malhotra one of their top free-agent targets and privately believed his signing was just as significant as top defenseman Dan Hamhuis.
GM Mike Gillis desperately wanted to upgrade his third line after seeing his team lose to Chicago for a second straight postseason, most notably by acquiring a checking center who could add more grit, win more faceoffs and improve the team's penalty killing.
[+] Enlarge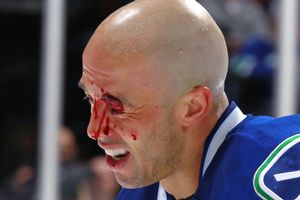 Jeff Vinnick/NHLI/Getty ImagesManny Malhotra was hit in the left eye by an errant puck during last Wednesday's game against Colorado and underwent surgery to repair the injury.
Done, done and done after Malhotra arrived.
Malhotra is second in the NHL behind only Jonathan Toews with 778 faceoff wins and leads his team among forwards in shorthanded ice time. He might have won the Selke Trophy as best defensive forward and may still get some votes despite missing the last month of the regular season. So while Malhotra's name may not resonate around the rest of the league outside of Vancouver, the Canucks know what they've lost.
So, what now?
Give Gillis credit for picking up forward depth at the trade deadline in Maxim Lapierre and Christopher Higgins. Some people wondered why the GM bothered. Well, now you know why: injuries can happen. Lapierre played most of his career in Montreal as a third- or fourth-line center and is a solid penalty killer, so he'll be the obvious replacement, at least for now. Cody Hodgson could be another option (he's got more offensive touch), but Lapierre should get the first crack at it.
Still, there's no replacing Malhotra. I think his absence will mean even more minutes for star centers Henrik Sedin and Ryan Kesler come playoff time.
On a final note, Malhotra's injury also reignites the decades-old debate on visors. There should no longer be any debate. The NHL Players' Association must allow the league to go to mandatory visors. No more arguing.
We all agree the game is faster than ever; players don't have as much time to react to pucks and sticks. Players already in the NHL can choose whether to wear a visor, but any new player starting next season and beyond should be required to wear one. Case closed.
November, 16, 2010
11/16/10
12:53
PM ET
Most of the hockey world focused on Roberto Luongo after yet another playoff series loss by the Vancouver Canucks to the Chicago Blackhawks this past spring.
But when GM Mike Gillis and coach Alain Vigneault poked away at the postseason cadaver, they identified more telling factors in team's early exit.
"When the season was over and Mike and I talked, a couple of things we identified were more depth on D because we were left short by injuries there," Vigneault told ESPN.com over the weekend. "We wanted to change the identity of our third line so that it was better suited for grinding, playoff hockey, and I think we were able to do that."
[+] Enlarge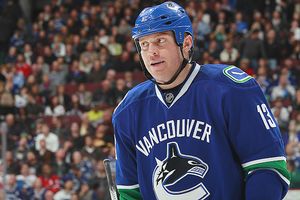 Jeff Vinnick/NHLI/Getty ImagesRaffi Torres signed a one-year, $1 million deal with the Canucks this past offseason.
With the additions of Dan Hamhuis and Keith Ballard (more on him later), the defensive changes received most of the offseason limelight. But the formation of a third line featuring newcomers Manny Malhotra and Raffi Torres and young incumbent Jannik Hansen is perhaps the most important development in this young Canucks season, one that looks as promising as any of their 40 years in the NHL.
It's nice when a plan comes together.
"We're really pleased with how that line has come together," Gillis told ESPN.com. "They add something every night. We didn't feel like we had that element on our team last year, didn't have that size and competitiveness. and it cost us in the playoffs. Chicago's third line did a lot of damage against us. We really didn't have anything to answer them with."
"This is a bigger, more physical grinding style that can wear down the opposition, wear down the D," Vigneault added.
The key acquisition was Malhotra, who signed a three-year, $7.5 million deal on July 1. One observer told ESPN.com the Canucks had actually listed Malhotra at the top of their free-agent shopping list, ahead of Hamhuis or any other players. They got him, but not before Malhotra made sure it was the right move. The story goes that Malhotra, no dummy, had as many questions for Gillis and the Canucks as the NHL club had for him.
"It was a very calculated decision on July 1," Malhotra, 30, told ESPN.com. "We were talking with quite a few teams, all of them in various stages -- some were contenders, some were rebuilding and some were turning the corner. We looked at a roster like this, we spoke with Alain and Mike and the role they saw me in ... everything worked out and it was the best possible place for me to go."
His $2.5 million salary is a nice raise over the $700,000 he made in San Jose last season, also a calculated move on his part. He took less money than other teams had offered so he could play with a contender and perhaps enhance his stock in the process. Did he ever. The hard-working Malhotra, a faceoff king, was an impressive force in San Jose's run to the final four, enough for the Canucks to salivate at the thought of adding him as their third-line center.
"We couldn't be happier," Gillis said. "It started with character first. We found out about him, his leadership qualities, and then moved on to his faceoff percentage and killing penalties. We wanted more size in that role. He's been great in the room. He's very coachable. He's the leader of his line, he accepts that role and he's been terrific."
Torres, 29, signed for one year and $1 million this past summer, taking a financial hit after coming off a three-year, $6.75-million deal in Columbus/Buffalo. Much like Malhotra a year ago in San Jose, Torres has a chance to raise his value for next summer's free-agent market with a solid season on a Cup-contending team. So far, Torres is off to his best start of a season since his Edmonton days, showing himself to be a physical, grinding winger with the pop to add the odd goal.
Hansen is a bargain at $825,000. At 24, he is the youngest of the three, but a consistent performer with the solid speed Vigneault likes a lot.
Voila! There's your new third line in Vancouver.
"They play real well [together]," Vigneault said. "They understand each other well, they keep it at a high-percentage game, they're all hard workers, they're all good skaters and they're physical."
One would assume it would have taken longer for the line to become a cohesive unit since none of them had played together before, but that hasn't been the case.
"We've found chemistry in the fact that we're very open with each other and our communication is bang on," Malhotra said. "There's no real gray era for us. If I'm having an off night, Raffi is quick to give it to me; likewise if I see something in his game that needs to be corrected. We're quick on each other. There's a lot of communication on the bench, on the ice, in the room, as to where we want pucks and where we want each other to be, and that's really helped our game out a lot."
Ballard blues
You're one of Vancouver's key offseason acquisitions, one that cost a first-round pick and two other assets; you're in the second season of a six-year $25.2 million deal, and by mid-November you're a healthy scratch.
Ouch.
Keith Ballard was cast aside for the fourth straight game Monday night when the Canucks played in Buffalo, a tough pill to swallow for the $4.2 million defenseman.
"As an athlete and a competitor, you have that side where you want to be out there all the time," Ballard told ESPN.com this past weekend. "On the other hand, as a teammate, you have to support the guys. We're playing well. The guys who have played recently have deserved to play. It's healthy competition."
Ballard has an unbelievable attitude. Many players in his position wouldn't be taking it this well. But it's also important to underline the mitigating circumstances. First, offseason hip surgery seriously hampered his summer conditioning; second, a recent concussion set him back big-time.
"There's no excuses for performance. We're all professionals and we're paid very well to be ready to go under all sorts of circumstances. That is our job," Ballard said. "For me, I didn't have a lot of time in the summer to do the conditioning stuff, but you have to find ways to deal with that. It was coming along well until I got my concussion. Since the concussion, I didn't bounce back like I would have liked to. But in saying that, it's not the end of the year, it's not the end of my career. I'm not down thinking that the world is coming to an end."
He has no points and is minus-3 in eight games with the Canucks this season. Florida sent Ballard and Victor Oreskovich to Vancouver for winger Steve Bernier, forward Michael Grabner and the Canucks' first-round pick (No. 25 overall) in this past June's draft.
Ballard is a good player. The season is young. No one is panicking in Vancouver.
"He's pretty hard on himself in the sense that he was behind schedule when he came to camp because of the injury," Vigneault said. "He had some catching up to do and I think he was coming along fine with his play on the ice ... but then the concussion sent him back again. When he went down, [Andrew] Alberts and [Aaron] Rome got more ice time and they were just playing well, so Keith has got to work his way back."
Which is what he's doing. Working hard and having a good attitude is what he can control at this point.
"This whole thing is just a little bump in the road," said Ballard, who turns 28 on Nov. 26. "It's how you respond to those that show what kind of player and what kind of person you are."