February, 26, 2014
Feb 26
3:20
PM ET
GREENBURGH, N.Y -- Rangers forward
Ryan Callahan
isn't the only captain fielding questions about his future in the week leading up to the NHL's trade deadline on March 5.
Tampa Bay Lightning
captain
Martin St. Louis
returned home from Sochi, Russia with little time to revel in Team Canada's gold medal-winning performance in the 2014 Olympic games. Instead St. Louis was asked to address the rampant rumors that he had requested a trade from Lightning general manager
Steve Yzerman
after he was initially left off Team Canada's roster Yzerman, who also constructed the Canadian national team, later added the 38-year-old veteran forward as an injury replacement for
Steven Stamkos
.
In short: St. Louis did not deny it.
"I've had talks with Steve about my future with the team and I'll leave it at that," St. Louis told reporters on Wednesday, according to the Tampa Tribune.
Why is this relevant in New York? According to the New York Post, Rangers general manager Glen Sather called Yzerman to inquire about St. Louis' availability, though Yzerman did not seem to reciprocate interest in a deal involving the Art Ross Trophy winner for a rental player in Ryan Callahan, who is a pending unrestricted free agent. The Rangers and Callahan's camp remain at an impasse in a contract extension for the 28-year-old winger.
A league source confirmed to ESPNNewYork.com that St. Louis was unhappy after the initial snub by Yzerman, though it is not immediately known if the damage has since been repaired. St. Louis does have a no-move clause in his contract, though it is believed that New York would be an appealing destination to him since he has a home in Connecticut and trains there during the off-season.
Though it does not appear anything is imminent on the trade front, the situation in Tampa is one to monitor closely as the deadline nears.
• • •
Defenseman
Marc Staal
, who has been hampered recently by back spasms, said he felt better on the ice during practice Wednesday. Assuming he feels the same Thursday morning and experiences no setback or tightness, he expects to be in the lineup against the
Chicago Blackhawks
on Thursday.
• • •
Derek Dorsett
(leg) took part in a full team practice Wednesday, though Alain Vigneault said he plans on holding the gritty forward out until the team's back-to-back set this weekend.
• • •
With starting goaltender
Henrik Lundqvist
one of seven players returning from the Olympics, backup netminder
Cam Talbot
will get the start Thursday vs. the Hawks. Lundqvist will be back in goal Saturday against the Flyers.
August, 27, 2013
8/27/13
9:36
PM ET
CALGARY, Alberta -- Team Canada wrapped up its three-day Olympic camp with more "walk-through" practices Tuesday, and, while it has been unusual to see the players in ball-hockey mode on the covered ice, the innovative approach was a winner with the players.
Despite not skating for real, there was a sense of accomplishment at the end of it all.
"Being on the ice, going over video, getting to know some of the guys, I think we made the best of every situation,"
Sidney Crosby
said after camp wrapped up Tuesday.
"A lot of information, details on the way we want to play. Just trying to grasp all that is important, because there isn't a ton of time over there, so you make the most of having the time here together."
Some people may snicker at a camp without actual on-ice practices, but Team Canada GM
Steve Yzerman
felt it was worth it, no question.
"The feedback from coaches and players is they think it's been worthwhile," Yzerman said. "They've spent a lot of time, even if they're going on the floor, in meetings and video sessions. It just takes that one step further and they can walk through their positioning. Some guys learn different than others. Some guys tune out in video and meetings and whatnot. If we do this in a practical manner, it kind of drives the point home a little bit."
Head coach Mike Babcock spent a lot of time organizing the event and had specific goals he wanted to reach here.
"[The players] came here for three simple things. No. 1 was to get to know everybody better from players to coaches to management to trainers, to get to know them and have a comfort level," Babcock said.
"No. 2 is to understand the details of how we're going to play -- terminology, where to stand, how to play in your own zone, how to play on the power play, penalty kill. We've gone over and over that. The walk-throughs made it slow enough to really spend some time on it.
"The third thing I think was critical for them is the evaluation process. How do you get to Sochi? We've tried to explain it to each and every guy so when they leave here they've got three months to do their part. They're in control of whether they go."
Just how much the players remember in terms of their system teaching come four months from now remains to be seen.
"I'm sure guys will need to refresh a little bit, but as far as just getting an idea for a foundation, it's great we're able to do it here," Crosby said. "Kind of an unconventional way of doing it, but I think nonetheless we were able to benefit from it."
Countries have until Dec. 31 to name their 25-man rosters, Yzerman indicating Canada would name its team sometime between mid- to late December.
"At the start of the season, we'll start with this group of 47 -- we'll keep an eye on everybody -- but focus on particular teams, particular games, particular players that we're deciding on," Yzerman said of narrowing down the choices. "There was a few guys we don't feel the need to watch. But we know what they can do and they're going to be on this team, assuming they're healthy. We'll arrange our schedule over the next week or so to get ready for the start of the regular season. We'll get together as a group early November to narrow things down a little bit and talk about what we're seeing and make sure we're all in constant communication and get organized from November to mid-December and make our final decisions at that point."
In 2010, Canada was criticized for some its selections despite winning gold. Only in hockey-mad Canada is winning gold not quite good enough to satisfy everyone.
Yzerman knows the Team Canada brain trust won't please everyone with its decisions this time, either.
"In 2010, we won, could you have put six or seven different guys on that team and still have won? Probably, maybe?" Yzerman said. "But we'll beat it to death and talk about it and try and put the best team together. There will be logic behind our decisions whether it looks like it or not."
Canada's captain
The naming of a team captain will wait for now.
"It will probably be similar to Vancouver. I think it would be wise to wait until the team is named before we announce a captain," said Yzerman, who named
Scott Niedermayer
captain last time around. "We'll talk to the coaching staff about it and collectively reach a decision on that."
Hard to think Sidney Crosby won't get the "C," although there will be a number of great candidates given that most of these guys are captains on their respective NHL teams.
"It'd be an honor for sure," Crosby said of whether he'd be named captain. "But it's not something that's on my mind a whole lot. We all want to be on this team and lead by example when we need to, but it's an honor to be a captain on any team."
Regardless, Crosby will have a bigger leadership role than he had in 2010 when he was a 22-year-old first-time Olympian.
"I think if I look back at last time, I was probably more in awe and trying to learn from those guys [more] than anything," Crosby said. "I don't think it's a conscious decision you make, I think its just a natural progression when you've played on a team before, you understand things a bit better. It's a comfort level. It's a difference between going to your first Olympic camp and your second one. It's a mindset.
"I think it's kind of a natural progression for all the guys who were in Vancouver to come here and be a lot more comfortable, but with the number of guys we have here who are captains or leaders on their team, I think you'll see a lot of guys who are comfortable."
Yzerman said it's logical that some of the young stars from 2010 will step up in the leadership department this time around.
"Sidney,
Shea Weber
, those types of guys that played very well and are elite NHL players," Yzerman said. "Four more years later, a lot has happened in their careers. They've learned a lot. They've matured a lot. The Scott Neidermayers, the Chris Prongers aren't here. It's up to those players to take a step forward. So, yes, I expect some of these younger players to take a step forward. Jonathan [Toews] or Sidney, for example, they've won gold medals, won Stanley Cups. They've accomplished a lot. They're still young guys. But they're leaders on their own clubs and we expect them to be here."
Sharp's ready this time
Four years ago,
Patrick Sharp
arrived at the Canadian Olympic camp a little wide-eyed. But it's a different feeling this time around for the
Chicago Blackhawks
star.
"Going back then, I think I was a different player," Sharp said Tuesday. "I was 26 or 27. I don't want to say I was star-struck, but I was excited to be here. But I don't know if I really believed then that I belonged. I know that's a bad thing to say as a player. This time around, I'm much more confident, I've played in a some pretty serious games. Since 2009 we've gone deep in the playoffs three times and won the Stanley Cup twice. So a lot has changed for my game since then, and hopefully, I can play well this year and show the coaches and Hockey Canada that I belong."
What does Team Canada GM Steve Yzerman say about Sharp's opportunity to make the team?
"A very good chance," Yzerman said. "One, he can play all of the three forward positions, which is a great asset. He plays in all situations, power play, penalty killing. He has been on teams that have won Stanley Cups and been an important player. Teams that win, certain traits they have, their players play a certain way and can play in big games and play under pressure and know how to win. He's got all those things going for him."
Sharp's ability to play all three forward positions is an obvious asset.
"I hope so," said Sharp, a native of Thunder Bay, Ontario. "I know it's tough putting these kinds of teams together and moving guys around in different positions. That's something I've done my whole career in Chicago. If that helps my chances, that's great."
You sense in Sharp's voice how much it would mean to him to make this team. He was asked if making Team Canada would mean as much or even more than winning the Stanley Cup.
"That's tough to answer," Sharp said. "That's like saying, 'Who do you like better, my wife or my daughter?' It's two things that would be incredible accomplishments. And I'm jealous of Seabs and Duncs and Johnny who were able to win the Cup and the gold in the same year. I certainly want to be part of that and will do anything I can to make the team this year."
Rangers blueliner Marc Staal says he's ready to go after suffering a scary eye injury last season.
"It's good. Really good. I had a really good summer of training and I feel really good," Staal said Tuesday. "When I'm on the ice, I don't really notice it at all. I'm excited and anxious just to start the season up and get it going."
Staal said he has adjusted well.
"It was more of just adapting to the depth perception and things like that when I was coming back," Staal explained. "It just wasn't clicking when I was trying to come back in the playoffs there. But with the time off and the training now, everything's back to normal and I'm feeling really good."
Many people believe Staal could make Team Canada as long as there are no signs he's limited by what happened to his eye.
"I have no limitations at all. It's been a great summer of training," Staal said. "Physically from the time I was cleared to start working out, there wasn't anything I couldn't do as far as physically getting ready. So that part of it has been really good this summer, just getting into shape, getting stronger and getting ready for the season."
Weber's game
Early in Canada's trouncing of Russia in the quarterfinals of the 2010 Olympics in Vancouver, Shea Weber threw his body around and it set the tempo for the victory.
But that was on NHL ice. He has given some thought to how he's going to have to adjust his game on the bigger ice in Sochi.
"Yeah definitely," Weber said. "I had the chance to play in the world championships in Russia and Switzerland, so I'm a little familiar with it. You can get caught out of position a lot easier. It's wider and there's more time and space for those guys to make passes through you. So you have to be conscious. You still want to play physical but you don't want to take chances."
Weber is a lock to make this team again, but he certainly hasn't tried to sit down and figure out the 25-man roster.
"No, that's why I'm the player, there's too many tough decisions," said the
Nashville Predators
captain. "You go down the list and everybody deserves the chance. That's why they're here. There's even guys that aren't here that probably will get a good look during the season. We're very fortunate in Canada to have a big selection, but definitely some tough choices."
Lucic is in shape
A lot was said last season about what kind of shape
Milan Lucic
was in. The topic reared its ugly head late in the regular season when he was a healthy scratch because of his ineffective play. He picked it up big time in the playoffs and was once again the player people in Boston were used to watching.
Good news, Bruins fans. One look at Lucic this week at the Olympic camp and you know he's in excellent shape.
"I'm in a lot better shape than I was going into [last] year," Lucic said. "I didn't take much time off; I maybe took a week off after we lost to Chicago just because I was feeling really good, how I ended off on a personal note and I kind of wanted to keep that going. I went back to how I used to always train. I had some things that were kind of bothering me that weren't allowing my body to train as hard as I used to and I rectified a couple of those problems and it's starting to feel better in the gym."
Iggy talk
Bruins center
Patrice Bergeron
is eager to see
Jarome Iginla
on the Bruins this season.
"For sure, it's going to be great," Bergeron said. "I've had a chance to play with him and to meet him in Vancouver and he's an amazing guy and also player, very professional and a great leader as well. Very excited to have him with us and looking forward to getting to know him even more."
May, 6, 2013
5/06/13
1:44
PM ET
NEW YORK -- Both injured defensemen
Marc Staal
(eye) and
Ryane Clowe
(believed to be a concussion) skated Monday morning during the Rangers' optional morning skate at Madison Square Garden.
It remains unclear whether either -- or both -- players will return to action in Game 3 against the Capitals. Rangers coach John Tortorella said he will not address injury or lineup questions during the post-season.
Staal did not speak with the media after the skate, making it difficult to gauge his availability for Monday, but there is an interesting point to consider. Assuming he is close, which he is believed to be, wouldn't it make the most sense for him to get back in at home?
Given the home team's ability to make the last change, the Rangers' would be better able to manage matchups. Plus the team could ease him back into play in comfortable surroundings. Staal's knowledge of the ice, the dimensions, the lighting and weird little nuances of MSG would diminish the adjustments necessary to accommodate any lingering limitations of his right eye.
Staal, who has been skating with the team for weeks, has not played since being struck in the eye with a puck during a game against the Flyers March 5.
Clowe did speak to the media Monday morning, but said he was not yet sure if he will be available Monday.
"I feel pretty good out there," Clowe said. "Obviously you guys [the media] want to know if I'm going to play tonight, [but] I'm still not sure about that."
It's clear that the 30-year-old veteran, who has 68 games of playoff experience as a former long-time San Jose Shark, is itching to get back. But the Rangers are likely exercising caution with what is believed to be a head injury that has shelved him since the team's playoff-clinching win in Carolina in the penultimate game of the season.
"Like anyone else at this time of year, no one's ever 100 percent, but when I come back I'll definitely I'll feel capable of everything I can bring and my style of play -- obviously, a physical style -- so that's what I'm looking at here.
May, 3, 2013
5/03/13
3:13
PM ET
WASHINGTON -- Rangers forward
Ryane Clowe
skated with the team Friday for the first time since suffering an undisclosed injury (believed to be a concussion) in the Rangers' playoff-clinching win in Carolina last Thursday.
Clowe said he felt "pretty good" and added that he may even be available to return to the lineup for Game 2 against the Capitals on Saturday.
"I'm not gonna rule out tomorrow," Clowe said after the Rangers' brief skate on Friday at the Verizon Center. "Tough to watch this time of year. Playoffs -- it's the time of year and the hockey I look forward to the most. So, it was hard to watch last night. But, I'll discuss it with the trainers and the proper people today and let them know how it felt. So we'll see."
Clowe sounded like the conditioning factor is not his biggest concern, given the anticipated adrenaline jolt the playoffs provide.
"I feel like that this time of year I can jump in every time, just because I've played a lot of hockey up to this point," Clowe said. I just feel like you can run on [adrenaline]. It's kind of like my first game in New York. I didn't really have any sleep but you run on adrenaline to get back into it. So, I don't think conditioning is that big of a factor."
Coach John Tortorella also confirmed that a player healthy enough to play will be in the lineup at this time of year, regardless of conditioning level.
"Because if we don't win, we're done," he said. "So I don't give a d*** about conditioning."
Clowe's return could lend a big boost to the Rangers offense. The rugged 30-year-old winger brings size and grit to the lineup, and he also adds experience. In his eight-plus seasons with the Sharks, Clowe had 18 goals and 45 points in 68 playoff games.
"It's good to see. I think everybody skated today. We have a lot of players out there and [you] hope for the best, that everybody's healthy," said fellow playoff veteran
Brad Richards
. "A lot of decisions to be made and everybody's chomping at the bit. I'm not a trainer or a doctor. I don't know exactly where everybody is, but it's good to have everybody out there."
In addition to Clowe, injured forward
Derek Dorsett
also appears to be nearing a return. For the first time Friday, Dorsett skated in a regular jersey -- he previously donned a non-contact jersey -- which presumably means he was cleared for contact.
Brian Boyle
and defenseman
Marc Staal
also practiced with the team, although it isn't clear when any of the four players will return. Tortorella said Thursday that he will not discuss any injuries or lineup questions during the playoffs.
May, 2, 2013
5/02/13
2:52
PM ET
WASHINGTON -- With the playoffs underway and the subterfuge already in full swing, injured Rangers forward
Brian Boyle
revealed very little after skating with the team Thursday for the first time since suffering a lower-body injury April 16.
Boyle seemed encouraged by the morning's skate but didn't offer up much more regarding his potential return to the lineup.
"I felt good," he said.
Any idea of a timeline?
"I felt good," he answered. "It was positive."
Boyle did concede, sort of, that he is hopeful to return to the lineup at some point during this series vs. Washington.
"Playoffs. I want to be out there as quick as I can. It felt good, so that's all I really know," he said. "I don't have any idea how it's supposed to work. I'm trying to feel as good as I can as fast as I can."
Boyle was similarly noncommittal when asked whether he would require medical clearance before he can resume playing.
"We've got a whole staff of medical guys," Boyle said. "Again, I'm not a doctor."
Boyle also declined to answer whether he has skated prior to Thursday on his own.
• • •
Injured defenseman
Marc Staal
was a bit more forthcoming about his progress; Staal has not played since being struck in the eye with a puck on March 5.
The 26-year-old said he doesn't want to risk coming back until he is confident he can make a positive impact, especially considering the heightened pressure this time of year.
"When I feel like I'm going to be able to help the team win and be successful, I'll get back on the ice," Staal said. "Hopefully that's sooner rather than later."
How will he know?
"As soon as I'm not second-guessing myself or hesitating, or [once] I do things I normally do becomes automatic again is when I can jump into a playoff-type game," Staal said.
Staal praised the work of the Rangers' defensive corps in his absence and said he doesn't want to "compromise" that by returning prematurely. He admitted that the situation might be different if this was a regular-season scenario, but that it makes no sense to take the risk with critical playoff games on the line.
"If it were Game 10 maybe I'd jump out there for a few shifts," he said. "But right now the stakes are too high."
• • •
Derek Dorsett
(collarbone) skated with the team in a white non-contact jersey.
Ryane Clowe
(believed to be concussion) made the trip to D.C. with the team but did not skate.
May, 1, 2013
5/01/13
1:45
PM ET
GREENBURGH, N.Y. -- Pre-empting the crowd of reporters surrounding his dressing room stall,
Marc Staal
assured them he had no new information about his injured right eye.
And although Staal did not definitively rule himself out, he said he will "probably" not play in Game 1 of the team's first-round series against the Capitals in D.C. on Thursday.
"I'm not going to ... I'm probably not going to play tomorrow," said Staal, who has been sidelined since being struck in the eye with a puck March 5.
Staal continues to practice with the team in hopes of returning soon. The 26-year-old defenseman missed almost half of last season with a concussion.
"There are good and bad days," he said. "So, [I] keep taking it day by day and hope it keeps getting better."
• • •
Ryane Clowe
, whose undisclosed injury is believed to be a concussion, and
Brian Boyle
(lower body) did not practice with the team Wednesday
Derek Dorsett
(shoulder) practiced in a yellow noncontact jersey.
• • •
With four days to rest, recover and prepare in between their regular-season finale against the Devils on Saturday and Game 1 of the Eastern Conference quarterfinals Thursday, the Rangers have had their most significant amount of practice time thus far during the lockout-shortened season.
A good thing in some ways, though coach John Tortorella senses his team is getting restless.
"They're sick of practicing," Tortorella said. "We're not used to it, especially this year. You're playing every other day. Even the coaches ... we're just used to playing. This is the time of year you should be playing. Again, I'm not complaining, it's just a lot of time."
So much time, in fact, that Tortorella decided to wrap things up early Wednesday. Both Monday and Tuesday the team practiced for double sessions, with the second session devoted to special teams.
April, 29, 2013
4/29/13
8:55
PM ET
GREENBURGH, N.Y. -- In matching up against the
Washington Capitals
for the third straight year, beginning Thursday night in D.C., the Rangers face a familiar foe with an understanding of what to expect in a series between the two clubs.
Four times in the past five years the Rangers and Caps have met in the Stanley Cup playoffs. Coaches, personnel and system structures have changed, but the enmity has not.
"It's always a battle," Rangers captain
Ryan Callahan
said. "It seems like it usually goes the length or close to it. I think we match up against each other pretty evenly."
Last April was a prime example, when the teams met in Round 2. The top-seeded Rangers prevailed, but it took seven grueling games to do it.
No game was more indicative of the grit, passion and intensity level that characterized that series than Game 3 -- a triple-OT match that went on well past midnight in a true war of attrition until
Marian Gaborik
's game-winner ended it after 114 minutes of play.
"That was a really hard-fought series and that game pretty much summed it up," said defenseman
Dan Girardi
, who logged 44:26 minutes on the Rangers' back end that night. "Overall, I just think it's going to be a really big battle. I think in front of both nets is gonna be key, what team can establish the forecheck and control the tempo there."
Girardi has drawn the unenviable task of matching up against
Alex Ovechkin
throughout the years, and that duty is not bound to get any easier with Ovechkin entering the postseason on a stunning clip.
Capturing the Rocket Richard Trophy as the NHL's top goal-scorer for the third time in his NHL career, Ovechkin finished the regular season at a scorching pace. Earning the NHL's first star of the month, Ovechkin notched 14 goals and 22 points in the month of April while leading his team to yet another Southeast Divison title.
No. 8 may have gotten off to a sluggish start, in part because of a transition from his natural wing, but he has since proven that he can still electrify and dominate a game.
"He's dynamic whatever side he's on," Girardi said. "He never really stays on one side for long… so we'll have our hands full with him. He's playing really well right now. We've got to be sharp against that line and their second, third, and fourth lines. They have four solid lines that can fore-check and score some goals. We're going to have to be very strong defensively."
The Rangers will likely have to do so without cornerstone defenseman
Marc Staal
, who has yet to play since suffering a frightening eye injury March 5.
Staal continued to practice with the team Monday, but does not appear to be nearing a return.
"I haven't written myself off, obviously," Staal said. "So far, every day I try to improve and get more work in and get more comfortable and confident with the puck in situations I'm going to be in on the ice."
With that gaping hole on their back end, the Rangers will have to rely on reigning Vezina Trophy winner
Henrik Lundqvist
in net.
Though 23-year-old
Braden Holtby
has been impressive of late for the Caps, Lundqvist gives the Rangers a distinct edge in goal.
Lundqvist has plenty of experience playing against Washington in the playoffs, but this year's team is a decidedly new look than previous years, he said.
"It's the same team name but it's a different look, especially when I look at them over the last four, five years here," Lundqvist said. "It was all about offense, then all about defense, now it's in the middle. They're a team where you have to respect a lot of things about their game, especially their offensive, top guys."
Fortunately for the Rangers, they'll have three full days to prepare for the new-look Caps under rookie head coach Adam Oates' direction. That's a luxury afforded them with an unusual schedule that doesn't have the teams meeting until Thursday for Game 1.
That would be a blessing for the Rangers, especially if it allowed injured players like Staal,
Ryane Clowe
and
Brian Boyle
to return to action, but none seem to be on the immediate horizon.
Plus, the series ends in unusual fashion with Games 6 and 7 slated to be played on back-to-back nights Sunday May 12 and Monday May 13.
The schedule won't make much difference, Girardi said. After all, both teams know what they're in for in Round 1.
"Both teams know each other really well and I think both teams are raring to get going," Girardi said. "I think we both wish we were starting earlier, but both teams will be ready come Thursday."
October, 25, 2011
10/25/11
7:06
PM ET
Penguins forward Jordan Staal has been on both the giving and receiving ends of hard hits with his hockey-playing siblings plenty of times.
But rarely have the effects been as devastating as this past February, when oldest brother Eric dished out a thundering blow on Marc during a game between the Hurricanes and Rangers. The 24-year-old defenseman, 20 months Jordan's senior, has yet to play a game because of post-concussion headaches stemming from the hit.
"Obviously I feel bad for both my brothers," Jordan Staal said after the Penguins morning skate Tuesday at Nassau Coliseum. "It's not a great situation, but again, it happens in the games. Hopefully, it will be over soon enough."
The incident isn't exactly dinner-table conversation at the Staal homestead back in Thunder Bay, Ontario. It's a family that has already produced three NHL players -- youngest brother Jared, 21, plays for an AHL team in Charlotte -- and with that comes the knowledge of the risks inherent in a physical game.
"We haven't really talked about it a whole lot," Staal said. "It's unfortunate that it was Eric who ended up taking out Marc, but it's part of the game. I'm sure Marc will be back soon enough."
Staal, who first disclosed he was still battling post-workout headaches when camp opened in September, has yet to practice fully with the team.
It was a startling revelation for the team's top defenseman, who led the Rangers with 24:55 of ice time last season. He missed five games following the injury last season, but symptoms did not seem to worsen until his workouts resumed over the summer.
Staal is currently on injured reserve and has yet to resume skating, but Jordan is hopeful that he will return soon.
Jordan has witnessed the slow, steady and well-chronicled progress made by his Penguins teammate Sidney Crosby, who has been out with a concussion since last January, and has seen how difficult the road to recovery can be.
"There always is a light at the end of the tunnel. Sometime it's harder to see for most guys," Staal said. "Marc's still got a little bit of a road ahead, for sure. He's starting to feel better than he was before but it's a long road, obviously."
Regardless of the circumstances surrounding the hit, Marc has a strong support system, Staal said.
"It's not easy, but our family's going to help support him as much as we can."
September, 23, 2011
9/23/11
2:59
PM ET
Defenseman Marc Staal, who is still suffering from post-concussion headaches, may not be going to Europe with the Rangers when they head overseas Monday.
Staal, who went to see a specialist yesterday, did not skate for the second straight day. According to coach John Tortorella he continued his evaluation with medical staff today.
The team should know more about Staal's status by tomorrow, Tortorella said.
September, 20, 2011
9/20/11
6:15
PM ET
GREENBURGH, N.Y. -- We are listening to
New York Rangers
defenseman
Marc Staal
talk about the headaches that continue to plague him as he tries to recover from a concussion sustained when blasted by brother Eric some seven months ago, and we are left with one overarching feeling: This is not good.
Never mind that Staal skated drills Tuesday after leaving the Rangers facility Monday without getting on the ice because he felt lousy.
[+] Enlarge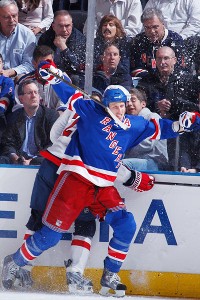 Scott Levy/NHLI/Getty ImagesThere have been some improvements, but needless to say, Marc Staal and the Rangers are concerned about his health for the upcoming season.
Never mind that he reports there have been some improvements in his condition as the summer has worn on.
Instead the fact that intense workouts continue to leave the Rangers' top defenseman with headaches, sometimes severe, sometimes lasting hours, sometimes hours after exertion, seem like nothing but bad news.
"After the season, I took a month and a couple weeks off with no headaches. I had a little ringing in the ears and stuff like that, but it started to quiet down. As soon as I started working out again that's when I noticed something wasn't right," Staal told reporters at the Rangers' training facility Tuesday afternoon.
Staal passed his physical at the start of camp and was cleared for contact. But the first couple of days at camp were difficult and Staal said he felt not great Monday so took the day off.
He did feel better Tuesday and didn't feel any problems while talking with reporters, but the bottom line is that Staal's symptoms have been recurring in an irregular pattern.
"As the length and the harder the workout, some days I'll get a headache late in the day that'll last four or five hours. Or one hour," he said.
"I feel no symptoms if I don't do anything. If I sit on the couch all day I don't get any headache. If I push myself really hard, later in the day -- more often than not -- I'll get a headache," Staal said.
At the risk of sounding alarmist (hey, we're the media, it's what we do) that does not sound good.
In fact, it sounds anything but good.
Remember when
Sidney Crosby
had to scale back his workouts this summer when he reported a return of symptoms when he ramped up the intensity level? The news created a kind of national panic.
Now Crosby has skated hard at the start of Pittsburgh's camp and hasn't missed a day of drills. He hasn't been cleared for contact and hasn't played since early January, still, at a distance at least, he seems almost to be in a better place than Staal vis-à-vis his symptoms.
This is a Rangers team that has set the bar high for the coming season.
After being dumped in the first round of the playoffs last spring, the Rangers added the top free agent on the market in
Brad Richards
.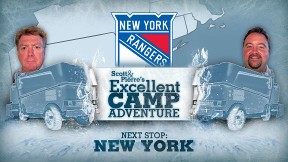 ESPN.com Illustration
The former playoff MVP's job is to continue the superlative production that has marked his career thus far and, along the way, act as a catalyst to get the most out of the talented but underperforming
Marian Gaborik
.
With
Henrik Lundqvist
, he of the league-leading 11 shutouts last season and a young, tough, blue line, the Rangers were looking to move from back of the playoff bus to a more comfortable seat near the front.
Yet what Staal is enduring threatens the very foundation of that plan.
Staal, newly married and the owner of a five-year contract that will pay him just a shade less than $20 million in total, is one of the cornerstones of the Rangers' plan to return to contender status.
He is not
Zdeno Chara
or
Nicklas Lidstrom
or
Chris Pronger
except that, in some ways, to the Rangers that's exactly what the 24-year-old represents.
There is so much to like about the way the Rangers have entrusted the future of the blue line to the kids.
Staal and defense partner
Dan Girardi
are admirable mentors for guys like
Ryan McDonagh
, Mike Sauer,
Michael Del Zotto
and rookie
Tim Erixon
, who is hoping to crack the Ranger squad this fall.
Staal is crucial to that because everything else, job assignments, ice time, expectations, flow from him on down through the defensive lineup. If he is absent for any length of time, that plan becomes skewed, the foundation weakened.
Last season, his fourth in the league, Staal set personal bests in most offensive categories. He led the Rangers and was fourth in the NHL in average ice time per night and led all NHL defensemen with four shorthanded points.
Listening to him talk Tuesday, it's amazing he was able to play at all after suffering the injury in late February.
"I give Marc Staal a tremendous amount of credit. He played last year. He wasn't dead on, but he certainly felt he could help the team and he did. You watch how he played. I trust him. That's the key is trusting the player," head coach John Tortorella said Tuesday.
Given his evolution, there was nothing to suggest Staal would not take an even bigger step forward this year and with him the Rangers.
Until now.
"Sometimes an athlete is sore but really isn't hurt. That's dealing with groins and maybe a shoulder or your back or whatever it may be. You try to push them through it and make them understand that not everybody feels perfect and you still need to get out there and play. But this one here you've got to be cautious because it's not tangible. It's a very difficult injury," Tortorella said.
"You leave it up to the player. I think I need to trust your player, and he needs to communicate with you how he's doing that's what we're trying to do with Marc. We communicate with him every day and see how he's going about his business, how he feels after, and we're going to continue doing that," the coach said.
Now, no one is saying Staal won't be ready to roll when they open the regular season in Stockholm against the
Los Angeles Kings
. Or that he's necessarily going to miss significant playing time. But there is absolutely no idea of knowing when Staal will take part in scrimmages or whether he'll play in any exhibition games or, well, you get the point.
"It's frustrating. It's something I've never had before, so frustration is probably the best word for it. I've been improving over the last two three weeks quite a bit. Hoping it keeps going in that direction," Staal said.
The Rangers were already trolling for a veteran defenseman -- Paul Mara's name has come up -- but that search will no doubt intensify with Staal's uncertain condition.
Big picture, though, Staal represents a player that in his own way is every bit as important to the Rangers and their dreams of making a Cup run as Richards or Gaborik or Lundqvist.
And even before the puck drops on the team's first exhibition game there is a large shadow cast over the Rangers.
September, 12, 2011
9/12/11
3:55
PM ET
What it means:
The
New York Rangers
have taken great care to cultivate the identity of a hard-nosed, gritty, blue-collar team and no player represents that better than
Ryan Callahan
. This was not merely a decision about the next captain, but a statement about what type of team this will be for years to come.
A 2004 Rangers draft pick, Callahan has come up through the system and established himself as the type of player an organization wants to build a team around. The gutsy 26-year-old forward has earned the respect of his teammates, coaches and management alike for his relentless work ethic. This nod is an unequivocal affirmation of his play and commitment.
Alternate side:
Both
Marc Staal
and
Brad Richards
were also pretty obvious choices to join Callahan among the team's leadership structure.
Staal has already earned his stripes as an alternate captain and a vital member of the team's young nucleus.
By virtue of the 9-year, $60 million contract the Rangers rewarded him with this summer, Richards is expected to play like a leader regardless of what letter is on his sweater. The 31-year-old center already has a great relationship with head coach John Tortorella dating back to their Tampa days; the "A" will require him to forge such relationships with his new teammates as well.
Bottom line:
Good move by the Rangers, who have essentially identified Callahan as the heart and soul of the team. On a club that prides itself on growing and developing youth, Callahan's contemporaries must appreciate one of their own filling the post.