Cross Checks:

Marek Zidlicky
February, 24, 2015
Feb 24
12:51
PM ET
The
New Jersey Devils
have won four straight and were eight points out of a playoff spot before Tuesday night's games.
[+] Enlarge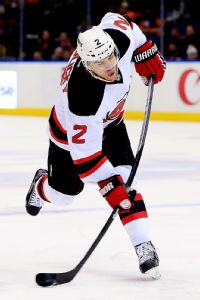 Alex Trautwig/Getty ImagesIt seems unlikely at this point that the Devils will deal defenseman Marek Zidlicky.
Still long odds at making it, but general manager Lou Lamoriello, who these days is also the coach, clearly hasn't thrown in the towel just yet.
"We're just focusing on the next game and not focusing on anything else," Lamoriello told ESPN.com Tuesday morning.
Still, you have to imagine some of his pending unrestricted free agents, notably
Jaromir Jagr
, will move before next Monday's deadline, even if Lamoriello predictably will not tip his hand.
All I can say is that pending UFA blueliner
Marek Zidlicky
has a full no-trade clause and, as of Monday morning, a source said Zidlicky's camp had not yet been contacted by the Devils. That's a conversation that has to happen before next Monday if he's moving.
"We'll do whatever is right for the organization and make whatever decisions have to be made, one way or the other," Lamoriello said over the phone.
When I pressed the veteran hockey man on the future of Jagr in particular, I could picture Lamoriello shaking his head at me.
"You know better," Lamoriello said.
Hey, a guy's got to try, right?
February, 25, 2012
2/25/12
2:02
PM ET
The
New Jersey Devils
weren't relying just on the good faith of fellow Czechs
Patrik Elias
and
Petr Sykora
when they gave up three NHL players and possibly two draft picks to acquire defenseman
Marek Zidlicky
Thursday night.
Instead president, CEO and GM Lou Lamoriello listened closely to what former head coach Jacques Lemaire had to say. Lemaire coached Zidlicky for a time in Minnesota before closing out his coaching career last season with the Devils.
And Lamoriello took the advice of assistant coach
Dave Barr
, who for the previous two seasons was an assistant coach with the
Minnesota Wild
and helped run the power play, on which Zidlicky was a regular participant.
"I don't know if you could have two better pieces of information," Lamoriello told ESPN.com Saturday.
The Devils paid a hefty price for the 35-year-old, who had clashed with rookie Wild coach Mike Yeo earlier this season and had been a healthy scratch for parts of the Wild's slump during the last 2 1/2 months.
But Lamoriello wanted more experience along the blue line as the Devils head down the stretch. The Devils are tied for 14th in goals allowed per game, and Zidlicky will be expected to play significant 5-on-5 minutes with a group that includes top rookie defenseman
Adam Larsson
, 19, and
Mark Fayne
, 24.
One of the players the Devils sent to Minnesota,
Kurtis Foster
, had been solid on the power play. Now Zidlicky has to fill that gap, even though he has not scored this season and has just 14 assists in total.
"What he brings is certainly a skill to move the puck and quarterback the power play," Lamoriello said. "We feel that he just brings a little different dimension."
The Devils also gave up
Nick Palmieri
and
Stephane Veilleux
and a second-round draft pick in this June's draft. If the Devils advance to the conference final this spring, they will also kick in a third-round pick in the 2013 draft.
Although picked by many observers to be among a group scrambling for a playoff spot, the Devils actually hit the trade deadline dealing from a position of strength as they currently own the third-highest point total in the Eastern Conference and, as of Saturday, owned home-ice advantage in the first round as the fourth seed.
Head coach Pete DeBoer "and his staff have done an outstanding job," Lamoriello said.
February, 24, 2012
2/24/12
10:31
PM ET
You've got to hand it to
New Jersey Devils
president, GM and CEO Lou Lamoriello. No matter the distractions -- the team's financial woes, the possible departure of his top player to free agency and the possible retirement of the greatest goaltender of all time -- he continues to keep his focus one thing: a Stanley Cup.
Now, suggesting that defenseman
Marek Zidlicky
-- acquired Friday night from Minnesota for defenseman
Kurtis Foster
, forwards
Nick Palmieri
and
Stephane Veilleux
and a second-round pick in 2012 and a conditional pick for 2013 -- is the missing piece to the Devils' Stanley Cup puzzle might be overstating things a bit. But Zidlicky represents a number of things to a Devils squad that has exceeded even the most optimistic expectations thus far this season.
First, the 35-year-old is a defenseman in a marketplace that has been pretty much denuded of players with his experience. Whatever his warts, it is certainly better for the Devils that Zidlicky is a Devil than, say, a New York Ranger or a Boston Bruin or ... well, you get the drift.
Zidlicky, who has one more year left on his contract that pays him $4 million annually, has a number of countrymen in Newark, including Patrick Elias and
Petr Sykora
, and he clearly got good reviews on what was going on with the surprising Devils under coach Pete DeBoer. Or he could have simply looked at the standings and seen that the Devils had gone 9-2-1 in their past 12 games and had remade themselves virtually overnight into a bona fide Eastern Conference power.
Regardless, Zidlicky agreed to waive his no-movement clause and join the Devils.
Although the Devils' financial plight, brought on in part by bickering among the team's owners, has required the league to advance monies that were to be paid out at a later date, Zidlicky is the second player Lamoriello has added in recent weeks, the first being
Alexei Ponikarovsky
, who came over from Carolina.
The additions suggest that even though
Zach Parise
might depart as a free agent in July and
Martin Brodeur
might indeed retire, Lamoriello believes his team has the goods to go on its first long playoff run since its last Cup run in 2003.
Zidlicky has five times topped the 40-point mark and had a career-best 53 points for Nashville in 2003-04. But he has just 14 assists and zero goals this season, and he had run afoul of rookie head coach Mike Yeo and his staff in Minnesota. When the Wild began their precipitous slide from the top of the NHL standings in early December to their current standing as a playoff long shot, Zidlicky found himself a healthy scratch for a number of games and voiced his displeasure. That's when the clock began counting down to this moment.
"Zid's a good hockey player. Sometimes these things happen," Minnesota GM Chuck Fletcher told reporters in Dallas, where the Wild were playing Friday. "He's going to a team and a fresh start, and he'll probably play well there."
With rookie defenseman
Adam Larsson
still recovering from a bruised back, Zidlicky will provide immediate assistance to the Devils' 18th-ranked power play. But, bigger picture, the 35-year-old represents a veteran body capable of chewing up minutes and, theoretically, not getting rattled when the stakes get higher in the postseason. Although Zidlicky has played in just 14 NHL playoff games in his career, he has represented the Czech Republic at two Olympics and five World Championships.
The Wild, meanwhile, got some familiar faces back in the deal. Foster previously played for Minnesota, and Veilleux, 30, was a Wild draft pick in 2001. Palmieri is the youngster of the group at 22 and is a big body at 6-foot-3, 220 pounds.
Although Fletcher will have to make some adjustments, all three players are expected to be with the Wild down the stretch. Palmieri has big upside, given his youth and size, but the immediate impact will come from Foster, 30, who will ostensibly take Zidlicky's place along a Minnesota blue line that has been hit hard by injury.
Foster began the season in Anaheim and was dealt to New Jersey in December. Of his 14 points this season, 11 have come on the power play.
"Trading a defenseman like Zidlicky that logged a lot of minutes, we needed to bring in an NHL defenseman, so getting Kurtis was a key component to this deal," Fletcher said. "He has a big right-handed shot we think will help our power play."
Fletcher also added what could be two more assets in the form of a second-round pick in this June's draft and a conditional third-round pick in 2013, if the Devils advance to the conference final in this year's playoffs. For a franchise that has struggled to draft and develop its own talent, Fletcher has been trying to balance the immediate needs of the Wild with long-term stocking of previously barren shelves.
February, 1, 2012
2/01/12
10:59
AM ET
Scott Burnside and Pierre LeBrun separate the contenders from the pretenders after Tuesday night's action.
Burnside:
Greetings, my friend. Good to see some real, live NHL action after the All-Star shenanigans in Ottawa, Ontario, this past weekend, and what better place to start than with the game of the night on Tuesday. We talked a little bit with colleague Craig Custance in our wrap-up video from Ottawa about what we were looking forward to post-All-Star break, and I said I was curious to see how the
Chicago Blackhawks
were going to endure a nine-game road trip to start the schedule after the break. Although they dropped a 3-2 decision in overtime Wednesday, this was a terrific tilt and the best news for Chicago was that it got
Jonathan Toews
and
Patrick Sharp
back in the lineup, with Toews adding an assist. Newcomer
Brendan Morrison
also got his first taste of life with the Hawks and he was robbed by Vancouver goalie
Cory Schneider
in the second period. Morrison played a healthy 17:20 with 1:36 coming with the man advantage. Still have to think GM Stan Bowman, with whom we spoke over the weekend, will be looking to add a little more high-end help up front before the Feb. 27 trade deadline, but it was a nice outing for Morrison, who is one of the game's gentlemen.
Still, a big two points for Vancouver as it is once again making a mockery of the Northwest Division race. It leads second-place Minnesota by 11 points now and will have to be content with chasing the Central Division leaders (that changes on a daily basis) for the top seed in the Western Conference. Of course, getting up for games won't be hard if they're going to be like Tuesday's thriller.
LeBrun:
I've been fortunate enough to cover parts of the three playoff series between the Hawks and Canucks, including last spring's thrilling Game 7 finale at Rogers Arena. Simply put, a Hawks-Canucks game just never disappoints. Tuesday night had the pace of a first-round playoff game. Toews, Kane and Hossa bringing it on the Chicago side;
Henrik
and
Daniel Sedin
and
Ryan Kesler
stepping up their game on the other, with the twins combining in overtime with a touch-play goal -- Henrik somehow finding Daniel through a pair of skates in front. Worth staying up for here in Toronto, that's for sure.
You mentioned the Hawks' trade quest: I think Bowman is scouring the market for a defenseman.
Nick Leddy
has been terrific this season but a little insurance wouldn't hurt.
Meanwhile, so much action to keep an eye on Tuesday night that I'm going to need new batteries for my remote control. I never went back to check on Nashville-Minnesota when I saw a 4-1 lead for the Wild. Oops. That will teach me. The Preds scored four unanswered goals with less than 11 minutes to go to stun the Wild 5-4;
Mike Fisher
's second of the night with 20.8 seconds to go in the third period capped the comeback. I saw the Wild here in Toronto before the All-Star break. They were a fragile group. I can't imagine what this loss will do for them.
Burnside:
Agreed on the Wild. I was thinking that this would be a significant way for them to start the post-All-Star schedule, especially with
Dany Heatley
scoring the first two goals of the game. Then to see it fall apart so dramatically is a bitter pill for the struggling Wild to swallow. Head coach Mike Yeo and GM Chuck Fletcher have an interesting dilemma on their hands now with Yeo making defenseman
Marek Zidlicky
a healthy scratch now for a third straight game. Zidlicky sought out veteran beat writer Mike Russo after the morning skate Tuesday to voice his displeasure and to suggest he'd consider waiving his no-trade clause. WOW! Yeo and Fletcher weren't pleased at Zidlicky's public airing of his displeasure, but you have to believe there would be significant interest in Zidlicky, who has a pretty good offensive upside, even if Yeo hasn't been pleased with his work within the coach's system in Minnesota. It now looks like the Wild will be life and death to even make the playoffs, let alone do any damage, so if I'm Chuck Fletcher, maybe I'm looking to take advantage of Zidlicky's position and turn it into some more assets moving forward. With
Tim Gleason
going off the market after signing an extension earlier this week in Carolina, defensemen of any shape or form will be in great demand by the end of the month. Thoughts?
LeBrun:
Well, I don't blame Yeo for sitting Zidlicky after he was minus-5 in a pair of losses in Philadelphia and Toronto. It's important for players to buy in and understand what's being asked of them. I think Yeo was bang-on in laying down the law. The Wild, though, weren't the only unhappy bunch Tuesday night.
Like Minnesota, Toronto similarly blew a 4-1 third-period lead en route to a shootout loss in Pittsburgh. The single point actually pushed the Leafs into eighth place for the final playoff spot, one point ahead of Florida, but the Panthers have two games in hand. And quite frankly, it's a point that didn't sit too well with the Leafs. They don't have time to worry about it as they host those same Penguins Wednesday at Air Canada Centre, but Tuesday night was the kind of loss that can have a lasting psychological effect on a bubble team trying to take that next step this season. We'll see what they're made of Wednesday.
Burnside:
I like that Yeo has had a consistent message even when things have gone south for them. Recall he benched
Devin Setoguchi
for an important game after he'd been late to a meeting shortly before the break. Good for him. And if I was a betting man, I'd say Zidlicky is gonzo by the end of the month.
The silver lining for the Leafs is that the accursed consolation point for the shootout loss actually brings them closer to the
Ottawa Senators
, another team that suffered a meltdown Tuesday night. The Senators, one of the feel-good stories of this season, blew a 3-1 lead in Boston and lost 4-3. The winning goal was a crippler, coming from center ice off the stick of
Dennis Seidenberg
. It bounced and somehow got past Ottawa netminder
Craig Anderson
. Yes, Anderson has been for the most part terrific for the Senators, but as we discussed during All-Star Weekend, the Senators are by no means secure in a playoff spot, given that they've now played 53 games, more than any other NHL teams. That's simply a stop Anderson has to make but didn't. It's going to be interesting to see how all three of those teams -- Minnesota, Ottawa and Toronto -- rebound because this is the time of the season when play ramps up and the pretenders are soon identified.
LeBrun:
It's the first time this season the Senators have lost four straight in regulation. They went winless in five (0-4-1) to begin November but got a point in the middle of that slide. The Sens wrapped up a six-game road trip Tuesday night in Boston. Perhaps some home cooking will help Ottawa as it begins a five-game homestand Friday night versus the Islanders; the Senators are 14-9-1 at Scotiabank Place this season. But you know what a lot of people will be thinking around the league, that the bubble is about to burst on the surprising Sens.