Cross Checks:

Mark Giordano
December, 24, 2013
12/24/13
9:36
AM ET
Bruins 6, Predators 2
* Jarome Iginla of Boston had two goals (10), his second multi-goal game this season and the 96th of his career.
* The Bruins are 7-2-0 in their last nine games, and their six goals are a season high.
* Boston coach Claude Julien recorded his 400th win, 31st all-time.
* Craig Smith of Nashville has two goals (10), his third multi-goal game this season and the fourth of his career.

Ducks 3, Capitals 2
* The Ducks extend their team-record win streak to nine games, the longest active streak in the league and the longest by a team this season.
* Anahaeim's streak is the longest in the NHL since the Penguins won 15 straight from March 2-30 of last season.
* Hampus Lindholm of the Ducks scored the game-winner with 5:36 remaining in the third period, after the Ducks trailed 2-0 in the first.
* Washington's Alex Ovechkin had five shots but no goals, snapping his four-game goal streak.

Flames 4, Blues 3 (CGY wins SO, 1-0)
* Joe Colborne of Calgary scored the game-deciding SO goal.
* The Flames' Mark Giordano scored a PP goal (5) with five seconds left in regulation to tie game.

Blackhawks 5, Devils 2
* Chicago's Patrick Sharp scored two goals (18), his third multi-goal game this season (29th career).
* Patrick Kane of the Blackhawks had a goal (22), extending his point streak to 12 games (7 G, 14 A).
* The Blackhawks are 6-1-1 in their last eight games.

Rangers 2, Maple Leafs 1 (NYR wins SO, 2-1)
* Derek Stepan of the Rangers scored the game-deciding SO goal.
* Toronto's Nazem Kadri tallied the game-tying goal (11) with 1:24 remaining in the third.
* The Rangers have won two straight after going 1-4-2 in their previous seven games.
FROM ELIAS: Rangers goaltender Cam Talbot recorded a 2–1 shootout win over the Maple Leafs at Madison Square Garden on Monday, 24 hours after he notched a 4–1 win against Minnesota at MSG. Talbot is the first Rangers goaltender other than Henrik Lundqvist to win games on consecutive days since Kevin Weekes on Nov 1–2, 2006, and he's the first Rangers netminder other than Lundqvist to do that while allowing no more than one goal in each game since Mike Richter on Oct. 30–31, 1993.

Senators 5, Penguins 0
* The Penguins had their seven-game win streak snapped (first loss since Dec. 7 at Boston).
* Erik Karlsson of Ottawa had a goal (10) and two assists, tying his season-high of three points.
* The Senators' Craig Anderson notched 27 saves and his second shutout this season (24th career).
* Pittsburgh's Sidney Crosby had two shots and no points, ending his 10-game point streak.

October, 10, 2013
10/10/13
12:26
PM ET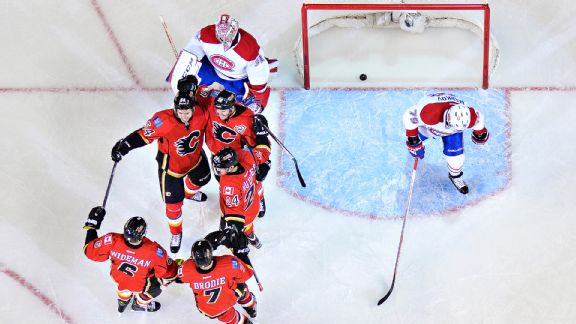 Derek Leung/Getty ImagesThe Flames are scoring, winning and not believing the dire predictions.
If this were the English Premier League, the
Calgary Flames
, according to preseason predictions, would be slated for relegation after this season.
Fortunately, it's the NHL, and no matter how many games you lose, you get to stay with the big boys.
And you better believe every single member of the Flames organization knows what has been said about them heading into this season.
"I told the players, 'If you read what they wrote about us, (1) we're lucky to be in the league, and (2) if you read every single thing they wrote, you might want to retire,'" Flames head coach Bob Hartley told ESPN.com over the phone from Calgary on Thursday.
But, as opposed to focusing on wanting to prove people wrong, Hartley told his players to prove some people right. The right people.
"Jay Feaster and Brian Burke believe in us," he said, referring to the team's general manager and president of hockey operations, respectively. "Let's prove them right. I said to the players, 'In life, I've always tried to prove people right those who believe in me. Your detractors, you can prove them wrong, but personally I want this group to be a positive group. I'd rather we go and prove our fans, our families, our sponsors right. We play for ourselves.'"
Hartley's words have obviously found a receptive audience, with his team being one of the early season surprises on the young NHL season. And it's not just because they've got points in all four games (2-0-2), but their compete level in those games has been impressive.
"They surprised us," said one member of a coaching staff from one of the teams Calgary has played. "They moved the puck really well and had good team speed."
The Flames are not going to match up talent-wise with most teams on most nights this season. But what Hartley and his staff are trying to instill early on is the fact they won't be outhustled. And so far, it shows. They're like a pack of wild dogs that haven't eaten in two days. And all this without their top offensive threat in the lineup, as
Mike Cammalleri
remains on the shelf.
"Right now, the boys are playing with passion and playing hard," Hartley said. "There aren't too many secrets to our game."
The key for any kind of success this group was going to have this season was something decided at the end of last season.
"The biggest thing going for us is our conditioning," Hartley said. "I told the players at their exit meetings last season that since we were going to have a normal training camp and we were in a rebuilding process, I really believed that our No. 1 priority was our conditioning. There's no way that we can raise the Baertschis, the Brodies, the Monahans and those young kids in an atmosphere of a country club. We have to teach them the right way. We have to make them good pros. And while we teach them to be good pros, for the veterans, we would give ourselves a chance to bring another gear to our own careers. I have to give all the players credit. They really bought in. You should see our fitness scores at training camp. We had some unbelievable scores."
And it was a hard camp. The tone was set early, with Hartley's staff handing out T-shirts that had a firefighter flavor to it -- to underline the blue-collar approach for this season -- with the slogan, "Earn, Never Given." Every player's job was on the line this season. The players worked out one day at a firefighter academy, there was paintball with the Canadian Army ... you get the picture.
And so far, they've bought in.
"This is a very fun group to worth with. They're just unbelievable," Hartley said. "They show up to work every day. Our practices are basically [at] game intensity. They're always in the gym. It's really fun."
The man wearing the "C" has helped in that regard.
"
Mark Giordano
is doing an unbelievable job as captain. He's a solid, solid, solid guy," the coach said.
It's a long year, however. The plan in Calgary hasn't changed. This is about rebuilding the organization from top to bottom.
Case in point, here's the frank assessment from a Western Conference team executive who requested anonymity: "Through the first week of the season, they have proven to be a very hard-working team. That is a testament to their coaching staff. However, they have caught a few teams off-guard in the early going. As the season unfolds, they will be extremely challenged due to their reliance on young centers such as [
Mikael] Backlund
and Monahan, and will be hard-pressed to produce goals from their wingers. In addition, after Giordano, [
T.J.] Brodie
and [
Dennis] Wideman
, their defense corp is woefully thin. [
Karri] Ramo
hasn't played in North America in four years and
Joey MacDonald
has yet to prove that he can carry the load for a contending team. All this makes for a lethal combination."
And perhaps that's why betting shop Bovada (it's called Bodog in Canada) came out this week in the wake of Peter Laviolette's firing in Philadelphia and listed Hartley as the next best bet to go. The folks at Bovada/Bodog must not have watched the Flames play early this season. The coach is pushing all the right buttons.
And, yes, Hartley was made aware of his new standing on the betting line.
"I don't pay any attention to that stuff," Hartley said. "We know in the NHL, we're all on an interim basis to start with. The day you start coaching a team, you know the clock has started. It's just a matter of when.
"I don't coach to save my job, I coach to win games. I've always been that way, and I will always remain the same. I feel as a coach if you're not yourself, you have zero chance. I just want to give this team a chance to win. If my team has some success, I don't have to worry about myself as a person. That's how I've always looked at it. If I would have lived my life by every rumor, I would have coached 40 teams and been fired 60 times."
Then there's a quick pause, before Hartley finishes his thought.
"My job is to prove Jay Feaster and Brian Burke right. Whatever Mad Dog or Bodog says, I don't really give a s---."
Hard not to cheer for this guy, right?