November, 14, 2011
11/14/11
10:26
PM ET
Here are some news and notes from Monday's Hockey Hall of Fame induction ceremony in Toronto:
Howe's moment
Mark Howe had some powerful words at the beginning of his Hockey Hall of Fame induction speech Monday night, when he implored those in power to ensure that the families left behind from September's KHL plane crash are taken care of monetarily.
Howe lost good friend and former blue-line partner Brad McCrimmon, who was in his first season as coach of the Lokomotiv team.
Howe ended his speech by pulling on a No. 9 Gordie Howe Red Wings jersey. What a special moment.
Of course, Howe shared the spotlight with his famous father, Mr. Hockey, all weekend long. Hey, he's used to it.
"As you see, we're doing interviews and he has a much bigger crowd than I," Mark Howe said Monday morning, gesturing at the larger scrum of media around his dad about six feet away. "The first day in the hotel, 50 people came up and asked for autographs. They all asked for Gordie while Marty and I just sat there.
"That comes with the territory, that's so much of what my mother helped her four children to deal with. ... He's aware of what goes on, he wants me to deserve all the credit and get all the credit and be honored for this weekend. He doesn't want to distract from that. It means far more to me having him around than anything else."
CuJo in the house
Former star goalie Curtis Joseph attended the Hall induction gala Monday night after getting a ticket from none other than Doug Gilmour.
"I never played with him, but I did help him get to the Hall of Fame," Joseph said with a laugh. "So I thought I should be here."
Joseph, of course, was referring to the dramatic overtime goal Gilmour scored on Joseph in the Toronto-St. Louis playoff series in 1993.
Belfour's call
Hockey Hall officials couldn't get a hold of Belfour in June to tell him of the great news. He was napping. He plays defense in a men's hockey league in Dallas and still naps on game days.
"I usually still take a pregame nap even though it's just men's league," he said with a laugh Monday. "I was taking a nap that day and no one could get a hold of me. Somehow they got a hold of my brother-in-law. He had a key for the house and came in and woke me up. It was pretty neat."
Much was made about Belfour's leather jacket/no suit approach to the pregame ceremony Saturday night at Air Canada Centre. Well, obviously someone got to him because he was wearing a suit Monday. He admitted he had to buy a shirt and tie for the ceremony while in Toronto. He says he doesn't wear suits any more.
"Nope, not anymore, just for special occasions," said Belfour. "I still have some old suits, but they don't fit."
Gilmour, the prankster
Doug Gilmour was a Jekyll-and-Hyde character during his playing days -- fierce as anyone on the ice, and a total jokester off of it. His fellow inductee Joe Nieuwendyk talked about showing up to the rink when they were teammates in Calgary and Gilmour had put shoe polish on the toilet seats in the dressing room.
For Gilmour, he needed that comical side as a release because of how intense he was during games.
"And I'm glad I'm not playing now because I know I wouldn't get by with some of the things I did on the ice," Gilmour said. "Yes, there's a lot of things I did wrong out there, but that's how I had to play. But I'd come to the rink at 4 p.m. for a 7:30 p.m. game and I'd just think of what I needed to do to get everybody [practical jokes]. I was easy-going until warm-up. Once warm-up started, it was game on."
Ringing endorsement
Nieuwendyk was asked about his Dallas Stars and their surprising start during his media availability Monday. The Stars GM said it starts behind the bench with rookie coach Glen Gulutzan.
"I truly believe the coach we have now is going to be a like a Barry Trotz, a 10-year guy that we're going to be talking about," said Nieuwendyk.
High praise, indeed.
Gretzky's special message
Our good friend and colleague Terry Jones of The Edmonton Sun was inducted into the Hall on Monday as the winner of the Elmer Ferguson Award. At the end of the media luncheon honoring Jones and Detroit Red Wings color man Mickey Redmond (Foster Hewitt Award winner this year), host Gord Stellick read an email Wayne Gretzky sent earlier in the day in honor of Jones.
Over the years, the game of hockey has had the good fortune to have great players go into the Hall (Gordie Howe, Bobby Orr, Rocket Richard), and some of the best coaches ever (Toe Blake, Glen Sather and Scotty Bowman)," Gretzky wrote. "But it has been just as important for the game to have people be able to talk about the game to the average hockey fan who loves the game as much as anyone.

People like Foster Hewitt, Danny Gallivan, Red Fisher brought the game to life each and every day. That is exactly what Terry Jones has done each and every day for the hockey fans of Edmonton. He lived and died every playoff win and loss, gloating after big wins and reassuring Oiler fans after a tough loss the next game would be better. An honor well deserved; congratulations on being elected to the Hockey Hall of Fame. Welcome, it's a wonderful place to hang your hat.

Your friend,
Wayne Gretzky
November, 14, 2011
11/14/11
5:23
PM ET
TORONTO -- Ed Belfour went undrafted by the NHL.
Doug Gilmour went undrafted one year before going in the seventh round the next year.
Joe Nieuwendyk didn't think he was good enough for major junior hockey in Canada, so he went to Cornell.
Mark Howe played the first six years of his pro career with the now-defunct World Hockey Association.
Yet all four made their way to the Hockey Hall of Fame, as their long and prosperous journeys were made official with Monday's inductions.
[+] Enlarge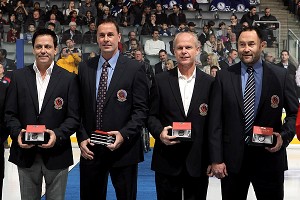 Bruce Bennett/Getty ImagesThis year's Hall class (from left): Doug Gilmour, Joe Nieuwendyk, Mark Howe and Ed Belfour.
This year's class is the ultimate example of perseverance.
"I think it shows a lot of character and determination, love for the game and passion for sure," Belfour said Monday, referring to all four inductees, after slipping on his Hockey Hall of Fame induction ring and jacket. "When you have that, I don't think it matters where you play; people are going to recognize that you love the game and you're a winner. People recognize that and want to help you get to the next level."
It just goes to show the Hall isn't just for first-round picks and can't-miss hot shots.
"It's what makes it such a special place," Nieuwendyk said. "It doesn't discriminate. I think the common bond with a lot of these faces that I see on the walls, especially the recent ones that I have some history with, is a real genuine passion and a love for the game and high competitive spirit in all of us."
Gilmour gained entry into the NHL by accepting a checking role in St. Louis. He thinks back to that moment, and never in a million years did he think it would lead to his enshrinement into Hockey Hall.
"I [was] 5-10 and maybe a buck-55 [155 pounds] at the time," Gilmour said Monday. "[Former Blues coach] Jacques Demers said, 'Can you check?' I said, 'OK,' because all I wanted to do was stay there. I didn't want to go to the minors. To say at that very point where I'd be today? No, I would have never expected that."
While Gilmour was unsure of his NHL job early on, Nieuwendyk was even less confident, which is why he laughed when asked what his reaction would have been in his Cornell days had someone predicted his HHOF induction.
"I wouldn't have believed it," the Dallas Stars' GM said. "It's funny, I always had a little bit of self-doubt. I think that was maybe a healthy thing; it kept me humble and kept me focused, but I wasn't big enough probably to go the Ontario Hockey League. I know that sounds crazy, but I didn't have many options. I thought maybe I'd be a junior varsity player at Cornell, and when I got drafted by the Flames and was leaving school my first thought was, 'Where's the farm team?' I went through a lot of that [self-doubting], but once you have a taste of success and you get confident in your own abilities, the sky was the limit."
Howe remembers his father Gordie's HHOF induction in 1972, and he surely didn't think at that moment he'd be joining him 39 years later.
"I think every kid growing up who loves the game of hockey wants to be a player," Mark Howe said Monday. "You play in the driveway, you dream of winning Stanley Cups, you dream of winning Conn Smythe trophies, you dream of everything. The only thing you never dream of is making the Hall of Fame, so this is beyond any dream that I've ever had."
Mr. Hockey was plenty proud Monday, saying Mark's induction meant more to him than his very own.
"It's a tremendous honor," Gordie Howe said Monday. "To heck with Gordie Howe, it's Mark Howe."
And to heck with all of those who didn't believe in these four players decades ago. They were proved wrong, and then some.
[Editor's note: Pierre LeBrun and ESPN Insider Craig Custance will be back with more from the Hockey Hall inductions tonight in Toronto.]