Cross Checks:

Martin Biron
August, 11, 2014
Aug 11
9:09
AM ET
Often a team plagued by losing seasons, front-office upheaval and the departure of the club's cornerstone player would be pretty low on the list of desirable landing spots for free agents.
That hasn't been the case, however, with the
Buffalo Sabres
.
Despite the team's abysmal 21-51-10 record and last-place finish this past season, the Sabres were able to attract high-caliber talent on the open market as the club continues to revamp its personnel in hopes of turning things around.
[+] Enlarge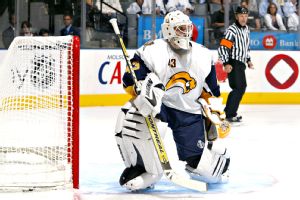 Dave Sandford/Getty ImagesMartin Biron played for the Sabres from 1995-96 until the 2006-07 season.
The Sabres, with first-year general manager Tim Murray at the helm, landed former
Montreal Canadiens
captain (and Rochester, New York native)
Brian Gionta
, as well as skilled winger
Matt Moulson
(who returned to Buffalo after being flipped to Minnesota at the trade deadline).
Even the acquisition of
Josh Gorges
via trade with the Habs took a pitch -- Gorges called former Habs teammate Gionta to consult whether to waive his no-trade clause this summer.
Not bad for a team that floundered at the bottom of the league standings for virtually the entire year before finishing 30th.
And the influx of new talent, new management and new coaching staff (Ted Nolan was hired in November before receiving an extension this summer, while assistants Arturs Irbe, Bryan Trottier, Danny Flynn and Tom Coolen recently joined the staff) brings a culture change.
"The thing is, it started over a year ago," said former Sabres goaltender
Martin Biron
, who still resides in the area with his family. "They traded three captains --
Jason Pominville
,
Thomas Vanek
,
Steve Ott
, with
Ryan Miller
also traded -- so that's four guys gone in a 12-month span. They retooled, rebuilt, brought in some picks, some young players and prospects to try and build from the ground up."
According to Biron, who retired last season while playing for the
New York Rangers
, that push toward progress likely started at the behest of team owner Terry Pegula.
"From being in this area, and living here, that change of direction probably came from the top, from Terry and Kim [Pegula] on down. They did a lot of studying and crunching numbers on success and where it comes from. It comes from the draft and developing players," Biron told ESPN.com in a telephone conversation.
That change of direction likely winnowed the list of GM candidates that ultimately led then-president of hockey operations
Pat LaFontaine
to select Murray as the guy to lead the team (LaFontaine curiously resigned a few months later, less than four months after taking the job). Murray had experience in drafting and developing players from serving as the GM of the AHL's Binghamton Senators and as the assistant GM of the
Ottawa Senators
.
"When they switched things up [following the dismissal of former GM Darcy Regier], that was a hot topic on the table. How will you be able to accomplish this?" Biron said of the development aspect. "I think the biggest part of his hiring was knowing [Murray] was going to be on board with that."
Though they have seen some of the team's biggest names and most beloved players leave, the Sabres boast some well-respected veterans as well as some burgeoning young leaders such as
Drew Stafford
. Add in some prospects who are challenging for a spot and a bevvy of draft picks in the future and the Sabres are all of the sudden an interesting team to watch.
One thing that could prove to be an Achilles' heel, however, is their goaltending. After trading Miller to the
St. Louis Blues
last season, the Sabres are left with
Jhonas Enroth
and
Michal Neuvirth
, neither of whom are considered bonafide starters.
"Obviously, that is a bit of a question mark moving forward," Biron said. "For many years people in Buffalo have been lucky to have top goaltenders, [Dominik] Hasek, [Ryan] Miller, now they're going into a bit of an unknown with Enroth or Neuvirth."
But Biron insists that the Sabres are well-stocked between the pipes with an abundance of quality goaltending prospects.
Nathan Lieuwen
gained some NHL experience with seven games last season. They also have Calvin Petersen, Russian netminder
Andrey Makarov
and a pair of Swedes:
Jonas Johansson
and Linus Ullmark, the latter of whom caught Biron's eye at a recent development camp.
Biron probably will be keeping tabs on those prospects given his new position as director of goaltending at the HARBORCENTER Academy of Hockey, which will open in October.
Between that and regular television work as an analyst for TSN, NHL Network and French-language RDS, Biron won't be sitting back and taking it easy during retirement.
Already this summer he's barely had a spare moment bouncing between his son's baseball and football schedule and his daughters' horse shows.
"It's better that way," Biron said. "I can't sit around."
May, 28, 2014
May 28
4:42
PM ET
By
Mike Mazzeo
| ESPN.com
MSG Network NHL analyst (and former Blueshirt)
Martin Biron
thinks
New York Rangers
coach Alain Vigneault made the right decision to stick with backup goaltender
Cam Talbot
after the coach pulled starter
Henrik Lundqvist
in the second period Tuesday night.
With the Rangers trailing the
Montreal Canadiens
4-1 in Game 5 at Bell Centre, Vigneault decided to replace Lundqvist with Talbot. The Rangers countered with three straight goals to tie the game at 4. At that point, many hoped Vigneault would go back to Lundqvist, but the coach elected against it.
New York ultimately lost to Montreal 7-4. The Rangers lead the Canadiens 3-2 in the best-of-seven Eastern Conference finals. Game 6 is Thursday night at Madison Square Garden.
Biron explained his reasoning during an interview on ESPN New York 98.7 FM's "The Michael Kay Show" on Wednesday afternoon.
"I think they made the right decision; really, it was the only decision," Biron said. "When you've pulled your starter for the backup in the second period, and it's a situation like this, at 4-1, you're kinda telling [him], 'Listen, just go relax. Do whatever you gotta do to get ready for Game 6, because this one, if we win it, it's a bonus. We're just gonna try to change something, and we know Talbot has played well in Montreal, so it's a situation where he can come in and give us a few saves and let's see if he can get us back in the game.'
"Now what I thought was interesting is because of where Talbot is [relative to the bench], it's hard for the coach to tell him you're going in the net; so he's across the bench in Montreal, he's not sitting on the bench, so now it takes about a minute, a minute-and-a-half, almost two minutes after they scored their fourth goal to get Lundqvist out of the net. Now I started thinking to myself, 'What if the Rangers score a goal and they make it 4-2, do you pull Lundqvist?' Because Talbot's already getting his equipment, and the answer was, yes, you still pull him because it's not his night, it's not the team's night, so let's try to change the momentum. And I thought the same frame of mind is coming from me [in terms of sticking with Talbot] for the third period; that's why I thought it was the right decision to keep Lundqvist away and let him get ready for Game 6."
Biron, who used to serve as Lundqvist's backup, knows better than anyone how difficult it is on a goalie to get pulled from the net. A goaltender will check out mentally, and there was no reason for the Rangers to risk injury in this instance.
"Some people don't understand; they say, 'He's their No. 1 goalie, he should be ready to go in whenever you're asked to.' But goalies are totally different. You get so mentally focused to play at the start of the game. If they pull you, it's like the steam comes out of the kettle. You just have to sit and think about the next game, and that's what he was doing."
According to the Elias Sports Bureau, here are Lundqvist's stats in games following a game in which he was pulled:
2013-14 regular season: 3 games, 3 starts, 2-1 record, 3.57 GAA, .879 SV%
Career regular season: 17 games, 17 starts, 12-3-2, 2.41 GAA, .914 SV%
2014 playoffs: 1 game, 1 start, 1-0, 1.00 GAA, .963 SV%
Career playoffs: 3 games, 3 starts, 1-2 record, 3.00 GAA, .887 SV%
October, 15, 2013
10/15/13
6:00
PM ET
Martin Biron
was en route home to Buffalo when we caught up on the phone Tuesday afternoon. The trek had already allowed him to do some self-analysis and certainly some decompressing.
"I'm going to take a couple of days to think about things before I make a decision," Biron told ESPN.com. "I want to take some time to think about it all, talk to family and friends, and think about my next step."
Biron, who cleared NHL waivers Tuesday before being assigned to the AHL by the Rangers, has two options: report to Hartford (AHL) and see how things go from there or retire.
At this point, playing in Europe isn't an option.
"No, those are the two options only," Biron said. "But I want to think this through. The last 48 hours have been pretty charged, I want to let the dust settle and then make an informed decision."
Oilers goaltending
I wrote last Friday that the Oilers would probably wait about 10 or so games into the season before taking stock of their goaltending.
It appears, though, that a nightmarish weekend -- in particular Saturday's 6-5 overtime loss at Toronto -- has expedited that process.
My TSN colleague Bob McKenzie reported Monday night that the Oilers have already reached out to teams to look at their goalie options as
Devan Dubnyk
continues to struggle. Nothing is believed to be imminent, but the sense is that the conversations have begun.
So if you're the Oilers, what are your options? Let's take a look at what potentially could be out there:
Certainly there's
Ryan Miller
in Buffalo. At some point you figure the Sabres will trade him this season, although as of Tuesday morning, I'm told the Sabres hadn't approached Miller yet about anything; and you figure they will at some point have to approach him given his modified no-trade clause. To me this is the guy the Oilers should want the most but there's also the sense Sabres GM Darcy Regier wants to wait later in the season and build up a bigger market for Miller.
How deep into the season can Edmonton go without fixing this issue?
There's
Jonas Hiller
in Anaheim; he was available last summer, as the Ducks are stacked in goal throughout the organization and this is the last year of his contract. But he's also off to a great start, so I think it's too early for that kind of move in Anaheim. Not sure the Ducks would want to rock the boat like that.
What about
Michal Neuvirth
in Washington? I say that because Team Canada Olympic camp invitee
Braden Holtby
certainly seems entrenched as the No. 1 man there. Neuvirth is in the mix for the Czech Olympic team this year, so he might be an intriguing target if the Caps ever feel they can live without him.
Brian Elliott
in St. Louis? The Blues have gone back to
Jaroslav Halak
as their clear No. 1 while
Jake Allen
waits in the wings. Elliott is in the final year of his contract, and I don't see how he fits into their long-term view. But again, that might be more of an offseason decision for the Blues unless someone really forces their hand.
There are other possibilities, of course, but those are names that jump out at me.
Wild goalies
Niklas Backstrom
's knee injury early in the season hasn't slowed down the
Minnesota Wild
as some people believed would be the case, and that's thanks in large part to stellar netminding from backup
Josh Harding
.
The 29-year-old Harding is sporting a .948 save percentage and 1.06 goals-against average in four games (three starts) this season.
"He had a good training camp and he's played well," Wild GM Chuck Fletcher told ESPN.com on Tuesday morning. "He got thrown into the fire in Nashville [after Backstrom's injury], was faced with the penalty shot from [Eric] Nystrom who scored on him, but then made 19 consecutive saves after that. And he's finished up three wins where he's given up just three goals [in total]. He's given up four goals in four games and you certainly can't ask for more than that. He's a talented guy and he's battling hard right now."
Harding missed two months last season because of side effects from a new medication treating multiple sclerosis. His healthy return this season is an important factor with the desire not to overwork the 35-year-old Backstrom.
"We're all learning as we're going," Fletcher said of Harding and his handling of his condition. "It's a tough task for any goaltender in this league to go every night regardless of your medical situation. But certainly he's a guy that we're confident we'll be able to play a lot of games for us if need be. The whole idea is that if we can get both guys healthy, both Nik and Josh play on a regular basis, especially in an Olympic year with the compressed schedule you need both guys going."
As for Backstrom, he should be back soon.
"He's skated 4-5 days in a row, so we'll see, hopefully by the end of this road trip he can either back up or play," Fletcher said. "Certainly the way Josh is playing, we can take the time we need right now to make sure Nik gets fully healthy. We're fortunate it's just a muscle strain and nothing structural with the knee, which was lucky."
It's an important reminder from Fletcher about the Olympic impact on the schedule this season. I think what you'll see because of that is an increased role for backup netminders.
Monahan's future
The
Calgary Flames
have a big decision to make soon on rookie center
Sean Monahan
, the sixth overall pick in last June's draft who has looked nothing but at home in the NHL so far.
Keep him with the big club or send him back to junior?
His four goals and two assists in five games had him second in NHL rookie scoring before games Tuesday, so you'd think the decision is obvious. Or is it?
The Flames have not made that decision yet. Instead, they want to see how he fares on the upcoming road trip -- difficult games at Anaheim, San Jose, L.A. and Phoenix -- before deciding what they're going to do with him. He turned 19 just a few days ago.
Once he's played 10 NHL games, he burns his first year of service time on his entry-level contract, which is why all clubs around the league have to make a decision with their rookie, junior-eligible players after nine games played.
It's worth noting that when it comes to Brian Burke, the president of hockey operations for the Flames, his track record as GM had him sending kids back to junior such as
Bobby Ryan
in Anaheim and
Nazem Kadri
in Toronto. But this will be GM Jay Feaster's call.
The other factor to consider is what exactly Monahan's minutes will be once injured forwards
Mike Cammalleri
and
Matt Stajan
return.
On the one hand, the Flames can save one year of service time on Monahan's entry-level contract if they send him back to junior before his 10th game. But on the other hand, where will his development be best served this year?
Tough call.
Talking Europe
As I wrote last week, the NHL and NHLPA are meeting Wednesday in New York to further hash out details on the future of the Premiere Games in Europe, as well as the possible return of the World Cup of Hockey.
Both sides have keen interest in bringing back both events.
Team Canada
Team Canada's Olympic brain trust is keeping a close eye on the performance of
Chris Kunitz
.
Every player's performance over the next two months will be paramount for his chances to make the team, but Kunitz is especially a unique case. My sense is there are those internally who think it's tough to find a player who can mesh with
Sidney Crosby
in time for a two-week tournament, so Kunitz is the perfect fit given the chemistry between the two Penguins linemates. But there are those who just can't buy that he's among the very elite forwards in the world and Team Canada certainly doesn't have a shortage to pick from on that count.
While goaltending will be the most pressing decision for Team Canada, I'd rank the "Kunitz decision" as the second-most intriguing.
Hawks No. 2 center
Michal Handzus
was given the night off Saturday, but I wouldn't read too much into that.
The Blackhawks are not on the lookout for a No. 2 center, they're happy with Handzus given his performance last spring in the playoffs, but the plan entering this season was to limit his games to keep the 36-year-old as fresh as possible for the playoffs.
The other benefit of sitting out Handzus the odd game is that other players will gain a bigger role on those nights, mostly
Marcus Kruger
or
Andrew Shaw
, but other youngsters will also gain more experience depending on the game.
Regardless, the plan is status quo in Chicago with regard to the No. 2 center job, barring any major injury.
October, 14, 2013
10/14/13
12:38
PM ET
GREENBURGH, N.Y. -- Following an abysmal 1-4-0 start to the season, the Rangers are shaking things up.
A source confirmed to ESPN.com that the team has placed both backup goaltender
Martin Biron
and rugged winger
Arron Asham
on waivers.
If no other team claims either player, they will report to the team's AHL affiliate, the Hartford Wolf Pack. The team will still be charged a cap hit, but not the full value of their NHL salary.
The move comes as the team returned home from a shockingly bad trip out West that included spankings from the Sharks and Ducks, a pair of games in which they were outscored 15-2.
Jeff Halpern
and
Chris Mueller
cleared waivers on Sunday.
Halpern, who had been playing in the Finnish Elite League, signed a one-year deal with the
Phoenix Coyotes
on Saturday, but he had to clear waivers before he could join the team.
Mueller signed a two-way contract with the
Dallas Stars
this summer. He will now report to the team's AHL affiliate the Texas Stars.
November, 5, 2012
11/05/12
3:57
PM ET
The NHL and NHL Players' Association resume bargaining Tuesday in New York City after a marathon session between Steve Fehr and Bill Daly over the weekend that produced a little traction.
Cautious optimism were the two words most spoken in the hockey world Monday.
"I think every time there is a layoff where there's no talks and then talks resume, there's always optimism in the air,"
New York Rangers
goalie
Martin Biron
, a member of the NHLPA's negotiating committee, told ESPN.com on Monday. "Obviously, everybody is cautiously optimistic with some of the exchanges that Steve and Bill had, even though it was more brainstorming than anything concrete. But to be able to schedule some meetings and get larger groups involved again is going to be a good thing. Still, as with every case in the last little while when people got too optimistic, it's just part of the process and we'll see where it goes."
Fact is, this thing can still go all kinds of directions; it's still in a very, very delicate state. It might produce more progress and lead to consecutive days of bargaining and ultimately a new CBA, but the two sides could just as easily clash again on key issues and the whole thing goes sideways.
Biron was set to fly to New York from Buffalo on Monday night.
The key development over the past week was word that the NHL was willing to fund a portion of the "make-whole" provision, language introduced in the league's last official proposal that sees existing players' contracts honored -- a huge issue for players in this negotiation. Whereas the league's last proposal saw players pay other players under make-whole in deferred payments, the league is now showing a willingness to fork up money to pay for a chunk of it. That was certainly part of Saturday's discussion between Daly, the NHL's deputy commissioner, and Steve Fehr, the NHLPA's No. 2 man and outside counsel.
Thing is, the players still want to know more about the league's new approach to make-whole before getting too excited.
"That's the thing, there's not much detail to it right now," Biron said. "It's still more of a concept right now, more than anything. It was a general conversation [between Daly and Steve Fehr]. The make-whole also isn't the only thing that needs to be discussed, either. There are a lot of things like player contracting rights that are still there to be discussed and are still big items on the table. I think everybody is talking about the make-whole provision, but there's a lot more than that as players that we want to talk about as well."
Biron was part of Sunday's NHLPA internal call with the negotiating committee and again Monday afternoon when the negotiating committee plus the executive board had a larger call.
Biron said those calls are important platforms for NHLPA executive director Donald Fehr.
"Don is there to give us recommendations and lay some options in front of us, but he also sits and listens and answers every question," Biron said. "The more players that speak up, the better it is for Don to see what the pulse of the players is, and he's really good at doing that."
GMs Meetings
Next week is Hockey Hall of Fame induction weekend in Toronto, which over the past few years has also meant the league's 30 GMs gather right after, also in Toronto.
Not so this year. There was some internal debate at the league office about the merits of having 30 GMs get together during the lockout and being able to focus on the game without worry about the wins and losses that normally pre-occupy the GMs' thoughts in a normal season.
In the end, however, the decision was to not hold the GMs meeting while there was still no hockey.
For now, there's nothing scheduled, although my sense is that if and when there is hockey this year, the 30 GMs might meet fairly early in the shortened season, not only for the usual reasons but perhaps also to get help from the league's head office to wrap their minds around the new CBA.
September, 21, 2012
9/21/12
10:01
AM ET
By
Sarah Goldstein
| ESPN.com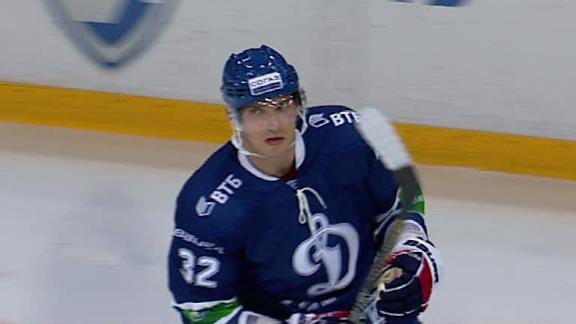 October, 22, 2010
10/22/10
12:53
AM ET
... Because three just wasn't enough.

Melrose
Barry Melrose loved the play in net on Thursday night and made his early top picks all goaltenders.
Martin Brodeur
-- The league's career leader in wins and shutouts made 29 saves for his 112th career shutout. The short-handed Devils may need a shutout from him every night in order to get a win.
Tim Thomas
-- He earned back the starting job from
Tuukka Rask
, and now he is making a case to keep it. With 38 saves against the Capitals, Thomas got his fourth straight victory.
Jimmy Howard
-- The Red Wings know how to score goals. So with Howard shutting down the Flames in the second and third periods to total 34 saves, Detroit's offense rallied past Calgary.
Martin Biron
-- Not a bad start to the season for Biron. The Rangers' goalie had 24 saves in his debut to help New York gets its first win since opening night.
Give us your four stars of the night »
Thursday's results
February, 3, 2010
2/03/10
11:01
AM ET
Editor's note: There's the March 3 trade deadline, and then there's the Olympic roster freeze that runs from Feb. 12-28. Between now and Feb. 12, ESPN.com's Scott Burnside and Pierre LeBrun will look at 10 potential trade baits and which teams have a chance to land some much-needed help.
Martin Biron (Islanders) and Marty Turco (Stars)
Scott Burnside: Greetings, Pierre. We've been talking the past couple of days about offensive players who could be on the move before the March 3 trade deadline, but how about a couple of backstoppers who could be looking for new homes? Let's call them the Two Martys: Martin Biron and Marty Turco. Biron is the third man on Long Island now that Rick DiPietro is back in the mix with Dwayne Roloson.
Turco has been splitting time with Alex Auld in Dallas, but he doesn't really seem to fit into the Stars' long-term plans. Both goalies will become unrestricted free agents this summer. Both would seem to be attractive to teams looking for some veteran depth between the pipes heading into the playoffs. What are the chances that they'll be on the move and where might they land?
Pierre LeBrun: Well, I think Biron has a greater chance of moving because his team is more urgently trying to do that, not to mention the fact that his $1.4 million salary is easier to deport than Turco's $5.4 million cap hit. I spoke with both Martys on Tuesday; both have seen better days, but are keeping a good attitude through all this. Biron had a chat with Isles GM Garth Snow on Tuesday, just wondering whether his situation would soon be solved. Let's remember, when Biron signed with the Isles last summer, it was understood all along that once DiPietro came back from injury, Biron would be moved. But it's been over a month now and still nothing.
For now, Biron will go on a short conditioning stint to the AHL so he can get some game action in. The question is, who could use Biron? Although he wouldn't say it, I know he would love to go to Montreal if and when the Canadiens moved either one of their young goalies. He has the demeanor to thrive in his home province and would be a good mentor for Carey Price or Jaroslav Halak.
Burnside: The one team I look at and wonder about needing or wanting a veteran presence is Los Angeles. The Kings are on fire and, I think, a lock to make the playoffs. But remember what happened to a good Montreal team in 2008 that entrusted its playoff goaltending chores to untested youngsters Price and Halak -- the Habs narrowly beat eighth-seed Boston and then lost in five to a less-talented Philadelphia team in large part because Price and Halak couldn't handle the pressure. You would think the Kings would want to avoid that dynamic.
Jonathan Quick has been great for Los Angeles, but he and Erik Ersberg have zero NHL playoff experience, and it would seem logical to want to have some kind of safety net. Turco was spectacular two springs ago when Dallas reached the Western Conference finals, and Biron was the Flyers' netminder in 2008 when they surprised many by reaching the East finals. Yes, Turco's dollar figure is high, but the asking price for either netminder would be very modest, don't you think?
LeBrun: Well, right now, the word out of Long Island is that Snow isn't getting offered more than a third-rounder for Biron, which seems absurd to me. But I guess it speaks to the marketplace. As for the Kings, while I agree with your premise, especially with Biron because he's a cheaper cap hit, I'm told they have lukewarm interest. That may be because they are more focused on forward Ilya Kovalchuk and adding another defenseman, so adding a veteran backup goalie is not a priority at this point.
But while Biron told me he was anxiously awaiting a trade, Turco told me Tuesday night his perfect scenario is to stay in Dallas for the rest of the season, lead his team into the playoffs, and deal with all this in the offseason when he becomes an unrestricted free agent. Given his price tag, that may very well happen. But I'm telling you, the 34-year-old veteran remains an elite goalie in my mind, someone who could really help a contender. His 40-save performance Tuesday night was a reminder of that.
Burnside: I agree Turco can still bring it, and Biron would be an easy fit into pretty much any NHL dressing room because of his personality, so I'll be shocked if someone doesn't make a move to bring him on board. Wonder if San Jose would want some inexpensive insurance down the stretch? The Sharks haven't received the greatest playoff netminding from Evgeni Nabokov in recent years and must advance beyond the first round this spring. Nabokov plays pretty much every night and will be at the Olympics, so maybe adding a veteran netminder wouldn't be a bad idea.
The same issues exist for Buffalo workhorse Ryan Miller. With all due respect to Sabres backup Patrick Lalime (3-2-2 and 3.11 goals-against average), Biron would provide better results if the Sabres are interested in giving Miller some rest down the stretch, not to mention a more viable backup come playoff time. Biron was also well-liked in Buffalo during his tenure there. I understand it's not a priority for teams with solid starters. It will be difficult to add Turco because of his contract, but Biron should be able to find a home somewhere before March 3, don't you think?
LeBrun: Well, the Sharks really love Thomas Greiss, and he is the starting goalie for Germany at the Olympics, so I'm not sure they're pressing for an upgrade there. Buffalo definitely needs an upgrade on Lalime; but again, if the Sabres can afford only one add-on before March 3, I would suspect it would be up front and not a backup goalie. Interesting note on Turco: His no-trade clause disappeared this season (the last season of his contract). That's why he's a little unsettled right now while trying to focus on the job at hand.
Another factor to underline in all this is the financial mess the Stars are in as owner Tom Hicks tries to fight off the banks. Things are really tight in Dallas. Even if Stars GM Joe Nieuwendyk wanted to extend Turco (and I don't think he does), there's no way the cash-strapped team could do it. So Turco likely will be on a different NHL team next season. Which could tie in to the other Marty. We know the Stars have been sniffing around younger goalies like Halak, Kari Lehtonen and Cory Schneider, but what if they brought in the veteran Biron to help out the new kid next season? Auld is also an unrestricted free agent in Dallas. Food for thought.
• You can also get up-to-the-minute discussion in Rumor Central.