Cross Checks:

Martin Erat
July, 10, 2014
Jul 10
2:01
PM ET
By
Sarah Goldstein
| ESPN.com
The
Nashville Predators
don't have the longest history. After all, it was just 16 years ago that the franchise was created. (Their first game was Oct. 10, 1998.)
But a short history doesn't mean there hasn't been plenty of talent to pass through Bridgestone Arena.
[+] Enlarge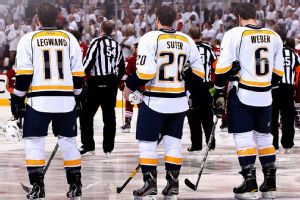 Christian Petersen/Getty ImagesDespite the Predators' short history, the franchise is long on talent.
David Legwand
, the first pick in franchise history (No. 2 overall in 1998), played 956 games and posted 566 points (210 goals, 356 assists) before getting traded to Detroit this past season.
Martin Erat
was in Nashville for 11 seasons before requesting a trade in 2013.
You can't forget about departed defensemen
Kimmo Timonen
and
Ryan Suter
.
And what about the goalies:
Tomas Vokoun
and
Pekka Rinne
?
Last, but obviously not least, the current face of the franchise: defenseman and three-time Norris Trophy finalist
Shea Weber
.
Weber has 131 goals and 216 assists in 607 games for the Predators.
So who is truly Mr. Predator?
You can cast your ballot in three ways: in the comments section below, through our
Facebook page
or, if you're hitting us up from
Twitter
, use the hashtag #ESPNplayerNHL.
February, 28, 2014
Feb 28
3:21
PM ET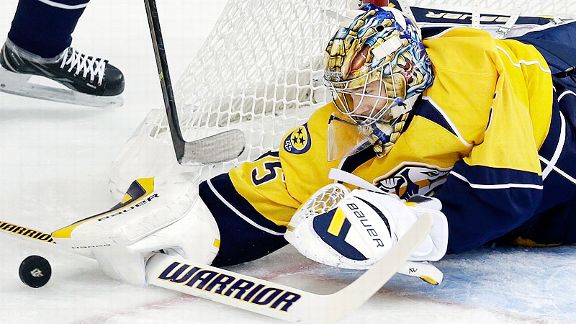 AP Photo/Mark HumphreyThe return of Pekka Rinne would be the best acquisition the Preds could make at the deadline.
We lead our blog for the second day in a row with a bubble team that's in a tough spot: the
Nashville Predators
.
Just four points out of a playoff spot on Friday morning, do they pull the plug or keep up the fight?
Enter veteran GM David Poile.
"I talked to almost everybody before the Olympic break; I've probably spoken to half of the teams this week," Poile told ESPN.com Friday afternoon.
"Everybody knows from my standpoint what we have available. I'm certainly aware that we've come from nine points out of the playoffs to four points out. That gives us a chance to make the playoffs. I know we have to leap over some teams to do it, so the odds are against us, but hope springs eternal.
"From my standpoint, I don't consider myself a buyer, I don't consider myself a seller. I could just be neutral given where we are."
The most impactful move for Nashville might be just under its own nose.
Star netminder
Pekka Rinne
, out most of the season with a bacterial hip infection, was slated to play for AHL Milwaukee on Friday night.
"What might be the best trade-deadline acquisition for us might be Pekka Rinne," Poile said, "if he's able to come and play with us soon."
Rinne will be re-evaluated sometime early next week to determine where he's at after a few AHL starts.
Meanwhile, center
David Legwand
is a pending unrestricted free agent and there's no extension in sight at this point. But because he has a full no-movement clause, Poile is limited in his ability to explore the trade market.
So unless an offer comes along that both blows Poile away and is something Legwand wants, he might just be staying put and helping the Predators' playoff push.
Finally, I had to ask, because every once in a while Shea Weber's name gets thrown out there. It's probably because he's due a $13 million signing bonus again this summer, and some people wonder if the budget-conscious Predators would entertain offers in June before that payment is due.
Forget it, says Poile.
"We're not trading Shea. We've told that to everybody. People ask and it's their right to ask, but we're not trading him," Poile said firmly.
"Our defense is young, it's got a great future. We've got Pekka coming back at some point."
I had the Predators in the playoffs this season when I made my September predictions. I love the blue-line corps but had counted on a healthy Rinne. This team isn't that far away. No reason for Poile to be blowing things up. A trade here and there? Possibly. But I don't foresee anything drastic.
Ducks goalie chatter
Anaheim GM Bob Murray came out strongly earlier this season in this very space and said he was not going to trade
Jonas Hiller
despite the fact that he's an unrestricted free agent on July 1 and the Ducks may lose him for nothing.
You don't deal your No. 1 goalie when you're a Cup contender.
But a couple of sources around the league on Friday suggested Murray might be willing to move another goalie.
Now, I can't see prized youngsters
John Gibson
or
Frederik Andersen
going anywhere. So by process of elimination, I'm guessing
Viktor Fasth
might be had for the right price. He is signed for another season at $2.9 million, which is quite affordable for a guy who has shown he's capable of No. 1 duties and at the very least would give a team tremendous insurance in goal behind an established starter.
Keep an eye on that one.
Capitals working on moving Erat
The
Washington Capitals
are another bubble team that I don't think will be active on the rental market for pending unrestricted free agents, but if there's a hockey deal to be head, it wouldn't surprise me to see them act.
[+] Enlarge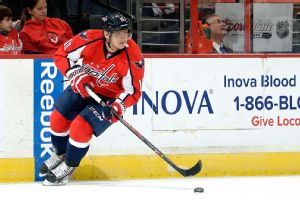 Patrick McDermott/NHLI via Getty ImagesMartin Erat still wants out of Washington, a request Caps GM George McPhee is trying to grant.
In the meantime, Washington's priority is an old one turned new again.
"The only thing I'm working on that has to be done is moving [Martin] Erat," Caps GM George McPhee told ESPN.com Friday morning.
"There are some teams interested. He still wants out. I'd love to be able to do it this weekend. But we'll see."
Erat asked for a trade early in the season and remains steadfast on getting out despite getting more playing time as the season has progressed. He also asked to be dealt out of Nashville last season.
Meanwhile, there were rumors over the last month that the Caps might be the mystery team involved in the
Ryan Miller
derby. I don't see that. While McPhee refused to comment on it, my own read on it is that the Caps need/want to give
Braden Holtby
every possible chance to be their No. 1 goaltender and figure out once and for all what they have in him.
Sens interested in Stewart
We have reported before that the
Ottawa Senators
have made it a priority to acquire a forward before the deadline.
The Senators have inquired with the
St. Louis Blues
about
Chris Stewart
, according to a source. But the asking price appears to be too high at the moment, so nothing is imminent.
Stewart and his $4.15 million salary are signed through the 2014-15 season.
Markov's future
Had a chance to catch up with former NHLer
Sergei Berezin
, who is now representing his pal
Andrei Markov
in contract talks with the
Montreal Canadiens
.
It's clear that term is an issue given that Markov is 35 and any new deal would count against the cap regardless of whether he plays through it.
There were reports this past week that offers had recently been exchanged. It's believed the Habs offered a one-year deal and that Markov's camp opened at four years. My guess is Montreal might be willing to go to two years. Maybe. But certainly not any past that.
"I can't say much -- we agreed not to say much -- but talks are ongoing and Andrei wants to stay in Montreal," Berezin told ESPN.com Friday. "We'll see where it goes. He's played 13 seasons with Montreal. He wants to finish his career in Montreal."
I can't imagine the Habs would move Markov if he's unsigned by Wednesday's deadline, not with the team sitting in a playoff spot. I mean, I never say never because they could get blown away by an offer. But it would really surprise me.
Berezin has temporary certification from the NHL Players' Association as an agent while the union reviews his application to become a full-time agent.
"We've been long friends for 15 years if not longer; we grew up in the same city in Russia," Berezin said.
They played briefly together in Montreal near the end of Berezin's career.
"He's like family to me. I train him in the summer," Berezin said.
Flyers interested in Kesler
No shortage of teams interested in Canucks center
Ryan Kesler
, and you can add Philadelphia to that list. Mind you, the Flyers could be just as interested in Canucks defenseman
Alexander Edler
.
Have to imagine that the Canucks' asking price in any Kesler deal would start with
Brayden Schenn
, and I'm not sure the Flyers would go there.
Edler would actually address Philly's more pressing need, upgrading its blue line. But again, how much does Vancouver want?
Good friend Rob Rossi of the Pittsburgh Tribune-Review tweeted Thursday night that he believes the Penguins talked to Vancouver about Kesler, as well. I wrote Thursday about Detroit and Columbus as obvious fits.
Again, when it comes to Kesler, who has two more years on his deal at a bargain $5 million per year, there is lots of interest.
This is Vancouver's big chip to play, whether it's now or in June, in terms of reshaping their roster and getting younger without going into a full-blown rebuild.
Sabres' selling list
ESPN The Magazine's Craig Custance and my TSN teammate Bob McKenzie reported that Sabres defenseman
Christian Ehrhoff
has submitted a list of eight teams he doesn't want to be dealt to as part of his modified no-trade clause.
So add Ehrhoff to the long list of Sabres in play.
I spoke with an NHL team executive before the Olympic break who suggested Sabres defenseman
Tyler Myers
could also be had for the right price.
New Sabres GM Tim Murray intends to be a busy man in reshaping his team before Wednesday's trade deadline, but also in the offseason.
Frankly, there are few untouchables. He's massively open for business.
Oilers' selling list
Easy to figure out what names are available in Edmonton; most of them are pending unrestricted free agents, led by winger
Ales Hemsky
, who I hear is getting decent traction on the market.
It's a guarantee he gets dealt before Wednesday. He's a nice Plan B for those teams that strike out on
Thomas Vanek
or
Matt Moulson
. Hemsky can still play; I thought he looked good in Sochi for the Czech Republic.
Veteran Oilers winger
Ryan Smyth
is also a pending unrestricted free agent and could move. I think he'd be a terrific addition for one of the top contenders. He'd accept a fourth-line role on a Cup contender and his character goes without saying.
Nick Schultz
is also an unrestricted free agent and will likely be moved as a depth defenseman addition to a contender.
The Kings and Oilers were in heavy talks on center
Sam Gagner
before the Olympic break, as we reported, but that deal fell apart because Edmonton balked at eating so much of the money on that contract, which still has two more seasons.
Hurricane watch
The Hurricanes have dropped two straight coming out of the Olympic break, and overall they have lost four of five in regulation this month.
Next up? Games in L.A., Anaheim and San Jose before Wednesday's trade deadline, about as tough a schedule as there is.
The Hurricanes are five points behind Philadelphia for the last playoff spot available in the East, so don't be surprised if there's a bit of selling going on before Wednesday. Money is always a consideration with small-market Carolina, and I suspect there will be an interest to lighten the payroll a bit.
Whether the Hurricanes can find a taker for
Tuomo Ruutu
(two more years at $4.75 million per) or deal one of their three goalies, you get the sense that something's got to give in Carolina.
December, 3, 2013
12/03/13
6:09
PM ET
The board of governors gathers next week in Pebble Beach, Calif., and traditionally that's where the league gives teams a clearer projection for where the salary cap might stand for next season.
That's going to be of particular interest to the
San Jose Sharks
, who have had ongoing discussions with their big three UFAs --
Joe Thornton
,
Patrick Marleau
and
Dan Boyle
. There's only so much money and cap space to go around, especially with new extensions kicking in next year for the likes of
Logan Couture
and
Joe Pavelski
. So the Sharks want to be fair to their three core veterans, but also have to fit all three deals into the reality of their cap situation.
To the credit of the both management and the players involved, none of this has been a distraction at all. The Sharks are on fire so far this season with Marleau and Thornton especially consistent and dynamic once again in their production. Boyle is coming on after missing time with a concussion.
All three players want to re-sign and stay put, and management wants them back.
But there's still the business of making it work on all three fronts with whatever cap space they have to manage with.
Boyle has the added wrinkle that he's a 35-and-over contract, which carries its obvious risks in the CBA. So you're looking at either a one-year or a two-year deal in his case, most likely.
Another wrinkle in the process has been that Marleau has yet to hire a new agent after the passing of the venerable and well-liked Don Baizley. It's unclear whether Marleau would look to do his own deal, like some veteran players have done, or hire a new agent.
Numbers have been exchanged in the case of Boyle and Thornton, but not so yet on the Marleau front for the above-mentioned reason.
GM Doug Wilson has kept his team among the league's elite for a decade and even retooled the team on the fly, and he's also avoided some of the front-loaded, mega-long-term deals that have dragged down other organizations. This is another intriguing challenge for Wilson, getting three players he really likes, who all want to stay put, under the same roof past this season.
Trade rumblings
I mentioned last week that the
Vancouver Canucks
had a conversation with the
Washington Capitals
about
Martin Erat
-- who has asked for a trade -- but the Canucks after some thought decided to pass. Ditto for the
Ottawa Senators
, who initially showed a bit of interest but ultimately decided Erat wasn't a fit. ... The name of winger
Jamie McGinn
is making the rounds of late, one source telling ESPN.com that Avalanche head coach/executive
Patrick Roy
has mentioned his name in conversations with a few teams in an attempt either to land a defenseman or a veteran checking forward. ... While the Panthers are willing to move some of their veteran forwards, such as
Tomas Fleischmann
or
Scottie Upshall
, the more intriguing name making the rounds is that of young blueliner
Dmitry Kulikov
, who is RFA after the season. There is perhaps fear he'll want big money or go to Russia next season, which is why he's being made available, but he's certainly worth a gamble in my books for teams looking to upgrade their blue line.
Team Canada will max it out
Nothing official yet, but expect Hockey Canada to announce its Olympic roster on Jan. 7, taking full advantage of the extended deadline the IIHF, NHL and NHLPA negotiated last week.
Zero surprise there, from the
Steven Stamkos
situation to other heated positional battles, Team Canada wants all the time it can use to evaluate.
Team USA remains slated for Jan. 1. There had been internal dialogue among the Team USA brain trust as to the merits of moving it later after the IIHF announcement of the extension last week, but within the same day it was agreed to stick with the plan to announce it on NBC at the conclusion of the Winter Classic.
Both Team USA and Team Canada brain trusts will hold meetings in California this weekend ahead of next week's board of governors meeting, once again fine-tuning their respective player lists. The Team Canada management team is also expected to take in the Kings game on Saturday night.
Second Toronto arena update
The plan to build a new NHL arena in Markham, Ont., north of Toronto continues to face hurdles but
also remains alive
.
A few things that need to be said here:
1. As far as any kind of communication between the NHL and the group leading the charge to build a rink in Markham, the message from the league has been a consistent one: DON'T BUILD A RINK BUILT ON THE EXPECTATION OF GETTING AN NHL TEAM. Which is usually when I would stop in my tracks in building a rink, but I digress.
2. There are still holes in this financing plan for the rink, no matter what anybody connected to it says. It's been improved in terms of protecting the taxpayer, but there's still holes in it as far as I can see.
3. And, finally, and perhaps most importantly, one should not assume a second NHL team in the Toronto area (it remains a possibility within the decade) must go to this current group in Markham. Those are two different conversations, two different realities. I'm not saying the group in Markham won't ever achieve its goal, but what I'm saying is that I'd lay down better odds of a second team in the Toronto area as a general development not associated with this current group.
November, 26, 2013
11/26/13
6:54
PM ET
IIHF President Rene Fasel stood firm during an IIHF council meeting Tuesday in Zurich that the Dec. 31 Olympic roster deadline would not be altered, a source told ESPN.com.
Top European countries such as Russia, Sweden, Finland and the Czech Republic have been pushing to change the rule to allow only a partial roster to be named by Dec. 31 and the rest of the players to be named closer to the Olympics.
I'm sure it's not the last we've heard of this, but Fasel indicated to all the countries in Tuesday's meeting that the rule won't be changed. The IIHF meeting continues Wednesday, so perhaps this isn't quite over yet.
The United States was given an exception to announce its roster at the Winter Classic on Jan. 1.
CAROLINA TRADE TALK
The
Carolina Hurricanes
are working the phones diligently, with the likes of defenseman
Tim Gleason
and forward
Tuomo Ruutu
being discussed with other teams.
Sources around the league suggest Gleason is getting more traction at this point.
Both players have no-movement clauses and have two more years on their respective contracts past this season, Ruutu for $4.75 million a year and Gleason for $4 million per season.
One source suggested that, if the Hurricanes move Gleason, they'd be perhaps willing to take on
John-Michael Liles
from the Leafs in return for Ruutu. But another source pointed to Ruutu's cap hit being too much for Toronto to take on.
PACIORETTY TRADE TALK
TSN's Bob McKenzie dropped a real interesting nugget Tuesday evening, reporting that
Montreal Canadiens
winger
Max Pacioretty
's name has been mentioned in trade talks.
A Habs source forcibly told ESPN.com that Pacioretty is not being shopped, but that obviously the team can't prevent other clubs from calling. And teams have.
Pacioretty, a Team USA Olympic hopeful, recently fired his agent, which raised eyebrows given that he's in the first year of a six-year deal paying him on average $4.5 million a year. That might have been the impetus for other teams calling Montreal.
ERAT ASKS FOR TRADE
Martin Erat
wants out of Washington. The veteran Czech winger never really found his niche with the Capitals after coming over last April 5 in the deal that sent prospect
Filip Forsberg
to Nashville.
Erat, in fact, asked Caps GM George McPhee for a trade in the first week of this season, both McPhee and Erat's camp confirmed to ESPN.com; then Erat asked McPhee once again for a trade late last week.
So the Caps are trying to accommodate him. The
Vancouver Canucks
are among the teams that have shown mild interest so far, one source said Tuesday.
With no goals in 23 games, he's hardly a hot asset, but the belief with some teams is that he'll be a motivated player who has a track record of performing in Nashville.
His contract is also alluring for some teams; while his cap hit is $4.5 million, his actual salary is $3.75 million this season and lowers again to $2.25 million next year.
PHANEUF CONTRACT TALKS
Dion Phaneuf
's representation from Newport Spots made the opening presentation in contract talks (ballpark offer) about two weeks ago, and word is the Leafs will counter in the next week. While term may be a sticking point, I'm guessing the dollar amount in the end will actually be the biggest obstacle. The next three to four weeks in this negotiation are going to be important. I don't think Phaneuf wants this negotiation to drag on all season long.
BACKLUND ON MARKET
The
Calgary Flames
are listening to offers for 24-year-old center
Mikael Backlund
, a former first-round pick (24th overall in 2007) who hasn't found his stride.
The Flames already turned down an offer, a source told ESPN.com, and won't move him for the sake of it.
Backlund has one more year on his deal at $1.5 million.
RINNE UPDATE
The original plan was to have
Pekka Rinne
undergo an MRI this week, but that's now been pushed back to Dec. 5. Nothing to read into it, a team source said, just a scheduling thing.
What doesn't change is how important that MRI will be. If it's good news and his recovery is on target, I don't think the Preds need to trade for a netminder. But if it's horrible news, that might change things.
Having said that, rookie
Marek Mazanec
-- he's 3-1-0 with a 1.61 GAA in his past four starts -- is certainly doing his best to suggest the answer lies within.
As I've reported before, the Ducks and Predators have talked, but
Viktor Fasth
's injury makes it unlikely anything will happen for the time being. The plan in Anaheim now would be to hold tight to
Jonas Hiller
until further notice.
CANADIAN TV DEAL
The NHL's new Canadian TV deal with Rogers will help raise the salary cap.
The 12-year deal, announced Tuesday morning, is worth $436 million per year for the league and its 30 teams.
Divided by the 30 clubs, that's an average of $175 million over 12 years per team ($14.5 million per year), although not every team will get the same share, a source said. The seven Canadian NHL teams will get a bigger share of the TV pie due to "invasion fees."
Invasion fees are designed to compensate the Canadian teams for the local inventory lost to the national TV deals.
April, 4, 2013
4/04/13
12:56
PM ET
A week before the trade deadline, I chatted with
Nashville Predators
GM David Poile and asked him about his approach this year.
He wasn't sure yet. He said to check back after his team's game April 2, on the eve of the deadline.
He was only half-kidding, I think.
By moving
Martin Erat
and
Scott Hannan
on Wednesday, the veteran GM answered that question from the week before.
He was a seller -- kind of.
"I guess that's fair, but sometimes you have to do things to take the proverbial step backwards to take a couple of steps forward," Poile told ESPN.com on Thursday.
The Preds were just a point out of a playoff spot Thursday morning in the cluster of the Western Conference standings. But two realities were at play before the deadline for Nashville: The Preds have been too inconsistent all season for Poile to be a buyer like he was the year before, when Nashville looked more the part of contender; and secondly, Erat asking for a trade forced his hand to move him.
In a perfect world, I suspect Poile would have just stood pat at the deadline.
"It's a strange business," Poile said. "Sometimes you actually move forward by subtraction. Sometimes players aren't quite fitting in, the chemistry isn't quite there. So I'm looking at this as the right thing to do for our organization today, and I'm very optimistic for the future."
With the unhappy Erat gone, so is that distraction, although I think Poile wished Erat could have lived with waiting until after the season to settle this.
"I gave him 3-4 opportunities to make sure he didn't feel the grass was greener somewhere else, but that's what he wanted to do," Poile said. "He still felt he wanted to go in another direction. I was prepared to handle this in the summer versus now, but when the young player
[Filip] Forsberg
became available I thought it was the right thing to do."
Caps fallout
Ah, yes, the young player Filip Forsberg, the
Washington Capitals
' first pick -- 11th overall -- in last June's draft.
Judging by social media, Caps fans were none too pleased with seeing the young Swedish center shipped out for Erat and prospect
Michael Latta
.
And yes, perhaps GM George McPhee could have gotten more had he waited until the summer to shop Forsberg fully to the league. You see, I believe the Caps were going to trade Forsberg at some point no matter what, internally souring on the prospect, a player they no longer viewed as a top center in the making.
Scouts I've spoken with have mixed opinions. Some still view him as a top center in the making, at least a No. 2, but others are concerned by his foot speed. The latter is what concerned Washington.
We shall see who has the last word here. Forsberg may make the Caps rue the day they dealt him to Nashville. For that, we'll have to circle back here in three to four years to rekindle this conversation.
In the meantime, here's what happened. McPhee wasn't going into the deadline thinking he would do anything. But Poile phoned him Tuesday and told him that Erat was available and that the Caps were one of the teams to which the player would waive his no-trade clause. From there, the trade conversation took shape, especially when Poile found out Forsberg was on the table.
Most of the reaction around the hockey world has been to pile on Washington in this deal, but I'm not so sure it's such a bad trade. Certainly, I believe the Preds made the best of their situation with a player wanting out and getting a highly rated prospect in return. Poile did a great job.
But this could be a win-win deal. Erat is one of those players who, if he were playing in a bigger market all these years, would be more of a brand name. Fact is, the Preds just traded their top offensive forward to Washington. And unlike
Jarome Iginla
or
Jaromir Jagr
, Erat is not a rental player. He has two more years on his deal ($4.5 million cap hit). The Caps just got a top-six forward for at least two-plus years. Those don't grow on trees.
Now, he has to perform, obviously. If he does, we may look back on this deal as not being quite as terrible for Washington as everyone is making it out to be.
One last note
There was a lot of chatter on social media Wednesday before the Caps trade was announced that perhaps they were in on
Ryan Miller
.
Not true.
Sources in both organizations told ESPN.com that the Caps and
Buffalo Sabres
never spoke Wednesday.
That's certainly not to say Miller won't be moving this summer; that's a story for another day. But in terms of the Miller-to-Washington chatter Wednesday? Just not true.
April, 3, 2013
4/03/13
7:15
PM ET
Washington Capitals
general manager George McPhee said the Capitals had been looking for a top-six forward for a long time, and the fact that the team has suddenly gone from woeful underachievers to vying for a Southeast Division title didn't really factor into his decision to acquire veteran winger
Martin Erat
from the
Nashville Predators
Wednesday afternoon.
Of course, it doesn't hurt that the Capitals, a team that struggled mightily under rookie head coach
Adam Oates
when the lockout-shortened season began on Jan. 19, have closed to within two points of the division lead with two games in hand.
"We weren't going to be sellers," McPhee told ESPN.com Wednesday night after he sent a top prospect, Filip Forsberg, who was the 11th overall pick in last June's draft, to the Predators for Erat and minor league center Michael Latta.
"We've been looking for another top-six forward for right now and for the future," McPhee said. "He fit the bill."
Erat has two more years left on a contract that will cost the Capitals $4.5 million against the salary cap, although the actual money paid is less ($3.75 million and $2.25 million).
The Capitals and Predators had been in discussions about the trade for a few days and McPhee got some inside intelligence on Erat from a former teammate, Washington forward
Joel Ward
.
"I talked to Ward about him and he said great things about him as a person and as a leader," McPhee said.
The Capitals had to give up a talented youngster in Forsberg. But McPhee said that's the cost of making an important addition.
"As long as we continue to draft well we can continue to do [things] like this," he said.
The trade deadline period saw much discussion about the path McPhee and the Capitals would chart. Center
Mike Ribeiro
is slated to become an unrestricted free agent this summer and teams were interested in the talented pivot who would have yielded an attractive package of picks and prospects. But Ribeiro has played well for the Capitals, with 35 points in 36 games, and it's believed the team would like to keep him long-term. No deal was struck by the deadline.
McPhee said he'd prefer not to talk about the amount of interest Ribeiro received from other GMs and said he'd deal with the team's potential unrestricted free agents down the road.
"There were a lot of discussions about a lot of things," McPhee said.
March, 19, 2012
3/19/12
11:41
AM ET
From the NHL's official release:
BRYZGALOV, CRAWFORD AND ERAT NAMED NHL 'THREE STARS' OF THE WEEK
NEW YORK (March 19, 2012) –
Philadelphia Flyers
goaltender
Ilya Bryzgalov
,
Chicago Blackhawks
goaltender
Corey Crawford
and
Nashville Predators
right wing
Martin Erat
have been named the NHL's 'Three Stars'
for the week ending March 18.
FIRST STAR – ILYA BRYZGALOV, G, PHILADELPHIA FLYERS
Bryzgalov posted a 3-0-1 record, 1.44 goals-against average, .950 save percentage and one shutout as the Flyers (42-22-8, 92 points) earned seven out of a possible eight points. He began the week by making 17 saves for his third consecutive shutout in a 3-0 win against the
New Jersey Devils
March 13. Bryzgalov extended his career-best shutout streak to 249:43, a Flyers franchise record, before allowing a goal with 6:30 remaining in a 3-2 victory at the
New York Islanders
March 15. He then made
31 saves in a 3-2 shootout loss at the
Boston Bruins
March 17 and 38 stops in a 3-2 come-from-behind victory against the
Pittsburgh Penguins
March 18.
The 31-year-old netminder has reached 30 wins for the third straight season and has a 2.49 goals-against average, .911 save percentage and six shutouts in 53 appearances.
SECOND STAR – COREY CRAWFORD, G, CHICAGO BLACKHAWKS
Crawford had a 3-0-0 record, 1.09 goals-against average and .948 save percentage as the Blackhawks (40-25-8, 88 points) improved to 7-1-1 in their last nine games. He stopped all 18 shots he faced in 45 minutes of relief and denied all three challengers in the shootout as Chicago earned a
4-3 come-from-behind victory against the
St. Louis Blues
March 13. Crawford then closed the week by making 21 saves in a 4-1 win at the
Dallas Stars
March 16 and 16 stops in a 5-2 victory against the
Washington Capitals
March 18. He improved to 25-16-5 with a 2.83 goals-against average and .902 save percentage in 49 appearances.
THIRD STAR – MARTIN ERAT, RW, NASHVILLE PREDATORS
Erat led the League with seven points (two goals, five assists) in four games as the Predators (42-22-8, 92 points) leapfrogged the
Detroit Red Wings
for fourth place in the Western Conference. He recorded one goal and two assists in a 5-4 shootout win at the
Phoenix Coyotes
March 12 and collected one helper in a 2-1 shootout loss at the
San Jose Sharks
March 15. Erat then tallied a goal and an assist in a 4-2 defeat at the
Los Angeles Kings
March 17 before closing the week with an assist in a 3-1 victory at the
Anaheim Ducks
March 18. The Trebic, Czech Republic native leads Nashville with 38 assists and 56 points in 64 games, and is on pace to establish career highs in both categories.