Cross Checks:

Martin Havlat
November, 22, 2013
11/22/13
1:37
PM ET
Star netminder
Pekka Rinne
(hip) is scheduled to have an MRI in the next 10 days, which may be the tipping point as to whether the Predators act on a trade for another goalie.
If the news is good, perhaps they hold tight given the recent play of 22-year-old rookie
Marek Mazanec
(three straight wins entering the weekend). But if they get news that Rinne will be out even longer, word is the Preds may have to return some phone calls. Heck, even if they get good news, Rinne is still out for at least a few more weeks, so I wonder if they don't act on a trade anyway.
As reported last week, the Preds and Ducks have talked about
Jonas Hiller
, and Nashville GM David Poile has spoken to other teams as well.
The Ducks are loaded in goal throughout the organization.
Frederik Andersen
proved earlier this season he was ready for prime time by going 6-1-0 with a .943 save percentage during a call-up while
Viktor Fasth
was injured. Meanwhile, 20-year-old American stud John Gibson entered the weekend with a 1.99 GAA and .940 save percentage in the AHL. So whether it's through making a move with Nashville or not, a goalie logjam in Anaheim needs addressing at some point over the next year. But since the Ducks announced Saturday that Fasth will be out another three-to-four weeks, one assumes any trade talks involving Hiller are on hold.
Michal Neuvirth's name has been bandied about this season, as the Czech netminder is perhaps open to a trade so he can push for a No. 1 job elsewhere after losing out in Washington to
Braden Holtby
. But what I'm hearing is that GM George McPhee has no intention to move him this season unless it's a deal that knocks him over (think top-four defenseman, at least). The Caps like their one-two depth in goal and don't want to mess with it.
FRONT-OFFICE COMPENSATION
Once again, there is growing support among some NHL team executives to bring back compensation when front-office personnel leave for promotions on other teams.
I
wrote about this in March 2012
, and the subject is once again gaining steam among a group of GMs and other team execs.
NHL commissioner Gary Bettman abolished the practice of compensation for teams losing front-office personnel in the wake of Peter Chiarelli's controversial promotion from the assistant general manager of the Senators to GM in Boston in the spring of 2006. The two teams quarreled over the proper compensation.
Starting with the 2006-07 season, there was no longer any compensation. If you allowed someone to accept a promotion elsewhere, so be it; you got nothing in return.
But there is once again a push to revisit that.
For years, Brian Burke (now president of hockey operations in Calgary) has pushed the league on this, and other GMs such as Ray Shero, Ken Holland and David Poile have voiced their support on the issue.
Is it fair for the Penguins to lose Chuck Fletcher and Mike Yeo to Minnesota and get nothing in return? Same goes for the Red Wings, who put GMs in Tampa (
Steve Yzerman
) and Dallas (Jim Nill) and a head coach in San Jose (Todd McLellan) but got nothing back?
As one Eastern Conference team executive told ESPN.com on Friday, if you're spending years developing front-office or coaching personnel, you should be compensated for their loss, just like you would when trading a player that you've developed.
For example, if the
Buffalo Sabres
soon snatch an assistant GM from another team and make him their new GM, shouldn't that team get a draft pick or something in return?
Seems fair to me.
In an email exchange Friday, NHL deputy commissioner Bill Daly told ESPN.com that the league's "position on the subject has not changed."
Still, expect these team execs to continue to bring it up with the NHL head office in an effort to get Bettman to change his mind on the matter.
HAVLAT'S FUTURE
It's going to be intriguing to see how things roll out in San Jose concerning the future of 32-year-old winger
Martin Havlat
.
GM Doug Wilson came out in the local newspaper this week and talked about Havlat having to earn his ice time on a team loaded with forwards.
The veteran GM is certainly right, when you're talking about a team that can dress the likes of
Logan Couture
,
Joe Thornton
,
Patrick Marleau
,
Brent Burns
,
Tomas Hertl
,
Joe Pavelski
,
Tommy Wingels
(who scored twice Thursday night),
Tyler Kennedy
and rookie Matthew Nieto. And don't forget at some point this season
Raffi Torres
will return from injury.
It's a crowded group.
Havlat's agent, Allan Walsh, hit Twitter in the wake of a report linking his client to trade rumors to remind everyone of the most important thing: Havlat has a full no-movement clause.
Which is to say he isn't going anywhere unless he wakes up one day and feels like a change of scenery. Right now, Havlat is happy in San Jose, Walsh said.
The question now: How long will he remain happy if his ice time and role remain limited?
He was a healthy scratch last week, played on the fourth line last weekend in Chicago then got put back on Pavelski's third line Thursday night in a 5-1 win over Tampa, playing 16:08 but not registering a point.
He has one goal and one assist in nine games entering the weekend.
Even if Havlat has a change of heart and gives Wilson the green light to shop around, the fact that he has another year on his deal paying him $6 million in salary next season ($5 million cap hit) is a bit of an anchor given how banged up the winger has been the past few seasons, which has limited his effectiveness.
Mind you, as we saw with the
Kris Versteeg
deal where Florida ate half of his remaining contract, there are devices in the new collective bargaining agreement that allow San Jose to be creative if ever the Havlat camp decided it's time to explore the market.
This is probably as healthy as he's been in a year, so perhaps the next few weeks will show us the Havlat of old which much pique the interest of other teams.
Also, there is no doubt Havlat is mindful of the fact that, regardless of his diminished role with the Sharks, he's on a team that has a serious shot at winning a Cup, something he's never done in his career.
Finally, it's worth noting that Wilson and Walsh have had a close relationship over the years.
Wilson, by the way, has a history of treating players well in these situations. When veteran center
Michal Handzus
looked for a change of scenery last season, Wilson dropped him in Chicago, where the Slovak center picked up a Cup ring. Thank you very much.
May, 21, 2013
5/21/13
4:23
PM ET
SAN JOSE, Calif. -- Both the
Kings
and
Sharks
were mulling lineup decisions Tuesday morning after the pregame skates.
For Los Angeles, coach Darryl Sutter would not confirm whether winger
Kyle Clifford
would return for Game 4 on Tuesday night.
"There hasn't been any announcement that I'm aware of that he's coming back," Sutter said when asked about Clifford.
Clifford, who has been out since May 8 with an undisclosed injury, skated on a line with
Colin Fraser
and
Brad Richardson
in practice Monday and sounded afterward like he thought he was playing.
But this is the playoffs, and gamesmanship with lineups is a daily activity.
On defense, veteran
Matt Greene
-- who played in only five games in the regular season after missing two months recovering from back surgery -- hasn't played in the postseason, although he did take warm-ups before Game 3.
Sutter was asked Tuesday morning what it would take for him to feel comfortable playing Greene, who was a key last spring in the Kings' Cup run.
"We had him in warm-up the other night, and that's the direction you go," Sutter said. "Practice, contact, game-day skates, warm-up, that's always what you try and do. You're more inclined with veteran guys ... there's young guys that you have to push; the difference between injured and hurt, that's something you have to explain sometimes. But with the older guys, the veterans, guys that you trust, there's a point where they make that decision because they know what it takes."
For San Jose, the re-injured
Martin Havlat
and the suspended
Raffi Torres
leave the Sharks with few options for their lineup ahead of Game 4.
Expect
Tim Kennedy
as a fourth-line center or
Jason Demers
as a seventh defenseman/fourth-line winger. The latter seems more likely.
"Still an option for us," Sharks coach Todd McLellan said. "We can put Demers in and play him both at forward and the back end, and rotate him around. That would allow us to maybe overplay or use someone else on the fourth line a little bit more, whether it's Jumbo or Patty or whoever it might be. So it's certainly an option."
Demers said Tuesday morning that he was told by the coaching staff simply to be "ready" in case he gets the call. Demers did play some forward three years ago in the conference finals against the
Chicago Blackhawks
, so it's not foreign to him.
But McLellan dismissed the notion that because the Sharks have had success with
Brent Burns
moving from defense to forward, perhaps they can get lucky with Demers as well.
"No, it's two completely different cases," McLellan said. "We can't get into making this a habit. Burnsy has played there before, he's played well there before. Jason has played up in some games when we've needed forwards, but Burnsy is a separate case, a special case."
Quick contact
Sutter on Monday said he had some concern that his goaltender came into more contact with opposing players in Game 3 than did San Jose's goalie.
That's a veteran coach's way of getting the attention of referees before Game 4, hoping officials will call goalie interference when applicable.
"He plays on top of the crease," Sutter said Tuesday of Quick when asked about his concerns. "I'm not whining or bitching or anything, but it's just that he plays on the top of the crease, and the last two series we play against goalies who play more in the blue paint. So, what is the rule?"
The Sharks absolutely want to continue to get into
Jonathan Quick
's face as much as possible.
"Within the rules, you want to get into his way," Sharks winger
T.J. Galiardi
said. "I think with him, he wants to come out to the ringette line. If he comes out that far, I wish he was fair game. That would be great if that's how it worked because he's out all the time. He's doing just as much as we are, little jabs here and there. He gave his blocker to the face of Burnsy. ... But we're going to get in there. You can't let him be comfortable."
Kopitar line
Sutter on Sunday essentially called out his top line, saying the Kings needed more production from
Anze Kopitar
,
Dustin Brown
and
Justin Williams
.
"We know that," Kopitar said Tuesday morning. "We take pride in our production and our game and it's not to a level where we need to be. We're going to have to crank it up."
May, 17, 2013
5/17/13
9:08
PM ET
SAN JOSE, Calif. -- One player who would certainly help the
San Jose Sharks
in their bid to crawl out of an 0-2 series deficit is
Martin Havlat
.
But the Sharks need a healthy Havlat.
"That's a Marty, Mother Nature and trainers' decision," Sharks head coach Todd McLellan said Friday. "I can't speed any of those up as a coach. I hope that one day soon, he comes knocking on my door and he tells me he's ready to go, because we could sure use him."
The Czech winger, who hasn't played since leaving early in Game 1 of the Vancouver series with a lower-body injury, skated again Friday.
"I'm getting better, we'll see how it goes tomorrow morning," Havlat said.
Is there a chance for Game 3 Saturday night?
"We'll see," said Havlat. "We'll see how it feels tomorrow. It's getting closer and closer."
Meanwhile, winger
Adam Burish
, who's been pronounced out for the second round with a broken hand, remains hopeful he can beat that prognosis and come back against the Kings. Burish is set to see a hand specialist Saturday to assess his progress.
More Torres talk
Suspended Sharks forward
Raffi Torres
skated Friday and was in the dressing room afterwards as media interviewed other players, but he was not speaking to reporters on this day.
His teammates were, though.
"He's a great teammate and a wonderful guy," said
Scott Gomez
. "We want him to play. It's our job to get it to the next round so he can play."
Kopitar nicked up
Kings head coach Darryl Sutter gets the prize for the line of day when discussing
Anze Kopitar
and the repair work Kopitar needed after taking a puck in the face in Game 2.
"Well, he finally gets some stitches in his face, there goes the modeling career and the best-looking Slovenian athlete (distinction)," quipped Sutter.
As Sutter said, Kopitar's tenacity -- only missing a few shifts Thursday night while getting sewn up -- just shows you what this sport is about.
"Hockey players are different from other athletes," said Sutter. "They get hit in the face, they go in and get sewed up and they come back. Very seldom in 30-some years have I seen a player that doesn't do that. Spit your teeth in your hands and give 'em to your coach."
• The Kings practiced in Los Angeles on Friday before flying out to San Jose.
April, 13, 2012
4/13/12
10:03
AM ET
Oh, this is why we traded for that guy:
Martin Havlat
missed half the season after coming over last summer in a trade from Minnesota. It's not a deal (for
Dany Heatley
) that paid dividends early on for the Sharks. But with 28 points in his last 26 playoff games entering these playoffs, the point of it all was for San Jose to gain from his habit of rising to the occasion in the postseason. Um, good start. Havlat's two goals, including 3:34 into double overtime, led San Jose to a 3-2 Game 1 win in St Louis, fortifying his playoff reputation.
-- Pierre LeBrun
The night of the Martins:
Martin Hanzal
did the trick as the Coyotes clipped the Blackhawks 3-2 in OT.
Mike Smith
stood on his head -- parlance for "he played well" -- as the higher-seeded Coyotes rolled at home. Dog days are not over, thank you very much, Florence.
In other OT news ...
The Bruins struck quickly in OT,
Chris Kelly
firing home the winner with the Zamboni sauce still drying.
Tim Thomas
was sold for the B's in a duel with
Braden Holtby
, whom Thomas praised. Good to see Thomas return to pumping tires again.
Meanwhile, in Gotham:
The Rangers, completely disregarding talk that they might be upset, wiped the rink with the Senators in a 4-2 win. Score was closer than the game indicated, blah-blah-blah. Don't be surprised if the Senators bounce back with a big game Saturday night. The NHL playoffs are funny like that.
April, 13, 2012
4/13/12
9:36
AM ET
By
Elias Sports Bureau
| ESPN.com
•
Martin Havlat
's second goal of the game earned the Sharks a 3-2 double-overtime win in the opening game of their series against the Blues. All seven of the Sharks' playoff series openers over the last three years have been decided by a one-goal margin, including three in overtime. In fact, 13 of San Jose's last 15 Game 1s were one-goal games (six went to OT), and the two games that didn't fit the pattern were 2-0 final scores.
• The Bruins' victory against the Capitals marked only the eighth time in NHL playoff history that a team posted a 1-0 overtime win in the first game of a playoff series. It was the second such win by the Bruins, who posted a 1-0 double-overtime victory in Game 1 of a best-of-five series against the Maple Leafs in 1935.
Chris Kelly
's goal 78 seconds into overtime gave the defending Stanley Cup champion Bruins a 1-0 win in their 2012 playoff opener against the Capitals. Kelly's name in the goal column of the scoring summary was a guarantee of a Bruins victory during the regular season. Boston won all 18 regular-season games in 2011-12 in which he scored. Kelly's 20 goals this season made him the only one of the 246 NHL players with a double-figure goal total in the 2011-12 campaign who scored all of his goals in games his team won.
• The Bruins, Sharks and Coyotes all won in overtime on Thursday. It marked the first time since April 18, 2001, that 3 NHL playoff games went into overtime on the same day.
• The Rangers' top three goal scorers during the regular season,
Marian Gaborik
(41 goals),
Ryan Callahan
(29) and
Brad Richards
(25), each scored a goal in the Blueshirts' 4-2 victory in Game 1 of their first-round playoff series against the Senators. Gaborik, Callahan and Richards scored goals in the same game only twice during the 2011-12 season: Oct. 29 versus Ottawa and Nov. 29 against Pittsburgh.
November, 10, 2011
11/10/11
3:07
PM ET
We are trained to look for winners and losers when teams make big trades, but the Minnesota Wild and San Jose Sharks may just be winners in the moves they made together this past offseason.
Three trades involving big names between the two clubs from June to August seem to be helping. The Wild and Sharks were a combined 16-7-4 heading into Thursday night's meeting between the two teams at HP Pavilion.
"This is the way deals should work," Sharks GM Doug Wilson told ESPN.com on Thursday.
"I truly believed both teams could benefit from these trades, and certainly early on it appears both teams have," Wild GM Chuck Fletcher told us.
[+] Enlarge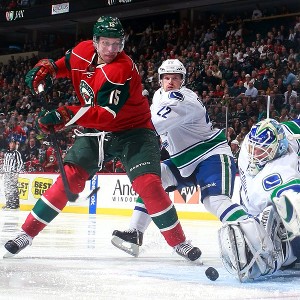 Bruce Kluckhohn/Getty ImagesDany Heatley leads the Wild with 10 points in 14 games.
Let's review the moves:
• On June 24 before the first round of the NHL draft in Minnesota, the Wild sent star blueliner Brent Burns to San Jose in exchange for winger Devin Setoguchi, prospect Charlie Coyle and a key piece: a first-round pick that night (which became center Zach Phillips from Saint John of the QMJHL).
• On July 3, the Wild and Sharks exchanged star wingers with Martin Havlat going to San Jose and Dany Heatley heading to Minnesota.
• On Aug. 7, Minnesota traded injured forward James Sheppard to San Jose in exchange for a third-round pick in 2013.
From San Jose's perspective, the moves were meant to inch the Sharks closer to a Stanley Cup after back-to-back conference finals appearances. In Burns, they acquired the marquee top-four blueliner they craved (one that's going to be around for a long time). In Havlat, they got a winger with more speed than Heatley, an element that was lacking last season. And although Havlat missed the first four games of the season with a shoulder injury, he is easing his way back into form.
"To get that type of defenseman at 26 is very rare, so that's why we felt we had to be aggressive," said Wilson.
So far, so good; the Sharks look locked and loaded for another spring run.
"You can't underestimate the roles of Joe Pavelski and Logan Couture in all this, and our belief that they could take on bigger roles this season," said Wilson. "Plus, we added Michal Handzus for the third line, which was important."
The trades were a little trickier from Minnesota's perspective. The Wild were coming off another disappointing season, the third straight without a trip to the playoffs. Something big had to be done. The intent was to get better now, but also for the future. That was a more difficult challenge, but Fletcher pulled it off.
"I thought we were treading water, at best," Fletcher said of his frame of mind late last season. "In order to compete, both in the short and long term, we needed to make moves."
The Burns deal netted him a lot of future assets, plus an immediate impact winger in Setoguchi.
"By trading Brent Burns, who was clearly our most marketable commodity, and a great player, we got the opportunity to get three young, quality assets for one player, and we felt in our position we had no choice to make that deal," said Fletcher.
It surprised no one that the Wild traded Havlat; it was a move both the player and team were happy to support. The Czech winger just never fit in well in Minnesota, and after his agent publicly complained about his ice time under former coach Todd Richards last season, you knew his future with the Wild was in doubt. Heatley didn't have a strong postseason with the Sharks, so they were willing to move him if it meant upgrading their speed on the wings.
"It's not often you trade a 30-year-old All-Star, left shot, right-winger for a 30-year-old, left shot, right-winger," Fletcher said with a chuckle. "It was purely a hockey trade."
Heatley had balked at a trade to Edmonton a few years ago after asking for a trade out of Ottawa, but Fletcher knew the winger was OK with Minnesota.
"I had discussions with [Senators GM] Bryan Murray a few years ago about Heatley and there was never any suggestion at that point that it would be an issue if there were a trade with Minnesota,'' said Fletcher.
In the end, both clubs addressed their needs; and in a salary-cap era when trades are more difficult to pull off, hats off to both GMs for finding a way.
"I have great respect for Chuck," said Wilson. "He shared his position with us and what he was trying to accomplish. He was very open about it. These deals helped both organizations."
Heatley leads the Wild in scoring with 10 points (5-5) in 14 games.
"He's worked hard, he's a plus player, we're seeing a player that's getting more and more comfortable with each game and he's starting to get more and more scoring chances and starting to get more and more chemistry and cohesion with his linemates, which now are Mikko Koivu and Guillaume Latendresse," said Fletcher. "I fully expect once we get to the 20-25 game mark, he'll be an even more comfortable player than he is now.'"
Overall, however, the Wild still only rank 26th in the NHL in goals per game. Their winnings ways are largely from their second-best defensive record.
"We expect more and we need more from out top two lines on a consistent basis," said Fletcher. "The biggest issue so far has been the power play [ranked 25th]. I liked what I saw Tuesday night in Calgary, but our power play overall has been below average. We're going to need to score more goals to continue to compete with the best teams in the West. No question."
September, 21, 2011
9/21/11
11:44
PM ET
SAN JOSE, Calif. -- In the summer of 2009, Czech star winger Martin Havlat could see what everyone else saw while with the Chicago Blackhawks: a team seriously on the rise and ready to challenge for the Stanley Cup.
But when talks failed to yield a new contract between Havlat and the Hawks, former GM Dale Tallon stunned the player and the rest of the hockey world by turning around and inking Marian Hossa instead.
See ya later, Martin ... don't let the door hit you on the way out.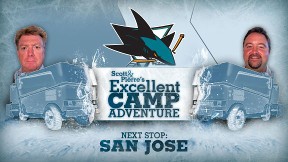 ESPN.com Illustration
Then, his agent, Allan Walsh, got him a lucrative deal in Minnesota, but you can imagine Havlat's tortured soul a few months later when his former team in Chicago delivered on that Cup. That's why, when the Wild came calling this offseason, asking him to waive his no-trade clause for a move to a perennial contender in San Jose, it was a no-brainer.
"The Sharks have been one of the best teams in the league the last two years," Havlat told ESPN.com on Wednesday at the club's practice facility. "They've gone to the conference finals the last two years; it's not easy to do that. They're hungry to win here. There's a lot of great players, and I'm excited to be part of it."
Almost anything would be more exciting than what he went through in Minnesota. He just never quite fit in there. He wasn't on the same page as then-Wild coach Todd Richards. It just wasn't working.
Swapping spots with Dany Heatley in the trade, Havlat appreciates the chance at another shot with a Cup contender. This time, Havlat wants to be around for the ride.
"I play hockey to play in the playoffs," Havlat said. "The last two years were disappointing because we didn't make the playoffs. I was done in April, and that's when the most fun starts for some of the fortunate teams. At least I want to have a chance to battle for the Cup, and I hope to get that here."
Havlat and blueliner Brent Burns headlined another busy offseason for Sharks GM Doug Wilson, who hasn't been all that content with back-to-back conference finals appearances. Wilson had targeted Burns a while back before finally being able to sign him and fill what he believed was a long-standing need: another top-four blueliner and talented puck-mover who will help ease the minutes burden on Dan Boyle.
Havlat became part of the equation once Wilson had to pay up with Devin Setoguchi to get Burns. The Sharks believed they needed to replace Setoguchi's speed in their top six. Enter Havlat.
Sharks coach Todd McLellan plans to use that speed on the second line alongside Logan Couture and Ryane Clowe. That's a heck of a second line, at least on paper.
"That's the plan, but Plan A doesn't always come to fruition," McLellan told us Wednesday. "But we'd like him to move there. We like the years Clowe and Logan had, and those two feed off each other. There's a good combination. To add Havlat's speed and puck skills would be a nice addition on that line."
Havlat's ice time and role with the Wild were at times contentious issues, but the second-line assignment in San Jose with Couture and Clowe looks appealing to Havlat.
"I've been practicing with them the last few days," Havlat said. "Those two guys are great players. The whole lineup is full of skilled players. Whoever I'm going to play with, hopefully I'll fit in. It's up to the coach."
First, the Sharks have to get Havlat healthy. He's still recovering from offseason shoulder surgery, and while he's been practicing in camp, he's been wearing the orange no-contact jersey.
"I'm getting better every day," Havlat said. "I'm just trying to get stronger. This is where it was supposed to look right now. I hope to be ready soon."
Ready for the season?
"We'll see; we'll take it step by step," Havlat said. "Working on it every day."
McLellan is hoping Havlat will be ready, but can't force the healing process.
"The fortunate thing is that he's been able to take part in practice to the extent where he understands what we're talking about and gets to know his teammates," the coach said. "Just the physical part isn't there yet."
Havlat was tremendous during his last season in Chicago; the bigger the game, the more clutch he was. That's what the Sharks are counting on. But his recovery is a reminder of the list of injuries Havlat has had to battle in his career.
"We just got to keep him healthy," Boyle told ESPN.com. "He's had a few rough years where he's been injured. If we can keep him healthy, he's one of those guys that can make things happen. He kind of got lost in Minnesota the last few years, but I remember when he was in Ottawa. He was one of the most dynamic players in the league, and we're looking forward to seeing that again."
August, 9, 2011
8/09/11
12:27
PM ET
Some players will face comparisons to each other for their entire careers. See Sidney Crosby and Alex Ovechkin. Whether it is goals scored, trophies received or games won, you can't mention one without the statistics for the other guy quickly following. And most people have a strong opinion about who is better.
Other comparisons are brought on by playoff battles, trades or whether or not one goalie remembers to pump the other guy's tires.
But now is time for you to make the call. We picked the matchups, now you tell us: Which player will have a better season?
Previous results: Art Ross Trophy? » Stanley Cup winner? »
Conference champions? » East divisions? » West divisions? »
Which player will have a better season?
---
---
---
---
July, 13, 2011
7/13/11
12:59
PM ET
That discussion about Winnipeg being destined for a revamped Central Division for the 2012-13 season? Better cool your, er, Jets.
Despite Minnesota Wild owner Craig Leipold's assertions to a local radio station earlier this week that the realignment question has been all squared away and the Winnipeg Jets would join the Wild in a new Central Division, the relocation issue is far from being resolved.
An NHL source told ESPN.com on Wednesday it was premature to suggest any decisions have been made on how the NHL will look a year from now. Multiple sources have also told us the relocation of the Atlanta Thrashers to Winnipeg will give the NHL an opportunity to rethink its entire structure, so the realignment question will not be resolved until all parties have had their say.
Our colleague Pierre LeBrun previously reported the NHL will take advantage of the Thrashers' relocation and consider paring down from six divisions to a four-division, two-conference set-up that would make it easier to install a balanced schedule.
Regardless of where teams land, the realignment decision promises to be an emotional one.
Detroit and Columbus are both itching to move to the Eastern Conference, while Nashville would also welcome a move from the West given its onerous travel schedule and the difficulty in garnering fans for late-night games on the West Coast.
It's hard to imagine the Wings moving to the East given how strong a draw they are throughout the Western Conference; there is also the issue of competitive balance given that the Jets will almost certainly continue to be a marginal team for the foreseeable future.
Most Eastern Conference teams would be opposed to a Jets-for-Wings swap since the Wings are a perennial powerhouse and would make the road to a playoff spot even more difficult.
Selling points
While the Phoenix Coyotes' ownership situation remains status quo (that is to say, it remains a mess with no end in sight), their former suitor is definitely moving on.
Matt Hulsizer has visited with St. Louis Blues principal owner and chairman Dave Checketts about purchasing the Blues, a source confirmed to ESPN.com.
Nothing is imminent regarding a sale of the Blues, whose ownership situation has been in limbo for some time.
According to a report from the St. Louis Post-Dispatch, Hulsizer isn't the only party interested in buying the team. The chairman of Game Plan LLC, the group handling the sale of the Blues, told the newspaper that there are "five very interested parties."
But with Hulsizer moving on and exploring other NHL opportunities, one wonders if there isn't a lot of second-guessing going on in Glendale. Hulsizer's last proposal to local leaders was to purchase the controversial municipal bonds that were key to a new lease agreement between him and the City of Glendale. That proposal would have put an additional $5 million in the city coffers, a source confirmed to ESPN.com.
But city officials weren't interested -- or, at least, key city officials weren't interested -- and Hulsizer and his more than $100 million in cash may now be headed to St. Louis.
The Blues are in a vastly superior place in terms of the marketplace after rebuilding their relationship with the fan base but are not quite there yet in terms of the on-ice product. It is pretty much the opposite of what Hulsizer was looking at with the Coyotes.
The surprising Heatley-Havlat deal
Of all the interesting, some might even say curious moves this offseason, none is as surprising as San Jose's move to trade Dany Heatley to Minnesota for Martin Havlat.
This is no question a risk for both teams as both players carry significant baggage.
Havlat has battled injury and never quite lived up to the significant talent he possesses. The big winger had just 22 goals this past season, although the drop from the 29 he scored in 2008-09 might be attributed to a decline in ice time and power-play opportunities. (Of course, these are all chicken-and-egg issues; did Havlat see less ice time because he was less productive, etc.?) Regardless, Havlat will be given top-six ice time in San Jose. It will be a major disappointment to GM Doug Wilson if Havlat doesn't get back to the 30-goal vicinity given the talented cast surrounding him. This is all assuming he stays healthy, of course.
Heatley is likewise hoping to rebound after a season that saw his goal production drop to 26 from 39. That was followed by another mediocre playoff performance as the Sharks bowed out in the Western Conference finals for the second straight postseason. While Heatley's health may have been a contributing factor in his playoff performance, he was essentially a third-line winger for the talented Sharks. He will now see his profile jump considerably in goal-starved Minnesota, where his 26 goals would have led the team in the past few seasons.
Heatley is now on his fourth NHL team in less than 10 years of NHL play. Along with former Sharks teammate Devin Setoguchi (he was sent to Minnesota in a separate deal), Heatley will be expected to invigorate a moribund power play and re-energize a fan base that has grown weary of mediocrity.
Setoguchi and Heatley donned their Wild jerseys for the first time this week, and GM Chuck Fletcher said he has no concerns about Heatley's declining production or about his past issues in asking to be traded from Atlanta and later from the Senators. We said this three summers ago when Heatley forced his way out of Ottawa to San Jose, but maybe this is where the talented winger finally gets it right (the Wild are certainly banking big time that it is).
What about McCabe?
Let's be fair, the free-agent pickings left on the table are, well, pretty slim. But the one name that jumps out at us is defenseman Bryan McCabe.
He may never approach his high-water mark as a member of the Toronto Maple Leafs in 2005-06 when he was a late add to the Canadian Olympic team; but he is a big body with a big shot and we still can't quite figure out why he hasn't been signed by someone like, say, the New York Islanders.
No team has as far to go to get to the salary cap floor of $48.3 million as the Islanders ($10.45 million according to CapGeek.com as of Tuesday).
The Islanders are an interesting group given their emerging young talent that includes rookie of the year nominee Michael Grabner and former No. 1 overall pick John Tavares. With Mark Streit returning from a season-ending injury, McCabe might be an interesting complement on a back end that needs to improve if the Isles are going to jump back into the playoffs for just the second time since the lockout.
March, 25, 2011
3/25/11
6:15
PM ET

Stock up
Joe Pavelski, San Jose Sharks: The Sharks appear to be peaking at just the right time, having lost just twice in regulation in their past 18 contests. Up front, Patrick Marleau is scoring in bunches, but what about Pavelski, who has collected an incredible 17 points in his past six games? If depth down the middle is an indicator of Cup worthiness, the Sharks have it. And if Pavelski keeps up this pace, the Sharks may finally be ready to extend that spring run into June, a run Sharks fans have been waiting for since the lockout.
Mike Knuble, Washington Capitals: Speaking of teams ramping it up for the playoffs, how about the Washington Capitals? They have won 11 of 12 games, are running away with the Southeast Division and now have an outside shot at the top seed in the Eastern Conference for the second straight season. With captain Alex Ovechkin resting an injury for a week or so, heart-and-soul veteran Knuble has stepped up with five goals and three assists in his past five games. Knuble has now hit the 20-goal plateau for the eighth straight season, only the fifth active player to do so.

Stock down
Scott Gomez, Montreal Canadiens: We know Gomez is more of a playmaking center than a sniper, but still, it might be nice if he scored once in awhile. Gomez has gone 22 straight games without a goal; that's just not cutting it, especially given that the offensively challenged Habs have now been shut out twice in a row, including Thursday's embarrassing 7-0 loss in Boston. Gomez has chipped in just eight assists over that 22-game span and has not had a multipoint game since Jan. 21. It'll be one and done for the Canadiens unless they can get some depth scoring, and that means Gomez will have to step it up.
Martin Havlat, Minnesota Wild: Another disappointing finish to the season for the Minnesota Wild, who will miss the playoffs for the third season in a row. That's what happens when you lose seven straight in late March and manage to score just nine times over that period. There is a lot of blame to go around in the State of Hockey, but Havlat's drop-off in production was certainly a big factor. Havlat, the team's leading scorer, has gone seven straight without a goal and has just one in his past 11 games.
January, 7, 2011
1/07/11
11:32
AM ET
Check out Tuukka Rask's amazing save on Minnesota's Martin Havlat from Thursday night. (Havlat and the Wild would have the last laugh in a 3-1 win over the Bruins.)
Check out other great videos at our YouTube channel.