Cross Checks:

Marty Turco
February, 9, 2012
2/09/12
2:44
PM ET
1. Parenteau's future with Islanders
One of the great off-the-radar stories this season has to be the blossoming of New York Islanders forward
P.A. Parenteau
into one of the game's premier setup men. He was drafted in the ninth round of the 2001 entry draft by the Anaheim Mighty Ducks; since then, the "Mighty" has been excised from that franchise's name and the ninth round of the draft no longer exists.
Though the Ducks gave up on Parenteau, as did the
Chicago Blackhawks
and the
New York Rangers
, Parenteau never lost the faith. In fact, he surmised that his strong play while marooned in the American Hockey League by the Rangers might have actually been the catalyst to what has been a breakout season for him with the Islanders.
Signed by the
New York Islanders
as a free agent in July 2010, Parenteau didn't get a chance to play top six minutes or get much of a sniff on the power play until coach Jack Capuano took over for Scott Gordon early in the 2010-11 season. Capuano had been the head coach of the Isles' AHL affiliate in Bridgeport, Conn., and Parenteau admitted he'd always managed to light it up against them while toiling for the Hartford Wolf Pack.
"I think [Capuano] knew what I could do. There was a pretty good rivalry there," Parenteau told ESPN.com this week.
After collecting 20 goals and 53 points a season ago, Parenteau has become almost a point-a-game guy this season with 11 goals and 47 points in 52 games. His 36 assists are fifth in the league.
An amiable sort, Parenteau said he never doubted his ability to contribute at this level, even though his path has been dotted by more than a few road blocks.
"It's been a long road," he said. "But I'm a pretty confident guy."
Obviously getting a chance to play with guys such as
John Tavares
, also a good friend of Parenteau's, and
Matt Moulson
hasn't hurt.
"When I make a nice play around here, it doesn't get wasted," Parenteau said.
Now here's where it gets interesting for the Isles, who this week signed forward
Frans Nielsen
to a four-year contract extension worth $11 million. Nielsen has 25 points, or roughly half those collected by Parenteau, who is slated to become an unrestricted free agent July 1. Sources familiar with the negotiations say that the team has yet to begin discussions about extending Parenteau, but with the Islanders crawling back into the edge of the playoff discussion in the Eastern Conference (they are in 11th place in the conference, nine points back of eighth-place Ottawa with four games in hand), it's hard to imagine GM
Garth Snow
won't make getting Parenteau under contract a top priority. Similarly, it's hard to imagine Snow letting Parenteau walk away for nothing on July 1.
For the record, Parenteau likes it on Long Island and, all things being equal, would prefer to stay.
"I really like where this team is going now," he said.
2. Jackets deal with Prospal
The
Columbus Blue Jackets
, already trying desperately to rid themselves of the giant mistake that is
Jeff Carter
, curiously opted to re-sign veteran forward
Vinny Prospal
to a one-year deal, apparently promising to give Prospal a job with the organization when he retires. Prospal will turn 37 years old next week, and one wonders if he can coach or learn to be a GM in short order, given those seem to be the team's most pressing needs.
Whether Prospal is a galvanizing force in the dressing room -- that's the logic being floated by management for the extension -- one wonders where that leadership has been this season as the Blue Jackets have been an embarrassment from day one. Beyond that, how does it make any sense to commit $2.5 million of cap space to a forward whose production will likely max out at 20 goals (he has nine this season through 53 games)? Prospal would have drawn some interest on the trade market, given the dearth of forwards with playoff experience who are likely to be available by Feb. 27 (he has 65 postseason games to his credit with 35 points collected). So why the hurry to sign a guy who apparently likes it in Columbus? Why not try to gather an asset or two (goodness knows the talent-challenged Blue Jackets can use all the help they can get even if it was a third or fourth-round pick) and then re-sign Prospal in the offseason? In the end, we wonder what the new GM in Columbus will think of this deal, and we're guessing not much.
3. Flames plan for postseason
When Calgary GM Jay Feaster acquired
Mike Cammalleri
last month for
Rene Bourque
, there were a number of arched eyebrows as the Flames added salary at a time when many observers were waiting for the team to wave the white flag and start trying to unload expensive pieces of machinery. But Feaster has remained steadfast in his belief that the Flames are a playoff team, and it was important to him to add a piece he thought could help the team as early in the process as he could.
Cammalleri's addition illustrates the often ignored truth of deadline deals, that no matter how good the player is there is a period of adjustment to a new team, new system and new teammates. Since arriving, Cammalleri has produced just two goals and an assist in nine games. That's the reality. By adding Cammalleri early on, though, as well as center
Blair Jones
-- who the team had coveted for a number of years -- Feaster said he is hoping that those players will be fully integrated into the Flames' program if they make it to the playoffs, and thus more effective when it counts.
It was the same philosophy the former Tampa GM used when he made his lone roster move during the 2003-04 season, adding veteran defenseman
Darryl Sydor
on Jan. 27, 2004. It took Sydor time to blend in with the up-tempo Lightning -- we recall former assistant coach Craig Ramsay talking about Sydor's painful learning curve when it came to head coach John Tortorella's demanding practices -- but it turned out to be an important piece to what would become a Stanley Cup puzzle in Tampa.
"He became the veteran voice on the blue line that we didn't have," Feaster said.
The current edition of the Flames isn't to be confused with the 2004 Lightning, and Feaster knows that. The Flames aren't particularly deep and are missing
Curtis Glencross
(due back in early March) and
Lee Stempniak
(out much longer), which has exacerbated the team's scoring woes. But
Miikka Kiprusoff
is having a terrific run, and his 300th career win on Wednesday put the Flames just a point out of eighth place when they woke up on Thursday.
4. Playoff landscape
The crowded NHL playoff landscape is difficult enough to handicap on its own, but throw in uncertainty over injury issues and it makes it doubly hard to read the tea leaves, especially with the trade deadline a little over two weeks away. The
Pittsburgh Penguins
, battling with Philadelphia and New Jersey for fourth place in the Eastern Conference, hope to have center
Jordan Staal
back any moment. The Pens and Flyers are both dealing with the long-term absence of their captains
Sidney Crosby
and
Chris Pronger
, respectively, although Crosby continues to skate and presumably is closer to returning. But the Flyers got a nice boost with the return of Daniel Briere to the lineup this week.
St. Louis has been patiently waiting for the return of top six forwards Alex Steen and
Andy McDonald
, both of whom are suffering from concussions. It seems that McDonald has overtaken Steen in terms of game-readiness, although GM Doug Armstrong declined to identify potential return dates; "too much uncertainty," he wrote Thursday. Still, the return of either or both could be enough to keep the Blues in the hunt for a home-ice advantage in the first round of the playoffs or to close the gap on Detroit and the top spot in the conference. The Blues trail the Wings by five points and have two games in hand.
The injury situation is more critical for bubble teams, and you have to wonder whether the absence of Dallas captain
Brenden Morrow
from games against Columbus and Buffalo as he continues to battle back and neck pains might be enough to keep the Stars out of the postseason. Dallas had fallen to 12th in the conference as of Thursday morning but was just two points out of eighth. Morrow's injuries will also quiet any potential trade talks involving the gritty veteran.
The inverse is true in Buffalo, where the Sabres are finally healthy, especially along the blue line, and are coming off an emphatic 6-0 pounding of Boston Wednesday night. And the
Minnesota Wild
, clinging to the eighth and final playoff spot in the Western Conference, announced Thursday that captain
Mikko Koivu
would return to action after missing eight games to injury. His presence on the ice and in the dressing room could represent the tipping point to keeping the Wild in the playoff bracket.

5. Anyone need a veteran goalie?
Had a brief exchange of texts with veteran netminder
Marty Turco
, who is trying to stay sharp playing with Salzburg in the Austrian elite league. Playoffs start next week and Turco said he's enjoying the experience, but he has always had his eye on returning to the NHL. Turco played for Canada at the Spengler Cup in December as well as in a tournament called the European Trophy, in which he played well. We are told a number of NHL teams are keeping an eye on Turco's progress. He has a clause in his contract that would allow him to return to the NHL should he sign with an NHL team by the Feb. 27 trade deadline. The Detroit Red Wings' goaltending situation remains somewhat fluid with
Jimmy Howard
nursing a broken finger, although
Joey MacDonald
has filled in capably in Howard's absence. Still, a veteran presence heading into the playoffs wouldn't be a bad thing for the Western Conference-leading Red Wings.
May, 24, 2011
5/24/11
7:17
PM ET
TAMPA, Fla. -- We recall flying into Dallas the day after the 2008 trade deadline to chronicle the arrival of
Brad Richards
.
While there was great excitement at the arrival of the former playoff MVP, we were struck by a kind of melancholy exhibited by netminder
Marty Turco
. We shouldn't have been. He just had to say goodbye to a man he has often described as his little brother, backup netminder
Mike Smith
.
Fast forward to this week, when Smith was called on by the
Tampa Bay Lightning
to help keep their playoff dreams alive. If Smith was anxious during his first NHL playoff experience, Turco admitted he, too, felt more than a little anxiety for his long-time prodigy and close friend.
[+] Enlarge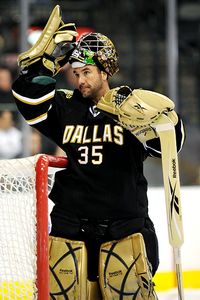 Manny Flores/Icon SMI"It was really a sense of pride and being proud. Like a big brother or even a dad would be," Marty Turco said of watching Mike Smith's play in this series.
"Of course I've been watching," Turco told ESPN.com on Tuesday morning after Smith got his first playoff start, a 3-1 loss that gave the
Boston Bruins
a 3-2 series lead in the Eastern Conference finals.
"Any time you get to see someone that's close to you at this time of year, it's pretty special. I was a tad bit nervous. It was fun to be hanging on every save."
The two netminders remain close and have been in regular contact during the playoffs.
Turco, who signed with the
Chicago Blackhawks
last summer, has been doing analysis for the NHL Network and was working Saturday when Smith came off the bench for the second time in this series. Trailing 3-0, the Bolts rebounded for a big 5-3 win thanks in part to Smith's 21-save performance, which earned him his first postseason victory.
During breaks in the game, Turco was messaging Smith's wife, Brigitte, who is pregnant with the couple's first child. Turco's wife was also in contact with Smith's wife.
"It was really a sense of pride and being proud. Like a big brother or even a dad would be," Turco said of watching Smith's play in this series.
It was Turco and his wife who introduced Smith to his future wife at a charity golf tournament in Turco's hometown of Sault Ste. Marie, Ontario.
Smith's wife was a world-class international skier and had been a participant in Turco's tournament prior to Smith's arrival in Dallas. Turco invited Smith to join the tournament, and he ended up playing alongside his future wife.
"Mike was being Mike," Turco said. "We didn't set them up on the blind date, but we put them in the same arena."
Smith was drafted by the Stars. When he first came to Dallas, he lived with Turco for three months, getting to know both the goalie and man.
"I grew up watching him. I wanted to be just like him when I was a lot younger," Smith told ESPN.com on Tuesday.
"Obviously his words mean a lot to me. He's still a great mentor for myself," the native of the Kingston, Ontario, area said.
Having seen him grow, Turco said he likes what he's seen of Smith in his understudy role in the Eastern Conference finals.
He has allowed just two goals on 48 shots, and Turco said he sees Smith's confidence reflected in the way he's snapping the puck around.
"He's played with conviction and that's a great sign for him and his confidence," Turco said. "I know he's working really hard."
Smith couldn't be faulted for the two goals he allowed in Game 5, both the result of broken coverage in the defensive zone.
"That type of game is not a confidence eroder for him," Turco said. "The thing that is always constant about Mike is that he cares, and he's competitive, and he's a tremendous athlete."
As for his own future, Turco did not have a great season statistically or, as he puts it, "it was not a back-of-a-hockey-card year." Turco will become an unrestricted free agent on July 1.
But he said his experience in Chicago was gratifying after playing his whole career in Dallas.
He and his family plan to stay in Chicago until he retires, if it works out that way. If not, though, he feels great and would like to play.
"The playoffs just cemented that belief," he said of the Blackhawks' thrilling seven-game loss to Vancouver in the opening round.
December, 7, 2010
12/07/10
9:46
PM ET
Marty Turco won't get to start against his old team Wednesday night, but don't go sniffing for a big story from the veteran netminder.
"I'd be doing the same thing if I were [coach] Joel Quenneville. I am fine with it," Turco told ESPN.com on Tuesday.
Youngster Corey Crawford will try for his seventh straight win in the Blackhawks' net when the Dallas Stars visit the United Center, and while Turco can't wait to face his former team, it'll have to wait. The Blackhawks have three more games against the Stars, including a first game back to Dallas on Feb. 11. Now that one would be special.
"The first return to Dallas, that's the one you circle," Turco said.
[+] Enlarge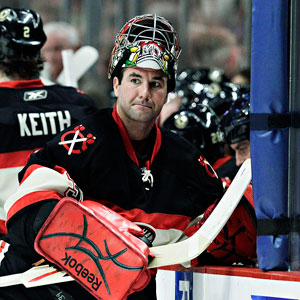 AP Photo/Nam Y. HuhMarty Turco took a massive paycut when he signed in Chicago, going from a $5.7-million salary to accepting a one-year, $1.3-million deal.
In the meantime, don't look for a goalie controversy when speaking to Turco. He'll have none of it. Turco took a massive pay cut when he signed in Chicago, going from a $5.7 million salary to accepting a one-year, $1.3 million deal with the defending Stanley Cup champions. He did that for a reason.
"Think about what I told you the day I came here," Turco told me. "I came here to win, I didn't come here to be the big man, I just came to be a part of this and do my job. Nothing I respect more than winning and a winning environment, and Corey's winning. I don't take it personally. Do I want to play against my old team? Heck yeah. But I'll get chances at it this year. There's nothing that I want more than playing in the playoffs. I'm a pretty confident guy. So let's just keep winning."
Turco's attitude won't surprise anyone who has known the 11-year NHLer. He's been a popular teammate for a long time, and while things haven't gone according to script for him so far in Chicago, he won't mope about it.
"I'm 35 and I don't have Cup ring," Turco said. "I want to win, and that's all I care about."
Crawford's .914 save percentage and 2.34 goals-against average are better numbers right now than Turco's .901 save percentage and 2.90 GAA.
"He's a good goalie and he's been playing real well all year long," Turco said of Crawford. "I like him a lot and I look forward to getting to know him that much better as the season goes on. It's a huge benefit for our team to have both of us playing well and have confidence in whoever is in there."
It's no coincidence that Turco has such a positive attitude toward his young net mate. As a young guy breaking into the NHL, Turco wasn't greeted too warmly by veteran Ed Belfour, whose stellar career on the ice came with a mercurial personality off it.
"The one thing I've always maintained is that it was special being around Eddie especially in the playoffs in '99 and 2000," Turco said. "I would have been an idiot not paying attention to what that guy was doing. On a personal level, our relationship wasn't very good; it wasn't what I was hoping for as a young guy. But professional, it was real good; I learned a ton from him."
However, knowing how it felt to be that young goalie who wasn't embraced by the incumbent, Turco has kept that in mind over the years.
"Having gone through that a little bit, it probably changed my approach, on a human level, to who my partners are," Turco said. "I've had great relationships since then and I want to continue to do that. That's important for the winning formula to have two guys doing it together as opposed to being adversaries and fighting for ice time."
So Turco will be there supporting Crawford on Wednesday night, and despite not getting the start, he'll have financial incentive for his teammates to beat the Stars in one of hockey's well-kept customs.
"There will be a lot of money on the board," Turco said, chuckling.
Last week, Dany Heatley put a sizeable figure up on the board in spurring his San Jose Sharks to a win against his former team in Ottawa. Turco said he's not quite in that same situation.
"My separation from the Stars was less documented and a little milder compared to his," Turco said with a laugh. "It'll be a healthy amount, it'll reflect my current salary structure, but it will also reflect my time in Dallas as much as I loved it and it will pay for part of a team function coming up."
Life as a Blackhawk has been a blast. Turco said he and his wife and kids were a bit apprehensive after leaving their only NHL home last summer but have quickly grown to love their new surroundings.
"Credit to this organization, the people they have working here and the city itself; it's been an amazing place," Turco said. "People who visit here know that, but it's even better when you live here. It's better than I even thought. I've lucked out."
November, 29, 2010
11/29/10
1:32
PM ET
1. Model for stopping staged fights
Funny how sometimes it's the kids that get it right while the NHL dawdles. And once again it is major junior hockey that provided what should be a model for the NHL by moving to eliminate so-called staged fights. The Ontario Hockey League has introduced a midseason rule change to punish fights at the start of a period or before the start of a game that calls for offending players to be tossed out of the game in question and be suspended automatically for the next game. Teams are also subject to a $500 fine with increased sanctions for repeat offenders. The Western Hockey League has had a similar rule for the past two seasons and has practically eliminated the so-called staged bouts.
The NHL's GMs tried to stamp out this nonsense that regularly drags out NHL games and has zero impact on the outcome of contests. But the NHLPA, after impassioned pleas from thugs like Georges Laraque (now out of the game and deputy leader of the Green Party in Canada), balked at the change and the competition committee squashed the idea. How forward-thinking. No wonder NHL GMs in general believe the competition committee is irrelevant. Speaking of fighting, wonder how the Colorado Avalanche like the age-old manner of resolving a dispute now that star forward Chris Stewart is out indefinitely with a fractured hand thanks to a pointless fight in Saturday's 7-4 rout of Minnesota.

2. Howard still providing quality starts
Not so fast for those who were prepared to anoint the
Columbus Blue Jackets
this year's dark horse contender a la last year's
Phoenix Coyotes
. The Blue Jackets have been impressive, no doubt, but the
Detroit Red Wings
served notice that the old dogs can still hunt by sweeping a home-and-home affair from Columbus over the weekend.
It was an interesting clash given some of the parallels between the two teams.
Two years ago, Columbus netminder Steve Mason jumped from junior hockey to NHL stardom, winning the Calder Trophy as rookie of the year and adding a Vezina Trophy nomination to his youthful resume. Last season, Mason imploded and the Blue Jackets faded back into obscurity.
Last season, Detroit netminder Jimmy Howard emerged from a four-year apprenticeship in the AHL and shocked many by leading the injury-plagued Red Wings from deep in the standings into the playoffs for the 19th straight season. Howard was nominated for the Calder Trophy and received our top vote, although he was bested by Buffalo defenseman Tyler Myers (by the way, how's that sophomore season going, Tyler?).
Unlike Mason, though, Howard has continued to provide both consistency and quality between the Detroit pipes in his sophomore campaign.
Although peers Carey Price, Michal Neuvirth, Tim Thomas and Sergei Bobrovsky have received most of the goaltending attention through the first quarter of the season, Howard has quietly compiled a sparkling 13-2-2 record and the Wings are considered by most to be the best team in the Western Conference at the quarter pole (and among the top two or three teams in the league).
"He's earned the right to feel confident about himself," head coach Mike Babcock said recently.
Now, there is a fine line between confident and cocky, something Mason learned the hard way last season.
Howard, perhaps because he is older at 26, is quick to deflect praise for his play and just as quick to accept responsibility when he doesn't play well.
Babcock said that when he meets with the media after a game, "if he [Howard] hasn't played well he's already told the press he wasn't very good."
"He's accountable," the coach said.
For his part, Howard said it's easy not to become complacent in a dressing room with guys like Nicklas Lidstrom, having a Hart Trophy kind of season at age 40, and hard-working stars like Pavel Datsyuk and Henrik Zetterberg.
But here's the dilemma for the Wings: With Chris Osgood trying to rehab a lingering groin issue and not having played well when he was healthy, there are issues about the team's goaltending depth.
"He can't play every night," Babcock said of Howard.
With the Wings hard against the salary cap, it's going to present a dilemma for GM Ken Holland moving forward. That's to say nothing of the fact that Howard can become an unrestricted free agent at season's end. Stay tuned.
3. West remains the best
It is generally accepted that once again the Western Conference boasts the greatest concentration of talent in the NHL. While teams like Pittsburgh, Washington and Philadelphia have established themselves as the crème de la crème in the Eastern Conference, it's fair to ask whether their records are skewed by regularly beating up on some of the worst teams in the league like the
New York Islanders
,
New Jersey Devils
and
Toronto Maple Leafs
.
In the Western Conference, there are far fewer patsies as just nine points separated first-place Detroit and 13th place Nashville as of Monday morning.
The Western Conference is dominating inter-conference play, as well, with a 150-127-37 record as of Monday. Only Edmonton and Calgary have managed to compile a losing record against the 15 Eastern Conference teams.
Meanwhile, almost half of Eastern Conference teams (seven) had a losing record or were .500 when playing their western confreres.
What does it mean?
In general, it means teams in the West can expect to pay more dearly for losing streaks and inconsistent play.
As of Monday, the San Jose Sharks, considered by most a Cup contender at the start of the season, were in 10th place even though they were 5-2-3 through their past 10 games.
Disappointing? Yes. But the Sharks were also just one point out of the Pacific Division lead heading into play Monday.
4. Top eight tough to crack
The first quarter of the NHL season is in the books and the consensus among many hockey folk is that cracking the top eight in either conference becomes increasingly difficult through the balance of the season with the number of three-point games going up as the season moves along. Interesting to compare the standings on Dec. 1 last year to how things looked when the dust cleared last April 11 at the end of the regular season.
Over that period of time, just two teams per conference shuffled out of the top eight over the last 4½ months of the regular season.
In the Eastern Conference, the Atlanta Thrashers (fifth place as of Dec. 1) and the Tampa Bay Lightning (eighth) were the two interlopers who could not hang onto a postseason berth through the final three-quarters of the schedule. Atlanta and Tampa were replaced by the Montreal Canadiens, mired in 12th place in the conference at the start of December, and the Philadelphia Flyers, who were on the verge of making a coaching change (Peter Laviolette was named to the post on Dec. 4).
Of course, the Canadiens and the Flyers didn't just qualify for the playoffs, they ended up facing off in the Eastern Conference final.
In the Western Conference, the Calgary Flames were actually leading the Northwest Division on Dec. 1 before free-falling out of the playoff picture altogether. And the Columbus Blue Jackets were holding onto the eighth and final playoff spot at the start of December 2009. Detroit, which hit December in 10th place in the conference, and Vancouver (11th) supplanted those two teams.
What of this season?
Given the tightness of the standings (see above) it's not hard to imagine even more fluidity in the Western Conference standings between now and April. It would be shocking if the Sharks don't right the ship and make the playoffs. Likewise, the Los Angeles Kings, surprisingly in ninth place as of Monday, should be a playoff team given their talent.
Who would fall out?
We'll fall back on our preseason predictions and suggest that Dallas and Columbus may have the most difficulty sticking with the top eight in spite of impressive first-quarter starts.
In the Eastern Conference, we're not sure there will be any movement whatsoever given the inconsistency that has plagued New Jersey, Ottawa and Buffalo, three playoff teams from last season. Boston is currently in eighth place but has played fewer games than any other team in the conference, so that skews its current placing. In the end, it will come as little surprise if the current eight are the final eight come April in the East.

5. Hawks hope to rewind last season
Fans of the
Chicago Blackhawks
are hoping there is a sequel in the making as far as the team's goaltending situation goes.
After an up-and-down start to the season, the defending Stanley Cup champs are starting to round into form, but they are doing so with rookie netminder Corey Crawford backstopping the club instead of veteran free-agent acquisition Marty Turco.
Crawford was riding a four-game winning streak as the week began and has played in three of the past four games for the Hawks, including back-to-back victories over Los Angeles and Anaheim last week. Crawford, who started the season 1-4, has allowed just five goals in his past four starts and has stopped 98 of the past 103 shots he's faced.
Turco, meanwhile, has failed to find a groove since coming over from Dallas in the offseason. The veteran netminder has just one win in his past five starts and overall has a pedestrian 2.90 GAA and .904 save percentage.
Of course, Blackhawk fans have seen this movie before, and everything certainly turned out OK in the final reel last season.
Last season, Antti Niemi nudged Crawford out of the backup role during training camp and then supplanted veteran starter Cristobal Huet as the go-to guy for the Hawks midway through the season. Niemi and the Hawks, of course, ended up carting off Stanley Cup rings. Niemi signed with San Jose when the Blackhawks wouldn't agree to an arbitrator's ruling on salary, and Crawford, a 25-year-old Montreal native, was handed what was expected to be a supporting role behind Turco.
October, 21, 2010
10/21/10
1:45
AM ET
... Because three just wasn't enough.
Marty Turco
-- With 36 saves in regulation and overtime and the key stop in the shootout, Turco was the star of the night in the
game of the week
. With a 4-1-1 record, Turco is quickly making Chicago forget about
Antti Niemi
.
Daniel Sedin
-- He scored in regulation and again in the shootout. Unfortunately, it wasn't enough to get the win. But, seven goals in seven games is tied for the most in the NHL and is enough to make this potential
Hart candidate
one of our stars of the night.
Roberto Luongo
-- I know what you are going to say: He didn't stop anything in the shootout, the Canucks lost again in Chicago and there are three guys on the list from the same game. Well, did you see the game? Luongo made 31 saves against a potent Hawks offense and the Canucks wouldn't have made it to the shootout if their goalie hadn't stopped
Marian Hossa
's breakaway in overtime.
Rick Nash
-- Not many in Columbus, Ohio, were around to see it, but Nash doubled his season production with two goals against the Ducks.
Give us your four stars of the night.
Wednesday's results
September, 25, 2010
9/25/10
6:30
PM ET
CHICAGO -- Marty Turco and his family were watching Game 6 of the Stanley Cup finals in an airport on Maui.
By the time Patrick Kane snuck a bad angle shot past Philadelphia's Michael Leighton to give the Blackhawks their first championship since 1961, Turco and his family were on the plane and his heart sank.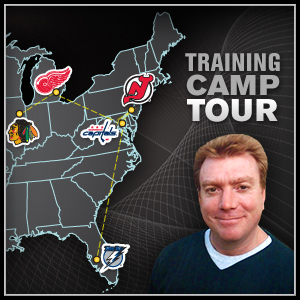 Turco was soon set to become an unrestricted free agent after 10 years in Dallas and had targeted the Blackhawks as a team where he might fit in. But he figured Chicago's Cup win would close that door.
"When they went and won the Cup, it was, 'Oh, scratch them off the list and see who else we could target,'" Turco told ESPN.com on Saturday.
Yet as the summer progressed and the Blackhawks' salary cap issues became more and more pronounced, they ultimately walked away from an arbitrator's ruling on netminder Antti Niemi and the door opened once more for Turco.
The strange thing is that for most of his NHL career, Turco gave little thought to playing for any team other than Dallas, the team that drafted him 124th overall in 1994.
"I guess you always thought about it, just an inevitable feeling to wonder what it's like on the other side, in another room," Turco said. "I certainly was no different. But I never once wanted to leave or asked to leave, so I really never really put much stock into letting it get past more than a thought I guess."
When the Cup champs' goaltending job opened up and they approached the 35-year-old Turco about signing a one-year deal worth $1.3 million, he didn't really know what to expect.
Suffice it to say whatever expectations he might have had, whatever he might have imagined, they've been exceeded in the early going.
"I didn't know what it was like or have expectations, and then to turn around and walk into this environment, with this group, [it starts] at the top with Rocky Wirtz and the family," Turco said. "The opportunity for my family and I to be a part of it and this whole philosophy of winning and being a family, it really is astonishing to feel this comfortable this soon. And all the while being in a hard-working, dedicated, high-expected group, it's good."
Turco's twin girls and two-year-old son are already decked out in Blackhawks gear. The girls learned the Cubs' song this week, although they have yet to master "Chelsea Dagger", the song that follows Chicago goals and wins.
"Not yet. They just need the chorus," Turco said.
Chicago coach Joel Quenneville has already begun to think of ways to incorporate Turco's rare puck-handling skills into his speedy Blackhawks attack.
"Several touches and it's almost like I'm interested to see how we can take advantage of that in our team game," Quenneville said Saturday before the Turco and the Blackhawks were to play in their first home preseason game. "I'm sure it's going to evolve. Anything we can do in a positive fashion with his puck-movement game [will] complement our team game in a lot of ways and I think we can explore that."
The Blackhawks aren't asking Turco to figure out cold fusion here in Chicago. He's joining a team that should be a contender once again despite radical offseason changes to its Cup-winning lineup. Turco's job is to make sure that happens by stopping pucks.
The past two seasons in Dallas were disappointing for Turco and the Stars as they missed the playoffs and saw new management and coaching installed in the midst of some unpleasant dressing-room situations (the ill-fated Sean Avery experiment comes to mind), but they shouldn't cloud the positives.
In 2008, Turco was exceptional in leading Dallas to upsets of defending Cup champion Anaheim and San Jose in the playoffs before the Stars fell to eventual champion Detroit. Turco, whose playoff performances had been criticized in the past, turned in a sparkling .922 save percentage and 2.08 goals-against average in 18 postseason games. Those are numbers and memories that have gone a long way to making Turco's transition a smooth one.
Players are already talking about the comfort of having a player like Turco, a three-time All-Star and member of Canada's 2006 Olympic team, in their room as they prepare to defend their championship.
"We welcome his leadership here. I think he'll be a real nice fit for our guys," Quenneville said. "I think he's done a nice job in his transition and I foresee it being a benefit for everybody here."
Still, Turco knows that all of this good will is predicated on what he brings to the table once the games start to count in a couple of weeks and his ability to keep the team pointed in the right direction, toward the playoffs and beyond. Only then will his leadership skills and experience be truly valuable.
"At the end of the day, to be a good leader, I have to be in great shape and healthy and stopping the puck and confident, and those things can't get there without some due time and due diligence on my part," Turco said. "If that happens, then you can be leaned on a little bit easier when you're standing tall."
February, 10, 2010
2/10/10
10:18
AM ET
Editor's note: There's the March 3 trade deadline, and then there's the Olympic roster freeze that runs from Feb. 12-28. Between now and Feb. 12, ESPN.com's Scott Burnside and Pierre LeBrun will look at 10 potential trade baits and which teams have a chance to land some much-needed help.
Marty Turco and others in net
Scott Burnside: Pierre, we should first note Tuesday's trade of netminder Kari Lehtonen from Atlanta to Dallas for Ivan Vishnevskiy, the 27th overall pick in the 2006 draft, and a fourth-round pick. Good work by Thrashers GM Don Waddell and assistant Rick Dudley, who managed to get a bona fide prospect and a draft pick for a goaltender who has showed almost no inclination to be the franchise netminder the Thrashers envisioned when they made him the second overall pick in 2002.
This is Dallas GM Joe Nieuwendyk's first major deal, and it spells the end for Marty Turco, who will be an unrestricted free agent July 1. Hard to imagine there will be many takers for his big contract before the March 3 trade deadline, making for some uncomfortable days in Dallas. What do you make of this, my friend?
Pierre LeBrun: Well, I think the Stars had looked at three young netminders: Lehtonen, Canucks prospect Cory Schneider and red-hot Canadiens netminder Jaroslav Halak. The talks with Montreal on Halak came earlier this season when his stock wasn't so darn high. So Lehtonen is was; I think he's a worthy, buy-low gamble on the part of Nieuwendyk, a future franchise goalie-in-the-making who had lost his way in Atlanta.
If I were Nieuwendyk, I'd try to sign Lehtonen (who will become a restricted free agent on July 1) to an extension ASAP, hoping the fact that the netminder hasn't played since April 2009 because of two back surgeries would warrant a bargain contract. Under the financially strapped Tom Hicks, the Stars need to save every dime until they find a new owner. Turco remains a topflight netminder in my mind. If Ray Emery's hip doesn't get better or if he needs surgery, you wonder whether the Flyers might try to find a way to add insurance in either Turco or Martin Biron. Or the Blackhawks? You keep hearing whispers from people around the league that Chicago wants to upgrade in goal, although the blue line is where I think the Hawks will add one more body.
Burnside: Well, we saw Antti Niemi start in back-to-back games for the Hawks, and that's not good news for Cristobal Huet; but a move by either the Blackhawks or Flyers would require some lineup juggling unless Emery goes back on the injured list. If it's simply a matter of not feeling comfortable with either Huet or Emery (or Michael Leighton, who's been terrific for the Flyers), then you're looking at having to bury some salary in the minors, which most NHL owners are uncomfortable doing for a variety of reasons.
Turco makes $5.4 million this season, which almost guarantees the Stars won't be able to move him until closer to the March 3 trade deadline as opposed to this week before the Olympic roster freeze goes into effect. You're right about Lehtonen being low-risk, but unless he makes an about-face in terms of his conditioning and ability to mentally compete, he will end up simply eating cap space in Dallas.
LeBrun: Another option for the Flyers should Emery need surgery (and at this point, that remains unclear) might be one of the Nashville netminders. Pekka Rinne ($725,000 cap hit) and Dan Ellis ($1.75 million cap hit) are both slated for unrestricted free agency. Predators GM David Poile has told both of us he'll be talking to the goalies' agents during the upcoming Olympic break. My sense is if Poile can get one or the other under contract during the break, the remaining unsigned goalie could be on the move come March 3 as the Preds try to add some much-needed offensive depth.
Burnside: You are, as usual, bang on, my friend. When you throw Biron into the mix (he is making $1.4 million this season), I wonder whether moving Turco would be a difficult issue for Nieuwendyk. Assuming Lehtonen passes his physical in Dallas, what will the GM do with his three goaltenders? Alex Auld has a connection to coach Marc Crawford, and it costs the Stars less to have Turco around, that's for sure. But if he can't move him, will Nieuwendyk waive Turco? Send him to the minors?
Things could get ugly in Dallas in a hurry if there isn't a taker for Turco. You wonder whether the Stars could send Turco down to the minors and hope someone claims him on re-entry waivers, which would mean the Stars still would be on the hook for half Turco's salary. I know I've said this before, but I still wonder whether Los Angeles GM Dean Lombardi will jump in at the last minute on one of these veteran guys to provide a bit of a safety net for Jonathan Quick, as the Kings are a virtual lock for the playoffs.
LeBrun: It's not the end of the world to carry three goalies; the Flyers have done it for a while now. But in Dallas, where the team is publicly admitting now that finances are tight, I'm not sure how long the club can really afford to carry three netminders on its NHL roster. Remember, Lehtonen's salary is $3 million -- no small potatoes, either. As for the Kings, Scotty, I'm not saying I don't like your thinking, but Lombardi reiterated to me last week that he's really comfortable with Erik Ersberg as his backup. I think the Kings are way more focused on getting top-six forward help at this point. Until tomorrow, my friend.
• You also can get up-to-the-minute trade discussion in Rumor Central.
February, 3, 2010
2/03/10
11:01
AM ET
Editor's note: There's the March 3 trade deadline, and then there's the Olympic roster freeze that runs from Feb. 12-28. Between now and Feb. 12, ESPN.com's Scott Burnside and Pierre LeBrun will look at 10 potential trade baits and which teams have a chance to land some much-needed help.
Martin Biron (Islanders) and Marty Turco (Stars)
Scott Burnside: Greetings, Pierre. We've been talking the past couple of days about offensive players who could be on the move before the March 3 trade deadline, but how about a couple of backstoppers who could be looking for new homes? Let's call them the Two Martys: Martin Biron and Marty Turco. Biron is the third man on Long Island now that Rick DiPietro is back in the mix with Dwayne Roloson.
Turco has been splitting time with Alex Auld in Dallas, but he doesn't really seem to fit into the Stars' long-term plans. Both goalies will become unrestricted free agents this summer. Both would seem to be attractive to teams looking for some veteran depth between the pipes heading into the playoffs. What are the chances that they'll be on the move and where might they land?
Pierre LeBrun: Well, I think Biron has a greater chance of moving because his team is more urgently trying to do that, not to mention the fact that his $1.4 million salary is easier to deport than Turco's $5.4 million cap hit. I spoke with both Martys on Tuesday; both have seen better days, but are keeping a good attitude through all this. Biron had a chat with Isles GM Garth Snow on Tuesday, just wondering whether his situation would soon be solved. Let's remember, when Biron signed with the Isles last summer, it was understood all along that once DiPietro came back from injury, Biron would be moved. But it's been over a month now and still nothing.
For now, Biron will go on a short conditioning stint to the AHL so he can get some game action in. The question is, who could use Biron? Although he wouldn't say it, I know he would love to go to Montreal if and when the Canadiens moved either one of their young goalies. He has the demeanor to thrive in his home province and would be a good mentor for Carey Price or Jaroslav Halak.
Burnside: The one team I look at and wonder about needing or wanting a veteran presence is Los Angeles. The Kings are on fire and, I think, a lock to make the playoffs. But remember what happened to a good Montreal team in 2008 that entrusted its playoff goaltending chores to untested youngsters Price and Halak -- the Habs narrowly beat eighth-seed Boston and then lost in five to a less-talented Philadelphia team in large part because Price and Halak couldn't handle the pressure. You would think the Kings would want to avoid that dynamic.
Jonathan Quick has been great for Los Angeles, but he and Erik Ersberg have zero NHL playoff experience, and it would seem logical to want to have some kind of safety net. Turco was spectacular two springs ago when Dallas reached the Western Conference finals, and Biron was the Flyers' netminder in 2008 when they surprised many by reaching the East finals. Yes, Turco's dollar figure is high, but the asking price for either netminder would be very modest, don't you think?
LeBrun: Well, right now, the word out of Long Island is that Snow isn't getting offered more than a third-rounder for Biron, which seems absurd to me. But I guess it speaks to the marketplace. As for the Kings, while I agree with your premise, especially with Biron because he's a cheaper cap hit, I'm told they have lukewarm interest. That may be because they are more focused on forward Ilya Kovalchuk and adding another defenseman, so adding a veteran backup goalie is not a priority at this point.
But while Biron told me he was anxiously awaiting a trade, Turco told me Tuesday night his perfect scenario is to stay in Dallas for the rest of the season, lead his team into the playoffs, and deal with all this in the offseason when he becomes an unrestricted free agent. Given his price tag, that may very well happen. But I'm telling you, the 34-year-old veteran remains an elite goalie in my mind, someone who could really help a contender. His 40-save performance Tuesday night was a reminder of that.
Burnside: I agree Turco can still bring it, and Biron would be an easy fit into pretty much any NHL dressing room because of his personality, so I'll be shocked if someone doesn't make a move to bring him on board. Wonder if San Jose would want some inexpensive insurance down the stretch? The Sharks haven't received the greatest playoff netminding from Evgeni Nabokov in recent years and must advance beyond the first round this spring. Nabokov plays pretty much every night and will be at the Olympics, so maybe adding a veteran netminder wouldn't be a bad idea.
The same issues exist for Buffalo workhorse Ryan Miller. With all due respect to Sabres backup Patrick Lalime (3-2-2 and 3.11 goals-against average), Biron would provide better results if the Sabres are interested in giving Miller some rest down the stretch, not to mention a more viable backup come playoff time. Biron was also well-liked in Buffalo during his tenure there. I understand it's not a priority for teams with solid starters. It will be difficult to add Turco because of his contract, but Biron should be able to find a home somewhere before March 3, don't you think?
LeBrun: Well, the Sharks really love Thomas Greiss, and he is the starting goalie for Germany at the Olympics, so I'm not sure they're pressing for an upgrade there. Buffalo definitely needs an upgrade on Lalime; but again, if the Sabres can afford only one add-on before March 3, I would suspect it would be up front and not a backup goalie. Interesting note on Turco: His no-trade clause disappeared this season (the last season of his contract). That's why he's a little unsettled right now while trying to focus on the job at hand.
Another factor to underline in all this is the financial mess the Stars are in as owner Tom Hicks tries to fight off the banks. Things are really tight in Dallas. Even if Stars GM Joe Nieuwendyk wanted to extend Turco (and I don't think he does), there's no way the cash-strapped team could do it. So Turco likely will be on a different NHL team next season. Which could tie in to the other Marty. We know the Stars have been sniffing around younger goalies like Halak, Kari Lehtonen and Cory Schneider, but what if they brought in the veteran Biron to help out the new kid next season? Auld is also an unrestricted free agent in Dallas. Food for thought.
• You can also get up-to-the-minute discussion in Rumor Central.
January, 16, 2010
1/16/10
11:34
PM ET
We all knew Vancouver would generate headlines this season, with the Olympics being there and all. But this past week's entertainment was something else.
First, a fan uses a laser to try to blind Calgary Flames goalie Miikka Kiprusoff on Jan. 9 in Vancouver. Bizarre, to say the least. Then we've got the Stephane Auger/Alexandre Burrows brouhaha Monday night. And finally, Wednesday night's third-period fisticuffs in Minnesota, where Canucks tough guy Darcy Hordichuk reportedly told Wild enforcer Derek Boogaard that Vancouver coach Alain Vigneault told them to go out and fight. Later in the period, Vancouver's Alexandre Bolduc invited Minnesota goon John Scott to a fight that I thought would end the Canucks player's career it was so violently one-sided.
In any case, the allegation that the Canucks coach would have ordered some of his players to fight (denied by all involved in the following days) certainly touches a universal nerve given Vancouver's history with the Steve Moore incident less than six years ago.
A source told ESPN.com on Saturday that league disciplinarian Colin Campbell did phone Vigneault in the aftermath of those allegations. He got the obvious denial, and without any corroborating evidence, what else can the league do?
Meanwhile, on the Auger/Burrows front, Canucks fans won't see the veteran referee anytime soon. It just so happens the schedule didn't have Auger doing a Canucks game during the next two months (the schedule was already drawn up before the incident). But when the league draws up the schedule for the rest of the season, you can bet Auger won't be doing any Canucks games. It's called common sense.
And finally, NHL director of officiating Terry Gregson, who sends out a memo to his on-ice officials every Friday and Monday, had a timely message in Friday's e-mail. I'm told the theme was "communication," and essentially having a sense of the proper etiquette to deal with players and coaches, etc. You can read between the lines on that one.
Selling Souray

In the aftermath of Sheldon Souray's announcing that he would waive his no-trade clause if it helped the Edmonton Oilers and was a move that he could live with, the obvious question is, as one NHL GM told me this week, "But which team can afford him?"
The 33-year-old blueliner entered the weekend with 12 points (3-9) and a minus-14 rating in 30 games this season, not the kind of return you'd expect for a $5.4 million cap hit. On the other hand, he's surrounded by the 2009-10 Oilers, not the 1986-87 Oilers. A change of scenery could very well bring out the old Souray, not to mention the fact his actual salary goes down to $4.5 million for the last two years of his deal (starting next season).
One NHL team I believe has interest is the New York Rangers, a club that could certainly use his offensive touch from the back end. I also think Souray would welcome a move to New York. But to make it happen, the Rangers would need to create cap room by shedding the contracts of either Michal Rozsival ($5 million cap hit; will earn $4 million next season and $3 million in last year in 2011-12) or Wade Redden ($6.5 million cap hit; four more years left after this season at $6.5 million for 2010-11 and 2011-12 and $5 million per year in 2012-13 and 2013-14).
The only real option on Redden is to send him to the AHL and eat his contract. A buyout next summer doesn't solve anything because the Rangers would still carry a $2 million cap hit from him for the next eight years.
I guess if you're New York, there's also the hope that when the next collective-bargaining agreement is negotiated, whether that's after next season or the season after that (the NHL Players' Association has the option of extending it a seventh year), teams will once again get a one-time shot at buying out their worst contract without cap implications, which was the case in August 2005, when the last CBA started. That would be an opportune time for the Rangers to deal with Redden.
Pens update

Contract negotiations have recently resumed between the Pittsburgh Penguins and representatives for defensemen Kris Letang and Sergei Gonchar.
The team isn't close to a deal on either front at this point, but that can change in a heartbeat. Letang will be a restricted free agent July 1, while Gonchar will be unrestricted.
"We met with Kris and his agent [Kent Hughes] recently," Penguins GM Ray Shero told ESPN.com on Friday. "They know where we stand. Kris is a guy obviously we want to re-sign, but we're not there right now."
Gonchar turns 36 in April, so no matter what contract he signs, the entirety of it will count against the salary cap even if he retires before the end of it (according to the 35-and-over rule in the CBA). This makes the term the most significant item on that docket. Shero met with Gonchar's agent, J.P. Barry, over the past week in Calgary.
"We'll just keep the dialogue going," said Shero. "We just need to find a way to get it done hopefully."
There's going to have to be some give from these two players for the Pens to be able to keep both. Interesting situation to say the least.
As for the March 3 trade deadline, the Penguins have their pro scouting meetings this upcoming week. That conversation, along with thoughts from the coaching staff, will help crystallize Shero's deadline game plan. The Pens don't have too much cap room, so Pittsburgh fans shouldn't expect a huge addition.
Preds goalies

So, you're the Nashville Predators and you're having a terrific season as young players step into the lineup again and produce (can this team draft or what?). But you've got a major issue: the two people who wear a goalie mask on your team.
Pekka Rinne and Dan Ellis are both slated for unrestricted free agency.
"I'm going to talk to all our unrestricted guys during the Olympic break," Preds GM David Poile told ESPN.com on Friday. "Both are goaltenders who have been real good for us this year. We've been rotating them pretty much."
But in my mind, you won't see both back next season. The frugal Preds can only afford to keep one of them; and frankly, I don't think these two guys want to share the net again next season. They're both No. 1 material. The question is, will both still be with the team past the March 3 trade deadline? I think that's a question Poile himself hasn't answered yet in his own mind.
If he's able to re-sign one of the two goalies before March 3, then maybe he dangles the other in exchange for some offensive help. But if he's unable to get either one signed to an extension before then, he'd be wise to keep them both past March 3 and give himself time to talk contract with them right up to June 30 at midnight, when he still owns their rights.
Meanwhile, Poile confirmed what John Glennon first reported in The Tennessean on Friday: Coach Barry Trotz had his contract extended through next season.
Senators stuff

Somewhat under the radar is the fact that shutdown blueliner Anton Volchenkov is slated for unrestricted free agency. The Ottawa Senators can't afford to lose him, but contract talks haven't gone anywhere yet.
"I'm hoping this week to have some concrete discussions in that regard," Sens GM Bryan Murray told ESPN.com on Saturday.
Volchenkov, who is represented by Jay Grossman, is earning $3.2 million this season, but his cap number is $2.5 million. He's getting a raise, whether it's in Ottawa or elsewhere.
I've also noticed a few of my media colleagues suggested over the past few weeks that it might be time to look at moving Alexei Kovalev. But Murray told me that was a no-go.
"He's not going anywhere, Alex is a real good player for us," said Murray. "He's a talented player. That's why we signed him. He gives that dimension on the second line that we were looking for."
Kovalev has another year on his deal at $5 million for next season.
Stars goalies

Marty Turco will almost certainly be available come the trade deadline, as my colleague E.J. Hradek also speculated in his Friday blog. The veteran netminder is UFA July 1 and it's probable the Stars, as they continue to get younger, will go in a different direction in goal.
It'll be interesting to see what kind of traction the Stars get on Turco close to the deadline. His cap number is $5.7 million, which is a little rich even with that number being smaller come March 3, with just over a month left in the regular season. But on the flip side, this is a goalie who can bring it when he's dialed in, and he could be a great pickup in the right situation.
Meanwhile, who will play goal for Dallas next season? That will be GM Joe Nieuwendyk's top priority between now and July, to find his next goalie(s). I'm told the Stars did chat with Montreal earlier this season about Jaroslav Halak, but the price has gone up big time now with the Habs netminder putting together a great season. I'm not even sure why the Canadiens would want to move him anymore.
If I was the Stars GM, the goalie I'd look at is the oft-injured but talented Kari Lehtonen in Atlanta. He's a restricted free agent July 1 and he may have maximized the Thrashers' patience. He could be the ideal buy-low gamble for the Stars. Lehtonen (back) has been out pretty much all season, but he may return next weekend on a conditioning assignment with the AHL's Chicago Wolves.
Video review

In the wake of the Pittsburgh TV replay scandal, which cost Philadelphia a goal in a Jan. 7 game and resulted in the suspension of an FSN Pittsburgh producer, the NHL sent out this memo late in the week to all 30 markets:
To All Rightsholders:

The NHL's Video Review process was established to assist in determining the validity of all potential goals. In establishing this process, the Member Clubs have given their support and resources to the League's Hockey Operations Department to ensure that all goals are properly reviewed.

One of the primary resources in the review process is the game telecast. In support of the mandate from the Clubs for video review, it is required that replays from all camera angles be shown in a timely sequence so as to provide the Hockey Operations Department with the best opportunity to review the situation and make a ruling.

In the case of video review, producers and their crews have an obligation to the game, the teams and our fans to provide any and all replays of the play in question. Obviously, under no circumstances should a replay be withheld as to be selective with any sense of prejudice toward one outcome or another.

As television rightsholders to the NHL and its Member Clubs, your understanding of this responsibility is imperative. We appreciate your continued partnership."