Cross Checks:

Mathieu Garon
April, 5, 2013
4/05/13
10:23
AM ET
My favorite trade of the deadline was easily the
Ben Bishop
deal.
It was a win-win for both teams, with the
Ottawa Senators
getting a young top-six forward in
Cory Conacher
, and the
Tampa Bay Lightning
making a huge gain by adding another potential starting goaltender.
This isn't about ending the
Anders Lindback
project, as some of the knee-jerk reaction on social media suggested Wednesday.
This is about doubling your chances that between two young, promising goaltenders, one of them emerges as a 1A.
And who knows, maybe both do. Or maybe neither does.
But why not improve your odds twofold?
"Good move, with good potential," a Western Conference team executive told ESPN.com Thursday, requesting anonymity. "The big test is if one of them can grab the job and become a legit No. 1 starter. Looks like Lindback isn't there yet; now it's up to Bishop to be that guy."
They'll both get a shot.
"By no means am I giving up on Anders Lindback, not a chance," Lightning GM
Steve Yzerman
told ESPN.com Thursday. "He's a good young goalie. And I made a commitment by trading for Anders Lindback, and I believe Anders Lindback has the ability to become a good starter in this league.
"I want to provide him with the support he needs, and part of that support is having a good partner. I want the best possible tandem I can put together moving forward."
In Lindback, 24, and Bishop, 26, Tampa has a young 1-2 punch in goal heading into next season, giving the team a shot at finally rising up the ranks in goals against.
"Both of them will get a great opportunity to play," Yzerman said. "I'm not going to sit here and designate who the starter is next year. They'll both get a chance to play and play a lot, and it'll work itself out."
Veteran
Mathieu Garon
has been a pro as the backup, but with his contract up after this season, Yzerman began to look ahead. Garon is a solid backup on a team whose starter is more solidified, like a
Carey Price
or
Pekka Rinne
.
But with Lindback still finding his way, I think Yzerman felt he needed to give him more protection moving forward.
"If I had one of these guys who plays 70 games a year, then I can be a little more conservative with the second goalie. But I've got a really young goaltender in Lindback that we think has a lot of promise, and I don't want to put him in a position where he has to play 70 games. Ben Bishop provides that support and Ben Bishop has a tremendous upside as well.
"I'm not designating either one the starter. They'll both get tremendous opportunity to play."
I suspect, though I can't confirm it, that Tampa also kicked the
Los Angeles Kings
' tires on
Jonathan Bernier
before the deadline and that the price was too high.
Frankly, given
Jonathan Quick
's up-and-down season, it made more sense for the Kings to keep Bernier as insurance for another Cup run, then figure out what to do with him this summer.
In the end, Yzerman got a guy in Bishop who has starter potential written all over him, just as Lindback still does.
It's a win-win in my mind.
March, 5, 2013
3/05/13
9:57
AM ET
Promising starts for two Eastern Conference teams have been rendered moot by goaltending issues ranging from poor play to a lack of durability.
That theme was on display Monday night in both cases. The New Jersey Devils extended their winless streak to five games (0-4-1) in a 4-2 loss to the
Toronto Maple Leafs
, and the
Tampa Bay Lightning
were edged 4-3 in Pittsburgh by the Penguins.
Johan Hedberg
has been in goal for all five games during the Devils' current slide as the winningest goaltender of all time,
Martin Brodeur
, recuperates from a back injury. This isn't all on Hedberg, a stand-up guy if there ever was one, but the numbers speak for themselves. The Devils have been outscored 19-9 (not counting shootout goals) during the five-game stretch. And while the goaltending hasn't been strong, the power play has gone dry, going 0-for-17 in the past five games, putting even more pressure on the defense and goaltending. At one point the Devils led the Atlantic Division and were in the hunt for the top spot in the conference. As of Tuesday morning, New Jersey had sunk to seventh place in the conference and is now looking over its shoulders at division rivals Philadelphia and the
New York Rangers
. Brodeur did not accompany the team to Toronto, and there is no definite timetable for his return, which can't come soon enough for a team that advanced to the Stanley Cup finals last June.
Meanwhile, the Lightning began the season 6-1-0 and since then have gone 3-11-1, including Monday's loss, their fifth in a row. The defeat was further marred by the loss of netminder
Mathieu Garon
, who left the game early in the second period. Garon was expected to be the backup to
Anders Lindback
, who was obtained by the Lightning in the offseason from Nashville, but has actually been the steadier of the two and had recently assumed the starting role. Now it will be up to Lindback, who allowed two goals on 18 shots to take the loss Monday, to try to turn the tide. Lindback has an unhealthy 3.27 GAA and .890 save percentage for the Lightning, who rank 27th in the NHL in goals allowed per game. (They also called up netminder Cedrick Desjardins from their AHL affiliate to serve as backup.) The Lightning began Tuesday in 13th place in the Eastern Conference but just four points out of eighth and six points out of first in the weak Southeast Division. Oddly enough, they play Tuesday night in Newark against the Devils.
September, 10, 2012
9/10/12
8:46
AM ET
By
Sarah Goldstein
| ESPN.com
CBA Talk:
The NHLPA sent a cease and desist letter to Habs ownership stating that Quebec's labor laws prevent them from being able to lockout the Canadiens' players, according to The Canadian Press.
Wild centre Zenon Konopka sat in on Friday's CBA talks and told the Ottawa Sun," A lot was said and a lot needs to be processed and I think it probably takes a day or two to think about it and come up with some new ideas."
Hurricanes defenseman Jay Harrison said the number of players expected to be in New York this week -- estimates are between 150 and 200 -- shows just how interested the players are in negotiations, according to The News & Observer. "It's certainly not a publicity stunt. You've got 200 guys going because we're interested and want to know as much as we can, Harrison said, according to the report.
After being part of the last lockout, Mike Ribeiro told The Washington Post the owners want the players to fix their mistakes again. "Last time, fans were on the players: 'Oh, you guys are making so much money.' Well, they gave it to me. They did the same mistakes [with large contracts] again and they want us to fix it again for them. It's hard to understand," Ribeiro said, according to the report.
October, 26, 2011
10/26/11
12:32
PM ET
Scott Burnside and Pierre LeBrun look at a few of the surprising goaltending performances early on this season:
Burnside: Well, my friend, it was another interesting night between the pipes Tuesday in the NHL. When Mathieu Garon was signed by GM Steve Yzerman in Tampa Bay, how many people thought he would be the goalie to get the Eastern Conference finalists back on track after an ugly start to the season?
Garon was terrific again in the Lightning's 4-3 win over the Sabres and improved to a 3-1-1 record. Garon now has a 1.78 goals-against average and .942 save percentage after relieving the struggling Dwayne Roloson early on. Garon's play is mindful of Brent Johnson last season for the Penguins when starter Marc-Andre Fleury began the campaign playing like a bag of hammers. Fleury got back on track and finished with impressive numbers over the final two-thirds of the season. Do you expect the same of Roloson? What other goaltending surprises have caught your eye in the first month?
LeBrun: I do think Roloson will settle down, but given his age, 41, Yzerman was wise to bring in some veteran insurance in Garon. It's easy to forget, but Garon outplayed Steve Mason last season in Columbus and was a big reason the Jackets threatened to make the playoffs. The Lightning GM made it a priority to find a quality backup that could play some games behind Roloson. So far, that decision is proving fruitful. Garon is also a good character guy, and Yzerman was mindful of that, as well.
"He's been very good and has given us a chance to win [in] each game he's played," Yzerman told me via email Wednesday. "We did not play well in Buffalo, Mathieu had to make several difficult saves in the first period; if not, we could have been down 5-0. Somehow we got back in the game and we're fortunate to come out with a victory."
Another surprise has to be Nikolai Khabibulin in Edmonton. The veteran netminder looked to be on his way out of the league with his play last season, not to mention his legal troubles off the ice. But he is sporting a 0.97 GAA and .963 save percentage, stopping 35 shots in a 3-2 win over Vancouver on Tuesday night. Simply mind-boggling to me.
Burnside: No question Khabibulin, 38, looks like he's found the fountain of youth, at least early on. Speaking of another old-timer, how about the work of Johan Hedberg in New Jersey? With Martin Brodeur sidelined early with a shoulder injury, the Devils could have gone sideways like they did a year ago when confronted by injuries to key personnel (including Brodeur). But Hedberg, also 38, has been a rock. He stopped all 31 shots Tuesday night in a 3-0 win against red-hot Los Angeles. Hedberg is now 4-1-1 with a .937 save percentage and a 1.86 GAA.
I must admit, I didn't quite understand president and GM Lou Lamoriello's decision to bring back Hedberg since there doesn't appear to be an apparent plan of succession for the Hall of Fame-bound Brodeur; but Lamoriello has proved doubters wrong, at least early on, as has Hedberg, who is one of the most easy-going players in the league.
[+] Enlarge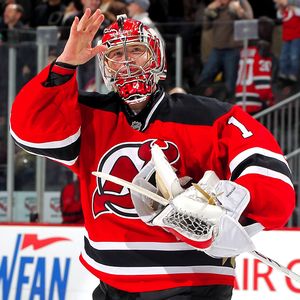 Paul Bereswill/Getty ImagesJohan Hedberg is 4-1-1 with a .937 save percentage and a 1.86 GAA through six starts.
LeBrun: The Devils look like a playoff team right now, just as they did in the second half last season. What about St. Louis? Who could have foreseen Brian Elliott challenging Jaroslav Halak in the Blues' net early this season? Elliott wasn't even assured of a job in camp, as he had to battle Ben Bishop for the backup job before finally winning it. Elliott has been in the pipes of late, and the Blues have turned things around after a slow start. This is the same Elliott who was discarded by Ottawa and Colorado. What gives?
"Coming into training camp, there was competition for a roster spot," Blues GM Doug Armstrong told ESPN.com on Wednesday morning. "He and Bishop both played well, probably to a draw, but we decided to go with experience. When Brian has got a chance here to play, he's been very strong for us. One thing that's impressed his teammates is his mental approach and work ethic. Right now, he's on a roll and it's benefited us."
The question is, how is Halak taking it?
"Jaro understands that we need to win games," said Armstrong. "He's preparing and working real hard in practice. One of the things that we talked about to our team in camp is that we want to have great depth at all positions. We have that in goal, too. Jaro knows he's going to be a big part of things here."
Burnside: Well, in my books, no goalie has been more surprising than Dallas' Kari Lehtonen, who won again Tuesday. Lehtonen is a perfect 7-0-0 with a .955 save percentage and 1.54 GAA, and has made more stops than any netminder in the league. Having watched Lehtonen struggle early in his career in Atlanta, the jury is still out for me on whether he's a true No. 1 goalie, someone who turns in 65-70 starts a season and maintains the consistency that separates the average from the good and the good from the great. But early on, the Stars have been one of the surprise teams in the league, and Lehtonen's play has put them in a great position to secure an unexpected playoff berth. Wonder what we'll be saying about Lehtonen and the Stars at midseason?
LeBrun: Not sure I agree with you that Lehtonen is the biggest surprise. He was the Stars' No. 1 goalie last season and turned in what was for the most part a solid performance. He struggled at times, yes, but he was their No. 1 goalie from wire to wire; so, apart from the fact that he's on fire right now, I don't qualify that as a big surprise. To me, there is no greater surprise than Elliott challenging Halak. An interesting decision awaits Blues coach Davis Payne tonight in Vancouver. My guess is Elliott will get the start because he's on a roll, but how long do you let Halak sit out? Until tomorrow, my friend.
September, 1, 2011
9/01/11
1:08
PM ET
The spotlight shines brightly even in the offseason around the NHL.
Christian Ehrhoff
,
James Wisniewski
and the entire
Florida Panthers
roster have all enjoyed some moments in the sun as they prepare to try to make the best of new environs. But what about the under-the-radar guys, the players who may have quietly assumed new addresses but who may be ready to make a significant impact? Here's a look at 10 such players:

OK, so the big former Leafs winger has scored just seven times in his past 77 regular-season games and was a bit of a bust in Pittsburgh and Los Angeles. But Ponikarovsky should find a comfort zone with head coach Paul Maurice, for whom he played for in Toronto. And Ponikarovsky has scored 20 or more goals (and once scored 19) three times in his career, so he has something to bring to a Carolina team that will take all the production it can get.

Given his injury history and uneven play the last couple of seasons, it's easy to forget that Giguere has collected at least 30 wins in four seasons since the lockout. He was, lest people forget, the goaltender of record when the
Anaheim Ducks
won the Stanley Cup in 2007. At age 34, there should still be lots left in the tank, and, given the lack of durability for young netminder
Semyon Varlamov
-- the man tabbed by the Avs as their goaltender of the future -- Giguere could be asked to do a whole lot more than just offer mentoring and open the gate at the end of the bench.

It's easy to overlook the arrival of the big (6-foot-2, 214 lbs.) winger, given all the other moves made by the Flyers this offseason. But if Paul Holmgren is right, people won't be overlooking the contributions of the former seventh overall pick in the 2007 entry draft. Yes, Voracek didn't become the player the
Columbus Blue Jackets
thought he would be -- has anyone in Columbus outside of
Rick Nash
become the player they hoped he would be? -- as he topped out at 16 goals in his three years as a Blue Jacket. But guess what? He's going to play with top-end talent in Philadelphia and get a chance to put that big body to use.

We must admit being a bit mystified that the
Winnipeg Jets
didn't bother to make a qualifying offer to keep the big winger in the fold, and we wonder whether they'll regret playing against him six times a year now that he's landed in Carolina. Admittedly, Stewart -- the 25th overall pick in 2003 -- has been slow to develop, but he did show some good net presence in Atlanta last season, scoring 14 times and finishing with 39 points. Five of those goals were on the power play and, like Ponikarovsky, the 26-year-old Stewart should get many opportunities to improve on those numbers in Carolina.

Another first-round draft pick that didn't show enough promise for the
Edmonton Oilers
, Cogliano may find Anaheim more to his liking. Right now, he's likely a third-line center behind
Ryan Getzlaf
and
Saku Koivu
but he can also play the wing. With a more talented cast around him, the 24-year-old may finally blossom after twice scoring 18 goals for the Oilers. He had just 11 goals a year ago but has never missed a game in four seasons in Edmonton, something the injury-plagued Ducks will be pleased about.

No one is suggesting that White will replace the retired
Brian Rafalski
in the Red Wings' lineup, but White has more tools than he's given credit for possessing; watch for head coach Mike Babcock to take full advantage of them. White had nine points in 17 postseason games for the Sharks last spring -- the Sharks dispatched Detroit in a thrilling seven-game set in the second round -- and will be a nice addition to a Red Wings team that still has plenty of game left.

Will Sidney Crosby be back? How hungry is
Evgeni Malkin
? What does
Steve Sullivan
have left? In a city hungering for a return to contender status after two disappointing playoff seasons, it's a little bit easy to overlook James Neal. The big winger was acquired before the trade deadline from Dallas for
Alex Goligoski
, but, with both Malkin and Crosby injured, Neal never really found a groove for the Pens. He scored just once in 20 regular-season games and then added one more in a seven-game first-round playoff loss to Tampa. Look for a lot more this season from the big winger, who will turn 24 over Labor Day weekend.

Every year, Nashville GM David Poile and head coach Barry Trotz conspire to pull a rabbit out of the proverbial scoring hat. Two years ago it was
Patric Hornqvist
; last year it was
Sergei Kostitsyn
. Could it be Bergfors this season? The former first-round pick (25th overall by New Jersey in 2005) went to Atlanta as part of the
Ilya Kovalchuk
trade and was shipped to Florida at the trade deadline last season before signing with the Preds as a free agent this summer. Bergfors had 21 goals between New Jersey and Atlanta in his first full NHL season in 2009-10, including nine power-play markers. Look for him to get lots of opportunity in Nashville to make good on his potential.

Although there were lots of goalies whose profiles might have been higher, Tampa GM Steve Yzerman went after journeyman Garon as his backup to
Dwayne Roloson
, who signed a one-year deal with the Lightning after a superlative effort in leading the Bolts to the seventh game of the Eastern Conference finals. Roloson will turn 42 before the regular season is a week old, and the Lightning will want to make sure he has plenty left in the tank for what most expect will be another playoff run next spring. That means Garon will have to shoulder the load for, what, 30, 35 games? The two netminders played together in Edmonton, and head coach Guy Boucher said in an interview that he expects them to form a strong tandem.

Talk to Washington GM George McPhee and he'll tell you that one of the main reasons the Caps folded against Tampa in the second round of the playoffs had more to do with the health along the blue line than it did players' efforts. With
Tom Poti
looking like he won't be able to play anytime soon and with
Scott Hannan
departed for Calgary, the Caps added some veteran insurance in the form of Roman Hamrlik. Although he is 37, Hamrlik can still log heavy minutes, as he averaged 22:16 a night during the regular season and then saw that number increase in the Canadiens' first-round loss to Boston. Hamrlik was particularly impressive the previous spring as the Canadiens advanced to the Eastern Conference finals in spite of a badly depleted defensive corps. As for a mentor for rising defensive stars
John Carlson
and
Karl Alzner
, you couldn't ask for a better guy than the classy Hamrlik.
November, 5, 2010
11/05/10
1:13
AM ET
... Because three just wasn't enough.
Matthew Barnaby shows the Senators a lot of love in picking his four stars of the night as Ottawa's Jason Spezza, Brian Elliott and Peter Regin are joined on the list by Columbus' Mathieu Garon.
Thursday's results
November, 4, 2010
11/04/10
11:11
PM ET
The
Philadelphia Flyers
claimed a tidy 4-1 win Thursday night over the rival
New York Rangers
in a game that wasn't too exciting to watch but was impressive in the fashion that the home team took care of business. That and other thoughts from around the NHL on Thursday night:
November, 3, 2010
11/03/10
12:05
AM ET
... Because three just wasn't enough.
Raffi Torres -- Early in the game, in was all Vancouver thanks to Torres. When the Canucks' offense went to sleep and allowed the Oilers to tie the game, Torres was the first to wake up. Torres completed the hat trick in the third period and salvaged the win for the Canucks against his former team.
Niklas Backstrom -- The Wild's netminder shut down the Sharks' potent top line, despite San Jose's 36-16 shots advantage. Backstrom helped Minnesota kill five power plays against the top power-play team in the NHL and end a five-game skid against San Jose.
Kevin Bieksa -- Everyone knows the Sedin brothers are a dangerous line to play against. But, Bieksa made sure Edmonton knew that wasn't the only Vancouver line to fear. Bieksa assisted on all three of Torres' goals for his first three points of the season.
Mathieu Garon -- A second-round pick by the Canadiens in the 1996 draft, Garon gave suddenly-slumping Montreal a taste of what they lost. He earned his 17th career shutout with 29 saves and improved to 8-0-4 with a 1.96 goals-against average and a .930 save percentage in home games since joining Columbus in 2009. "I've been maybe a little lucky," Garon said after the game.
Tuesday's results