Cross Checks:

Matt Greene
May, 24, 2013
5/24/13
8:06
PM ET
EL SEGUNDO, Calif. --
Matt Greene
wouldn't be the hockey card 9-year-old kids in Southern California would ever fight over.
Kopitar, Brown, Richards, Quick, Doughty, Carter ... those are the faces of this Los Angeles Kings team, they're the big boys who sell tickets.
But if you ask the players on the Kings about a player who matters an awful lot to the fabric of the team, Greene's name comes up all the time.
He's a glue guy. On and off the ice, he's just that part on a team that, if he's not there, the machine isn't functioning at the same rate.
Greene missed most of this season recovering from back surgery and then missed the opening nine games of the postseason with another injury he incurred upon his regular-season return, and while he was out, there was just something off with the equilibrium of this club.
"The things that you guys don't see," began Kings star
Mike Richards
on Friday, when asked about why Greene mattered so much to this team.
"The leadership, the dressing room, that powerful voice, all year we missed him," said Richards. "On the ice, too, just how physical he plays and how hard he is to play against. If you go back to before we got [Robyn] Regehr too, that's what we were lacking on the back end. We have some skilled guys who move the puck well, but I don't think you can replace someone who plays that physical and how hard both of those guys are to play against. Matt coming back is a big boost for us. You can just see how different a team we are with him in the lineup. He sets the tone physically."
Boy, did Greene ever do that Thursday night in Game 5, his thundering first-period hits on
James Sheppard
and
T.J. Galiardi
sending rocket fuel through the veins of his teammates.
"It's awesome," said Kings forward
Trevor Lewis
. "It provides a lot of energy to see him out there, being a physical presence and coming down and making strong plays. It's great to see. We missed him a lot this year. He was really good early [Thursday] night."
Greene wasn't available to the media Friday, no doubt needing to rest his body after a physical 13:17 in Game 5. After the game on Thursday, he told me he wouldn't be worth a darn to anyone on his team if he didn't step up and play that way physically.
You can see why his teammates love this guy.
"He's a big voice in the locker room," said fellow veteran
Rob Scuderi
. "When he was missing this year, you could really feel it in the atmosphere of the dressing room. It's not necessarily something that's needed to play well, but it lightens the atmosphere and it keeps things loose, which is a big part of the season and the playoffs. You can't be serious all the time. We certainly missed him in that way. And certainly what he brings to us on the ice, we missed his experience and leadership."
You could sense Scuderi wasn't quite totally putting his finger on it. As the conversation continued Friday with reporters on the subject of Greene's value to the team, Scuderi put it another way.
"Sometimes I know he may not get a lot of press, doesn't get a lot of points or statistics -- that's not going to be his thing, or my thing, really -- but it's just a presence, is the best way I can describe it," said Scuderi, himself a valuable element in that room.
It's what makes this sport what it is, that a third-pairing defenseman and penalty killer matters so much.
"In the locker room, it starts in there with him," said Lewis. "He's a very vocal guy. He's a leader. A real leader. He makes sure everyone is going. He's talking to everyone. And like you saw last night, a couple of big hits that really picked up our bench and got our energy going. We're really happy to have him back."
Greene is a thorn to play against. He's been in the face of every Sharks player since coming back in Game 4.
"I always say this about Greener, I loved when we traded for him because I hated playing against him," said captain
Dustin Brown
. "He's one of those guys that is a big part of our team, both physically or mentally."
With
Willie Mitchell
out all season, and Greene gone for most of it before now, the Kings were a bit of a juggling act on the back end, head coach Darryl Sutter having to try a few different things to patch it up.
"What Greene does for them is that he brings a balance to their three pairs," said a rival NHL scout on Friday. "Without Mitchell and Greene this year, they just weren't the same at all. They added Regehr at the trade deadline and now Greene is back, it gives them similar balance to a year ago. It allows that team to settle down."
Sutter on Friday pointed to how important it is having an experienced, poised blueliner on each pairing in Regehr, Scuderi and Greene, which he said was similar to what San Jose has in
Marc-Edouard Vlasic
,
Scott Hannan
,
Brad Stuart
and
Dan Boyle
.
"It gives you some settle-down experience," said Sutter. "Even though they're all different, it clearly gives you some composure."
Welcome back, Matt Greene.
May, 24, 2013
5/24/13
3:00
AM ET
LOS ANGELES -- Big
Matt Greene
roared in from the blue line and thumped
James Sheppard
right onto his behind.
A few shifts later in the opening period, Greene did it again to
T.J. Galiardi
. Bam.
Two thunderous body checks that set the tone for the Los Angeles Kings in their critical, 3-0 victory over the San Jose Sharks in Game 5 on Thursday night.
"Those hits are exactly the ones that stick out in my mind," Kings coach Darryl Sutter said.
It was just Greene's second game back after missing the opening nine of the playoffs, and it shows exactly what the Kings have been missing most of the season when he was injured.
"His leadership is important to us," said Sutter.
Greene? He just shrugged when asked about being a one-man wrecking crew.
"If I'm not doing that, then I'm probably not worth a damn for anybody out there," the veteran said.
Greene set the stage in an opening period in which the Kings outhit the San Jose Sharks 24-12, imposing themselves physically in a way they really hadn't up to that point in this series.
Overall, the hit count was a massive 51-24 by the end of the night.
"Just trying to get physical and try to slow these guys down a little bit," Greene said. "I think they had everything they wanted in Game 4 up there. We were trying tonight to establish our game and slow them down, slow down their offense."
Slow it they did, as
Jonathan Quick
earned a 24-save shutout and the Kings delivered their best overall performance since Game 1 of the series, raising their game just as they had promised they would the day before.
"I think it's fair to say this is probably our best effort in the playoffs, most consistent effort in the playoffs," said star center
Anze Kopitar
, who opened the scoring. "We carried that emotion and desperation that we had in Game 4, in that last period."
You could see it in their eyes on Wednesday after practice, when two-time Cup winner
Justin Williams
talked about the hunger that still existed in that dressing room to win another championship.
Well, they had no choice but to step up on this night. The Sharks had stolen momentum in the series by winning two straight at home to tie the series 2-2 and did so in impressive fashion, bottling up the Kings for long stretches in their zone and limiting their offensive chances at the Shark Tank in a pair of 2-1 victories.
The Sharks headed into Game 5 truly believing this was their series to take.
As such, the Kings were under the gun to stand up and be accounted for on this night, or else risk heading to San Jose facing elimination on Sunday evening. Instead, Los Angeles can advance to the Western Conference finals with a Game 6 victory.
"You got to answer back. You have to answer that adversity," Greene said. "They're a great team over there, they play well. We have to answer the bell. Our goal is to move on and to keep this going. But that's their goal, too. So it's just two good teams going at it right now."
Two key Kings who were under pressure to deliver did just that Thursday night, as Kopitar scored his second goal in 11 playoff games -- but what a big one it was, with 1:52 to go in the second period -- and captain
Dustin Brown
nailed everything in sight, leading the team with 11 hits.
Williams,
Rob Scuderi
,
Mike Richards
,
Jeff Carter
,
Drew Doughty
-- all the key veterans stepped up on this night.
In San Jose, it was the Sharks' top players outplaying the Kings' top guys.
Not Thursday. Not even close.
"Myself included, we were bad tonight," Sharks star
Logan Couture
said. "That's why we lost. We're not going to win if our best players are not our best players. We need to step up."
The line changes Sutter concocted for the Kings the day before did the trick, as
Kyle Clifford
fit in well with Kopitar and Williams, while Brown found a home with
Trevor Lewis
and
Dwight King
.
But Game 5 was about the Kings setting a physical tone early and often.
"That's a part of our game," Brown said. "But I thought we did it tonight in the right way, in the sense that we didn't run out of position to make a hit -- and that's what we need more of. It's being smart and aggressive out there."
The belief is if you hit hard and often early in a game, it's an investment that pays off later if your opponent wears down. Suddenly, you've got an opponent that's perhaps a little too beaten down to chase loose pucks.
The Kings took over puck possession in the second period and carried that over into the third period, when
Slava Voynov
's point shot found a hole through a maze to give the Kings a 2-0 lead just 53 seconds in.
Game over.
"I think their desperation level, in my opinion, went up," Sharks coach Todd McLellan said of the Kings. "That was the biggest change."
The home team has won all five games to date. So don't write off the Sharks just yet.
And if you ask me, this dandy of a series sure feels like a seven-gamer.
May, 22, 2013
5/22/13
9:55
PM ET
EL SEGUNDO, Calif. -- The next day often matters just as much as the game itself when it comes to a player returning to the ice after a lengthy absence.
Los Angeles Kings
defenseman
Matt Greene
gave it a thumbs-up Wednesday.
"I feel pretty good all things considered," Greene said after practice.
The veteran played his first game of the playoffs Tuesday night, when the San Jose Sharks defeated the Kings 2-1 in Game 4 to tie their West semifinal series 2-2. Greene was noticeably trying to get involved physically early on.
"That's the easiest thing -- get a hit, take a hit. It gets you in the game," said Greene.
Los Angeles coach Darryl Sutter had hinted Tuesday morning that Greene might be close to ready, talking about how he trusted veteran players more because they understood the difference between being injured and being hurt.
I asked Greene on Wednesday how the decision to play came about.
"Everybody wants to play right now," said Greene. "Sometimes maybe it's good that doctors step in there and tell you maybe you can't. But it was a combination of everything: I was feeling better, doctors OK'ing it and Darryl finding a spot in the lineup."
I'd count on Greene playing again Thursday night. At least given how Sutter rated Greene's performance in Game 4.
"I think Greener had trouble a little with the pace early, [his] competitiveness kept him in it, and as the game went on he played better. Which is refreshing to see," said Sutter.
Respect for the Kings
Back in San Jose, where the Sharks practiced before flying to L.A., it was clear the underdogs knew what is awaiting them in Game 5.
"They're a great team. You know, they're the champs," said Sharks captain
Joe Thornton
. "They've been good on home ice all year, but we feel like our game is getting better and better. Each series, it just keeps getting better. We have to go into L.A. and win one now."
The Kings outshot the Sharks 14-2 in the third period Tuesday night in a rally that felt just short.
"I think last game showed, as well as we played, that they just stick around," said defenseman
Dan Boyle
. "I think that's one of their strengths -- in the games or the periods that they could easily be down three goals, they find a way to just kind of stick around long enough to the point that a couple of late goals win games. I think they're a good, balanced team."
The Sharks have won two straight, but they don't believe they've seized momentum.
"In the playoffs, you turn the page after a win or a loss," said Boyle. "I don't believe in momentum that much come playoff time."
Added
Patrick Marleau
: "It's only good if you re-establish your game early on in the next game. You've gotta continue it, I guess. You can't sit back and rest on it."
The Kings have won 12 straight at home, a well-known fact in the Sharks' dressing room.
"Their record proves they're a pretty darn good team there," said Sharks coach Todd McLellan. "They have been for a number of years. The energy that they gather from their fans is a factor, as well. We know that, for us to accomplish our goal, we have to take something away from them in their building.
"This crack is our first chance at it, and it could be our last, so may as well do what we can right off the bat."
Quick in the middle again
One storyline that won't go away is how the Sharks will deal with Kings netminder
Jonathan Quick
and the aggressive manner in which Quick comes out to the top of his crease to stop pucks.
Quick has complained about contact from Sharks players, and it's a flash point in this series with on-ice officials fully on the lookout for it.
"The thing that kind of bugs me about him -- I don't know if I should say it -- is a little embellishment every now and then," Sharks winger
T.J. Galiardi
said Wednesday of Quick. "You skate by and you don't even touch him or you barely even touch him and he's throwing his hands in the air. But it's playoffs. Everyone is trying to draw a penalty. Whatever."
Galiardi himself has been accused of diving. But in this case, the Sharks winger says to just look at video of Quick for the proof.
"You guys see it," said Galiardi. "With video, something we like to say around here is, 'The ball don't lie.' It's an old basketball term. When you watch video, the video doesn't lie.
"When I'm skating by and I barely touch him and he's throwing his hands in the air, it's kind of one of those things -- he looks bad on video, not me."
May, 22, 2013
5/22/13
7:43
PM ET
EL SEGUNDO, Calif. -- There's a reason no team has won back-to-back Stanley Cup titles since the
Detroit Red Wings
in 1997 and '98:
It's damn tough.
Reproducing the hunger and drive to go all-out over two months is mighty difficult. Once a player has done it, he realizes how much sacrifice it takes. He remembers what his body feels like at the end of it.
Two-time Stanley Cup champion
Justin Williams
knows that all too well.
"The parity of the league makes it a lot tougher. It's hard [to repeat]," Williams said Wednesday after he and the
Los Angeles Kings
practiced. "It is a hard grind getting 16 wins throughout a postseason. But the trick is to make sure you have the same hunger that drove you last year, because you have won.
"That next Stanley Cup should be your favorite one. That's what we're finding here, that's what we're looking for. And there are teams in our way. We're still in a good spot."
The reigning Cup champion Kings do indeed control their fate despite having lost two straight to the
San Jose Sharks
and sitting in a 2-2 tie in the Western Conference semifinals. It's now a best-of-three series with two of those three games at home, where the Kings have dominated of late, winning 12 straight.
"We won the last game of the regular season for a reason," star center
Anze Kopitar
said. "We got to make it count."
It certainly isn't coming easily this spring for the Kings, who steamrolled through the playoffs last spring like the 1987
Edmonton Oilers
.
Los Angeles was healthy and dominant a year ago, barely facing any adversity in going up 3-0 in all four series. It was silly, really.
Now the Kings get to experience the playoffs like normal contenders. You know, where you lose a game here and there. And lose a player here and there.
They're finding out that repeating is awfully tough.
"The physical part is obviously huge, but just the highs and lows that you go through, you got to be ready for that in your head," Kopitar said. "Last year we had a lot more highs than we had lows. This time it's a little bit different. Mentally, it's challenging. You have to take it as a new day and prepare that way."
This a good test for the Kings, who have character and guts. It would be a shock if they didn't raise their game to another level in Game 5 on Thursday at Staples Center.
This team still has the hunger.
"Absolutely, absolutely," said Williams, who appears to be playing banged up in this series. "We're professionals, we're here for a reason. That Stanley Cup, the big, silver jug, is the pinnacle of success in our professional life. Regardless of whether you've won it once, twice, five times, come playoff time that's all you want."
It won't all be solved between the ears, though.
There are X's-and-O's issues, too.
"We've just got to get more O-zone time and less D-zone. It's simple," said veteran defenseman
Matt Greene
, who got his first good look at the issues Tuesday night in his first game of this postseason.
"They're a cycle team just like us, and the more they're in our zone, the less we're establishing our game plan and doing what we want behind their defensemen. That's it. It's pretty simple," Greene said. "There's no magic here. We just need more offensive-zone time."
The Kings haven't generated enough offensive pressure in this series. At least not the kind we're accustomed to seeing from them.
To that end, head coach Darryl Sutter took his blender out Wednesday, shuffling the deck on his lines, at least for practice.
Captain
Dustin Brown
was off Kopitar's line and found himself on the third line with
Trevor Lewis
and
Dwight King
. Replacing Brown on Kopitar's line with Williams was
Kyle Clifford
.
Dustin Penner
skated with
Mike Richards
and
Jeff Carter
, after Penner replaced King on that unit midway through Game 4.
"Quite honestly last night as the night went on we used a lot of different guys," Sutter said Wednesday when asked about the line changes. "Trying to get something going and generate a little bit more with some of our top guys."
The Brown-Kopitar-Williams unit just hasn't delivered enough. That's a big part of the issues, especially when you think back to both Brown and Kopitar generating playoff MVP votes last season.
"Quite honestly as a line, they've been struggling for two series, if you look at it," Sutter said.
It's clear that the coach isn't satisfied with too many of his forwards' production, other than Richards and Carter.
"I think we need four lines with some balance because really other than Richie and Jeff, we really haven't been able to play anybody to give us a little bit of energy and continuity," Sutter said.
The veteran Kings coach leaned back on the bench he was sitting on at this team's practice facility Wednesday and pointed out to the assembled reporters where this deadlocked series basically stands.
"The score is now 8-7 four games in, and we're winning 8-7," Sutter said.
In other words: They knew they were in for a fight with the Sharks, they're not surprised, they're not panicking, and they've got home-ice advantage.
The road to glory isn't so smoothly paved this year. A win Thursday night, however, would get the Kings back on track.
May, 22, 2013
5/22/13
2:24
AM ET
SAN JOSE, Calif. -- To a man, players on the
San Jose Sharks
heading into Game 4 felt they had outplayed the
Los Angeles Kings
despite being down in the series.
That's fine and dandy, Sharks defenseman
Dan Boyle
said the other day, but unless it shows up on the scoreboard, it means nothing.
Now it has. Now it does.
Brent Burns
and
Logan Couture
scored the goals,
Joe Thornton
was a one-man wrecking crew, and the Sharks served notice Tuesday night with a second straight win in a 2-1 decision: If the defending Stanley Cup champions are going to have a shot at repeating, they're going to have to raise their game to another level.
Because, right now, the Kings are fortunate it's only a 2-2 series and not worse.
They were outshot 15-3 in the opening period Tuesday night, thanks to
Jonathan Quick
only being outscored 1-0, but the reigning Cup champions looked completely overmatched early on in what helped set the tempo for a Sharks win.
"That first period was as good as we've played possibly all year," Boyle said.
On the flip side, the Kings have rarely looked so disorganized.
"You've got [to] prepare, get ready for the drop of the puck," Kings center
Mike Richards
said. "It was 1-0 before we even knew what was going on out there."
Burns opened the scoring 6:09 into the game, taking a beautiful feed from Thornton as their line, with
T.J. Galiardi
, skated circles around the Kings' zone.
"I thought they were very good early, established a relentless forecheck and used their size to their advantage," Sharks head coach Todd McLellan said of the Thornton line. "Obviously, they got us the first goal. And the momentum they created ran throughout the rest of the lines, and everyone jumped on board."
Wave after wave of Sharks pinned the Kings into their zone before an energized and raucous sellout crowd of 17,562 at HP Pavilion.
Thornton was an absolute beast, flicking off Kings defenders like they were flies.
"It's the best I've seen him play," his linemate, Galiardi, said. "I don't know what he had for pregame meal today, but I hope he has it again in a couple of days. He was flying. And it's so contagious; when Jumbo's going, everybody is going. It's pretty to watch."
The Sharks kept the Kings hemmed into their zone nearly the entire first period.
"The Kings are spending way more time defending in their own zone than they were a year ago," a veteran NHL scout said between periods.
Some of that is because the Kings' back end hasn't been set the entire season -- with no
Willie Mitchell
available,
Alec Martinez
(scratched on this night) struggling to find the form he had last season and
Matt Greene
having been out most of the season until finally being re-inserted into the lineup Tuesday night.
Whatever the case, the Kings' blue line, especially the third pairing, just hasn't had the symmetry and balance it had a season ago.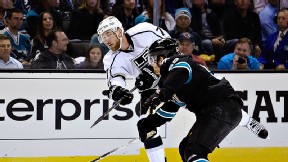 Thearon W. Henderson/Getty ImagesThe Kings have found this playoff run a little trickier than last season's.
But credit the Sharks here, as well. They are right on top of the Kings with a speedy forecheck that has bottled up Los Angeles.
It's incredible how much faster this Sharks team plays compared to a season ago when it went out meekly to the
St. Louis Blues
in the first round.
"We were more passive last year," Thornton said. "This year, we're aggressive. We just play well when we're aggressive, and that's probably been the key."
While the Kings took a while to find their game on this night, it doesn't help when you're not getting the calls, either. A quick whistle in the second period robbed the Kings of a goal when it was obvious
Antti Niemi
did not have it. That should have been a goal for Los Angeles, and it would have cut the lead to 2-1. That would have been a big moment for the Kings.
"It was a quick whistle," Kings captain
Dustin Brown
said. "That stuff tends to even itself out over the course of a year. Sometimes, you get a quick whistle your way. Sometimes, you don't."
It was a tough call, and these are the type of things that didn't seem to happen to this Kings team last season. Whether they're calls from refs or plain breaks, everything seemed to go their way, in large part because they manufactured a lot of that good fortune with their play.
They rolled out to four consecutive 3-0 leads and barely faced any adversity en route to a well-deserved championship.
If they win the Cup again this season, it will be with a much different script.
The Kings head home now, where they've won 12 straight and are a perfect 5-0 in these playoffs. That's a good place to turn this around.
"We're comfortable at home, so I think that's going to be a good thing, and we obviously have confidence there, too," Richards said. "It's just a matter of playing our game. When we do that, we have success."
The Kings began to recapture their game in the third period Tuesday night, finding the back of the net on Richards' power-play goal at 9:46 and outshooting the Sharks 14-2.
"They're the Stanley Cup champions for a reason," Thornton said. "They're going to hang around. In the third period, they played really, really well."
But in the same fashion, the Kings chalked up being outshot 16-4 in the third period in Game 1 to the Sharks desperately trying to get back in the game, there was a similar feeling Tuesday night to the Kings' third-period dominance.
"We have to [do] that from the start," Brown said. "That's the difference in the game. They dominated the play, especially in the first 30 minutes."
A dandy of a series is now a best of three, with the underdogs believing more than ever they have a chance at dethroning the champs.
"We're in a good place right now, and it's only going to get harder," Boyle said.
A few nights ago in L.A., after the Sharks suffered what seemed like a crushing, Game 2 loss, McLellan confidently told reporters that his team would bounce back. He felt these Sharks were different than in seasons past.
He was right.
"The character in our locker room … you could feel it when we left L.A. on the plane after Game 2," the Sharks coach said. "We were ready to get back to work.
"We're going to swing the bat when we're up there."
May, 21, 2013
5/21/13
4:23
PM ET
SAN JOSE, Calif. -- Both the
Kings
and
Sharks
were mulling lineup decisions Tuesday morning after the pregame skates.
For Los Angeles, coach Darryl Sutter would not confirm whether winger
Kyle Clifford
would return for Game 4 on Tuesday night.
"There hasn't been any announcement that I'm aware of that he's coming back," Sutter said when asked about Clifford.
Clifford, who has been out since May 8 with an undisclosed injury, skated on a line with
Colin Fraser
and
Brad Richardson
in practice Monday and sounded afterward like he thought he was playing.
But this is the playoffs, and gamesmanship with lineups is a daily activity.
On defense, veteran
Matt Greene
-- who played in only five games in the regular season after missing two months recovering from back surgery -- hasn't played in the postseason, although he did take warm-ups before Game 3.
Sutter was asked Tuesday morning what it would take for him to feel comfortable playing Greene, who was a key last spring in the Kings' Cup run.
"We had him in warm-up the other night, and that's the direction you go," Sutter said. "Practice, contact, game-day skates, warm-up, that's always what you try and do. You're more inclined with veteran guys ... there's young guys that you have to push; the difference between injured and hurt, that's something you have to explain sometimes. But with the older guys, the veterans, guys that you trust, there's a point where they make that decision because they know what it takes."
For San Jose, the re-injured
Martin Havlat
and the suspended
Raffi Torres
leave the Sharks with few options for their lineup ahead of Game 4.
Expect
Tim Kennedy
as a fourth-line center or
Jason Demers
as a seventh defenseman/fourth-line winger. The latter seems more likely.
"Still an option for us," Sharks coach Todd McLellan said. "We can put Demers in and play him both at forward and the back end, and rotate him around. That would allow us to maybe overplay or use someone else on the fourth line a little bit more, whether it's Jumbo or Patty or whoever it might be. So it's certainly an option."
Demers said Tuesday morning that he was told by the coaching staff simply to be "ready" in case he gets the call. Demers did play some forward three years ago in the conference finals against the
Chicago Blackhawks
, so it's not foreign to him.
But McLellan dismissed the notion that because the Sharks have had success with
Brent Burns
moving from defense to forward, perhaps they can get lucky with Demers as well.
"No, it's two completely different cases," McLellan said. "We can't get into making this a habit. Burnsy has played there before, he's played well there before. Jason has played up in some games when we've needed forwards, but Burnsy is a separate case, a special case."
Quick contact
Sutter on Monday said he had some concern that his goaltender came into more contact with opposing players in Game 3 than did San Jose's goalie.
That's a veteran coach's way of getting the attention of referees before Game 4, hoping officials will call goalie interference when applicable.
"He plays on top of the crease," Sutter said Tuesday of Quick when asked about his concerns. "I'm not whining or bitching or anything, but it's just that he plays on the top of the crease, and the last two series we play against goalies who play more in the blue paint. So, what is the rule?"
The Sharks absolutely want to continue to get into
Jonathan Quick
's face as much as possible.
"Within the rules, you want to get into his way," Sharks winger
T.J. Galiardi
said. "I think with him, he wants to come out to the ringette line. If he comes out that far, I wish he was fair game. That would be great if that's how it worked because he's out all the time. He's doing just as much as we are, little jabs here and there. He gave his blocker to the face of Burnsy. ... But we're going to get in there. You can't let him be comfortable."
Kopitar line
Sutter on Sunday essentially called out his top line, saying the Kings needed more production from
Anze Kopitar
,
Dustin Brown
and
Justin Williams
.
"We know that," Kopitar said Tuesday morning. "We take pride in our production and our game and it's not to a level where we need to be. We're going to have to crank it up."
May, 1, 2013
5/01/13
8:53
PM ET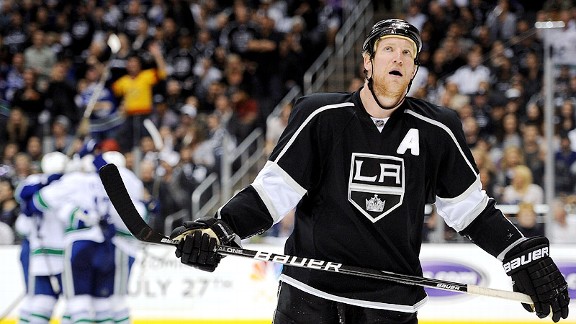 Harry How/Getty ImagesMatt Greene sure would like to get back on the ice, but that will take some time.
ST. LOUIS --
Matt Greene
's absence was certainly felt in the
Los Angeles Kings
' opening loss to the
St. Louis Blues
on Tuesday night.
The big, physical defender, such an important part of last season's Stanley Cup champion team, practiced again Wednesday, but at this point, his availability to play isn't quite clear.
"I'm doing whatever they tell me here, that's it," Greene said after practice, not wanting to reveal much.
Greene is the type of warrior who would play on one leg if the team let him, so clearly whether or not he plays, or when, is not his call.
"No, it's just the way it's going right now," Greene said. "That's the way our lineup is. And that's fine. … They're going to put me in when I'm healthy to go and ready to go."
Head coach Darryl Sutter shed a bit more light on the situation Wednesday, saying it's not simply about Greene's condition.
"It's not just [being] healthy, but he's got to be up to speed," Sutter said. "He needed about 10 games, to be quite honest. You just don't put him in the lineup because he's Matt Greene. Matt Greene has to be able to play and perform. We were hoping to get more games from him before, [to be] quite honest, and he got banged up. So we'll see. I'm quite happy playing those two kids because they're quite capable, too."
Greene missed two months recovering from back surgery before returning recently to play four games. Then, he got hurt again.
So for now, it's
Keaton Ellerby
in for Greene on the third pairing along with
Jake Muzzin
, the two kids Sutter was referring to.
Those two kids looked a little overwhelmed at times in Game 1, as they were hammered by the Blues' forecheck.
"As the game went on they both played better, but at the same time, it put pressure on the other four guys early, and it was a big reason why we spent so much time in our own zone, was those kids having trouble early in the game," Sutter said.
Blues know what's coming
The Blues aren't resting on their laurels. They know the Kings will come hard Thursday night.
But at the same time, they'd be lying if they didn't say finally beating L.A. after eight straight losses dating back to last season didn't feel good.
"There's a lot of areas we need to improve on," veteran Blues forward
Andy McDonald
said after practice Wednesday. "Certainly, they've taken it to us in the regular season and in the playoffs last year. Hopefully, it builds confidence in our room that these guys are beatable -- and they're the defending Stanley Cup champions -- but if we play our game, we can play right there with them.
"But my point is it's Game 1, and I think we had the adrenaline going, being excited, home opener in the playoffs, a lot to prove, and we just [need] to be sure that we match that tomorrow night and maybe even bring it up a notch, because I know that they're going to come out a little harder."
April, 30, 2013
4/30/13
1:54
PM ET
ST. LOUIS --
T.J. Oshie
is in for the Blues, rookie
Vladimir Tarasenko
is out for Game 1 on Tuesday night.
Oshie hasn't played since March 28 while recovering from an ankle injury. Blues head coach Ken Hitchcock wanted to see how Oshie felt Tuesday morning after going hard in practice the day before and saw enough to make the decision to bring him back into the fold on a line with
Patrik Berglund
and
David Perron
.
That makes Tarasenko the odd man out, the coach confirmed after the morning skate.
"I've always believed that the first kick in the can in playoffs is for veteran players. You give them a go," Hitchcock said. "Tarasenko will probably get some time during the playoffs. But you want to give the veterans a chance -- unless they've really underperformed -- to prove that they want to take the ball and run with it. That's what we're going to do. And if somebody underperforms, we won't hesitate to replace them and move on from there."
Tarasenko, who had 19 points (8-11) in 38 games this season, has electrifying talent but hasn't been quite the same player since returning from a concussion earlier this season.
"In reality, this has been a very difficult season for him," Hitchcock said. "Not from the competition side of things but from intensity, games played, no practice, no rest -- I think he's found this season, at times, overwhelming. …
"He's played his best hockey when he's rested. We expect him to come into the series and be a rested player."
Greene might get the red light
Kings head coach Darryl Sutter wouldn't confirm on Tuesday morning his lineup for Game 1 but given that
Matt Greene
put in more time during the morning skate, it's likely he's out for Game 1 and
Keaton Ellerby
would replace him.
Greene was held out of the regular-season finale with an undisclosed injury. He had just come back and played four games after missing two months recovering from back surgery.
Showing their stripes
The series supervisor for the Kings-Blues series is Rob Shick, who met Tuesday morning with both head coaches.
It's pretty clear what Hitchcock said to Shick.
"Message to the referees was, 'Stand on the third row, just get the hell out of the way, let us play,'" Hitchcock told reporters after the morning skate when asked about his meeting with Shick. "Because there's two teams that know what's at stake, two teams that play the game the right way, two teams that know how to play; this is a series that deserves to be played five-on-five.
"And I think the referees will act accordingly. I think they're very good at understanding that these are two teams that really pride themselves on discipline and play with emotional control most of the time. Sure, we've got guys that take it over the edge, they've got guys that take it over the edge. But organizationally, [the Kings are] a team that gets on their players -- just like we do -- about taking bad penalties. I think if they just let us play, these teams will decide it five-on-five which is what we all want in the playoffs."
The refs for Tuesday night are Marc Joannette and Brian Pochmara.
Fourth-line finesse
The fourth line of
Chris Porter
,
Adam Cracknell
and
Ryan Reaves
remains intact for Game 1 -- a unit that Hitchcock has grown fond of.
"They're more than our fourth line," Hitchcock said. "They score. Fourth line as an energy line, those days are gone. Those are dinosaur lines, they don't work anymore in the league. The hockey is too good and your fourth line needs to contribute. And, boy, ours has come through in spades. They've scored, they've pressured on the forecheck, they've been able to play against top-six forwards, they're a lot more than a fourth line."
Probable lineups
BLUES
Forwards
Scwhartz-Backes-Steen
Sobotka-McDonald-Stewart
Perron-Berglund-Oshie
Porter-Cracknell-Reaves
Defense
Bouwmeester-Pietrangelo
Leopold-Shattenkirk
Jackman-Polak
KINGS
Forwards
Clifford-Kopitar-Carter
Brown-Richards-Williams
King-Stoll-Lewis
Penner-Richardson-Nolan
Defense
Regehr-Doughty
Scuderi-Voynov
Muzzin-Ellerby
April, 12, 2013
4/12/13
4:03
PM ET
The molten desire to become a pro athlete in spite of any and all obstacles isn't necessarily part of a person's DNA.
Sometimes it has to be coaxed out of him.
Sometimes that desire, that commitment, is like a flickering flame that has to be poked and prodded before it becomes something that throws real heat.
Sometimes, as in the case of a player like
Los Angeles Kings
defenseman
Jake Muzzin
.
Named the league's rookie of the month for March, Muzzin illustrates that there is no textbook case for how to become an NHL player, no tried and true calendar for when the switch gets thrown.
"I always believed I could play here and be here," Muzzin told ESPN.com in a recent interview.
It's just that his belief was sometimes at odds with such characteristics as work ethic and focus, as well as things that are out of a person's control, like drafts and injury.
Muzzin has been able to reconcile all of those competing elements to become an important -- dare we say crucial? -- part of the Kings' Stanley Cup defense, even if he acknowledged that he has not followed the traditional route to the NHL, not by a long shot.
Born to blue-collar parents in the farming community of Woodstock, Ontario, not far from London, Muzzin missed an entire year of junior hockey because of back problems that eventually required surgery. He played 37 games the following season, in 2006-07, and the
Pittsburgh Penguins
saw enough in the big defenseman that they took him in the fifth round of the 2007 draft.
Two years later, though, Muzzin wasn't able to come to an agreement with the Penguins on a contract and went back into the draft.
The 24-year-old acknowledged that he was in a period when he wasn't yet a "full-time" hockey player or fully engaged in the process of becoming one.
As is often the case when players find themselves on the draft carousel a second time, no one took a chance and Muzzin became a free agent. But after a strong over-age year in the Ontario Hockey League with Sault Ste. Marie, where he collected 67 points in 64 games, Muzzin started attracting attention from a number of NHL teams.
Muzzin signed with the Kings in the summer of 2010 and played 11 games with the club in 2010-11, but for the most part he was consigned to the team's American Hockey League affiliate in Manchester for the last two seasons.
When he joined the Kings, Muzzin said he felt he had something to prove and that it was a conversation with his parents that helped get him to that point mentally.
After being passed over in his second draft opportunity, Muzzin had to consider what else life might have in store for him. He began looking at applications for colleges.
"But I was like, 'I do not want to go to school. I want to play hockey,'" Muzzin said.
Fine, his parents told him. But if he was going to be a hockey player, he had to treat it like a job. He was a man now and not a kid, they said, and he had to make the sacrifices necessary if hockey was going to be his life.
It was a message that hit home for Muzzin, who had seen the sacrifices his parents made to make sure he got the opportunities to pursue a hockey career.
"The drive was there," he said.
Still, Muzzin is a great illustration of the idea that desire isn't enough, no matter what the movies tell us. In fact, when he first went to Manchester, there were lots of instances where coaches and management had to push Muzzin to fully take advantage of his skills.
"I don't know if Jake understood how important it was to be at his best every day," Kings assistant GM
Ron Hextall
told ESPN.com recently. "There were a lot of little things he was kind of letting go by the wayside."
If the Kings were at a different point in their evolution, perhaps it wouldn't have mattered so much what Muzzin did or didn't do at the AHL level. Maybe they could have lived with the inevitable mistakes that young defensemen make as they try to make the jump to the NHL. But the Kings are no longer that team.
"Every mistake is magnified much more so than for forwards," Hextall said. "There's a lot of little things to learn. There's a lot of things people don't understand from the outside.
"Where we're at as a team, we can't afford to have those mistakes. He's done a great job since he's been called up, though."
With
Willie Mitchell
and
Matt Greene
, two key members of the Kings' Cup-winning blue line, out for the long term with injuries, Muzzin's ascension this season has been critical for coach Darryl Sutter in spreading out the ice time.
Most specifically, Muzzin's abilities to play on the power play and log quality minutes have given Sutter the freedom to deploy former Norris Trophy finalist
Drew Doughty
more often against opposing team's top lines while killing penalties as well. Muzzin's six goals are tops among L.A. defensemen and tied for first among first-year blueliners. In his last 19 games, Muzzin has logged at least 19 minutes in ice time 15 times. His 14 points are fourth among rookie defensemen.
"We were looking, we were waiting for someone to step up, and it's been Muzz," Hextall said.
Doughty, alongside whom Muzzin has played for long stretches this season, credits Muzzin for helping maintain balance along the Kings' blue line.
"Muzz opens up some things for me with those two big guys out," Doughty said.
Give the Kings credit for sticking with Muzzin, one NHL personnel director told ESPN.com.
"His progress was questionable, and he looked unstable early this year when NHL started," he said. "I saw him more recently, and he found the confidence needed because they kept feeding him ice time in important situations. Now it looks like they have a big body, smart D-man who can play top-four minutes. Skating is not pretty, but size and smarts are NHL, so he gets the job done."
Another NHL team executive familiar with Muzzin said there were similar concerns about his foot speed and mobility early on but added that he was always a popular player.
"He's just an enjoyable kid to be around," the executive told ESPN.com. "He turned out to be a marathoner rather than a sprinter."
Muzzin's father works in a local factory, and his mother works as an accountant for a local business. After a recent game in which Muzzin felt he hadn't played well, he was talking to his father, who told his son how proud he was of his accomplishments.
Talk about perspective.
"It's nice to hear," Muzzin said. "And it's nice to have the chance to make him happy."