Cross Checks:

Matt Niskanen
June, 13, 2013
6/13/13
5:38
PM ET
For
Pittsburgh Penguins
GM Ray Shero, it was never about whether he should trade Evgeni Malkin but about whether Malkin wanted to be in Pittsburgh.
Playing alongside a superstar like
Sidney Crosby
, and thus being in the considerable shadow cast by the talented captain, is not for everyone.
As it turns out, though, it is exactly what suited Malkin.
The two-time scoring champ and former playoff and regular-season MVP has agreed in principle to an eight-year contract extension that will come with an annual cap hit of $9.5 million. The contract kicks in at the start of the 2014-15 season.
"When we spoke, it was clear to me that he wanted to be here," Shero told ESPN.com on Thursday.
"He made it clear he wanted to stay and play in the National Hockey League," the GM added, noting the lure of Kontinental Hockey League money back home in Russia was also an option Malkin had to consider.
In the wake of the Penguins' shocking sweep at the hands of the
Boston Bruins
in the Eastern Conference finals -- during which they scored just two goals and went 0-for-15 on the power play -- there was much debate about what changes should be made to the team and the organization.
There was some discussion about whether Shero would be better off to move Malkin, who could have become an unrestricted free agent at the end of next season, to try to spread out the talent and money on the team as opposed to having two big-time, big-salary centers eating up so much cap space.
But Shero looked at it from a different viewpoint: When you have two of the best centers in the game, don't you do everything in your power to keep them?
The answer was yes, and so he did.
"It's a high number, obviously, with a salary cap," said Shero, who can add and subtract with the best of them. "I do the math. I get it."
But this contract doesn't kick in until the start of the 2014-15 season, and early indications are that the salary cap, which will drop to $64.3 million next season, will rise to pre-lockout levels and beyond by that time. If so, that $9.5 million cap hit may seem less imposing.
So this contract is really about the future and the fact that Crosby and Malkin are now under contract together for the better part of a decade. (The extension Crosby signed last year takes him to 2025 with an $8.7 million annual cap hit, while Malkin's goes until 2022.)
Shero, of course, has been busy since the Pens were eliminated late last week.
In the face of questions about whether he would make a coaching change, Shero extended coach
Dan Bylsma
and his staff, although longtime coach Gilles Meloche had decided months ago this would be his final season as the team's goaltending instructor.
Now Shero will turn his attention to the immediate future, specifically the makeup of his blue line.
Brooks Orpik
,
Matt Niskanen
and Norris Trophy candidate
Kris Letang
can all become unrestricted free agents at the end of the season. The Pens have a handful of good young defensemen who need a shot at playing NHL hockey, so Shero must decide how to integrate those players into the lineup and at what point that integration should begin.
The biggest issue will be with Letang, who has high-end offensive skills but struggled mightily on defense in the playoffs.
In the coming days, Shero will sit down with Letang's agent Kent Hughes to see what the defenseman is looking for in terms of dollars and contract length. The feeling is that if Letang is looking to be paid as much as the league's best defensemen -- say in the $7 million-$8 million range with a seven- or eight-year deal -- it will be difficult for Shero to accommodate him given the other commitments he has made.
If that's the case, look for Shero to begin to immediately explore the trade market for Letang.
The situation is similar to a year ago when Shero began contract extension discussions with center
Jordan Staal
, whom he thought he could re-up long-term.
"But that turned very quickly," Shero said.
When it did, Shero worked out a blockbuster deal with Carolina at the draft that saw
Brandon Sutter
, a prospect and a first-round draft pick come to the Penguins in return for Staal.
One imagines a similar scenario unfolding with Letang is possible, if not likely.
"There's a lot of work to do but a lot of options," Shero said.
May, 16, 2013
5/16/13
5:34
PM ET
PITTSBURGH --
Penguins
defensive coach
Todd Reirden
always has this message for the team's young defensive prospects who think they're ready for a taste of the National Hockey League: Go check out No. 44, and then you'll know if you're really ready.
That's
Brooks Orpik
, who has become a pillar in a locker room chock-a-block with high-end talent, a testament to his maturation into a thinking-man's defenseman who is far more than just that guy who can wreak havoc with thunderous open-ice hits.
"He doesn't know it, but they [the young prospects] watch him live his life, basically," Reirden told ESPN.com on Thursday.
"He's an intense competitor, but he's calm and under control," the coach added.
Earlier this season, when the Penguins were struggling with their defensive play, Orpik was one of the catalysts for changes in how the team played on that side of the puck.
"He was a large part of our meetings, and he said some things that challenged our team to get better," Reirden said.
"He was a large part of our turnaround this year," added Reirden.
In some ways, Orpik is the model player, the kind all teams covet and hope to have in their organization.
The Penguins drafted him 18th overall in the 2000 draft while Orpik was establishing himself as a hard-hitting defenseman at Boston College. He spent two years playing for the Penguins' American Hockey League affiliate in Wilkes-Barre and has been a fixture on the Pens' blue line since 2003-04. In that time, Orpik has gone from a player relying mostly on physical attributes to someone who has learned to think the game at a high level and assume more and more responsibility for a team with expectations as high as any in the league.
[+] Enlarge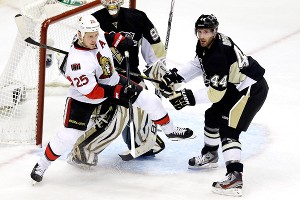 AP Photo/Gene J. PuskarBrooks Orpik makes his presence felt in front of the Penguins' net and in their dressing room.
Orpik played his best game of the playoffs in Game 1 of the Eastern Conference semifinal series against the
Ottawa Senators
. He left big Ottawa defenseman
Eric Gryba
woozy from a titanic open-ice collision and tangled with agitating rookie
Cory Conacher
, all without uttering a word of trash talk or taking a trip to the penalty box.
"Five or six years ago, I might have gotten mad," Orpik said Thursday. "It's such a fine line now, especially stuff after the whistle."
Those moments aren't lost on anyone watching the game, especially Orpik's teammates.
"Even off the ice, that's his demeanor. That's the way he is, you know, calm," said defense partner
Paul Martin
. "On the ice every once in a while he'll get the blood boiling or he'll get the eyes going and you definitely don't want to be around when that's going on. But he's very composed."
"He has that intensity, but he's smart. He doesn't let the emotions get the best of him. He keeps it well within his means," Martin added.
A team is a complex machine -- at least good teams are -- a series of moving, interconnected parts. For a team as deeply skilled as the Penguins, it is imperative that there be some ballast, a kind of counter to all that skill.
Orpik, who scored the overtime winner in Game 6 of the first round against the Islanders to propel the Penguins into the second round for the first time in three years, represents that element on this team.
"We always look to Orps for that boost and the way he plays physically," said Penguins captain
Sidney Crosby
after Game 1. "We've gotten used to him making those big hits and stepping up and making it tough on other guys. It's definitely a huge boost when he does that."
Before playing with Martin, Orpik helped talented defenseman
Kris Letang
grow into a top two-way player who this year is a finalist for the Norris Trophy as the league's best defenseman. Playing with Martin, Orpik helped the former New Jersey Devil rebound from a disappointing 2011-12 season, and the pair is regularly playing big minutes against opposing teams' top forward units.
"He has this presence about him that makes you not want to make a bad play," Reirden said.
Local Pens beat writer Rob Rossi has dubbed Orpik "The Conscience," and it is an apt description not only in how he plays but also in how he conducts himself off the ice. He is unfailingly thoughtful and refreshingly blunt.
"He's our most dependable guy," said
Matt Niskanen
. "He's just so consistent, always in the right position. Always brings a physical factor to the game. He's our leader on the back end.
"He's just that staple that's always there."
What impresses about Orpik is that, for such a physical presence, he rarely fights. According to Hockeyfights.com, he has had two fights since the start of the 2008-09 season -– and rarely talks smack to opposing players.
"He's not a rat," Niskanen said. "He just plays the game hard and tries to be effective and leave an effect on people. But he does it in an honorable way and just plays the game hard."
Longtime NHL player
Keith Jones
, now a national analyst, has seen a lot of Orpik over the years and notes that the Penguins are a much different -- read: lesser -- team when Orpik is out of the lineup, as he was when the playoffs began.
"I think of him as a difficult player to play against," Jones told ESPN.com this week. "I think as an opposing player you're happy when he's not in the lineup."
If the Penguins are going to make a run at another Stanley Cup, they will need Orpik to stay healthy, said Jones, who likens his importance to that of Daniel Girardi or
Ryan McDonagh
for the
New York Rangers
, or even to another famous Penguins defender of yore,
Ulf Samuelsson
.
"He reminds me a lot of [Samuelsson]," Jones said. "I think he's more than a glue guy."
Orpik, a member of the U.S. team that won a silver medal at the Vancouver Olympic Games in 2010, understands he has become a player from whom other players take their cues. It is not a role he sought out, but one he accepts willingly.
"I think you embrace it," he told ESPN.com. "I don't think I ever think about it too much or get caught up in it too much, but you just have to be aware of it all the time."
"Younger guys, when they come up, they just watch how you carry yourself on and off the ice, how you treat people, how you act in different situations," Orpik added. "Maybe when you're younger it goes unnoticed, but now you're older and you've got a lot of eyeballs on you."
The funny thing is it doesn't seem all that long ago to Orpik that he was a guy looking across the dressing room at a player like
Gary Roberts
, taking note of how he prepared, what he ate, how he interacted with people on and off the ice.
"You remember how you viewed those guys, and I think you're na´ve if you don't think people view you in the same light," Orpik said. "Hopefully people view me somewhat close to how I viewed Gary."
The 32-year-old has one year left on a six-year deal, and it's difficult to imagine him in any other jersey.
"When you're younger, you always hear older guys say that, 'Oh, it all goes by so quick,' and you just kind of laugh at that," Orpik said. "But it does go by quick. I think the biggest thing is just enjoying it as much as you can. I know it obviously helps when you're winning, and it helps with the kind of people we have around here. There's not a lot of bad days around here, that's for sure. Even when you're losing."
February, 21, 2011
2/21/11
8:47
PM ET
PITTSBURGH -- So once again Pittsburgh Penguins GM Ray Shero jumps from the horns of a dilemma and lands if not in the clover, then pretty darned close.
Without former NHL scoring champ Evgeni Malkin for the rest of the season and with captain Sidney Crosby out indefinitely with a concussion, Shero had to wrestle with how to improve his team short-term should Crosby return for a playoff run but without squandering assets should Crosby's injury keep him out of the postseason and thus limit the team's chances of a long playoff run.
Bingo.
Monday afternoon Shero added a big, talented young forward in James Neal from the Dallas Stars along with defenseman Matt Niskanen in exchange for offensive defenseman Alex Goligoski.
All three players are signed through next year and, while Goligoski has turned into a valuable point producer, Shero was dealing from a position of strength along the blue line with Kris Letang having a season worthy of Norris Trophy consideration and last summer's free-agent acquisitions Paul Martin and Zbynek Michalek anchoring one of the top-rated defenses in the league.
Clearly the Pens' needs were up front, where they have been decimated by injuries, most notably to Crosby and Malkin.
What Shero managed to avoid in this deal was giving up young assets for a rental player.
Neal, 23, was the 33rd overall pick in the 2005 entry draft and has 21 goals this season, although he did go through a stretch recently in which he went without a goal in 10 straight games.
Neal scored 24 times in his rookie season and 27 in his sophomore season and will play top-six minutes for the Penguins.
"His best years are ahead of him," Shero said after the deal was announced Monday.
Niskanen, 24, has also shown some offensive pop, producing 35 points in his sophomore season in Dallas. The Virginia, Minn., native's numbers have fallen off the past two seasons though.
Shero said Niskanen will get a chance to get back on track offensively in Pittsburgh.
From the Stars' perspective, GM Joe Nieuwendyk was able to address a glaring need -- point production from the back end. Goligoski, a swift-skating defenseman with 31 points, instantly becomes the Stars' leading point producer along the blue line with five more points than Stephane Robidas.
Goligoski, a regular on the Penguins' power play, should aid in that area as well as Dallas' struggles to stay in the top eight in the tightly packed Western Conference. The Stars have gone 1-7-1 in their past nine and were tied for eighth heading into play Monday.
Shero said he'd been fielding calls on Goligoski, a Penguins prospect, for a couple of months but wasn't interested in moving him unless the right forward became available. Shero believes that player is Neal.
While the Stars look to be life and death to make the playoffs let alone go on a long playoff run, the Penguins' future is much more interesting.
If Crosby comes back to the form he was at the time of his injury, given the team's strong defensive play and goaltending and now the addition of a strong scoring winger, the Penguins would be considered once again a Cup contender.
Without Crosby in the lineup that outlook changes dramatically and makes the trade deadline trickier for Shero.
While Monday's deal satisfies immediate and long-term needs, Shero may not yet be done.
"I've got a little idea," Shero said. "But based upon Sid it's hard to make a determination because I just don't know.
"I have no inside information on Sidney Crosby and when he's coming back."