April, 20, 2014
Apr 20
3:02
PM ET
NEW YORK -- The
New York Rangers
squandered a 2-0 lead as the
Philadelphia Flyers
rallied from behind with four unanswered goals for a 4-2 win over the Blueshirts on Sunday that tied the series 1-1 and sends the two teams back to Philly for Game 3 at Wells Fargo Center.
An undisciplined and defensively porous Flyers team was exposed in the first period, but recovered in the second to become the aggressors in the latter half of the game.
Philly's penalty-killing effort was superb, limiting the Rangers to just one goal in six power-play opportunities for New York. Anchoring the Flyers in net, backup netminder
Ray Emery
delivered a fine 31-save performance to prove himself capable of handling the load with regular starter
Steve Mason
on the shelf with injury.
Mason, who has missed the first two games of the series, is hoping to make his return in Game 3, but Flyers coach Craig Berube may have a difficult decision on his hands once Mason returns to good health.
Redemption shot:
Flyers rookie forward
Jason Akeson
got a sweet taste of redemption Sunday afternoon, with his rebound goal on a gaping net to knot the score at 2 in the second period. Akeson had a rough night in his NHL playoff debut in Game 1 on Thursday, taking a double-minor high-sticking penalty on
Carl Hagelin
that resulted in a pair of power-play goals for the Rangers. Nonetheless, Flyers coach Craig Berube expressed faith in the youngster, going right back to him on Sunday. Akeson started the game with linemates
Matt Read
and center
Sean Couturier
and continued to receive power-play time as well. His power-play marker at 5:45 on Sunday was his second career goal in only his fourth NHL game.
Fast and loose:
The NHL's most penalized team through the regular season was, unsurprisingly, not very disciplined once again. The Flyers gave the Rangers' special teams plenty of work in the beginning of the game, putting them on the power play three times in the opening frame, twice on ill-advised offensive-zone penalties. The Blueshirts capitalized on only one of those man-up opportunities, when
Benoit Pouliot
's flubbed shot from the right circle beat Emery for a two-goal lead at 8:22. That goal highlighted another major problem area for the Flyers: They gave the Rangers entirely too much room on the ice to execute the type of cross-ice feeds that set up Pouliot and resulted in
Martin St. Louis
' first playoff goal of the series earlier in the period. The Flyers failed to clog up the passing lanes and paid for it dearly as the Blueshirts jumped out to a 2-0 lead.
There they are:
Largely ineffective in Game 1, the Flyers' first line came alive late in the first period with an expert rush that allowed them to cut the Rangers' lead in half at 2-1. Sprung by linemate
Scott Hartnell
, skilled winger
Jakub Voracek
blew past defenseman
Ryan McDonagh
(how rarely does that happen?) and beat Lundqvist for his third career playoff goal with 5:46 remaining in the first period. Voracek and first-line center
Claude Giroux
were both held without a shot in Game 1 on Thursday.
April, 11, 2012
4/11/12
2:04
PM ET
PITTSBURGH -- It looks like six rookies will suit up for the
Philadelphia Flyers
in Game 1 of their Eastern Conference quarterfinal series against the
Pittsburgh Penguins
Wednesday night.
That's a lot.
And a lot is riding on the performances of those young players. In fact, it's not a stretch to suggest that the ability of
Matt Read
,
Sean Couturier
,
Eric Wellwood
,
Zac Rinaldo
,
Brayden Schenn
and
Marc-Andre Bourdon
to put aside the inevitable rookie playoff jitters and continue to fulfill the significant roles they've been asked to play for the Flyers this season will be a determining factor in this series.
A risky proposition against a battle-tested Penguins team?
Coach Peter Laviolette doesn't think so.
"We didn't go: 'Oh, my god, it's your first playoff series.' I don't think that would help us," Laviolette said, joking Wednesday morning after the team's final workout before Game 1.
Instead, in a season that has seen so many firsts for this group of players, this is merely another stop on the journey. Sure the stakes are higher but they're higher for everyone.
"Our younger players have been used, utilized in every situation imaginable to this point," Laviolette said.
"They got the opportunity to be part of the HBO [series], part of the Winter Classic, and never once has there been any lack of confidence from our organization, our staff or their teammates for that matter about the ability to play the game and contribute to our success. And they are contributing factors.
"For me this is not a roll the dice and hope they make it through. This is we need you to do your job, the job that you've done all year, you've done it so well."
With the Flyers going through a dramatic overhaul in personnel last offseason, opportunity presented itself to this group of young players that might not otherwise have been the case. The players have embraced it, as a group, in a way that borders on astonishing, as eight first-year players played in as at least 24 games.
Read is almost certain to finish in the top five in voting for the Calder Trophy as rookie of the year. Couturier has evolved into a fine defensive specialist. Rinaldo, who actually dressed for two playoff games last spring but played little, is an agitating presence who leads the team in penalty minutes, and Bourdon has been impressive filling in on the blue line.
Yes, the group's inexperience at this level at this time of the year can't be denied. But there's little reason to suggest it will prevent the group from continuing to do what it has been doing.
"They gave us no reason to believe that life would be any different than it was yesterday. They're a terrific group and we count on them for our success," Laviolette said.
Years from now all those players will remember this day as a significant step. Each preparing for it differently.
Wellwood, whose brother Kyle plays for the
Winnipeg Jets
, was hoping his experiences as a two-time Memorial Cup winner with the Windsor Spitfires would help keep him grounded.
Read was going to try to visualize good things happening to him in Game 1 -- a big hit, scoring a goal, having a good shift.
"That way when it comes to the game, you don't have to double-think things," Read said. "I'm trying not to make it any different than any other game."
Rinaldo, likewise, was looking to keep his mind clear until he arrived at the rink. His father and other family members made the trip from the family home in Hamilton, Ontario, to watch the game in Pittsburgh, so he thought he might go have a coffee with his dad.
"If I want to go outside and I want to go and take a walk, I'll take a walk. I don't have any rituals that I do or anything like that. I'm not superstitious," Rinaldo said. "When it comes to coming to the rink, then it's back to the grindstone."
Laviolette didn't have any special words of wisdom for his group of youngsters other than it's business as usual.
"It's been a ride for us," Rinaldo said. "Definitely ups and downs throughout the season, but [Laviolette] said we've done a great job and just to keep going keep positive and not let any type of situation get us too high or too low. Kind of stay in the middle and just keep grinding it out."
April, 6, 2012
4/06/12
10:17
AM ET
By
Elias Sports Bureau
| ESPN.com
•
Dion Phaneuf
scored with 59 seconds left in overtime to give the Maple Leafs a 3–2 victory against the Lightning. It was the fourth overtime goal of his NHL career and only the second OT goal by a Toronto defenseman over the last three seasons. Phaneuf scored the other one as well, on April 10, 2010, at Montreal.
•
Matt Read
's tiebreaking goal with 4:21 left in the third period was the game winner for the Flyers in their 2–1 victory against the Sabres. It was Read's 10th third-period goal this season, tying him with
Cody Hodgson
for the league high among rookies. Read is the first Flyers rookie to reach double figures in third-period goals in one season since
Jeff Carter
scored 10 in 2005–06.
•
Brooks Laich
's goal was the game winner for the Capitals in their 4–2 victory over the Panthers, that coupled with Buffalo's loss to the Flyers clinched a playoff spot for Washington. (Florida also wrapped up a playoff berth as a result of the Sabres' loss.) It was Laich's third goal in six games against the Panthers this season and his 10th career goal versus Florida, matching his highest total against one team. Laich has also scored 10 goals versus the Bruins.
•
Evgeni Malkin
scored one goal and assisted on another in the Penguins' win over the Rangers in Pittsburgh. It was the seventh straight Penguins home game in which Malkin has scored at least two points. That's the longest streak of consecutive multiple-point games on home ice by an NHL player since 1995–96, when
Jaromir Jagr
had a nine-game streak for Pittsburgh.
• The Penguins' 5–2 win over the Rangers marked the 10th consecutive game in which Pittsburgh has scored at least three goals. That's the longest such streak in the NHL this season, topping a nine-game run by the Canucks (Nov. 23–Dec. 10). It's the Penguins' longest stretch of games scoring three goals or more since an 11-game streak in February-March 2009.
• Rookie
Anton Khudobin
, making his debut for the Bruins, stopped all but one of the Senators' 45 shots on goal to lead Boston to a 3–1 win at Ottawa. Khudobin's 44 saves were the most in one game by a Bruins rookie since Feb. 21, 1987, when
Bill Ranford
posted a 45-save 1–0 shutout win against the North Stars in Minnesota.
•
Martin Brodeur
and the Devils eked out a 2–1 victory over the Red Wings at Joe Louis Arena. It was only the second win for Brodeur in nine career regular-season games at Detroit, and it was his first win there since a 2–0 shutout on Nov. 6, 1996. Brodeur lost all six games he played at "the Joe" in the interim, allowing at least three goals in each game. Of course, Brodeur won both games he played in Detroit during the Devils' four-game sweep of the Red Wings in the 1995 Stanley Cup finals.
March, 28, 2012
3/28/12
12:52
PM ET
The league's professional hockey writers have a difficult choice as they try to sort through which first-year player is deserving of this year's Calder Trophy for rookie of the year. Although there are a handful of rookies whose names have come up in discussion throughout the year, it appears as though it's going to come down to a two-person race between a couple of teenagers -- last year's first-overall pick,
Ryan Nugent-Hopkins
of the
Edmonton Oilers
, and fellow Northwest Division rookie
Gabriel Landeskog
of the
Colorado Avalanche
, who was taken one pick later in that draft.
Gabriel Landeskog, Colorado Avalanche
We're not punishing Nugent-Hopkins for missing time with injury (has played in 56 games to Landeskog's 78 games), but there is something to be said for durability, especially given the more physical style of game Landeskog plays. Yes, Nugent-Hopkins has produced points at a significantly higher rate than Landeskog, as the two entered action Wednesday tied for the rookie scoring lead with 49 points apiece, but there is also Landeskog's overall game to consider. The 19-year-old Landeskog leads all rookie forwards in average ice time per game. He is just the second rookie ever and the first rookie forward to hit the 20-goal and 200-hit plateau (Toronto defenseman
Dion Phaneuf
is the other rookie to reach those numbers). Landeskog leads the Avs in goals, plus/minus, shots, hits and game-winning goals. He is the only rookie to lead his team in goals, which is a significant achievement given that his team is still in the hunt for a postseason berth. Landeskog's five game winners are tied with
Matt Read
of Philadelphia for the rookie lead.
Ryan Nugent-Hopkins, Edmonton Oilers
Had Nugent-Hopkins not missed time with two separate injuries this season, this Calder Trophy race might be a walk-off for last June's first overall pick. But he did miss that time and it might cost him the hardware, fair or not. Still, a fine season for a player about whom there was much discussion last fall regarding his ability to adjust to the physical grind of life in the NHL at age 18 (he won't turn 19 until next month). No need to worry, as he is tied for the rookie scoring lead and his points per game (.88) are significantly better than any other first-year player (Landeskog is at .62, while
Adam Henrique
of New Jersey, who ranks third in rookie scoring, is at .69). There is also the fact that Nugent-Hopkins is putting up impressive numbers for a perpetually rebuilding Edmonton Oilers club.
Adam Henrique, New Jersey Devils
Henrique has been a terrific story for the Devils since being called up from the American Hockey League after a so-so training camp. His 48 points are one off the rookie scoring pace, and he leads all first-year players with 32 assists. With the Devils thin down the middle, thanks to injuries to players such as
Travis Zajac
, Henrique, the 82nd overall pick in 2008, has responded to the challenge and leads all rookies in faceoffs won. Only Landeskog is logging more ice time on average among first-year forwards. Although he has often centered
Ilya Kovalchuk
and
Zach Parise
, Henrique has shown his versatility moving to the wing with Zajac's return to the lineup in recent days.
Matt Read, Philadelphia Flyers
As the season has worn on and the Flyers have incurred more injuries to key personnel, more has been asked of Read, and he's answered very nicely. Read is tied with Landeskog for the rookie lead in goals with 22 and tied for the rookie lead with five game-winning goals. He is among the league-leading rookies in power play time per game and penalty-killing time per game, an indication of the trust that coach Peter Laviolette has shown in the undrafted native of Ilderton, Ontario. His average ice time ranks fourth overall among rookie forwards.
Justin Faulk, Carolina Hurricanes
Although it's always a little bit harder to judge the impact of first-year defensemen, Faulk has made a case not just to be mentioned as a Calder Trophy candidate but to be on the final ballot. The Canes have made a significant turnaround after a disastrous start that cost coach Paul Maurice his job, and Faulk's role in that improved play cannot be understated. He leads all first-year defensemen in goals and power-play goals and is second in points to Toronto rookie
Jake Gardiner
. The 37th overall pick in 2010 also leads all first-year players in average ice time per game, and those minutes are logged for the most part against the opposing team's top lines. As for his importance to the Canes, Faulk leads all Carolina defensemen in average ice time, even-strength ice time and power-play ice time, and he has played in only 61 games, having played in the AHL at the beginning of the season.
Honorable Mention:
Carl Hagelin
,
New York Rangers
; Jake Gardiner,
Toronto Maple Leafs
;
Cody Hodgson
,
Buffalo Sabres
;
Slava Voynov
,
Los Angeles Kings
;
Jared Cowen
,
Ottawa Senators
March, 18, 2012
3/18/12
10:33
AM ET
By
Elias
and
the ESPN Stats & Information Group
| ESPN.com
• Pittsburgh wins its 11th in a row and 1st at New Jersey in 5 tries.
Sidney Crosby
notches 3 assists and has multiple-assist games in 6 of his 10 games played this season. Crosby is now plus-12 in 10 games this season. By comparison,
Evgeni Malkin
, who scored his 40th goal this season, is plus-15 in 63 games. It's his 2nd career 40-goal season (1st since '07-08, his 2nd year). The Devils had allowed only 7G over their last 6 games (5-1-0).
• Crosby recorded three assists in the Penguins' win at New Jersey, after assisting on two goals against the Rangers on Thursday when he returned to action after being sidelined for more than three months by a concussion. Crosby has played 10 games this season but he's picked up at least two assists in six of those games. Crosby had only seven multiple-assist games in the 41 games he played last season. On the other hand, Crosby scored two goals in his 2011–12 season debut (Nov. 21 vs. the Islanders) but he's goalless in nine games since then, matching the longest goal drought of his NHL career (nine games in December 2008).
•
Matt Cooke
, who scored two goals in the Penguins' 5–2 win over the Rangers on Thursday, scored two goals in Pittsburgh's 5–2 victory against the Devils on Saturday afternoon. Cooke has four two-goal games this season, one more than his total for the previous six seasons combined (three from 2005–06 through 2010–11). The only other season in Cooke's NHL career in which he recorded more than one multiple-goal game was 2001–02, when he had a pair of two-goal games for the Canucks.
• Boston ends its 4-game losing streak by continuing its dominance over Philadelphia. The Bruins have won 8 of their last 10 against the Flyers, including 3 of 4 this season.
Tyler Seguin
scored his 25th goal this season. The Bruins are 15-6 when Seguin scores a goal.
Tim Thomas
made 27 saves for his 4th career 30-win season, the most ever by a Bruins goaltender. Rookie
Matt Read
had a goal (20) and an assist for the Flyers. Bruins are 8-2 in shootouts this season.
• The Bruins scored on all three of their shootout attempts in their win over the Flyers on Saturday afternoon. It was Boston's first perfect 3-for-3 shootout in the seven seasons that the NHL has used the tiebreaker. Three other NHL teams have gone 3-for-3 in a shootout this season: Ottawa (Oct. 11), Columbus (Dec. 13) and Colorado (Dec. 19).
• Flyers rookie Matt Read scored his 20th goal of the season in Philadelphia's shootout loss in Boston. Read is the second rookie to reach the 20-goal mark this season, following Colorado's
Gabriel Landeskog
, who scored his 20th goal on Wednesday. Since 1994–95, the only other Flyers rookies to score 20 or more goals in one season were
Simon Gagne
in 1999–2000 (20), and
Jeff Carter
(23) and
R.J. Umberger
(20) in 2005–06.
February, 1, 2012
2/01/12
12:00
PM ET
Injuries to top rookies like
Ryan Nugent-Hopkins
and
Adam Henrique
have served to tighten a rookie of the year race that early on looked to be a runaway for Nugent-Hopkins. Now, the field has closed considerably with strong performances from first-year players in Philadelphia, Carolina and New Jersey; all of which will make for some interesting storylines as the NHL heads into its final 2½ months.
The surprising Adam Henrique has hit a bit of a wall as he's been held without a point in four straight games and has been bothered by a nagging groin problem. Henrique remains second among all rookie scorers, one point behind Nugent-Hopkins, but he missed the Devils' first post-All-Star break game against the
New York Rangers
and is considered day-to-day. But Henrique's play through the first half of the season was crucial to the Devils' assuming a place in the thick of the Eastern Conference playoff race. He leads all first-year forwards in average ice time per game, an indication of the level of trust head coach Pete DeBoer has in him.

It is a measure of the superlative season being enjoyed by Ryan Nugent-Hopkins that the first overall pick from last June's draft remains the leading rookie scorer in the NHL in spite of not playing for a month with a shoulder injury. It would be a shame if a top Edmonton rookie was denied a shot at the Calder for the second year in a row because of injury, but that's a very real possibility. Last season,
Taylor Hall
missed the last part of the season with an ankle injury. But Nugent-Hopkins is listed as day-to-day, so his return could make the Calder discussion a lot more interesting in the coming days.
The path to NHL success hasn't always been easy for Cody Hodgson, the 10th overall pick in 2008, but he has seen his stock rise dramatically in the past couple of months. The talented center has recorded points in 12 of his past 18 games and his five power-play goals are second only to Nashville's
Craig Smith
among first-year players.
With the Flyers dealing with injuries to key forwards
Danny Briere
and
Jaromir Jagr
(Jagr did return to action Tuesday night), more is being asked of the Flyers' collection of top-end rookie performers such as Matt Read. Although he's gone three games without a point, Read has moved into third overall in rookie scoring and is fourth among all first-year players with a plus-11. His three game-winning goals have him tied for the league lead among rookies with three others.
Although New Jersey's
Adam Larsson
has received most of the ink this season when it comes to first-year defensemen -- and with good reason -- it would be unwise to ignore the impact Justin Faulk has had on the Carolina Hurricanes. Faulk leads all first-year players in average ice time per game at 22:32, and GM Jim Rutherford pointed out to ESPN.com Wednesday that Faulk is logging those minutes against other teams' best players. The 37th overall pick in 2010 has 11 points, and Rutherford noted that his minus-10 can be explained in large part by being paired with
Tomas Kaberle
earlier in the season. He has been an even or plus player in seven of his past eight games.
Honorable Mention:
Craig Smith,
Nashville Predators
;
Gabriel Landeskog
,
Colorado Avalanche
; Adam Larsson, New Jersey Devils;
Colin Greening
,
Ottawa Senators
;
Carl Hagelin
, New York Rangers.
December, 8, 2011
12/08/11
11:18
PM ET
November, 23, 2011
11/23/11
12:32
PM ET
There's been a lot of see-sawing through the first quarter of the NHL season when it comes to the top rookies in the NHL and there are lots of exciting first-year players making significant impacts throughout the league. Don't doubt there will continue to be ebb and flow as that's the nature of rookie play, but here's a look at our top five rookies and some honorable mentions.
Really didn't have much trouble assigning the first overall pick in June's draft with the top spot in our Trophy Tracker, given the tear Nugent-Hopkins has been on. With eight points in his past three games, Nugent-Hopkins has opened up a seven-point lead over Craig Smith of the Nashville Predators with 22 points in 21 games. Pretty impressive for the 18-year-old phenom.
Nugent-Hopkins is in a unique position in that the Oilers continue to lean heavily on their cadre of young players as opposed to having their youngsters learn the ropes while veterans do the bulk of the heavy lifting. When it looked like the Oilers had hit a significant wall during a recent road trip, it was the kids and especially Nugent-Hopkins, who answered the bell, and that bodes well for an Oilers team that continues to enjoy an unexpected place in the middle of the Western Conference playoff mix.
A little older at age 25, Read is part of a promising group of youngsters playing significant roles with the Flyers. Read has scored in five straight games and now leads all rookies with nine goals. He has 14 points in 17 games and is plus-7. Perhaps as impressive is that head coach Peter Laviolette trusts Read in important situations, including the penalty kill, where he is averaging almost three minutes a game. Talk about a confidence-booster for the undrafted native of Ilderton, Ontario.
No first-year defenseman has had the impact Larsson has had with the Devils. He leads all first-year players in average ice time by a significant margin. Head coach Pete DeBoer employs him on average 23:02 a night. No other rookie exceed 21 minutes a night in ice time. Larsson leads all rookies in even-strength time on ice and all rookies in power-play time per game. Pretty impressive for the 19-year-old who was the fourth overall pick and is playing in his first season in North America.

Although Henrique is somewhat overshadowed by Larsson in New Jersey, the 21-year-old already has had point streaks of three and four games for a Devils team that was desperate for scoring punch down the middle with the injury to Travis Zajac. In just 16 games, Henrique has 11 points on four goals and seven assists, good for fifth in rookie scoring. He has scored two game winners.
5. Craig Smith, Nashville Predators
Smith has hit a bit of a dry patch with just one assist in his past five games and still he ranks second among all rookies with 15 points. His three power-play goals is first among rookies. We recently spoke with GM David Poile and head coach Barry Trotz about Smith's rapid evolution as a player and they credit his experience at the University of Wisconsin under head coach Mike Eaves as a major factor.
Honorable mentions: Sean Couturier, Philadelphia; Slava Voynov, Los Angeles; Justin Faulk, Minnesota; Colin Greening, Ottawa; Gabriel Landeskog, Colorado.
October, 19, 2011
10/19/11
4:35
PM ET
Is two weeks into the season too early to discuss the Calder Trophy race? Not at ESPN.com! We're a little crazy that way. So let's take a look at the early race as we see it with our top five contenders as of Wednesday afternoon (Oct. 18):

The 21-year-old native of St. John's, Newfoundland, is tied for the NHL rookie scoring lead with six points (3-3) in five games. The second-round pick (44th overall in 2008) has begun the season centering the top line between Thomas Vanek and Jason Pominville. Not bad at all. At 6-foot-2 and 203 pounds, Adam has the size and strength to stand the rigors of an NHL season.

The Swedish blueliner, drafted fourth overall this past June, doesn't have a point yet, but so what? At 18, he leads all NHL rookies in ice time at a whopping 24:14 per game. That's unreal. He's got tremendous vision and is going to be a star in this league for a long, long time.

The native of Burnaby, B.C., of course, was taken first overall in June. The Oilers haven't officially announced he is here to stay, but we'd be shocked otherwise. He already has a hat trick under his belt (as of Wednesday afternoon he led all rookies with four goals) and is showing terrific chemistry with second-year winger Taylor Hall.

At 25, he's certainly the elder statesman of the freshman NHL class this season, but he's still a rookie. A free-agent signing by the Flyers out of Bemidji State University, Read is tied for the NHL lead with six points (2-4) in five games. He's also plus-4 on the season.

The 18-year-old Swede was taken second overall in June and doesn't look out of place at all despite his age. Playing the wing on a third line with Ryan O'Reilly and Daniel Winnik, Landeskog has displayed a solid, two-way game and his hockey smarts are obvious. He's got three points (2-1) in six games, but his game is more than offense.
Honorable mentions: Sean Couturier, Flyers; Jonathan Blum, Predators; Cody Hodgson, Canucks; Craig Smith, Predators.
Trophy Tracker: Calder Trophy
---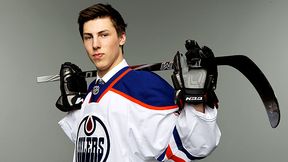 The Oilers must decide whether to keep Ryan Nugent-Hopkins with the big club or send him down to junior before the nine-game mark.