Cross Checks:

Matthew Lombardi
January, 17, 2013
1/17/13
3:04
PM ET
TORONTO -- The
Toronto Maple Leafs
have sent a clear signal over the past 24 hours with the trade of
Matthew Lombardi
and the decision to put
Tim Connolly
on waivers.
It's time for the young guys -- like
Nazem Kadri
-- to get more of a shot on the big club.
On Wednesday evening, the Leafs dealt 30-year-old Lombardi to Phoenix and, on Thursday, placed 31-year-old Connolly on waivers.
Connolly, once an exciting player in Buffalo, just hasn't had the impact the Leafs hoped for when they signed him in the summer of 2011.
It was a tough decision to waive him, but it was done to give coach Randy Carlyle the best possible tools at this disposal to start the season.
"First of all, Tim has done nothing wrong," new Leafs GM Dave Nonis told ESPN.com Thursday. "He came in, in good shape. There hasn't been a fit in terms of top-six forward positions. That may change, he's still part of our organization if he clears [waivers], he could be a viable asset. But there has to be some transparency and accountability for players who come here and try to earn positions. Even though it's a short camp, there's certainly players that fit better at this point in Randy's system. We had to make a decision about which group would begin the season and give us the best chance of winning and which players have shown that they fit better in certain positions. We don't have the luxury of doing it any different."
October, 6, 2011
10/06/11
2:06
PM ET
TORONTO -- It was 12 months ago minus seven days and
Matthew Lombardi
remembers every detail like it was yesterday.
His first season with the
Nashville Predators
ended barely after it began.
"Second game of the year in Chicago was skating through the neutral zone and headed into the offensive zone with the puck,'' Lombardi, in French, recounted Thursday. "I was going pretty fast and I got tripped. It was an accident, but I went head first in to the boards.''
[+] Enlarge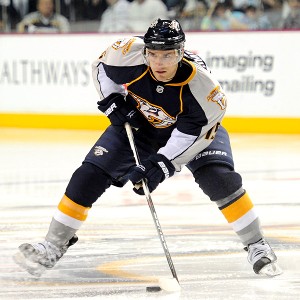 Frederick Breedon/Getty ImagesThe Maple Leafs may very well count on Matthew Lombardi to be a bigger part of team than they had first imagined.
And just like that, 80 games on the shelf, his year over, his nightmare had just begun.
Like
Sidney Crosby
and
David Perron
, a serious concussion put his career on hold. Unlike Crosby and Perron, Lombardi is back on the ice for the regular-season curtain raiser.
Who knew? Certainly not the Predators. If they thought Lombardi had any chance of playing opening night, we're betting they don't move him. But strangely enough, it's right after his trade to Toronto in July that Lombardi begins feeling better. Tough luck for Nashville and an unexpected bonus for the Leafs, who made the trade knowing blueliner
Cody Franson
was the only sure thing they were getting.
"Honestly, it's kind of funny. Right after I got traded in July, it just started to turn around for me," the Montreal native said. "Once I got to August, things really started to move fast. I had more progress in 2-3 weeks than I had in 10 months. That's why I was able to participate in training camp.
"The last six weeks have been incredibly fast in terms of progress.''
And here he is, opening night lacing them up against the
Montreal Canadiens
at Air Canada Centre.
With
Tim Connolly
injured to start the season, Toronto's prized free-agent summer catch, Lombardi may end up playing a bigger role this season than anyone expected, if he can get back to his normal self and avoid any setback.
For now, though, it's baby steps with Lombardi beginning Game 1 on the fourth line between tough customers
Mike Brown
and
Jay Rosehill
.
Leafs coach Ron Wilson is tempering his expectations for Lombardi early on this season.
"Bring speed, help on the penalty kill," Wilson said Thursday after the morning skate. "I'm going to see how he's adjusting to game speed. He's only had one exhibition game under his belt. If he can take more, I'd love to move him up a little higher in the lineup. But right now just let him catch up. He admits himself he's got a lot of rust and the game is pretty fast out there. As soon as he starts to get up to game speed where he's recognizing game situation, he's moving pucks, he's sensing danger around him, then we'll get him more ice time."
A real turning point for Lombardi this summer was finding out that his remaining symptoms were not brain-related. That was a relief. The comeback started then. Therapists in Montreal worked on his neck.
"I realized my brain was fine; the symptoms were from my neck. That was important,'' Lombardi said.
"I feel good right now, I'm confident."
He kept a positive frame of mind last season with some help from formerly concussed players around the league.
"I spoke with
Patrice Bergeron
,
Pierre-Marc Bouchard
,
Antoine Vermette
-- guys that have gone through it before,'' Lombardi said.
Former Predators teammate
Steve Sullivan
, the veteran forward who missed two years with a serious back injury but came back from it, was also an inspiration.
"Those guys went through times but came back and have played real well. That kept me positive,'' Lombardi said. "I looked at those guys, people didn't think they'd be back or didn't think they'd be the same player as before their injuries. But you see them today and they're doing well. That's why I'm pretty sure I can be the same player I was before my injury."
Now he just needs to catch up. It won't happen overnight. Missing a full year in the best league in the world takes its toll. He played last Saturday in his first preseason game against Detroit, and it was far from a walk in the park.
"I'm not going to lie, I was skating uphill a lot of the game," Lombardi said. "But it's going to get better every game. You can't just turn the switch on and go back to where you were."
Latest on Connolly
Connolly skated Thursday morning, but he's still not a go.
And he may not be in Game 2, either.
"I'm not anticipating him playing Saturday," Wilson said. "If he does it's a bonus."
After playing the Senators on Saturday, the Leafs have a week off.
"The extra week will probably be better for him," Wilson said. "But if he comes to me and says he wants to play on Saturday, if he comes tomorrow and says he thinks he's ready then he'll probably be in the lineup.
"He's practiced actually very well the last couple of days. Again, if this was a first round playoff game, I'm pretty sure he'd be in the lineup."
August, 26, 2011
8/26/11
2:06
PM ET
Three weeks from now the doors will open on NHL training camps with physicals and the first on-ice sessions. Will some of the game's biggest stars and emerging young players be ready to go? Here's a look at some names that may or may not be ready to begin that journey.
Every day there seems to be a new rumor about Crosby's status for training camp, his ability to be ready for the season opener on Oct. 6 or whether he should retire completely. Bottom line for all the speculators and diviners of the truth is that no one knows where Crosby will be in three weeks or beyond. General manager Ray Shero told the Pittsburgh Post-Gazette's Shelly Anderson Thursday Crosby is waiting for results from concussion specialists he saw in Georgia and Michigan, and they will make a plan moving forward. Shero did say Crosby has been on the ice this week in Nova Scotia and continues to work out. Crosby is expected to be in Pittsburgh when camp starts, Shero told the paper, but who knows if he will be on the ice. The only thing that is certain is that no one who's writing or speculating about Crosby has any real idea about the star center's future regardless of how definitive reports may have sounded.
The Chicago star's surgically repaired wrist may not be healing at exactly the rate that the team had hoped, as Kane told a Toronto radio station recently he wasn't sure about being ready for the start of camp. Kane did say he was optimistic he'd be ready when the season starts. The Blackhawks will be looking to avoid the tepid start to last season that saw them scrambling to make the playoffs on the final day of the regular season then bowing out to top seed Vancouver in seven games in the first round of the playoffs. Having a healthy Kane, who was second on the Hawks with 27 goals and 73 points this past season, will be crucial to getting the Hawks back to contender status.
The man who most folks expect to be named the captain of the Flyers is still recovering from offseason back surgery and a wrist injury that limited his effectiveness during the playoffs last spring. Pronger told reporters earlier in August that he was behind schedule in his rehab from both the back and hand injuries and wasn't sure about his availability for training camp. But GM Paul Holmgren, speaking to reporters Thursday after introducing new netminder
Ilya Bryzgalov
, remained confident that Pronger would be ready when the Flyers open the season against the Stanley Cup champion
Boston Bruins
on Oct. 6, even if he isn't ready for the start of camp.
[+] Enlarge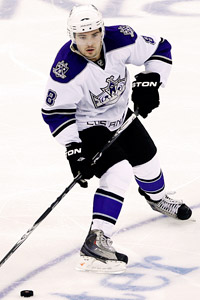 Ed Mulholland/US PresswireDrew Doughty and his representatives haven't talked to the Kings in almost a month.
No, the former Norris Trophy nominee isn't injured, but his availability for the start of the Kings' training camp remains uncertain, thanks to a stalemate in contract talks. Doughty and his representatives haven't talked to the Kings in almost a month and the blue-chip defenseman will not attend camp until a contract is signed, agent Don Meehan told ESPN.com.
Much of the offseason discussion about the Oilers has focused on winger
Taylor Hall
and his recovery from an ankle injury that cut short his rookie season. Hall appears to be fine and ready to roll. But the bigger issue for an Oilers team hoping to make a surprise jump into the Western Conference playoff fray is the rehabilitation of Ryan Whitney from an ankle injury that derailed a breakout year for the big defenseman. Whitney had 27 points in 35 games for the Oilers at the time of his injury, and head coach Tom Renney told ESPN.com this week Whitney is their best blueliner and emerging into an important leader for the young Oilers. Whitney said in an interview that he had a minor setback in his recovery a couple of weeks ago but has no doubt he can return to the level of play he delivered a year ago.
"I know I can be the type of player I was in the first half of last year," Whitney said.
Lots of turnover in New Jersey, where new coach Pete DeBoer will be evaluating a handful of young defenders to make the Devils' opening-night roster. Among those candidates will be Taormina, who made the Devils out of camp a year ago but was lost to two non-displaced fractures to his ankle in mid-November. The former Providence College player whose puck-moving skills will be important to a rebuilding Devils team underwent surgery in January but took part in the team's prospect camp in July and should be ready to go when the Devils open camp.
Most observers give the Avs little chance of making the playoffs this season, but if they're going to surprise, it'll likely be with the help of a healthy Peter Mueller. Acquired from Phoenix at the 2010 trade deadline, Mueller made an immediate impact with 20 points in 15 games before missing the rest of the season with a concussion. He then missed all of the 2010-11 season after suffering another concussion in the team's first exhibition game. He told Adrian Dater of the Denver Post he's excited to put the concussion issues behind him. Mueller is expected to take team physicals on Sept. 16 and hit the ice the following day.
Speaking of the specter of concussions that continues to hover over the NHL, the Blues announced earlier this month that David Perron, who missed the rest of the season after being clipped by San Jose's
Joe Thornton
in early November, will not be ready for the start of training camp. Further, GM Doug Armstrong told Jeremy Rutherford of the St. Louis Post-Dispatch that they were not counting on Perron for the start of the regular season, even though he was making some progress in his rehabilitation. Armstrong confirmed by email Friday that there has been no change to those plans.
The skilled center played in just two games for the
Nashville Predators
last season, and the risk that concussion issues would persist were enough for the dollar-conscious Preds to move Lombardi and his $3.5 million price tag for the next two seasons to the Leafs. GM Brian Burke told ESPN.com Friday it's too early to tell whether Lombardi will be ready for camp, although he said clearance to take part in camp workouts is a "distinct possibility." Likewise, the potential for Lombardi to join the Leafs for the start of the season is a distinct possibility, Burke wrote in an email.
The Ducks' netminder was enjoying a breakout year before suffering vertigo after All-Star weekend last January. He told reporters recently that those symptoms have disappeared and he is expecting to be ready to go for the Ducks' training camp. His progress will be key to helping the Ducks return to the playoffs. Hiller won 26 games for the Ducks and boasted an impressive .924 save percentage in spite of the fact he appeared in just three games after the All-Star break.