Cross Checks:

Michael Ryder
August, 2, 2013
8/02/13
10:33
AM ET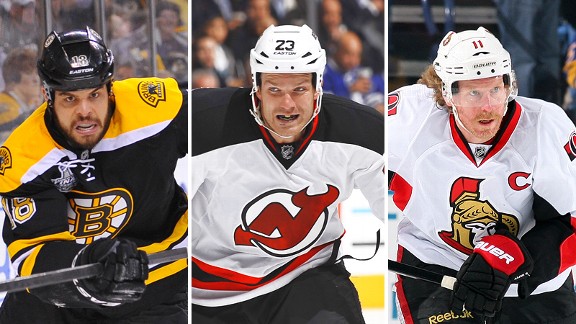 Getty ImagesBig things are expected out of big-buck signings Nathan Horton, David Clarkson and Daniel Alfredsson.
Let's end this week of questions with a lightning round, and that's not a reference to the team based in Tampa. Here we go. Give us your biggest question for 2013-14 in the comments section.
Daniel Alfredsson in Detroit:
Does Alfredsson, 40, have enough left in the tank to make a difference in the Motor City? He will get every opportunity to prove he was worth the gamble by the Red Wings and will do his darndest to win a Stanley Cup and prove the Senators were messing with him all those years.
Vincent Lecavalier in Philadelphia:
Lecavalier, 33, isn't as washed up as some people believe. It just feels like he's been in the league forever because he started so young. He has won a Stanley Cup and will be similarly motivated to show people he still has something left. But he won't be as good as the Flyers need him to be or as Flyers fans expect him to be (tough crowd), especially while carrying a $4.5 million cap hit.
Ray Emery in Philadelphia:
Montreal, Toronto and Philly are the toughest markets on goalies. Emery, 30, will do well but won't live up to lofty expectations. Again, tough market. Two reasons he could prove me wrong: He's still got a lot of hockey left in him, and he's on a one-year deal at a reasonable $1.65 million.
Jaromir Jagr in New Jersey:
Jagr, 41, loves the game, and it's loving him right back. But can you imagine him thriving while playing for Lou Lamoriello? Neither can I.
David Clarkson in Toronto:
Man, tough go there. Clarkson, 29, says
Wendel Clark
was his idol growing up and many Leafs fans are going to want a similar level of play. No disrespect intended, but Clarkson is a solid 15- to 20-goal scorer at his top end who will be a $5.25 million cap hit in his first season. He's no Wendel Clark (few are).
Matt Cooke in Minnesota:
Not going to work. Cooke, 34, is not a good value at $2.5 million, especially on that team.
Andrew Ference in Edmonton:
Ference, 34, still has some game left in him and is the kind of defenseman the Oilers have been seeking for years. He will help that young dressing room hit the mature button a lot sooner than it would have without him. This is a great move for the Oilers.
Valtteri Filppula in Tampa:
Filppula, 29, will have the same cap hit on the Lightning ($5 million) as Ryan Kessler does for the Canucks and
James Neal
does for the Penguins. Which player would you rather spend that cash on?
Nathan Horton in Columbus:
If his shoulder surgery heals properly, Horton could be a catalyst for the Blue Jackets. The biggest issue will be to see how he adapts to not having
Milan Lucic
and
David Krejci
making room for him every game.
Jarome Iginla in Boston:
Iginla, 36, will like being in the Eastern Conference, with all its relatively cushy travel, and is one of the best guys in all of sports. But, sadly, it appears his better days are behind him, so a $6 million cap hit is outright robbery.
Dustin Penner in Anaheim:
Penner, 30, was a frequent healthy scratch with the Kings last season, is on a one-year contract and could be on his way to further marginalization if he doesn't step it up.
Mike Ribeiro in Phoenix:
Ribiero, 33, is on his third team in three seasons and clearly wants to show what he's capable of when not playing one the same side as the most talented winger in the game (
Alex Ovechkin
, by the way). It is an odd choice, though, considering that the Coyotes' lack of talent likely will result in lower numbers. Still, it's nice to see a team owned by the league support the PA with such a crazy-good contract ($5.5 million cap hit) for a player who has topped 80 points just once.
Michael Ryder in New Jersey:
Ryder, 33, is usually good for 30 goals every season, which means he'll probably get 25 on the Devils. He's on his fourth team in five seasons, though, which is a concern.
Viktor Stalberg in Nashville:
Stalberg, 27, wasn't going to get that kind of coin ($3 million cap hit) from the Blackhawks, but he is talented and has a chance to show his former team that he would have been worth it by signing with a team in the same division. He'll put up decent numbers with lots of ice time.
Stephen Weiss in Detroit:
People likened Weiss to
Steve Yzerman
when he broke into the league, so this is a full circle of sorts. Weiss, 30, should fit well into the Red Wings' way of thinking. GM Ken Holland doesn't spend that kind of money ($4.9 million cap hit, fourth on the team) very often, so you know he's scoped this out from all angles.
March, 9, 2012
3/09/12
10:45
AM ET
BURNSIDE:
Greetings, my friend. Another week is almost in the books and the playoffs are that much closer. A handful of compelling games Thursday night, but the one that caught my eye was the Dallas Stars upending San Jose in a shootout to strengthen their grip on the Pacific Division lead. The Sharks blew 2-1 and 3-2 leads, allowing the Stars to tie the game with less than two minutes to go in regulation; San Jose continues to be a team that seems to find ways not to get the job done. The Sharks still hang on to eighth place in the conference, but that's only because Los Angeles and Colorado both lost on the road Thursday night (in Columbus and Nashville, respectively).
For me, though, the Stars remain an interesting team to watch down the stretch and into the playoffs, because I have no doubt they're going to be a playoff team, something few of us thought likely in September. I remember spending some time with
Michael Ryder
last year during the playoffs when Ryder was with the Bruins. Coach Claude Julien told some pretty funny tales about trying to get the easygoing Newfoundlander to dig in as a junior and later in the American Hockey League and the NHL. Ryder's nickname was Easy, as in Easy Rider. But he chipped in some timely goals for the Bruins, and here he is, having signed as a free agent with Dallas, leading the way for the surprising Stars with 29 goals (he scored the first goal Thursday night). He is second on the team with five game winners.
The other guy who really stood out for me was Stars netminder
Kari Lehtonen
. I saw a lot of Lehtonen in Atlanta, and for a long time it looked like he would never be able to live up to his billing as a first-round draft pick (second overall in 2002), but he seems pretty comfortable carrying the freight for the surprising Stars right now.
LEBRUN:
Despite a busy NHL night, I focused mostly on watching the Sharks-Stars game, and San Jose, for my money, played its best game in nearly a month. Sometimes before a good streak, a terrific effort in a losing cause is what can turn things around, and that was the feeling I got from Thursday night. The Sharks launched 48 shots at Lehtonen, and his masterful display of netminding was the only reason the Sharks didn't get two points instead of one. As Tampa Bay Lightning GM Steve Yzerman was saying the other day, the shootout proves nothing. It's a roll of the dice. It was important for San Jose to show there is still a heart beating in there after what has been a miserable few weeks. But let's see if that was just a blip as opposed to a new direction for the final four weeks of the regular season.
I'm glad you brought up Ryder. Amazing that he was a free agent in our media fantasy league about six weeks ago. I have to admit I scooped him up only because I had some injuries. Boy, am I ever happy I did. He's been en fuego. Try 10 goals in his past 15 games. Heck of a signing by GM
Joe Nieuwendyk
, indeed, and a bargain at $3.5 million for the kind of offense Ryder is bringing this season. And for the Stars, this was a statement win as they look to prove they're legitimate threats for the Pacific Division title. It was nice to hear the crowd roar in that rink Thursday night after what has been a disappointing season for attendance on most nights for the Stars.
BURNSIDE:
Only four games are on tap Friday, but all four have significant playoff implications, and you have to wonder what the
Los Angeles Kings
' mindset will be as they head to Joe Louis Arena after being nipped 3-1 in Columbus on Thursday night. That's four straight wins for the mighty Blue Jackets and, to add insult to injury, former Kings defenseman
Jack Johnson
scored the winner with nine seconds left in the first period.
The Red Wings have hit a bit of a wobble since their record-breaking home winning streak came to an end, but they remain an elite team, and the Kings' heavy road schedule is one of the reasons I don't think they will be able to crack the top eight in the Western Conference. The Wings have fallen four points off the pace in the Central Division as St. Louis continues to roll along at the top of the division, the conference and the league standings. So you know the Wings will be a bit ornery Friday. The Wings have won just twice in their past seven outings and are still without
Jimmy Howard
, although
Joey MacDonald
has certainly proven he's a more-than-capable backup in recent weeks. I figure the Kings take another one on the chin Friday. You?
LEBRUN:
Well, you would be wobbling, too, if you had both
Nicklas Lidstrom
and
Pavel Datsyuk
out of the lineup at the same time. Of the two superstars, Lidstrom should be back sooner, although Wings GM Ken Holland told me this morning via text that the seven-time Norris Trophy winner is out through the weekend. Call me crazy, especially with the Kings in a back-to-back situation and the Wings so mighty at home, but I have this gut feeling L.A. is going to squeeze one out at Joe Louis. The playoffs start now for the Kings.
Speaking of the playoffs, the bottom bracket of the East (and the Southeast Division title race) continues to be a turtle affair. Florida, Winnipeg, Tampa Bay and Buffalo all lost Thursday night, with only Washington taking home two points with a comeback, overtime victory over the Lightning at home. The Sabres actually played a decent road game in Boston but, playing on back-to-back nights, ran out of steam in the third period against the Cup champs. The Sabres remain two points out of the eighth and final playoff spot now held by Washington. The Caps are tied with the Jets at 72 points, while the Panthers hang on to the third seed in the East with 74 points. It doesn't get any easier for the Cats with a game in Pittsburgh on Friday.
BURNSIDE:
If the Kings are going to steal a couple of points in Detroit, Friday would be a good night to do it given the Wings' injury issues. The Panthers, meanwhile, have shown an incredible ability to pull out of slides that could potentially wreck what has been an impressive season. Can they do it now? What's troubling is that when they go sideways, they go all the way. The Panthers were waxed 5-0 by Philadelphia on Thursday (I guess all is right in
Ilya Bryzgalov
's universe at the present moment). A week earlier Winnipeg toasted them 7-0.
Kris Versteeg
didn't join the Panthers on this current road trip, and his absence has been problematic to an offense that isn't all that deep to start with. And now they're headed into Pittsburgh, where I expect they'll face netminder
Marc-Andre Fleury
. Pittsburgh has won seven straight and actually has pulled to within six points of division and conference-leading New York. Like you and your hunch on the Kings, I'll go with the Cats to pull out a surprise victory in Pittsburgh.
The Panthers are of course perpetually looking over their shoulder, and the
Washington Capitals
are closest in the rearview mirror thanks to
Alex Ovechkin
's overtime winner against Tampa. The up-and-down Caps are in Boston for a matinee affair on Saturday, but will they have
Mike Green
at their disposal? I know you didn't think much of Green's hit Thursday on Tampa rookie
Brett Connolly
.
LEBRUN:
I did not like that
hit on Connolly
whatsoever. There was no penalty on the call, but Green has a hearing with
Brendan Shanahan
on Friday, and my guess is Green is facing anywhere from three to five games. For starters, Connolly had no chance to see Green coming since
Dmitry Orlov
was draped all over Connolly, but what makes the hit illegal is targeting and elbowing the head. Secondly, you'd think Green would know better than to deliver that kind of hit given his own history with concussions. Not smart.
Well, Scotty, have a great weekend.
August, 30, 2011
8/30/11
3:20
PM ET
Boston Bruins forward Michael Ryder spent the day with the Stanley Cup on Tuesday in Bonavista, Newfoundland, where he was feted with a parade and a public viewing of the Cup. After Ryder placed the Cup on a table, Lord Stanley's Cup toppled over as the table collapsed.
The Telegram is following Ryder on his day with the Cup.
June, 20, 2011
6/20/11
3:43
PM ET
There's no rest for the Stanley Cup champs, or at least for the architect of the NHL titleholders. Bruins GM Peter Chiarelli took a break from meetings Monday to update ESPN.com on some of the decisions he has to make.
Chiarelli confirmed what Tomas Kaberle's veteran agent, Rick Curran, told us earlier in the day: the two sides plan to meet in Minnesota to discuss whether there's a fit moving forward for the pending unrestricted free agent.
"We want to have further discussions," Chiarelli told ESPN.com. "We're still in the planning stages. We haven't ruled anything out. I told Tomas we're still throwing it around, planning-wise. He brought something that we needed, so we'll see where it goes moving forward."
Likewise, pending UFA Michael Ryder is on Chiarelli's radar.
"Like Kaberle, I said to Mike that we continue to plan right now," the Bruins GM said. "I told him, 'You're a player that came to play every game in the playoffs.' I told him I'd speak with his agent this week or next."
(As an aside: Chiarelli is not getting nearly enough credit for his role in the Bruins' Cup championship. He made difficult and correct moves to make this team a winner. Let's give this guy a little more love.)

Jagr update
Jaromir Jagr and his agent, Petr Svoboda, were scheduled to meet in their native Czech Republic on Monday to discuss the next plan of action.
Svoboda told ESPN.com before the meeting that Detroit and Pittsburgh remained in the mix, plus a few other NHL teams. The KHL, of course, also remains an option for Jagr.
Another source told ESPN.com on Monday that Detroit had coach Mike Babcock speak with Jagr over the weekend.
Jagr, 39, is an unrestricted free agent. He can make more money staying in the KHL, but told ESPN.com last Friday that a return to the NHL is very appealing to him.

The work ahead for Yzerman
Lightning GM Steve Yzerman is skipping the NHL awards in Las Vegas even though he is nominated for GM of the Year. Between the NHL's board of governors meeting in New York on Tuesday and the work that lies ahead at the draft this week in Minnesota, it didn't make any sense for him to try to squeeze that in.
His top priority is to get restricted free-agent center Steven Stamkos back under contract. Once July 1 rolls around, other NHL clubs can make him offers even though Tampa Bay would have the ability to match any proposals.
"We know that after July 1, he's open to offer sheets, we're fully aware of that," Yzerman told ESPN.com on Monday. "But we'd like to get a deal done, and we'd like to get a deal done before July 1. The deal, I understand, has to work for them, but it has to work for the team, too. We'll do everything we can to get a deal done."
In the meantime, another player of note is forward Sean Bergenheim, who revealed himself to be a clutch performer this past postseason. He earned $700,000 this past season and is obviously looking for a big raise.
"We've talked with Sean's agent a couple of times," Yzerman said. "He was pretty honest with me with what they're thinking. At this time, we see things differently."
Other UFAs for the Bolts include Eric Brewer, Dwayne Roloson, Adam Hall, Simon Gagne and Marc-Andre Bergeron.

The Flyers and Bryzgalov
Flyers GM Paul Holmgren continues in his bid to sign goalie Ilya Bryzgalov before he becomes an unrestricted free agent.
"Right now, we are going to talk again tomorrow," Holmgren said Monday on a media conference call. "Like I said on Friday, we know where they're at and what they want to accomplish. I think they know where we're at. Obviously, to make a deal, there is going to have to be some sort of a compromise. It might take some time and we are going to keep looking at it."
Holmgren also expressed his desire to re-sign forward Ville Leino, also UFA. Contrary to widespread belief around the league, the Flyers GM insisted Monday he didn't need to hold a fire sale in order to sign Bryzgalov or Leino.
"There are things that we want to accomplish as we get closer to training camp, but that's a long time from now," Holmgren said. "There is no fire sale going on here. We are going to continue to try and sign Ilya, obviously, and continue to try and sign Ville; then we will see. It's not like we are caught between a rock and a hard place right now."
Translation: Holmgren believes he can clear up his cap issues during the course of the summer and doesn't feel the need to make a bad trade now in order to sign Bryzgalov or Leino.

Hurricanes' UFAs
The Carolina Hurricanes have some big decisions to make between now and July 1. They have several UFAs on their roster, including top defenseman Joni Pitkanen, as well as forwards Erik Cole, Jussi Jokinen, Chad LaRose and Cory Stillman.
I spoke with Canes GM Jim Rutherford on Monday, specifically regarding Pitkanen and Jokinen. The GM said: "We've agreed that they should look into going into July 1, but we haven't closed the door on either guy. We'll see how it plays out."
Cole is a priority for the Canes.
"He's a guy that we want to bring back," Rutherford said. "He's a part of our team. He's a guy that's made his home here. But there really hasn't been any movement on his contract talks."
Rutherford said he also wants to bring LaRose back, but like Cole, there has been no movement in talks. The GM said Stillman was still considering his options, which possibly includes retirement.

Other notes
• The agent for pending UFA blueliner Christian Ehrhoff, Rick Curran, told ESPN.com Monday he has had a conversation with the Vancouver Canucks since the Cup finals ended and the two sides plan on meeting in Minnesota this week to continue that conversation. Maybe it's just me, but with the Detroit Red Wings openly flaunting their intention to be aggressive July 1 on the blue-line front, I'd be keeping all my options open if I were Ehrhoff, even though he does love playing in Vancouver.
• Speaking of Curran, the veteran agent also represents Chicago Blackhawks forward Patrick Sharp, who has one year remaining on his deal before becoming UFA next summer. The Hawks and Curran are slated to talk in Minnesota. "In casual conversations with different clubs, he's the one player that is most often talked about as far as his likely future," Curran told ESPN.com.
• A source told us that the four candidates for the head-coaching job in Winnipeg are Mike Haviland, Claude Noel, Craig MacTavish and Thrashers holdover Craig Ramsay.