Cross Checks:

Michal Rozsival
June, 25, 2013
6/25/13
2:09
AM ET
BOSTON --
Michal Rozsival
can always sleep before a game. It's the same routine all players have. Morning skate, team meal and a quick nap.
But even at 34 years old and a long way from breaking into the league in 1999, there are still surprises. Instead of sleeping, Rozsival spent Monday afternoon in his hotel room, staring at the ceiling.
Thoughts of what it might feel like to raise the Stanley Cup later that night crept into his head. Then he immediately tried to erase it.
"I didn't want to get too ahead of myself," he said.
It was just so close to finally happening that it was impossible not to dream. Rozsival and
Michal Handzus
are two key veteran contributors to the Blackhawks' Stanley Cup win, and they put in the most mileage before finally getting to hockey's peak.
Rozsival has played 783 career regular season games and 74 playoff games before finally winning it all on Monday. For Handzus, it's been even longer. He broke in with the Blues in 1998-99 and is closing in on 1,000 regular-season games, currently having played 950.
Handzus has had playoff runs in the past with the Blues and Flyers, but nothing like this.
Hockey players are as superstitious as they come, and in the time leading up to Game 6, the Blackhawks were careful not to talk too much about winning the Cup. They knew beating the Bruins one last time would be the hardest win of their season.
But on Monday morning, captain
Jonathan Toews
allowed a quick meeting with
Patrick Sharp
and
Duncan Keith
to determine which player after Toews would be handed the Stanley Cup should the Hawks end Boston's season that night. It was a quick conversation.
Handzus got the nod and the Cup first after the captain.
"You want to win for guys like that, that have been in the league a long time," Toews said. "They'll do anything for their teammates. They'll do anything for the team. Those are guys you want in your group."
They were both quietly effective additions for general manager Stan Bowman. Rozsival lasted all summer long in free agency before finally signing with the Blackhawks in September. In a time when general managers wildly overspend, it might have been the best $2 million spent all summer.
And while other teams made much bigger splashes at the trade deadline, Bowman quietly acquired Handzus from the
San Jose Sharks
for a fourth-round pick. It wasn't
Jarome Iginla
; it wasn't
Jaromir Jagr
. It wasn't even
Derek Roy
.
It was the kind of subtle move that wins championships. The Blackhawks thought they were getting a center who could win faceoffs and pitch in on the penalty kill.
By the time the finals were played, he was centering a line with
Marian Hossa
and Sharp.
"Unbelievable," Hossa said. "I don't think anybody could hope for a better fit to our organization ... he was unreal."
Until you win, you never know what's going to run through your mind as the Cup is being passed. For Handzus, he thought of his family. Of his late father, who would have loved this moment. Of the family who was here to witness the celebration. His wife, Zuzana, and their 11-month-old son, Tomas. Handzus cut an interview short to find them, hug his wife and grab his son, wearing a tiny red Blackhawks jersey.
"I have to go to them," he said.
They shared in the sacrifice, they share in the celebration.
"You know how hard he works all the time. Every day. He gives up everything," Zuzana said. "We're so happy this finally happened."
June, 21, 2013
6/21/13
8:06
PM ET
CHICAGO -- It is a measure of
Jaromir Jagr
's place in the game, and his complex personality, that much from Tom Renney's time coaching the Czech star in New York has stayed with the veteran coach through the years.
It is likewise a measure of the two cerebral men that much of what has stayed with Renney is not so much the hockey, but the man himself.
Renney recalled that he and Jagr would have long chats, very little of which would revolve around the game but would include all manner of other topics.
"We'd spend maybe six or seven minutes talking about hockey and then 50 minutes on other stuff. That's a special relationship to say the least," Renney told ESPN.com this week. "There's a real mutual respect there."
Renney, now an assistant coach with the
Detroit Red Wings
, has paid close attention to Jagr's march toward his first Stanley Cup since his second year in the league, with Pittsburgh in 1992. In fact, Renney feels that as much as he might have helped Jagr's career coming out of the 2005-06 lockout, Jagr was a catalyst for Renney's coaching career.
"He really helped me get traction again as a coach," Renney said.
"It obviously helps when you're best player is all-in. I think he kind of felt I had his back and he mine."
It is that way in Boston now, just as it was in Jagr's previous stops in Philadelphia and Dallas. Renney praised the work of Bruins coach Claude Julien and his staff in integrating Jagr into their system and their close-knit dressing room after acquiring him at the trade deadline.
Renney asked how a player could not give his all when he's been shown the respect Jagr's been given by Julien and his staff, but that's easier said than done.
Like any other artist (and he is just that), Jagr does not behave like a run-of-the mill player, and thus cannot be treated like one.
He played for the Rangers from late in the 2003-04 season to the end of the 2008 season. In 2005-06, the first year after the last lockout, Jagr had 54 goals and 123 points playing for Renney, who was the Ranger coach when Jagr arrived and who lasted until late in the 2009 season. Jagr was nominated for the Hart Trophy as league MVP in that season and was voted MVP by his fellow players.
"Jaromir has a little different take on the game," Renney said.
That has led some to malign Jagr at times and suggest he was uncoachable, especially earlier in his career. But if that was ever the case, Jagr is no longer that kind of player.
"He likes to do things a certain way," Renney added.
[+] Enlarge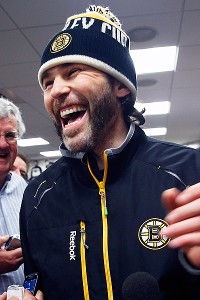 AP Photo/Michael DwyerJaromir Jagr is enjoying his time with the Bruins, even though he's not scoring goals.
Playing on a line with Conn Smythe Trophy candidate
Patrice Bergeron
and
Brad Marchand
this postseason, Jagr has played an important role for the Bruins, although he is far from the dominant player he used to be.
But like
Mark Recchi
for the Bruins' Cup-winning team in 2011, there is something about the presence of the 41-year-old Jagr that transcends the points he produces or the goals he has scored (which is a good thing, given that Jagr has yet to score in this year's playoffs).
That's not to say he hasn't been close.
Jagr rang one off the crossbar in overtime of Game 2 in Chicago, after which he stared longingly at the rafters of the United Center. He made a terrific play to win a puck battle behind the Chicago net in Game 4 and feed Bergeron for a goal.
Jagr has spoken lovingly of his time with Boston and became quite emotional talking about coach Claude Julien's decision to have him on the ice in the waning moments of Game 3 with the Bruins nursing a 2-0 lead. Both he and Julien joked after that it was more about trying to get Jagr his first goal of the playoffs, but Jagr quipped that he doesn't mind the monkey at all.
"I love the monkey, man," he said.
He has offered thoughtful assessment of his own play and the play of opponents.
"[Jagr] doesn't varnish anything. He's a very, very proud man," Renney said.
Still, there remains an element of the enigmatic to Jagr. There are his midnight skates at TD Garden in Boston, often with a weighted vest. We asked the Bruins' communications staff when we might next expect to see Jagr in a media setting and the honest answer was that they didn't know.
He wasn't expected to talk after Game 4, but he did, and then he was not present for media sessions the next two days.
At this stage of his career, though, it's easy to cut Jagr some slack. Even if his star has dimmed slightly, his presence and profile still remain larger than life.
"I played with him for a long time. Started my career playing for Pittsburgh and then playing in New York with him, so I know him very well," Chicago defenseman
Michal Rozsival
said Friday. "In the hockey world back home, he's definitely the biggest figure that has ever been and probably ever will be.
"He has a lot of fans there. He's high profile here and even more in the Czech Republic," Rozsival added.
Andrew Ference
played with Jagr early in his career in Pittsburgh and said he thinks Jagr listens to the coaching staff a lot more now. At the time, Jagr had a reputation as a player who really looked after himself, but Ference said he sees that much more readily now.
"When I was in Pitt, you kind of heard of those stories but never really saw it. Now you see it. You see all the extra work," Ference said.
"Now you almost pull the reins on him a bit to say to back off a little. He puts in so many hours just trying to improve himself on everything, on every little thing," he said.
One conversation Renney recalled happened just as Jagr was about to embark on a three-year, self-imposed exile to the Kontinental Hockey League, with Renney telling Jagr he could come back to the NHL anytime he wanted and play another five years.
Turns out Renney was absolutely right.
June, 13, 2013
6/13/13
7:36
PM ET
CHICAGO --
Marian Hossa
figured it was around 3 a.m. Thursday before the adrenaline finally seeped out his body and allowed him to fall asleep.
Which made his neighbor's home improvement activities a few hours later a rude reminder of Hossa's long night at the office.
"Woke up early. I think my neighbor decide he was going to drill in the morning. That was unpleasant," Hossa told reporters who gathered at the United Center some 13 hours after he and the Blackhawks had completed a monumental comeback and defeated the
Boston Bruins
4-3 in triple overtime to win Game 1 of the Stanley Cup finals.
"You know, hopefully he is going to get the message for next time, he won't drill," Hossa quipped. "Feel a little tired today."
In general, we're against having an extra day off during a playoff series. For the most part, the elongated break taxes players and fans and the media covering the series. Too much time covering the same old ground, too little hockey.
But in this case there was pretty much universal agreement from both teams that having Game 2 scheduled for Saturday night in Chicago was the perfect tonic for the Game 1 marathon.
And so instead of a day of thumb-twiddling, Thursday was a day of reflection and recovery after a game that took 112:08 to sort out before
Michal Rozsival
's point shot deflected first off
Dave Bolland
and then
Andrew Shaw
, and past
Tuukka Rask
to give the Blackhawks the win.
[+] Enlarge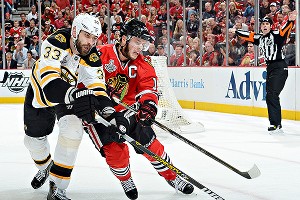 Bill Smith/NHLI/Getty ImagesZdeno Chara and Jonathan Toews leaned on each other for nearly six full periods, making an extra day off before Game 2 a blessing.
Players from both teams described the behind-the-scenes frenzy in the respective dressing rooms in overtime as trainers and other team staff worked to make sandwiches, prepare drinks, and get dry jerseys, gloves and other garments ready as the players came in after each of the overtime sessions.
Portable dryers, hair dryers and anything else that could help in the drying process were employed.
"It's a long game. You know, I think guys were really focused on getting drinks in their system. Guys were eating stuff. Guys were changing out of wet equipment and all that," Chicago defenseman
Brent Seabrook
said. "We got a great equipment staff, great trainers that give us every opportunity to get good things in our body, taking care of drying equipment out, drying skates and stuff like that."
"Everybody in overtime was running for us whatever we needed. It was unbelievable," added Hossa.
"Seems like we had more trainers than the players in the dressing room at that time. So that was nice to see," he said. "Basically anything we asked for we got. So we are pretty lucky."
Neither team skated on Thursday, understandable given the rigors of Game 1. And the extra day off will help both squads internalize all that took place, all of the missed opportunities, all of the fortunate and unfortunate bounces.
Naturally, that's a process that should be easier for the Blackhawks after having won a game in which they trailed 2-0 and 3-1. Still, as
Patrick Kane
pointed out, having come back that way, it would have been tough to swallow had they lost.
"It's one of those games being down 3-1, you come back to tie it 3-3, you feel like something was left on the
table if you didn't come back and win it," Kane said. "It's definitely a good feeling winning in the third overtime when it does go that long. Huge win, for sure."
The Bruins, of course, will make the more interesting case study, having uncharacteristically blown those leads and then being unable to close the deal in overtime in spite of a handful of glittering chances.
"Yeah, there's no question that it's a tough loss. At the same time, it was a game that could have gone either way," said Boston defenseman
Adam McQuaid
. "Take the positives from it. Today is a new day. We kind of start over and just have to get ready for Game 2."
Indeed, if there is a team that is built to turn away from such a gut-wrenching loss, it's the Boston Bruins.
This battle-tested team two years ago dropped the first two games of its opening-round playoff series against Montreal at home, then won that series in seven games. Later in 2011 the Bruins lost the first two games of the finals to Vancouver, then won that series in seven games to claim their first Stanley Cup since 1972.
"We've been through a lot," head coach Claude Julien said Thursday at a press briefing at the team's downtown hotel. "I don't think much is going to rattle our team. We're a pretty resilient group of guys. We live in the moment. This was a game we all know that it could have gone either way. Both teams had great chances and we could be sitting here today up 1-0 as easily as we are down 1-0.
"Wasting our time thinking about what could have and should have been is a lot of wasted energy," Julien said. "What's done is done."
Funny how the game goes sometimes.
In Game 1 the two teams went hammer and tong at each other for the equivalent of almost two regulation games, and yet some of the most pivotal moments seemed to come down to plain old luck.
Both the tying and winning goals came on deflections. Still, no one on the Boston side was suggesting the Bruins had been the victims of bad luck. Nor were they lamenting the missed opportunities or breakdowns.
"Ah, that doesn't matter. You'd drive yourself crazy at this point. I might have when I was 22 or something like that, but at this point it was out of my mind on the next shift," said Boston defenseman
Andrew Ference
, who inadvertently had the tying goal go in off his skate at the side of the Boston net in the third period.
"At this point you almost kind of shake your head at it and say, 'What can you do?' You hope somewhere down the line you shoot one off of one of their feet. That's the way playoffs go," Ference said. "There are certain plays you can control and there are certain plays you wouldn't change a single thing you did and the puck goes in. I'm not wasting any energy thinking about that."
January, 10, 2011
1/10/11
7:02
PM ET
Scott Burnside and Pierre LeBrun debate which team got the better end of today's trade between the New York Rangers and Phoenix Coyotes (New York sent Michal Rozsival to Phoenix for Wojtek Wolski):
Burnside: Hello, my friend. Well, we had an honest to goodness hockey trade today. The New York Rangers moved quickly to fill the gap created by the season-ending injury to Alexander Frolov by adding Wojtek Wolski, who was underachieving in Phoenix. In exchange, the Coyotes get much-maligned defenseman Michal Rozsival.
The Rangers get even younger on the blue line, which is a risk. The Coyotes, 16th in goals scored and goals allowed per game, hope Rozsival will help plug the big hole left by the offseason departure of Zbynek Michalek. Is it possible this deal solidifies a playoff berth for both these squads?
LeBrun: Wolski has been real disappointing in Phoenix this season, scoring only six goals in 36 games. But I think it's worth the gamble for the Rangers since he's only 24 years old, which fits into the Rangers' plan.
"I was surprised last year when Colorado traded him," veteran Rangers GM Glen Sather said to reporters on a post-trade media call. "Sometimes these things just come up and it came up pretty quickly today."
The move leaves the Rangers' blue line with a lot of peach fuzz, as you said Scotty.
"We like our young defense," Sather said. "We think they're all progressing very well. We know it's a little risky ... but we felt this was just too good an opportunity to turn down."
The Coyotes, in my mind, never recovered from the loss of Michalek to free agency. While no one will ask Rozsival to replace Michalek, it's a blue-line corps that overall should benefit from his arrival.
Burnside: I think it will be interesting to see how Wolski fits in with a very demanding coach in John Tortorella. In his past seven games, Wolski had zero points and saw his ice time dwindle to less than 10 minutes a night, a sure sign he wasn't putting in the effort for defending Phoenix coach Dave Tippett. Wolski took just seven shifts in his last game for the Coyotes. Two teams have now given up on the former first-round pick after Colorado dealt him at last year's trade deadline, which may or may not be a red flag. He has lots of skill, but he'd better bring it all if he's going to play for Tortorella.
LeBrun: Sather said you don't get a player at this age unless there have been issues. He said it was up to Torts and his staff to bring the best out of this guy. But this deal may pay off in more ways than one for the Rangers. They save cap space in this deal; Rozsival is a $5 million cap hit this year and next, while Wolski is $3.8 million. Sather indicated he would try to use those cap savings to look at another deal or two before the Feb. 28 trade deadline. Interestingly, while Rozsival's cap hit is $5 million, his salary next season decreases to $3 million, which means the Coyotes saved $1 million in salary for next season given that Wolski will be making $4 million next season. So while the Rangers save cap space, the Coyotes save actual real-life money.
Burnside: Well, real-life money has always been important to the Coyotes, and they certainly don't have to worry about bumping into the salary cap. Have to imagine Rozsival will thrive playing for Tippett. He'll also benefit from a change of scenery; Rozsival was made a scapegoat at Madison Square Garden, not necessarily for his play, but his salary.
In Phoenix, the points have to come from everywhere in the lineup, and the bottom line is that Rozsival's 15 points is just one behind the number put up by Wolski. He joins a very productive blue line that includes Keith Yandle, Adrian Aucoin and Ed Jovanovski. I can't help but imagine both teams will wake up tomorrow a little happier than they were today.
LeBrun: There's more upside in this trade for the Rangers because of Wolski's age, but I agree both teams get better this season. Wolski had 18 points in 18 games after arriving in Phoenix last season, so you know it's there. If Tortorella can't bring the best out of him, at least the Rangers have only committed contractually to Wolski for another season and a half. It's worth the gamble. Until next time, my friend.