Cross Checks:

Mike Babcock
December, 2, 2013
Dec 2
12:36
PM ET
OTTAWA, Ontario -- And just like that, we enter the final month of Olympic auditioning.
"All of a sudden it's December. I thought of that today; I was texting with the coaches, a bunch of stuff today, we were going back and forth," Detroit Red Wings coach (and Team Canada coach) Mike Babcock told ESPN.com Sunday before Detroit's game against the
Ottawa Senators
.
"It's getting closer, but I really like the fact they moved the date."
It's ironic, really, that while Russia, Sweden, Finland and the Czech Republic pushed the IIHF last week to extend the Olympic roster announcement deadline, no country will likely benefit more than Canada, which has the deepest talent pool to choose from and the harder decisions that come with it.
So with the IIHF, NHL and NHLPA agreeing to push the date from Dec. 31 to Jan. 7, Team Canada has another week to evaluate some of the players battling for those final few spots. Team USA is sticking with its Jan. 1 announcement at the conclusion of the Winter Classic.
[+] Enlarge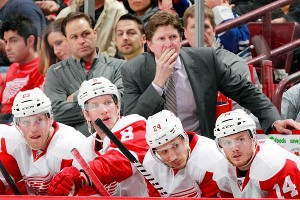 Jeff Vinnick/NHLI via Getty ImagesMike Babcock has plenty to consider as he watches Team Canada hopefuls play against his Red Wings.
"What it does is that it gives the players more time to decide who is on the team," Babcock said. "To me, that's what it's all about. We just watch them, but they decide [with their play]."
Hockey Canada has yet to officially decide its roster announcement date, but it seems crazy not to think the Canadians won't take advantage of the extra week.
It's another week to see how
Steven Stamkos
is recovering from his broken leg. It's another week for the battles on left wing and left defense to play themselves out. All the while, Babcock is in constant communication with the rest of his coaching staff: Claude Julien, Ken Hitchcock, Lindy Ruff and Ralph Krueger.
"Lots of texting, we were talking about left-handed D today," said Babcock.
"And what we're talking about is, one coach says, 'I just saw him, he was good'; or, 'Just saw him, wasn't any good'; or, 'Going to see him this week.'"
Babcock had the coaches fill out their respective Team Canada rosters at about the 18-game mark in early to mid-November, to compare notes on their different picks, "and I've asked them to do it again by tomorrow [Monday]," Babcock said.
Just like his Team USA counterpart Dan Bylsma of Pittsburgh, Babcock benefits from the fact that Olympic hopefuls on the opposing team tend to bring out their best when playing the Red Wings.
"There's something wrong with you if you don't," Babcock said. "I mean, Tampa gets it, too [with GM Steve Yzerman]. It's a pretty good opportunity for a player. I thought the Smith kid for Phoenix was the first star both games we played them. Good idea. Why wouldn't you help yourself? To me, that's what it's all about."
Coyotes netminder
Mike Smith
stopped 59 of the 63 Detroit shots he faced in a pair of Phoenix wins this season over Babcock's Red Wings.
One thing that hasn't changed since August is Babcock's desire for a lot of team speed on the larger international ice surface, but that's not the only key ingredient.
"We want skaters, the most we can possibly have," said Babcock. "We want high hockey IQ. But the most important thing is trust. No sense taking somebody you don't trust, because they're all going to be one-goal games, and in the end you have to defend.
"People think the big ice is about offense. No, it's about defending. So you got to be able to play without the puck. Can you do that or can you not do that? To me, it's really simple. But the longer we get to watch, the better opportunity we have to make the right decision."
May, 28, 2013
May 28
12:31
AM ET
DETROIT -- Mike Babcock isn't a coach who typically addresses his team after a game. In his words, it never happens.
Following the Blackhawks' come-from-behind 4-3 win over the Red Wings on Monday, one that forced a Game 7 on Wednesday in Chicago, he made an exception.
Maybe it was the way the Red Wings lost, with mistakes in defensive-zone coverage that led to a flurry of activity in front of
Jimmy Howard
in the third period, a period in which the Blackhawks scored three goals to wipe out Detroit's one-goal lead.
Maybe it was the way Detroit's lead in this Western Conference semifinal series has completely vanished, its 3-1 edge a distant memory.
But Babcock felt compelled to speak. To remind his group that frustration from mistakes is wasted energy. To remind his young team that it did some things well in this loss. The Wings did, in fact, have the Stanley Cup favorites on the ropes for two periods.
"It's not like they came in here and squashed us or anything," Babcock said.
It was about beginning to put this game behind them. To turn the focus to Game 7, rather than the path on which they got there. Because looking back is ugly and a reminder they've allowed a dangerous Blackhawks team to re-enter a series in which it looked nearly dead. They've allowed the Blackhawks to tune up their power play so well that it took all of nine seconds for
Jonathan Toews
to set up
Marian Hossa
for a first-period power-play goal.
The Blackhawks' stars are now outplaying the Red Wings' stars, and suddenly Detroit doesn't have an answer for Chicago power forward
Bryan Bickell
. He scored his fifth goal of the postseason Monday night. It shows just how quickly a Stanley Cup playoff series can change.
"If I would have told our whole team before the series -- if I would have told Detroit, Michigan, before the series, we were going to be playing Chicago in Game 7, I think everyone would have been pretty excited about that," Babcock said. "I love Game 7s. I'm excited about it."
And chances are, Babcock suggested to his players that they flush this game out of their system. That they flush the blown series lead out of their system, because that was a message repeated often by the players after the loss. Flush it.
"You've just got to flush it out,"
Henrik Zetterberg
said. "It's part of playoff hockey. It's first to four. It doesn't matter how you get there as long as you get there."
Said
Niklas Kronwall
: "We have to flush this and get ready and prepared for Wednesday."
And Howard on the message to the team: "Take a step back and just flush it."
It's the right attitude because otherwise the focus is on how they might have already flushed their best chance at ending the Blackhawks' season.
With a goal from
Patrick Eaves
and a knuckler from
Joakim Andersson
that had no business beating
Corey Crawford
, the Red Wings went into the second intermission with a 2-1 lead. But this is where the Blackhawks' experience shined through. In Detroit, you have a young team that is clearly struggling to close out games. And in this case, to close out a series.
The Blackhawks, however, are a veteran team that never believes it's out of it. Not even when the Hawks' season was down to its final period.
In that intermission, the message in the Blackhawks' room was to keep pressing. Put pucks on net. Don't be afraid to make plays.
"It was just pure confidence," Toews said. "Our heads were just in the right spot. We knew what we had to do and we weren't panicking."
That comes from experience.
"We just had to stay with it," Toews said. "We're finding ways, we're doing the right things to score goals and we're confident when we get those chances that they're going to go in somehow. We've got that momentum; we want to keep it."
The problem with Chicago maintaining momentum is that the team in this series that has played the best isn't necessarily the one with the momentum. Usually, it's been the team with the most to lose.
Game 7 puts the teams on equal footing in that department. For both the Blackhawks and Red Wings, one loss ends their season. How they got to that point has to be meaningless -- for both teams.
"Sure, we made some mistakes that cost us; that's the way the game is played sometimes. You just have to stick with it," Kronwall said. "We just got to stay positive. Keep our heads high and refocus. What happened tonight is already history."
April, 10, 2012
4/10/12
7:43
PM ET
If you're feeling down on your luck these days, and need a little pick-me-up, Mike Babcock's recently published book called Leave "No Doubt: A Credo for Chasing Your Dreams" is just what the doctor ordered.
The 138-page book, which the Detroit Red Wings head coach authored with the help of longtime friend Rick Larsen, is truly an inspirational read. It's as much about life as hockey, the two intertwined throughout the book just like Babcock's philosophies on life and hockey also share the same place in his heart and mind.
The backdrop is the 2010 Winter Olympics, when Babcock and the rest of Team Canada faced the most pressure many of them would ever feel in their entire careers.
"Leave No Doubt" is the credo Babcock chose for Canada's quest to win Olympic gold on home ice in the most hockey-crazed nation in the world.
And while in this book Babcock makes Canadians feel awfully proud of themselves and their hockey dominance, you don't have to be Canadian to be inspired from what Babcock is selling here.
His views on life, on commitment, on hard work, apply to everybody.
While I covered Babcock at the 2003 Stanley Cup finals when he led the underdog Anaheim Ducks to a surprise finals appearance, I got to know him better while being one of only two reporters on hand in Prague at the 2004 IIHF world hockey championship, where Babcock coached Canada to gold. I remember flying home from that tournament thinking Babcock was a superstar in the making in the coaching world, and I would be proved right in the subsequent years when he was hired by the powerhouse Red Wings, coached them to a Stanley Cup and then raised the bar even higher at the Vancouver 2010 Games.
[+] Enlarge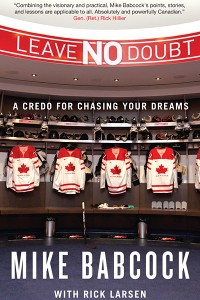 Courtesy of McGill-Queeen's University Press
Early in the book, you get a glimpse of the pressure in Vancouver, Babcock bringing us late to the third period of the gold-medal game with the United States.
"And with 24 seconds left in the third period, the Americans scored the tying goal,'' he writes. ``My daughter Taylor, who was in the stands, slumped into her seat, put her head into her hands and burst into tears. Her reaction was a very personal one, but what she felt captured the emotion of people across our country. Ownership of our game, our dream, our destiny was going into overtime.''
And with that, we get a journey back from the start of the Olympic journey to the golden ending, mixed in with moments in Babcock's own journey through the coaching ranks from his early days in junior and college, to his AHL and NHL appointments.
Through all that, you also get a clear picture of a man whose love and devotion to his wife and kids knows no bounds.
"My wife and children energize me every time I'm running low,'' Babcock writes. ``They give me the fuel to keep me going. I'm so grateful for my family. And oftentimes I feel they give me so much more than I can ever give back.''
Babcock lost his mother to cancer when she was 51 years old and he was 28. That began a lifelong quest to do whatever he can to help with cancer research and funding, a cause that's near and dear to his heart to this day. (Babcock's proceeds from the book will be donated to helping cancer-stricken children.)
Mom was on Babcock's mind as he head to the Olympics.
``Whatever the outcome, I promised myself, my mom was going to be proud of our Olympic effort,'' he writes.
The challenge, of course, was daunting: To take gold on home ice with no other result acceptable to 38 million Canadians.
"When we touched down (in Vancouver), the thing that hit you was the overwhelming energy of the people,'' writes Babcock. "As soon as I walked off the plane, I got the `I've got to deliver' feeling big time. I was ready to go.''
It was after a round-robin loss to the U.S. that Babcock made one of the gutsiest decisions the sport has seen in years, benching the NHL's all-time winningest goalie, 2002 Olympic gold medalist Martin Brodeur, in favor of Roberto Luongo for the remainder of the tournament.
"I went to Brodeur and told him that we'd be starting Lou against Germany,'' writes Babcock. "He said, `Yup.' That was it. Hard as it was, he took it like the pro he is. Through the rest of the games, Brodeur was nothing but supportive and positive. Talk about leaving your ego at the door.''
The books ends with the gold-medal game, Team USA tying it late to force overtime. Babcock details his message before overtime to his players, telling them that there's too much talent on each team for overtime to last much longer than seven or eight minutes. "It's time to put your foot on the gas and go after them,'' he told them.
And he felt right then and there that his group was ready. Which leads to a terrific passage in the book:
"Confidence enables you to make strong choices.
"Confidence helps you get beyond doubt.
"Confidence gets you ready for big moments.
"We had won that game before we hit the ice for overtime.
"Champions know.''
And Babcock would be proved right 7:40 into overtime, when Crosby sniped the Golden Goal past Ryan Miller.
Leave no doubt.
January, 4, 2012
1/04/12
2:08
PM ET
Some of the usual names pop up in the race for the Jack Adams Award for the top coach as we start the new year, but there are some new ones as well. Here's a look at our top five plus some honorable mentions.
Notwithstanding Tortorella's off-base suggestion that on-ice officials were conspiring against the New York Rangers in Monday's Winter Classic (which he subsequently apologized for), the heart-on-his-sleeve coach has been at his best this season with a New York Rangers squad that had lots of excuses for underachieving. In spite of starting with games in Europe and then embarking on a long road trip while renovations to Madison Square Garden were completed, and then dealing with the presence of HBO cameras for most of the last month, Tortorella has kept his team on track. With their win in the Winter Classic, the Rangers moved into the top spot in the Eastern Conference percentage points ahead of defending Stanley Cup champion Boston. Tortorella has been adept at getting the most out of a lineup that has also been without top defenseman
Marc Staal
for the first three months of the season. The team ranks second in the league in goals allowed per game. His use of
Brad Richards
has been exemplary, as he didn't force a marriage between the top free-agent signing of last summer and star winger
Marian Gaborik
, and both have prospered, just not with each other.
Vigneault, like Tortorella, has kept his team on track despite distractions and a slow start that threatened to derail the season early on. The Canucks have ridden out some rough patches from starting netminder
Roberto Luongo
while
Ryan Kesler
seems more himself after offseason shoulder surgery. The Sedin twins, Henrik and Daniel, are at or near the top of the NHL scoring list, and in spite of last season's gut-wrenching loss in Game 7 of the Stanley Cup finals, the Canucks once again seem determined to assume top spot in the Western Conference, if not the entire league.
There is no disputing the impact the former Cup-winning coach has had in St. Louis. Since taking over, the Blues are 16-5-5 and sit two points back of Detroit and three back of the Western Conference-leading
Chicago Blackhawks
as the NHL approaches the midpoint of the season. The Blues have rebounded from a bit of a sideways turn before the new year and continue to be the best team in the conference in terms of goals allowed per game. The race in the Central Division (Nashville is just three points back of St. Louis) is going to be a dog fight, and coming out on top might mean the difference between a long playoff run and a short one.
Everyone knows about the Stanley Cup hangover. Everyone knows the Bruins seem immune to it. And credit goes to Julien, who is essentially coaching the same lineup that plowed to the team's first Stanley Cup victory since '72, for getting his team back to an elite level of play.
Tyler Seguin
has blossomed under Julien -- remember the criticism Julien got back in the playoffs for not using the top prospect enough? -- and
Brad Marchand
has emerged as a top point-producing pest. The Bruins are a runaway leader with a plus-55 mark in goal differential. And along with the Rangers, the Bruins look to be the most complete team top to bottom in the Eastern Conference and that includes the work done by Julien.
The Wings have the top plus/minus in the Western Conference, at plus-40, and are almost unbeatable at home, where they are 15-2-1. They'll get a healthy dose of home cooking in the second half of the season, which is bad news for St. Louis and Chicago , etc. and while the team needs to be better on the road (it is 10-11-0 away from Joe Louis Arena), is there anyone who doesn't think the Wings have the tools to still be playing come May and June? The fact that the demanding Babcock is still getting maximum point production out of his team after continued forays deep into the playoffs in recent years suggests he's still got it going on.
Honorable Mention:
Darryl Sutter,
Los Angeles Kings
; Joel Quenneville, Chicago Blackhawks;
Kevin Dineen
,
Florida Panthers
; Paul MacLean,
Ottawa Senators
; Claude Noel,
Winnipeg Jets
July, 13, 2011
7/13/11
5:14
PM ET
The Detroit Red Wings are a little bit like E.F. Hutton -- when they talk, everybody listens. So, there might have been some arched eyebrows when coach Mike Babcock went with two relatively anonymous choices for two assistant-coaching positions: former collegiate coach Jeff Blashill and former AHL and major junior coach Bill Peters.
Now, "anonymous" probably isn't the right term for these men, at least within hockey circles. But the process that brought Babcock and GM Ken Holland to these two coaches illustrates why the Red Wings remain the standard against which all other NHL franchises are measured. (After all, the Red Wings have reached the playoffs for 20 straight seasons.)
Since Babcock took over as coach after the lockout, the Wings have appeared in two Stanley Cup finals, winning it all in 2008. They have advanced past the first round in all but one of Babcock's seasons with the Wings. Yet there still was some concern that, as Babcock put it in an interview with us this week, he might begin to sound like the teacher from Peanuts.
[+] Enlarge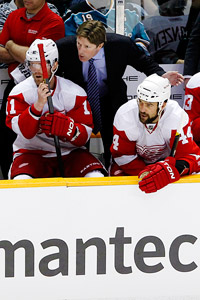 Jason O. Watson/US PresswireMike Babcock is entering his seventh season as Red Wings coach.
Wawwaawaaaawaaawaaa.
"The challenge was: How was I going to change that? How was I going to keep the good and evolve and improve?" Babcock said. "That's what I was looking for. This was the biggest decision I've had to make in a long time."
So, when longtime Wings assistant Paul MacLean took the head-coaching job in Ottawa and veteran NHL defenseman and Red Wings assistant Brad McCrimmon took his skills to Russia, Babcock didn't take the path of least resistance by hiring two people he knew or two former NHL guys who were hanging around.
Instead, Babcock talked to literally dozens of people; junior hockey people, AHL people, NHL people ... coaches, non-coaches, players, GMs. Whom did they like? What did they think was important about the makeup of a coaching staff?
There were also several key questions Babcock needed answered in making these hires: If new ideas are the lifeblood of a coaching staff, where were the new ideas coming from? Did experience matter as much as whether the candidates knew what they were talking about?
Babcock knew Peters from coaching with him in junior in the 1990s, and Peters' name continued to pop up as Babcock went through the process of vetting potential hires. As for Blashill, Babcock talked to him on the phone and met him in person. Babcock was impressed by how the former Western Michigan coach presented his ideas.
"I thought, there's a guy that's going to be a real, real good coach," Babcock said.
Do the hires ensure the Wings will get back to the Stanley Cup finals? Of course not.
But in examining the process the Wings went through to make the kinds of decisions that often get overlooked, at least from the outside, it's not hard to see why the Wings are who they are.
"This might have been the best process I've been through in the last 10 years," Babcock said.
February, 16, 2011
2/16/11
4:02
PM ET
We couldn't let Wednesday go by without giving a few shout-outs to some infamous hockey hair.
First, we start with a little late-night entertainment. Detroit Red Wings coach Mike Babcock made an "appearance" during a skit on "Conan" last night. The show used an old clip of the coach as part of a "Local News Round-up" skit which ripped local news broadcasts. (Click here to watch the clip; go to "Part II" under the scene selection tab.)
We took the lead from a few of our Twitter-heads and decided to pay homage to one thing Babcock and Conan O'Brien have in common: solid domes.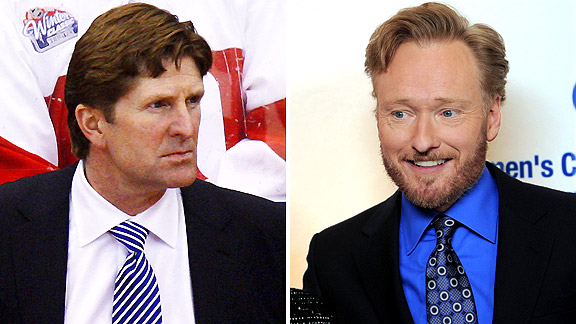 AP Photo
And finally, the Vancouver Canucks gave us a great excuse to pay tribute to Harold Snepsts' 'stache. On Wednesday, he was selected for induction into the team's Ring of Honour.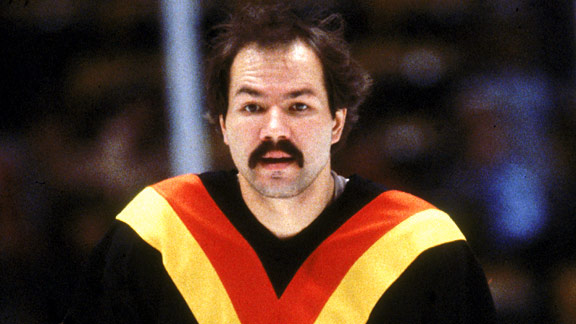 Bruce Bennett/Getty Images
October, 13, 2010
10/13/10
4:21
PM ET
DETROIT -- Flash back to the spring of 2002. Mike Babcock is the head coach of the AHL's Cincinnati Mighty Ducks, a shared farm club of both Anaheim and Detroit.
"I remember he had come up to watch us play in the first round against Vancouver," Red Wings GM Ken Holland recalled Tuesday. "He was cocky. He told me he wanted to be the next coach of the Red Wings after Scotty Bowman. And I told him the Red Wings would never be his first [NHL] coaching stop. 'We don't hire interns.'"
The truth is, Holland was already impressed with the young coach, having fostered a relationship with him through Detroit's shared agreement in Cincinnati. At that time, however, Bowman's replacement after another Cup in 2002 would be longtime assistant Dave Lewis. He was in-house and had bided his time, and an outsider wouldn't feel right after a Cup year.
[+] Enlarge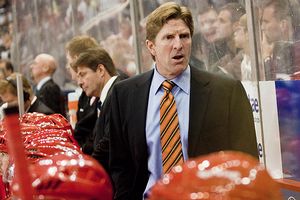 Tony Ding/Icon SMICoach Mike Babcock led the Red Wings to the Stanley Cup in 2008.
Babcock instead got his feet wet behind an NHL bench in Anaheim, impressing with a surprise trip to the 2003 Cup finals, notably beating Holland's Red Wings along the way.
"He knocked us out, and that left a pretty big impression," Holland said with a laugh. "As fate would have it, I would hire Mike in 2005. It's been an awesome relationship, and obviously we've done a lot of winning under his leadership."
If Babcock fulfills the four-year contract extension he signed with the club this week, the relationship in Detroit could last at least 10 years when all is said and done.
Babcock is entering his sixth season behind the Wings' bench, an eternity by modern-day NHL standards given the way coaches are spit out the meat grinder in this league. Babcock is fully aware of that. That's why he reached out in the offseason to Buffalo's Lindy Ruff and Nashville's Barry Trotz, the league's longest-tenured coaches, to feel them out before he signed the extension. Can you coach in the same place for that long and still be as good and motivated at your job? He also phoned Phoenix coach Dave Tippett, who had been fired the year before after a long run in Dallas.
"He had been in the same place for a long time and probably didn't want to leave," Babcock said. "He went to Phoenix and won coach of the year, and I asked him, 'Are you a better coach because it was the first year?'"
The key, Babcock said, is to keep things new and fresh.
"I think new is exciting, and so we have to make it new on a regular basis," he told ESPN.com while sitting in his office at Joe Louis Arena. "The way you coached last year isn't good enough for this year. It's a constant evolution. You have to tweak it, you have to adjust to the changes in the game. You've got all these guys [other coaches] coming with new ideas, and you're always excited for new ideas."
The Mike Babcock of 2010-11 is not the Mike Babcock of 2005-06. He's learned to loosen the reins somewhat on his players. He's learned that the veteran core here takes care of business and doesn't need the coach to micromanage everything.
"You're way more comfortable now. You've gotten to know them, they've gotten to know you," Babcock said, leaning back in his office chair. "I still micromanage. I micromanage people who don't do their jobs. ... But I'm not at the back of the bus or at the back of the plane [with the players]; I'm not in the room. They run it. They have an off day, they're doing their training. They're doing what they're supposed to be doing. So you've learned to let them run it. They run it better than you. Why would you get in the way of that? That communication has grown because you understand that. That took me a while."
Nicklas Lidstrom is key in all of this. The captain and the coach have an excellent rapport.
"We actually talk quite often about different things, whether it's the schedule or practice and days off, or how the team is doing and certain players," Lidstrom told ESPN.com. "He asks for my input quite often; just getting a feel for how the team is doing."
Babcock remains eager to learn, open to change and some would say obsessed about winning. And he's done plenty of that: Stanley Cup, Olympic gold, men's world championship gold and world junior gold. It's a rare quad of conquests.
It was during those 2010 Olympics in Vancouver while coaching Team Canada when he made one heck of gutsy decision: benching the all-time winningest goalie in Martin Brodeur and going with Roberto Luongo after a preliminary-round loss to the United States that had 35 million Canadians in full panic mode.
"I wasn't surprised one bit, to tell you the truth," Wings veteran netminder Chris Osgood told ESPN.com on Tuesday. "Because I lived it."
Two years earlier, Babcock had benched Hall of Fame goalie Dominik Hasek in favor of Ozzie for the playoffs. Not too many coaches would have the nerve to bench both Brodeur and Hasek with so much on the line.
"Well, it worked out, didn't it?" Osgood said.
Babcock praised Brodeur for how he handled the situation in Vancouver.
"The greatest athletes in all professions think they can do it no matter what," Babcock said. "So, when the coach walks up and says, 'Lou is going against Germany,' there's a whole bunch of ways you can react. Leadership is understanding the team is first and doing the right things for the team, and he was beyond professional. That made it easier for Lou. There's no question in Brodeur's mind he could have done the same thing. I understand that totally. We felt the change was needed at the time. We made the change."
Even today, the switch to Luongo is debated in Canada.
"You know how you've made the right decision? When you win," Babcock said. "If you don't win, then you didn't make the right decision. Those are the facts."
Cocky? Maybe in 2002. Now, it's just the best coach in the NHL telling it like it is.