Cross Checks:

Mike Cammalleri
July, 1, 2014
Jul 1
1:55
PM ET
The
New Jersey Devils
ranked 27th in the NHL in goals per game (2.4) last season, a key reason they missed the playoffs for the second straight year after a surprise run to the 2012 Stanley Cup finals.
And for years the Devils have had to steel themselves against a parade of top players fleeing the franchise, players like former captain
Zach Parise
,
Ilya Kovalchuk
(who walked right into a completely different league in Russia),
Paul Martin
and
Brian Gionta
, all of whom exited New Jersey without the Devils getting any return for those assets.
[+] Enlarge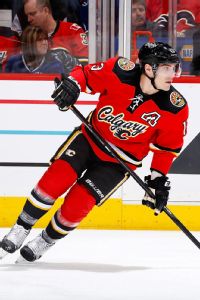 Gerry Thomas/NHLI/Getty ImagesBig names usually leave New Jersey, but Mike Cammaleri is coming aboard.
Tuesday, though, the Devils managed to land a good-sized fish in veteran goal-scorer
Mike Cammalleri
.
Now, the Devils had to overpay Cammalleri both in terms of money and contract length, giving the 32-year-old a five-year deal that will cost the them $5 million annually against the salary cap.
Still, it's a slight decrease from what Cammalleri was making in Calgary, and it's a fact of life that until the Devils return to contender status it will cost them more to bring in outside free agents.
Cammalleri is an interesting guy and he'll bring a little more pizzazz to a Devils' room that also is home to another top character in
Jaromir Jagr
, who led the Devils with 24 goals and 67 points last season and is back for one more year.
The Devils also added Martin Havlat on Tuesday, signing the winger to a one-year deal worth $1.5 million.
Cammalleri had 26 goals in just 63 games last season for a rebuilding Flames, and there's nothing to suggest he can't replicate that production or even see those numbers jump with a Devils team that had the ninth-ranked power play in the NHL.
The Eastern Conference looks pretty fluid (read: mediocre) at this point, and if goalie
Cory Schneider
remains healthy there's no real reason New Jersey can't get back into the top eight and make the playoffs. If the Devils make the postseason, Cammalleri may truly earn his keep.
Although he hasn't played in the postseason since 2011, in his last 26 playoff games with Montreal in 2010 and '11, he collected an impressive 16 goals and 13 assists.
Welcome to Newark, Mr. Cammalleri.
March, 5, 2014
Mar 5
7:42
PM ET
Ryan Kesler
was going to have an impact on the NHL's trade deadline regardless of whether he moved or not, and did he ever.
The U.S. Olympian did not find a new NHL home Wednesday despite a serious push in particular by the
Anaheim Ducks
, and you can certainly underline the efforts of the
Pittsburgh Penguins
, also.
Now, the
Vancouver Canucks
were up front from the beginning of Kesler's trade-market entry that they were not committed 100 percent to moving him; that cannot be forgotten here. They told teams they would listen but ultimately would reserve the right to wait until the offseason to move him if they felt a better package would await them in June.
And it might just be that by involving more teams closer to the draft, they will get a longer list of quality offers.
Perhaps.
Or maybe lessons were not learned from the
Roberto Luongo
saga over the past two years in terms of striking when there's a good enough offer on the table.
What I do know is that the Ducks were aggressively trying to get a Kesler deal done, and few teams were in a better position to deliver the goods given their deep, deep pool of high-end prospect talent.
What they didn't have was the 20- to 25-year-old center the Canucks had hoped to gain in this deal. That can't be overlooked.
But Anaheim has a bevy of youthful talent to pick from.
Regardless, it was certainly Vancouver's right not to pull the trigger. It's believed the Ducks didn't find out the Kesler option was gone until the last 15 to 20 minutes before the 3 p.m. ET deadline. That pretty much left the Ducks without a chance to recover.
There was a Plan B for Anaheim, a source said, in the name of
Matt Moulson
, but by then he was well on his way to Minnesota. You can't ask the
Buffalo Sabres
to wait forever.
The Penguins, like the Ducks, probably didn't have the type of day they had hoped because of their pursuit of Kesler. The Pens acquired
Lee Stempniak
and
Marcel Goc
, but it certainly wasn't the sizzle they were looking for.
In the meantime, the long wait on Kesler, as well as the late-moving parts in
Thomas Vanek
and Moulson impacted the
Calgary Flames
' effort to move
Mike Cammalleri
-- something Flames boss Brian Burke confirmed in his post-deadline news conference. The market place was waiting on Vanek, Kesler and Moulson and had Cammalleri on the back-burner, which left the Flames holding back on him.
Calgary probably could have made a very meager, last-minute deal, but as Burke said afterward, he'd rather hang on to Cammalleri -- maybe keep talking contract with him -- rather than make a bad deal. Don't disagree with him there.
Elsewhere, another deal that didn't materialize but certainly would have been awfully interesting was San Jose's attempt to lure
Ryan Callahan
from the Rangers. Sources tell ESPN.com that the Sharks were fairly down the road on a deal for him and likely would have gotten him had
Steve Yzerman
in Tampa Bay decided to hold on to
Martin St. Louis
. The Sharks deal appeared to be the Rangers' Plan B on a Callahan trade. Columbus also chatted with the Rangers on a Callahan deal.
Which also tells you the amount of groundwork the Blueshirts got done on a Callahan trade, which means no doubt that they went to bed Tuesday night deciding they weren't signing their captain despite last-minute movement from the Callahan camp. The winger's camp moved down to within $200,000 or so from the Rangers' $6 million-per-year offer, but the real stumbling block was the desire from the Callahan camp for a no-trade clause, something Rangers general manager Glen Sather confirmed to New York media was indeed the case.
At the end of a day in which split-second decisions make all the difference in the world, lots of what-if's for many teams.
I would have loved to have seen Kesler in a Ducks uniform. Imagine that one-two punch at center with
Ryan Getzlaf
? Ooof.
Instead, we'll all pick up the Kesler trade speculation in June. Until then.
March, 4, 2014
Mar 4
11:06
AM ET
The eve of the trade deadline began Tuesday with most of the high-end rental players still in play.
Thomas Vanek
,
Matt Moulson
,
Mike Cammalleri
,
Marian Gaborik
and
Ales Hemsky
, all pending unrestricted free agent wingers, remained on the trade block, a departure in some ways from the past few years, when many of the rentals went days before the deadline.
Remember
Brenden Morrow
,
Jarome Iginla
and
Jaromir Jagr
all moved before the actual deadline day a year ago.
There's a pretty simple answer to it all: As one NHL GM of a contender told ESPN.com Monday night, the prices needed to go down before he would consider any of those rentals.
Is this the year the buyers keep their sanity?
Who knows, all it takes is one of those rentals to move Tuesday and the domino effect might take place.
Latest from the Kesler watch
Now for a non-rental ... the biggest name on the market, really.
The Canucks have continued to take a number of calls on
Ryan Kesler
the past few days, but there's still no clear indication whether he'll move before Wednesday's 3 p.m. ET deadline.
The asking price remains steep: an established NHLer in his 20s, a first-round pick and another Grade A prospect, or some variation of that mix.
Although I think the Flyers might be willing to give up
Brayden Schenn
in a Kesler deal, I'm not sure they'd give up much more that's high-end or at least not the asking price from the Canucks.
And although I think for sure the Penguins would start a package with center
Brandon Sutter
, is he really a good-enough established NHLer for Vancouver? Maybe if the rest of the package is good enough, I guess.
As I tweeted early Tuesday morning, the
New York Rangers
are keeping an eye on the Kesler situation. My guess is if they can't re-sign
Ryan Callahan
, perhaps that gets the Blueshirts into high gear on the Kesler front. The asking price for Vancouver would have to start with
Derek Stepan
, one assumes.
I was also told Tuesday morning that the Red Wings still have not gotten into any player discussion with Vancouver on the Kesler front. While both clubs are believed to have talked on Thursday, to this point, it hasn't gotten past that.
Is veteran Detroit GM Ken Holland lying in the weeds to see how the Kesler thing plays out? Perhaps.
Or maybe he's just more focused on what he really needs, a top-four defenseman.
We told you Monday of Detroit's interest in
Christian Ehrhoff
. That remained as of Tuesday morning, according to sources, but it wasn't going to happen at the sticker price the Sabres had on him.
Same as Detroit, Philadelphia's real need is a top-four defenseman. They really like
Alexander Edler
, but at this point it appears the Canucks aren't keen on trading him unless it's a whopper of an offer.
And on Callahan
You just sense this has to be decision day on the Ryan Callahan front, right?
The Rangers play on Wednesday, so if you're the Rangers, I would think you want to fish or cut bait here with your captain.
Either you get him signed Tuesday or you begin the process of trading him.
Will the Rangers go higher than $6 million a year? Will Callahan, who went south of $6.5 million, go even lower?
It's decision time.
February, 6, 2014
Feb 6
12:42
PM ET
We're a day away from Friday's 3 p.m. ET Olympic roster freeze, so you can expect trade talks to pick up a little, although I suspect most of the action will wait until the March 5 trade deadline.
Still, a source told ESPN.com on Thursday that trade talks have intensified between the
Edmonton Oilers
and
Los Angeles Kings
regarding Oilers center
Sam Gagner
.
Gagner carries a $4.8 million cap hit through the 2015-16 season, so he's not your traditional rental player. And Los Angeles has very little wiggle room under the salary cap, so it's unclear yet how they could do this before Friday's deadline.
But the Kings are desperate for offense, sitting 29th in goals per game at 2.26.
The Kings are also believed to have interest in
Matt Moulson
,
Mike Cammalleri
and
Thomas Vanek
-- all three of whom have expiring contracts.
September, 6, 2013
9/06/13
4:32
PM ET
Flames veteran winger
Mike Cammalleri
welcomed the news that Brian Burke was appointed Calgary's president of hockey operations.
"I've never really talked to Brian and yet it's one of those things where I feel like I know him because I've talked to so many people, mutual friends, I've talked to players who have played for him," said Cammalleri, who spoke to Leafs captain
Dion Phaneuf
on Thursday about Burke.
"I played in L.A. and had to play against those Anaheim teams; those were some really good Brian Burke teams. I like the way his teams play. I thought he did a tremendous job in Toronto, too. Look where they're at now."
Ironically, Cammalleri could have ended up playing for Burke in Toronto years ago when, as an unrestricted free agent, he met with Leafs brass in Toronto on July 1 before ultimately signing in Montreal.
"Brian was actually in Sweden that day on July 1, that's when he signed the Monster (
Jonas Gustavsson
)," said Cammalleri. "But I was dealing with Dave Nonis and met with them down at their office."
The question now is what is in store for Cammalleri on a rebuilding Flames team that has shed many veteran players over the last year. Cammalleri is entering the final year of his contract.
"Who knows? We'll see," he said of his future in Calgary. "We'll see what they want to do. Truthfully, I got a lot of respect for (GM) Jay (Feaster) and (assistant GM) John (Weisbrod), I've had an open dialogue with them. Nothing to report, but we'll see what they want to do. I like it there, it's a good place. I'm open (to an extension)."
March, 26, 2013
3/26/13
4:16
PM ET
CHICAGO -- You watch
Jarome Iginla
go through his morning skate routine at the United Center in Chicago, a routine he has followed for some 1,218 NHL regular season games in a
Calgary Flames
jersey, and it's hard not to think in terms of the end of an era.
Not just the seemingly impending end of an era for one of the game's classiest players who has in recent days agreed to provide to general manager Jay Feaster a list of teams to which he would agree to be traded before the April 3 trade deadline, but also the end of an era for the Flames themselves.
Head coach Bob Hartley's first call when he decided he would take the Flames job last summer was to Iginla.
Although Iginla's offensive numbers are not what they once were, he did score the winning goal in the Flames' last game a 3-2 win over St. Louis. It was the 83rd game-winner of Iginla's career.
"The way I look at Jarome Iginla, he's a very proud athlete. He's always in the gym, he always works hard and looking at the minutes we're giving him, we didn't see any slowing down or anything," Hartley said.
"He's a very proud man. He's a franchise player and those guys are very unique individuals. They're unique players and they're unique human beings. It's just lots of fun to work with Jarome."
Still, Hartley would not explore the idea of what it might be like to coach a team that did not have the familiar No. 12 in the lineup.
"Anything is possible. I don't trade, I coach. I'll stick to my job and I'm sure that Jay and his group will do what's best for the Calgary Flames," Hartley said.
Iginla did not speak to the media after the Flames' morning skate Tuesday, trying to avoid even more discussion about his fate, a discussion he has tried his best to avoid all season.
Teammate
Mike Cammalleri
said there is no avoiding the speculation that surrounds the team captain and really everyone else in the dressing room.
"As far as the speculation, most of us can read. We're aware of it," he said.
"The best way to deal with it is to understand it. It's not that hard to understand. We play in a Canadian market where people love their hockey. Jarome Iginla has been the face of the Calgary Flames franchise for, how long now? There's going to be a lot of gossip when it comes to this topic.
"As far as us players, he hasn't been any different in the room."
If there is a sense of nostalgia, if not downright sadness for Calgary fans at the prospect of their beloved captain donning another jersey for the first time since he stepped onto an NHL ice surface for a couple of playoff games in 1996, then it must be balanced with something approaching euphoria that this is the path the team has finally come to terms with charting.
At the risk of sounding hyperbolic, it's hard to imagine a more important week in the team's history. Certainly, this ranks as a defining moment for Feaster and for a team that has stumbled around the dark edges of the NHL since it came within a game of winning the Stanley Cup in 2004, when the Flames lost in seven games to Tampa Bay.
Since that series, one of the seminal moments in team history, the Flames have not won a single playoff round and appear destined to miss the postseason for a fourth straight season.
In spite of the mediocrity that has defined the Flames for almost a decade, the team has steadfastly refused to follow the time-honored pattern of shedding salary and experience and restocking with high draft picks and young, homegrown players.
Until now, at least. At least that's the thinking about how this will unfold.
But it just can't be Iginla who is the most attractive rental player who could be on the move before April 3. What Feaster can see in a return is anyone's guess, but given what the
Pittsburgh Penguins
gave up to acquire
Brenden Morrow
and
Douglas Murray
this week, start with a first-round draft pick, a top prospect and a mid-level prospect and go from there.
But to really effect change with a team that has historically failed to draft and develop its own players properly -- when the Flames take the ice against Chicago Tuesday night, their roster will boast just two Flames draft picks,
T.J. Brodie
and
Mikael Backlund
-- Feaster must be working hard to find homes for
Jay Bouwmeester
,
Miikka Kiprusoff
,
Alex Tanguay
, perhaps Cammalleri. As many bodies as Feaster can push over the side and into other teams' jerseys, that should be his mandate.
It is easier said than done, given the contractual baggage that is attached to many of the Flames' players.
Although the Flames do not technically occupy the bottom spot in the NHL standings, if you asked 100 hockey people to name the worst organization in the NHL right now, at least 90 would name the Flames. Edmonton, Florida, even misguided Colorado have more reasons for optimism for the future.
But fortunes can change quickly in the NHL.
Philadelphia finished dead last in the NHL in 2007 and three years later went to a sixth game of the Stanley Cup finals and has made the playoffs for five straight years.
But change does not come without a price; it does not come without a certain amount of organizational pain.
In the case of the Calgary Flames, a team that has declined to accept that kind of pain for too many years, that means swallowing hard and allowing the end of an era to come to pass.
Now we'll see if the anticipation and speculation surrounding the Flames actually yields results.
August, 29, 2012
8/29/12
9:09
AM ET
By
Sarah Goldstein
| ESPN.com
February, 9, 2012
2/09/12
2:44
PM ET
1. Parenteau's future with Islanders
One of the great off-the-radar stories this season has to be the blossoming of New York Islanders forward
P.A. Parenteau
into one of the game's premier setup men. He was drafted in the ninth round of the 2001 entry draft by the Anaheim Mighty Ducks; since then, the "Mighty" has been excised from that franchise's name and the ninth round of the draft no longer exists.
Though the Ducks gave up on Parenteau, as did the
Chicago Blackhawks
and the
New York Rangers
, Parenteau never lost the faith. In fact, he surmised that his strong play while marooned in the American Hockey League by the Rangers might have actually been the catalyst to what has been a breakout season for him with the Islanders.
Signed by the
New York Islanders
as a free agent in July 2010, Parenteau didn't get a chance to play top six minutes or get much of a sniff on the power play until coach Jack Capuano took over for Scott Gordon early in the 2010-11 season. Capuano had been the head coach of the Isles' AHL affiliate in Bridgeport, Conn., and Parenteau admitted he'd always managed to light it up against them while toiling for the Hartford Wolf Pack.
"I think [Capuano] knew what I could do. There was a pretty good rivalry there," Parenteau told ESPN.com this week.
After collecting 20 goals and 53 points a season ago, Parenteau has become almost a point-a-game guy this season with 11 goals and 47 points in 52 games. His 36 assists are fifth in the league.
An amiable sort, Parenteau said he never doubted his ability to contribute at this level, even though his path has been dotted by more than a few road blocks.
"It's been a long road," he said. "But I'm a pretty confident guy."
Obviously getting a chance to play with guys such as
John Tavares
, also a good friend of Parenteau's, and
Matt Moulson
hasn't hurt.
"When I make a nice play around here, it doesn't get wasted," Parenteau said.
Now here's where it gets interesting for the Isles, who this week signed forward
Frans Nielsen
to a four-year contract extension worth $11 million. Nielsen has 25 points, or roughly half those collected by Parenteau, who is slated to become an unrestricted free agent July 1. Sources familiar with the negotiations say that the team has yet to begin discussions about extending Parenteau, but with the Islanders crawling back into the edge of the playoff discussion in the Eastern Conference (they are in 11th place in the conference, nine points back of eighth-place Ottawa with four games in hand), it's hard to imagine GM
Garth Snow
won't make getting Parenteau under contract a top priority. Similarly, it's hard to imagine Snow letting Parenteau walk away for nothing on July 1.
For the record, Parenteau likes it on Long Island and, all things being equal, would prefer to stay.
"I really like where this team is going now," he said.
2. Jackets deal with Prospal
The
Columbus Blue Jackets
, already trying desperately to rid themselves of the giant mistake that is
Jeff Carter
, curiously opted to re-sign veteran forward
Vinny Prospal
to a one-year deal, apparently promising to give Prospal a job with the organization when he retires. Prospal will turn 37 years old next week, and one wonders if he can coach or learn to be a GM in short order, given those seem to be the team's most pressing needs.
Whether Prospal is a galvanizing force in the dressing room -- that's the logic being floated by management for the extension -- one wonders where that leadership has been this season as the Blue Jackets have been an embarrassment from day one. Beyond that, how does it make any sense to commit $2.5 million of cap space to a forward whose production will likely max out at 20 goals (he has nine this season through 53 games)? Prospal would have drawn some interest on the trade market, given the dearth of forwards with playoff experience who are likely to be available by Feb. 27 (he has 65 postseason games to his credit with 35 points collected). So why the hurry to sign a guy who apparently likes it in Columbus? Why not try to gather an asset or two (goodness knows the talent-challenged Blue Jackets can use all the help they can get even if it was a third or fourth-round pick) and then re-sign Prospal in the offseason? In the end, we wonder what the new GM in Columbus will think of this deal, and we're guessing not much.
3. Flames plan for postseason
When Calgary GM Jay Feaster acquired
Mike Cammalleri
last month for
Rene Bourque
, there were a number of arched eyebrows as the Flames added salary at a time when many observers were waiting for the team to wave the white flag and start trying to unload expensive pieces of machinery. But Feaster has remained steadfast in his belief that the Flames are a playoff team, and it was important to him to add a piece he thought could help the team as early in the process as he could.
Cammalleri's addition illustrates the often ignored truth of deadline deals, that no matter how good the player is there is a period of adjustment to a new team, new system and new teammates. Since arriving, Cammalleri has produced just two goals and an assist in nine games. That's the reality. By adding Cammalleri early on, though, as well as center
Blair Jones
-- who the team had coveted for a number of years -- Feaster said he is hoping that those players will be fully integrated into the Flames' program if they make it to the playoffs, and thus more effective when it counts.
It was the same philosophy the former Tampa GM used when he made his lone roster move during the 2003-04 season, adding veteran defenseman
Darryl Sydor
on Jan. 27, 2004. It took Sydor time to blend in with the up-tempo Lightning -- we recall former assistant coach Craig Ramsay talking about Sydor's painful learning curve when it came to head coach John Tortorella's demanding practices -- but it turned out to be an important piece to what would become a Stanley Cup puzzle in Tampa.
"He became the veteran voice on the blue line that we didn't have," Feaster said.
The current edition of the Flames isn't to be confused with the 2004 Lightning, and Feaster knows that. The Flames aren't particularly deep and are missing
Curtis Glencross
(due back in early March) and
Lee Stempniak
(out much longer), which has exacerbated the team's scoring woes. But
Miikka Kiprusoff
is having a terrific run, and his 300th career win on Wednesday put the Flames just a point out of eighth place when they woke up on Thursday.
4. Playoff landscape
The crowded NHL playoff landscape is difficult enough to handicap on its own, but throw in uncertainty over injury issues and it makes it doubly hard to read the tea leaves, especially with the trade deadline a little over two weeks away. The
Pittsburgh Penguins
, battling with Philadelphia and New Jersey for fourth place in the Eastern Conference, hope to have center
Jordan Staal
back any moment. The Pens and Flyers are both dealing with the long-term absence of their captains
Sidney Crosby
and
Chris Pronger
, respectively, although Crosby continues to skate and presumably is closer to returning. But the Flyers got a nice boost with the return of Daniel Briere to the lineup this week.
St. Louis has been patiently waiting for the return of top six forwards Alex Steen and
Andy McDonald
, both of whom are suffering from concussions. It seems that McDonald has overtaken Steen in terms of game-readiness, although GM Doug Armstrong declined to identify potential return dates; "too much uncertainty," he wrote Thursday. Still, the return of either or both could be enough to keep the Blues in the hunt for a home-ice advantage in the first round of the playoffs or to close the gap on Detroit and the top spot in the conference. The Blues trail the Wings by five points and have two games in hand.
The injury situation is more critical for bubble teams, and you have to wonder whether the absence of Dallas captain
Brenden Morrow
from games against Columbus and Buffalo as he continues to battle back and neck pains might be enough to keep the Stars out of the postseason. Dallas had fallen to 12th in the conference as of Thursday morning but was just two points out of eighth. Morrow's injuries will also quiet any potential trade talks involving the gritty veteran.
The inverse is true in Buffalo, where the Sabres are finally healthy, especially along the blue line, and are coming off an emphatic 6-0 pounding of Boston Wednesday night. And the
Minnesota Wild
, clinging to the eighth and final playoff spot in the Western Conference, announced Thursday that captain
Mikko Koivu
would return to action after missing eight games to injury. His presence on the ice and in the dressing room could represent the tipping point to keeping the Wild in the playoff bracket.

5. Anyone need a veteran goalie?
Had a brief exchange of texts with veteran netminder
Marty Turco
, who is trying to stay sharp playing with Salzburg in the Austrian elite league. Playoffs start next week and Turco said he's enjoying the experience, but he has always had his eye on returning to the NHL. Turco played for Canada at the Spengler Cup in December as well as in a tournament called the European Trophy, in which he played well. We are told a number of NHL teams are keeping an eye on Turco's progress. He has a clause in his contract that would allow him to return to the NHL should he sign with an NHL team by the Feb. 27 trade deadline. The Detroit Red Wings' goaltending situation remains somewhat fluid with
Jimmy Howard
nursing a broken finger, although
Joey MacDonald
has filled in capably in Howard's absence. Still, a veteran presence heading into the playoffs wouldn't be a bad thing for the Western Conference-leading Red Wings.
January, 13, 2012
1/13/12
11:15
AM ET
Scott Burnside and Pierre LeBrun discuss the questionable circumstances surrounding Thursday night's trade between Montreal and Calgary:
Burnside:
Good day, my friend. Got to hand it to the
Montreal Canadiens
. They may be junk on the ice, but they're world class when it comes to manufacturing news in the hockey world. Last night, GM Pierre Gauthier somehow allowed
Mike Cammalleri
to get on the ice for two periods before taking him out of the game and sending him to the team's hotel in Boston, because he'd been traded to the
Calgary Flames
as part of a package that includes Calgary forward
Rene Bourque
. Not that GMs are prone to stretching the truth or anything, but Gauthier insisted up and down to reporters after the game that the trade had nothing to do with Cammalleri's rather pointed comments this week about what he called a losing mentality that pervades the Habs' dressing room. Nothing hurts worse than the truth, although clearly the comments stung the once-proud franchise. The fact that Cammalleri has always been very accessible to the media and is having an off season with just nine goals through 38 games probably didn't further endear himself to the rest of his colleagues in bleu, blanc et rouge.
Still, it's not as though Bourque is the second coming of Rocket Richard. Like Cammalleri, Bourque has goal-scoring potential but has delivered only 13 goals thus far this season and he's been suspended twice. So, whether Gauthier's telling the truth or not, the move seems more petulant than anything, which is entirely in keeping with the Habs, who seem to be easily overtaken by the meaningless and the petty. Bourque, who's from a small bilingual community in Northern Alberta, was quoted in Calgary after the trade was announced as saying he had better learn French, which these days seems more important in Montreal than whether he can help the team win as the Habs spiral further and further out of the playoff race.
LeBrun:
I certainly don't think this deal makes the Canadiens a better team, as Gauthier asserted after the announcement, but it's also not that terrible a deal. I see it as a sideways move. Over the 2009-10 and 2010-11 seasons, Bourque actually outscored Cammalleri 57 goals to 45; mind you, Cammalleri was limited by injuries in both those seasons. But where Cammalleri truly made his mark in Montreal was in the playoffs, where he was Mr. Clutch in potting 16 goals in 26 postseason games over two years. Not that the Canadiens will have to worry about the playoffs this season, but that's the part that the Habs will miss the most. Cammalleri was their best big-game goal scorer.
On the flip side, the Canadiens save cap space, Bourque counting $3.3 million toward the cap annually, while Cammalleri is a $6 million hit (Bourque has four more years on his deal after this season; Cammalleri has two more years after this season). On a club with some bad contracts that go past this season (
Scott Gomez
,
Tomas Kaberle
,
Andrei Markov
), those cap savings can't be dismissed.
Still, it's the way it went down that I don't like. OK, Flames GM Jay Feaster said this deal was in the works for a long time, but I spoke with a Western Conference GM last night who insisted that few people around the league knew Cammalleri was truly available. An Eastern Conference GM seconded that notion this morning, saying in his opinion Gauthier did not make too bad a deal with Calgary but felt the Habs GM should have shopped Cammalleri around the league more. I have no issue with trading Cammalleri, but did Gauthier get the best possible deal for him? Yes, Cammalleri has a limited no-trade clause, but, in my opinion, that shouldn't stop a GM from calling around and seeing what is the best deal, even if he has to get approval from the player.
Burnside:
Agreed that Bourque has value both in his ability and the financial flexibility. But I also agree that it's hard to believe Gauthier couldn't have gotten more for a guy who has shown that rare ability to produce in the playoffs. I got to spend a lot of time with Cammalleri during that 2010 run to the Eastern Conference finals -- does that not seem like a hundred thousand years ago given how far the Habs have fallen in such a short period of time? -– and you could hardly find a more erudite player than Cammalleri. It was obvious that his willingness to expound on a variety of topics with the media rubbed some of his teammates the wrong way. And the rushed nature of this deal suggests this is more impulse than carefully thought out. For instance, how does Cammalleri even get near the ice last night if the deal is that close? Truly bizarre. You have to imagine that David Poile might have had some interest in a guy like Cammalleri in Nashville, or Dean Lombardi in Los Angeles, where Cammalleri first broke into the league after being drafted by the Kings in 2001.
Here's the thing: The Flames won again last night, three in a row, and as of now are just three points out of eighth in the West. I know you don't think the Flames have a shot, but it would be more than a little ironic if this is the deal that somehow pushes the Flames into the playoff dance, while the Habs will be nowhere to be seen come mid-April.
LeBrun:
The trade also gives the Canadiens a bit more size, which they dearly need, Bourque at 6-foot-2 compared to Cammalleri at 5-foot-9. From a Flames' perspective, it's clear the rebuild is on hold. To me, this deal signifies
Jarome Iginla
isn't going anywhere this season.
"That's correct," Feaster told me via text message Friday. "Iggy is going nowhere and we are going for it."
Feaster talked about the playoff drive last night after announcing the deal. With a chance to make the playoffs -- although there are three teams ahead of them for eighth place -- the rebuild can wait for the offseason when the club has 14 free agents, nine of them unrestricted.
Via text message last night, Feaster relayed how incredibly excited Cammalleri was when he called him. It was in Calgary in the 2008-09 season that Cammalleri potted a career-high 39 goals, a fact that wasn't lost on Feaster when he made the deal.
Burnside:
Like you, I don't see the Flames creeping back into the top eight in the West, but Cammalleri will certainly be motivated and Miikka Kiprusoff is playing like the Kiprusoff of old, so who knows. Before we close, I will be watching closely Friday night's tilt between your hometown
Toronto Maple Leafs
and their closest NHL neighbors, the
Buffalo Sabres
. This is the second of back-to-back games this week between the longtime rivals. The Leafs won the first game 2-0 and a sweep in this mini-set would be emotionally devastating to the already-fragile Sabres. Buffalo is just five points out of eighth in the East and, of course, was in a similar position last season before turning in an inspired second half that saw the Sabres vault into seventh place in the conference before gagging against Philadelphia in the first round. This team, however, has shown no signs that it is capable of repeating such a feat.
As for the Leafs, who could have figured goaltender
Jonas Gustavsson
would become The Monster that he's been of late? Everyone was wondering whether
James Reimer
could replicate his strong play of late last season, and now he has been pushed to the side by Gustavsson, who was, himself, an afterthought at the beginning of the season. Curious how it goes. But a win by the Leafs would vault them over New Jersey and into sixth place in the conference. Go figure.
LeBrun:
When the Leafs lost a New Year's Eve game in Winnipeg, they dropped out of a playoff spot and ignited some hand-wringing by fans in Leaf Nation. After all, they had seen this movie before. The Leafs, however, have gone 4-0-0 to start the New Year (all home games) and are showing signs they aren't the pretenders of yesteryear.
But you're right, this game means so much more to the Sabres tonight. They're a desperate bunch, injuries having hammered them this season. What really strikes me of late is just how flat they seem. That's worrisome. It's a team that could use a shake-up in terms of a trade. I'd be stunned if GM Darcy Regier doesn't pull off at least one significant move before Feb. 27. He's got a new owner with deep pockets who expected a lot more than this after the money he shelled out last summer.
Well, my friend, have a great weekend. I have to go shovel some snow now, Toronto finally getting hit with the white stuff today.
January, 12, 2012
1/12/12
10:29
PM ET
The NHL trade deadline got an early jump Thursday night with the
Montreal Canadiens
shipping outspoken winger
Mike Cammalleri
to the
Calgary Flames
.
Just a day after spouting off about his frustrations with the way the team was playing, Cammalleri was gone.
Was it a rash move by embattled Habs GM Pierre Gauthier?
Consider this: One NHL GM told ESPN.com Thursday night he wished he would have known Cammalleri was available because he had some interest in the player.
[+] Enlarge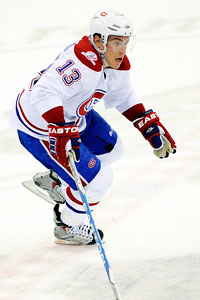 Don Wright/US PresswireMike Cammalleri played in Calgary during the 2008-09 season.
Deduce from that what you will.
Whether or not the Canadiens informed a lot of teams, the Flames say this deal was not done overnight.
"It's been percolating for quite some time, we've been having a lot of conversations," Flames GM Jay Feaster told reporters in Calgary after the deal was announced.
The Habs also dealt goalie
Karri Ramo
and a fifth-round pick in 2012 in exchange for forwards
Rene Bourque
, Patrick Holland and a second-round pick in 2013.
The Flames got the better player in Cammalleri, but the Habs will save cap space; Bourque has a $3.3 million yearly cap hit, while Cammalleri is at $6 million.
Will the trade spark more moves? Another NHL GM told ESPN.com before this trade that he thought the chatter had more volume this early on compared with other years.
Let's start in Boston with the Stanley Cup champs:
Bruins looking with caution
When you're leading the NHL in goals for and goals against, and blowing away the opposition on some nights, just what exactly do you need ahead of the trade deadline?
"Obviously we have a lot of cap room, so there's a lot of flexibility,"
Boston Bruins
GM Peter Chiarelli told ESPN.com Thursday. "I would like to add depth-wise on the forward front and depth-wise on the defenseman front. But I don't want to subtract anything."
A year ago, Chiarelli was a busy man, adding
Rich Peverley
,
Chris Kelly
and
Tomas Kaberle
ahead of the deadline en route to a Stanley Cup championship.
This year, while willing to add again, Chiarelli is treading more carefully.
"The difference between last year and this year is that I'm a little more certain about the chemistry at this point," said the Bruins GM. "So I have to be a little more careful about adding. I don't want to subtract in order to add. If I can add, I want to be careful about chemistry."
Chiarelli declined, like all GMs, to name any possible targets, so I'll do a little sleuthing on my own.
I think two names that bear watching are forward
Tuomo Ruutu
and/or defenseman
Tim Gleason
in Carolina. Both are slated to be unrestricted free agents July 1.
But those are just two possibilities. Like any buyer at this time of year, the B's would have more than a dozen names on their shopping list.
Parise's future
There has been lots of chatter this past week about
Zach Parise
and his future. The Devils' star captain is slated to be an unrestricted free agent July 1.
I'm not convinced the Feb. 27 trade deadline means a whole lot to Devils GM Lou Lamoriello in this particular case. Normally, when a pending UFA star like Parise hasn't signed an extension yet and has the potential to walk away July 1 without compensation, the team will try to move him before the trade deadline to maximize his remaining asset value -- much like the former Atlanta Thrashers did with both
Marian Hossa
and
Ilya Kovalchuk
and the
Nashville Predators
may be forced to do with
Ryan Suter
this season.
But from talking to people around the league, there's a growing feeling that Lamoriello will not move Parise.
"He can't trade away his captain, the face of the franchise, with the team sitting in a playoff spot," one source told ESPN.com Thursday.
Another factor is that the Devils need Parise to make the playoffs, and the club -- still in an ownership mess -- can really use the additional revenue.
"Don't discount that part of it," said the source.
The feeling is that Lamoriello will use the remaining months between now and July 1 to try to convince Parise to stay on board.
The other option for the Devils is that if Parise hasn't signed by the June entry draft, they can move his rights then. It won't fetch as much as trading him now would, but it's better than nothing.
Wild hoping to buy
The
Minnesota Wild
, like many teams, don't quite know yet if they'll be buyers or sellers, as it depends on where they sit in the standings come Feb. 27.
They're certainly hoping to be buyers and, if that's the case, it's pretty obvious they'll be looking to upgrade a 29th-place offense.
"We've been talking to teams for a couple of months now," Wild GM Chuck Fletcher told ESPN.com Thursday. "We haven't scored a lot of goals this year. I think there's room for internal improvement, I think we have guys who will score more goals. But obviously if we could find a way to upgrade our team, we will."
What the Wild won't do, however, is mortgage the future. Fletcher and his front office have worked hard to replenish the prospect base and minor league system in Minnesota.
"We're not going to trade any of our top young prospects," Fletcher said. "We think we've worked hard to put together a pretty good crop of prospects going forward and we're not looking to dismantle the whole thing for a quick fix. But if we can find a way to make a good hockey trade here, or move something that isn't as critical to our future, then we'll certainly look at that."
My sense is that the Wild would be willing to move a B-level prospect, a draft pick or a player off their current roster if that helps get them a top-six forward.
Fletcher, of course, would not mention any names, but I'll put this guess out there:
Vaclav Prospal
, UFA July 1, is available in Columbus and Fletcher had him in Florida. I'm sure the Wild have a dozen targets on their wish list, but I'd be surprised if Prospal wasn't one of them.
More rumblings
May, 31, 2011
5/31/11
3:38
PM ET
VANCOUVER, British Columbia -- It was just more than a month ago when both of this year's Stanley Cup finalists were hanging on for dear life. Game 7, overtime: One goal against them, and their season would be over.
But the Vancouver Canucks and Boston Bruins survived. By a hair. And don't think it hasn't crossed the minds of the Chicago Blackhawks and Montreal Canadiens on how close they came to beating these teams.
"Absolutely," Hawks captain Jonathan Toews told ESPN.com on Tuesday. "But you also think about the task we would have had if we beat Vancouver. We would have likely faced Detroit and San Jose, so along with Vancouver, that's the top three teams in our conference. We would have had our work cut out for us, so it's not guaranteed that if we had got past Vancouver, we would have gone straight to the finals. Still, one more goal that night, and who knows."
[+] Enlarge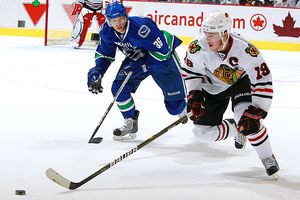 Jeff Vinnick/NHLI/Getty ImagesJonathan Toews and the Hawks were ousted in the first round by the Canucks.
Who knows, indeed. Toews forced overtime with a short-handed goal late in the third period that stunned the crowd here at Rogers Arena. Then, Patrick Sharp nearly ended it in overtime on a Hawks power play but was stoned by goalie Roberto Luongo.
"Everyone asks me about that play and if I feel that was the one," Toews said. "From my vantage point, it looked like Sharpy had a great chance, but Luongo did a great job of getting across and taking the net away. Going into overtime, I felt like it was meant to be for us, but I guess things work out for a reason. The Canucks played a great Game 7 and deserved to win."
The Habs, meanwhile, were up 2-0 in their first-round series against the Bruins. Like Chicago, Montreal tied Game 7 late on P.K. Subban's goal, but it was not to be, as Nathan Horton won it for Boston in overtime. Now, the Habs are getting set to watch the B's in the Cup finals, and it's hard for the Canadiens not to think "what if."
"You think of it that way; everyone is inclined to think that," Habs star sniper Mike Cammalleri told ESPN.com on Tuesday. "We were up 2-0 on them, and if we can just take one game at the Bell Centre ... you start thinking, 'Well, if we're capable of beating them, maybe we're capable of being where they are right now.' But I don't think it necessarily works that way.
"Usually, teams that get to the finals find ways to get better throughout the playoffs, their game gets more solid, they have a certain depth to them, which allows them to win in different ways. I'm not saying we couldn't have done the same thing, I would certainly hope we could, but I'm saying Boston has been able to improve as the playoffs have gone on, and I would also say that their weakest series was probably against us."
And the Canucks had their toughest series with the Hawks, a team that seemed to be in their heads after playoff wins against Vancouver in 2009 and 2010.
"I think Vancouver's team definitely would have been different next year had they lost that game against us," Toews said. "They maybe don't have as much confidence against us for whatever reason, but you see that once they got past us, that confidence is back, and you see what kind of team they can be. They'll be tough to beat now."
No surprise: Toews wasn't picking Vancouver to win the Cup, and Cammalleri wouldn't pick Boston. The rivalries are still fresh.
"[Current Canucks GM] Mike Gillis was my agent and we're still close friends, and Maxim Lapierre, as well," Cammalleri said. "There's other guys I know on the team, too, like Raffi Torres and Manny Malhotra. I'd like to see those guys win it just because I have friends over there, and obviously we have a rivalry with a certain team that's in the final. As a Hab, you just don't want to see it happening. Vancouver's my pick."
Toews hesitated at first when asked for his Cup pick.
"Ah ... everyone has to know Vancouver is our rival, so, I'm obviously not going to pull for them," Toews said. "It's going to be a good series, but maybe if they win, it'll be motivation for our team to come back next year and return the favor in the playoffs and give them the boot next time."