Cross Checks:

Mike Modano
November, 14, 2014
11/14/14
5:48
PM ET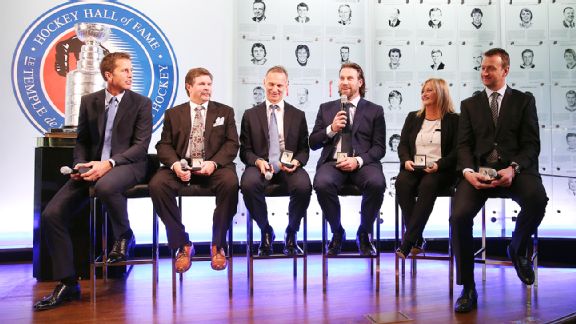 Bruce Bennett/Getty ImagesThe Hockey Hall of Fame Class of 2014 could build a strong résumé out of international play.
TORONTO -- It is yet another reminder why it's the Hockey Hall of Fame and not the NHL Hall of Fame when you examine the international accomplishments of the four players in this year's induction class.
Some of the great hockey moments of the modern era have featured
Peter Forsberg
,
Rob Blake
,
Dominik Hasek
and
Mike Modano
representing their respective countries, beginning with a 20-year-old Forsberg scoring perhaps the most famous shootout goal ever in the 1994 Olympic gold-medal game in Lillehammer, Norway.
Forsberg's
breathtaking deke
against netminder
Corey Hirsch
handed Sweden gold over Canada and made Forsberg a national hero back home -- a status that he keeps to this day.
"It was kind of a lucky shot, he was so close to saving it," Forsberg said Friday after collecting his Hockey Hall of Fame induction ring. "I was fortunate to be on the better part of that shootout. Fantastic moment. First time Sweden ever won the Olympic gold. It was a great kick-start for me to come over to the NHL right after. For me, it was a fantastic moment."
Hirsch has forever been linked to that moment, which is unfortunate in the sense that he was outstanding in those Olympics for Canada, but people only remember the way it ended on Forsberg's daring attempt.
"As he went to his left I remember thinking, 'I've got him,'" Hirsch told ESPN.com on Friday. "But then that's when he made his move. That's what great players do. They do remarkable things at opportune times."
Forsberg also helped Sweden win Olympic gold in 2006, not to mention winning two Stanley Cups in Colorado. But that 1994 shootout gold in Lillehammer is what people in Sweden always go back to.
"It was huge," fellow Swede
Patric Hornqvist
of the
Pittsburgh Penguins
said Friday after the morning skate at Air Canada Centre. "After that, he became famous all over our country. It jump-started his career. He was such a great player and great person. He really deserves to be in the Hall of Fame."
Maybe there's a reason Canadians weren't too fond of shootouts for a while, since four years later when the NHL sent its star players to the Olympics for the first time in history, Hasek did a number on a star-studded Canadian squad. Hasek put on a goaltending clinic in the Olympic semifinals at Nagano, shutting the door in the shootout by stopping
Theo Fleury
,
Ray Bourque
,
Joe Nieuwendyk
,
Eric Lindros
and
Brendan Shanahan
.
"I remember knowing that you had Dominik Hasek in the other net," said Blake, a member of that 1998 Canadian Olympic team. "There's no gimmes, we knew that going into the game, and then finally when you come down to kind of a one-on-one showdown and you got one of the greatest goalies to play at the other end, it makes it tough.
"I probably saw him play the best that he could."
Across the world in Cole Harbour, Nova Scotia, a 10-year-old
Sidney Crosby
was watching Hasek stone Canada.
"He just had that ability to make those saves pretty often," Crosby said Friday after his team's morning skate. "You see one of those a year. He seemed like he was always the guy making them. He just had that desperation, he never gave up on pucks. That moment there [in Nagano] was another one where you knew going into a shootout against him wasn't going to be easy."
Former official Bill McCreary, who is also part of this year's HHOF induction class, worked that game in Nagano and vividly remembers Hasek coming up to him before the shootout began.
"Dominik skated out of the crease and asked me if Wayne Gretzky was shooting," McCreary said Friday, proudly holding his HHOF induction ring. "That kind of surprised me. But once I told him I didn't know who was shooting, he went back into his net and, as he always did, he stopped everybody."
Blake was sitting on the bench watching it all and, like many other Canadians back home, was surprised Gretzky wasn't in the shootout.
"You've got the greatest player in the world, he goes," Blake said matter-of-factly Friday.
The Czechs too were stunned that No. 99 wasn't used.
"Some of the guys were talking about it in the dressing room after the game," Hasek said Friday. "Usually you use the best player. ..."
Then Hasek grinned widely and added, "But it was a good decision in the end for us."
The Czechs beat Russia in the gold-medal game, igniting the party to end all parties back home in Prague. Hasek called it the No. 1 moment in his career, while also making note of winning the Stanley Cup with Detroit in 2002.
"In 1998, we came to Nagano as an underdog, but there was some special feeling in the locker room with a coach like Ivan Hlinka and players like
Jaromir Jagr
and some other maybe at that time underrated players," said Hasek. "This is something I will never forget. We won the gold medal, we flew with a charter our president sent for us, and we came back to Prague and we spend one night in Prague and this night I will never, ever forget. The cheering and big ovation at the airport and the old-time square. This is something you will appreciate for the rest of your life."
For Blake, redemption would come four years later. A 50-year Olympic gold-medal drought in hockey would end for Canada in Salt Lake City, but not before some nervy moments, including being crushed 5-2 by Sweden to open the tournament and midway through needing a famous rant from Gretzky -- now the team's executive director -- to shield his players from what was incredible pressure to deliver in the second NHL Olympic tournament.
"First, I mean, the letdown in Nagano," said Blake. "You have four years to build on that. Now you're in North America four years later and you play your first game and you lose like 7-1 to the Swedes. When you look back now, I'm not sure if the players in the room understood how important Wayne's speech was and how much he was deflecting any of that pressure. But to be able to finish off that tournament on a high note, that was obviously quite nice."
It's not Olympic gold, but Modano was at the heart of one Team USA's most important international wins. Nothing will ever beat the Miracle on Ice of 1980, no one's arguing that. But Modano and his teammates defeated Team Canada in Montreal in the 1996 World Cup of Hockey, which still resonates today as a watershed moment for U.S. hockey.
It was the monkey off their back. Finally, in a best-on-best format, the U.S. had beaten Canada when it mattered. After losing the opening game of the best-of-three series in Philadelphia, Team USA won both games at the Molson Centre (now Bell Centre) to stun Canada.
"You look at Canada's roster and it was the best guys Canada has ever put together in 20 years from top to bottom," Modano said Friday. "Every guy's probably in the Hall of Fame. Our backs were against the wall, it was two [games] in Montreal. Everything there was perfect."
Modano remembers a special group of players.
"Everybody got along so well off the ice as we did on the ice," he said. "We had a fun group of guys. We knew we were going into some hostile territory after losing the first game in Philly. We knew it was going to be tough. Once we got Game 2, we knew Game 3 would be pretty special."
A memory of a lifetime for Modano, just as Forsberg, Blake and Hasek have theirs while representing their respective countries.
Their NHL careers provided the meat of their Hall of Fame résumés. Their international exploits polished off their unquestionable hockey pedigrees.
August, 15, 2014
8/15/14
9:56
AM ET
Hockey has taken a back seat for former
Dallas Stars
captain
Mike Modano
.
The 44-year-old Hall of Famer and his wife, professional golfer Allison Micheletti (daughter of former NHLer Joe Micheletti), recently celebrated the birth of twins Jack and Kate.
But even while juggling a pair of newborns, Modano has time to get excited about the changes underway for a Dallas Stars team building toward the future.
[+] Enlarge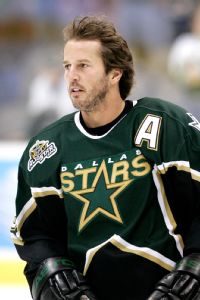 AP Photo/Tony GutierrezMike Modano amassed 561 goals and 1,374 points in 1,499 NHL games.
Last summer, newly hired general manager Jim Nill acquired
Tyler Seguin
via trade with the
Boston Bruins
, a move that was met with some skepticism because of questions about Seguin's character.
Seguin, however, thrived and helped make the Stars one of the most exciting young teams. And the club made the playoffs for the first time in six years.
This summer, Nill added another elite center, trading for
Ottawa Senators
captain
Jason Spezza
to give the Stars a formidable one-two punch down the middle. Nill also signed skilled winger
Ales Hemsky
to a three-year, $12 million deal.
"I think it's been very positive, a kind of piece-by-piece process, but that pretty much goes with a lot of teams rebuilding. Bits and pieces become available, there are big trades to acquire the personnel you want and Jim did that with the Seguin deal," Modano told ESPN.com in a phone conversation. "Energetic youth comes in and kind of has a lot of work ethic, and obviously this summer [Nill] gets that No. 2 center, so taking care of Spezza was a big deal.
"They have the pieces and the personnel, it's just a matter of whether it will come together."
Trades for top playmaking centers like Seguin and Spezza don't come by often and they aren't easy to make, but Modano -- who helped bring Dallas a Stanley Cup in 1999 -- wasn't surprised Nill was able to pull it off in consecutive offseasons.
Modano, regarded as one of the best U.S.-born centers to play the game, has known Nill for a long time and knows he has a savvy hockey mind. Nill understands how to treat his players, as well as the business side of the game.
"I think it says a lot about Jim Nill. Good GMs around the league have a way of luring good players to play for their organization," said Modano, who had 561 goals and 1,374 points in 1,499 NHL games. "That comes with his history with the [Detroit Red] Wings, working with [GM] Kenny Holland, [owner Mike] Ilitch.
"You create some opportunities for individuals getting a second chance or reinventing themselves as players. He's kind of got that asset to him that he's able to do that and get them excited about being here. The stability with ownership here, that does a lot, too."
Nill and the Stars' ownership can't really afford to sit back and be patient, though. Given the absurd level of competition in the stacked Central Division, teams feel tremendous pressure to make themselves better with each offseason.
"The division is fast, skilled, big, a lot of those components," Modano said. "You try to keep up with the Joneses or you get passed by."
But he doesn't see that happening. He thinks the Stars should be able to earn another postseason berth in 2015.
"If they can get out of the gates strong the first few months, they can give themselves some breathing room," Modano said. "Though they still might have to scratch and claw down to the last week."
Just this past year, Modano has taken on the role of executive adviser and alternate governor with the Stars. It allows him to be around the team and help out more than he did immediately after retiring in 2011. He might become more involved in the future, but for right now he is happy with how things are going.
After all, having two newborns doesn't leave him much free time. Or sleep, for that matter.
"As time goes by, there are little niches I enjoy doing that hopefully evolve into something, a bigger responsibility going forward, down the road," Modano said. "But for right now, I'll keep doing what I've been doing."
June, 23, 2014
6/23/14
4:15
PM ET
Inducted into the Hockey Hall of Fame as the class of 2014 will be coach Pat Burns, Dominik Hasek, Peter Forsberg, Mike Modano, Rob Blake and referee Bill McCreary. What a class! Here's a selection of some of the responses from the Twitterverse.
ICYMI: 2014 #HHOF inductees are: Hasek, P. Forsberg, Modano, R. Blake, P. Burns, B. McCreary. http://t.co/msyCLfMDoA pic.twitter.com/ZjQhMHZkLy

— NHL (@NHL) June 23, 2014
Lynn Burns: "I know that Pat would've been so happy, so grateful, so proud to accept this honour..."

— Stephen Whyno (@SWhyno) June 23, 2014
Lynn Burns (2): "... It's a very emotional day for the Burns family, I can tell you that."

— Stephen Whyno (@SWhyno) June 23, 2014
Like most everyone, feel Pat Burns HHOF selection today was long overdue. But still nice to see it happen. Bill McCreary well deserved, too

— Pierre LeBrun (@Real_ESPNLeBrun) June 23, 2014
Hasek on trade to #Sabres: "Probably the best thing that could happen to me because in Buffalo I got a chance to play & prove I could play."

— Buffalo Sabres (@BuffaloSabres) June 23, 2014
Congrats to all the HHOF inductees. As an American, love seeing Mike Modano get in on first try. Huge impact on the game in the States.

— Craig Custance (@CraigCustance) June 23, 2014
Hall of Fame inductee Bill McCreary recalls D. Hasek's one question at '98 Olympics before shootout vs. Canada; is Gretzky shooting?

— Scott Burnside (@ESPN_Burnside) June 23, 2014
Rob Blake, #LAKings Assistant GM, will be inducted into the Hockey Hall of Fame. HHOF: http://t.co/TiVp1fGvfb pic.twitter.com/hTo4DNrSs0

— LA Kings (@LAKings) June 23, 2014
Don't think anyone is going to argue with Blake, Forsberg, Hasek and Modano. A royal class. But disappointed a female player not put in. ...

— Pierre LeBrun (@Real_ESPNLeBrun) June 23, 2014
Plenty of ground to make up for in women's player category and don't see why someone doesn't go in every year. Just my view.

— Pierre LeBrun (@Real_ESPNLeBrun) June 23, 2014
HHOF'er Rob Blake: "When you receive that call you're speechless because you're kind of replaying everything throughout your career."

— Stephen Whyno (@SWhyno) June 23, 2014
Thank you to the @HockeyHallFame @DallasStars @DetroitRedWings @PARaidersHockey what a humbling honor. Words don't do it justice.

— Mike Modano (@9modano) June 23, 2014
Congratulations to former #Sens goalie Dominik Hasek on his induction into the Hockey Hall of Fame! pic.twitter.com/c8l5jFddpa

— Ottawa Senators (@Senators) June 23, 2014
On the day he was elected to the NHL Hall of Fame, @9modano was at funeral for Richard Durrett. Pretty much says it all about both of them

— Ed Werder (@Edwerderespn) June 23, 2014
Hasek won 6 Vezina's, 2 Hart's as a member of the #Sabres. MORE PHOTOS: http://t.co/KFgKg4l3bE #TheDominator pic.twitter.com/RmJffeX09V

— Buffalo Sabres (@BuffaloSabres) June 23, 2014
Just spoke to #NJDevils GM Lou Lamoriello, whose told me last year he got "chills" at idea of Pat Burns making HHOF. Same now that it's real

— Stephen Whyno (@SWhyno) June 23, 2014
Pat Burns to be inducted into the Hockey Hall of Fame. A well-deserved honour for a great coach. #GHG

— Geoff Molson (@GMolsonCHC) June 23, 2014
What a Hall of Fame class: Hasek, Forsberg, Modano, Blake, plus Pat Burns and the great ref Bill McCreary. Wow. That's covering all bases.

— Kevin Allen (@ByKevinAllen) June 23, 2014
Tremendous honor for former #Avs defenseman Rob #Blake, too. #HHOF pic.twitter.com/KreXUfHVTg

— Colorado Avalanche (@Avalanche) June 23, 2014
Happy and sad that Pat Burns is going to the Hall of Fame. Happy because it's well deserved, sad because he was not alive to see it.

— Don La Greca (@DonLagreca) June 23, 2014
Hasek on @HockeyHallFame induction: "What a great honor for me to be inducted and what can I say? ... I am very thankful." #TheDominator

— Buffalo Sabres (@BuffaloSabres) June 23, 2014
Modano on Hall election: "What an amazing phone call to get. Just speechless, at a loss for words at what this has really meant for me."

— Chris Miller (@Cmillstrib) June 23, 2014
September, 12, 2011
9/12/11
3:50
PM ET
Camps around the NHL open later this week and unsigned veteran blueliner Bryan McCabe could possibly still sitting at home.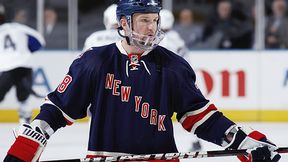 Scott Levy/Getty Images
The 36-year-old unrestricted free agent is hanging out at his South Florida home still pondering his future.
"There have been discussions with several teams," his agent, Ian Pulver, told ESPN.com on Monday. "Bryan is still considering his options."
McCabe had 28 points (7-21) in 67 games with Florida and the New York Rangers last season. He's no longer the offensive force he once was, but he's a solid two-way player and also a popular player in the room.
He has had a few training-camp tryout invites, but at this point that doesn't seem to interest him too much.
At this time of year, what often happens is teams overestimate how deep they are at defense and realize halfway through preseason or early in the regular season that a certain young player hasn't made the kind of jump they had hoped for. Or there would be injuries. Then, teams suddenly feel a need to make a veteran of McCabe's pedigree a real offer. We'll see if that happens.
Of course, McCabe could also just pack it in if nothing interests him.
This and that …
• Speaking of packing it in, it should surprise no one that Mike Modano is leaning toward retirement, a source told ESPN.com Monday. Expect some kind of official announcement from the Team USA legend before the end of September.
• A source told ESPN.com on Monday that star winger Teemu Selanne and Ducks GM Bob Murray continue to keep in touch nearly on an daily basis and the expectation is the Finnish Flash will make his decision on whether to play another season by time camp opens Friday. Selanne wants to use this week to further evaluate how his left knee is doing and whether it can hold up for another season.
• Amazing what little fanfare Cory Stillman's retirement received this past weekend after the Florida Panthers announced they hired him in their front office. Stillman was a clutch playoff performer and will be missed on the ice. From what we hear, Stillman may have played another season had an NHL team closer to his Peterborough, Ontario, home had called; but no one from Toronto, Ottawa or Buffalo showed any real interest.
• Given the market size and 24/7 interest in the Maple Leafs, it's surprising how the Luke Schenn contract situation has created few headlines in Toronto. Leafs GM Brian Burke told ESPN.com on Monday that the club and Schenn's representatives from Newport Sports agreed they wouldn't comment on the negotiations. Schenn, a restricted free agent, remains unsigned, but both sides were going back at it this week to try to find a solution.
• Keep an eye on the Detroit Red Wings next summer. They enter this season at about $5.8 million under the salary cap and have about $21 million further coming off next summer. As my new ESPN Insider colleague Craig Custance noted in his blog Monday, the Wings will likely try to re-sign Niklas Kronwall and Brad Stuart before both players become UFA next summer. But, either way, Detroit will likely have the most cap space it has ever had since the cap system was instituted in 2005. There's some big UFA-bound names, led by Zach Parise, but also including Shane Doan, Ryan Suter, Ales Hemsky and Alexander Semin.
Look for the Wings to be aggressive, especially if Nicklas Lidstrom retires. In the meantime, because of that $5.8 million space, they will also look at what's out there before this season's trade deadline.
• The New York Rangers' choice for a new captain? They nailed it Monday. Ryan Callahan is what you want in a captain when you talk about work ethic and leadership. But more than that, he is the symbol of the post-lockout Rangers, who have drafted and developed their own players and not just relied on July 1 to fill their roster. There was no better choice as captain.
May, 14, 2011
5/14/11
2:20
PM ET
Mike Modano
's Hall of Fame career may have ended as a healthy scratch if he does indeed decide to call it quits.
Modano
But his attitude throughout what was a difficult year in Detroit was nothing short of remarkable, Wings head coach Mike Babcock told ESPN.com Saturday.
"I think Mike Modano is a phenomenal guy," Babcock said from Detroit where his team cleaned out its lockers Saturday. "He brought a lot to our team. Part of his legacy will be what a great example he was for our young players even when he wasn't in the lineup. He had a great attitude through it all."
Modano, 40, desperately wanted to play in these playoffs. That he appeared in only two games crushed him. But he didn't let his personal situation affect the rest of the team, continuing to work hard in practice and encouraging his teammates.
"It's how you handle yourself every day in good times and bad that shows what kind of man you are and Mike Modano is a heck of a guy," Babcock said.
September, 23, 2010
9/23/10
3:44
PM ET
DETROIT -- Somewhere in
Mike Modano
's new place in Detroit, there is a slip of paper or Post-it note on which he has penciled in what he thinks he's capable of producing in his new hockey home.
It doesn't mean anything, necessarily, but is something to remind him of where he's at, where he needs to go.
"I think you need to do that. I just need to know, see those things written down, and you wake up every day trying to accomplish them," Modano said in an interview after the Wings' workout at Joe Louis Arena on Thursday. "If they're written down and you're looking at them, I think it's good for guys."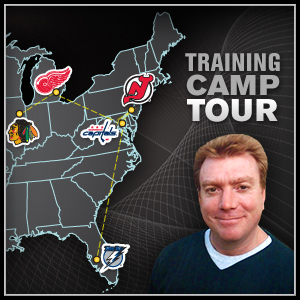 So, what did the 40-year-old center write down?
"I wrote down 20 and 30 -- 20 goals, 30 assists," Modano said. "I think with the talent and the possibility of playing a little power play there and whatnot, [it] could be close to that."
The whole Modano-to-Detroit adventure is shot through with more than a little of the storybook, more than a little nostalgia, maybe even more than a little redemption.
Modano is from Livonia, Mich. He played youth hockey in the Compuware program in suburban Detroit before playing junior hockey in the Western Hockey League and being drafted with the No. 1 pick by the Minnesota North Stars in the 1988 draft. He never left the franchise, following it from Minnesota to Dallas in the summer of 1993. Never left, that is, until this past summer.
The
Dallas Stars
were headed in a new direction, and that direction didn't include the franchise's most recognizable face, the man who had brought the Stanley Cup to Texas in 1999.
So, not long after he turned 40, Modano signed with the Red Wings.
If fans and media are curious as to how this is going to turn out or how much the slick-skating center has left in his tank, so, too, is Modano.
"It was one of the main decisions in coming here, just to see how this thing would play out and how it would be and a change of scenery and try and have a successful season or two before I was going to be finished," Modano said.
Detroit coach Mike Babcock isn't so worried about what's written on that sheet of paper as much as about getting Modano familiar with the system, getting him to feel comfortable with his linemates and the whole Red Wings family. If those things happen, Babcock is confident the points and goals will come.
[+] Enlarge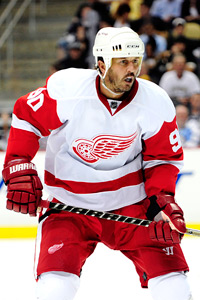 Jeanine Leech/Icon SMIMike Modano signed a one-year deal with the Red Wings this past summer.
Although Modano's production slipped in Dallas, where he had just 14 goals in 59 games last season and 15 goals in 80 games the season before, Babcock has put Modano in a position to succeed. It looks as if he'll start the season playing with skilled and speedy
Daniel Cleary
as well as
Jiri Hudler
, who scored 23 times in his last NHL season and returns to Detroit after a one-year stint in the Kontinental Hockey League.
"Yeah, pretty special possibility there," Modano said. "We're just trying to get familiar with one another, just trying to get as much time on the ice together to kind of work the kinks out and the bugs and try to get familiar with what we're trying to do and what each individual is comfortable in how they play and the tendencies they have."
Cleary, whose seat is currently next to Modano's in the Red Wings' locker room, praised Modano's shooting and puck-handling ability.
"Mo's going to be great. He's got good hockey in him still," Cleary said. "He's doing a lot more skating in camp than he needs to."
As Modano continues to absorb the new system -- he likens it to the attack system employed in Dallas under Ken Hitchcock when the Stars won the Stanley Cup -- he has a lot of company at the seniors'table in the team dining room.
Nicklas Lidstrom
is back at age 40;
Kris Draper
(though now injured) is 39; there are three 37-year-old skaters in
Brian Rafalski
,
Tomas Holmstrom
and
Kirk Maltby
, plus 37-year-old backup netminder
Chris Osgood
.
"It's just tremendous drive," Modano said of those players' refusal to walk away. "A lot of success, obviously, and they love it. They keep working hard, just as hard as they did probably 10, 12 years ago. They're driven. There's purpose to when they come to the rink every day. It's refreshing to see."