Cross Checks:

Milan Michalek
May, 22, 2013
5/22/13
3:08
PM ET
OTTAWA, Ontario -- The
Ottawa Senators
are hoping to catch lightning in a bottle with the introduction of winger
Mark Stone
to their lineup, but whether the
Pittsburgh Penguins
try to counter with a little
Jussi Jokinen
magic has yet to be determined.
Ottawa coach Paul MacLean more or less confirmed that the 6-foot-2 Stone will enter the lineup for Game 4 on Wednesday night, replacing the diminutive
Cory Conacher
. The expectation is that Stone will go into Conacher's spot on the top line with
Jason Spezza
and
Milan Michalek
.
MacLean said the coaching staff has long envisioned that Stone, who finished tied for the team lead with 38 points with the Senators' American Hockey League affiliate in Binghamton, could be a good linemate for Spezza, but the circumstances didn't allow it.
Until now, apparently.
"He really had a very good season [in Binghamton]," MacLean said.
Stone played in just one playoff game last year for the Senators, but it was a memorable one as he assisted on the winning goal in Game 5 of Ottawa's series against the
New York Rangers
.
"It was probably the best experience of my life," Stone said Wednesday.
The Winnipeg, Manitoba, native played in four regular-season games with the Senators this season but did not register a point.
"Obviously watching the games, you want to be a part of it, so I'm obviously excited, looking forward to the opportunity," Stone said.
If there's one thing that has marked the Senators this season, given all the injury issues that have afflicted them, it's been the ability of young players to come to the big club and step almost seamlessly into prominent roles with the team.
Spezza praised former NHL player
Luke Richardson
, the head coach in Binghamton, and his staff for preparing the young players who have been key contributors to the Senators' surprising run to the second round of the playoffs.
"Organizationally, we're all playing the same way now. Luke, he demands the same things of the guys down there as Mac does here, and when they get the call, they don't have to change anything," said Spezza, who will be playing in just his second game of the postseason after suffering a back injury that caused him to miss all but five games in the regular season.
With the teams coming off a double-overtime effort in Game 3, the Senators emerging as 2-1 victors thanks to
Colin Greening
's goal, it would seem that both coaches are looking to coax a little more offense out of their rosters.
Indications are that Pittsburgh coach Dan Bylsma may pencil Jokinen back into the lineup. He came out in Game 5 of the first round against the
New York Islanders
after registering two assists in the first four games.
"Jussi is a guy who's been out of our lineup, and you're sitting out a guy who can make plays, score big goals," Bylsma said. "He's a faceoff guy, been very good on the left faceoff circle. He's also a guy who would see time on our second power-play unit as well."
Jokinen was dynamic after coming over from the
Carolina Hurricanes
at the trade deadline, scoring 11 points in 10 games down the stretch.
But with Bylsma looking for a little more sand in a difficult series against the Islanders, he inserted
Joe Vitale
into the lineup. Jokinen hasn't been able to get back on the ice since. But with Vitale out the last game and replaced by an ineffective
Tanner Glass
, it looks like the stars are aligning for Jokinen to return.
"Obviously, I haven't sit down too many games in my career," he said. "Obviously, it's not an easy situation.
"It's all about the team. The only thing you can do is keep yourself in good shape, keep working hard and stay positive."
He conceded he doesn't envy the roster decisions facing Bylsma each game.
"Right now we've got up here 16 forwards and nine D who are all really good NHL players, who could play every night on some other team," Jokinen said. "It's not easy to be a coach on this team, that's for sure."
April, 11, 2013
4/11/13
11:56
AM ET
The
Ottawa Senators
woke up Thursday morning in a frightful three-way tie on points with the
New York Rangers
and Islanders, just two points clear of the danger spot held by Winnipeg.
For so much of the season, it was about fifth place for the Senators. Their comfy spot is now gone for good, the rival
Toronto Maple Leafs
five points ahead with just more than two weeks to go in the regular season. They've lost the opening four games of a seven-game road trip and five in a row overall, starting with a home loss to Toronto.
Now it's about survival for the Senators, who head into crucial, crucial games Thursday night at Philadelphia and Friday night at New Jersey.
If they don't stop the bleeding over the next two nights, they could be on the outside looking in come Saturday morning. That would be a travesty for a team that has defied all odds in surviving the losses of its top players early in the season.
"There's no question we have to win some hockey games here if we're going to get into the playoffs," veteran Ottawa GM Bryan Murray told ESPN.com on Wednesday. "We've let some points slip away. They are two big games against two very competitive hockey teams. The Flyers are playing hard. New Jersey is always difficult to score against. We'll have to find a way to score some goals and give us a chance to win both of them."
Score goals, the most basic element of hockey. Because of injuries to Norris Trophy defenseman
Erik Karlsson
, star center
Jason Spezza
, not to mention first-line winger
Milan Michalek
, for most of the season, the Sens have struggled to score all season but even more so lately, and that's been a big part of their downfall. They're 26th in the NHL in goals per game, at 2.36.
The Senators managed to score just enough for most of the season by playing smart, inspired hockey, remaining loyal to their game plan while getting excellent goaltending and superb penalty killing (second in the NHL). But that recipe has failed of late, the Senators taking too many penalties during the five-game losing streak and not killing as many as usual.
"Right now we're playing hard enough to lose and not hard enough to win," head coach Paul MacLean told ESPN.com. "We're in charge in a lot of games, we get the lead, but we do things to ourselves like take penalties or turn pucks over.
"The structure of our game is good, but at times we do things to go outside of it, and that gets us in trouble."
It's been a fine line all along for a Senators club that deserves so much credit, starting with MacLean and his coaching staff, for the way in which it has stayed afloat despite the kind of injuries that would have floored most franchises. Top-four defenseman
Jared Cowen
hasn't played all season, either, and top goalie
Craig Anderson
missed a big chunk of time, too.
Nine of the Sens' 19 victories have been by one goal. As of late they're just on the other side of that equation, playing well enough to win in most of those five losses but finding a way to lose instead.
"In Florida, we outshot them 41-17," Murray said. "And I thought Tuesday night in Tampa we had the better chances. But we made some mistakes. Some turnovers. We took too many penalties in Tampa."
Among those penalties was a phantom hand-on-the-puck call in the defensive zone to
Peter Regin
that put Ottawa down two men and cost a goal and changed the game's momentum. Tough break, yes, but that happens to all teams. You have to overcome that.
"I guess when things go south, lots of things happen that affect the outcome of the game," Murray said. "But we're not scoring, and that's pretty much the bottom line. It's been a struggle most of the year with all the guys out."
It's gut-check time.
"It's a real test of the leadership of the whole team, starting with myself and going down through Alfie [
Daniel Alfredsson
] and the veteran players," MacLean said. "They've been so good for so long this year. It's just a little bit here and there that we're missing right now. We come out of our game for just a little bit, and it ends up hurting us a lot."
Really, it would be a shame to see the Senators miss the playoffs after what they've been able to accomplish through adversity. This is where leaders Alfredsson,
Chris Phillips
and
Chris Neil
need to convey the right message to their young teammates, several of whom began the season in the AHL.
"The leadership core has been real good," Murray said. "I think the team has worked hard.
"We've got a real strong group, and they know that we've got nine games left and we need to win more than we lose. If we don't do that, it's going to be a tough finish."
September, 26, 2012
9/26/12
9:17
AM ET
By
Sarah Goldstein
| ESPN.com
January, 6, 2012
1/06/12
11:07
AM ET
By
Associated Press
| ESPN.com
The
Ottawa Senators
are assured of having at least four familiar faces on the ice when they host the NHL All-Star game this month.
Defenseman
Erik Karlsson
led all vote-getters in fan balloting, and captain
Daniel Alfredsson
and fellow forwards
Milan Michalek
and
Jason Spezza
also were elected for the game on Jan. 29.
The NHL said Thursday they will be joined by Toronto defenseman
Dion Phaneuf
and
Boston Bruins
goalie
Tim Thomas
in this year's game.
Here is a look at the final voting tallies:
Forwards
1. Daniel Alfredsson - 897,055
2. Jason Spezza - 817,483
3. Milan Michalek - 743,977
4.
Phil Kessel
- 701,833
5.
Joffrey Lupul
- 520,843
6.
Sidney Crosby
- 504,393
7.
Claude Giroux
- 385,253
8.
Jonathan Toews
- 341,419
9.
Pavel Datsyuk
- 313,783
10.
Evgeni Malkin
- 303,726
11.
Jaromir Jagr
- 255,178
12.
Patrick Kane
- 244,136
13.
James Neal
- 230,848
14.
Henrik Zetterberg
- 206,852
15.
Marian Hossa
- 206,852
16.
Steven Stamkos
- 185,342
17.
Jordan Eberle
- 184,036
18.
Alex Ovechkin
- 182,920
19.
Daniel Sedin
- 180,636
20.
Jordan Staal
- 166,527
21.
Henrik Sedin
- 165,044
22.
Patrick Sharp
- 164,218
23.
Ryan Kesler
- 152,005
24.
Danny Briere
- 149,130
25.
Taylor Hall
- 141,366
26.
Patrice Bergeron
- 138,580
27.
Marian Gaborik
- 133,374
28. *
Tyler Seguin
- 121,135
29.
Milan Lucic
- 118,015
30.
Thomas Vanek
- 102,582
31.
Ryan Smyth
- 101,399
32.
Mike Cammalleri
- 99,963
33.
Anze Kopitar
- 92,229
34.
Tomas Plekanec
- 89,596
35.
Teemu Selanne
- 89,113
36.
Brad Richards
- 86,001
37.
Joe Thornton
- 85,314
38.
Joe Pavelski
- 84,405
39.
Jeff Skinner
- 84,063
40.
Martin St. Louis
- 79,278
41.
Matt Duchene
- 76,451
42.
Nicklas Backstrom
- 75,661
43.
Patrick Marleau
- 74,284
44. *
Ryan Nugent-Hopkins
- 73,908
45.
Jarome Iginla
- 70,570
46.
Jason Pominville
- 67,005
47.
Zach Parise
- 63,611
48.
Jamie Benn
- 62,840
49.
David Backes
- 62,420
50.
Mike Richards
- 58,794
Defensemen
1. Erik Karlsson - 939,591
2. Dion Phaneuf - 614,933
3.
Sergei Gonchar
- 603,628
4.
Nicklas Lidstrom
- 476,979
5.
Zdeno Chara
- 463,650
6.
Kris Letang
- 452,979
7.
John-Michael Liles
- 401,096
8.
Duncan Keith
- 295,033
9.
Shea Weber
- 261,597
10.
Brent Seabrook
- 230,472
11.
P.K. Subban
- 226,272
12.
Niklas Kronwall
- 198,859
13.
Kimmo Timonen
- 195,334
14.
Chris Pronger
- 176,367
15.
Alexander Edler
- 167,794
16.
Dustin Byfuglien
- 149,405
17.
Drew Doughty
- 115,404
18.
Dan Boyle
- 114,816
19.
Brent Burns
- 91,434
20.
Brian Campbell
- 88,654
21.
Mike Green
- 88,019
22.
Marc Staal
- 87,902
23.
Ryan Whitney
- 86,781
24.
Sheldon Souray
- 84,597
25. *
Dan Girardi
- 78,411
26.
Tyler Myers
- 72,360
27.
Alex Pietrangelo
- 68,881
28.
Jack Johnson
- 66,498
29.
Ryan Suter
- 60,525
30. *
Brooks Orpik
- 58,814
Goaltenders
1. Tim Thomas - 626,540
2.
James Reimer
- 498,075
3.
Marc-Andre Fleury
- 424,619
4.
Carey Price
- 251,395
5.
Henrik Lundqvist
- 209,943
6. *
Jimmy Howard
- 192,685
7.
Nikolai Khabibulin
- 185,354
8.
Pekka Rinne
- 171,179
9.
Ilya Bryzgalov
- 166,647
10.
Roberto Luongo
- 166,391
11.
Jonathan Quick
- 118,174
12.
Martin Brodeur
- 102,672
13. *
Corey Crawford
- 99,264
14.
Ryan Miller
- 97,626
15. *
Craig Anderson
- 79,064
16.
Kari Lehtonen
- 78,735
17.
Tomas Vokoun
- 59,325
18.
Jaroslav Halak
- 50,168
19. *
Brian Elliott
- 46,245
20.
Cam Ward
- 44,037
* - Write-in candidate
December, 23, 2011
12/23/11
1:35
PM ET
In the spirit of the holiday break, we bring you a six-pack of players who have been surprises for their respective teams this season:

Has there been a more dramatic turnaround in the league this season?
Elliott, 26, was unwanted in Ottawa last season and shipped to Colorado, where the Avalanche didn't retain his services, either, after a season in which he posted awful numbers, albeit for a pair of doormat clubs.
Hat in hand, the native of Newmarket, Ontario, accepted a two-way contract with the Blues with the only promise that he could battle young
Ben Bishop
in camp for the right to back up
Jaroslav Halak
.
And Elliott signed the exact same deal as Bishop -- $600,000 NHL salary, $105,000 AHL salary.
"I thought he made a really wise business decision to take the exact same contract that Bishop had," Blues GM Doug Armstrong told ESPN.com this week. "If he would have come in at $900,000 or something like that, we may have maybe looked at it from a business perspective and wondered if it was worth the extra money. But he came in under the exact same contract and made it a true competition on the ice."
In the end, Armstrong said, Elliott and Bishop had good camps, but the Blues decided to keep the more experienced Elliott on the NHL roster.
"He's certainly made the most of the opportunity," Armstrong said.
You think? How about leading all NHL goalies in goals-against average (1.52) and save percentage (.944) entering Friday night? Unreal.
Funny how a player can react when his career hangs in the balance.
"He had to recalibrate, he had to re-establish himself," Armstrong said. "Early in the year, he played a great game in San Jose and was able to follow that up. And quite honestly, we've played a really good team game in front of him also to try and minimize second opportunities."
Indeed, the Blues give up the fewest shots of any team in the NHL, so that certainly doesn't hurt.
Elliott, meanwhile, is slated to be an unrestricted free agent July 1.
"We haven't talked to any of our players yet who will be unrestricted," Armstrong said. "Once we get to the 45-, 50-game mark, it may be time but we haven't got there yet."
You better bet they'll want Elliott back to continue his terrific tandem with Halak.

Had you told anyone on the Florida Panthers in September that Jason Garrison would be leading all NHL defensemen with 10 goals entering their last game before the Christmas break, they would have asked how many drinks you've had.
After all, Garrison entered the season with seven career goals in 113 career NHL games as mostly a rugged, defensive blueliner in his first two years.
But first-year coach
Kevin Dineen
saw the merits of trying out Garrison's heavy shot on the power play. Combined with Brian Campbell's silky smooth setup passes teeing him up, Garrison has struck gold with his thunderous blasts from the point.
"He's got a cannon for a shot, he gets some nice feeds from Soupy and he's been a real fun surprise for us," Panthers GM Dale Tallon told ESPN.com this week. "We'll certainly take it."
And it just so happens that the 27-year-old Garrison, a native of White Rock, British Columbia, is slated for unrestricted free agency July 1. He'll be getting a raise from the $675,000 he's earning this season, and Tallon told ESPN.com both sides have begun preliminary contract talks.
"Cha-ching" might just be Garrison's new middle name.

Stars GM
Joe Nieuwendyk
joked with ESPN.com in early October that the
Sean Avery
contract was the gift that keeps on giving.
Little did he know how true that actually would end up being for the Stars.
When the
New York Rangers
demoted Avery in the first week of the season, it threatened to put the Stars under the league's minimum salary floor, because suddenly half of the winger's contract was coming off the cap (the Rangers claimed Avery off re-entry waivers from the Stars during the 2008-09 season, keeping Dallas on the hook for half his four-year deal).
So the Stars were forced to scramble and pick up a salary ASAP as not to fall under the floor. They scoured the early-season market -- there certainly wasn't much out there -- and settled on Nystrom from the
Minnesota Wild
organization.
To Nieuwendyk's credit, he told me the very day, Oct. 12, Nystrom was acquired that the Stars felt they picked up a player who could help them and that it wasn't solely a payroll-saving transaction.
Still, Nystrom never ends up with the Stars if the Rangers don't demote Avery first.
"Funny how things play out sometimes, right?" Nieuwendyk told ESPN.com this week.
The 28-year-old Nystrom, son of famous Islanders player Bob Nystrom, has put up 11 goals in 28 games for the Stars, nothing short of stunning while playing on an effective third line with Vern Fiddler and
Radek Dvorak
.
"Eric's been great for us," Nieuwendyk said. "I think when you go through some of the things he's been through, like signing in Minnesota and then being put in the minors, you get a young guy who is appreciative of the opportunity. It's infectious around the locker room. There's not too many rainy days with this guy. The sun is always shining. That positive energy has been terrific for our hockey team."
The native of Syosset, N.Y., has one more year on a deal that pays him $1.4 million next season.

Ilya Bryzgalov
exited Phoenix last summer, and Smith replaced him.
And with that, very few people in the hockey world held out any hope the Coyotes had a chance this season.
Coyotes GM Don Maloney told me last September during a preseason game in Glendale, Ariz., that if somehow his club could get top-15 goaltending this season, it would be able to hang in there.
I shook hands with Maloney and wished him good luck, while I thought, "Top-15 goaltending from Mike Smith and Jason Labarbera? Dream on!"
Once again, those of us who doubted the Coyotes are reminded not to have done so.
Smith, 29, entered the Christmas break sixth in the NHL among goalies with 15 wins and 15th with a solid .920 save percentage.
That's nothing short of surprising for a guy who was discarded by the
Tampa Bay Lightning
last season and even spent time in the AHL.
"For the first 20 games of the season, Mike was at the top of the league in every category and was one of the very best goalies in the league," Maloney told ESPN.com this week. "The last few weeks he hasn't been quite as dynamic but he's still giving us a chance to win every night."
When Bryzgalov wouldn't re-sign last June, it left the club with a big hole and not a lot of money to fill it. Maloney scoped the market and decided Smith was a worthy gamble, partly because Smith broke into the league under Coyotes coach Dave Tippett, when Tippett coached the Dallas Stars in 2006-07.
"For us, it came back to Mike's age, Tipp's familiarity with him, Burkey's (goalies coach
Sean Burke
) potential tutoring. We just felt if could help him along he was poised to take on a No. 1 role," Maloney said.
Maloney, the 2009-10 NHL GM of the Year, has been proved right so far.
Of course, the cynics will say any goalie can thrive in Tippett's system.
"I think our system certainly helps Mike, but at the end of the day he's still the guy stopping the puck," Maloney said. "There's games we had no right being in earlier this season that he kept us in. I just think it's all come together for Mike."

Michalek, 27, has already surpassed his entire goal tally from last season (18) and is easily on pace to eclipse his career high of 26 goals he set in 2006-07 with the
San Jose Sharks
.
The obvious difference this season is that he's finally healthy. Serious knee problems and ACL surgeries over the past few years have limited his durability and effectiveness. But the Czech winger is back.
"There's no question that knee injury really hurt him and set him back," Senators GM Bryan Murray told ESPN.com earlier this month. "That's the real difference this season; he was able to work hard over the summer. He came to camp in great shape and his skating is really good at this point."
A concussion suffered after colliding with teammate
Erik Karlsson
on Dec. 13 on the same night he scored his 19th goal (in 31 games) has sidelined him, but all signs point to a return after the holiday break.
He's one of several key reasons the rebuilding Senators have surprised this season.
Michalek is in the fourth season of a six-year deal that carries a $4.33 million cap hit, paying him $4.75 million in salary next season and $6 million in 2013-14.

Lupul had a contract the
Anaheim Ducks
could not wait to discard last season.
Serious back problems -- including a scary infection -- limited Lupul over a two-year stretch, convincing the Ducks he wasn't worth the $4.25 million a year he had coming through the 2012-13 season. Few people would have argued with them, either.
The Ducks found a willing trade partner when the Toronto Maple Leafs agreed to take Lupul and prospect
Jake Gardiner
in exchange for
Francois Beauchemin
last Feb. 9.
Gardiner, who has surprised himself this season in making the Leafs out of camp, was the main attraction, but Leafs GM Brian Burke was hopeful in the back of his mind Lupul would rediscover the touch that netted a career-high 28 goals for Burke's Ducks in 2005-06.
"Never 'had' to take him," Burke, disputing that notion, wrote ESPN.com via email this week. "The year I traded him to get [Chris] Pronger, he was our best forward in the playoffs. The deal last season made sense -- [the Ducks] were at a higher point than we were, couldn't wait for the infection to heal while they paid him big dough. We were in a position to wait."
Few knew what to expect from Lupul entering this season, but challenging for the NHL scoring lead certainly wasn't among expectations.
Now healthy and his back problems a thing of the past, the 28-year-old entered Friday night with 37 points (15-22) in 34 games, a dynamic force alongside linemate
Phil Kessel
.
December, 16, 2011
12/16/11
11:17
AM ET
The concussion saga has taken over all the talk this past week. What can we do with high-profile player after high-profile player dropping like flies?
But despite the bad optics, there was no league memo sent to teams and no new measures discussed, because the league feels it's already doing as much as it can in terms of prevention and treatment.
"The only way you're going to totally eliminate concussions from the game is to stop playing the game," Bill Daly, the NHL's deputy commissioner, told ESPN.com on Thursday. "We're not inclined to stop playing the game, and players aren't, either. There's a certain level of risk that everyone accepts in any profession. If I'm a construction worker, I'm more likely to have health issues than if I'm an office worker. It's just the nature of the job."
[+] Enlarge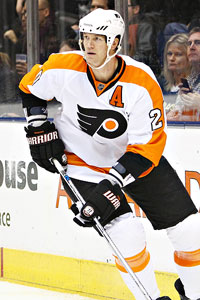 Tom Szczerbowski/US PresswireChris Pronger is the latest player to be sidelined for an extended time because of a concussion.
There are no more concussions this season than last season at this time, but I think because of the big names involved it has given the story more juice, and that's understandable. What could possibly be worse than having
Sidney Crosby
,
Claude Giroux
,
Milan Michalek
,
Mike Richards
,
Chris Pronger
and
Jeff Skinner
sidelined at the same time?
"I'd say that we've been on this regardless of which players are hurt,"
Brendan Shanahan
, director of the Player Safety Department at the NHL, told ESPN.com via email Thursday. "The nature of these latest injuries shows that there's no 'magic pill' that prevents ALL concussions. I'd also say that players and teams are more cautionary now in the identification and treatment than ever before -- which is the right thing to do. Because of the leadership of groups like the Concussion Working Group and the protocols in place, we're catching more of these injuries before a player is placed in the MORE dangerous position of a secondary concussion on top of another.''
Hurricanes GM Jim Rutherford, who has been a leading voice among his colleagues on the elimination of head shots, says the speed of the game has become more than ever a big factor.
"We have a game that's very, very fast now," Rutherford told ESPN.com on Thursday. "Really at the level of speed that it appears that players don't have time to react at times to an opponent coming or a teammate coming. These concussions are happening from good hits, from accidental hits, from accidental hits from teammates, to periodically bad hits. The league has taken this very, very seriously going back a few years and probably ahead of any other league, and the key is to continue to do studies and have conversations about what we're dealing with and what we can possibly do, if anything, to prevent or lessen some of the injuries that are taking place now.''
One theory out there is whether the red line should be put back in for two-line passes to slow down the forecheckers and therefore the impact of their hits. Some even wonder if the league should allow the return of a little more interference in certain areas of the ice to slow down the players. I doubt either idea ever sees the light of day. The game has never been more fun to watch; who wants to regress from there?
"We have to keep this a really good game, which we have now, and we have to think of the safety of the players. Those are the two things we deal with," Rutherford said. "We don't want to go back to the old game because the new game now is much more accepted by fans, media, players -- everybody. But is there something in the game that can be changed a little bit to give players a little more reaction time? I don't have an answer for it. But I know the league continues to talk about it. Everybody continues to talk about it. And hopefully somebody comes up with an idea or two that can help try to prevent as many injuries as we're getting.''
There is no cure-all answer. That's the truth, no matter how hard it is to digest when some of the game's top players aren't on the ice.
All-Star Game Captains
It's as close to a done deal as it gets: Daniel Alfredsson of the host
Ottawa Senators
will be one of the All-Star Game captains. That's a no-brainer.
But what about the other?
If it were me, I'd select
Teemu Selanne
of the
Anaheim Ducks
. The classy winger is more than likely in his final NHL season, and he's been nothing but a tremendous ambassador for the game throughout his career. And I'm told internally that the league has indeed brought up his name as a candidate, although at this point nothing is decided. Let's do the right thing and honor the Finnish Flash.
Conference Games
I can't tell you how many readers or Twitter followers have asked me about the names for the new conferences next season under realignment.
Many fans would love to see Wayne Gretzky,
Mario Lemieux
, Gordie Howe and Bobby Orr honored with the four conferences named after them.
But unless there's a change of heart at the league head office, my sense is that the conference names will remain geographically themed, similar to the current division names.
I think the concern at the league level is the potential political backlash. How would the Flyers and their fans react to putting up a Mario Lemieux Conference pennant in their rafters? Or the Habs celebrating a Bobby Orr Conference title? That's the basic concern.
The league could still be swayed. Nothing is written in stone, but right now the general feeling is to stick with geography.
Sharks Coach
Well, given the two coaching firings in Southern California already this season, I suppose we can't be shocked the San Jose Mercury News
pondered the fate of a certain coach in Northern California
.
What I'm hearing is that
San Jose Sharks
coach Todd McLellan is in absolutely no danger at this point. And frankly, that's the way it should be. San Jose's recent struggles are not on him. They're on the top players on his team who haven't performed up to their level, beginning with
Martin Havlat
and his one goal so far this season. (But I will say I thought Havlat may have played his best game of the season Thursday night versus Colorado.)
Either way, my sense is that Sharks GM Doug Wilson is solidly behind McLellan at this point.
NHLPA/Realignment
The league and NHL Players' Association have gone back and forth on realignment over the past week or so, the league providing materials to the union, which had specific questions about the proposed new format for next season.
The two sides are expected to speak again next week. The league wants to get the union's blessing so it can get to work on next season's schedule. I'll be curious to see whether the NHLPA plays hard ball with this. The NHLPA says it's within its collective bargaining agreement rights to have a say in realignment.
December, 8, 2011
12/08/11
12:36
PM ET
So, tell us, what name doesn't quite fit:
Phil Kessel
,
Jonathan Toews
or
Milan Michalek
?
All three entered Thursday night's NHL games tied for the NHL goal-scoring lead with 17.
Kessel is a proven goal-scorer, Toews is a superstar and Michalek is part of the package that was forced down Ottawa's throat two and a half years ago when
Dany Heatley
requested a trade out of Canada's capital.
Funny how things work out sometimes, eh?
"Milan has been a real good player for us this season," Senators GM Bryan Murray told ESPN.com on Thursday.
Michalek is one goal away from tying his entire goal tally from last season, and easily on pace to eclipse his career high of 26 goals he set in 2006-07 with the
San Jose Sharks
.
[+] Enlarge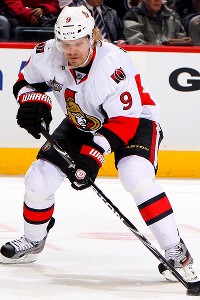 Travis Golby/NHLI/Getty ImagesMilan Michalek is tied for the league lead in goals with 17.
The difference this year? Health. After battling serious knee problems the past few years -- we're talking ACL surgeries -- Michalek is feeling as good as he's felt in a long time.
"There's no question that knee injury really hurt him and set him back," Murray said. "That's the real difference this season; he was able to work hard over the summer. He came to camp in great shape and his skating is really good at this point.''
Murray's trade talks with Sharks GM Doug Wilson in the summer of 2009 dragged into September. Murray says he also wanted to get
Christian Ehrhoff
in the package and when San Jose dealt Ehrhoff to Vancouver instead that summer, that delayed things. In the end, with September upon them and camps opening, Murray settled for Michalek,
Jonathan Cheechoo
and a second-round draft pick (later traded away).
"But we liked Milan from the beginning of those conversations," Murray said. "We liked his skating ability and his work ethic."
The trade stung at the time, however.
"When Dany was here, he was a 50-goal scorer for us," Murray said. "So you couldn't be happy a player like that leaving you unless you got great return. But Milan has come on, he's a very useful player; he kills penalties and does all the rest. At this point it's worked out real well.''
Heatley has since been dealt from San Jose to Minnesota for
Martin Havlat
, another former Senator. Heatley carried eight goals into the Wild's game at Los Angeles on Thursday night, which was seven better than Havlat -- who still hasn't found his way in San Jose.
It's only 10 weeks into the season, but it's Michalek -- the lesser of those three names -- enjoying the most success.
"If I can score 30, it would be nice," Michalek shyly told Ottawa writers earlier this week.
The local media in Ottawa asked Michalek about the Heatley comparisons, but the humble Michalek wouldn't bite, citing that he and Heatley are different players.
Murray didn't fully know what he was getting in Michalek. Now he does.
"You think you know guys from scouting them, but until you get walking into the arena with him and talking with him, he's a real quality guy," Murray said of Michalek, who signed for two more years after this season at a $4.33 million cap hit.
They say sometimes it's the trades you never make that turn out to be for the best. In this case, it's the trade Murray never wanted to make that turned out just fine.