Cross Checks:

Nail Yakupov
September, 10, 2014
9/10/14
11:52
AM ET
Toiling at the bottom of the league standings for years, the
Edmonton Oilers
have stockpiled through the draft what is considered a loaded pool of prospects.
The Oilers boast a roster with a promising crop of talented young players, including
Taylor Hall
,
Ryan Nugent-Hopkins
and
Nail Yakupov
. But despite that bevy of potential, the club still hasn't been able to put it together.
Will this be the season it turns the corner?
Former Oilers forward
Eric Belanger
isn't betting on it quite yet. The talent is there, but the experience is still lacking. And what the Oilers have done is thrust some of these bright young stars into the type of roles that have traditionally taken years to earn.
"I remember when I started in the league, guys started on the third or fourth line and were working their way up. You have good veterans, you don't have the pressure to perform every night," Belanger, 36, told ESPN.com in a recent phone conversation. "I think the game has changed dramatically in that way.
[+] Enlarge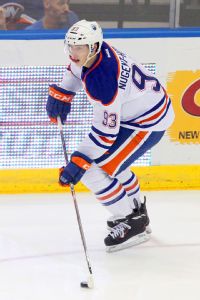 Brad Penner/USA TODAY SportsRyan Nugent-Hopkins and the Oilers' other young talents still have some learning to do.
"A lot of the young players coming into the league play right away and it's tough for them. I saw Taylor Hall putting so much pressure onto himself. They want to make the playoffs. It's tough because they have to perform every night and they don't have that veteran presence if they don't do well for a few games."
The difficulty Edmonton has had in attracting free agents compounds the problem. To lure players and compete with other more enticing locales, the Oilers have had to dish out both dollar and term. The team plunked down $20 million over five years for free-agent forward
Benoit Pouliot
and added defenseman
Mark Fayne
on a four-year, $14.5 million deal.
Belanger, who will be working as an analyst for RDS this season, said the key will be to stand behind those players they've committed to long term and hope to add veterans via trade. Even that is becoming increasingly difficult, however, with the proliferation of no-move or no-trade clauses among top players.
"They try to sign veterans, but it's a tough place to sign, to get free agents to go there," he said. "They try to do it via trade but now all the top-liners are on long contracts and they have no-trade [clauses] and [Edmonton] is not on the top of the list. It's tough for them, but I feel bad for the fans because they are the ones paying the price for the last eight years."
Edmonton has not earned a posteason berth since the team's stunning run to the Stanley Cup final in 2006. And though rookie coach
Dallas Eakins
was supposed to bring about a definitive culture change, with promises of "bold" moves and aggressive retooling from general manager Craig MacTavish, last season still left a lot to be desired.
The Oilers, at 29-44-9, finished in 28th place in the league. They ranked dead-last in goals-against per game, giving up 3.26 on average.
"I just think, first of all, there is a question mark in net," said Belanger, even though the Oilers acquired
Ben Scrivens
in a trade with Los Angeles in January and added
Viktor Fasth
as well. "I just don't know. There are a lot of question marks there. The young guys were given a big role early in their career, which I don't think was the right thing to do."
Still, there have been positive signs. Belanger loved last summer's trade to acquire
David Perron
from St. Louis. MacTavish made moves to try and improve the team's defense, adding
Nikita Nikitin
and
Keith Aulie
.
Belanger, a 16-year NHL veteran, hopes to see the rest of the kids flourish as well this season. He said the team's shortcomings aren't for lack of effort, but rather experience. So, what is reasonable to expect of the Oilers this season?
"It's hard to say. Everybody thought this team was going to be good last year or two years ago, but they didn't really respond to the expectations," Belanger said. "This year, I don't see them making the playoffs."
April, 29, 2013
4/29/13
3:38
PM ET
From the official NHL release:
HOWARD, ZETTERBERG AND YAKUPOV NAMED NHL 'THREE STARS' OF THE WEEK
NEW YORK (April 29, 2013) –
Detroit Red Wings
goaltender
Jimmy Howard
, Detroit Red Wings center
Henrik Zetterberg
and
Edmonton Oilers
right wing
Nail Yakupov
have been named the NHL's "Three Stars" for the week ending April 28.
FIRST STAR – JIMMY HOWARD, G, DETROIT RED WINGS
Howard posted a 4-0-0 record, 0.75 goals-against average, .969 save percentage and two shutouts in four starts to backstop the Red Wings to their 22nd consecutive postseason berth, the longest active streak in all of North American major professional sports. He opened the week by stopping all 34 shots he faced in a 4-0 victory over the
Phoenix Coyotes
April 22.
Howard then made 23 saves in a 3-1 triumph over the
Los Angeles Kings
April
24 and 20 stops in a 5-2 win over the
Nashville Predators
April 25. He closed the season by recording 17 saves for his League-leading fifth shutout in a 3-0 victory over the
Dallas Stars
April 27. The 29-year-old Syracuse, N.Y., native played in 42 games this season, compiling a 21-13-7 record with a 2.13 goals-against average and .923 save percentage.
SECOND STAR – HENRIK ZETTERBERG, C, DETROIT RED WINGS
Zetterberg led all skaters with 10 points and eight assists in four games, guiding the Red Wings to the seventh seed in the Western Conference in his first season as the team's captain. He also paced the League with five power-play points (0-5—5) and ranked second with a +6 rating.
Zetterberg collected a season-high three assists in a 4-0 win over the Phoenix Coyotes April 22. He then posted a pair of helpers against both the Los Angeles Kings April 24 and Nashville Predators April 25. Zetterberg finished the week by totaling three points (2-1—3), including the game-winning goal, in Detroit's playoff-clinching 3-0 triumph over the Dallas Stars April 27. The 32-year-old Njurunda, Sweden, native played in
46 games this season and led the Red Wings with 37 assists while ranking second on the team in points (48) and game-winning goals (5).
THIRD STAR – NAIL YAKUPOV, RW, EDMONTON OILERS
Yakupov scored an NHL-best six goals in four games to help the Oilers finish the season with a pair of victories. He was held off the scoresheet in a 3-0 loss to the
Anaheim Ducks
April 22, but bounced back with his 12th goal of the season in a 4-1 loss to the
Chicago Blackhawks
April 24.
Yakupov then totaled five goals in the final two games of the season, scoring a pair in a 6-1 victory over the
Minnesota Wild
April 26 and recording his first career hat trick in a 7-2 win over the
Vancouver Canucks
April 27. The 19-year-old Nizhnekamsk, Russia, native played in 48 games this season and led all rookies with 17 goals and 31 points.
April, 29, 2013
4/29/13
1:02
PM ET
From the official NHL release:
OILERS' YAKUPOV NAMED NHL ROOKIE OF THE MONTH FOR APRIL
NEW YORK (April 29, 2013) –
Edmonton Oilers
right wing
Nail Yakupov
, who led all rookies with 11 goals and 15 points in 14 games, has been named the NHL Rookie of the Month for April.
Yakupov edged
Montreal Canadiens
center
Alex Galchenyuk
(6-6—12 in 14 games), Oilers defenseman
Justin Schultz
(3-8—11 in 14 games),
Calgary Flames
left wing
Sven Baertschi
(3-8—11 in 10 games),
Chicago Blackhawks
left wing
Brandon Saad
(4-4—8 in 13 games) and
Dallas Stars
right wing
Alex Chiasson
(6-1—7 in seven games) for the honor.
Yakupov, 19, scored in seven of his 14 games, including his first career hat trick in Edmonton's season finale April 27 vs. Vancouver. He had five multi-point efforts and finished the month with a +7 rating.
Selected by the Oilers with the first overall pick in the 2012 NHL Draft, Yakupov led all rookies with 17 goals and 31 points in 48 games this season. He also ranked first among freshmen skaters in power-play goals (6) and shooting percentage (21.0%). Yakupov joins
St. Louis Blues
right wing
Vladimir Tarasenko
(January),
Florida Panthers
center
Jonathan Huberdeau
(February) and
Los Angeles Kings
defenseman
Jake Muzzin
(March) as Rookie of the Month winners this season.
April, 15, 2013
4/15/13
2:43
PM ET
It has been awhile since we've been to Edmonton -- almost as long as it has been since the Oilers qualified for the playoffs, in fact -- but we still can't help but imagine that Bruce Springsteen's "Glory Days" plays in a nonstop loop around the Oiler offices, every day, all day.
That song must have been running full blast Monday, when the news broke that GM Steve Tambellini had been fired and replaced by former head coach Craig MacTavish.
The man behind the firing and the man who introduced the new (er, old?) face of the Oilers' management team on Monday was former GM
Kevin Lowe
, who ascended to the title of president of hockey operations back in 2008, but who has never really let go of the tiller, just as he has apparently never let go of the team's past.
And although Tambellini was an "outside" hire, he was Lowe's hire, and now that Lowe has replaced one pal with another even older pal in MacTavish, has this team really taken a step anywhere but in a circle?
MacTavish, who was the head coach the last time the Oilers made the playoffs, in 2006 -- when they made a surprise run to the Stanley Cup finals, losing in seven games to Carolina -- had returned to the team last year as the team's senior vice president of hockey operations.
MacTavish will be replaced by former Oiler assistant GM Scott Howson, who was fired earlier this year in Columbus, where he was both unpopular and by virtually every measuring stick unsuccessful during his tenure there as GM.
If you think the Oilers organizational chart looks like one of those optical illusions where the stairs are both ascending and descending in a perpetual circle, that's because it is.
Still, there has been nothing circular about the Oilers' evolution as a team -- just a straight descent.
They have missed the playoffs every season since that improbably Cup run in 2006. And even though they have managed the improbable, not to mention embarrassing, feat of collecting three straight No. 1 overall draft picks -- and could conceivably earn a fourth if they get lucky in the math department for a second year in a row (all teams that fail to make the playoffs have at least a shot at the No. 1 pick) -- they still appear to be a team without a clue.
Yes, they have talent.
Taylor Hall
,
Ryan Nugent-Hopkins
and
Nail Yakupov
, who represent the fruits of those three first-overall picks, are gifted players.
Jordan Eberle
is a world-class talent too, and the four are among the team's top five point-producers this season (the fifth is another Oiler prospect,
Sam Gagner
, who was taken sixth overall in 2007).
They also somehow managed to coax
Justin Schultz
, one of the top defensive free agents on the market last summer, to sign on.
And there's the rub, no?
That the Oilers have talent isn't the issue. When you're as lousy as they've been since 2006, you should have young talent. That's how it's supposed to work, and even the least hockey savvy of front offices should be able to make use of repeated top-10 draft picks.
But acquiring talent and building a team are vastly different animals and that's where Lowe and his staff have failed miserably.
Vision? Ha. What's that?
A grand plan to use repeated failures to build a foundation for the long term a la the
Chicago Blackhawks
,
Pittsburgh Penguins
or
Los Angeles Kings
? Ha-ha. Not here. Not yet, at least.
Tambellini paid the price for those failures on Monday with the Oilers in the middle of a season-crushing five-game losing streak during which they have been outscored 17-4. The skid crippled any hopes the youthful Oilers might have of making the playoffs and highlighted some of the myriad holes the organization has failed to address, not the least of which is passable defense and goaltending and leadership.
Tambellini's fault? Maybe. The results are the results.
But before Tambellini it was MacTavish's fault (he "stepped down" as head coach exactly four years ago, in fact), then it was Pat Quinn's fault, then Tom Renney's and, well, funny how the blame always seems to fall away from Lowe, whose roots with this team date to 1979 when the Oilers selected the defenseman 21st overall and whose fingerprints continue to be found all over this aimless franchise.
Does anyone really think that any of those moves happened without Lowe's absolute blessing or, worse, at his prodding?
We recall a conversation with rookie head coach Ralph Krueger in Nashville shortly before the Oilers were embarrassed 6-0. He talked about need to temper outside expectations for a sudden revival against the reality of the steep learning curve this team needs to follow.
Fair enough. And we hope MacLowe, er, MacTavish, has enough sense to let Krueger get on with the complicated task of teaching this team how to win.
It was certainly interesting, though, to hear MacTavish talk Monday about his lack of patience and how he believes the time is ripe for bold moves for this team. But will he have the autonomy to make such moves? More to the point, will he have the autonomy and the hockey smarts to put in place the kind of hockey plan that was obviously missing?
No one knows whether MacTavish has the goods to turn this team around. He acknowledged as much Monday, saying that it doesn't matter what is said today, rather the actions that take place down the road will represent the true test of where this team is headed.
But the fact is MacTavish is yet another link to a past whose light continues to shine white hot on the present. Until he produces a winner or at least a team that looks like a team, he will be just another buddy getting a promotion, especially given the number of quality hockey minds toiling in other organizations, like Paul Fenton,
Tom Kurvers
,
Claude Loiselle
, Jim Nill et al., who have more impressive credentials.
In the end, we can't help but wonder if this is less about personnel and more about environment.
Look at the change at the very top in Montreal, a team that constantly struggles with the ghosts of past glories and how that has invigorated the Northeast Division-leading Habs. How about the change in Columbus, where new president John Davidson and new GM
Jarmo Kekalainen
are making a last-minute, spirited run at a playoff berth after years of being a laughingstock.
Lowe even played into the strange Oiler dynamic Monday, talking about how he knows about winning because he won Stanley Cups. True, but that was almost two decades ago. Two decades. Holy time warp, Batman.
Which makes you wonder where Oilers ownership is in this equation. What does Daryl Katz see when he looks at the circle dance being played out in the team's boardrooms?
Or is Katz listening to too much Bruce Springsteen too?
How does that line go?
"She says when she feels like crying she starts laughing, thinking about/glory days."
For Oiler fans, there has been far more crying than glory for a long, long time and Monday's shuffling of the deck chairs seems unlikely to change that anytime soon.
January, 31, 2013
1/31/13
10:56
AM ET
By
ESPN Stats & Information
| ESPN.com
Wild 3, Blackhawks 2 (F/SO)
* Wild: won 7 of last 9 at home dating back to last season
* Wild: won 3 straight vs Blackhawks (all wins came in shootout)
*
Jonathan Toews
(CHI): Goal (4); 5-game point streak (3G, 2A)
* Blackhawks: 1st loss of any kind this season (started 6-0-0)
FROM ELIAS:
Niklas Backstrom
stopped all 28 shots on goal against him after replacing Minnesota's starting goaltender,
Josh Harding
, at the 6:45 mark of the first period, and then won the shootout that gave the Wild a 3-2 victory over the Blackhawks. Backstrom's first three career wins in the NHL were recorded in relief (for Minnesota in October/November 2006) but, before Wednesday's relief victory against Chicago, all 159 of his wins since then had come in games he started.
Canucks 3, Avalanche 0
*
Roberto Luongo
(VAN): 24 saves; 61st career shutout (1st this season)
*
Zack Kassian
(VAN): PP Goal (5); had 4 career goals prior to this season
* Avalanche: outscored 11-1 during current 3-game losing streak
Oilers 2, Coyotes 1 (OT)
*
Nail Yakupov
(EDM): game-winning goal (4th goal this season; leads team); goals in back-to-back games for 2nd time this season
* Oilers: 1st 2-game win streak this season
* Oilers: 2nd OT win this season (2-0 in OT)
* Oilers: 11 of their 16 goals this season have come on power play
* Coyotes: 2nd loss in last 8 games at home vs Oilers
Senators 5, Canadiens 1
* Senators: improve to 3-0-1 at home this season
*
Mika Zibanejad
(MEEKA zih-BAN-ih-jad) (OTT): 1st career NHL goal (PPG)
* Canadiens: loss ends 4-game winning streak
* Canadiens: 1st regulation loss in last 8 meetings vs Senators (4-1-3)
January, 31, 2013
1/31/13
10:30
AM ET
• Finally a blemish, slight at that, on the record of the
Chicago Blackhawks
. After chasing
Minnesota Wild
starter
Josh Harding
in the first period Wednesday night, the Blackhawks could not hold on to a one-goal lead and fell to the Wild 3-2 in a shootout. It marked the first loss of any kind for the 6-0-1 Blackhawks, whose visit to the Xcel Energy Center marked the first of six straight away from home.
Niklas Backstrom
came on in relief of Harding and stopped all 28 shots he faced and two of three shootout attempts to run his record to 3-1-1. With the Blackhawks' loss, San Jose is the last team with a pristine record, at 6-0-0. Chicago visits San Jose next Tuesday.
• No
Jason Spezza
, no
Sergei Gonchar
, no worries for the surging
Ottawa Senators
, who defeated the red-hot
Montreal Canadiens
5-1. The Senators moved to 5-1-1 and stopped the Canadiens' winning streak at four games in the process. It was a disappointing night for Habs coach Michel Therrien, who saw his team score first but then unravel in the discipline department and give up two power-play goals in less than two minutes in the second period.
Craig Anderson
continues to provide stellar netminding for Ottawa, as he stopped 31 of 32 shots. Anderson has an otherworldly .967 save percentage and 0.99 GAA.
• Rookie
Nail Yakupov
scored the overtime winner for the
Edmonton Oilers
as they snuck by the
Phoenix Coyotes
2-1 in Glendale, Ariz. The goal was the fourth of this young campaign for the first overall pick in last June's draft. (No sliding celebration this time, by the way.) The Oilers continued to impress moving to 4-2 on the season with their second straight win. The Yotes were without
Steve Sullivan
,
Martin Hanzal
and starting netminder
Mike Smith
, who is expected to return to action this weekend.
Chad Johnson
, getting his second straight start for the Coyotes after pitching a shutout against Nashville earlier in the week, stopped 19 of 21. For those keeping score at home, the Coyotes' announced attendance was 12,955, as the team's ownership saga staggers toward nowhere in particular.
• Goaltending controversy? In Vancouver? Ha, ha, ha. Not much.
Roberto Luongo
got his second straight start for the Canucks and stopped all 24 Colorado shots en route to a 3-0 victory. It was the former Vezina Trophy finalist's first win of the season for a Vancouver team that has struggled to find consistency. The dilemma for GM Mike Gillis is that the better Luongo plays, the more attractive he might become to teams looking to acquire the veteran netminder, but it becomes harder to justify trading your hot goalie.
Cory Schneider
is 2-2 with an .897 save percentage and 3.13 GAA. As for Colorado, the loss was their third straight and unless they find a way to produce some offense (don't they have an unsigned RFA named Ryan O'Reilly who might help?) they are quickly going to find themselves buried in the Western Conference standings. The Avs are tied for last place in the league in goals per game and 29th in power-play efficiency, converting on a paltry 5.3 percent of their opportunities.
January, 29, 2013
1/29/13
11:16
AM ET
By
ESPN Stats & Information
| ESPN.com
Bruins 5, Hurricanes 3
* Bruins: 4-0-1; best 5-game start since 1990-91 (also started 4-0-1)
* Bruins: snap a 4-game losing streak against the Hurricanes
*
David Krejci
: game-winning goal with 1:50 left; 1st goal of season (scored 23 goals in 79 games last season); has at least 1 point in 4 of 5 games this season
*
Anton Khudobin
(BOS): 29 saves in 1st start of season, now 6-1 in his career
Kings 3, Canucks 2 (F/SO)
*
Jeff Carter
(LA): scored only goal in shootout
*
Slava Voynov
(LA): scored tying goal (1) with 44 seconds left in 3rd period
*
Zack Kassian
(VAN): scored goal in 4 of last 5 games
Blue Jackets 2, Stars 1
*
Vinny Prospal
(CBJ): Game-winning goal in 3rd period (2); 1st GW Goal since April 7, 2010 with Rangers
*
Philip Larsen
(DAL): Power-play Goal in 2nd (1); 1st PP Goal allowed by Blue Jackets at home this season in 3 games
* Blue Jackets: snap 3-game home losing streak vs Stars
Coyotes 4, Predators 0
*
Chad Johnson
(PHX): 21 saves, 1st career shutout and 2nd career win
* Johnson: Only 5th career start and first since Jan. 31, 2010 when he was with the Rangers
* FROM ELIAS: Johnson is 3rd goaltender in franchise history to post shutout in debut for team (
Ilya Bryzgalov
in Nov. 2007,
Al Montoya
in April 2009)
*
Derek Morris
(PHX): Assist on
Nick Johnson
's goal was 400th career point
* Predators: Shut out for the 2nd time in last 3 games
Oilers 4, Avalanche 1
* Oilers are 6-1-2 in last 9 home games vs Avalanche
* Avalanche are 0-3 on road this season, with 3 goals in 3 games
*
Nail Yakupov
(Oilers) 3rd goal of season (empty-net goal); has a goal in 3 of his last 4 games
*
Devan Dubnyk
: season-high 37 saves
* FROM ELIAS: Oilers have 10 power play goals in 1st 5 games for 3rd time in franchise history (1986-87 and 1987-88)
January, 25, 2013
1/25/13
1:41
PM ET
Come on, are some people really put off by
Nail Yakupov
's tying goal celebration from Thursday night?
The dude is 19, just scored a gigantic goal and he's showing emotion with a building going crazy. I want more of that in the NHL, not less.
And don't expect Oilers management or coaches to tell him to tone it down. He'll figure out what's right or not on his own.
"First of all, he loves hockey," Oilers GM Steve Tambellini told ESPN.com on Friday. "We can't get him out of the dressing room, he's there the whole day. I think he's always been that player that when he's excited, he has a tough time controlling his emotions because he's so happy. You don't want to take a personality away from a player; that's who he is."
If anything, his teammates will eventually guide him on the ins and outs of that stuff.
"The most important thing, if you listened to
Sam Gagner
talk about it, how much passion and emotion Nail brings into the dressing room to play the game," said Tambellini. "It's more important that his teammates are accepting of Nail."
This week, meanwhile, was a perfect microcosm of what the young Oilers will be all about as they try to learn how to become a playoff team.
First, there was an impressive shootout victory over the rival Canucks in hostile Vancouver on Sunday, when the young Oilers showed composure.
Then there was the six-goal first period San Jose dropped on Edmonton on Tuesday night. Ouch. That was a night when the young Oilers looked like deer in the headlights.
Then there was Thursday night, when the Oilers rebounded with a dramatic 2-1 comeback win in overtime over the defending Stanley Cup champions from Los Angeles, playing a strong defensive game.
In the end, this is a team that will have hiccups as it learns how to win. There will be ups and downs.
"Well you hope you won't have too much of that," Tambellini said with a chuckle. "But I think with so much energy in that dressing room, you could see in our first home game [against the Sharks], we were so amped up, the game plan went out the window. San Jose is a great hockey club and we were pretty done after one period.
"But last night against a great L.A. hockey club, and OK maybe we're better to get them earlier in the year than later, but I thought we showed a good display of willingness to stick to a game plan, even though you've got all these weapons."
It's why I believe Ralph Krueger is a great choice to coach this team. He's patient and he's a great teacher. They will learn to win more consistently with him behind the bench.
I still think the blue-line corps isn't deep enough and
Devan Dubnyk
hasn't won me in goal just yet.
But they're going to be so much fun to watch.
Kings Dinged-Up
The
Los Angeles Kings
are winless in three games to open the season (0-2-1) and while I would suggest the performance of the top six forwards is the biggest reason for the slow start, you can't discount the injuries on the blue line.
You just don't replace
Willie Mitchell
and
Matt Greene
in the lineup that easily, not in the dressing room either, for that matter.
Mitchell is on the mend and hopefully should be back fairly soon, although it's not entirely clear when. And even when he does return, you have to assume he'll need time before he's his normal self.
And Greene is out long term, leaving the Kings scouring the trade market looking for blue-line help. I believe Kings GM Dean Lombardi might be willing to do what he wasn't a month ago: move young netminder
Jonathan Bernier
if it means getting a top-four blueliner in return.
Easier said than done. Every team in the league seems to be looking for ways to add defense, not shed some. And the Kings are really high on Bernier; they view him as a franchise goalie in the making, so they're not moving him unless they get what they want.
All of which makes things intriguing with word that Toronto came calling over the past month kicking the tires on Bernier. Could Toronto offer up the defenseman the Kings need? Hard to say. But the Leafs are one of the few teams in the league with real depth on defense, nine NHL blueliners at the ready right now.
Ben Scrivens
was shelled by the
New York Islanders
on Thursday night, fueling the predictable demands from Leaf fans for their team to finally solve their goalie issues. Of course there's the whole
Roberto Luongo
soap opera to consider as well. Yes, the Leafs remain interested in Luongo.
But know this: New Leafs GM Dave Nonis is adamant he's not going to be pressured into any trade just because of some bad results. Win or lose from day to day, he has the long-term view in mind and says he will stick to it. He'll make a goalie trade when he feels the time is right.
So a dreadful 7-4 loss at home to the Islanders, the Leafs blowing a 3-1 lead Thursday night, will not expedite a trade.
"No, nothing has changed; if there's a deal out there that makes us better that doesn't severely affect us going forward, then we would look to do it," Nonis told ESPN.com on Friday. "And if there's not, then it's important the players we have in our room compete like they have prior to last night. There is no change in the direction we're going."
Yes I believe the Leafs remain interested in Luongo, but as long as the Canucks want
Nazem Kadri
as part of any deal, it's not going to happen.
So the waiting game, or chicken game, continues between Vancouver and Toronto.
The Canucks will hope the Leafs' goaltending woes continue and make Nonis reconsider his stance on Kadri. The Leafs will hope the Luongo situation in Vancouver becomes unbearable for the Canucks and they're finally forced to make a move for a lesser price.
Ticktock ...
Diaz Dialed In
Raphael Diaz
is a different player one year later for the
Montreal Canadiens
.
The 27-year-old Swiss defenseman, to me, looked tentative at times last season in his first crack at the NHL, and that's understandable.
With five assists in three games and solid defensive decision-making, Diaz has looked terrific so far in this early season.
"He's playing with confidence and competing really hard," said one NHL scout on Friday.
Really he's just picking up where he left off in Switzerland this season. He racked up 29 points (7-22) in 32 games with Zug while playing with
Henrik Zetterberg
and
Damien Brunner
.
After
P.K. Subban
signs and returns, Diaz's power-play time will be affected but still, he's a player who appears to have taken the next step in his NHL development.
Credit former Habs GM Pierre Gauthier, who saw promise and signed Diaz as a free agent in May 2011.
Diaz has another season left on his deal; next season is worth $1.225 million. That appears right now to be quite the bargain.
Have a great weekend, folks. Enjoy the action.