Cross Checks:

NHL relocation
June, 4, 2011
6/04/11
10:09
PM ET
Few things seem to generate more buzz among hockey fans these days than talk of NHL realignment. A lot of discussion will be had over the next six months or so among NHL governors and league staff with the relocation of Atlanta to Winnipeg. One concept getting traction early is to go back to four divisions instead of the current six, a source told ESPN.com on Saturday.
The feeling is that would iron out some of the geographical issues as well as lead to a more balanced schedule.
Again, it's very preliminary in the process. The league will entertain all kinds of ideas before all is said and done.
One NHL GM we spoke to Saturday actually favors scrapping the divisions altogether and going to two conferences, but a league source told ESPN.com it was highly unlikely that would generate any real interest.
Hot ticket in Winnipeg
True North was privately stunned Saturday at how quickly it got to the 13,000 season-ticket mark. It figured it would have taken several more days. True North also had to cap the waiting list for season tickets at 8,000 on Saturday. Simply amazing.
[+] Enlarge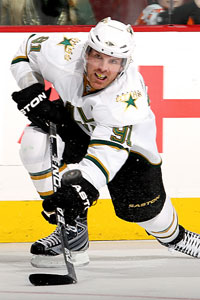 Jim McIsaac/Getty ImagesBrad Richards told ESPN.com he was excited to have his first opportunity as an unrestricted free agent.
The market for Richards
We updated the
Brad Richards
'
situation on Thursday
. Some further notes on the matter: While the whole world knows the
New York Rangers
will be in the mix for him, we're told the Blueshirts also have interest in Florida's
Stephen Weiss
, should the money and terms to get Richards get out of hand. In other words, Weiss would be an appealing Plan B.
The
Detroit Red Wings
, meanwhile, are an intriguing team that has some interest in Richards, but only for a short-term, cap-friendly deal. The pitch from Detroit would be to come and win a Cup. Richards will certainly be fielding more lucrative offers in terms of term and money. Expect the
Los Angeles Kings
and
Toronto Maple Leafs
, among other teams, to be in the mix.
Crosby expected at camp
Sidney Crosby
is feeling good and is expected at
Pittsburgh Penguins
training camp in September. However, it obviously depends on how he reacts to his summer workouts once they intensify. No one knows how that's going to go.
Former NHL coach Mario Tremblay caused a stir Friday on French sports network RDS in Montreal when he reported that Crosby's career was in jeopardy because of his concussion issues. Crosby's agent Pat Brisson released a statement Saturday night firmly rebuking Tremblay.
"It is very disturbing and disappointing to me when someone from the media and especially an ex-player brings such baseless comments toward the medical status of [a] player. Unless a report comes from the medical staff and or an official voice for the player, it's of no merit whatsoever,'' Brisson said in a statement he sent ESPN.com and other media outlets.
Stars, Senators coaching searches
The
Dallas Stars
have interviewed four candidates so far in their head-coaching search:
Kirk Muller
, Peter Horacheck (Preds assistant coach), Ken Hitchcock and Glen Gulutzan (Stars AHL coach). The Stars front office will meet Monday to discuss whether it should interview anyone else or focus on those four candidates.
The
Ottawa Senators
' coaching search has yielded interviews with
Bob Boughner
, Craig MacTavish, Paul MacLean, Kirk Muller and Dave Cameron, we were told Saturday. Binghamton Senators coach Kurt Kleinendorst is also in the mix but is tied up with the AHL finals right now.
Expanding Rule 48
The concussion group unofficially known at the blue-ribbon committee (
Steve Yzerman
,
Joe Nieuwendyk
,
Rob Blake
and
Brendan Shanahan
) met for four hours Friday in Vancouver, British Columbia, with Colin Campbell, Gary Bettman and Bill Daly. The blue-ribbon panel will recommend to GMs next week that Rule 48 be expanded.
NHL loses in court
The NHL was really surprised to have
lost the Molson-Labatt case
Friday in Toronto. An Ontario judge ruled in favor of Labatt's claim that the league reneged on its agreement with the beer company. Labatt claimed it already had a deal in place with the NHL before the league committed to a $375 million sponsorship agreement with rival Molson Coors.
The league was very confident in its case. But we're told the league will appeal the court's decision. Given that the deal with Molson would be the most lucrative sponsorship deal in NHL history, that's the obvious play at this point.
May, 31, 2011
5/31/11
6:43
PM ET
ESPN.com's Scott Burnside and Pierre LeBrun debate how the NHL will change its current conference system now that the Atlanta Thrashers are moving to Winnipeg, Manitoba.
Burnside:
Well, my friend, the moving trucks are idling near Philips Arena, and the fans in Winnipeg are dancing in the streets. No doubt this ranks as a seminal moment for the NHL as it abandons a major media market in the South for a small prairie market in Canada. The NHL will never be the same, and this move is likely to create some significant changes in how the NHL looks over the next year. The Winnipeg squad (I like to tentatively call it the Frostbites) will play in the Southeast Division next season, and the NHL is going to take its time figuring out all the ramifications of the relocation. So, how do you feel, my Canadian friend? Is this a proud day for you?
LeBrun:
Mixed feelings. I don't feel like the Atlanta market was given a real chance had there been proper ownership. You eloquently hammered that point home in your column today. On the other hand, having the NHL back in Winnipeg is fantastic. It's never a bad move to put a team in a market where the sport is king. I'm not sure the Thrashers players share that thought, but it'll grow on them. Chicago Blackhawks captain
Jonathan Toews
, a Winnipeg native, told me this morning that the players will realize it's a privilege to play in that market where the sport is beloved. And I chatted today with Wayne Gretzky, who shared the same sentiment.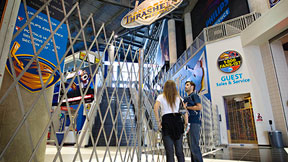 AP Photo/David GoldmanIn Atlanta, there was little reaction other than a tearful news conference held by co-owner Michael Gearon to discuss the sale of the Thrashers.
"When I had my years in Edmonton, it was really special," Gretzky told ESPN.com. "People live and die with what the hockey team is doing. Whether it's the next day at work, or going to school the next day, everyone lives and dies with the team's success. I played in two cities like that, I was lucky. In junior, I played up in Sault Ste. Marie [Ontario] and a lot of kids didn't want to go play up there. But I loved it. People live and die with the Greyhounds up there. That's similar to how people are in Winnipeg and Edmonton with the NHL. You're going to get great support, and you'll have the comfort of knowing the fans are with you 100 percent."
Burnside:
You know that Toews is nothing if not sincere, although let's see whether he bolts Chicago for Winnipeg as a free agent when his current deal comes up. Doubt it. And regardless of what players say, it's going to be a tough sell for the folks in Winnipeg to draw top free agents. That's just the reality. Whoever is running that franchise, and right now we don't know whether it will be current GM Rick Dudley, had better draft and develop properly because that is the only way this team will move on from the perpetually mediocre past that doomed it in Atlanta. But let's look big picture, my friend, after one year of limbo playing in the Southeast Division, Winnipeg will move to the Western Conference and will set in motion dominoes that might mean seminal changes for the league. You've been talking to league officials who say this will be an opportunity for the league to make meaningful changes and for officials to think outside the box about how they want the league to look. Will the current six-division, two-conference setup remain? If it's just a one-for-one swap, which of the handful of Western Conference teams that want to move to the East will get the nod? Many questions. Not so many answers at this stage.
LeBrun:
The obvious realignment to me is this: Detroit goes East, Winnipeg into the Northwest, Colorado into the Pacific, Dallas into the Central.
But a league source told me recently that the reason realignment is being delayed a year is that the league wants to properly canvass all its governors and get everyone's feedback on what is always a contentious issue. The Red Wings desperately want to move east. They're tired of playing most of their games outside of their time zone, and it's brutal for TV ratings when you're asking your fans to stay up late to watch most of your road games. Having said that, many Western Conference governors will oppose losing Detroit because of the Wings' gate power. So then, what to do? I think the league will examine all kinds of possibilities, perhaps use this opportunity to revamp the entire division and conference setup, not just plug in one team for another. There will be lots of talk and ideas leaked in the next 12 months.
Burnside:
I think a simple swap of Detroit for Atlanta/Winnipeg is short-sighted and would be a significant blow to the two-conference setup that has, I think, worked pretty well. You could lose the divisions, as far as I am concerned, especially given that they have no bearing on the playoff seeding. You play an unbalanced schedule that includes six games against each division rival, then throw that out the window come playoff time and seed one through eight based on points.
But here's the thing that many people are forgetting as we imagine what the new NHL will look like post-Atlanta: A year from now, we might be having this exact discussion about the
Phoenix Coyotes
. All the City of Glendale did was buy another year of uncertainty in the desert by anteing up another $25 million of taxpayer money to cover the team's losses this season. If the city can't nail down an owner by midway through the 2011-12 season, the NHL will be looking for a new home for the Coyotes. Could it be Retreat North Part Deux with a new team in Quebec? Doubtful unless the arena plans there get fast-tracked. Deputy commissioner Bill Daly raised the idea of Seattle recently, saying there are potential owners interested there. The bottom line is that Winnipeg might not be the last of the upheavals the league will be confronting.
LeBrun:
I think the uncertainty that remains in Phoenix is an important part of why realignment is being delayed for a year, whether the league wants to do admit it or not. You don't want to realign two years in a row. My sense is that things in Glendale will finally get figured out, but if they don't, there's a group of cities in play for relocation: Quebec City, Seattle, Houston, Portland (Ore.) and Kansas City. Quebec City and Seattle do not have rinks. The race is on to build one if they want any chance at getting a team. In the meantime, what about Vancouver's Winnipeg-based AHL affiliate, the Manitoba Moose? St. John's, Newfoundland, and Thunder Bay, Ontario, have been among the possibilities discussed.
"The Canucks are examining a number of options in the AHL," AHL president Dave Andrews told ESPN.com via email Tuesday. "I anticipate that it will be a couple of weeks before the various affiliation agreement changes are finalized."
And finally, will it work in Winnipeg? The strength of the Canadian dollar is a huge factor in favor of success. Should the dollar ever go back to mid-'90s levels, that will seriously endanger the viability of the Winnipeg franchise. Either way, it beats playing in front of a half-empty arena in Atlanta.
May, 31, 2011
5/31/11
3:41
PM ET
The "For Sale" sign isn't up in front of
Ron Hainsey
's Atlanta home, but it will be soon.
The
Atlanta Thrashers
defenseman watched, as presumably most of his teammates did on Tuesday, as the NHL confirmed the long-anticipated sale of the Thrashers to True North Sports and Entertainment, setting the stage for the team's relocation to Winnipeg for the 2011-12 season.
"It's weird," Hainsey told ESPN.com shortly after the announcement was made in Winnipeg.
Five years ago, when he was single, a move like this might have been greeted by a "what the heck, bring it on." But Hainsey is married now and has a 7&frac12-month-old daughter, Alexa, to consider.
"There's so much more that goes into it now," he said.
He and his wife would like to have another child, so there will be finding new doctors and all the things that come with setting up a home in a new locale.
"You get attached to things," said Hainsey, who signed with the Thrashers before the 2008-09 season.
Not that he's complaining about his lot in life.
"What we're going to go through is pretty normal, like anyone who's had to move for a job. It's really not a big deal," Hainsey said.
In the coming days, he will be dealing with realtors in the Atlanta area to try to sell his home and will begin figuring out what to do for housing in Winnipeg.
But the big defenseman, the 13th overall pick in the 2000 entry draft, is also looking forward to what will be a dramatically different hockey experience.
"Obviously, you wanted it to work out [in Atlanta], but you're going to a place that's going to be really excited for the arrival of a team," Hainsey said. "It's hard not to be excited by that stuff."
He watched on television Tuesday as hundreds of people gathered in Winnipeg to celebrate the announcement. There is now a burden on the Thrashers (or whatever they will be called) to repay that loyalty by making the franchise work the second time around.
"This is going to be a really exciting place to go and play. It's up to the players to make sure it's that way for a long time to come," Hainsey said.
This won't be Hainsey's first trip to Winnipeg. In the AHL, he played a number of times in both the old Winnipeg Arena and in the new MTS Centre, where the Thrashers will play.
Now, he's looking forward to making Winnipeg his home.
"I think you could kind of see where this was headed a week or two ago. It's always easier to get moving in a direction when you know where you're going," he said.
May, 31, 2011
5/31/11
2:44
PM ET
Jonathan Toews
was 8 years old when his beloved Jets exited his native Winnipeg.
Fans were emptying their piggy banks to try to save the team. Toews had a solution.
"I asked my dad why he didn't just buy the team," Toews told ESPN.com Tuesday from Winnipeg, chuckling at the memory.
The
Chicago Blackhawks
captain was thrilled with the official announcement Tuesday that the
Atlanta Thrashers
were moving to Winnipeg. And he's got advice for players who may not be too thrilled with having to play in Winnipeg.
"Growing up here and watching the Jets, I knew what the city was all about," Toews said. "People will get to know what a great hockey town this is. Everyone wants to talk about the cold weather and that it's not easy to live here with the winter and stuff like that. But a lot of guys don't realize the atmosphere for hockey and treatment players will get here beats a lot of the best cities in the NHL. In the next couple of years, I think players will be privileged to play in this city."
Having said that, Toews said he's still surprised it's actually happened.
"The last four or five years you heard whispers that a team might come," he said. "In all honesty, I never thought it would happen during my career. But I guess the opportunity arose with a couple of teams in a situation where they might move. The stars aligned, and hopefully everything goes well the next couple of years."
May, 21, 2011
5/21/11
2:33
PM ET
Rick Dudley doesn't know what his future is if the
Atlanta Thrashers
move to Winnipeg, but he hasn't devoted too much time trying to figure it out, either.
"I don't have any control over that part of things," the Thrashers GM told ESPN.com Saturday. "Right now we have a draft coming up and meetings coming up, and obviously, we have a team to run. That's what I'm focused on. Of course, all the staff and all the scouts are nervous, but I told them we can only focus on the task at hand."
Dudley is scouting at the Memorial Cup Canadian junior championship with his staff this weekend. He is one of the game's great talent evaluators, and it is unknown what his future entails if or when True North Entertainment takes over the team, which could be as early as next week. Dudley did sign a four-year extension in January, which doesn't kick in until next season.
Meanwhile, there were more talks Friday between the Thrashers' ownership and True North Entertainment. But sources on both sides insisted to ESPN.com Friday night that a deal was still not quite done. One issue that still needs resolution requires a letter from the bank, and banks are closed Monday in Canada for Victoria Day.
Expect the purchase price to be around $170 million, which includes the relocation fee.
Talks didn't begin between Atlanta and Winnipeg until last weekend when NHL commissioner Gary Bettman gave both sides the green light to commence the process, a source told ESPN.com. They were waiting for the Coyotes' situation to figure itself out first.
Once an agreement is finally reached, the deal requires full NHL Board of Governors treatment at a June 21 meeting in New York. There would be two votes on the table:
The ownership transfer, which requires a three-fourths membership vote for approval.
The relocation, which requires only a majority (16 votes).
And by the way, even if the Thrashers and True North agree to a deal, the board of governors and the league reserve the right to explore the possibility of keeping the team in Atlanta if a local interest suddenly pops up in the wake of the Winnipeg announcement. It's highly unlikely in my opinion, but it's a right the league has nonetheless.
Realignment would very likely wait another year, meaning Winnipeg would play one season in the Southeast Division, because the league believes all board members deserve a say on the matter. All kinds of scenarios are in play. This might be a chance to do a massive overhaul of the league's divisions and conferences, not just switch one team with another, a source told ESPN.com Friday.
Meanwhile, Thrashers captain
Andrew Ladd
was close to signing a long-term extension near the end of the regular season, but the two sides weren't able to close the gap. Now that's obviously on hold because of the franchise situation. But people shouldn't read into it that he doesn't want to play in Winnipeg. It simply was a case that both sides couldn't close the deal.
May, 21, 2011
5/21/11
12:34
PM ET
Boston netminding coach
Bob Essensa
spent parts of six seasons playing in Winnipeg, and he, like many, is enthusiastic that the NHL appears on the verge of returning to the prairie city.
"As a Canadian, you felt a loss when you see teams move from Quebec and Manitoba, where people love the game of hockey. So it was a loss there. From a purely hockey standpoint, it's nice to see them get another team in the market," he said.
"They're already inheriting a nice hockey club. I was speaking with [Atlanta head coach] Craig Ramsey just recently. He's excited about going back. It's a wonderful opportunity for them to see what a very good hockey club has. Canadian hockey fans will love it," Essensa said Friday.
A Michigan State Spartan, Essensa was drafted by Winnipeg with the 69th overall pick in 1983. He said the experience of playing in Winnipeg was different than anywhere else he played.
"There's something to be said for those small-town Canadian teams that the players and the community really rally around. Certainly my best years hockeywise were in Winnipeg, and certainly my most enjoyable years from a community standpoint and team standpoint were there in Winnipeg, just because the players band together. They don't have maybe as many distractions as a big American city. From that standpoint, you're focused on hockey, you're focused on your teammates, and I think the team and the city is better off because of it," Essensa said.
He acknowledged that perhaps some free agents will shy away from signing on in Winnipeg.
"It's tough to say. Certainly in this day and age, with salary caps and whatnot, if I'm getting X-amount of dollars in Tampa and the same amount of money in Winnipeg, maybe I'm leaning towards going to Tampa. But like I said, I think there's a quality to playing to Winnipeg that can't be matched anywhere else. The community will really rally around them, rightfully so, and everybody will feel at home very quickly," he said.
While most of the discussion surrounding the potential relocation has been on the excitement in Canada, Boston forward
Rich Peverley
saw his career resurrected in Atlanta when the Thrashers picked him up on waivers from Nashville during the 2008-09 season, and he said the news has saddened him.
"Yeah, it does. I think it could be a successful franchise. Obviously, making the playoffs one out of 10 years can be tough. I think there's hockey fans there; I just think there's a lot of transports from other cities," Peverley said.
Even though he no longer plays for the team, he said he will likewise be sad if it is no longer an NHL stop.
"I think so. Atlanta's a great city. It's got a lot of things to do. I really enjoyed my time there. It's too bad that the league couldn't find a way to make it work," he said.
Malone's fond memories of Winnepeg
Tampa forward
Ryan Malone
had an interesting memory from Winnipeg; he recalled taking a spring break trip with some hockey buddies from St. Cloud State after his first year at the Minnesota college.
"Freshman year at St. Cloud, we drove a Winnebago for spring break to Winnipeg. Try that on. We drove to Winnipeg in a Winnebago," he said. "So, decided to take a weekend trip up there. The beer's a little stronger up there."
A good time was apparently had by all, and Malone said he can understand why there is excitement at the prospect of Winnipeg returning to the NHL.
"You see the Canadian cities, you see how much hockey means to everybody up north. It's a great thing. I'm sure they're not looking too hard for everyone to get season tickets. Obviously, if it doesn't work out in Atlanta -- obviously Atlanta had their opportunity, obviously they tried to do the best they could do there, and if that's how it happened, so be it. Go somewhere where you might sell out the rink, right?" Malone said.
So, just where did the Winnebago get parked?
"On my buddy's front lawn, actually," he said. "I just know because there wasn't snow; I remember there was grass. There was grass. It was a long time ago."
May, 20, 2011
5/20/11
3:49
PM ET
SAN JOSE, Calif. -- The possible relocation of the
Atlanta Thrashers
to Winnipeg was a buzz item at the morning skate Friday with the general consensus that it's a good thing.
"I think it just didn't seem like it's been working there," said Sharks defenseman
Dan Boyle
, who played many a game in Atlanta while with the
Tampa Bay Lightning
. "The team hasn't been that successful. They did have a couple of years where they were in the middle of it. The fans, it just didn't seem like the commitment was there from everybody. It might be time to move. I'm sure Winnipeg will take Atlanta with open arms. We'll see what happens. You never want to see a franchise leave, but it might be time."
Negotiations continue between the Thrashers and True North Sports and Entertainment in Winnipeg, sources confirmed to ESPN.com on Thursday. Unless there's a setback, it appears the Thrashers will play in Winnipeg next season.
"It's exciting for the fans who have been hoping to get a team since they left," said Sharks blueliner
Ian White
, who grew up a half hour outside Winnipeg. "Hopefully it falls into place for them, and everything works good moving forward."
Canucks assistant coach Rick Bowness was a player and coach in Winnipeg with the former Jets. He spent nine years there.
"Players are treated so well there," Bowness said Friday. "There is only one player in all the years of the Jets that I can ever remember complaining about being there. Every player who ever went there loved it, loved the way they were treated, loved the community.
"The community really made you feel part of it. Players will enjoy playing there."
Canucks forward
Jeff Tambellini
played in Winnipeg during the past few years with the AHL's Manitoba Moose.
"It's hard to see a Canadian market that has the fan base Winnipeg has, the passion for the game, not to have it [an NHL team]," he said Friday. "I love the game in Canada. Every [NHL player] wants to play in Canada -- from West Coast to East Coast -- Canadian games are big games. I'm a big fan of this."
White was 12 when the Jets left for Phoenix in 1996, and he remembers the outcry when they left, fans literally emptying their piggy banks to try to help save the team.
"It was a sad day," White said. "That's business, I guess. So hopefully it works out for them this time."
Canucks defenseman
Kevin Bieksa
, who played in Winnipeg with the AHL Moose, had no idea how a team would do there financially but said the fan base was very passionate.
"I know they've wanted a hockey team for a long time now, done a lot of work to get back there, and Mark Chipman's pretty determined to make that happen -- and he'd be a great owner, I think," Bieksa said.
"There's trade-offs. Obviously, there's not going to be a whole lot of sun and warm weather in Winnipeg -- it'll be to the extreme the other way. But at the same time, the fan base, the media coverage, the excitement from the city and fans -- it's going to be 10 times better than [Atlanta]."
Sharks winger
Dany Heatley
feels bad for fans in Atlanta, where he began his career.
"I don't know why it's happening," Heatley said Friday. "All I can say is that there are a lot of great fans in Atlanta. A lot of great people that work for that organization, and if they move it, it's going to be tough for a lot of people."
And he doesn't understand why it hasn't worked in Atlanta.
"I don't know. You look at the city, I think there's 5 million people that live there. You think they could find some fans. I don't know. All I know is that the fans that are there, the season-ticket holders when I was there, they were big hockey fans."
Former NHL center Ray Ferraro played in Atlanta in the early days of the franchise. He has an idea why it hasn't worked.
"I think with the nontraditional markets, there's two constant themes that you've got to battle: One is that it's a market that may not understand the game as well. And two, it's that they've had zero success," said Ferraro, now a hockey analyst for TSN in Canada. "Atlanta has had some really good players, they've hung on to none of them. ... In Atlanta, we had real good support early. But they've played four playoff games in 10 years. Who's going to go to games?"
Bowness echoed that comment.
"In a nontraditional hockey market ... you've got to win, or show some continued signs of improvement," the Canucks assistant coach said. "They never showed those signs. They made the playoffs once, and to go get
Keith Tkachuk
[for that 2007 playoff run], they gave up a lot of their future. And they didn't win a game.
"It's not the big names that will sell in those markets. Winning will sell. You win, and they'll come. Like in Nashville."
Ferraro also feels Atlanta is a funny sports town.
"The Braves won 11 straight division titles," he said. "The first year we were there,
Andrew Brunette
and I went to go to Game 1 of the playoffs. We didn't have tickets, and we worried we couldn't get in. We go up to the box office, and there's 11,000 empty seats. They had been in the playoffs 11 years in a row. You looking for a college football ticket? You're not going to get one. You want to go to NASCAR? You're not going to get a ticket. It's a market with different priorities. Pro sports is down the chain, for sure."
The Thrashers have struggled with attendance most of their history.
"I expect the atmosphere in Winnipeg to be a lot better than it was in Atlanta," White said. "It was pretty quiet, modest crowds in Atlanta, unfortunately. It's too bad to see teams relocate like that -- there's a lot of die-hard fans who fall in love with their team -- but business is such that it happens."
Tambellini said playing games in Atlanta wasn't fun.
"It's tough to go to a building where there is two good teams going at it, and there is no one in the building. There's no atmosphere, no buzz," Tambellini said. "That, we know, is something that in Canadian cities, you'll never see.
"We should be putting our markets in the best places to have success. Winnipeg's a place with a great fan base. They deserve a fan base."
May, 11, 2011
5/11/11
5:46
PM ET
If anyone thinks the city of Glendale's decision to pour $25 million more down the sinkhole that is the Phoenix Coyotes represents anything approaching stability in the desert, he or she hasn't been following along.
Yes, the municipal masters of mayhem in Glendale exercised their only option short of holding up a white flag, voting by a 5-2 count Tuesday night to pay up to $25 million in operating losses to keep the Coyotes in Glendale through the 2011-12 season.
But that doesn't mean the pressure is off the city.
As it did a year ago when the city of Glendale agreed to this "insurance" arrangement the first time, the NHL will have the right to begin the relocation process as of Dec. 31 if a new owner is not in place, multiple sources told ESPN.com on Wednesday.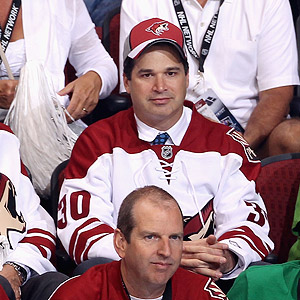 Christian Petersen/Getty ImagesProspective owner Matthew Hulsizer could walk away from the Phoenix Coyotes deal if the process is delayed for a longer period of time.
In the wake of the council's decision, the speculation over the Atlanta Thrashers now becoming the NHL team that relocates to Winnipeg in place of the Coyotes will reach a fever pitch in the coming days.
The Thrashers' sorry saga in Atlanta is well known and might well be staggering to a close. Ownership is a disaster, and apart from fighting each other in court for years, they also have been trying to unload the hockey team for much of the time they've owned it (this despite many public comments to the contrary).
With the Coyotes off the relocation market for at least the short term, it is believed discussions will begin in earnest to explore whether the Thrashers can be sold to True North Sports and Entertainment, the Winnipeg group led by Mark Chipman and mega-rich Canadian businessman David Thomson that has been waiting patiently for the Phoenix situation to sort itself out.
The True North group also owns the American Hockey League's Manitoba Moose and must make a decision soon on whether it will have to make alternative arrangements for that franchise for next season.
If the NHL thought there was an ownership group that could be convinced to buy the Thrashers from their current owners, the Atlanta Spirit group, and keep the team in Atlanta, that would be the league's preference. But no such group has emerged up to this point. There have been "tire kickers" who have looked at the team's books, but nothing beyond cursory interest.
The fact that the team is in shambles, having never won a playoff game and qualifying for the postseason just once in its existence, suggests the Thrashers would be the easiest of the troubled NHL teams to move. As for any community uprising, the fan base is so disenfranchised, it's likely the team would leave Atlanta without a ripple on the surface of the local sporting community.
In that sense, the NHL would be able to reward Winnipeg fans with a franchise and leave a U.S. market that was doomed by the team's ineptitude without creating much in the way of negative press. It might not be a classic win-win situation (more like win-who-cares?), which, given the circumstances, might not be all bad for the NHL.
As for the Coyotes' still-cloudy future, there are some who believe the city will take advantage of the broader window granted by the council's decision to try to ferret out a new potential owner who will agree to a deal that costs the city less money and hit the restart button on the entire process.
Chicago Bulls/White Sox owner Jerry Reinsdorf's name continues to surface in connection with the team's future, although it's difficult to believe he would be interested in a deal that is significantly different than the one on the table involving Chicago businessman Matthew Hulsizer. That deal calls for the city to sell more than $100 million in municipal bonds, the proceeds of which will go to Hulsizer's purchase of the team from the NHL. And, really, does the NHL want an owner who essentially has to be brought to the table kicking and screaming?
At least Hulsizer is a bona fide hockey guy who was prepared to begin the mighty task of rebuilding this franchise the moment the deal was done. Had the deal been done before the trade deadline, Hulsizer would have approved trades that added payroll, trades that couldn't be consummated with the league continuing to run the team, sources told ESPN.com.
As for Hulsizer's future in the proceedings, if it looks like the city of Glendale is going to keep him hanging while it tries to find an owner who will kick in more money, sources familiar with the deal insist Hulsizer will walk away. If he does, it might be the last, best chance to keep the team in Glendale, regardless of Tuesday's council vote.
The bond sale that is apparently crucial to the Hulsizer deal has been held up by the threat of a lawsuit from a public interest group, the Goldwater Institute.
How the city of Glendale hopes to avoid this threat moving forward is anyone's guess.