Cross Checks:

Nick Bonino
June, 27, 2014
Jun 27
2:46
PM ET
So imagine for a minute that
Ryan Kesler
was wearing an
Anaheim Ducks
jersey this past spring. Do the Ducks prevail over a
Los Angeles Kings
team they had on the ropes but couldn't quite put down?
Maybe it's a moot point, but in our books the answer is yes, the Ducks win that series. And then? We know how the Kings finished up the playoffs, beating Chicago in a seven-game thriller and then storming through the
New York Rangers
in a five-game series that ended with the Kings' second Stanley Cup in three years.
Could such glory be within reach of the Ducks now that they have acquired the highly sought-after Vancouver center?
[+] Enlarge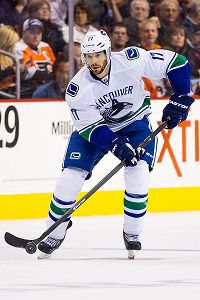 AP Photo/Chris SzagolaRyan Kesler, who is coming off a 25-goal season for the Canucks, has two years remaining on a six-year, $30 million deal.
Again, a moot point perhaps. But what isn't moot, not after Friday afternoon's pre-draft blockbuster trade between the Ducks and the Canucks, is that Kesler is now a Duck and the balance of power in the mighty Western Conference and in hockey's toughest division (Pacific Division) has shifted, and perhaps more than a little.
There will always be durability issues with Kesler, who asked out of Vancouver as the Canucks embark on a remaking of what not so long ago was the top regular season club in the NHL. But when he's healthy -- and he was for most of last season -- Kesler is among the premier two-way centers in the game. The former Frank J. Selke Trophy winner is the prototypical 200-foot player, hard to play against and blessed with excellent offensive skills that saw him collect 148 point between 2009 and 2011.
Playing behind Hart Trophy finalist
Ryan Getzlaf
as the Ducks' No. 2 center, Kesler gives the Ducks the one-two punch they will need to traverse the rocky Western Conference playoff road, the kind of punch they lacked against the Kings this past spring.
Immediately after the trade was announced, there was condemnation on social media for the return new
Vancouver Canucks
GM Jim Benning realized in trading Kesler. But in obtaining
Nick Bonino
, the Canucks got an emerging center who should fit in nicely behind
Henrik Sedin
in the Canucks' lineup. The 26-year-old had a breakthrough year last season with 22 goals and added four more in 13 postseason games.
Defenseman
Luca Sbisa
also went in the deal, as did the Ducks' 24th overall pick in Friday night's draft, plus the teams swapped third-round picks. Sbisa has not developed the way the Ducks hoped when they acquired him in another draft day deal with Philadelphia in 2009 for defenseman
Chris Pronger
.
Could the Canucks have gotten more for a player of Kesler's caliber?
Tough when Kesler held all the cards in this situation with a no-trade clause that essentially left the Canucks with only two teams to deal with: Anaheim and Chicago.
And kudos to Anaheim GM Bob Murray, who gave up a lot but still managed to keep core youngsters like defenseman
Sami Vatanen
,
Devante Smith-Pelly
and
Emerson Etem
. He also managed to acquire a player in Kesler who, at 29, is still in his prime and has two years left on a contract with a very cap-friendly $5 million annual cap hit.
Speaking of Chicago, the Blackhawks have been scouring the NHL landscape looking for a second-line center to fall in behind
Jonathan Toews
on their depth chart as they too were over-matched by the Kings down the middle in the conference finals. Missing out on Kesler is a blow, but it also means they will no doubt redouble their efforts to impress free agent center
Paul Stastny
and/or take a run at Ottawa center
Jason Spezza
, who has asked to be traded out of the Canadian capital.
The much-anticipated Kesler deal has the potential to drive up Ottawa GM Bryan Murray's asking price, as the options for teams looking for help down the middle have now been greatly diminished.
One thing's for sure: With the Kesler domino falling, what many believed would be a wild and woolly draft weekend got off to a roaring early start.
April, 27, 2014
Apr 27
10:25
PM ET
By
Richard Durrett
| ESPN.com
DALLAS -- The
Anaheim Ducks
are moving on to the second round of the playoffs after coming back to beat the
Dallas Stars
in Game 6 in Dallas on Sunday, 5-4.
How it happened:
The Stars scored three goals in the first period to take control early. Dallas scored its first power play goal since Game 2 and
Ryan Garbutt
's goal with 59 seconds left in the period gave the Stars a two-goal cushion. For the second straight game in Dallas, Ducks goalie
Frederik Andersen
watched the end from the bench. He was pulled midway through the second period (he was pulled in the third period of Game 4 in Dallas) and replaced by
Jonas Hiller
for the remainder of the game. Daley's second goal of the game, at 10:33 of the second period, put the Stars up by two goals for the second time. It stayed that way until
Nick Bonino
scored with Hiller on the bench in favor of an extra skater with 2:10 left in the game. Anaheim pulled Hiller again in the final minute and off a huge scrum in front of the Stars' net, goalie Kari Lehtonen lost his stick and moments later lost sight of the puck. Devante Smith-Pelly found it just outside the crease and floated it top shelf to tie the score with 22 seconds left.
What it means:
Anaheim wins the series, 4-2, scoring three unanswered goals to do it. They went through a goalie change, seemingly little momentum and a loud road and found a way to get it done. It also avoids any thoughts of last season, when they lost to Detroit in Game 6 and then fell at home in Game 7 in the first round.
Players of the game:
Jonas Hiller and Nick Bonino. He came in midway through the second period and didn't let anything by him. Despite a bunch of scoring chances and play going on in front of him, Hiller kept the Ducks within range and they used some late third-period heroics to get the game to OT. Without Hiller's steady play in substitute duty, the Ducks aren't in the game to win it in overtime. Bonino scored the third goal of the game to get the Ducks within one and then deposited the game-winner in overtime.
Stat of the game:
Three goals were scored in the final five minutes of the game by the Ducks to win it. The Ducks were relentless down the stretch. They pulled the goalie twice to score the tying goals and then Anaheim got the one shot it needed to win the series.
What's next:
Anaheim moves on to the second round and awaits the winner of the San Jose-Los Angeles series. The Sharks and Kings played Game 6 on Monday.
November, 7, 2013
11/07/13
1:35
PM ET
"Unfinished Business" was the motto when the
Anaheim Ducks
opened camp this season.
A first-round playoff exit last season and a mediocre final month of the regular season left a sour taste for the Ducks, and had some people around the league wonder if their surprise Pacific Division title last season was more fluke than anything. Whether it was for the psyche of the team or to prove something to others, it made the start of this season incredibly important for the Ducks.
"Absolutely," Ducks head coach Bruce Boudreau told ESPN.com Thursday. "We really talked about it in training camp. Our last 20 games in the regular season last year we were 8-8-4. We came to camp and we wanted to make sure we worked hard. And we went over all the teams in our division alone, we said, 'It's going to be very tough to make the playoffs.' It still is. We can't wait until February to turn on the juice. We've got to play every game like it's a playoff game. I think the guys really took to it."
Leading the overall standings with 27 points thanks to a 13-3-1 record certainly answers the call for a strong start -- and then some. And as Boudreau pointed out, they needed a strong start given the Pacific Division they play in, where San Jose, Phoenix, Vancouver and Los Angeles are hot on their trail.
No question, the star duo of
Ryan Getzlaf
(18 points) and
Corey Perry
(17 points) is doing its usual thing, leading the team in scoring, but what has made the difference in terms of consistency is the ability of the support group to provide impact, the likes of forwards
Mathieu Perreault
(14 points),
Nick Bonino
(10 points) and
Dustin Penner
(team-leading plus-15).
In fact, of the 17 Ducks forwards who have dressed for at least a game this season, all but one of them have averaged double digits in ice time, a testimony to the way Boudreau rolls four lines, more than many teams.
"I've always believed in the Boston philosophy, that you can't win with just two lines, or three lines, that you need four lines going," Boudreau said, crediting GM Bob Murray for giving him the assets to employ four lines.
"Last night, our fourth line had 12 goals combined on the season. That's pretty good," said Boudreau, referring to a unit comprised Wednesday night of
Emerson Etem
, Bonino and
Kyle Palmieri
-- all with four goals each on the season. All of which happening while the likes of
Jakob Silfverberg
,
Saku Koivu
and
Matt Beleskey
are out with injuries up front.
"We need this depth," Boudreau said. "We could tell in training camp, we really thought we had 17 forwards who can play in the NHL."
On defense, aside from the usual top-notch play of
Cam Fowler
and
Francois Beauchemin
, you've got the likes of 19-year-old rookie
Hampus Lindholm
(plus-13, 19:14 minutes per game) and veteran
Bryan Allen
(plus-10, 18:48 minutes per game) contributing without as much fanfare.
"I am so happy with Bryan Allen," Boudreau said. "To me he's been our best defenseman all year. This year, it's like a total rejuvenation. He feels comfortable, he's playing important minutes, he's played along young kids [mostly with
Sami Vatanen
this season].
"Bryan has done so many good things. I've been so impressed with him, probably more than anybody else on our team."
In short, the Ducks are more of an actual team than in the past when they relied so heavily on their top players to do it all.
"They're four lines deep, they have a lot of youth who got great experience last year, as a team they're building off last year," an Eastern Conference team executive told ESPN.com Thursday. "They're deep in goal. Their strength is that they don't have any real, obvious weaknesses. The Ducks don't fall off in any particular area. There's solid depth behind the bigger names. I think they're for real."
It's a tip of the hat to Murray, who without being a team that spends up to the maximum under the salary cap, has rebuilt the base around the big stars on the roster.
"Bob Murray has done an unbelievable job there, this team is built for the long term," said the team executive.
Added a Western Conference team executive: "Their young guys have grown a lot over the past two years. They've done a good job there, nice balance, solid depth, they're going to be a good team for a while."