Cross Checks:

Nicklas Backstrom
April, 9, 2013
Apr 9
12:32
PM ET
Almost exactly two months ago, Feb. 7, the
Washington Capitals
looked like a team that had hit rock bottom, looked for all the world like a team without a clue and really, if anyone was being honest, like a team without a prayer.
On the road that night against their historic rival, the Caps allowed five goals in less than 13 minutes in the second period en route to a 5-2 loss to the
Pittsburgh Penguins
.
That night, captain
Alexander Ovechkin
picked up a power-play goal, just his third goal of the lockout-shortened season (none at even strength). He echoed teammate
Troy Brouwer
's sentiments that the Caps weren't mentally prepared to play the game.
"No emotions, nothing," Ovechkin said with a sigh.
Two months later, Ovechkin has soared to the top of the goal-scoring chart with 25, tied for the league lead with
Steven Stamkos
. In his last 14 games, Ovechkin has collected 16 goals and seven assists.
Center
Nicklas Backstrom
, a nonfactor in that ugly loss to the Penguins, has been reunited with Ovechkin and has reasserted himself as one of the game's best playmakers. In Sunday's come-from-behind 4-2 win over the
Tampa Bay Lightning
, Backstrom extended his point streak to six games. He has 11 points (one goal, 10 assists) in his last six games and is third in the NHL in assists with 34.
And the Capitals? All they have done is go from a 2-8-1 record after that Pittsburgh outing to the top of the Southeast Division at 20-17-2. After being unable to buy a goal, they rank seventh in the league with 2.92 goals per game and are first on the power play.
[+] Enlarge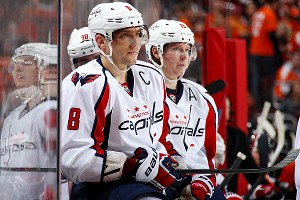 Len Redkoles/NHLI/Getty ImagesAlexander Ovechkin and Nicklas Backstrom stand as reasons 1 and 1A behind the Capitals' resurgence.
During a telephone call Monday afternoon, Backstrom joked that he was thankful this interview was being carried out now and not earlier in the season.
"A month ago we were in a really tough spot," Backstrom acknowledged.
Maybe the Caps' start was inevitable, as a season shortened by the lockout with a nonexistent training camp was coupled with the arrival of a new coach in 2013 Hall of Fame inductee
Adam Oates
and, with him, new systems and new ideas.
Oates felt the best way to get Ovechkin, essentially in a two-year offensive slump, back to form was to move him to the right side. It took time. The critics were loud, early returns on the experiment less than stellar.
Frustrated?
Oh yes, said Backstrom.
"We were wondering what was going on," he said. "But we stuck with it. I feel like we're a better group right now. I think everybody in the locker room believed in what we were doing."
Certainly Oates did.
One of the game's finest-ever playmakers, Oates conceded that there was a lot of external discouragement at the team's start.
"But I can honestly say I didn't feel it from the players," he told ESPN.com on Monday.
Ovechkin started getting more opportunities, as Oates predicted he would. The more opportunities he got, the less he pressed and the more success he had.
He wasn't just getting one or two chances a night and feeling he had to capitalize every time he got the puck. He was getting five or six, Oates said.
And as is so often the case with scorers, the confidence grew exponentially and the result was more and more goals.
Longtime NHL player
Bill Lindsay
, now an analyst for the
Florida Panthers
, watched Ovechkin score three times against the Panthers on Saturday and add an assist. To him, the difference from the last couple of years and even earlier this season was stark.
"He had that energy from start to finish," Lindsay said, "that domination."
The last couple of years, "He didn't really seem to have that intensity, that battle level," Lindsay said.
Last week, though, Ovechkin was the guy Lindsay had looked forward to seeing at the rink, the player who brought fans to their feet with his speed, physicality and wicked shot.
If it all starts with Ovechkin, it is likewise fair to say nothing gets finished in Washington without Backstrom.
Ovechkin is a lightning rod for a whole range of emotions -- unbridled praise when the team is going well, criticism when it is struggling. It has always been so. Backstrom exists somewhere in the shadows, never quite receiving the credit he deserves when things are cooking while likely escaping the full brunt of criticism due when the team has been bad.
"Ovie is the superstar, but Nicky is the man," Oates said. "He drives our bus every night."
There are interesting parallels between Oates, who played in the shadow of a big-time personality and big-time goal-scorer by the name of
Brett Hull
, and the Backstrom/Ovechkin tandem. But Backstrom knows how much his coach relies on him, so a kind of equilibrium has been established.
"It's been a weird season for me," Backstrom said. "It was tough for the whole team in the beginning and also for me."
But if a scorer can find that groove, find the back of the net more often and more easily, the same dynamic exists for a player like Backstrom, whose job is to create time and space for players like Ovechkin, to send pucks through crowds to teammates' sticks.
The Capitals visit the
Montreal Canadiens
on Tuesday with a two-point lead over the
Winnipeg Jets
in the Southeast and a game in hand. And if anyone thought -- as many did over the previous few weeks -- that drawing the Southeast winner in the first round of the playoffs was tantamount to a free pass to the second round, the Caps' play of late has quieted that kind of talk.
Indeed, the current Caps squad reminds Lindsay of the team that won the Presidents' Trophy in 2011 and could hurt you from anywhere in the lineup.
"They made some noise last year, and I don't think they're close to the team they're becoming this year," Lindsay said of the Caps, who knocked off the second-seeded
Boston Bruins
in the first round before falling to the
New York Rangers
in seven games in the second round. "I wouldn't want to play them."
February, 7, 2013
Feb 7
11:04
AM ET
PITTSBURGH -- Kudos to rookie head coach
Adam Oates
for holding fast to the silver lining of an otherwise messy season.
While the hockey world marvels at the depths to which the
Washington Capitals
have sunk and the continuing devolution of once-upon-a-time superstar
Alex Ovechkin
, Oates insists that he sees progress.
True, when your team is chock-a-block with talent such as that of Ovechkin,
Nicklas Backstrom
,
Mike Ribeiro
and
John Carlson
and you're 2-7-1 and nestled at the bottom of the NHL standings, what else are you going to say?
But Oates, inducted into the Hockey Hall of Fame in November as one of the game's premier playmakers, said he believes that especially now it's important to look at the big picture.
Teams can deviate from the plan and scrape together a few wins, but that's not a sustainable approach to building long-term success, Oates told ESPN.com before the Caps were to take on longtime rival Pittsburgh Thursday night.
Oates said he has been enthused by the effort and by many parts of the team's past few games, which include two losses to Toronto, a loss Sunday to Pittsburgh and a (rare) win over Philadelphia.
"I think we're going in the right direction," Oates said. "And I really believe that."
Pittsburgh head coach Dan Bylsma spoke several times to Oates after Oates was hired in the offseason to replace Dale Hunter. Bylsma said he still thinks the Capitals are a dangerous team in spite their struggles early on in the season.
"There are huge swings at the beginning of a season," Bylsma said, noting his own team's stutter step start to the season before their current four-game winning streak. "They've got to stay with it. After tonight they need to get a few wins."
Whether anyone from the outside thinks the first-year coach is whistling past the proverbial graveyard is a moot point. If he believes there are positive signs, and more important if his team believes it, that's all that matters.
Well, that and getting a few points.
"Of course that's on your mind," Oates said of the poor start, one that is exacerbated by the compressed 48-schedule that was drawn up at the end of the lockout. "But I don't think you can give up on your ideals" and cut corners in the hopes of scraping together a couple of wins, Oates said.
The former New Jersey assistant said that was a valuable lesson he learned working with president and GM Lou Lamoriello, head coach Pete DeBoer and the rest of the Devils. The team stuck to a plan through thick and thin, and last June went to the Stanley Cup finals.
If it's true that players take their cues from their coach, then the Caps have seen nothing but determination from Oates, who spent the lockout coaching Washington's American Hockey League team in Hershey, Pa., preparing for his first NHL head-coaching gig.
"I think you just have to stand tall" in the face of this adversity, Oates said. "I'm actually OK personally. And I mean that. I'm fine. I'm encouraged by the way we're playing."
Oates said he's still getting a good vibe from his players on the bench, even though each game seems to bring with it a new, unpleasant wrinkle. Take Tuesday's 3-2 loss to Toronto, when a miscue between netminder
Michal Neuvirth
and defenseman
Tom Poti
allowed the Leafs to take an early lead on a gift goal from which the team could not recover.
There also are issues of conditioning with top players and production from star players. Rugged winger
Joel Ward
, for instance, leads the team with four goals. With all due respect to Ward, that's not a good thing. They miss heart-and-soul leader
Brooks Laich
, who is slowly recovering from injury, and the goaltending has been average at best.
The focus, naturally, has been on Ovechkin, who has only two goals and five points. Both goals have come on the power play as Oates has worked to move Ovechkin from the left wing to the right wing to try to give him more options offensively.
Although it is a constant topic of conversation, Oates said he never grows tired of talking about Ovechkin's buy-in.
The two watched tape for a long time after a recent loss and there are many indications that Ovechkin is getting it and that the experiment will ultimately pay dividends, Oates said. It just hasn't happened yet.
"I love the guy," he said. "Personally, to be willing to play a different position, I don't think people understand what that is and I don't think he gets as much credit as he should get for doing this."
"He's got faith in me right now and I've got faith in him," Oates said.
Faith is one thing, of course. What the Caps really need to go along with that faith is a few wins.
October, 19, 2012
10/19/12
11:02
AM ET
By
Sarah Goldstein
| ESPN.com
April, 18, 2012
4/18/12
1:42
PM ET
Statement released by the Washington Capitals:
Statement from the Washington Capitals on the Suspension of Backstrom
ARLINGTON, Va. – We disagree with the NHL's decision to suspend
Nicklas Backstrom
. This has been a competitive and physical series, and we do not understand why a suspension was imposed in this case while other incidents in this series have not been reviewed. Our singular focus now is on Game 4, and we look forward to the energy that our great fans provide.
January, 10, 2012
1/10/12
11:34
AM ET
Craig Custance and Pierre LeBrun go toe-to-toe on everything from Jack Johnson pulling a Tebow to the death of the legendary Ron Caron.
Custance:
Hey, Pierre! Well, it was inevitable: Tim Tebow mania finally made its way to the NHL in the form of Jack Johnson Tebowing on Monday night after his second-period goal against the Capitals. He told Lisa Dillman of the Los Angeles Times that a few of his buddies from the University of Michigan were in town and asked him to strike the Tebow pose if he scored. Naturally, he did. "I thought, 'I've got to pay up,'" Johnson told Dillman. Although the Capitals weren't thrilled with the celebration, I don't fault Johnson for feeling good. It's been awhile since the Kings put up an offensive effort like they did Monday night. His goal was Los Angeles' third in a 5-2 win over Washington. It was the Kings' highest goal output since scoring five against the Ducks on Nov. 17 and three more than they'd scored in their previous three games combined.
Jonathan Bernier
, who has received very little offensive support all season, probably didn't know what to do with that kind of cushion. So are we seeing a breakout in Los Angeles? And do you have any issues with Johnson having some fun after scoring his goal?
LeBrun:
I've got no problem with Johnson having some fun after a goal. As long as you're not machine-gunning in the direction of the opposing goalie during a goal celebration, I'm all for players showing emotion and personality. Too often the NHL is criticized for having players with not enough personality. I guess had Johnson done it against the Penguins, it might have been a little much, given that Pittsburgh fans are still mourning Sunday's shocking overtime loss in Denver. But I think my favorite moment Monday night was actually the reaction of Kings play-by-play man Bob Miller after Jarret Stoll made it 4-1 in the second period. "The Kings have four goals!" Miller said, his voice genuinely surprised. The offensively challenged Kings finally gave their goalie some breathing room. I don't think this means the Kings are going to score at will moving forward, but I do see a confidence building in the Kings' game that wasn't there before Darryl Sutter came on board. I can't say the same about the Caps, who lost yet again on the road Monday night. They're not the same team away from Verizon Center, as underlined by their 14-5-1 record at home and 7-12-1 mark on the road. That's not going to cut it if the Caps want to be a playoff team.
Custance:
It doesn't help the cause that the Capitals sent
Mike Green
and
Nicklas Backstrom
home before the game. Green (groin) has played just 10 games this season, and the Capitals are a remarkable 9-1 with him in the lineup. He's that important to their success. Backstrom might be even more vital. I asked former Capitals coach Bruce Boudreau what it would mean to Washington's success if Backstrom continued to miss time after taking an elbow to the head against Calgary on Jan. 3, and he said the center is absolutely crucial to the Capitals' efforts to get back in the playoff hunt. "To me, he's the straw that stirs the drink on that team, as much as Alex [Ovechkin] is the focus," Boudreau said. "It would affect them. I think he missed one game in his career, or two games. I hated when he got hurt last year. It was the first time in his career he got injured." Boudreau knows Washington's franchise center well and knows it'll take a lot to keep him out of the lineup much longer. "Nicky is one tough guy," he said. "He plays through pain." Washington heads home now for an off day Tuesday before hosting the Penguins on Wednesday. That game has suddenly gone from a heated rivalry to a battle of attrition.
LeBrun:
I remember a conversation with Caps GM George McPhee earlier this season in which he pointed to Green's absence as one that really hurt his team. McPhee felt that more than any other player, the Caps really struggled without him in the lineup. His injury battles this season certainly underline the struggles the Caps have had all season long; it's hard not to see a link. They need him healthy and back in the lineup once and for all. It's hard to believe that Wednesday's game between the Caps and Penguins will be between two clubs fighting for their playoff lives. That's a storyline nobody saw coming in September.
Before we go, Craig, we certainly should touch on some sad news from Tuesday morning, when the
St. Louis Blues
confirmed that former GM Ron Caron died Monday night. I think we all can remember the clips of the Prof reacting wildly at a bad call from a referee up in his box during a Blues game in the 1980s. I traded text messages with Hockey Hall of Famer
Doug Gilmour
on Tuesday morning, and we both agreed Caron was one-of-a-kind. "He was intense and committed to his job and to his players," Gilmour said.
Custance:
In a game loaded with storytellers, he'll go down as one of the best. A few years ago, the great Eric Duhatschek of the Globe and Mail wrote a column that captured Caron's personality, including a story about how Caron once was so upset with John Ferguson Sr. that they wrestled in the press box of Winnipeg Arena. "They threw away the mold after they made Ron Caron. He was a unique individual, as intense competitor as I've ever seen," Cliff Fletcher said in the story. That really sums it up. I think he would have enjoyed Tuesday night's game between the Blues and the Canadiens, two franchises on which he left his impression. Ken Hitchcock is wisely giving
Jaroslav Halak
the start in goal against his former team, even though
Brian Elliott
is coming off a shutout. That's a coach who knows how to win over a room. I can't imagine a regular-season game Halak would want to win more than this one.
LeBrun:
Halak has played much better since Hitchcock took over, much like most of his teammates. Elliott's play hasn't tailed off one bit, so the Blues coach can't go wrong no matter whom he puts in goal. That's the kind of luxury that teams such as Boston and Vancouver also have in goal. It's one of the reasons the Blues are legitimate Cup contenders in my eyes. I'm sure that made Ron Caron smile during the past few months as he saw his beloved Blues climb back up the standings. Tonight, the Prof will be watching from the press box in hockey heaven. Rest in peace.
January, 4, 2012
1/04/12
8:51
PM ET
Calgary Flames
left wing
Rene Bourque
has been suspended for five games for hitting the
Washington Capitals
'
Nicklas Backstrom
in the head with his elbow, the NHL announced Thursday.
As a repeat offender under the terms of the league's collective bargaining agreement, Bourque was fined $203,252, which will go to the Players' Emergency Assistance Fund. He was suspended two games last month for a hit on
Brent Seabrook
of the
Chicago Blackhawks
.
NHL discipline czar Brendan Shanahan explains the ruling here (video courtesy of the NHL):
January, 4, 2012
1/04/12
12:56
PM ET
Scott Burnside and Pierre LeBrun go around the league to discuss some of the hot topics around the league with some cold, hard truth. Have at it, boys.
BURNSIDE:
Good day, my friend. Hope you are feeling better after being laid low by the end of the Winter Classic weekend. Let's start with the red-hot
Washington Capitals
, who won their fourth straight Tuesday night, beating Calgary 3-1 and moving into seventh in the Eastern Conference.
Alex Ovechkin
is rounding into form, with a goal and an assist, and he now has 17.
Tomas Vokoun
was solid again and
Nicklas Backstrom
had a three-assist night and is now tied for eighth in NHL scoring, with 42 points. But the story of the night -- indeed the story of the NHL the last couple of years -- was instead the cowardly elbow to Backstrom's head delivered by repeat offender
Rene Bourque
. You watch the replay and Backstrom is cruising through the neutral zone, nowhere near the puck, and Bourque raises his elbow and clips Backstrom in the head. Bourque had a hearing with NHL disciplinarians as a result. Backstrom was going to be held out of practice Wednesday and continue to be monitored. Earlier this season, Bourque was suspended for two games for a dirty hit on Chicago's
Brent Seabrook
. Remember the chat we had with
Brendan Shanahan
earlier this season about how his mandate was to hammer the repeat offenders, the guys who can't get it through their thick skulls to stop trying to take opponents' heads off? Well, in my books this is a good place to make good on that mandate. Why not 10 games? Why not 15? Thoughts?
LEBRUN:
Bourque's hearing was scheduled to be via phone, not an in-person hearing, so as per the terms of the collective bargaining agreement, the suspension wasn't going to be more than five games. But like you, I hated the hit. You had a defenseless player not even looking Bourque's way, with ,no puck around him, and he gets clipped in the head. This is just the kind of hit the league is trying to eliminate. Backstrom played two shifts after the incident but then was taken out for precautionary reasons. It annoys me that he even played two shifts. I give the Caps credit for taking him out eventually but on plays like that players should be taken out immediately. Backstrom is slated to be re-evaluated late Wednesday. The incident marred the bigger-picture story for the Caps, who finally have their mojo back and are playing their best hockey under
Dale Hunter
. What really jumps out at me is the puck possession they have right now. This is the kind of hockey that this lineup should be playing.
BURNSIDE:
You knew that the Caps couldn't be as bad as their record suggested through most of the first third of the season. With Tuesday night's win, they pulled to within three points of Southeast Division-leading Florida, and the Caps have a game in hand. It's going to get very interesting for the Panthers, who are struggling with injuries and have to be more than a little nervous seeing the Caps charging up in their rearview mirror. But let's touch on a little post-Winter Classic news: an update provided Tuesday by Philadelphia GM Paul Holmgren on
Jaromir Jagr
. Seems the calf injury the winger spoke about at length following the Flyers' 3-2 loss Monday was really a groin strain (you called it in the press box as Jagr was walking to the dressing room late in the first period). He'll be out a week to 10 days and the injury is cause for some concern for the five-time scoring champ, who will turn 40 in a little over a month. But for me the interesting thing will be to see if this opportunity jump-starts
James van Riemsdyk
, who is expected to be given a shot playing with NHL scoring leader
Claude Giroux
(he's tied with
Henrik Sedin
) and
Scott Hartnell
. Van Riemsdyk, of course, signed a big six-year contract extension in the offseason with a hefty $4.25 million annual cap hit. But after being expected to step into a leadership role offensively with the departure of
Jeff Carter
and
Mike Richards
, van Riemsdyk has found himself in a holding pattern, with just nine goals in 32 games. Maybe Jagr's absence will see the 22-year-old seize the moment.
LEBRUN:
The onus on the Flyers is to be careful with Jagr. It's in the playoffs that they need him most, not in January. They must ensure he's 100 percent healed from his latest groin injury before they let him back into a game. Otherwise this will be a recurring nightmare for Jagr and the Flyers. As for JVR, I mean, if playing with Giroux doesn't jump-start him, what will? Any winger who gets a chance to skate alongside the magical Giroux should get an automatic boost. Just look at Hartnell this season. In fact, it's with Giroux that I think JVR played his best hockey last season. So this is indeed a golden opportunity for him. At the very least, Jagr's injury news took the focus off the goaltending drama for a day.
BURNSIDE:
So, let's close with a look at the big game of Wednesday night (at least in my books) in which Minnesota visits Vancouver. It has to be complete coincidence that after pumping the Wild's tires early in December and actually placing them first in the ESPN.com Power Rankings, they have managed to fall almost completely off the map. The Wild have managed just one win in their last 10 games and have been supplanted atop the Northwest by a Vancouver team that is looking very much like the team that ran rampant during the regular season a year ago. If there was ever a statement game for the Wild (think Monty Python and the classic "But I'm not dead yet" line), this is it. A regulation win in what marks the exact midpoint of their season and the Wild are back within a point of the Canucks, and maybe their confidence returns. A loss and they're five points behind the Canucks and you can legitimately start asking whether they're playoff-caliber.
LEBRUN:
To be fair, the Wild were hit hard by injuries in December, and that was a major contributing factor in their collapse. Having said that, what team hasn't been hammered by the injury bug this season? Not only would the Wild fall five points back of the Canucks with a regulation loss Wednesday, but the they're only three points ahead of the hard-charging
Colorado Avalanche
(8-2-0 in their last 10 games) in the Northwest. They're also just four points above ninth in the Western Conference. It just shows you how fast things can change in a league in which parity has never before been more evident.
November, 29, 2011
11/29/11
2:42
PM ET
ARLINGTON, Va. -- There is perhaps no more curious place in sport than an NHL locker room the day after a coach has been fired.
The energy is different ... a little off, a little manic. A group of men who thrive on continuity and routine must now embrace a different vibe.
In the past, former Washington Capitals coach Bruce Boudreau often would meet with media while his team went through drills at the team's practice facility on game-day mornings. Boudreau, however, was nowhere to be seen Tuesday a day after being dismissed from his post.
Instead, former Washington captain Dale Hunter was on the ice and later met with players for some 45 minutes before speaking with media gathered to chronicle the start of the Hunter era.
"Just strange days," said Capitals veteran winger Mike Knuble. "That's part of the challenge. You do the best you can tonight. You just want to get yourself going and play the game. It's still a hockey game. It's a challenge to play for a new coach, and a lot of things have happened in the last 24 hours."
[+] Enlarge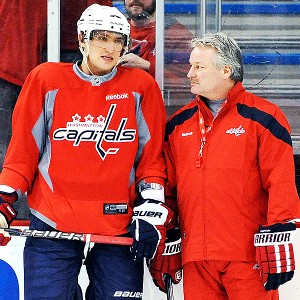 Patrick McDermott/Getty ImagesDale Hunter, right, will coach his first NHL game tonight with Alex Ovechkin and the Capitals.
So much the same, so much changed in the course of a day.
Hunter, the longtime owner and coach of the successful London Knights of the Ontario Hockey League, flew into town Monday with his one suitcase and one blue game suit -- "I only got one suit anyways," Hunter quipped -- and will coach his first NHL game Tuesday night against the St. Louis Blues.
And so begins the process of unlearning the old and learning the new, whatever that might entail in terms of philosophies and systems. "You don't get practice time," Knuble said.
That's generally not how these situations work.
The old coach has preached certain habits.
"Even if you don't agree with all those habits, you've got to change them slowly," Knuble said. "You can't just say, 'I don't like this, I don't like this, I don't like this; I like that, I don't like this.' I'm sure [Hunter is] keeping that to himself, and that's what you implement over time. Players, you kind of just go off the basics, play as well as you can. Some guys will thrive; some guys will struggle a little bit."
Along with tactical elements, there also will be the emotional component of having watched a coach lose his job in large part because a team with a wealth of talent couldn't continue to move forward. After a 7-0-0 start, the Capitals have been a miserable 5-9-1 since; in some ways, it is a record that flatters them given their curiously uneven play of late.
"It's a little weird, but at the same time, that's the situation, and I think with Dale's experience it can be really good," said Caps center Nicklas Backstrom, who leads the team with 25 points but is a
minus-6 on the season. "He knows a lot about hockey because he played the game, too, and he's been very successful in Ontario up there, and I think so far he seems good. Hopefully we can give him a win on his first night."
Backstrom agreed that the change represents a new chapter for a team that was tied with New Jersey for the eighth and final playoff berth in the East as of Tuesday morning.
"Absolutely. We've got to start winning hockey games. I think it's a really good thing to do, get a new voice in the locker room and stuff like that," he said. "Yeah, it's a new chapter. That's how it's going to be."
At one point during the morning skate, Hunter was chatting with captain Alex Ovechkin. The two-time Hart Trophy winner will be the focal point as this team struggles to regain its mojo. Hunter said he spoke with Ovechkin about the slumping power play but noted he'll be talking to all the players at some point.
As for whether Ovechkin can lead this team in the spirit of the rough-and-tumble Hunter, the new coach wasn't about to go down that road, at least not before his first game.
"You know something, there's always different captains," Hunter said. "I didn't score 50 goals, either, you know what I mean? A lot of captains, they lead on the ice, playing hard, hitting people and scoring goals, and some are more vocal in the dressing room. Everybody has to be their own type of captain and be a leader that way."
That said, it will be a shock if Ovechkin does not find himself with more ice time with which to prove he is still one of the game's elite players, something he has failed to show in the past 100 games or so.
"He's got to be a big part of the game every night if we intend to win, plus other guys, too," Hunter said. "But he'll be a big part, and in the dressing room, he's got to give these guys confidence, and we've got to be confident, and he's got to get everybody's confidence back."
Ovechkin said he understands that the coaching change represents a significant challenge for him and the rest of the leaders in the room.
"I think it's new for the whole team," Ovechkin said. "Bruce was here almost five years. ... Right now, it's a new challenge for us. You can see when we didn't play well what's going to happen. It's kind of a wake-up call for us, a huge wake-up call for us."
Does he take responsibility for the change?
"Of course. Again, it's not about one player," he said. "Of course I'm the leader of the team and I have to play better, I have to make some points, I have to score goals, but I try to do that. Sometimes it works; sometimes it [does] not."
In a few hours, the Hunter era will officially begin for the Capitals. The moment the puck drops, the memories of the Boudreau era will begin to fade. That's the nature of the business, no matter how callous that may be.
"Yeah, you feel bad for Bruce because you know he put a lot of time and his heart and soul in this team," Knuble said. "At the end of the day, he can walk out of here pretty proud that he gave everything he had. It's just kind of the way things worked out. As a player, you always have that twinge of guilt when a guy gets let go, that you had something to do with it, but at the same time, it's a new day and it's pro sports and you've got to keep going."
November, 10, 2011
11/10/11
4:50
PM ET

1. Goalies galore causing confusion for Islanders
New York Islanders
fans are quick to point out the goaltending isn't the prime reason the Isles are once again ensconced at the bottom of the Eastern Conference standings. And we agree -- but only to a point.
Yes, the talented collection of young forwards hasn't gelled as expected or hoped. Calder Trophy nominee
Michael Grabner
has been slow off the mark with four goals, and
Kyle Okposo
has yet to notch a single goal. But for us, this is a team without an identity in large part because the Isles continue to wrestle with the three-headed goalie monster. From training camp, this loomed as a potential distraction, a detractor from the good things that were going on for the Islanders.
Until the team sheds one of the heads, it will continue to stutter step through the season and take yet another step toward irrelevance. Take
Al Montoya
, the young netminder who played so well down the stretch last season for the Islanders and earned a one-way, one-year deal for his efforts: Montoya was rewarded with the first three starts of the season and went 2-1 and allowed just four goals.
After a win by
Evgeni Nabokov
, Montoya lost 4-1 to Tampa on Oct. 20 and then disappeared. In the seven games since Montoya's last start, the Islanders have won one game. We understand the desire to see what veteran netminder Nabokov has got and the practical nature of getting him games so his trade value might be enhanced. But throw in the human albatross,
Rick DiPietro
, and the goaltending situation is untenable.
DiPietro is 1-1-2 with a 2.67 GAA and .904 save percentage. He is what those numbers suggest, an average goaltender who is prone to injury and who has a contract that extends until the day after forever (actually the end of the 2021 season). Look around the NHL this season and teams have identified their best goalie and ridden him, even if their best goalie at the time happens to be the back-up. It has been so in Minnesota, St. Louis, Tampa, even Buffalo.
The Isles, meanwhile, sputter around trying to find room for three goalies, which is at least one and more likely two too many. Until that gets rectified, don't expect much more than what we've seen from the Isles, which is more of the same, which is to say, more junk.

2. Hard work pays off for Harding
Among the many refreshing stories this season has been the return to not just NHL action but NHL stardom for
Minnesota Wild
netminder
Josh Harding
. The Regina, Saskatchewan native missed the last part of the 2009-10 season with a hip injury and then returned to action last season only to blow out his knee in the Wild's first preseason game.
He acknowledged in an interview this week he had no idea where his NHL career might resume, if at all. Yet the Wild gave him another chance in part because they were impressed with his dedication to rehabilitating from the knee injury. That faith has been rewarded in spades early in this season as Harding has gone 4-0-1 and was named the NHL's first star of the week. His .965 save percentage is tops in the league and his 1.18 GAA is second. "It was a long road but I'm happy with where I'm at right now," Harding told ESPN.com. "Definitely I had my doubts.
I wasn't sure where I'd have to go to get back," he said, admitting that the American Hockey League and Europe were options he thought he might have to consider. "Now my job is to make sure that they made the right decision," Harding said. So far, no complaints from GM Chuck Fletcher. He thinks the adversity Harding faced in coming back from two significant injuries suffered in succession, really a battle for his career, has made the 27-year-old mentally stronger. "This is really a remarkable story," Fletcher told ESPN.com. "There's been no hesitation in his game."
Harding was a rare bystander Tuesday, when the Wild blanked Calgary, but it's hard to imagine he won't get the call when the Wild take on San Jose Thursday. It has been an interesting start for the Wild, whose power play and special teams play need to be better (the Wild PP was tied for 26th heading into action Wednesday), while the team's even-strength scoring has been in the top 10 in the NHL. That balanced production from the top two lines and the play of unlikely goaltending hero Harding have given the Wild lots to be optimistic about as they continue on an early but crucial five-game road trip. As for any friction between Harding and the team's perennial starter
Niklas Backstrom
, Fletcher said that's a non-issue. "Both of our goalies are uniformly liked and respected by their teammates," he said.

3. Backstrom back to fine form
The
Washington Capitals
continue to be an interesting study what with the continued lack of Alexander Ovechkin-like production from the Caps' captain. But one player who seems to have bounced back from an offseason production-wise is top center
Nicklas Backstrom
. After signing a whopper 10-year contract extension, Backstrom saw his point totals drop from 101 in 2009-10 to 65 last season. The playoffs were likewise a disappointment for the slick center as he seemed to be pressing too hard and accomplished little, failing to score and adding just two assists in nine postseason games.
We spoke with Backstrom during training camp and he acknowledged he had something to prove this season. So far, so good as he leads the Caps with 19 points in 13 games. Head coach Bruce Boudreau said he's never had an issue with Backstrom's effort and thinks people get too wrapped up in the stats as a true measure of a player's worth. "He's a good player. Last year, things didn't go in for him," Boudreau told us this week. And they didn't go in for his linemates, either. That said, the Caps power play is cooking (they rank third in the NHL), which is good news given the power outage the unit has suffered at times over the past couple of years. Backstrom is a huge part of that success as he essentially quarterbacks the top man-advantage unit.
"He's the focal point of our power play as he's always been," Boudreau said. Now, in classic chicken-egg fashion, you may ask whether the power play is more effective because Backstrom is handling the puck with more maturity and confidence (his 14 assists lead the league), or are Backstrom's points totals back at a more comfortable level because the power play is working. Certainly Boudreau has adjusted the team's approach to the power play, but it only works because Backstrom is more like Backstrom.

4. Laraque know all, apparently
Is there a player who has a more self-inflated view of his self-worth than
Georges Laraque
? After accomplishing next to nothing during his NHL career beyond literally beating opposing players, Laraque has become ubiquitous, pontificating on an endless string of topics -- some related to the game, some not. He has even penned a book about his inspiring life. But what is unappetizing about the book is Laraque's assertion that many NHL players are taking drugs of various kinds.
Laraque was in a position to know after playing in 695 NHL games. We can't say with 100-percent certainty that the NHL is a 100-percent clean league -- and, at some point, it would be nice to get some clarity on the subject if the players' association would institute a drug-testing policy that would take all guesswork out of its claim that hockey is the cleanest of the pro sports. Until then, though, what Laraque does by insisting there is a problem and then refusing to name names is to paint all players with the same brush.
We've read pandering interviews where Laraque proudly distanced himself from former Major League Baseball star Jose Canseco, who actually admitted he used PEDs and identified other players who also juiced. But not Laraque. No, he holds fast to the ill-defined "code" that precludes him from being honest. Of course, Laraque insisted he never used those performance-enhancers.
We're all for free speech, Georges. But if he is truly interested in changing the culture, as he insists he is, then he should name names. Tell us who was/is cheating; tell us which players are tainting the game. If Laraque doesn't do at least that, then he should at least tell the league and the union, so they can take action to clean up the mess he insists exists. That's assuming Laraque knows.

5. The price of Pekka
A lot of debate about whether the
Nashville Predators
paid too much, not enough or just right when they inked netminder
Pekka Rinne
to a seven-year, $49-million contract extension. No one disputes Rinne's skills. He was a Vezina Trophy nominee last year, and his numbers thus far this season suggest he could well be in for another trip to Las Vegas next June for the NHL Awards. But does the deal make sense for the Preds, who hope to sign twin defensive pillars
Ryan Suter
and
Shea Weber
to long-term deals as well.
A quick scan of the top 10 goaltenders in terms of dollars paid out this season, suggests that only three,
Cam Ward
,
Marc-Andre Fleury
and
Tim Thomas
, have won Stanley Cups. (Actually Thomas is 11th on the list according to Capgeek.com, but we're not counting
Cristobal Huet
who has not won a Cup and is playing in Switzerland). Of the remaining seven top-dollar earners, only
Roberto Luongo
has taken his team to a Stanley Cup final since the lockout.
The others,
Ilya Bryzgalov
,
Henrik Lundqvist
,
Ryan Miller
,
Miikka Kiprusoff
, Niklas Backstrom and
Martin Brodeur
have all failed to deliver meaningful playoff performances on a consistent basis in recent years. Does this preclude the Predators, who have won only one playoff round in franchise history (last spring) from having success with Rinne between the pipes? No. Of course not.
But history suggests paying whopper salaries for top goaltenders is not a proven path to the Promised Land, either.
November, 11, 2010
11/11/10
11:42
PM ET