Cross Checks:

Nikolai Khabibulin
February, 25, 2012
2/25/12
11:44
AM ET
Some quick nuggets from Saturday morning as I make my way from Toronto to Bristol, Conn., where the ESPN team will assemble (picture Ron Burgundy assembling his team) for trade deadline coverage:
Hemsky Signing Changes Things
Ales Hemsky
's re-signing with the
Edmonton Oilers
on Friday night eliminated the most sought-after rental for teams hoping to add a top-six forward.
Notably, it eliminated a target for the
Nashville Predators
, who had their eye on the slick Czech winger.
Now what?
There isn't much left out there.
Andrei Kostitsyn
of the
Montreal Canadiens
is on the block. Kostitsyn will be an unrestricted free agent July 1, and he needs a change of scenery. But he's had a mediocre season. My sense is that the Preds have discussed him internally.
There would be pros and cons in bringing him in. On the one hand, you'd be getting a three-time 20-goal scorer with a chip on his shoulder, hungry to prove himself again in a new setting. On the other hand, having the two Kostitsyn brothers together in Montreal proved to be a handful for the Habs (
Sergei Kostitsyn
is now with the Preds). But that was then, when they were young players, and now they're a little older. Isn't that what the
Los Angeles Kings
were betting on with
Jeff Carter
and
Mike Richards
?
And so I'd say it's a 50-50 bet that Kostitsyn ends up in Nashville before Monday's 3 p.m. ET trade deadline.
Veteran Preds GM David Poile, as is the custom, refused to discuss names from other teams Saturday when reached by ESPN.com, but generally pointed to a difficult trade market.
"We'd like to add a forward, but right now there's not a lot going on," Poile said. "Look at last night again with the teams winning. The standings are so close on both sides. There aren't a lot of sellers. It's not really your normal trade deadline situation compared to other years."
Certainly, between players re-signing with their teams and the parity in the standings, it has not created the buyer/seller market of most years. Some teams on the bubble, such as Dallas and Buffalo, are trying to make "hockey deals," where roster players are dealt for roster players, as opposed to players dumped for futures.
As for the Predators, they'll keep working the phones looking for a forward. And you don't have to worry about
Ryan Suter
, who is slated to be an unrestricted free agent July 1. He's not going anywhere.
Stars at the Deadline
The
Dallas Stars
keep winning and the playoffs look more real than ever, so it's hard to imagine they'll be too eager to move
Mike Ribeiro
or
Steve Ott
, two players other NHL sources told ESPN.com earlier this week were in play for the right price.
Unless, of course, the Stars can entice the
Philadelphia Flyers
when it comes to young winger
James van Riemsdyk
. As I reported earlier this week, my understanding is that the Stars really covet JVR and will continue to pursue him. No question, he'd be a terrific long-term fit alongside
Jamie Benn
.
And what about
Sheldon Souray
? He's UFA July 1 and the Stars would certainly be getting offers on him from contenders. But he's a popular player in the Stars' dressing room, and as pointed out above, the Stars could be playoff-bound. My sense is that it will be an 11th-hour decision on him before Monday's deadline.
Goalie Talk
The
Toronto Maple Leafs
and Edmonton Oilers had a conversation regarding
Nikolai Khabibulin
, although I don't think the Leafs are too keen on the extra year on Khabibulin's contract. I think
Evgeni Nabokov
(UFA July 1) remains the best bet, if the Leafs do indeed do anything in goal. That's no sure thing after
James Reimer
played well in a 2-1 loss to San Jose on Thursday night, which might have cooled off GM Brian Burke's desire somewhat. Then again, the Leafs host Washington on Saturday night, so let's see how that goes. Nabokov might not go anywhere. His agent, Don Meehan, was slated to resume contract talks with Isles GM
Garth Snow
on Saturday. But even if there's no extension, Snow might just decide to keep him.
The
Ottawa Senators
are without
Craig Anderson
for a bit after he suffered a hand injury using a kitchen knife. My sense is that despite the fact that
Dwayne Roloson
and
Marty Turco
could be options, GM Bryan Murray will make a deal only if he can find a younger netminder who can grow along with Anderson over the next few years.
November, 16, 2011
11/16/11
1:11
PM ET
Our first Hart Trophy look this season. It's still early, but six weeks into the season, we can start to have fun and identify some candidates. Speaking of fun, thank you to the massive list of Twitter followers who responded to our Hart Trophy question. To show how democratic we are at ESPN.com, your responses have largely influenced this list:

We chatted with Flyers coach Peter Laviolette last week, and what impressed him the most about Giroux was his all-around game. Forget that he's challenging for an NHL scoring title, there's so much more to his game than that. He plays 200 feet, plays the penalty kill and plays against the opposition's top line, and he is out there late in games. Oh, and he's from Hearst, Ontario.
You can make an argument he's just as deserving at this point as Giroux. No question about it. We loved this Hart Trophy response via Twitter from @blairvincent, "As a Habs fan, I hate to say this, but it's got to be Kessel." Well, if a Montreal fan can find it in his heart to say that, you know Kessel is deserving. He leads the NHL with 13 goals and 25 points. His all-around game is not as complete as Giroux, but kudos to Kessel for his plus-9 rating.

Fifth in the NHL in ice time at 26:46 per game and putting up a point a game, we wonder where the Penguins would be without their all-world blue line, given Sidney Crosby's absence and all the other injuries the Penguins have had. He plays in all key situations. He's a horse and he's a huge reason why the Pens keep rolling along.

When you consider that the Kings are only 23rd in the NHL in offense, not to mention some of the overall struggles they've had this season, you have to wonder how much worse things would be without Kopitar's 21 points (8-13) in 17 games this season -- fifth in NHL scoring. Says @potvinrocks via Twitter: "Kopitar has points on like 65% of Kings goals."

The old goat has a .945 save percentage and has spearheaded Edmonton's stingy defensive record and surprising start to the season.
Honorable mentions:
Henrik Lundqvist
,
New York Rangers
;
Tyler Seguin
,
Boston Bruins
;
Kari Lehtonen
,
Dallas Stars
;
Thomas Vanek
,
Buffalo Sabres
;
Marc-Andre Fleury
and
James Neal
, Pittsburgh Penguins;
Jonathan Toews
,
Chicago Blackhawks
;
Jamie Benn
, Dallas Stars;
Shea Weber
,
Nashville Predators
.
Trophy Tracker: Hart Trophy
---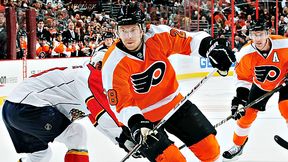 Claude Giroux trails Phil Kessel by three points in the scoring race.
November, 9, 2011
11/09/11
3:32
PM ET
The familiar Vezina Trophy candidates are far from the pack and, in some cases, have been left in the dust early this season. Instead, some old-timers and fresh young faces are dominating the pipes as the NHL moves into its second month. Here's a look at our top five contenders and some honorable mentions:

Another nice turn by Kari Lehtonen in a big road game against Washington on Tuesday night led the Stars to a 5-2 victory. Lehtonen earned his league-best 11th win, and his 11-1-0 record leads all other netminders by at least three victories. His .936 save percentage is pretty darn good, too. It's been almost a decade since the Atlanta Thrashers made Lehtonen the second overall pick in the 2002 draft. A month into this season, he looks like he is finally ready to make good on the "franchise netminder" label that has thus far eluded him.

The Oilers needed a solid turn in net to keep their confidence going during an arduous road schedule (they are playing 10 of 12 away from home). No problem. Khabibulin turned aside 28 of 29 shots in Tuesday's 3-1 win against Montreal and remains unbeaten in regulation with a 7-0-2 record. Khabibulin's 0.98 goals-against average and .964 save percentage both rank second overall in the NHL. Khabibulin's career looked to be on the rocks due to injuries and off-ice legal problems; the fact Edmonton remains one of the surprise teams in the league (9-3-2, second overall in the tough Western Conference) is a testament to the goalie's resilience.

The owner of a new seven-year, $49 million contract showed right away he is worth the big bucks. He is 4-0-1 in his past five starts, has made the second-most saves in the NHL and his three shutouts are tied for the league lead. A Vezina Trophy finalist last season, Rinne is well on his way to earning another trip to Las Vegas in June for the NHL awards show.

Despite the absence of many of their top players, including captain Sidney Crosby, the Penguins have proved to be one of the most resilient teams in the NHL. That resiliency starts in goal. Fleury, 8-2-1 with a .931 save percentage and an impressive 1.95 GAA, has been a rock. Building on his strong second half last season, Fleury looks like he's ready to ascend to the top of the goaltending charts.

Although the sample is smaller than other NHL netminders, Harding has almost single-handedly dragged the Wild into the playoff picture in the Western Conference. With starter Niklas Backstrom struggling (pitching a shutout Tuesday night against Calgary notwithstanding), Harding has come off the bench to post four straight victories, has a 4-0-1 record and a league-best .965 save percentage. After missing all of last season with a knee injury, Harding's play makes for an interesting goaltending situation in Minnesota.
Honorable mentions: Mike Smith, Phoenix; Jonathan Quick, Los Angeles; Tomas Vokoun, Washington; Jimmy Howard, Detroit.
Trophy Tracker: Vezina Trophy
---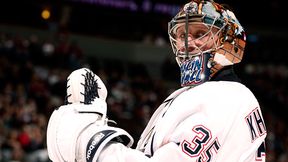 Khabibulin's 0.98 goals-against average and .964 save percentage both rank second overall in the NHL.
October, 26, 2011
10/26/11
12:32
PM ET
Scott Burnside and Pierre LeBrun look at a few of the surprising goaltending performances early on this season:
Burnside: Well, my friend, it was another interesting night between the pipes Tuesday in the NHL. When Mathieu Garon was signed by GM Steve Yzerman in Tampa Bay, how many people thought he would be the goalie to get the Eastern Conference finalists back on track after an ugly start to the season?
Garon was terrific again in the Lightning's 4-3 win over the Sabres and improved to a 3-1-1 record. Garon now has a 1.78 goals-against average and .942 save percentage after relieving the struggling Dwayne Roloson early on. Garon's play is mindful of Brent Johnson last season for the Penguins when starter Marc-Andre Fleury began the campaign playing like a bag of hammers. Fleury got back on track and finished with impressive numbers over the final two-thirds of the season. Do you expect the same of Roloson? What other goaltending surprises have caught your eye in the first month?
LeBrun: I do think Roloson will settle down, but given his age, 41, Yzerman was wise to bring in some veteran insurance in Garon. It's easy to forget, but Garon outplayed Steve Mason last season in Columbus and was a big reason the Jackets threatened to make the playoffs. The Lightning GM made it a priority to find a quality backup that could play some games behind Roloson. So far, that decision is proving fruitful. Garon is also a good character guy, and Yzerman was mindful of that, as well.
"He's been very good and has given us a chance to win [in] each game he's played," Yzerman told me via email Wednesday. "We did not play well in Buffalo, Mathieu had to make several difficult saves in the first period; if not, we could have been down 5-0. Somehow we got back in the game and we're fortunate to come out with a victory."
Another surprise has to be Nikolai Khabibulin in Edmonton. The veteran netminder looked to be on his way out of the league with his play last season, not to mention his legal troubles off the ice. But he is sporting a 0.97 GAA and .963 save percentage, stopping 35 shots in a 3-2 win over Vancouver on Tuesday night. Simply mind-boggling to me.
Burnside: No question Khabibulin, 38, looks like he's found the fountain of youth, at least early on. Speaking of another old-timer, how about the work of Johan Hedberg in New Jersey? With Martin Brodeur sidelined early with a shoulder injury, the Devils could have gone sideways like they did a year ago when confronted by injuries to key personnel (including Brodeur). But Hedberg, also 38, has been a rock. He stopped all 31 shots Tuesday night in a 3-0 win against red-hot Los Angeles. Hedberg is now 4-1-1 with a .937 save percentage and a 1.86 GAA.
I must admit, I didn't quite understand president and GM Lou Lamoriello's decision to bring back Hedberg since there doesn't appear to be an apparent plan of succession for the Hall of Fame-bound Brodeur; but Lamoriello has proved doubters wrong, at least early on, as has Hedberg, who is one of the most easy-going players in the league.
[+] Enlarge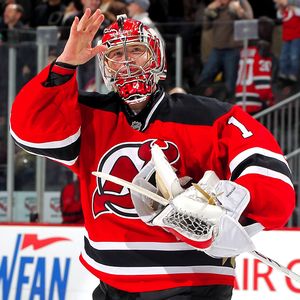 Paul Bereswill/Getty ImagesJohan Hedberg is 4-1-1 with a .937 save percentage and a 1.86 GAA through six starts.
LeBrun: The Devils look like a playoff team right now, just as they did in the second half last season. What about St. Louis? Who could have foreseen Brian Elliott challenging Jaroslav Halak in the Blues' net early this season? Elliott wasn't even assured of a job in camp, as he had to battle Ben Bishop for the backup job before finally winning it. Elliott has been in the pipes of late, and the Blues have turned things around after a slow start. This is the same Elliott who was discarded by Ottawa and Colorado. What gives?
"Coming into training camp, there was competition for a roster spot," Blues GM Doug Armstrong told ESPN.com on Wednesday morning. "He and Bishop both played well, probably to a draw, but we decided to go with experience. When Brian has got a chance here to play, he's been very strong for us. One thing that's impressed his teammates is his mental approach and work ethic. Right now, he's on a roll and it's benefited us."
The question is, how is Halak taking it?
"Jaro understands that we need to win games," said Armstrong. "He's preparing and working real hard in practice. One of the things that we talked about to our team in camp is that we want to have great depth at all positions. We have that in goal, too. Jaro knows he's going to be a big part of things here."
Burnside: Well, in my books, no goalie has been more surprising than Dallas' Kari Lehtonen, who won again Tuesday. Lehtonen is a perfect 7-0-0 with a .955 save percentage and 1.54 GAA, and has made more stops than any netminder in the league. Having watched Lehtonen struggle early in his career in Atlanta, the jury is still out for me on whether he's a true No. 1 goalie, someone who turns in 65-70 starts a season and maintains the consistency that separates the average from the good and the good from the great. But early on, the Stars have been one of the surprise teams in the league, and Lehtonen's play has put them in a great position to secure an unexpected playoff berth. Wonder what we'll be saying about Lehtonen and the Stars at midseason?
LeBrun: Not sure I agree with you that Lehtonen is the biggest surprise. He was the Stars' No. 1 goalie last season and turned in what was for the most part a solid performance. He struggled at times, yes, but he was their No. 1 goalie from wire to wire; so, apart from the fact that he's on fire right now, I don't qualify that as a big surprise. To me, there is no greater surprise than Elliott challenging Halak. An interesting decision awaits Blues coach Davis Payne tonight in Vancouver. My guess is Elliott will get the start because he's on a roll, but how long do you let Halak sit out? Until tomorrow, my friend.
July, 29, 2011
7/29/11
3:37
PM ET
The Edmonton Journal and other media outlets reported this week that Nikolai Khabibulin will not serve hard time as a result of his extreme drunken-driving conviction.
After Khabibulin was charged with speeding with a blood-alcohol level at more than twice the legal limit in February 2010, it was believed the goaltender would not be given preferential treatment when he dropped his appeal of the conviction and would begin his 30-day sentence this Saturday. That was the belief of Maricopa County Sheriff Joe Arpaio, the self-described toughest sheriff in America, until a local judge told him otherwise this week.
According to reports, the judge has moved Khabibulin into a work release program that will allow the netminder to leave the facility from 9 a.m. to 9 p.m. every day. Prison officials told The Journal that as long as he follows the rules and doesn't exhibit signs of having been drinking, Khabibulin will be allowed to spend his daytime hours as he pleases. That also means he will not have to wear the signature pink underwear that inmates of the county's famous Tent City jail wear. (Arpaio has been quoted as saying the pink duds have a calming effect on inmates, although critics say it's more about humiliation.)
Khabibulin will spend the first 48 hours of his sentence in jail, beginning Saturday; he will be under house arrest for the final 15 days of the sentence barring breach of prison rules.
For a player who put the lives of innocent people in danger, not to mention himself, it seems like a pretty easy time of it.
A source told ESPN.com this week the league has not yet decided whether to impose its own penalty on the netminder.
In the past, NHL commissioner Gary Bettman has used a heavy hand to censure players that bring the game into a negative light, especially when it comes to reckless behavior.
In the fall of 2007, Mark Bell was suspended for 15 games after he was convicted of drunk driving and leaving the scene of an accident after smashing into a stationary truck at a stop sign in California. That incident left the driver of the truck injured and led to an out-of-court settlement with Bell, who was then with the Toronto Maple Leafs. At the time, Bettman said it was a privilege to play in the NHL, and such a privilege comes with an expectation of exemplary conduct, on and off the ice.
Since that time, the league has had few legal incidents to deal with. Jay Bouwmeester was charged with drunk driving in Edmonton and pleaded guilty in 2007 but was not suspended by the league. There has been the occasional dust-up in a bar and there was a minor kafuffle at Eric Staal's stag that involved minor police involvement; but beyond the Khabibulin case, nothing has warranted the league's action.
For us, the reckless speed at which Khabibulin was reportedly driving (70 mph in a 45-mph speed zone) and the fact he was charged with extreme drunken driving suggests the NHL needs to send its own message even if the lawmakers in Arizona failed to do so in allowing Khabibulin to take an easy ride through his sentence.
It would be easy for Bettman to ding Khabibulin for five or even 10 games to start the upcoming season, and it would be hard to argue the penalty wasn't fair.
But why not something different given the failure of the Arizona courts to deal with the issue? Why not give Khabibulin the choice: miss 10 games of the upcoming season or commit to speak to teenage hockey players around the continent about his problems with alcohol. Surely, the NHL Players' Association wouldn't have an issue with a solution that may allow a current player to have a positive impact on young constituents. Why not try to turn something that could have been potentially tragic into something potentially life-altering?
October, 11, 2010
10/11/10
2:52
PM ET
Here are 5 things to ponder to start your hockey week:



1. Goalie questions
Less than a week into the NHL season, interesting goaltending issues are already cropping up around the league. The
Atlanta Thrashers
insist they aren't in the market for another goaltender after
Ondrej Pavelec
collapsed from what the team said Monday was a "neurocardiogenic syncope episode" and subsequent mild concussion in the Thrashers' first game of the season. A battery of tests indicated there are no long-term medical issues, and the team expects him back at some point, negating the need to find another experienced netminder. The Thrashers called up
Drew MacIntyre
to back up
Chris Mason
and will take
Peter Mannino
, another minor league netminder, on their West Coast trip this week.
Meanwhile, the Nashville Predators don't expect netminder Pekka Rinne to miss much, if any, time after being replaced in their season-opening win over Anaheim. Rookie Anders Lindback, 22, will get his first NHL start if Rinne isn't ready to go, but things don't look that serious, which is good for Predators fans.
Flyers coach Peter Laviolette has a nice dilemma in Philadelphia with both rookie Sergei Bobrovsky and veteran Brian Boucher turning in solid outings in the team's 1-0-1 start to the season. Bobrovsky got the win on the night the Penguins opened their new building, but kudos to Laviolette for going back to Boucher, who was a bit miffed at not getting the opening night start. Who goes next? Who knows. But with Michael Leighton needing back surgery, the Flyers couldn't have hoped for a better start in net.

2. Ah, the kids
Somehow, we think we'll be revisiting this issue throughout the season, but it is interesting to see the immediate impact of fresh-faced youngsters around the NHL.
Carolina's Jeff Skinner was terrific in the Canes' twin wins in Helsinki last week. (He scored the shootout winner in the second game and added an assist.) Barring a major change in the team's mindset, Skinner will remain with the big club for the entire season instead of returning to junior before he plays his 10th game (the demarcation point for using up a year of a player's entry-level contract and starting the clock ticking toward free agency).
In Edmonton, Taylor Hall and Jordan Eberle have combined for a goal and two assists in the Oilers' opening two wins, while fellow rookie also Magnus Paajarvi impressed. Meanwhile, the Rangers got a boost from center Derek Stepan in his first NHL game as the rookie notched three goals in a 6-3 win over Buffalo. The Rangers' depth down the middle has been a talking point throughout training camp, and Stepan's performance bodes well for New York going forward.
Finally, the Chicago Blackhawks will be looking to youngsters to fill the void after jettisoning a significant number of regulars from last season's Cup-winning roster. So far, rookie Bryan Bickell (two goals) is doing his part to help the Hawks' attack, even if Chicago is off to an 0-1-1 start.

3. Khabibulin's uncertain future
Got to hand it to Edmonton netminder
Nikolai Khabibulin
, who has somehow managed to put aside the thought of potentially spending time in an Arizona jail to deliver back-to-back virtuoso performances and turning aside 63 of 65 shots for the 2-0-0 Oilers.
But Khabibulin's uncertain future is likely unsettling to both the goalie and the Oilers. When Khabibulin's appeal of his sentence for drunken-driving charges in the Phoenix area is finally heard (the process could take months), the 37-year-old could spend some time in jail (up to 30 days). Following his conviction on a number of alcohol-related charges, the initial sentence was 30 days. Khabibulin immediately appealed, a strategy that seemed to catch the Oilers off guard in the offseason. Now, he's back playing the way he did at the start of last season before a back injury shelved him for most of the campaign.
There may also be a supplementary suspension handed down by the league once the legal proceedings are settled. Given the level of drunkenness involved -- Khabibulin's blood-alcohol content was more than twice the legal limit -- it wouldn't be surprising if the league tacked on a game or two after the netminder's legal penalty is completed.

4. Staal-ed?
No doubt Pittsburgh fans are pining for a return to crumbling Mellon Arena after the Penguins dropped two straight in their brand-new barn, Consol Energy Center. But the wins will come. The team is too good for them not to. Still, the double 3-2 losses to Philadelphia and Montreal highlight one basic truth about the Penguins: With
Jordan Staal
in the lineup, they are a legitimate Stanley Cup contender; without him, they are, well, something less.
Staal is continuing to rehab a severed tendon in his foot, an injury he suffered early in the Penguins' second-round playoff series against Montreal during the spring. There is essentially no timetable for his return, which means the Penguins will be looking for someone to step into the breach when it comes to things like penalty killing. But the bottom line is, when Staal, Evgeni Malkin and Sidney Crosby are healthy, regardless of how coach Bylsma lines them up, the three big centers represent a unique and formidable cast of characters who are difficult, if not impossible, to shut down entirely.
In the 2009 Stanley Cup finals, Staal was the best player on the ice as the series wound down. The Pens floundered when he was not at the top of his game against Montreal this past spring. Coincidence? Not when you consider how the Pens have started this season without the big man from Thunder Bay, Ontario.

5. Stars' start
Last season, we consistently hammered the
Dallas Stars
for their, well, lack of consistency. At no point during their 82 regular-season games did they win three straight times, which contributed mightily to the team missing the playoffs for the second straight season. This season, however, with veterans
Mike Modano
in Detroit and
Marty Turco
in Chicago and
Jere Lehtinen
in limbo, the Stars are off to a 2-0-0 start and could hit that magic "three in a row" mark Thursday, when they entertain Detroit for their home opener.
Now, the wins over New Jersey and the New York Islanders weren't necessarily pretty, but goalie Kari Lehtonen shook off a couple of soft goals against the Devils to help the Stars overcome some sloppy play and keep the ship pointed in the right direction.
September, 1, 2010
9/01/10
1:27
PM ET
You've got to feel badly for the Edmonton Oilers and their fans.
The once-known City of Champions is now the City of Discontent, or in the case of No. 1 netminder Nikolai Khabibulin, the City of Striped Garb.
Khabibulin was sentenced to 30 days in jail by an Arizona judge Tuesday after the goalie was caught with twice the legal limit of alcohol in his blood Feb. 8 and charged with extreme drunk driving, drunken driving and speeding. Khabibulin appealed the sentence (the minimum allowed under state law), further clouding his already murky future with the Oilers.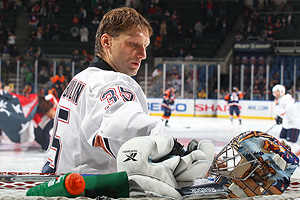 Mike Stobe/NHLI/Getty ImagesNikolai Khabibulin appealed his 30-day jail sentence, which was handed down Tuesday in Arizona.
The appeal is a bit of a curveball for the organization and reveals some significant short-sightedness on the part of Khabibulin and his legal team. He has already left his team in a mighty lurch and may have wanted to coordinate a plan that would have been most agreeable to all parties moving forward.
He didn't, and now the Oilers, already trying to peddle disgruntled defenseman Sheldon Souray and his whopper contract ($10.8 million owed for this season and next), try to start their rebuild without any real idea of when or if their starting netminder will be available to them.
Fair or not, the Khabibulin situation plays differently in Edmonton than in other cities. If Khabibulin was a New York Ranger or a Chicago Blackhawk (again) or a Los Angeles King, the spectacle of racing around the Phoenix area in his black Ferrari would be easier to deal with out of the spotlight. Not that those teams would ignore the issue; they wouldn't, just as the NHL isn't going to ignore this.
But there are certain sensibilities in a market like Edmonton, where the community is small and the role the team plays in that community is more pronounced and vital.
The Oilers aren't just a diversion to people in Edmonton; they are part of the fabric of the community, and ownership/management must take that into consideration moving forward. Again, fair or not, many see the values of the team needing to reflect the values of the community. (When minor league baseball manager Brent Bowers went on a mostly anti-gay rampage against openly gay umpire Billy Van Raaphorst in late July, he was suspended by the Golden Baseball League. The Oilers, who own the baseball team, invited Van Raaphorst to come and speak to a number of local groups, including Oilers management and staff.)
Khabibulin and his advisors should have been self-aware enough to know that. Or maybe Khabibulin doesn't care, in which case the Oilers might be further ahead to explore whether they have a case for trying to have his contract nullified based on the conviction. Oilers GM Steve Tambellini wouldn't address that option Tuesday when he met with local reporters to discuss the ruling, but there will be a segment of the hockey public in Edmonton and beyond that will suggest it's the appropriate course of action regardless.
Yet if we believe the Oilers will be judged by their actions on and off the ice, maybe showing support and forgiveness to Khabibulin is as powerful a tool as trying to run him off the farm. The Oilers must also consider that once you go down that road -- trying to erase the contract -- you can't come back. It's different than trying to trade a player (a la Tomas Kaberle) and having him stay with the team. That's business. Trying to squash a contract suggests something more permanent and personal.
Rest assured, the NHL and the Oilers will be working in concert to come up with a plan to discipline Khabibulin, outside whatever final punishment an Arizona judge metes out. Mark Bell received 15 games on top of jail time after he ploughed into the back of a parked vehicle in San Jose. We're guessing 10 games given the level of intoxication and the alleged speeds Khabibulin at which was reportedly driving.
Which brings us back to the Oilers. Do they try to sign Cup-winning netminder Antti Niemi, who was cast off earlier this summer by Chicago? That would give Edmonton two Cup winners in net (Khabibulin won it all with Tampa Bay in 2004). But it would also leave the Oilers with four netminders with one-way contracts with backups Devan Dubnyk and Jeff Deslauriers on the roster, which is two too many.
Making the playoffs is going to be a stretch for the youthful Oilers after finishing dead-last last season. But not having a true No. l goalie for any stretch of time will pretty much guarantee another trip to the draft lottery table.
No matter how you cut it, things will not get easier in the City of Puck Problems.