August, 26, 2014
Aug 26
11:47
AM ET
After a short postseason run that ended in stunning fashion, the
San Jose Sharks
have had an entire summer to live with the bitter disappointment of last spring.
Up three games to none against the
Los Angeles Kings
in the Western Conference quarterfinals, the Sharks surrendered their cushy series lead as the Kings came storming back and won four straight games to knock San Jose out of the 2014 playoffs.
The Kings, hated California rivals of the Sharks, went on to win the Stanley Cup championship, while the Sharks were forced to ponder some difficult decisions facing the future of their team.
Among the most polarizing was the decision last week to strip veteran center
Joe Thornton
of the captaincy, signaling both general manager Doug Wilson and coach Todd McLellan's desire for change with the team's leadership group.
[+] Enlarge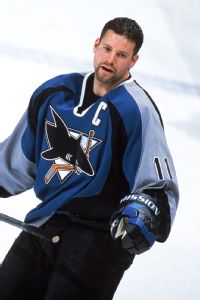 Doug Pensinger/Getty ImagesFormer Sharks captain Owen Nolan likes the restraint the team showed during the offseason.
But according to former Sharks star
Owen Nolan
, who also was once captain of the team, that won't change the way "Jumbo" conducts himself on or off the ice.
"It doesn't make him any less valuable," Nolan told ESPN.com in a recent telephone conversation. "He's going to continue to be a leader on the team, but they may move in a younger direction and get younger players to take on more responsibility."
That means that, along with Thornton and veteran
Patrick Marleau
(who no longer is the team's alternate captain), other players such as
Logan Couture
and
Joe Pavelski
have to assume a larger role in leading the team this season.
That may be a good thing for the Sharks, considering their string of disappointing playoff runs. Nolan remembers his playing days in Quebec and Colorado, when
Joe Sakic
was the team captain. Sometimes, he said the team was too dependent on Sakic.
"We had [Sakic] and there was a tendency to lean on the leaders to win games," said the 42-year-old Nolan, a four-time All-Star. "I think the organization is making time for the younger guys to step up their game."
With a talented group of centers that includes Thornton, Couture and Pavelski, the Sharks remain stacked down the middle, a tremendous asset for any NHL team. Nolan likes the fact that, despite the shock of last April's hasty exit, the Sharks did not tear down the entire roster in a knee-jerk reaction.
"I'm sure everyone is disappointed in the way they were put out of the playoffs, but I like the way they didn't panic," Nolan said. "This team, as a whole, is a good hockey team. They didn't panic. They didn't blow the whole thing up."
"I believe this is a solid hockey team that can win," Nolan said. "We'll see how they approach [last season's playoff loss]. Hopefully, they don't dwell on it, but feed off of not wanting that to happen."
Nolan thinks that will be an earnest point of emphasis once camp opens next month -– learning from mistakes of years past, avoiding the reputation of a team that can't deliver when it counts.
"You certainly don't want to be recognized as going out early," Nolan said. "You'll have that [sick] feeling in your stomach of not wanting to go out that way again."
Nolan, who played 1,200 NHL games in his 18-season career, has been skating occasionally with some of the Sharks during the summer, but he insists it is only to stay in good physical shape. He isn't contemplating coming back from retirement, though he admits that the transition has not been easy since he hung up the skates in 2012.
Though he has found other things he loves to do -– the avid outdoorsman hosts a fishing show that airs on Wild TV -– he still misses playing.
"I thought retirement would be a lot easier," Nolan said. "But it's in your blood. It's a tough game to let go."
February, 7, 2012
2/07/12
7:22
PM ET
Former Sharks captain
Owen Nolan
officially announced his retirement
Tuesday after playing 18 seasons in the NHL. Nolan retires ranked 71st on the NHL's career goals list, 33rd in power-play goals and 100th in points.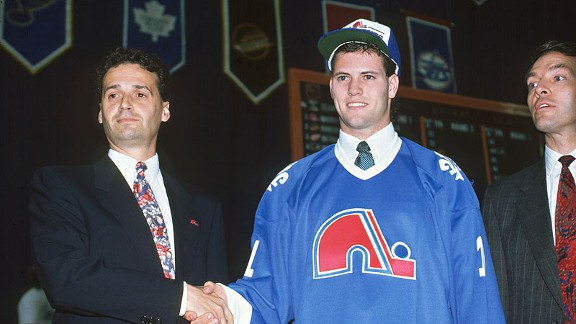 Getty ImagesNolan was the No. 1 pick in the 1990 NHL draft, a class that also included Keith Primeau, Mike Ricci, Jaromir Jagr, Derian Hatcher, Keith Tkachuk and Martin Brodeur.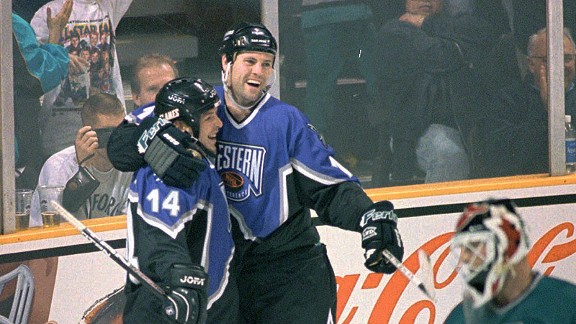 AP Photo/Paul SakumaA five-time NHL All-Star, Nolan's most memorable All-Star moment is when he called his shot against Dominik Hasek in 1997.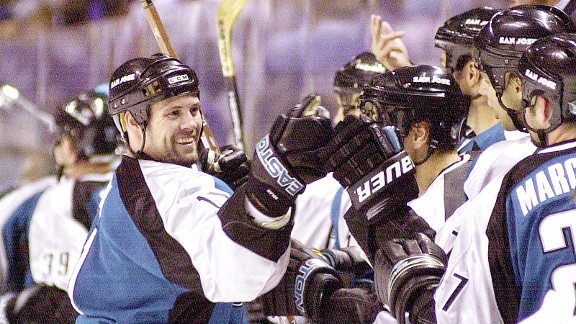 Elsa/Allsport/Getty ImagesNolan's best season came in 1999-2000 when he set career highs for goals (44) and points (84) and finished fifth in voting for the Hart trophy.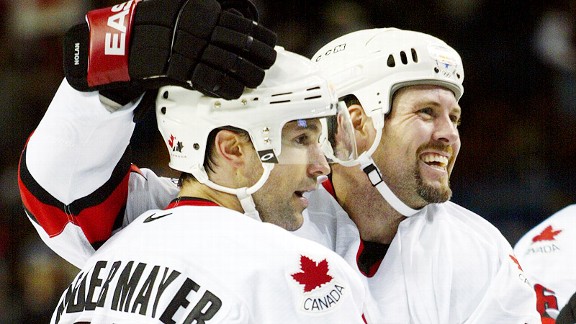 Robert Laberge/Getty ImagesBorn in Northern Ireland but raised in Ontario, Nolan won an Olympic gold medal with Team Canada in 2002.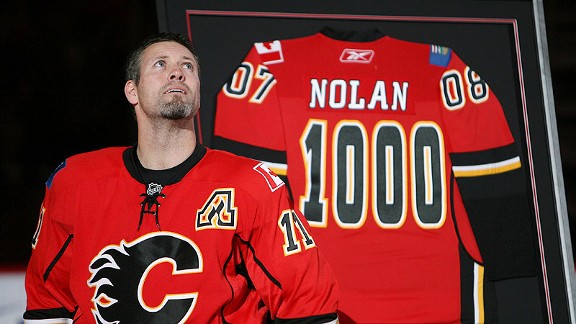 Dale MacMillan /Getty ImagesNolan finished his career with 422 goals and 885 points in exactly 1,200 games, but the Flames celebrated him in 2007 when he reached 1,000 games.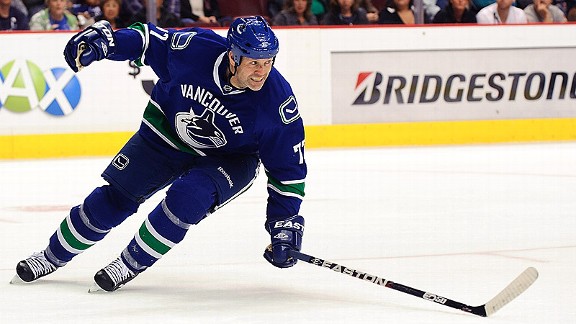 Anne-Marie Sorvin/US PresswireNolan tried out for the Canucks before the 2011-12 season, but was cut before the regular season.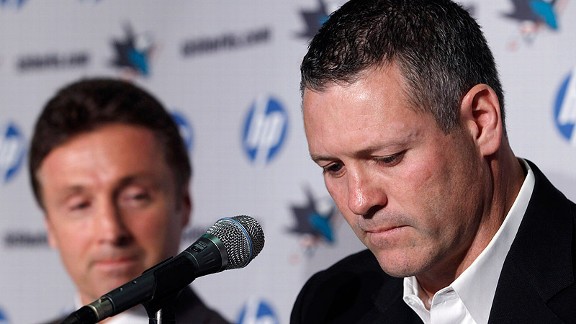 AP Photo/Paul Sakuma"I guess I've known this day was here for a while," Nolan said when announcing his retirement. "When your body won't do what your mind and heart are willing to do, it's time to move on."
August, 10, 2011
8/10/11
12:56
PM ET
Every year at this time, the air in NHL cities is full of shimmering dust mites.
The mites are called hope.
Those glittering specks of expectation shine for the likely and the unlikely all the same. They also shine for those players who hope for one last shot at glory or redemption or, heck, just another paycheck.
Here's a look at an eclectic group of "off the scrap heap" players hoping to make an impact this season or at the very least make an NHL roster:

As we first reported a couple of weeks back, Emery will get a tryout at the Blackhawks' training camp in September, but it's hard to imagine he won't be in a Hawks jersey when the season opens. The
Marty Turco
experiment didn't go so well last season for Chicago, and the Hawks need a viable Plan B to help support sophomore
Corey Crawford
, who was very good for Chicago last season as a rookie. Emery was instrumental in vaulting Anaheim into the playoffs in place of injured
Jonas Hiller
. There was no room for Emery in Anaheim for the coming season, though, so now he's taking his surgically repaired hip and his rehabilitated reputation to Chicago. Emery led Ottawa to its only Stanley Cup finals berth in 2007 and was 7-2 with a .926 save percentage down the stretch in Anaheim. Agent J.P. Barry told us recently Emery's in terrific shape and completely recovered from the hip issues that threatened to end his career. If the Blackhawks are hoping to bounce back to Cup-contender status after a disappointing post-Cup campaign, they'll need a solid backup for Crawford and there's every reason to believe Emery could be that guy.

We have to admit, we were a bit surprised no NHL team bit on Nolan last season when the veteran winger was coming off a 16-goal performance in the 2009-10 season and a 25-goal season in just 59 games for the low-scoring Wild in 2008-09. But here's the rub for the 39-year-old once-elite power forward: durability. Nolan has never played 80 games (or more) in any NHL regular season. Nolan told Jason Botchford of the Vancouver Province recently that playing in Switzerland last season actually helped him get fully healthy and rekindled his desire to not just play but win at the NHL level. He will try to catch on with an offensively deep Canucks team that won't have that much turnover from their run to the Stanley Cup finals. But if he can bang some bodies and show he's still got a nose for the net -- and oh yeah, stay out of the sick bay -- there's no reason Nolan shouldn't add some veteran sand to an already annoying Canucks forward contingent.

Here's another veteran hoping to work his way into the Canucks' lineup after being absent from an NHL roster last season. Tough as nails, the 32-year-old Fedoruk missed all of last year with a knee injury, and his ability to crash and bang on the rehabilitated appendage will speak volumes about his ability to stick with the Canucks. By the end of the finals, the Canucks were banged up and getting pushed around by the
Boston Bruins
. Fedoruk is the kind of player, if healthy, who could be a boon to the Canucks' third or fourth line, especially with the departure of former Canucks agitator
Raffi Torres
, who signed with Phoenix.

We still shake our heads at the dramatic descent for one of the nice guys in the NHL. The winner of the Rocket Richard Trophy with 56 goals in 2005-06, Cheechoo signed a two-way deal with the Blues in the hopes of rediscovering the goal-scoring touch that made him one of the feel-good stories in the league post-lockout. A native of remote Moose Factory, Ontario, Cheechoo scored just five times in 61 games for Ottawa in 2009-10, his last NHL experience. He did manage 18 goals for San Jose's AHL affiliate in Worcester last season and was inked to a two-way deal with the Blues this summer. It's a low-risk, high-reward kind of deal for GM Doug Armstrong. And frankly, it's difficult to see Cheechoo, 31, cracking the lineup out of camp -- barring significant injuries -- given the Blues' collection of talented young forwards and the additions of
Jason Arnott
and
Jamie Langenbrunner
in the offseason. What might be more likely is that Cheechoo plays well on the farm and finds himself as an injury replacement, especially if the Blues can stay in the playoff hunt.

One of the most interesting offseason acquisitions was the remade Flyers taking a flyer (ha, ha, get it?) on the five-time NHL scoring champ who looked almost certain to head to Pittsburgh or Detroit before making a U-turn and signing a one-year deal with Philadelphia. Expectations will be high for Jagr, who hasn't played an NHL game since the end of the 2008 playoffs, when he was a member of the
New York Rangers
. He is 39, but defenseman
Chris Pronger
noted in a conference call this week he thought Jagr could be counted on to chip in 50 to 60 points as the Flyers will be looking to replace significant offensive production with the departures of
Jeff Carter
, captain
Mike Richards
and
Ville Leino
. Jagr had 71 points in his final NHL season, but it will be a major coup for GM Paul Holmgren if Jagr gets to that level this season. The flip side will be if Jagr doesn't have enough left to make a regular contribution and becomes this year's
Nikolay Zherdev
, a player pulling in a full salary but unable to make an impact on the roster.

We spoke with the former Islanders captain a couple of weeks ago and his situation vis-a-vis a return to the NHL is no clearer today. In fact, the potential for a Yashin return may be even less likely now that the Islanders helped out their pals in New Jersey by acquiring
Brian Rolston
for
Trent Hunter
in a move that helped the Devils free enough cap space to sign
Zach Parise
to a one-year deal. Rolston is 38 and Yashin will turn 38 this fall. Is there room for two graying forwards on an Islanders roster that is (or should be) built on speed and youth? Yashin didn't seem all that worried one way or the other. He feels he can play at the NHL level and is not bothered by the fact the Islanders bought him out of his monster 10-year deal and continue to pay against the cap for him not to play on Long Island. He also isn't considering a return to any other NHL team. Like Jagr, Yashin's skills in his prime were undisputable. The question remains whether enough of those skills remain for the Isles to take a chance on him.

We chatted with Commodore moments after he signed a one-year deal with the Wings in early July, and excited didn't quite cover it for the big defenseman who was banished to the AHL last season by the
Columbus Blue Jackets
. Plagued by injury and expectation after signing a big four-year deal in 2008, Commodore will be asked to come into Detroit and provide good, tough-nosed defense for head coach Mike Babcock. Nothing more, nothing less. A Cup winner in Carolina and a member of a Calgary team that went to the Cup finals in 2004, Commodore should fit in nicely with a talented Detroit team that still has Cup designs in spite of the departure of guys like
Brian Rafalski
,
Chris Osgood
,
Kris Draper
,
Chris Chelios
and
Kirk Maltby
over the past couple of seasons.

Souray is another player who fell afoul of his former team -- in this case the
Edmonton Oilers
management -- and was exiled to the AHL. Their relationship was so fractured that the Oilers didn't even send Souray to their own AHL team but loaned him to Washington's farm team in Hershey. Souray once upon a time scored 26 goals, and he possesses one of the biggest shots in the game from the blue line. He will be asked to fill a veteran, mentor role in Dallas, where the Stars are getting younger while trying to stay competitive. Souray told us he is physically in great shape and highly motivated to prove that he's still got NHL game left. We're guessing he's right, and if he can stay healthy -- yes, it's a big "if" -- it wouldn't be surprising to see Souray approach the 20-goal mark again as he'll log lots of power-play time for the Stars.

Not even Nabokov knows how this is going to play out on Long Island as the longtime San Jose netminder has indicated he'll show up at the Isles' training camp. With
Rick DiPietro
under contract until the next century or so and
Al Montoya
under contract for the coming season following an impressive run as the team's starter down the stretch last season, it's hard to know exactly how Nabokov fits in. Nabokov was acquired on waivers last season after Detroit tried to sign the netminder following a failed experiment in the Kontinental Hockey League. Nabokov initially declined to report to the Islanders. He insisted it was all a misunderstanding and seems ready to be a good citizen for the long-suffering Islanders. Now, he will be hoping to get enough opportunities to play so he can drive up his trade value. Assuming that DiPietro stays healthy, always a question mark, there's always the possibility that Nabokov could end up sharing the workload with Montoya. Wouldn't that be more than a little ironic if Nabokov ends up helping the Isles to an unlikely playoff berth? The more likely scenario is that Nabokov goes the way of
Dwayne Roloson
, trying to stay sharp until GM
Garth Snow
can find a trading partner and ship the veteran netminder to a team with Cup aspirations.