Cross Checks:

P.A. Parenteau
September, 26, 2014
Sep 26
12:11
PM ET
MONTREAL --
Patrick Roy
didn't sound like he was trying to stir the pot, but rather he seemed to matter-of-factly be explaining why last summer's trade between his
Colorado Avalanche
and
Montreal Canadiens
might just work out nicely for both teams.
But within his self-analysis of the P.A. Parenteau-
Daniel Briere
trade Thursday morning, the Avalanche head coach and executive inadvertently (or not?) made a comment that wasn't overly well-received by Parenteau.
"You want players that are happy," Roy told a media scrum when asked about the trade. "I'm not saying P.A. wasn't happy with us. I'm saying that this year, I mean, it would have been tough for him to play on the top two lines. I think he would have been unhappy with us. I believe this trade will serve him very well because he can play on the top two lines with Montreal and play on the power play. He's a very good hockey player, and I'm sure the people in Montreal will love him."
Hours later in the Habs' dressing room following a 3-2 preseason OT win over the Avs, Parenteau was asked about the "top-two lines" comment from Roy.
"If you ask me, I think I would have had my place in the top six in Colorado, but he's the coach and he makes the decisions in Colorado," Parenteau said in French. "So it is what it is."
Then he turned the page. Because that's exactly what he's trying to do.
"Un mal pour un bien," Parenteau said, French for "a blessing in disguise."
[+] Enlarge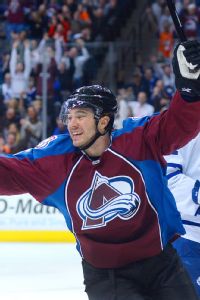 Karl Gehring/The Denver Post/Getty ImagesP.A. Parenteau is looking to light it up this season as a Hab.
It's worked out just fine for him, so for that, he's grateful.
He's playing for the team he grew up cheering for and has begun the preseason on the top line with
David Desharnais
and
Max Pacioretty
. Hence the smile on his face Thursday night.
"I've come home at 31, I'm playing with David and Patch, there's nothing much better than that. I'm very happy," said Parenteau.
He's hungry, motivated, determined to prove something this season.
"Yes, after a tough year with the injury and not getting as much ice time as I wanted, it's a season I want to forget," he said. "I'm just looking forward now. Things are looking up here."
Parenteau scored 32 goals in 103 games over two seasons in Colorado, so that's a 25-goal pace over 82 games.
He's getting a chance with the Habs to do just that -- score goals. It's a team that struggled at times last season to score at even strength, so the hope here is that Parenteau finds his stride wearing Habs colors.
"He's a natural goal scorer. I think it's worth a try for sure by Montreal," said an NHL scout from a rival team watching Thursday's game at the Bell Centre. "They need goals. He's got a great shot, a nose for the net. He's not very big and isn't very physical, and a bit of a liability defensively at times. But scoring goals is what he can do. Worth a look for them, for sure. I think he'll be a good fit for them."
Now the goal for Parenteau is to find his groove with his new linemates as soon as possible.
During an overtime play on Thursday night, Desharnais was down low and tried to feed Parenteau across the slot, except the pass went left while Parenteau went right. So the puck went sliding by.
"I went the other way, that's a question of chemistry," Parenteau said. "It's about getting used to each other. I'm not used to playing with a center who passes the puck as much as him. I have to learn to be more patient with him and stay in my spot more."
Pacioretty, whose chemistry last season with Desharnais propelled both to great years, welcomes the addition.
"He's a dual-threat option," Pacioretty said of the newcomer. "Everybody knows what me and David are up to when we're out there, but having P.A. being able to make plays and put the puck in the net makes our line way more dangerous."
The chemistry off the ice is already there. Turns out even though they had never played together before, Parenteau said he and Desharnais met at a golf tournament years ago and became buddies, spending time together each summer. So, to be teammates now for the first time, and linemates on top of it, is the icing on the cake.
"Honestly, I'm just so excited about this year," Parenteau said. "I'm feeling confident, and I think this is going to be a good fit."
A top-six forward fit, that is.
June, 30, 2014
Jun 30
3:22
PM ET
We admit we've had a soft spot for
P.A. Parenteau
for a number of years. We've enjoyed our infrequent chats with him and, more importantly, have admired his never-say-die attitude toward his career.
The 31-year-old native of Hull, Quebec, was drafted 264th overall in the 2001 draft by Anaheim and then traded to Chicago, for whom he played just five games. Then he went to the
New York Rangers
for 22 games before the
New York Islanders
signed him as a free agent.
Parenteau blossomed on Long Island into a solid, productive forward with 20-plus-goal potential. The Isles curiously eschewed a chance to keep him in the fold (how often has that been said of the misguided franchise?), and Parenteau signed a four-year deal with Colorado in summer 2012. But there were persistent rumors the Avs were looking to move him over the past year or so. And so it was that Monday afternoon, Parenteau returned to the Eastern Conference when Montreal acquired him and a fifth-round draft pick in next June's draft for veteran center
Daniel Briere
.
Parenteau has two years left on his deal with a $4 million cap hit, and he should get an opportunity to play top-six minutes and earn some power-play time for coach Michel Therrien as GM Marc Bergevin continues to massage the Habs' lineup. It's believed that, along with Briere's departure, captain
Brian Gionta
will not return. It's also a given that
Thomas Vanek
, acquired at the deadline, won't be back.
Briere, meanwhile, never quite fit in the way he'd hoped when he signed a two-year deal with the Canadiens last summer. The 36-year-old had just 13 goals for the Habs and found his role was significantly reduced by the end of the regular season and in the playoffs. But although he was playing down in the lineup, he showed once again why he is considered a top-money player when he chipped in three goals and seven assists in 16 postseason games as the Habs made a surprise appearance in the Eastern Conference finals.
Given the Avs' first-round collapse against Minnesota, where they failed to hold 2-0 and 3-2 series leads, the addition of Briere can be seen as part of the big-picture plan to make the Avs into a playoff force. The Avs possess tremendous potential with
Nathan MacKinnon
,
Gabriel Landeskog
,
Tyson Barrie
and
Ryan O'Reilly
-- all 23 or younger. But there is the issue of balancing that youthfulness with some veteran stability, and Briere, who was an important veteran presence with young players in Philadelphia before moving on to the Habs, should bring that element to the Avs' locker room.
One has to wonder whether the addition of a center is also an insurance policy for the Avs against the real possibility that center
Paul Stastny
will sign elsewhere as an unrestricted free agent.
July, 1, 2012
7/01/12
7:24
PM ET
You can argue all you want about whether
P.A. Parenteau
, he of the 49 assists and 67 points for the
New York Islanders
last season, is worth the $16 million the
Colorado Avalanche
spent Sunday to bring him into the fold for the next four years. What is indisputable, though, is that GM Greg Sherman refuses to stand still in his efforts to rebuild the Avs into a Cup contender.
Since the trade deadline in March, Sherman has added offensive juice in the form of
Jamie McGinn
, who had 13 points in 17 games after coming over from San Jose, and
Steve Downie
, who had 13 points in 20 games after being acquired from Tampa Bay and recently signed a two-year deal worth $5.3 million. Throw in newly signed
David Jones
(four-year, $16 million deal), Parenteau and center
Matt Duchene
, who played in only 58 games thanks to knee and ankle injuries and recently signed a two-year deal worth $7 million, and the Avs suddenly boast an impressive array of young, offensive talent.
In a late-afternoon conference call with a small group of reporters, Sherman said the changes the team has made dating back to the trade deadline have all been part of a plan to establish the team's offensive core not just for the immediate future but long-term.
"We feel like we have a real strong mix up front and certainly on the back end," Sherman said.
Along with Parenteau, the Avs added defensive center
John Mitchell
, who will ostensibly take the place of
Jay McClement
, who signed in Toronto, and veteran defender
Greg Zanon
.
Are the moves enough to get the Avs back into the playoffs after sitting out the past two years?
Last year, they finished 11th in the Western Conference, seven points out of eighth, and it's not a stretch to suggest the Parenteau experiment will be crucial to making up that shortfall next season.
The Avs' management team that includes
Eric Lacroix
, Brad Smith and newly elected Hall of Famer
Joe Sakic
believes that Parenteau represents not a flash in the pan, a player bursting out on a bad team, but rather a player just coming into his prime as a consistent point producer.
While there might be some skepticism about Parenteau's ability to replicate his 67-point season, it's worth pointing out he had a 20-goal, 53-point campaign in 2010-11. Parenteau's 67 points last season tied the point totals of
Pavel Datsyuk
,
Daniel Sedin
,
Jarome Iginla
and
Scott Hartnell
. Yes, he played more games than some of those players, but he also had more points than
Teemu Selanne
,
Patrick Kane
and
Brad Richards
, who played more games than Parenteau's 80.
"This was not in our mind a scenario where it was a one-off," Sherman said.
Parenteau, who played almost exclusively with
John Tavares
and
Matt Moulson
for the Isles, should provide more options for an Avs team that had the ninth-ranked power play but tied for 24th in goals per game.
The Avs have to be a better team 5-on-5 -- they were 23rd in that category -- and the Parenteau signing should help in that area. The GM is banking that Parenteau will find chemistry with one of Colorado's skilled centers: Duchene,
Paul Stastny
or
Ryan O'Reilly
.
"I think that was something that was certainly appealing to him," Sherman said. "He's a dynamic player with some skill."
June, 29, 2012
6/29/12
10:21
AM ET
I present four regular-season point totals: 69 points, 67 points, 59 points and 57 points.
Now four names, in no particular order:
Rick Nash
,
Zach Parise
,
Bobby Ryan
and
P.A. Parenteau
.
What might surprise the casual fan is which player generated which point total: Parise with 69 points this season, Parenteau with 67 points, Nash with 59 points and Ryan with 57 points.
OK, I get it. Point totals are only a partial measure of a player's ability. No question. And it's clear Parise and Nash stand above in overall talent, with Ryan just a level below.
But Parenteau is an underrated player, one that has flown under the radar because he plied his trade on Long Island. You might argue he boosted his point total only because he played with
John Tavares
and
Matt Moulson
. But you could also argue Parenteau's playmaking abilities helped Tavares and Moulson find the back of the net.
Finally, I get to my point. While you can see the reasoning in what the
Columbus Blue Jackets
are doing with Nash -- waiting until Parise signs, so that all those teams that struck out on him come scrambling to the Jackets with a re-energized offer for Nash -- it's not that simple.
It might happen with some teams, but not all.
As pointed out last weekend, Bobby Ryan is another option and one that carries a better contract. Anaheim should get plenty of traction on him once Parise signs.
But even with Ryan, you have to give up good assets to get him.
There sits Parenteau on Sunday as an unrestricted free agent, available without having to give up any assets. Judging from the conversations I've had with a few teams over the past week, I think he's a player that's going to generate more interest than most people believe.
Price next?
With
Jonathan Quick
,
Cory Schneider
and
Tuukka Rask
owners of new contracts, it stands to measure
Carey Price
should be the next goalie to get his turn.
That should indeed be the case, as
Montreal Canadiens
GM
Marc Bergevin
has put considerable time in to negotiations with Price's camp over the past month, and we should see a new deal for the Habs No. 1 in the near future.
Price, a restricted free agent as of Sunday, is coming off a two-year deal in which he earned an average of $2.75 million a year. He should at least double that in his new deal. I don't think you'll see a 10-year deal like Quick did in L.A., but somewhere from five-to-seven years is a possibility.
Rask and his agent Bill Zito, by the way, made a smart move in signing for only one year. Rask gets a chance to pump his value up by having a big year as a No. 1 goalie, which will put him in a better position to sign a better contract. Similarly, Bruins GM Peter Chiarelli played this well. He's got to know for sure whether Rask is No. 1 material before signing him to a long-term deal. Now he'll find out.
More rumblings
Pending UFA winger Ryan Smyth remains without a new contract as Sunday approaches. A source told ESPN.com that the Edmonton Oilers were slated to talk again with Smyth's camp Friday.
Two pending UFAs whose rights could still be dealt before Sunday: Alexander Semin and Jason Garrison.
As of this past Tuesday, teams were allowed to approach pending RFAs and talk to them about offer sheets. You always wonder whether a team would dare with Shea Weber. But a source close to Weber told ESPN.com Thursday night that nothing of that nature was going on at this point. The Predators, besides, would almost surely match any offer sheet.
February, 9, 2012
2/09/12
2:44
PM ET
1. Parenteau's future with Islanders
One of the great off-the-radar stories this season has to be the blossoming of New York Islanders forward
P.A. Parenteau
into one of the game's premier setup men. He was drafted in the ninth round of the 2001 entry draft by the Anaheim Mighty Ducks; since then, the "Mighty" has been excised from that franchise's name and the ninth round of the draft no longer exists.
Though the Ducks gave up on Parenteau, as did the
Chicago Blackhawks
and the
New York Rangers
, Parenteau never lost the faith. In fact, he surmised that his strong play while marooned in the American Hockey League by the Rangers might have actually been the catalyst to what has been a breakout season for him with the Islanders.
Signed by the
New York Islanders
as a free agent in July 2010, Parenteau didn't get a chance to play top six minutes or get much of a sniff on the power play until coach Jack Capuano took over for Scott Gordon early in the 2010-11 season. Capuano had been the head coach of the Isles' AHL affiliate in Bridgeport, Conn., and Parenteau admitted he'd always managed to light it up against them while toiling for the Hartford Wolf Pack.
"I think [Capuano] knew what I could do. There was a pretty good rivalry there," Parenteau told ESPN.com this week.
After collecting 20 goals and 53 points a season ago, Parenteau has become almost a point-a-game guy this season with 11 goals and 47 points in 52 games. His 36 assists are fifth in the league.
An amiable sort, Parenteau said he never doubted his ability to contribute at this level, even though his path has been dotted by more than a few road blocks.
"It's been a long road," he said. "But I'm a pretty confident guy."
Obviously getting a chance to play with guys such as
John Tavares
, also a good friend of Parenteau's, and
Matt Moulson
hasn't hurt.
"When I make a nice play around here, it doesn't get wasted," Parenteau said.
Now here's where it gets interesting for the Isles, who this week signed forward
Frans Nielsen
to a four-year contract extension worth $11 million. Nielsen has 25 points, or roughly half those collected by Parenteau, who is slated to become an unrestricted free agent July 1. Sources familiar with the negotiations say that the team has yet to begin discussions about extending Parenteau, but with the Islanders crawling back into the edge of the playoff discussion in the Eastern Conference (they are in 11th place in the conference, nine points back of eighth-place Ottawa with four games in hand), it's hard to imagine GM
Garth Snow
won't make getting Parenteau under contract a top priority. Similarly, it's hard to imagine Snow letting Parenteau walk away for nothing on July 1.
For the record, Parenteau likes it on Long Island and, all things being equal, would prefer to stay.
"I really like where this team is going now," he said.
2. Jackets deal with Prospal
The
Columbus Blue Jackets
, already trying desperately to rid themselves of the giant mistake that is
Jeff Carter
, curiously opted to re-sign veteran forward
Vinny Prospal
to a one-year deal, apparently promising to give Prospal a job with the organization when he retires. Prospal will turn 37 years old next week, and one wonders if he can coach or learn to be a GM in short order, given those seem to be the team's most pressing needs.
Whether Prospal is a galvanizing force in the dressing room -- that's the logic being floated by management for the extension -- one wonders where that leadership has been this season as the Blue Jackets have been an embarrassment from day one. Beyond that, how does it make any sense to commit $2.5 million of cap space to a forward whose production will likely max out at 20 goals (he has nine this season through 53 games)? Prospal would have drawn some interest on the trade market, given the dearth of forwards with playoff experience who are likely to be available by Feb. 27 (he has 65 postseason games to his credit with 35 points collected). So why the hurry to sign a guy who apparently likes it in Columbus? Why not try to gather an asset or two (goodness knows the talent-challenged Blue Jackets can use all the help they can get even if it was a third or fourth-round pick) and then re-sign Prospal in the offseason? In the end, we wonder what the new GM in Columbus will think of this deal, and we're guessing not much.
3. Flames plan for postseason
When Calgary GM Jay Feaster acquired
Mike Cammalleri
last month for
Rene Bourque
, there were a number of arched eyebrows as the Flames added salary at a time when many observers were waiting for the team to wave the white flag and start trying to unload expensive pieces of machinery. But Feaster has remained steadfast in his belief that the Flames are a playoff team, and it was important to him to add a piece he thought could help the team as early in the process as he could.
Cammalleri's addition illustrates the often ignored truth of deadline deals, that no matter how good the player is there is a period of adjustment to a new team, new system and new teammates. Since arriving, Cammalleri has produced just two goals and an assist in nine games. That's the reality. By adding Cammalleri early on, though, as well as center
Blair Jones
-- who the team had coveted for a number of years -- Feaster said he is hoping that those players will be fully integrated into the Flames' program if they make it to the playoffs, and thus more effective when it counts.
It was the same philosophy the former Tampa GM used when he made his lone roster move during the 2003-04 season, adding veteran defenseman
Darryl Sydor
on Jan. 27, 2004. It took Sydor time to blend in with the up-tempo Lightning -- we recall former assistant coach Craig Ramsay talking about Sydor's painful learning curve when it came to head coach John Tortorella's demanding practices -- but it turned out to be an important piece to what would become a Stanley Cup puzzle in Tampa.
"He became the veteran voice on the blue line that we didn't have," Feaster said.
The current edition of the Flames isn't to be confused with the 2004 Lightning, and Feaster knows that. The Flames aren't particularly deep and are missing
Curtis Glencross
(due back in early March) and
Lee Stempniak
(out much longer), which has exacerbated the team's scoring woes. But
Miikka Kiprusoff
is having a terrific run, and his 300th career win on Wednesday put the Flames just a point out of eighth place when they woke up on Thursday.
4. Playoff landscape
The crowded NHL playoff landscape is difficult enough to handicap on its own, but throw in uncertainty over injury issues and it makes it doubly hard to read the tea leaves, especially with the trade deadline a little over two weeks away. The
Pittsburgh Penguins
, battling with Philadelphia and New Jersey for fourth place in the Eastern Conference, hope to have center
Jordan Staal
back any moment. The Pens and Flyers are both dealing with the long-term absence of their captains
Sidney Crosby
and
Chris Pronger
, respectively, although Crosby continues to skate and presumably is closer to returning. But the Flyers got a nice boost with the return of Daniel Briere to the lineup this week.
St. Louis has been patiently waiting for the return of top six forwards Alex Steen and
Andy McDonald
, both of whom are suffering from concussions. It seems that McDonald has overtaken Steen in terms of game-readiness, although GM Doug Armstrong declined to identify potential return dates; "too much uncertainty," he wrote Thursday. Still, the return of either or both could be enough to keep the Blues in the hunt for a home-ice advantage in the first round of the playoffs or to close the gap on Detroit and the top spot in the conference. The Blues trail the Wings by five points and have two games in hand.
The injury situation is more critical for bubble teams, and you have to wonder whether the absence of Dallas captain
Brenden Morrow
from games against Columbus and Buffalo as he continues to battle back and neck pains might be enough to keep the Stars out of the postseason. Dallas had fallen to 12th in the conference as of Thursday morning but was just two points out of eighth. Morrow's injuries will also quiet any potential trade talks involving the gritty veteran.
The inverse is true in Buffalo, where the Sabres are finally healthy, especially along the blue line, and are coming off an emphatic 6-0 pounding of Boston Wednesday night. And the
Minnesota Wild
, clinging to the eighth and final playoff spot in the Western Conference, announced Thursday that captain
Mikko Koivu
would return to action after missing eight games to injury. His presence on the ice and in the dressing room could represent the tipping point to keeping the Wild in the playoff bracket.

5. Anyone need a veteran goalie?
Had a brief exchange of texts with veteran netminder
Marty Turco
, who is trying to stay sharp playing with Salzburg in the Austrian elite league. Playoffs start next week and Turco said he's enjoying the experience, but he has always had his eye on returning to the NHL. Turco played for Canada at the Spengler Cup in December as well as in a tournament called the European Trophy, in which he played well. We are told a number of NHL teams are keeping an eye on Turco's progress. He has a clause in his contract that would allow him to return to the NHL should he sign with an NHL team by the Feb. 27 trade deadline. The Detroit Red Wings' goaltending situation remains somewhat fluid with
Jimmy Howard
nursing a broken finger, although
Joey MacDonald
has filled in capably in Howard's absence. Still, a veteran presence heading into the playoffs wouldn't be a bad thing for the Western Conference-leading Red Wings.