November, 17, 2014
11/17/14
8:38
PM ET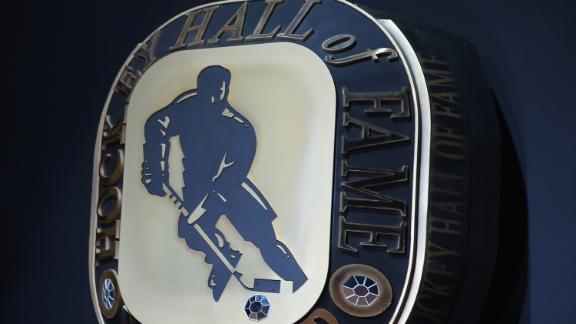 TORONTO --
Nicklas Lidstrom
will obviously be an automatic selection next year among the first-year players eligible for induction to the Hockey Hall of Fame, but he could be joined by another all-world defenseman depending on the outcome of a meeting Tuesday.
A source told ESPN.com that when the Hockey Hall of Fame's board of directors meets Tuesday, among the matters at hand will be clearing up the ambiguity in the current three-year, post-playing waiting period bylaw for players to gain Hall of Fame induction.
Chris Pronger
hasn't played since the 2011-12 season but still gets paid by the
Philadelphia Flyers
, which leaves his eligibility in a gray area. Since he hasn't officially retired, should he be eligible or not? After all, he hasn't played in three years and has no plans to do so.
If the HHOF's board of directors votes in favor of the new language for the bylaw, the source told ESPN.com that Pronger would be eligible for induction next year.
Whether or not the selection committee would vote him into the Hall in his first year of eligibility is another matter, but I can't imagine Pronger wouldn't be seen as first-ballot material.
Burns finally inducted
New Jersey Devils
general manager Lou Lamoriello walked into the Hockey Hall of Fame before the induction ceremony on Monday evening and said he got "chills" just thinking about what Pat Burns would be feeling if he were still alive to see his place finally among the Hockey Hall of Fame inductees.
The wife of the late coach, Line Gignac Burns, as well as Pat's son, Jason, delivered the induction acceptance speech Monday night.
Jason brought up the fact that while many people were angry his dad wasn't elected four years ago when first nominated, the former coach was not.
[+] Enlarge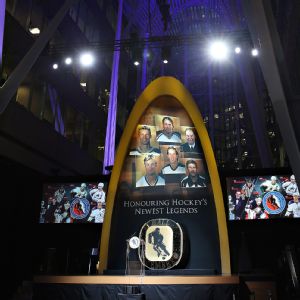 Bruce Bennett/Getty ImagesRob Blake, Pat Burns, Peter Forsberg, Dominik Hasek and Mike Modano were inducted into the Hockey Hall of Fame on Monday.
"A lot of people were outraged, but not him," Jason said during his speech.
Burns knew the day would come when he'd get elected into the Hockey Hall of Fame, even if it would happen after he passed. He was at peace with that.
Hoping for Gordie
With hockey icon Gordie Howe battling for his life, the great No. 9 was at the forefront of everyone's thoughts Monday at the Hall of Fame.
"I'm like everybody else, I'm sad by it," Jim Devellano, senior vice president of the
Detroit Red Wings
, told ESPN.com. "I remember him as a player, later I got him to know as a person when I joined the Red Wings front office. It's just a tough time for everybody. The Red Wings organization has its fingers crossed, he's in our prayers."
AHL three-on-three OT
The NHL's 30 GMs meet Tuesday here in Toronto and it's expected among the many agenda items will be an update on how three-on-three overtime in the AHL is working so far this season. The NHL is keeping a close eye on it.
"I've only been to a couple of AHL games this year and none of them went to overtime, but I would vote for anything that reduces the number of shootouts," Brian Burke, the president of hockey operations for the
Calgary Flames
, said Monday night at the Hockey Hall.
"They could go to two-on-two, they could go to one-on-one as far as I'm concerned," added Burke. "I know [Flames GM] Brad [Treliving] feels the same way. So Calgary's vote I think would be in favor of a change like this."
Expanded video review, the dry scrape before overtime, as well as Stephane Quintal's first presentation to GMs since officially taking over the chief discipline job, will also be among the many agenda items Tuesday.
Poile's eye injury
David Poile's long road back from the awful eye injury he suffered last season when he took an errant puck to the face doesn't have a great ending.
The
Nashville Predators
GM said Monday that after a number of operations over the past year, it's been determined that he won't ever get any vision back in that right eye.
"Yes it's done," Poile said. "I'm not down on it, it was a freaky accident and it was nobody's fault. It just happened. I was certainly hoping that I wouldn't lose sight in the eye and there was some hope originally ... and I got a second opinion and did everything I could and so did doctors.
"But it's not like there's nothing I'm not doing. I'm fine."
Babcock's future
One storyline that won't go away is the future of head coach Mike Babcock. Will he re-sign with the Red Wings or not?
Jim Devellano, senior vice president of the Red Wings, says GM Ken Holland will do his best to bring Babcock back.
"We respect Mike as a coach, we respect the job that he has done over the past decade, he took over a Stanley Cup-type team, we're not that team anymore," said Devellano. "We're a team that has to work hard with a lot of young players to try to make the playoffs. He's done a superb job the last few years with no [Nick] Lidstrom, no
Tomas Holmstrom
, a ton of injuries, and he's guided us in the playoffs. We're appreciative of that. We also understand his stature in the game. All I can tell you [is] Kenny is working hard between now and the end of the year to keep him on board."
Forsberg's fan club
Former Avs teammate
Joe Sakic
said he marveled at what
Peter Forsberg
could do on the ice, pointing to the combination of his physical prowess and offensive genius.
"Honestly I was a fan just watching him play," Sakic said. "He was such a special player."
McCreary and Forsberg
Bill McCreary, inducted into the Hall Monday night in the referee/linesman category, was asked by ESPN.com which of the four inducted players from this year's class was the hardest to officiate during his time.
"The one that was probably the most difficult to officiate, not because he was a bad person, was Peter Forsberg," said McCreary. "He was just so strong, so intense, as an offensive person going into the corners first all the time and throwing that reverse bodycheck, and getting the puck, it was always a real tough judgment. Peter made it hard on you to officiate but he was always a great guy."
That reverse bodycheck by Forsberg, when he was holding the puck and opposing players came at him only to get decked upon their arrival, was certainly the Swede's trademark physical play.
McCreary now works with the NHL's head office as an officiating manager, helping the current referees around the league.
"I'm really enjoying it," he said. "I try to leave the guys with some positive reinforcement. We all make mistakes, we're humans. I always tell them, 'You'll never officiate a perfect game, that just doesn't happen in our career. However you strive to be as consistent as you can be.' I always feel that if we can keep them on a positive frame going from one game to another, it helps them in their own mind to be consistent. I enjoy my role and I hope I can do it for a long time."
Media inductions
Kevin Allen of USA Today and Pat Foley, the voice of the
Chicago Blackhawks
, were this year's Hall inductees in the media wing.
Both got their HHOF jackets at a luncheon earlier Monday. Foley -- winner of the Foster Hewitt Award -- began his speech in surprising fashion by using the opportunity to implore the HHOF's selection committee to consider former Blackhawks
Steve Larmer
and Doug Wilson for induction. Both former stars have long been passed over by the selection committee, and Foley is right, both former players had Hall of Fame playing careers.
Allen was a terrific choice for the Elmer Ferguson Award, which annually goes to the hockey writer honored by the HHOF. His work over 29 years covering hockey has helped the sport gain a stronger foothold in the U.S.
June, 23, 2014
6/23/14
4:15
PM ET
Inducted into the Hockey Hall of Fame as the class of 2014 will be coach Pat Burns, Dominik Hasek, Peter Forsberg, Mike Modano, Rob Blake and referee Bill McCreary. What a class! Here's a selection of some of the responses from the Twitterverse.
ICYMI: 2014 #HHOF inductees are: Hasek, P. Forsberg, Modano, R. Blake, P. Burns, B. McCreary. http://t.co/msyCLfMDoA pic.twitter.com/ZjQhMHZkLy

— NHL (@NHL) June 23, 2014
Lynn Burns: "I know that Pat would've been so happy, so grateful, so proud to accept this honour..."

— Stephen Whyno (@SWhyno) June 23, 2014
Lynn Burns (2): "... It's a very emotional day for the Burns family, I can tell you that."

— Stephen Whyno (@SWhyno) June 23, 2014
Like most everyone, feel Pat Burns HHOF selection today was long overdue. But still nice to see it happen. Bill McCreary well deserved, too

— Pierre LeBrun (@Real_ESPNLeBrun) June 23, 2014
Hasek on trade to #Sabres: "Probably the best thing that could happen to me because in Buffalo I got a chance to play & prove I could play."

— Buffalo Sabres (@BuffaloSabres) June 23, 2014
Congrats to all the HHOF inductees. As an American, love seeing Mike Modano get in on first try. Huge impact on the game in the States.

— Craig Custance (@CraigCustance) June 23, 2014
Hall of Fame inductee Bill McCreary recalls D. Hasek's one question at '98 Olympics before shootout vs. Canada; is Gretzky shooting?

— Scott Burnside (@ESPN_Burnside) June 23, 2014
Rob Blake, #LAKings Assistant GM, will be inducted into the Hockey Hall of Fame. HHOF: http://t.co/TiVp1fGvfb pic.twitter.com/hTo4DNrSs0

— LA Kings (@LAKings) June 23, 2014
Don't think anyone is going to argue with Blake, Forsberg, Hasek and Modano. A royal class. But disappointed a female player not put in. ...

— Pierre LeBrun (@Real_ESPNLeBrun) June 23, 2014
Plenty of ground to make up for in women's player category and don't see why someone doesn't go in every year. Just my view.

— Pierre LeBrun (@Real_ESPNLeBrun) June 23, 2014
HHOF'er Rob Blake: "When you receive that call you're speechless because you're kind of replaying everything throughout your career."

— Stephen Whyno (@SWhyno) June 23, 2014
Thank you to the @HockeyHallFame @DallasStars @DetroitRedWings @PARaidersHockey what a humbling honor. Words don't do it justice.

— Mike Modano (@9modano) June 23, 2014
Congratulations to former #Sens goalie Dominik Hasek on his induction into the Hockey Hall of Fame! pic.twitter.com/c8l5jFddpa

— Ottawa Senators (@Senators) June 23, 2014
On the day he was elected to the NHL Hall of Fame, @9modano was at funeral for Richard Durrett. Pretty much says it all about both of them

— Ed Werder (@Edwerderespn) June 23, 2014
Hasek won 6 Vezina's, 2 Hart's as a member of the #Sabres. MORE PHOTOS: http://t.co/KFgKg4l3bE #TheDominator pic.twitter.com/RmJffeX09V

— Buffalo Sabres (@BuffaloSabres) June 23, 2014
Just spoke to #NJDevils GM Lou Lamoriello, whose told me last year he got "chills" at idea of Pat Burns making HHOF. Same now that it's real

— Stephen Whyno (@SWhyno) June 23, 2014
Pat Burns to be inducted into the Hockey Hall of Fame. A well-deserved honour for a great coach. #GHG

— Geoff Molson (@GMolsonCHC) June 23, 2014
What a Hall of Fame class: Hasek, Forsberg, Modano, Blake, plus Pat Burns and the great ref Bill McCreary. Wow. That's covering all bases.

— Kevin Allen (@ByKevinAllen) June 23, 2014
Tremendous honor for former #Avs defenseman Rob #Blake, too. #HHOF pic.twitter.com/KreXUfHVTg

— Colorado Avalanche (@Avalanche) June 23, 2014
Happy and sad that Pat Burns is going to the Hall of Fame. Happy because it's well deserved, sad because he was not alive to see it.

— Don La Greca (@DonLagreca) June 23, 2014
Hasek on @HockeyHallFame induction: "What a great honor for me to be inducted and what can I say? ... I am very thankful." #TheDominator

— Buffalo Sabres (@BuffaloSabres) June 23, 2014
Modano on Hall election: "What an amazing phone call to get. Just speechless, at a loss for words at what this has really meant for me."

— Chris Miller (@Cmillstrib) June 23, 2014
November, 15, 2011
11/15/11
1:14
PM ET
Well, well, fans in Boston and Buffalo are riled up this week after
Milan Lucic
collided with (or was it drilled?)
Ryan Miller
. Let's a take a look:
lumpy1981: I'm sick of everyone calling Lucic's hit dirty. Especially those people talking about him deliberately going after Miller's head. Lucic didn't avoid any contact, that was a 2-minute penalty. He took a penalty to make sure Miller or any goalie would think twice about leaving his net next time. The rule is stupid. If a goalie leaves his crease like that, he should be fair game. If you want to prevent hits on goalies, make it illegal for goalies to leave their crease or some designated area.

Kaleta3600: When will the NHL finally crack down on the dirty, gutless Milan Lucic?! Shanahan dishes out suspensions at every single hit and then somehow he gives Lucic a hall pass. Lucic had every intent of hitting Miller on that play, whether he meant to concuss him or not will never be known, but by watching the play unfold it was obvious he was aiming straight for Miller. And isn't hitting a goalie illegal? Oh believe me, Lucic knew very well. With a case like this and with a guy like Lucic, who isn't exactly revered around the league for his sportsmanship, I will never understand how and why Brendan Shanahan let that slide.
My take:
From the NHL rulebook, Rule 42.1: "A goalkeeper is not 'fair game' just because he is outside the goal crease area. The appropriate penalty should be assessed in every case where an opposing player makes unnecessary contact with a goalkeeper. However, incidental contact, at the discretion of the Referee, will be permitted when the goalkeeper is in the act of playing the puck outside his goal crease provided the attacking player has made a reasonable effort to avoid such contact.''
So first of all, Lucic did get a two-minute penalty on the play; you can't forget that. Second of all, the debate then is whether you feel this was incidental contact. The part I didn't like was Lucic's arms being pushed/stretched out on the play. But otherwise, it's a race to the puck, which is incidental. In my book, it would have been worth a fine. But nothing more.
---
SumNoob: What is wrong with Iginla? has the teams worst plus/minus. seems to look lost half the time and isn't accomplishing much right now. I know he is a slow starter but i don't remember him looking this bad. Also do you think he is going to finish his career in Calgary?

My take:
The whispers out of Calgary are that the captain and the head coach may not be on the same page. Keep an eye on this one.
Jarome Iginla
has a no-trade clause and has never wanted to leave Calgary. But I wonder if this isn't finally the year he says, "Enough is enough.'' We'll see.
---
webelieve11: The Hockey Hall of Fame inducted four great, passionate and dedicated players. They were just missing a great, passionate and dedicated coach to join them. I still can't believe that Pat Burns has yet to be inducted. And it's an absolute disgrace that they didn't get him in before he passed. When will they correct this terrible mistake, Pierre?
My take:
Well said, my friend. It's a terrible mistake that Burns hasn't yet been included in the Hall. It should have been done two years ago, when he was still alive and could have enjoyed that moment. The reason he's Hall-worthy is because he's won three Jack Adams Awards with three different teams, plus a Stanley Cup. Hopefully, the 18-member selection committee gets it right next June. I'm not surprised they didn't put him in this year because it would have looked like they were reacting to the public outrage from the year before. But surely it's time to get it right. As
Doug Gilmour
said Monday night at the end of his speech, "We believe he'll be here one day.''
---
nizkizzle: When will the league realign the conferences? Too many West Coast teams are being punished, and frankly are being physically prevented from healing due to long travel miles. San Jose, Edmonton, Vancouver and Phoenix each have over 50k travel miles and Anaheim and Calgary have just under 50k. Meanwhile Islanders, Rangers, Devils, Penguins, and Flyers all have under 30k travel miles. I understand that East Coast teams are located close to one another, but I can't help but feel East Coast teams get the better deal when it comes to Coast to Coast travel. They say the healthy team in the playoffs wins, well looking at the Cup winners previous 10 years, only 2 teams, Avalanche, Ducks, are East of the Mississippi River. You can't tell me that 20k less travel per year, or even 10k would help keep players healthier, and more fresh in the course of the year. Now I also get that these guys aren't flying coach, or staying in Motel 6's, but swelling and headaches don't get better while at 30k feet in the air…
My take:
Niz, the NHL's Board of Governors will vote on realignment Dec. 5-6 in Pebble Beach, Calif. And yes, the Western teams are the ones more aggressively pushing for radical change while the Eastern teams are more content with something close to the status quo, other than realizing Winnipeg has to move. The four-conference proposal seems to be gaining traction, however. The debating and lobbying will continue for another few weeks before Pebble. The GMs had their say in Toronto on Tuesday, the league looking for their feedback, but it's a governor issue in the end.
---
m_works: Guys, can you do something about the bipolar weekly rankings? I can't be the only person frustrated watching teams soar or plummet 10 or 12 spots based on how they played over the past 2 or 3 games. Maybe an average between both your rankings?
My take:
What can I say? Burnside and I don't agree on anything!
---
jaykk1: How is Tyler Seguin not on the All-Star ballot? He could be leading the league in goals and points very shortly (currently 2nd and 3rd respectively). I guess when you include Doug Hamilton and Jared Knight, the Bruins made out quite well in that trade.
My take:
Zzzzzzzzzzzzzzzzz ... Oh sorry, All-Star Game? Fell asleep there for a moment. As many of you know, my care level on the All-Star Game is below zero. I can't get riled up about it. Sorry, folks. But yes, obviously Seguin should have been on the ballot.
---
beerleaguer726: I am REALLY sick of the ban the 1-3-1 talk. It would be a disgrace to do so. The league would be laughably in the wrong if they were to dictate what systems/style a team can play. My opinion: Laviolette got outcoached! Plain and simple. You're an NHL coach, and you can't come up with a scheme to beat it. Quit whining and earn your paycheck! Get creative (something lacking in Philly outside of Giroux and Jagr). You as 10th year NHL coach are basically conceding to the fact that a second year coach outfoxed you. Boucher put the time in and implemented a system that could straight up frustrate the Flyers. For Laviolette not to put the same effort into the game is embarrassing. Embarrassing that he wasted the fan's time "bringing light" to a dead-puck era system instead of doing his job. I'll take a page from Shanahan on this one; This onus is on the coach to design a winning game plan, NOT the league.
My take:
The GMs talked about the trap here in Toronto on Tuesday, but in the end you cannot legislate against it. This is an age-old issue. The league even formed a blue-ribbon committee under Brian Burke in the 1990s to tackle the trap. But nothing really came of it. Flyers GM Paul Holmgren himself told us Monday night at the Hockey Hall of Fame that he believed last Thursday night's controversy was an "isolated incident.''
---
anfarnzk: am i the only sabres season ticketholder who thinks the sabres won't make the playoffs? they play like garbage and i think they are a joke. their soft and play horrible defense every single game. the only reason we have won at all is enroth getting lucky in like 4 games and playing horrible teams. with such an easy starting schedule, the sabres have legit sucked and I'm happy miller is hurt hopefully he still has some value in a trade because he has to go asap, and yes, the defense has given up many of these goals, but at least make one save on any of them he just quits! he goes after first shot halfheartedly and then lays on the ice. its pathetic look for my seats on ebay!
My take:
I promise to eat 50 chicken wings in one sitting if the Sabres miss the playoffs. I'm that confident. Patience, young man !
November, 22, 2010
11/22/10
11:42
AM ET
1. Handling Campbell situation
At this stage there are no plans for the league's owners and other big brains to discuss the Colin Campbell fiasco and/or the broader issue of how the league handles supplemental discipline at the Board of Governors' meeting two weeks hence in Florida.
The league's position on this is simple, there are no plans to discuss either topic because neither is an issue.
OK then, off to the first tee.
But surely among the 30 owners there is at least one who, having watched all of the discussion surrounding the embarrassing revelation that Campbell made snide if not wholly inappropriate comments to the former head of officiating about, among other things, his son NHLer Gregory Campbell, Marc Savard and the incompetence of some on-ice officials, might raise his hand and say, uh, wait a minute.
Surely at least one owner is wondering if Campbell is the right man to continue in the job. Surely at least one owner is wondering if some discussion of the entire process might actually benefit the game.
Anyone remember the old television series (and before that hit movie) "M.A.S.H."? One of the ongoing bits in that popular series was Col. Henry Blake blithely signing any number of documents Cpl. Radar O'Reilly placed in front of him, a human rubber stamp. The NHL's governors are viewed in much the same way. They receive information, recommendations and the like from the GMs and the competition committee and, generally speaking, nod their heads as one without so much as a single note of opposition.
In this situation, given that the integrity of one of the league's top executives has been brought fairly or not into the spotlight, it would be refreshing to see at least one of the 30 have the temerity to raise his hand and offer up some level of concern. Heck, maybe even ask for some sort of review of the entire process. Even if the league continues to insist the issue doesn't exist.

2. Semin changing perception
Regardless of just how many goals he scores and how many points he puts up, there has always been a temptation to be dismissive of
Washington Capitals
winger
Alexander Semin
. In general he was considered a strictly one-dimensional player that, while wildly gifted, couldn't be counted on in the crunch.
Quietly, that notion is changing, at least internally, as head coach Bruce Boudreau turns to Semin more and more in key situations, including using him more frequently on the penalty kill even as he continues to pile up the points.
"It was a work in progress last year," Boudreau said this week. Sometimes Semin would cheat while killing penalties, worried more about creating a scoring chance.
"Now he's a lot better at it," said Boudreau, who recalled that GM George McPhee watched Semin in a more complete role for Russia at the World Championships two years ago and that sparked the idea that he could take on a bigger role with the Caps.
Boudreau and regular linemate Brooks Laich both pointed to a maturity in Semin's game.
"I think he's become consistent which is the opposite of streaky I guess," Boudreau said.
Laich thinks Semin's game can be marked by what he's not doing and not necessarily by what he is doing.
"I think he's limited his faults," Laich told ESPN.com, like cutting down on bad penalties and turnovers and knowing when to make the simple play.
How good is Semin, who began the week tied for second in the league in goals (14) and tied for third in points (26)?
The temptation is to suggest the sky is the limit. Two years ago today, for instance, Semin had 13 goals, 14 assists and was second in the league in scoring behind Evgeni Malkin, but injuries cost him 20 games and he still finished with 79 points in 62 games.
Laich, for one, thinks the 26-year-old deserves to be considered among the best in the league.
Laich rhymes off the names of captain Alex Ovechkin, center Nicklas Backstrom and Semin and said, "I would put those three guys up against anybody."
"They have to be top five in the NHL," he said.
Even though he's been in the league since the 2003-04 season, Semin's command of the English language remains rudimentary at best. Still, through new PR staffer Sergey Kocharov, Semin told ESPN.com that he feels honored Boudreau has enough confidence in him to use him in a variety of situations, including killing penalties.
"I'm very excited that he's trusted me to be on the penalty kill," Semin said. "I'm happy that he's given me that responsibility."
What makes the Semin situation so intriguing is that if he can indeed remain a consistent contributor, the Caps' chances of getting over the playoff hump increase dramatically. It won't hurt Semin's bankbook, either, as he can become an unrestricted free agent at the end of the coming season.

3. Ladd is Thrashers best choice
Although the
Atlanta Thrashers
waited until the season was almost a quarter over to make a decision on naming a captain, head coach Craig Ramsay and GM Rick Dudley made what appears to be the only logical choice in sewing the "C" on
Andrew Ladd
's jersey.
Ladd, a role player on Cup-winning teams in Chicago and Carolina, has blossomed into a go-to guy in the Thrashers' locker room, leading the team with 21 points in 21 games.
When we sat down with Dudley before the season, the new Thrashers GM pointed to Ladd as a crucial piece to the evolving Atlanta puzzle. Although Ladd has never hit the 20-goal mark in his career, Dudley felt the former fourth overall pick in the 2004 draft had the potential for that and more given the expanded role envisioned for him in Atlanta. And Ladd has thrived under Ramsay. Not that Ladd's point totals were the only factor or even a consideration in honoring him with the captaincy.
"I think he plays hard every night," Ramsay said. "He's done everything. We've used him in every situation and he's responded. He earned the right."
Ladd's calming presence in the Atlanta locker room will be key in prodding the young team into the playoffs for just the second time in franchise history. But if there's one thing going for Ladd, it's his ability to draw from his own experience.
He's watched a young captain in Jonathan Toews grow into the role in Chicago. And he watched veteran Rod Brind'Amour set the tone for a Carolina team that won a Cup coming out of the lockout.
The challenge, he told ESPN.com, will be finding the right moments to say something and when to hold back, when to address a player in private as opposed to saying something publicly.
One thing that will come naturally to Ladd will be the ability to lead by example, a characteristic that all great leaders seem to possess.
4. Hall selection committee under spotlight
With the passing of much-loved former coach Pat Burns to cancer on Friday, Burns' snub by the Hockey Hall of Fame selection committee has once again became a talking point. We, like almost every hockey fan and/or observer with an opposable thumb, lamented the selection committee's oversight last June when Burns did not secure enough votes for enshrinement in the Hall of Fame. Instead the committee saw fit to induct marginal (in terms of Hall of Fame credentials) player
Dino Ciccarelli
along with former
Calgary Flames
owner D.K. "Doc" Seaman and longtime Detroit executive Jim Devellano in the builder category, along with two women, Angela James and Cammi Granato, in the newly established women's category.
The selection process, often under assault from the outside, has never had its integrity more questioned than with the Class of 2010.
With Burns' passing, the selection committee will once again be under the spotlight and things don't look to get any easier for a group that includes some of the most respected men in the game.
Let's assume they get it right and induct Burns next year.
Once again the committee will come under a hail of criticism for having waited a year too long to honor Burns. Worse, it will look as though they simply knuckled under to the pressure of missing the chance to induct Burns while he was still alive, even though everyone knew he was gravely ill.
The only way the Burns induction does not become sullied is if the selection process undergoes a significant change before the 2011 class is announced next June. A number of members of the selection committee have been lobbying for changes to the process.
Ultimately, if the Hall wants to avoid tarring future inductees with needless controversy, the committee needs to find a way to do away with the Byzantine process that marks the current process. The selection committee needs to make the selection process more transparent, as is the case with other sports.
Here's hoping they can find a way to do the right thing if for no other reason than to ensure that Burns enters the Hall of Fame as the worthy inductee he is without having the moment diminished by the Hall's own flaws.

5. Richardson family tragedy
A final word on an inconceivably difficult week for former player and current Ottawa assistant coach Luke Richardson and the Senators. Richardson's teenage daughter Daron, 14, took her own life last weekend. Instead of following what would have been the natural reaction, to close ranks, to turn in and away from the tragedy, the family bravely turned outward. The Richardsons celebrated their daughter's life at a memorial attended by some 5,000 people. The decision not to ignore what happened -- a press release confirming Daron's death included the cause of death, a marked departure from how these matters are normally handled -- allowed for greater discussion of the issues of teen suicide and mental health.
Who knows what good will come from an indescribably difficult time for the Richardsons, but one has to believe their handling of the moment ensures that some good will indeed come from this pain. Beyond that, kudos to the Senators, who changed their travel plans to return home for the service and then jetted to Carolina for a game that night. That the Senators lost in Carolina that night will be but a footnote to the greater story of how an organization rallied to be at the side of one of its own. There are some NHL teams that could learn a valuable lesson from the Ottawa Senators on what it means to be professional.
November, 19, 2010
11/19/10
7:12
PM ET
There will never be another Pat Burns.
[+] Enlarge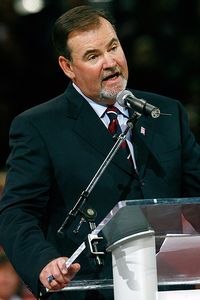 Richard Wolowicz/Getty ImagesPat Burns was the first coach to win three Jack Adams Awards as the NHL's top coach.
He was one of a kind, a tough-talking cop-turned-coach, whose passion for the game was unbridled and uncensored.
Perfectly bilingual in French and English, Burns made an impact in both of Canada's Original Six towns, equally winning over hearts and minds in Montreal and Toronto, and that's not an easy feat to pull off in those two vastly different hockey cultures.
He was the first NHL coach I ever covered as a young reporter for The Canadian Press in 1995-96, which would turn out to be his dramatic last season in Toronto. And I won't ever forget being in New Jersey in June 2003, when Burns won the Stanley Cup, the coach bursting with emotion at finally winning the big one.
A three-time Jack Adams Award winner in Montreal, Toronto and Boston, I think it's hard to argue against the fact he'll be forever remembered as the coach who brought a lunch-bucket Maple Leafs team to back-to-back, thrilling Final Four appearances in 1993 and 1994.
Doug Gilmour was likely one of the favorite players Burns ever coached. The Burns-Gilmour era in Toronto in the early-1990s remains a favorite for any Leafs fan under the age of 40. At the source of those heart-stopping, back-to-back trips to the conference finals was the gutsy Gilmour on the ice and the fiery Burns behind the bench.
I spoke with Gilmour last spring when Burns' third battle with cancer took a turn for the worst, and he described Burns as a "heart-and-soul guy and that's how he coached."
"He was very emotional behind the bench," Gilmour then told ESPN.com. "He was a leader back there for us. But we knew going into a game that you better be ready as a player with him."
Gilmour remembered Burns taking him out for lunch upon Gilmour's arrival in Toronto.
"We had a couple of beers together," he said. "He explained what he wanted. He was very upfront. He was phenomenal. There were no games, and that's what you want as a coach. He tells it like it is."
Make no mistake about it, Gilmour cherished playing for Burns, but it wasn't a walk in the park for players. He demanded a lot from them.
"He was a players' coach, but he was also very intimidating," said Gilmour. "But he didn't have to say anything to me. He just looked at me the day after a game and I would look back and say, 'I know, I'll be better.' He just had that police-officer mentality."
Burns' postgame news conferences at the old Maple Leaf Gardens were things of beauty. You certainly weren't bored.
"He always deflected any issue away from us," said Gilmour. "When he talked to you guys [the media], he always put it on himself. He never pinpointed anybody, he never blamed anybody. He really took care of his players. You guys saw how he was with his hard-ass side, but away from that, he wasn't like that."
He was just a great guy, Gilmour said before hanging up the phone.
And he'll be sorely missed.