Cross Checks:

Patrick Kaleta
November, 13, 2013
11/13/13
1:29
PM ET
By
ESPN Stats & Information
| ESPN.com
With the news Buffalo fired coach Ron Rolston and general manager Darcy Regier:
Buffalo's 4-15-1 record this season is the worst in the NHL, and Sabres players have accounted for two of the three suspensions longer than five games this season.
John Scott
(seven games) and
Patrick Kaleta
(10 games) were both suspended for checks to the head. Kaleta was waived on Nov. 2.
Most Player Games Lost to Suspension, 2013-14 Season
Sabres 17>>
Maple Leafs 12
Canucks 8
Four tied with 5
>>Played 20 games this season
October, 23, 2013
10/23/13
11:09
AM ET
Not again, Tim Thomas:
You could almost hear the groan from the Florida Panthers' management suite late in Tuesday night's entertaining tilt against the
Chicago Blackhawks
when Tim Thomas got up from the crease, limping. The veteran netminder left the game and did not return. When he's been between the pipes, Thomas has been very good, giving the rebuilding Panthers a chance to win pretty much every outing. It was so Tuesday, as Florida fell behind the defending Stanley Cup champs 2-0, but Thomas held the fort even though the Panthers were outshot 22-14 through the first two periods. The Panthers took advantage of Thomas' strong play and scored twice in succession in the third period to secure a point. Thomas ended up stopping 27 of 29 shots before leaving the game late in the third. No word yet on the extent of Thomas' injury, but it's the second time this early season he's had to leave games with an injury (head coach
Kevin Dineen
told reporters Tuesday's injury was not a repeat of an earlier groin issue), and it in some ways answers the question of what happens when a 39-year-old netminder stays away from the game for an entire season. When Thomas attended training camp on a tryout basis and then signed a one-year deal, the expectation was that he would perhaps help in the maturation of youngster Jacob Markstrom and then yield an asset at the trade deadline. And while his play suggests he still has the tools to be attractive to teams, such as the
Pittsburgh Penguins
, that might be looking to add veteran goaltending depth, the problem early on is that those tools come with significant rust. In the end, that might be enough to scare off potential suitors.
Someone has to win:
Really looking forward to the
New York Rangers
' visit to Philadelphia Thursday night in what might be called the Dung Beetle Cup. The teams, both considered to be playoff teams, have combined to go 3-12 and boast a minus-31 goal differential. The Rangers are banged up and netminder
Henrik Lundqvist
is off the rails. The Flyers can't score and fired their coach in what now seems to have been an ill-advised panic move. Flyers captain
Claude Giroux
, off to a woeful start with just three assists, insisted the Flyers can still make the playoffs. Hey, Washington looked like roadkill through the first quarter of last season and ended up winning the Southeast Division, so it's possible. If the Flyers still have a shot, so do the Rangers. But when you stink this badly, the clock starts ticking that much more quickly on kissing the season goodbye. So who takes that first shambling step forward?
This discipline thing is hard:
The supplemental discipline merry-go-round continues with what seems to be an inexhaustible lineup of miscreants looking to pay their debt to hockey society. Good thing the league's message is getting through. Or not. But as we watch
Michael Grabner
deliver a blind-side shot to the head of Carolina's
Nathan Gerbe
and get away with a two-game ban and
Cody McLeod
of Colorado go to the
Brendan Shanahan
Reform School for five games for crunching Detroit's
Niklas Kronwall
in a play that Kronwall acknowledged he was partially responsible for by turning back into harm's way, let's be honest about how the system works: the outcome of the hit is every bit as important as the hit itself. We have no problem with that.
Ryan Garbutt
was immediately offered an in-person hearing after he cracked
Dustin Penner
in the head area with a shoulder that left Penner out of it on the ice and unable to continue. Penner remains out of action. Kronwall hasn't returned since the McLeod hit while
Dan Boyle
is still out for the Max Lapierre hit that earned Lapierre a five-game ban as well, which means Garbutt is looking at about five games. Gerbe? He continued to play even though we would argue the recklessness of the Grabner hit was every bit as onerous as the others, maybe worse, given that he clearly sees Gerbe is vulnerable and in our view purposefully delivers the shot to the head anyway. Don't have a problem with punishing the outcome of the crime as much as the crime itself but let's not pretend we're doing anything else.
What would the NHLPA do?
Loved that
Matt Cooke
told our Pierre LeBrun that he would willingly help
Patrick Kaleta
change his game, even though the two have no real connection. People get tired of hearing about Cooke's reformation but the proof is in his play. We chuckled at Kaleta insisting that he's tried to change his game. Ha. Ha. Oh, you were serious. People are watching Kaleta's appeal of his 10-game suspension with great interest. Assuming that commissioner Gary Bettman, the first step in the appeals process, doesn't knock down the league-imposed 10-game penalty for yet another cowardly, dangerous hit on Columbus defenseman
Jack Johnson
(that decision was expected sometime Wednesday), the player, with the support of the NHLPA, can go to an independent third party for a final assessment -- a new wrinkle to supplemental discipline that came out of the new collective bargaining agreement. Wonder what a jury of Kaleta's peers would say? Our guess is that 10 games would just be a starting point.
A Giguere revival:
We spent some time around the
Colorado Avalanche
early this season and to say
Jean-Sebastien Giguere
was a bit of an afterthought would be an understatement. But credit to Giguere and to rookie head coach
Patrick Roy
for not falling into the pattern of simply accepting that Giguere was only going to play when starter
Semyon Varlamov
got tired or hurt. Roy told us last week the goaltending plan was initially for Varlamov to continue to draw most of the assignments through October. But Roy deviated from his original plan and ended up using Giguere in back-to-back games against Buffalo and then Monday's highly anticipated showdown with Pittsburgh. Giguere, of course, was sensational, turning aside all 34 shots in a 1-0 victory that was heavily lopsided in Pittsburgh's favor in terms of scoring chances. The veteran netminder is now 3-0 with two shutouts and suddenly a position that at the start of the season looked like it might be one of the team's weak points has turned into a much more balanced strength and key factor in the team's surprising 8-1-0 start.
That's no dud:
Interesting to see some refer to the showdown between Cole Harbour, Nova Scotia, boys
Sidney Crosby
and 2013 first-overall draft pick
Nathan MacKinnon
as a dud. True, the two small-town boys turned hockey icons didn't trade hat tricks but that was a compelling game if only for the wave after wave of pressure the Penguins brought -- led most often by the league's top point-getter, Crosby -- only to see the Avs, including MacKinnon, turn the attacks aside. While it might have lacked in scoring, this game hardly lacked for drama.
What's Hall's deal?
Whenever we talk about a player's durability or lack thereof, there's always a moment of hesitation as though by raising the issue we are somehow blaming a player for getting hurt. Now, if a player is chronically out of shape and suffers an injury as a result that's one thing, but if a player goes down as a function of playing the game the way it's supposed to be played, it does seem a bit unfair to question his value. Still, it remains a puzzler that a promising young star such as
Taylor Hall
of the
Edmonton Oilers
simply can't stay on the ice. The Oilers announced Tuesday that Hall would miss a month or so with a knee injury. The former first overall pick, who won't turn 22 until November, has already amassed a long and varied injury list that includes ankle, shoulder and concussion issues. The bottom line is that no matter Hall's potential -- and it is significant -- if he's not on the ice, that potential is worthless. As for the Canadian Olympic team, we see no way he misses this much time and makes the squad that will go to Sochi.
Not yet Miller time:
Speaking of the Oilers, it's amazing what a couple of strong outings by your goaltender -- and a couple of wins -- will do to douse a raging inferno.
Devan Dubnyk
stopped 29 of 32 shots to earn his and the Oilers' second straight win Tuesday night. The Oilers are home to a Washington team that can light it up with anyone and then are on the road Saturday and Sunday against Pacific Division foes Phoenix and Los Angeles. Let's see whether this two-game win streak is the start of something meaningful or whether we start to hear the "Bring us
Ryan Miller
" chants once again.
October, 22, 2013
10/22/13
5:31
PM ET
NHL commissioner Gary Bettman is expected to deliver his written opinion on Sabres winger
Patrick Kaleta
's appeal of his 10-game suspension either Wednesday or Thursday.
Once that decision is rendered -- and as long as the suspension remains six or more games -- Kaleta and the NHL players' association have seven days to decide whether to take the appeal to independent arbitrator James Oldham.
If the decision is to ask for the independent arbitrator, then that appeal case must be heard in an expedited manner, according to the collective bargaining agreement.
Given that Kaleta has already sat out five games, it's possible that his second appeal hearing wouldn't be heard until his suspension is nearly finished. But the chance to reduce his financial penalty through the independent arbitrator is just as important, given Kaleta's lost wages to the tune of $152,439.
Premiere Games update
The Premiere Games in Europe may not return after all next fall. Then again, it depends on who you ask.
With ongoing international discussions continuing between the NHL and NHLPA, a different story is emerging from each side as to the return of regular-season games in Europe.
League sources tell ESPN.com that it's getting late in the planning process and that the NHL doesn't want to "shoehorn" games in for next fall just for the sake of playing in Europe. Instead, the league wants to do it in a more meaningful fashion down the road and make it part of a bigger plan.
NHLPA sources, however, tell ESPN.com that the players' union is not yet ready to pull the plug on the project for next October and wants to continue to see what can be done to resurrect the games in time. The NHLPA says the games overseas are an important tool for the game's exposure and still wants to see if anything can be done for next fall.
The NHL held regular-season games in Europe five straight years from the 2007-08 season through 2011-12 before last year's lockout obviously stopped the string.
Don't forget Eller
There's so much focus in Montreal on
P.K. Subban
being in a contract year and what the reigning Norris Trophy winner will earn in his new deal, but don't forget
Lars Eller
.
It's becoming pretty clear now that he's Montreal's top center, with all due respect to the versatile and dependable
Tomas Plekanec
; the
Nashville Predators
hammered home this point Saturday when they had
Shea Weber
and
Seth Jones
square off against Eller's line all game long.
Eller is off to a hot start this season, centering the Canadiens' most impactful line between
Alex Galchenyuk
and
Brendan Gallagher
, and his deal is up after the season.
The Habs certainly saw all this coming and held talks over the summer with Eller's camp, led by Kevin Epp of Titan Sports Management. But no offer was ever made for an extension because Eller's camp wanted to hold off to see how the center bounced back from that devastating hit that ended his season last spring. Both sides are open to talking contract during the season, however.
Eller, who had eight points in eight games entering Tuesday's game versus Edmonton, is going to jump up nicely from the $1.325 million he's earning his year, especially if you consider that disappointing center
David Desharnais
is earning $3.5 million a year.
Panthers open for business
With new ownership providing the kind of stability the team has lacked the past few years, the
Florida Panthers
are keen to make some moves to reshape their roster, according to sources around the league.
Sources indicate GM Dale Tallon won't wait terribly long to start making some players available, although it's not so much a rebuild that's going to happen as much as a retooling.
The rebuild, after all, started a few years ago with the draft. Now the idea is to better surround the likes of
Jonathan Huberdeau
,
Aleksander Barkov
,
Erik Gudbranson
and
Jacob Markstrom
-- not to mention the rest of the prospects making their way up the ranks.
Tallon isn't shy to make bold moves, and now that he has better financial backing, it seems that he wants to reshape the pieces around what is going to be a good team once all the young talent grows.
October, 16, 2013
10/16/13
4:00
PM ET
TORONTO --
Matt Cooke
saw
Patrick Kaleta
waiting for former Sabres teammate
Jason Pominville
after Monday night's game in Buffalo, so he decided to introduce himself.
The two players didn't know each other.
But knowing that Kaleta faced an in-person hearing with
Brendan Shanahan
the next day, Cooke wanted to let Kaleta know that he knew how he felt.
[+] Enlarge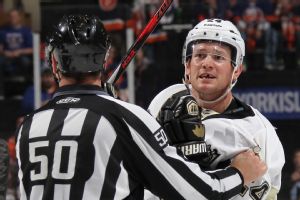 Bruce Bennett/Getty ImagesFor years, Matt Cooke found himself crisscrossing the line between effective and danger to hockey society.
"I told him, 'I've been there, it's not fun.' It's hard," Cooke told ESPN.com Tuesday night after his
Minnesota Wild
lost 4-1 in Toronto.
The real reason Cooke wanted to say hi was he had a message for him.
"I laid it out there that if he wants to know what I did, I'd gladly talk to him about it," said Cooke, the NHL's poster boy as proof former repeat offenders can reform. "He knows Pommer, so I told him `If you want to get hold of me, I'm there to talk.'"
In the 2010-11 season, Cooke was suspended for the final 10 regular-season games and the first round of the playoffs for an elbow to the head of the
New York Rangers
'
Ryan McDonagh
. But Cooke returned to the game a changed player. It's the challenge that now faces Kaleta after his 10-game suspension Tuesday, the biggest one of his career, one which resulted from an illegal check to the head of
Jack Johnson
. (As I expected, Kaleta is appealing the suspension, his agent Anton Thun confirmed.) If Kaleta is ever called on the carpet again, it's going to be an even bigger whopper; so this is it for him, adjust your game or else.
It's not easy, but it's doable, Cooke said.
"During my suspension, with either [Dan] Bylsma or [Tony] Granato, I probably watched about 30 or 40 hours of video; watching players that play a physical style," Cooke recalled.
"The hours of video work I did seriously helped me," he added. "The work that I put in has helped me not only take the risky plays out but also become a more effective player. I've got a way more active stick on the forecheck, and I'm more aware of my surroundings, which has helped me offensively."
He indeed returned a transformed player in 2011-12,
colleague Scott Burnside documenting it that season
. But it wasn't easy. Cooke remembers that season when a player dove into the boards after he barely touched him.
"My heart was racing," Cooke said. "I thought I was getting suspended. But before I was even off the ice Brendan [Shanahan] had called [Penguins GM] Ray Shero to tell him he knew I didn't touch the guy. That reassured me."
With time, Cooke grew more confident in the way he approached the game.
"It's never going to be over for me, and I realize that, and I'm fine with that," Cooke said. "Right now, I err on the side of caution. I still watch video to reassure that there are good times to go out and be physical. ...
"It's just a read. If you don't change the way you visually see the game, then change is impossible."
He's been a welcome addition in Minnesota after signing with the Wild as a free agent in July.
"Matt brings so much to the table for us," Wild head coach Mike Yeo told ESPN.com Wednesday. "We were looking for a physical player who could play in a checking role and provide some secondary scoring. Those players are hard to find, and he has brought it all. It says an awful lot about him that he has been able to adjust his game. Some guys would be unwilling, some would be willing but incapable. He is a smart guy."
Former NHL GM Craig Button, now an analyst for TSN and the NHL Network, said the Penguins' management deserved great credit for helping rehab Cooke as well as Shanahan for working with the player. And he said Cooke remains an effective player.
"A smart, good skating player who can read plays," Button said. "He is a strong penalty killer and can make good offensive plays. He is a determined player who gets involved and is one who can contribute in those areas that are not flashy but incredibly important to winning. The Penguins PK has been very good a number of times in terms of ranking and he was a big part of that. So he brings all those qualities [to Minnesota] without any of the dangerous part and that makes him a valuable and contributing member of a team."
Cooke leads the Wild in scoring with six points (3-3) in seven games and has yet to pick up a penalty minute this season.
"There's a huge difference in the way I approach the game now. The days of just going for the big hit, every time possible, is just not feasible," Cooke said. "The way the game is played now, the speed of the game, and the way the kids are taught to play the game."
He then recalled a play Monday night in Buffalo, a "close one," as Cooke put it, with Sabres defenseman
Mike Weber
.
"Weber turned his back last second, I bear hugged him and we smashed into the boards," Cooke said. "I tried not to hit him but I still did because he turned at the last second."
The point being, that even with all the best intentions, the game is 100 miles per hour, and sometimes it's hard to react in time to avoid a scary play.
But Cooke believes that with the way he approaches the game now, he's cut down on the number of situations that could get him into trouble.
"If it's reasonably low risk that I can go in and get a decent hit and not worry anything bad will happen, then I will," he said. "That's not to say anything bad won't ever happen, but the odds of anything bad happening are totally different."
October, 16, 2013
10/16/13
11:31
AM ET
It didn't take long for the week's high-profile tilt between the unbeaten
San Jose Sharks
and unbeaten
St. Louis Blues
to turn ugly Tuesday. Early in the first period, Blues forward Max Lapierre sent veteran Sharks defensemen
Dan Boyle
head-first into the boards with a hit from behind. The hit left Boyle unconscious, and he was removed from the ice in St. Louis on a stretcher. Lapierre was ejected for the hit and will almost certainly be suspended for the dangerous play. Early reports indicate that Boyle's injuries aren't too severe, which, needless to say, represents the best outcome.
"I'm doing OK, thank you for your concern and support," Boyle said in a message directed at fans via ESPN.com's Pierre LeBrun from the St. Louis hospital where he spent the night. "Means a lot to me. I've never once taken this game or any of my fans for granted. Hope to be back soon."
We didn't like the hit by Sharks forward
Brent Burns
on
Brenden Morrow
later in the game that also could have produced a serious injury, and it was a bit of a disappointment to see Burns assessed only a minor penalty (Morrow did return to the game). In the end, the greatest statement was made by the Sharks, who used their skill to avenge Boyle's injury as they humbled the Blues 6-2, scoring three times with the man advantage. The Sharks also chased Blues goaltender
Jaroslav Halak
, who has been a key factor in the Blues' hot start, out after the second period. The game marked the first in a stretch that will see the Sharks play seven of eight on the road.
Kaleta's at it again:
The Lapierre hit on Boyle came just a few hours after the NHL suspended serial cheap-shot artist
Patrick Kaleta
of the
Buffalo Sabres
10 games for his latest transgression: A dirty, head-high hit on
Columbus Blue Jackets
defenseman
Jack Johnson
. By almost any measuring stick, 10 games is a heavy sentence -- almost any measuring stick except for a guy such as Kaleta, a player who is either too stupid to learn from his mistakes or too reckless to care. Given Kaleta's history, one wonders what number would have been appropriate. At some point, with players such as Kaleta, who has been fined or suspended six times in the last four seasons -- the most recent being last season when he drove
Brad Richards
head-first into the boards -- it would seem the threat of actually being unable to play the game anymore is the only real deterrent. We saw this happen with
Matt Cooke
when he was in Pittsburgh; the Penguins publicly said that unless Cooke changed his ways, he wouldn't be able to play with them. This happened after Cooke's last suspension, in the spring of 2011, after a hit on
New York Rangers
defenseman
Ryan McDonagh
. Cooke worked with the Pens' coaching staff during his suspension, which lasted through the first round of the 2011 playoffs, watched video and dedicated himself to changing his style of play. To date, he remains a shining example of players who can learn from their mistakes. It would be nice if we heard something similar from the Sabres, although we aren't holding our breath, given that ownership/management of NHL teams historically only worry about dangerous play when it's some other team's player who's playing outside the lines. We often criticize league disciplinarian
Brendan Shanahan
for what we've felt has been consistently lenient discipline for plays that have no place in the game. Yet the stakeholders, owners, general managers and players themselves remain, for the most part, mute on issues such as those created by guys such as Kaleta. Where is Buffalo owner Terry Pegula on Kaleta? Where is Buffalo GM Darcy Regier, a smart, thoughtful hockey man, on how his employee behaves? The Buffalo News reported that, even though the Sabres were playing Tuesday, neither Regier nor Kaleta would comment. Way to take responsibility. Shanahan could have, indeed,
should have
, given Kaleta 20 games and left his return open-ended, pending an end-of-suspension interview. But it would mean a lot more if the Sabres would come out and announce they will no longer employ a player such as Kaleta until he learns from his mistakes. Sadly, that's not likely to happen, so we remain skeptical this latest brush with the NHL law will change how Kaleta plays the game.
Not so fast, Avs:
An interesting experiment in fan reaction occurring in Denver where the
Colorado Avalanche
are
the
story of this young NHL season. With their 3-2 win over Dallas on Tuesday night, the Avs moved to a remarkable 6-0-0. The win marked their first home game after three impressive road wins, and yet the announced attendance at the Pepsi Center was 15,208, well below the capacity of 18,007. It reminded us of a conversation with Carolina GM Jim Rutherford during the 'Canes superlative 2005-06 season. The Hurricanes would go on to win their first Stanley Cup in June 2006, but during that regular season, the 'Canes' crowds remained soft in spite of the fact the team was one of the most entertaining in the league. Rutherford explained that on-ice success does not translate instantly into fan support. A kind of elasticity is at play; a team has to prove they have turned a corner before fans will consistently return to support them. In short, you don't repair a badly damaged fan base in the first month of a season even if the Avs appear to be on the track to redemption.
Giroux's Olympic goal is toast:
It's never too early for players to make a case for their respective Olympic teams. Likewise, it's never too early to start playing yourself right off the map. One has to wonder about the early-season struggles of the
Philadelphia Flyers
and how it might affect captain
Claude Giroux
and his bid to be named to the Canadian Olympic squad for the Sochi Games in February. A lock to make the team heading into the season, even though he missed the Canadian orientation camp with a golf-related hand injury, Giroux and the Flyers have been stuck in neutral since the season started. OK, that's being charitable. After blowing a third-period lead and losing 3-2 to Vancouver on Tuesday, the Flyers dropped to a woeful 1-6-0. Even the firing of head coach Peter Laviolette three games into the season hasn't helped, as the Flyers have managed only 10 goals. Giroux has yet to score and has just two assists, and with Canadian executive director
Steve Yzerman
and the Canadian selection committee already facing the onerous task of narrowing the talented Canadian forward contingent down, Giroux's tepid play further muddies the waters. Not to put too fine a point on it, but it's hard to believe there is any way Giroux makes this squad unless he mounts a significant renaissance in the next two months.
Reimer ain't backing down:
Nice statement game for netminder
James Reimer
, who appeared to have been frozen out of the Maple Leafs' goaltending equation after an early bad game combined with the strong play by newcomer
Jonathan Bernier
. Not so fast. Reimer was outstanding in stopping 36 of 37 shots as the red-hot Leafs moved to 6-1-0 with a 4-1 win over Minnesota on Tuesday. Those are exactly the kind of goaltending "issues" Toronto head coach Randy Carlyle likes to have.
Bruins are looking mediocre:
It's been interesting to watch the
Boston Bruins
through the first couple of weeks. There's something solid and reliable about the team GM Peter Chiarelli has built, and which for a number of years now has stolidly reflected the personality of head coach Claude Julien. That doesn't mean there haven't been hiccups early on, and maybe we didn't appreciate the transition that would be required after the Bruins lost
Jaromir Jagr
,
Nathan Horton
and
Tyler Seguin
through trades and free agency. Although the team continues to play well defensively, allowing just eight goals through their first five games, they've managed just 12 going the other way. The struggles continued Monday when the Bruins could not solve Detroit backup goalie
Jonas Gustavsson
during the matinee, losing 3-2 in spite of a long 5-on-3 and the fact the Red Wings did not have a single power play. Specifically, winger
Jarome Iginla
is struggling to find his place with the B's and has just one assist. If he hadn't struggled during the playoffs for Pittsburgh last spring, there wouldn't be much cause for concern, but in spite of prime ice time and a ton of power-play time, he's not hitting the mark, which has to be worrying for Julien et al. Not that Iginla is alone.
Patrice Bergeron
(one goal, one assist) and
Brad Marchand
(one goal) are also off to slow starts.
March, 4, 2013
3/04/13
10:22
AM ET
By
ESPN Stats & Information
| ESPN.com
Blackhawks 2, Red Wings 1 (F/SO)
*
Patrick Kane
(CHI): Game-tying PP Goal with 2:02 remaining in 3rd period; also was only player to score in shootout
* Blackhawks: extend streak of consecutive games with a point to 28 (tie 1977-78 Canadiens for second-longest streak all-time); extend NHL-record with 22 straight games with a point to begin season
* Blackhawks: also extend NHL-record of 22 straight games without a regulation loss to begin season
* Red Wings: 5 straight losses vs Blackhawks
* ELIAS SAYS: The Blackhawks' NHL-record start-of-season point streak was in jeopardy of ending at 21 games when, with Chicago trailing 1–0, Patrick Kane scored a power play goal with 2:02 remaining in the third period to tie the game. The Blackhawks' streak reached 22 games when regulation time ended with the score 1–1 and Chicago eventually won the game via a shootout. This was only the second time during their streak that the Blackhawks needed a score-tying goal in the final five minutes to preserve it. The previous instance, in game #9 of the streak (Feb. 2 at Calgary), was an even closer shave, with
Marian Hossa
tying the score at 2–2 with 2.3 seconds left in the third period.
Rangers 3, Sabres 2 (F/SO)
* BUF: 3rd straight game decided in a shootout (had won 1st 2 and were 3-0 in SO this year)
* NYR: 1st time getting a win in consecutive games since Feb 10-12
*
Rick Nash
(NYR): Goal (5), assist; 6th straight game with a point (9 points in those 6 games)
*
Marian Gaborik
(NYR): 2 assists; had just 1 point in his previous 6 games
* ELIAS SAYS: The Rangers' two goals in their game against the Sabres were power-play goals 43 seconds apart by
Derek Stepan
and Rick Nash soon after Buffalo's
Patrick Kaleta
received a five-minute major penalty for checking from behind early in the third period. It was the first time this season that the Rangers scored two power play goals in one game (not to mention two in one period). Colorado is now the only NHL team without a multiple-PPG game this season. Nash, who was traded to the Rangers last July, has scored five goals for New York and they've all come in third periods. The only other Rangers player with more than two third-period goals this season is
Taylor Pyatt
with three.
Canadiens 4, Bruins 3
*
David Desharnais
(MON): 2nd multi-goal game of season (had 1 multi-goal game last season)
*
Patrice Bergeron
(BOS): 1 goal, 2 assists (2nd game this season with goal AND assist); 2 goals and 3 assists in last 3 games
*
Brad Marchand
(BOS): 1st 3-assist game of career
* Bruins: snaps 6-game win streak
* ELIAS SAYS: The Canadiens extended their point streak to 11 games (8–0–3) with a come-from-behind 4–3 win at Boston. It's the Canadiens' longest streak of consecutive games with points since they recorded seven wins and four ties over 11 games in February/March 1994. David Desharnais scored a pair of goals for Montreal, including the game-winning goal in the third period. The Canadiens have earned points in each of the last 17 games in which Desharnais has registered goals or assists (13–0–4 since March 8, 2012), including all 11 games in which his name has appeared in the scoring summary this season (9–0–2).
Hurricanes 3, Panthers 2
* CAR: won both games of the weekend home-and-home with FLA
* CAR: won 3 straight and 4 of last 5 games
*
Alexander Semin
(CAR),
Jordan Staal
(CAR): Each 1 goal (5)
*
Jonathan Huberdeau
(FLA): 2 goals (10)
* ELIAS SAYS: Florida's Jonathan Huberdeau became the first rookie to reach double-figures in goals this season when he scored the second of his two goals in the Panthers' 3–2 loss to the Hurricanes on Sunday. This is the third time that a Florida rookie has been the first freshman in the NHL to score 10 goals in a season (based on the earliest date). The other Panthers rookies to do that were
Mark Parrish
in 1998–99 and
Kristian Huselius
in 2001–02.
Blue Jackets 2, Avalanche 1
* Blue Jackets: Win snaps 4-game losing streak
* Blue Jackets: 3rd consecutive OT game
*
Artem Anisimov
(Blue Jackets): Scored GW goal in OT; back-to-back games with goals for the 1st time this season
* ELIAS SAYS: The Blue Jackets notched their first overtime win of the season when Artem Anisimov scored a power-play goal 2:26 into the extra session of their game against the Avalanche in Columbus. Anisimov's overtime goal, the second of his NHL career and first for Columbus, was the first OT goal by a Blue Jackets player in a home game since Dec. 31, 2010, when
Jakub Voracek
scored an OT winner against Ottawa.
Stars 4, Blues 1
*
Jaromir Jagr
(DAL): PP Goal in 3rd (7); scored a goal in consecutive games for 1st time this season
*
Loui Eriksson
(DAL): Goal (7), Assist; ties Jagr for team lead in multi-point games with 4
* Blues: snap 4-game winning streak vs Stars
*
David Perron
(STL): Goal (7); 3 goals in last 4 road games
* ELIAS SAYS:
Derek Roy
recorded his first three-point game for the Stars when he tallied one goal and two assists against the Blues in Dallas on Sunday. Roy, who had spent his entire NHL career with Buffalo until he was traded to the Stars last summer, scored three or more points in a regular-season game 20 times for the Sabres and 15 of those 20 games were on home ice.
Islanders 3, Senators 2 (F/SO)
*
Brad Boyes
(NYI): Goal (5); snaps streak of 8 games without a goal
*
Evgeni Nabokov
(NYI): 29 saves; improves to 3-6-1 at home this season (6-1-1 on road)
*
Patrick Wiercioch
(OTT): Game-tying PP Goal in 3rd (1); 1st career PP goal (27 games)
* Islanders: improve to 4-0-2 in overtime games this season (won 4 of last 5)
" ELIAS SAYS:
Frans Nielsen
, who scored the deciding goal in the shootout that gave the Islanders a 3–2 win over the Senators, has scored on nine of his last 11 shootout attempts dating back to December 2011. In the eight seasons that the NHL has been using the controversial tiebreaker (2005–06 to date), Nielsen is the only player with 20 or more shootout attempts who's scored at least 60 percent of the time (25 of 40, 62.5%).
Wild 4, Oilers 2
* Game was tied 1-1 entering 3rd period; Wild scored 3 3rd period goals
*
Dany Heatley
(MIN): goal (8); 4 goals in last 4 games
*
Mikko Koivu
(MIN): goal (4), 2 assists; 11 points in last 7 games
* MIN: won 5 of their last 7 games
" ELIAS SAYS: The only sure things in life are death, taxes and
Niklas Backstrom
beating the Oilers in Minnesota. (At least we think that's how the saying goes.) Backstrom, who posted a 4–2 win over Edmonton at Xcel Energy Center on Sunday, has won all 17 home games he's played for the Wild against the Oilers. That's the second-longest home winning streak against one team by any goaltender in NHL history, behind Jacques Plante's 19-game winning streak against the Rangers in Montreal from 1952 to 1957. Plante's streak, of course, was achieved in an era without regular-season overtime games or shootouts. Backstrom's streak of 17 straight home wins against the Oilers includes one overtime victory and two shootout wins.
Flames 4, Canucks
2
* Flames: Won last 3 home games; 9th game this season with 4+ goals
*
Jiri Hudler
(Flames): 2 Assists; 5 Assists last 2 games
* Canucks: Lost 3 of last 4 games
*
Jannik Hansen
(canucks): 1 Goal, 1 Assist (4th multi point game this season)
August, 2, 2012
8/02/12
9:28
AM ET