Cross Checks:

Patrik Elias
July, 2, 2013
Jul 2
2:15
PM ET
It is very possible, although not quite a guarantee, that
Vincent Lecavalier
will choose his next team by the end of the day Wednesday.
The UFA center, who is allowed to speak with teams earlier than other UFAs because his contract was bought out, has been deliberating with family where the best fit might be for him to continue this career.
The likes of the
Dallas Stars
,
Detroit Red Wings
,
Montreal Canadiens
,
Toronto Maple Leafs
,
Boston Bruins
,
St. Louis Blues
,
Washington Capitals
,
Philadelphia Flyers
,
Anaheim Ducks
,
Vancouver Canucks
and
Calgary Flames
are among the teams that have shown interest.
The decision for Lecavalier begins with Montreal. He has to decide whether he wants to go home and deal with both the perks and detriments of playing in his native town. And if he goes home, it's not going to be for the same kind of money or term other clubs would have offered. If he's a Hab, it's more because he really, really wants to be one. Montreal definitely has interest in signing him, but it's going to have to be on a reasonable deal that fits within its cap and payroll structure.
But no one should fault Lecavalier if he decides to avoid that situation; that's his choice as a UFA.
I still think Dallas is a solid possibility for Lecavalier if he wants to remain in a quiet, nontraditional hockey place such as the environment he has experienced his entire career with the
Tampa Bay Lightning
. And I think the Stars are willing to go five years on a deal.
While it's true to a degree, as
Nashville Predators
GM David Poile suggested to his local media Tuesday, that Lecavalier would prefer to stay in the East, it does not preclude him from playing in Dallas, I can tell you that.
Detroit is a great fit, too, and so is Boston. We'll know soon enough.
As a reminder, beginning at 12:01 a.m. ET Wednesday (so basically Tuesday night), a wrinkle in the new CBA kicks in that NHL fans haven't seen before: Free agents have the right to speak with other teams in the 48-hour lead-up to the opening of the market Friday.
So for teams trying to re-sign their free agents, Tuesday was their last day of exclusivity to do so. For example, it was the last day for
New Jersey Devils
GM Lou Lamoriello to be the only voice in
David Clarkson
's ear. Clarkson recently turned down an offer from the Devils and most likely is headed to the market. Then again, maybe Uncle Lou has
another
last trick up his sleeve.
Elsewhere
• Traded texts Tuesday morning with UFA forward
Danny Briere
. He says he's talking to teams as he's narrowing his focus. We should know more Wednesday.
• The Devils and pending UFA center
Patrik Elias
were close to a deal, but it wasn't done as of noon ET Tuesday, agent Allan Walsh said. Walsh also represents winger
Pascal Dupuis
, another pending UFA, and the agent said talks with the
Pittsburgh Penguins
were continuing.
• Pending UFA winger
Damien Brunner
was a day away from being able to speak with the 29 other teams. His agent, Neil Sheehy, told ESPN.com via email Tuesday morning that he planned to talk again with Detroit but wasn't sure where it was all headed.
• The Predators put veteran blueliner
Hal Gill
on waivers. He has one year left on his deal at $2 million. GM David Poile said via text that the blue line is a little crowded given the drafting of
Seth Jones
, and the hope is to find a new home for Gill. If no one claims him on waivers, another possibility would be to buy him out.
May, 23, 2012
5/23/12
1:36
PM ET
NEWARK, N.J. -- He is 36 years old and still among the last of the
New Jersey Devils
to come in from the morning skate.
Even though Game 5 of the Eastern Conference finals looms a few hours in the distance,
Patrik Elias
is enjoying watching the coaches and extra players playing a little 3-on-3 after the morning skate.
Elias has known nothing else in his NHL life but the New Jersey Devils, a life that began with one game during the 1995-96 season and has gone on to include two Stanley Cup wins and another trip to the finals. He was named to the NHL's all-rookie team and was an NHL first team All-Star in 2001.
He is back again, two wins from another trip to the finals. And if you expected someone who has seen it all while wearing the Devils jersey to be a little immune to all of the hoopla and the buzz, you would be disappointed.
Instead, Elias seems invigorated by it all.
"You have guys that have never been in this situation, this far, so you see the excitement here," Elias said Wednesday. "You see, we feel like we are a good enough team to give ourselves a chance each night and it's fun to watch. For me, even being in the third round, conference finals, you know you haven't been here for a while so it's great -- it's great to experience that again.
"Every year is different, every round is different, every playoffs is different. This is a good group of guys and we're enjoying just playing for each other."
Although Elias has just five points this spring and has gone six straight games without registering a point, he seems nonplussed.
"We're winning, so that's the main thing," he said.
Certainly coach Pete DeBoer seems to have no concerns about the lack of offensive production from the veteran who moved over to left wing last game, playing with
Ilya Kovalchuk
and rookie
Adam Henrique
.
In fact, DeBoer credits Elias with being a key part of the Devils' success all season.
"Because he's been around, he's been in every situation imaginable, there's nothing that has come up this year that he hasn't been through before. He's got a coaching mind in the dressing room for us," DeBoer said.
"In all honesty, it was critical that he bought into what we were selling as a coaching staff early so it would translate to the room. Probably him more than anybody, because he had played here for so long and won with an obviously different style, it was critical that we got him and Marty to buy in, and he was all-in from day one."
Elias and netminder
Martin Brodeur
are the last two holdovers from the Devils' glory days, and while Elias' profile externally might be significantly lower, it is not so in the locker room.
"He's very vocal in this room. When we're down a goal and going into the third, he's always one of the guys that speaks up and tells us just to keep pushing, keep doing the same things," said forward
David Clarkson
.
"I haven't played with a guy that sees the ice as well as Patty does sometimes. It's amazing some of the plays he makes out there sometimes. I think on a leadership role, he's really been a key part of why we're here today."
Defenseman
Marek Zidlicky
has known Elias since they were teens in the Czech Republic and has played internationally with him over the years. He was excited at the prospect of joining his longtime friend when he was traded by the
Minnesota Wild
to New Jersey at the trade deadline this season.
"I think he's legendary. He's played here his whole career and he's a pretty good player, very good guy, he'd do anything for the team," Zidlicky said.
Elias and Brodeur are anomalies, of course, choosing to stay their entire careers with one franchise, and for teammates it is something that inspires tremendous respect.
"I think it's impressive," Clarkson said. "Especially in today's game, players move around and are in different places, and I think anytime you're in one team for a long time, there's a reason for it. It's not just because they keep throwing contracts at you; there's a reason why you're there. I think being successful, him being successful and making this team successful is part of the reason he's been here so long."
Elias is asked about his first playoff experience, which would have been in the spring of 1997, and laughs.
"Rich, what do I remember?" he said, nodding to longtime beat writer Rich Chere.
"I scored on
Jocelyn Thibault
my first playoff game," Elias said, but admits he initially thought it was
Jose Theodore
until Chere checked and got it right.
"Hey, I was close enough. It was against Montreal," he said.
Still, Elias isn't one for wandering down memory lane. Not just yet.
"I'm still going. I'm still looking forward. It's not time for me to look back yet," he said.
April, 4, 2012
4/04/12
10:11
AM ET
By
Elias Sports Bureau
| ESPN.com
• The Rangers completed a clean sweep of their six-game season series against the Flyers with a 5-3 win at Philadelphia on Tuesday night. It's the fifth time that a team has won every game in a season series of six or more games against the Flyers. The other Philadelphia opponents to do that were the Bruins in both 1970-71 and 1971-72 (both six games), the Rangers in 1971-72 (six games) and the Penguins in 2006-07 (eight games).
•
Sidney Crosby
tallied two goals and one assist to lead the Penguins to a 5-3 win at Boston. Crosby has scored 22 points in 12 games (5 goals, 17 assists) since March 15, when he returned to action after being sidelined for more than three months due to a concussion. That makes him the NHL scoring leader since that date, one point ahead of teammate
Evgeni Malkin
(21 points)
• Coyotes goalie
Mike Smith
's 54 saves Tuesday night are the most in a shutout in the expansion era (since 1967-68).
•
Patrik Elias
scored the first goal in the Devils' 3–1 win over the Islanders and he set up New Jersey's second goal with an assist, his 50th of the season. Elias, who will turn 36 years old on April 13, has recorded 50 or more assists in one season only once before and that was 11 years ago (56 assists in 2000–01). He's the first player in Devils franchise history (including the team's years in Kansas City and Colorado) to register 50 or more assists in one season at age 30 or older. Before Elias, the oldest player in team history at the time he notched his 50th assist of a season was 29-year-old
Scott Stevens
in 1993–94.
• Maple Leafs rookie
Matt Frattin
scored a goal, recorded an assist and picked up the first fighting major of his NHL career all in the first period of Toronto's game in Buffalo. Frattin was only the second rookie in the last 18 seasons to register a "Gordie Howe hat trick" in a single period of one game.
Brandon Dubinsky
did that for the Rangers in the first period at Montreal on Feb. 19, 2008.
Derek Roy
's second goal of the game capped the Sabres' comeback from a 3-0 deficit at the end of the first period and earned Buffalo a 6-5 overtime victory against the Maple Leafs. It was the sixth regular-season overtime goal of Roy's NHL and Sabres career, tying the Buffalo team record established by
Thomas Vanek
earlier this season (Nov. 8). Roy's two-goal performance was the 20th multiple-goal game of his NHL career and his fourth multigoal game against Toronto, his highest total versus any opponent.
• Carolina goaltender
Cam Ward
, who made 38 saves in his 2-1 win at Ottawa, is 12-2-6 with a 2.02 goals-against average and .945 save percentage in the last 20 games in which he faced 30 or more shots on goal, dating back to Jan. 12.
•
Andrew Ladd
scored his second overtime goal in five days to cap the Jets' comeback from a 3-0 deficit and enable Winnipeg to post a 5-4 victory against the Panthers. Ladd, who beat Carolina in overtime last Friday, is the first player in Thrashers/Jets history to score two OT goals in such a short time frame. The previous record of two overtime goals in 11 days was set by
Ilya Kovalchuk
in 2002-03 and matched by
Marian Hossa
in 2007-08.
•
Logan Couture
ended his 10-game goalless streak with a power-play goal late in the second period that proved to be the game winner for the Sharks in their 5-2 victory at Dallas. Couture's 10-game dry spell matched the longest previous goal drought of his three-year NHL career. He went goalless in 10 consecutive games in 2009-10.
•
Anders Lindback
made 25 saves and went unscored upon in the shootout that earned him and the Predators a 2-1 win over the
Minnesota Wild
in Nashville. It was the Predators' first regular-season or playoff win on home ice that was recorded by a goaltender other than
Pekka Rinne
since Dec. 15, 2010, when Lindback beat San Jose, 3-2. Rinne, who missed Tuesday's game due to illness, recorded 40 regular-season and two playoff wins in Nashville between those two home-ice wins by Lindback.
January, 28, 2011
1/28/11
11:45
PM ET
RALEIGH, N.C. -- The week-long rumored split-up of the Sedin twins indeed took place Friday night.
"We had the feeling before," said Daniel. "It's my first All-Star Game and Henrik's second one. It will be fun. I'm happy. I got picked first."
The twins have never played against each other before.
"I won the first race," said Henrik, who was born six minutes ahead of Daniel back on Sept. 26, 1980. "It was fun talking about [the split], but it's more for media and fans. It would be fun to have the lines play against each other, that's for sure."
There were other familial ties at play Friday night.
Staal, for instance, made his brother Marc, a defenseman with the New York Rangers, sweat a bit, taking Boston's Zdeno Chara ahead of him in the fourth round.
[+] Enlarge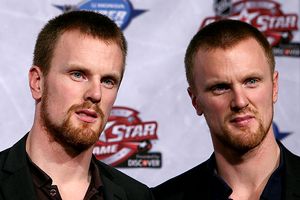 Bruce Bennett/Getty ImagesCan YOU tell the Sedin twins apart? Let's hope the All-Star captains got it right.
"I was a little surprised obviously," Chara acknowledged. "It's a huge honor being picked early, and when you look at it, Staalsy picked me in front of his brother [and] that tells me a lot and it's a huge honor ..."
Marc Staal joked on television that he was hurt by not being picked earlier in the proceedings (he was finally selected by Eric in the seventh round), but acknowledged that perhaps the new format will inject a little more competition into the traditionally staid All-Star event.
"Nobody really told us what it was going to be like, so nobody really knew what to expect," Marc Staal said. "But it was well done. It was pretty cool, it was a lot of fun. It makes it a little more interesting than East and West, a little different dynamic to it. Hopefully it works out to be a good game."
No, Toews is not mad
It may have appeared on TV that Jonathan Toews wasn't super pleased with having to wait until the 16th overall pick in Friday's All-Star draft, but the Chicago Blackhawks captain said that wasn't the case.
"It wasn't a big deal," he joked afterward. "It was kind of funny just sitting there. I was sitting with Corey [Perry] and Rick [Nash] and we were joking. I think everyone was pretty loose. Maybe everyone was a bit nervous before the whole thing, not knowing what to expect, but once we got there and sat down, the pressure was on the captains pretty much. Most of us just sat back and enjoyed it, so it wasn't too bad."
His Blackhawks buddy Patrick Kane enjoyed seeing Toews sweat it out before finally picking him for Team Lidstrom. We asked Toews why he didn't bring up Kane's missed flight from Friday morning on national TV as a comeback.
"I could have thrown him under the bus pretty good," said Toews. "But I got orders I'm not supposed to be talking about that. It was pretty funny, but he made it here on time, thankfully."
Stamkos picked second
Steven Stamkos was juiced about being selected second overall, as Lightning teammate Martin St. Louis helped Team Lidstrom select him with its first pick.
"Marty told me if he had a chance, he'd take me," said Stamkos. "He's usually pretty solid on his word."
We asked Stamkos how much money he had to pay St. Louis to take him so high. "Nothing, I just had to baby sit his kids today on the airplane."
One of the reasons the All-Star fantasy draft resonated with players and fans is the competitive nature of the process.
Who hasn't been in a fantasy draft and tried to plot the best strategy? Who hasn't been in a pick-up game and not fretted about being picked last or next to last?
"It was, I've got to be honest, I was a little bit nervous for some reason, but it was fun," said Chara.
The Boston Bruins defenseman is 6-foot-7 and won the Norris Trophy two years ago and he was nervous about where he might be picked?
"I think that we all had fun," said Chara, who was picked by captain Eric Staal for Team Staal. "It was nice to see everybody had a little fun with it, but also everybody was taking the business seriously, picking the right mix of players. Yeah, I liked it."
Head shots discussion
The NHL's board of governors will meet Saturday morning in Raleigh, and the issue of blows to the head is expected to dominate the discussion, a number of sources have told ESPN.com.
It's believed Colin Campbell, the NHL's executive vice president and director of hockey operations, will present a video compilation of various head shots, including the blow that arguably knocked Pittsburgh captain Sidney Crosby out of action.
The upshot of the discussion is believed to be that the concussions being sustained are not from a specific type of blow to the head, but rather different types of hits.
Mom, Dad and automobiles
Patrick Sharp's parents made a long trek to Raleigh.
"They had a heck of a travel day yesterday and last night," Sharp said.
His parents flew from his native Thunder Bay, Ontario, to Minneapolis and then Newark, but the flight to Raleigh got canceled Thursday.
"They met some friends on the plane, rented a van and decided to drive," said Sharp. "They drove from midnight to 8 a.m. from Newark to Raleigh just to be here. I better do something special this weekend."
Kopitar and the Kings
Anze Kopitar hopes his Los Angeles Kings can rebound post All-Star break. The first half certainly didn't go as planned.
"It was definitely surprising," Kopitar said Friday night. "I don't think anybody expected that. It was a roller-coaster, but we battled back. Last few games before the break, we got back on track. Hopefully after the break we can keep it going and meet the goals we want to accomplish. It won't be easy, but it'll show the character of the team."
Canucks hurting
The loss of defenseman Alexander Edler (back surgery) is a huge loss for the Western Conference-leading Canucks. He is out indefinitely.
"He's been our best defenseman, so without a doubt it's going to be a tough loss for us," Canucks coach Alain Vigneault said Friday night. "But it's like Sami Salo not being there. The guys are going to have to pull together and get the job done."
Elias is happy to be here
One guy with a bigger smile on his face Friday compared to a month ago was Patrik Elias, the only member of the New Jersey Devils who was invited to All-Star weekend.
Although they dropped a 3-1 decision against Detroit in their final game before the break, the Devils are playing their best hockey of what has been a difficult season so far.
Still, Elias wasn't bemoaning the break in action.
"The break is a break," Elias said. "I think even that we've been playing better, the first 40 games take a lot out of you, especially when you're not playing well, mentally and physically. Everything seems tougher. ... The guys will really enjoy [the break] and ... I think it came at the right time actually."
After a grisly start that cost rookie coach John MacLean his job, Elias said the atmosphere around the rink is markedly different.
"I think we just enjoyed it and kind of have that feeling that we can win any game against anybody," Elias said. "We've been playing better hockey, no doubt. It gives you confidence, and we're more happy to come to work, to practice, and it shows in the game."
Preds in da house
Shea Weber was the lone Nashville player selected to play in the All-Star Game, and the Preds hit the break on a tear (10 wins in their past 14 games). That will up the expectations for the Predators to make the playoffs and win their first playoff series.
While the outside view of the Predators is that they are an overachieving team, Weber said that's not the view from within the locker room.
"I don't think we ever doubt ourselves," Weber said. "Obviously, the people on the outside looking in might think that. We've got to play with that confidence that we have, guys that come in and step up, or else teams are going to come in and roll over us."
The defenseman with the big shot also admitted he thought his defensive partner Ryan Suter also belonged in Raleigh. As for getting a text or call about his draft status, Weber said he wasn't sure he'd get one given that Suter was back at home on his farm and likely driving a tractor.