Cross Checks:

Paul Maurice
November, 17, 2011
11/17/11
11:17
AM ET
Craig Custance and Pierre LeBrun discuss the surging Hawks and slumping Canes.
Custance:
Good morning, Pierre, hope you're well-rested after a fun few days hosting the hockey world in Toronto. We shared a few minutes with Stan Bowman before he boarded a plane headed for Vancouver to watch his Blackhawks try to avenge a four-goal loss to the Canucks from earlier this season. He must have been very pleased with what he saw from Chicago last night. The Blackhawks steamrolled the Canucks 5-1 in a matchup that is anything but just another night on the 82-game schedule. We asked Bowman about his team's power play, and he was pretty honest about it. "That's been a struggle," he said. Well, maybe it's less of a struggle now.
The Blackhawks scored their first two goals of the game last night on the power play, with
Andrew Brunette
and
Patrick Kane
getting things going for the Chicago power play. Perhaps even more impressive was that Chicago kept the dangerous Canucks power play off the ice by staying out of the penalty box. That's four straight wins for the Blackhawks, who have opened up a six-point lead on second-place Nashville. Have the Blackhawks established themselves as the team to beat in the West?
LeBrun:
Well, I predicted a Blackhawks-Sharks conference finals, and I feel very much comfortable with that right now. One thing Bowman told us as well is that he felt the "big guys'' were leading the way so far this season, and that is very true.
Jonathan Toews
is a 200-foot threat, while Kane has a team-leading 21 points. Kane vowed before the season that he would try to bring his game to another level this season, and he's on pace for a career-high 90 points after potting 73 points last season. But to me, a real important key as well has been the play of defenseman
Nick Leddy
. He's gobbled up big minutes after the departure of
Brian Campbell
, and whether he'd be able to do that would have a huge bearing on this season. So far, Leddy has proved more than capable.
Custance:
You're right about Leddy. We chatted briefly a couple of weeks ago, and he said his comfort level and confidence level are much higher this season. "Last year, it was all kind of new," he said. I understood the necessity to trade Brian Campbell, but I had thought Chicago would miss him more than it has. Bowman gambled on Leddy, and it is paying off. As for Campbell, he's been great in Florida. GM Dale Tallon has repeatedly shown his faith in Campbell -- first by signing him to that huge contract, then by trading for it. He was criticized for both, but Campbell hasn't disappointed in either case.
Speaking of disappointments (that was a Burnside-like transition, was it not?), the Hurricanes lost again Wednesday night -- and did so in ugly fashion. It's never good to hear players say afterward that they never showed up for a game, but those were the comments coming from the Carolina room. Carolina is 3-7 in its past 10 and currently in the No. 14 spot in the East. Coach Paul Maurice has to be at least a little nervous, or maybe it's time for a trade. I can't imagine GM Jim Rutherford letting this slide continue much longer without action.
LeBrun:
I was hearing whispers this morning that the Hurricanes are very much active on the phone looking at what was out there. Rutherford won't sit on his hands while this slide continues. My sense is that a trade is likelier to come before a coaching change. Perhaps a trade can buy Maurice some time behind the bench, but if the losses continue to pile up, he might be in trouble as well. American Thanksgiving is the time-honored threshold on the calendar for teams to size up what they have and get ready to act on the trade front. In Carolina, that's been sped up a week, if the Hurricanes are able to find what they want out on the market.
The
Columbus Blue Jackets
also continue to work the phones, I was told this morning, in search of a goalie.
Custance:
Yeah, I'm not sure Carolina and Columbus can wait another week to make changes. Interesting game for the Blue Jackets tonight against the surging Bruins. Although it's too late for Columbus to regain any hope of the playoffs, a win over the reigning champs might help build a shred of confidence. It has to start somewhere, right? Aaron Portzline of the Columbus Dispatch pointed out that the Blues have as many points (seven) during the Ken Hitchcock regime as Columbus has all season. Another reason to credit Doug Armstrong for taking action when he did, and another reason to question Columbus for doing the opposite.
As much as I'd like to watch the last-place Jackets take on the Bruins, the game I'm more interested in is Pittsburgh at Tampa Bay. The Lightning held a players-only meeting after their loss to the Jets and need to pick up some points during a home-friendly portion of the schedule. They've been good at home but face a big test in the Atlantic-leading Penguins.
LeBrun:
Sidney Crosby
will be watching his teammates play again tonight as his wait continues. He certainly can take his time with the way his club has played without him. It's simply amazing to see the Penguins leading the Eastern Conference at 11-4-3 without No. 87 in the lineup.
Kris Letang
,
Marc-Andre Fleury
and
James Neal
have all stepped up big-time, and let's not forget head coach Dan Bylsma.
Enjoy tonight's games, Craig.
November, 8, 2011
11/08/11
1:01
PM ET
No fans deserve more to rant than the loyal souls in Columbus. And we start there this week with a couple of beleaguered Blue Jacket fans.
osufanatic64: Ok, I'm going to try to be as calm about this as possible...you know what never mind. WHAT IS SCOTT HOWSON THINKING?!?!?! First of all, why Steve Mason still is in net for the Jackets is baffling to me. Clearly his rookie year was an anomaly. I'm not saying Mason is the ONLY reason for the Jackets horrendous start to the season...but 4 goals in 11 shots against St. Louis and then 7 goals against Philly? On top of that, our brilliant GM decided not to get any sort of backup goalie for security. At least last year we had Matty Garon to steady the ship (until he ultimately sank with the team). And last, but certainly not least, is Arneil even trying anymore? There is no reason we should still be so bad with a man advantage, not to mention how bad we are on the PK. I won't say this season is lost (yet...I still want to see Jeff Carter play more than 5 games), but this is a joke. Thanks for making an optimistic Jackets fan dread checking the score every night...

AND STEVE MASON?!?!?!?!?

artmabrey: Pierre, pretend you're a Blue Jackets sales person trying to get me to renew my season tickets, how do you ask me to renew? I have seen some terrible play over the years, but just when I think they have hit the bottom out comes Saturdays 9-2 loss. Give me a few reasons why I should renew next year.
My take:
Well, I'm not sure I'm that good a sales man. There's ugly, and there's the Jackets right now. I would like to see what this team can do once Jeff Carter is finally healthy. I'd also like to see what they could do with a goalie than can make some saves. Steve Mason won't be the starting goalie next season when you renew your season tickets. That much I can tell you.
---
jmcleod512: What's with the Blackhawks PP? They have one of the best 5-on-5 offenses in the league. Kane and Hossa are red hot, and Toews, Sharp, Brunette, and Bolland cap off an offensively loaded team. But they have an atrocious power play which, among many other things, cost them dearly against Vancouver on Sunday. Why can't they get it together, a top-5 PP last year?
My take:
It is stunning to be sure, but I think the numbers are a little deceiving as of late. I think there have been better looks on the Hawks PP lately, which usually precedes a breakthrough. I'd be shocked if this was a long-term issue.
---
bjmiller12: why can't the avalanche win at home. please tell me why we can't do it. we score and play great on the road but can't do crap in our Pepsi can. are we just tired of the air or what? i am going nuts trying to figure this out. the entire avs fanbase is trying to figure this out.
My take:
When teams struggle at home, I turn to this answer the most often because it's what coaches have always passed on to me, especially for young teams: They deviate from the game plan and try to put on a show at home. What works on the road, staying within the game plan, playing a more patient game, etc. often goes out the window at home when younger teams sometimes feel the pressure to put on a show for the fans.
---
[+] Enlarge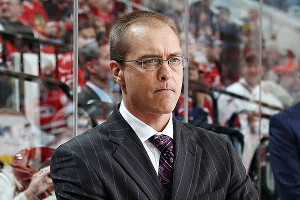 Gregg Forwerck/NHLI/Getty ImagesCan Paul Maurice and the Hurricanes turn their season around?
Heirarch: I'm a Carolina Hurricanes fan, and frankly I'm tired of a decently talented roster struggling to perform and not offering any solutions or changes that would benefit our team. Paul Maurice is a below-average coach who focuses way too much on dumping and chasing the puck instead of moving it the right way. I suggested Sheldon Souray at a discounted price last season and everyone jumped down my throat; now he's doing well. Eric Staal has been playing atrociously, and the only people who seem to show up to play hockey are Ward, Skinner and LaRose. We need to rectify our hockey team and play like we want to win, instead of playing with no heart.

LegitSportsGuy: Pierre, after being at the Stars vs. Canes game on Sunday, I am personally discouraged right now to be a Canes fan. Our G.M. has still yet to make a move after seeing us drop 3 out of 4 and give up 10 goals in 2 games while only scoring 2 goals in those 2 games. What needs to give, Pierre? Fire Paul Maurice? He consistently uses the dump and chase method and it's not working. I heard rumors about trading offense for defense but right now we could use that offensive weapon now more than ever. Especially a winger for Eric Staal! So tell me Pierre what has to give to turn my Canes around?
My take:
Well, my friend, my sources indicate your GM is trying to help your team as we speak. The Hurricanes have been chatting up the trade phone lines. I think Jim Rutherford is trying to get something done. I think Paul Maurice is OK for now, but that leash won't last all season long if the Hurricanes continue to struggle.
---
CDiercksen: Pierre, what is so hard to understand about your proposed (and oft dismissed) point system? 3 for a reg. win; 2 for an OT win; 1 for an OT loss; 0 for a reg. loss.

HOW IS IT MORE CONFUSING THAN EVERYONE BEING at or around .500? I don't know who's bad anymore (except Columbus, bless their hearts)!

Now I love me some Brian Burke, but his whole "that's confusing" comment makes me want to hunt down his elementary school math teacher and staple headphones playing banjos covering Nickelback on repeat to his/her ears. Hockey is about EARNING what you get, and I don't see how this current system that rewards teams for almost winning fits into that landscape. at least with your system it's balanced.
My take:
Thank you, my friend. I've been pushing for that point system for a long time, ever since it first came up at a GMs meeting in Henderson, Nev., in February 2004 (which I covered). It just makes so much sense. Three points for a 60-minute win would reward the better teams in this league and help the cream rise to the top as it deservedly should. That's my opinion, and I won't change it.
---
woobx: Pierre, can you please explain to me what exactly is going wrong with the Anaheim Ducks, because it seems like they have the perfect combination of veterans and young talent. Watching this 7-game road trip was so demoralizing then they put the cherry on top by not even showing up in Detroit. You can tell that frustrations are starting to set in with Selanne getting a game misconduct in Detroit. I'm starting to feel bad for the guy now because it seems like he's the only person on that team that wants to win and shows up every night.
My take:
I know the Ducks are privately disappointed in
Jonas Hiller
this season (.902 save percentage), but to me, it runs deeper than that.
Teemu Selanne
is a sure-bet Hall of Famer and one of my favorite people to ever play the game. But at 41, it's not a good sign when he's far and away leading your team in scoring with 14 points with Correy Perry, last season's NHL MVP, five points back for second and
Ryan Getzlaf
six back.
Bobby Ryan
has only six points, and that's fourth in team scoring. The big boys have to wake up.
---
awoundedzebra: While the Lightning have shown resiliency the past couple of games by coming back from 2 and 3 down, I don't like how they are giving the other team the lead so early in the game. How can they fix this, especially since two of their top d-men are getting hurt (Ohlund and Hedman), does Stevie Y need to look outside the organization or can they turn this around? I fear that they won't be able to comeback for a lot of the games this season.
My take:
Well as I reported earlier this season in one of my Rumblings blogs,
Steve Yzerman
has been working the phones in the search of help on defense. It may take a while because Yzerman wants to add a top-four type -- that's a major transaction. But that's his goal, whether it happens before Feb. 27 or waits until the offseason. They need help on the blue line; they give up way too many chances.
---
ssawas47: The Dallas Stars have been riding high and have been overlooked by many because of the loss of Brad Richards. They have shown everything you want in a championship contender with their strong physical play, outstanding goaltending, and new life on the blueline (post Zubov). Let's not forget that the Stars have new ownership on the way. So what do the Dallas Stars have to do get some credibility in their play as of late? Would you consider the Benn-Erikkson combo being one of the most underrated top line players in the NHL? Where is the love, LeBrun??
My take:
Well, my friend, I ranked them second overall in the Power Rankings on Monday. Is that not love? I remember talking to GM
Joe Nieuwendyk
during training camp and he told me point blank people were vastly underrated his team. It wasn't the usual spin you get from a GM about his team. It was matter of fact. He was surprised people were overreacting so much to the loss of Brad Richards. The Stars added seven players in the offseason and have more depth than last year. They may dip a little at some point, but I think they're playoff-bound.
---
CAR2687: So with the Blues making the move to release Payne from his coaching duties, and hiring Hitchcock, it seems that the organization isn't happy with the way things are going. As a fan, I'm extremely frustrated. I felt with a full season of Stewart, Perron hopeful to return by Jan 1, and the new veteran leadership that STL would make a strong push not only to the playoffs, but a sleeper in the Central. Special teams and a bad Halak have hurt that cause. Do the Blues need to make a move? Will Hitchcock light a fire under the guys, especially Halak? I love how Elliot is playing, but I don't know if I can rely on him to be this way for the full season. It's frustrating to have really good games against good teams like Van and Phi but then stink out the joint against Calgary.
My take:
Know this: The whip is coming out in the form of Ken Hitchcock. The young core on this Blues team doesn't know what's coming at them. Hitch will be tough on them and make them accountable. If that doesn't work, expect GM Doug Armstrong to make a trade or two. They won't sit on their hands this season and allow the core to disappoint.
October, 27, 2010
10/27/10
12:28
PM ET
Let us consider this. Thus far, the Carolina Hurricanes have traveled more than 15,000 miles through 11 time zones in four countries. They were away from home for 19 of the first 23 days in October and have played in cities as far flung as St. Petersburg, Russia, Helsinki, Finland, Ottawa, Vancouver, San Jose, Los Angeles and Phoenix.
They have woken up in the middle of the night on a plane. They have played at 6 p.m. local time twice. They have had morning skates at 8:30 a.m.
[+] Enlarge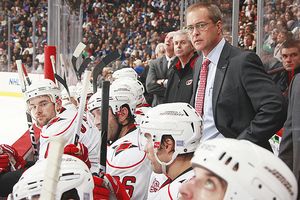 Jeff Vinnick/NHLI/Getty ImagesCoach Paul Maurice and the Hurricanes return to Raleigh on Wednesday with a 4-3-0 record.
What they have not done -- at least until Wednesday night -- is put on their home jerseys and skate out in front of their fans in Raleigh, N.C.
"It doesn't really hit you until you walk into your rink and you realize you haven't played in front of your own fans yet," Carolina coach Paul Maurice told ESPN.com on Tuesday afternoon. "We're still waiting for our first home game. It's been a new experience for a lot of us. It just seems that our schedule has been really unusual."
On Wednesday night against the Washington Capitals, Maurice is hoping the thrill of actually being able to open the true home portion of the team's schedule will be enough to overcome whatever normal physical letdown there is from having traveled across the continent.
"I just hope our legs catch up to our emotion," he said.
After winning their first two games against Minnesota in Helsinki as part of the NHL's Premier Games, the Canes practiced for a couple of days at home before hitting the road again. They stumbled in Ottawa and Vancouver, but found their legs again and won two of three to finish their odyssey with a 4-3-0 record.
"The first two games [back in North America], there was not a lot of energy," Maurice said.
Back when training camp started, Maurice skated the young Hurricanes hard, knowing they wouldn't get as much of a chance to get in consistent, hard workouts with travel and other events connected to the European trip.
Apart from the four wins, Maurice said he'll take away his observations of the team coming together during its prolonged start-of-season odyssey. As the days passed, there were a lot more laughs and a lot more jokes within the group, he said.
Not that Carolina's road challenges are at an end. From Wednesday through Saturday, Nov. 6, the Hurricanes will play seven games, three more on the road. By Nov. 13, they will have had 10 road games, or one-quarter of their road schedule, under their belts.
"We really upset somebody at the league office last year," he joked.
Still, Maurice figures this period will be a true barometer of whether his team has bonded and turned what could have been a drawback into an advantage later in the season.
In the short term, however, Maurice and the rest of the Canes will be happy to get caught up on laundry and seeing the familiar sights of Raleigh, especially their fans.