Cross Checks:

Pavel Kubina
September, 12, 2014
Sep 12
11:37
AM ET
Despite a disappointing playoff performance last spring, the
Tampa Bay Lightning
-- who were swept by the
Montreal Canadiens
in the first round -- actually may be one of the most intriguing teams to watch, with training camp just around the corner.
The Lightning should have a healthy
Steven Stamkos
and goaltender
Ben Bishop
, something that was not the case in the 2013-14 Stanley Cup playoffs.
Add some splashy offseason acquisitions -- defensemen
Anton Stralman
and
Jason Garrison
, and forward
Brian Boyle
-- and highly touted prospect Jonathan Drouin, and this could be the sleeper team of the NHL.
Former Lightning defenseman and Stanley Cup champion
Pavel Kubina
is hoping to see his old team emerge as one of top dogs in the East.
[+] Enlarge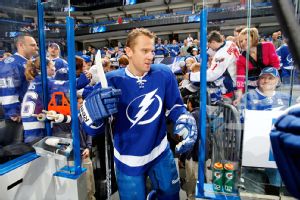 Scott Audette/NHLI via Getty ImagesPavel Kubina still lives near Tampa and runs Private Allstar Cars, a private car concierge service.
"I think it's a great mix," Kubina told ESPN.com in a recent telephone conversation. "[Jeff] Vinik really got behind them -- he's one of the best owners I've ever played for -- and the team has a great future. They'll definitely make the playoffs."
Kubina, who played for Tampa Bay for 10 seasons, still resides in the area and runs Private Allstar Cars, a private car concierge service. Though that passion project keeps him busy, he maintains a close relationship with his former club and keeps tabs on it throughout the year.
Kubina was thoroughly impressed with the play last season of the 6-foot-7 Bishop, who earned a Vezina Trophy nomination after posting a 37-14-7 record with a .924 save percentage and a 2.23 goals-against average. Unfortunately for the Lightning, he went down with a wrist injury right before the playoffs began.
"Obviously with Bishop in net, even when they don't have a good night, he's capable of stealing games and getting them two points," Kubina said. "They have a chance to win every night."
Having Stamkos back at full strength also will be a major bonus. The 24-year-old superstar suffered a devastating leg injury in November, and despite an aggressive rehab plan that allowed him to return in March, he was clearly not playing at full capacity.
After a whole summer to rehabilitate the injury, Stamkos is ready to go, and Kubina can't wait to see the results.
"I could see Stammer having probably 60-70 goals if he plays the whole year and, with Ben Bishop in net and some of their younger players, they could definitely do some damage in the East," said the 37-year-old Kubina, who played in 970 career NHL games. "They don't hold back a lot on offense, they create a lot of chances and they don't sit back and wait to score."
A big part of that, of course, is Jon Cooper, who made a splash in his first full season as the Lightning's coach.
Kubina likes his demeanor and the way he has utilized a young, talented roster.
"He's done a great job with the team," Kubina said. "When he took over, the team started playing fun hockey. What I like about the system is they skate and play hard. They don't sit back on a lot of chances . . . He does a good job with that young group."
April, 13, 2012
4/13/12
12:57
PM ET
Look for veteran defenseman
Pavel Kubina
to get back into the Flyers' lineup after being a healthy scratch in Game 1.
Marc-Andre Bourdon
is considered day-to-day with an upper-body injury and his equipment was unused Friday morning. Kubina was brought in from Tampa at the trade deadline to add depth to a Flyers blue line that has been without captain
Chris Pronger
since before the new year.
"It's always hard when you're not playing. But I do understand it," Kubina said Friday morning.
"Hopefully, I can help the team in the future," he said.
***
Flyers defenseman
Kimmo Timonen
has played almost 1,000 NHL games and said he cannot recall ever winning the first two games of a playoff series on the road. But he said he has always enjoyed starting the playoffs on the road because there are fewer distractions and less pressure.
As for coming up with a second straight win to start this series, Timonen said it's obvious the Flyers cannot replicate their start in Game 1 when they were down 3-0 after the first period.
"We all know what was the reason we had a bad start," Timonen said.
The Penguins, meanwhile, liked their start in Game 1 but weren't happy with allowing the Flyers to dictate the terms in the second and third periods and then win 4-3 on Jakub Voracek's overtime goal.
"We know we have better and we know what our game looks like," Penguins center
Sidney Crosby
said.
***
Many of the Penguins were wearing a special T-shirt Friday that, among other things, featured a stylized captain's "C." The "C" harkens back to a time earlier in the season when there was a local story that the Penguins wanted to name an interim captain while longtime captain Sidney Crosby rehabbed from concussion issues. The team denied that such a discussion took place, and in solidarity, the players showed up on the ice one day wearing a "C" taped to their practice jerseys.
That marked a turning point in the season for the Penguins, who ended a brief slump and began a period of winning.
It was a time when the team became closer,
James Neal
said Friday after an optional morning skate.
"That's why we're wearing it [now]," Neal said.
Coach
Dan Bylsma
noted that there were a couple of different items on the shirts that were made a couple of weeks ago.
"It's not a today thing, but that's a playoff T-shirt they made and there's more than one or two things on the shirt," Bylsma said.
"We've got a few things that have gone on throughout the year, little symbols on the T-shirt," Crosby added.
April, 12, 2012
4/12/12
8:54
PM ET
There was only a small sample on the special-teams front from Game 1, but the results nonetheless illustrate why many people believe that battle could ultimately decide the winner of the Flyers-Penguins Eastern Conference quarterfinal series.
The Penguins weren't able to solve the Flyers penalty killers on three power-play opportunities but the Flyers made their lone power-play opportunity count, tying the game at 3-3 just past the midpoint of the third period on a pretty goal by rookie
Brayden Schenn
.
The Penguins, of course, led Game 1 by a 3-0 count after the first period and head coach
Dan Bylsma
acknowledged the missed opportunities with the man advantage were a factor in the loss. He pointed to a power play early in the third as a moment when the Flyers really seized momentum.
"Certainly could have gone the other way with a better-executed power play," Bylsma said Thursday.
The Penguins did experiment with different looks on their power play in Game 1 and again at practice on Thursday, and they might go to employing two more-balanced units moving forward instead of the five-man unit used more frequently during the regular season that features the team's top offensive players:
Sidney Crosby
,
Evgeni Malkin
,
Kris Letang
,
Steve Sullivan
and
Chris Kunitz
.
Bylsma's counterpart, Peter Laviolette, agreed that his penalty-killing unit's play along with the play of netminder
Ilya Bryzgalov
was crucial to the Flyers' comeback.
"At different points through the course of the game, the penalty kill had to be good, Bryz had to be good, otherwise the score would have kept going," he said.
***
Flyers coach Peter Laviolette raised eyebrows when he made veteran defenseman
Pavel Kubina
a healthy scratch in Game 1. With
Marc-Andre Bourdon
suffering an injury in Game 1 (GM Paul Holmgren reported Thursday that Bourdon is day-to-day with an upper-body injury), there's a possibility for Kubina, who won a Cup with Tampa back in 2004, to draw back in. Still, Laviolette had nothing but praise for the big defender who came over from Tampa at the trade deadline this season.
"He is effective. Lineup decisions are never easy. I don't take them lightly and I don't take delivering the news lightly," the Flyers coach said. "When you have to tell a good hockey player that they're not in the lineup, it's always difficult."
"Pavel's done a terrific job since he's been here, a welcome addition," Laviolette added. "Because he didn't play last night is not a reflection of him or his game."
The Flyers dress six defensemen and Laviolette said he had seven to choose from in Game 1.
"And I had to make a tough decision," he said.
February, 18, 2012
2/18/12
10:50
PM ET
It was a most curious day for the
Philadelphia Flyers
. They got even deeper across the blue line by adding veteran big-bodied Stanley Cup winner
Pavel Kubina
, but once again, despite all the building and tinkering, appear to be lacking that one critical ingredient that has denied them a Cup for 36 years.
The Flyers jumped the queue ahead of teams like Boston, Chicago and the
New York Rangers
in the quest to add defensive depth before the Feb. 27 trade deadline by adding their second defenseman in the past 48 hours. They sent prospect
Jon Kalinski
, a conditional second-round pick acquired from Florida in the
Kris Versteeg
deal and their own fourth-round pick in 2013 to grab Kubina, who obviously included the Flyers on a list of teams to which he would agree to be traded.
The Flyers earlier picked up
Nicklas Grossman
from Dallas, making their blue line as deep as any in the Eastern Conference even without the services of captain
Chris Pronger
, who is lost for the season due to concussion issues.
But the trade came on a day when the Flyers were beaten 6-4 by the visiting
Pittsburgh Penguins
, a day in which "franchise" netminder
Ilya Bryzgalov
was once again pulled by head coach Peter Laviolette, this time after allowing three goals on 13 shots. Two of the goals were short-handed and one was on a rare 5-on-3 advantage for the Flyers. Not that backup
Sergei Bobrovsky
fared much better as he allowed three goals on 17 shots in just over a period's worth of play.
The Flyers have won just three times in their past 10 games. In five of those games, they have given up four or more goals.
Although the Flyers signed Bryzgalov to a nine-year deal last summer, a deal that is paying him $10 million this season, the enigmatic netminder seems to have been overwhelmed by his move to Philadelphia. He became something of a sensation during the HBO "24/7" reality series with his ruminations on the universe and his love for his dog (and family). On Saturday, Bryzgalov followed that up by cryptically telling reporters that, "I will try and find peace in my soul to play in this city."
Huh?
Not sure if Flyers GM Paul Holmgren rushed out to make the Kubina deal after he heard Bryzgalov's musings or if he rushed back into his office to call Tampa GM
Steve Yzerman
and beg him to take Kubina back.
Still, one can't fault Holmgren for once again being among the boldest of NHL GMs.
With Pronger and his all-world presence gone, Holmgren knew he had to beef up a blue line that still boasts battle-tested veterans like
Kimmo Timonen
,
Matt Carle
,
Braydon Coburn
and
Andrej Meszaros
.
Throw in the solid play and shot-blocking ability of Grossman, who didn't fit into the Dallas Stars' long-term plans, and Kubina, who won a Cup in 2004 with Tampa, and this is -- or should be -- a unit that is built for the long haul in the spring.
Perhaps, even, the kind of blue line that can overcome pedestrian goaltending.
Kubina, 34, was second on the Lightning in hits and third in blocked shots. He missed four games to injury in early December and suffered a concussion in Game 1 of the second round of the playoffs last spring against Washington and did not play again in the postseason.
He's not going to generate much offense -- he has one assist in his past 15 games -- but he will chew up the minutes for the Flyers as he averages 19:54 a night.
He is set to become an unrestricted free agent at the end of the season, so the Flyers aren't exposed financially beyond this season.
Although the Flyers have been one of the teams to inquire about Columbus winger
Rick Nash
, it's not believed they are a serious player in the Nash sweepstakes. If that's the case and Holmgren decides to hang on to what has emerged as a dynamic group of young talent mostly among his forward personnel, his acquisition of Grossman and Kubina should help provide more than a little ballast for the postseason grind.
The ripple effect of the Flyers' acquisitions, along with Nashville's addition Friday of veteran defenseman
Hal Gill
, is that it significantly narrows the focus for a number of top teams looking to add blue-line help; and the Flyers may encounter a couple of those teams in the postseason, such as the Rangers, leaders of the Atlantic Division and the Eastern Conference, and the defending Stanley Cup champion Bruins.
The
Chicago Blackhawks
,
San Jose Sharks
and
Detroit Red Wings
will be in the hunt for significantly less attractive options to bolster their blue lines before the 27th given the recent run on defensemen.
So, a job well done once again by Holmgren.
Now, if the Flyers could just get someone to occasionally stop the puck, they might just be on their way.
Sadly for Flyers fans, that is a much bigger "if" than anyone could have imagined last offseason.
February, 9, 2012
2/09/12
8:45
PM ET
Ray Whitney
is on the radar of a few contenders and with good reason, the Wizard amazingly leading the
Phoenix Coyotes
in scoring at 39 years old.
An unrestricted free agent July 1, he could be on the move if the Coyotes fall out of the playoff race over the next two weeks.
Sources have told ESPN.com that Boston, San Jose and the
New York Rangers
covet the slick playmaker.
The tricky part is that Whitney has a no-move clause that calls for him to list eight teams to which he'd be willing to be traded. A source told ESPN.com on Thursday that that conversation had yet to happen, which makes sense since the Coyotes remain very much in the playoff race at this point.
Still, a name worth keeping an eye on.
RED-HOT ISLES
The
New York Islanders
are on a roll, and the last thing on their mind right now is the thought of being sellers come trade deadline day. They believe they've got a shot at a playoff spot in the East and that's their only focus at this point.
"Yeah, we have a lot of belief in that locker room," Isles GM
Garth Snow
told ESPN.com Wednesday. "Within the last few weeks, we've really turned it up a notch as a team. Our specialty teams have improved. We're just looking forward to the next game."
Veteran netminder
Evgeni Nabokov
has been lights-out of late. He's slated for unrestricted free agency July 1, which is why his name is often floated in trade rumors, but that's not what Snow has in mind at this point.
"We have no intention of moving Evgeni," Snow said. "He's been great for us. His performance speaks for itself."
There haven't been any contract talks between the Islanders and Nabokov's camp, but it's not out of the question down the road.
"Yeah, we'd consider all options, we're just not at that point yet," said Snow. "We just finished [signing] Frans [Nielsen] and we obviously have a few other players who are unrestricted free agents in July, so we'll just chip away at them."
Among those other UFAs-to-be is forward
P.A. Parenteau
. Talks have begun there but still no deal.
"We've been having a dialogue with his agent and we'll see where it goes," Snow said.
LEAFS HOST WINTER CLASSIC?
The
Toronto Maple Leafs
will play in Detroit for the Winter Classic next Jan. 1, the first step in what they hope is hosting one.
"We would definitely want to, the league knows we want to host it one day," Tom Anselmi, the COO of Maple Leaf Sports and Entertainment, told ESPN.com Thursday. "We'd like to host it either in conjunction or in the lead-up to our 100-year anniversary. But obviously we need to figure out the building issue."
The 20,000-seat BMO Field, where MLS team Toronto FC plays, is the most likely site for an outdoor NHL game in Toronto. But 20,000 seats won't cut it. The Leafs would need to expand the stadium, perhaps only temporarily, to have any chance at hosting a game.
Anselmi also reiterated the Leafs' desire to host the NHL Entry Draft and the NHL All-Star Game somewhere around or leading up to the club's centennial anniversary, which is in 2017.
SENS AT THE DEADLINE
Ottawa's slide down the standings has certainly tied the hands of GM Bryan Murray. He can't commit to being a buyer or seller at this point with his team on the playoff bubble.
"The one thing we have is a plan going forward, we think we know that we have some young kids coming that are valuable and we're not going to trade them," Murray told ESPN.com earlier this week. "We'll see if there's anything that makes sense, but in all likelihood it's status quo at the moment, anyway."
In a perfect world, if the Senators can climb back up the standings over the next two weeks and gain more comfort from the danger zone, they'll look to add a forward.
"We'll see, we'll let it play out here," Murray said. "If we bounce back, we may have to make a different decision. But at the moment, we're just going to hold and see if we can get our better players to play better."
Murray hasn't sat on his hands over the past month, though.
"I did make a couple of calls," Murray said. "I found out an approximate price. It's not cheap. I don't know how many trades there are going to be this year, but the people selling are going to have high demands. It sounds like that anyway."
DUCKS AT THE DEADLINE
Based on what I'm hearing from other teams, it would appear more and more that if the Ducks were going to move one of their big guys, it would likely happpen in the offseason.
You never say never, because the Ducks could get an offer for
Bobby Ryan
they just can't refuse before Feb. 27, but the prevailing thought around the league is that if the Ducks decide to move a big chip like Ryan or
Ryan Getzlaf
-- and that remains an if -- the offseason presents a better opportunity to involve more teams in the mix.
Just like the Flyers did with
Mike Richards
and
Jeff Carter
last June.
Besides, the Ducks are on a roll right now, so they haven't given up on the season.
Top offensive blueliner
Lubomir Visnovsky
could still move before Feb. 27, however, although the Ducks aren't giving him away. He's not a rental player, he's got another year on his deal, so Anaheim will move Visnovsky only in a traditional hockey deal, not a rental deal where it gets a bucket of pucks.
The interesting part about Visnovsky is that while his cap hit for next year remains at $5.6 million, pretty hefty, his actual salary drops to $3 million, so that might interest some teams.
Niklas Hagman
(UFA July 1) is getting some nibbles as well. He's a versatile player and your typical depth forward, rental addition.
LEAFS AT THE DEADLINE
The Leafs would have preferred to have made their deal by now. GM Brian Burke doesn't like adding players right at the deadline. He prefers to make his deals at least a month out so that the player or players have more time to get acclimated to the new surroundings.
But it didn't happen for the Leafs, just like it didn't happen for most other contenders who were shopping in January but found the prices too exorbitant given the lack of sellers.
The Leafs' desire is to add a top-six forward with size. They're not easy to find.
The other factor Toronto's front office must weigh is that the team has gone gangbusters since the calendar flipped to 2012, and one must consider that when contemplating making a roster move to a dressing room that's in sync right now.
"Yes, momentum and chemistry both factor in whether you shuffle the deck," Burke told ESPN.com Wednesday.
The key, at least in my opinion, is to make sure if you make a big addition that the reaction in the room is players feeling euphoric that the team has a better chance to win now. As opposed to wondering why a teammate they're fond of has been dealt.
Speaking of the Leafs, second-line center
Mikhail Grabovski
-- slated to be UFA July 1 -- remains unsigned, although his agent Gary Greenstin did recently chat with Toronto.
"I spoke with Maple Leafs management a couple days ago and I believe they understand our position and we understand their position," Greenstin told ESPN.com via email Wednesday. "Like I said before, Mikhail loves the city, organization and the fans, and we know the fans like him too. He would like to stay in Toronto and win the Stanley Cup with them, but he is in his prime years in his hockey career and this has to be right for Mikhail and it has to be right for the Maple Leafs."
KUBINA WRINKLE
Veteran defenseman
Pavel Kubina
will be an unrestricted free agent July 1, so naturally if and when the Lightning become sellers, he'd be a man of interest to contending teams.
One wrinkle to note, however. Kubina has a limited no-trade clause, which states the Lightning must ask him for the five teams he'd be willing to move to. That conversation has not yet happened.
April, 30, 2011
4/30/11
6:32
PM ET
WASHINGTON -- The walking wounded were nowhere to be seen Saturday but whether any of the injured Tampa Bay Lightning or Washington Capitals players will be available for Game 2 Sunday night remains unknown.
Simon Gagne and Pavel Kubina, both of whom suffered head injuries in Friday's Game 1, were listed by the team as day to day, but coach Guy Boucher said he is contemplating life without either player.
"I think the option of being prepared is having Option A, B and C. So, I guess we'll prepare D the rest of the day. We have to prepare for different scenarios because they are really different scenarios that are possible. It's not clear cut at all," Boucher said Saturday.
Gagne fell awkwardly when hit early in the game by Scott Hannan, while Kubina did not return after taking a hard check into the end glass by Jason Chimera late in the second period.
Boucher said one of the players was feeling better than the other in terms of his spirits, although he wouldn't elaborate.
"One better than the other one, but pretty good," Boucher said.
If Kubina is unable to play, look for Randy Jones to see his first action of the playoffs. He has not played since early March because of an ankle injury.
"We'll see tomorrow. I haven't decided yet. If Kubina can't go, Jones will be coming in. He's ready to go. He knows exactly what to do. He was playing against some top lines before he got injured," Boucher said.
It's not clear who would take Gagne's place in the lineup if the veteran winger is unable to go.
Meanwhile, Washington defenseman John Carlson, who did not play in the third period of Game 1, didn't skate Saturday during the team's optional practice. But coach Bruce Boudreau was hopeful that Carlson would be able to return to action Sunday.
"I think [there's a] pretty good chance that he'll play tomorrow. But I'm not 100 percent sure," Boudreau said.
Carlson did play one shift in the third period of the Capitals' 4-2 loss to Tampa but was too sore to continue.
"Yesterday he was sore. Because if we could have used him we would have used him," Boudreau said.
Defensive partner and close friend Karl Alzner was likewise cautiously optimistic that Carlson would return.
"It's tough to say. I mean I didn't talk to him a whole lot, I just saw him getting treatment, that's about it. I think that most guys are optimistic about him," Alzner said.
The effect of Carlson's absence was felt in a number of different areas including the amount of ice time Mike Green had to log.
"The challenge is, quite frankly, when you're down a goal you need his offense," Boudreau said. "I don't think it's any secret when you look at our team, Mike Green and John Carlson are our offensive defensemen, and the other guys are the stay at home defenders. When you look at Mike Green's minutes being 27 minutes, it's too high. He had a great series against New York and he's playing 18, 19, 20 minutes. Those are the minutes we have to get back to."
Although defensemen Tom Poti and Dennis Wideman both skated Saturday, the Caps coach said neither would be an option for Game 2.
Caps' power-play woes
Much discussion Saturday about the 0-for-5 effort on the power play for the Caps in Game 1. At its most basic, it appears the unit's inability or refusal to get pucks on net is a key to turning around their play with the man advantage. That and getting to more loose pucks.
"Well, it's the only way you get success. The natural instinct is 'Oh, we've got a man up, it's a goal-scoring opportunity.' But the whole thing of it is if the penalty killing works harder than the power play that usually nullifies your man advantage," Boudreau said.
The Capitals had just five shots total in the third period.
"That's not enough when you're down a goal," Boudreau said.
March, 10, 2011
3/10/11
3:22
PM ET
Scott Burnside and Pierre LeBrun question the thought process behind looking to file criminal charges against Zdeno Chara and wonder why there is no uproar over Pavel Kubina's elbow to the head of Dave Bolland.
Burnside: Well my friend, it's clear the Zdeno Chara/Max Pacioretty situation isn't going to go away easily. With the NHL ruling that Chara would not be fined or suspended, many, especially north of the border, are enraged that Chara has escaped unscathed. In a typically Canadian reaction, or certainly typically Quebec reaction, Montreal police are looking into the hit that left Pacioretty with a severe concussion and cracked vertebrae. This comes from senior civil servants who demanded the issue be examined with an eye to possible criminal charges being filed. Forgive me, but what a joke. No unsolved murders, assaults or break-ins in Montreal that they can spend time and taxpayer dollars to investigate whether a hockey player has run afoul for an on-ice play? Guaranteed if the roles were reversed and it was Chara injured there wouldn't have been a peep about this on your side of the border. Let me ask you: Which is more problematic for the NHL, the Chara incident or the elbow thrown by Tampa defenseman Pavel Kubina at the head of Chicago's Dave Bolland on Wednesday night?
LeBrun: Well, I certainly don't blame Habs fans for being upset, even if I'm not sure, no matter how many times you slow down the tape, you can prove Chara deserved to be banished for the hit. As I said yesterday, Scotty, I hate the result of the play and feel terrible for Pacioretty, but to me it didn't warrant more than a couple of games, if at all. I spoke with four NHL head coaches over the past 24 hours who completely agreed. But you understand how Montreal fans, easily the most passionate in the league, are upset, especially since it involves a player in Chara that they routinely booed every time he touched the puck the last few years, and that was before this! But for the Montreal police to get involved? Ridiculous. Chill out, people. Funny how another hit last night hasn't generated the same fuss. You mentioned Kubina's elbow on Bolland. I'm amazed that hasn't got more attention around the league. That was a brutal hit to the head and it got him a three-game suspension. The Blackhawks aren't sure when Bolland will be back.
Burnside: I understand the passion for the game in Montreal and across the province and the country. And I understand that fan loyalty often leads to blindness when it comes to making rational judgment. But what galls me is that politicians and civil servants and even airline officials want to horn in on the reflected limelight from what was a terrible incident. This has no business in a criminal court. And for a company like Air Canada, which has reportedly threatened its sponsorship over the NHL's ruling, those involved should be ashamed of themselves. In many ways, it merely reinforces the notion that Canada is a small, backwards little country with an unnatural affection for a game. As for the Kubina hit, absolutely this is far more troubling for the NHL, because it strikes at the heart of a number of issues: respect, blows to the head, unsuspecting victims. The Chara hit, as unfortunate as it was, is to me like a lightning strike, a horrible combination of bad timing and poor arena construction. The Kubina hit is the issue that deserves more attention, but because it didn't happen in Canada to a player on a Canadian team, it gets overshadowed. Sad.
LeBrun: Scotty, calm down on the Canada-bashing, buddy. If it wasn't for Canada's passion and support of the game of hockey, there would not be an NHL. So let's get that straight before you bury the Great White North with a wide brush. But like you, I laughed at Air Canada's venture into hockey politics. You would think the airline would be more concerned about getting its own house in order before poking its nose in the NHL's affairs. What bothers me, too, is where exactly was Air Canada's disgust with the NHL when the game's best player suffered a head shot? Listen, I feel terrible for Pacioretty, a victim of a controversial hit gone horribly wrong. But for Air Canada or the Montreal police to get involved? Wake up, people.
Burnside: OK. I've been breathing deeply. All good. Hey, no one is saying Pacioretty deserved what happened -- at least that's not where I'm coming from -- but it is a bit rich, the outrage coming from various quarters of the hockey world, mostly north of the border. It will be interesting to see when the GMs meet in Boca Raton, Fla., next week how much debate the Chara hit generates. I am guessing that there will be far more discussion on the Kubina hit and how supplemental discipline is handed out on plays like that regardless of how many airlines or donut shops howl out their disapproval.
LeBrun: If there's any good at all that might come out of the Chara/Pacioretty fallout, it is indeed that it will add to the importance of GMs getting their heads together next week (no pun intended) and once again trying to figure out what has been an epidemic when it comes to head injuries. You know Penguins GM Ray Shero will come armed and ready to voice his concerns after losing Sidney Crosby. Habs GM Pierre Gauthier will also be ready to have his voice heard. And I know from speaking with a league source Thursday that the GMs' agenda is incredibly stacked with head shots/concussion-related material, so the league isn't shying away from once again having the discussion. The challenge now is to do something meaningful about it, because Rule 48 isn't enough.
In the meantime, it would also be nice to know where new NHLPA executive director Donald Fehr stands on all this. He needs to show leadership on this issue. He's been way too quiet. This isn't just a league problem; the players' association must make itself heard on this.