Cross Checks:

Radko Gudas
October, 15, 2014
Oct 15
12:12
PM ET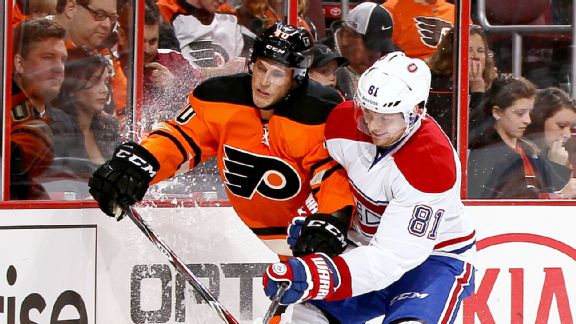 Elsa/Getty ImagesVincent Lecavalier got off to a decent start but was stopped against the Canadiens.
Oh, things have not started well in Philadelphia. The Flyers are winless in four games (0-2-2), their lone points coming in shootouts, the worst on Saturday when they blew a 3-0 lead against Montreal and lost in a shootout (as an aside, no one should get a point for that kind of performance). And the news doesn't get any better as injuries continue to mount.
Vincent Lecavalier
will miss a couple of weeks after blocking a shot Saturday, and the Flyers hit the road for stops in Dallas, Chicago and Pittsburgh. Lecavalier stayed in Saturday's contest and actually took the first shootout attempt for the Flyers, but local reports indicate he left the building with his foot in a walking boot. It's too bad because Lecavalier was off to a good start, with a goal and two assists and eight shots on goal in three games. He was also logging power-play time and looked to be back in a groove after a difficult end to last season that saw him switched from his lifelong position as a center to the wing.
It's been a tough transition from Tampa, where he'd spent his entire career, to Philadelphia, where the 34-year-old signed a five-year, $22.5 million deal after being bought out by the Lightning.
"Well, ended up being more difficult, that's a good way to put it," Lecavalier told ESPN.com.
After coming back from injury, "I was put in a position I haven't played before," he said. "A little bit of an adjustment. It was tough to adapt."
While there was much speculation in the offseason that Lecavalier would be traded, no move took place, and he talked about his affection for the Flyers and his belief in his abilities.
"I think every year, no matter if you had a great year the year before or not so good of a year, I think you start with a clean slate and it's a new year," he said. "I believe in my game and what I can bring to the team. I have confidence in that."
Gudas should have been punished
Maybe it's just that everyone was at the
Chris Pronger
icebreaker at NHL headquarters (everyone decked out in their favorite Philadelphia Flyers jersey) or maybe it's just that I don't understand exactly what the league is prepared to accept in terms of on-ice dangers, but I still don't get how the devastating hit by the
Tampa Bay Lightning
's
Radko Gudas
on
Scottie Upshall
of the
Florida Panthers
last week passed without a sound from the league. Yes, Upshall had his head down trying to locate a pass just inside his own blue line. And no, Gudas didn't leave his feet to make the hit. But the principal point of contact is Upshall's head. The contact is made by forearm/elbow and Upshall is completely defenseless. The department of player safety, to which Pronger now belongs, has a lot of leeway to impose sanctions that in theory make the game safer. The notion that this play somehow didn't fit nicely into an accepted rule box is a cop-out. How was this different from a hit from behind? You can argue -- and some do -- that a player with his back to the play needs to be aware of potential danger, just as Upshall should have been more aware in open ice of the potential dangers around him. Yet the NHL has made it crystal clear to players that it's wrong to drill opponents from behind. That's a progressive thing. The video of Gudas' hit on Upshall should be shown to GMs when they meet in Toronto in November. They should be asked: Do you want this hit delivered on one of your players? The answer should be a resounding no. And then they should be asked what they would like to do about it in the light of the league's disappointingly passive stance for a clearly dangerous hit on an unsuspecting player.
It was Selanne's time
I'm pretty sure that future Hall of Famer
Teemu Selanne
is feeling pretty embarrassed for unloading on
Anaheim Ducks
coach Bruce Boudreau in an authorized biography released in Finland a short time ago. As he should be. The Finnish Flash, one of the game's great ambassadors and a treat to deal with for journalists the world over, angrily suggested that it was Boudreau's fault that Selanne retired at the end of last season. Selanne, who turned 44 over the summer, also took time during the Olympics in Sochi last winter to take not-so-subtle jabs at his NHL coach while enjoying a renaissance tournament, winning a bronze medal and playing like a man half his age. But the Olympic game is a different game, and when I read Selanne's comments, I recalled watching the Ducks and the
Los Angeles Kings
play a few days before the Stadium Series game at Dodger Stadium in January. The Ducks won this particular game at the Honda Center in Anaheim in a rollicking, hard-hitting contest that was one of the best regular-season games I've seen in many a moon. At one point I turned to a veteran NHL writer in the press box, and I wondered aloud about who was the most obviously out-of-place player on the ice. There was immediate consensus that it was Selanne. The game was too fast, too hard for him to keep up. This isn't a shot at Selanne, but rather a reminder that sometimes the game knows it's time long before the player knows, and blaming the coach for that harsh reality is an unfortunate byproduct of accepting that reality or, more to the point, of being unable to accept that reality.
December, 10, 2013
12/10/13
1:10
PM ET
While we await word on just how big a whack Boston's
Shawn Thornton
will get for hunting down and pummeling unsuspecting Penguin
Brooks Orpik
(the guess is a dozen games for sending Orpik to the hospital with a concussion and to the injured reserve list), league disciplinarian
Brendan Shanahan
got it just about right with the five-game suspension handed down to
James Neal
for kneeing
Brad Marchand
in the head in the same game.
In a game with plenty of ugliness, Neal's cheap shot to an equally unsuspecting Marchand was the most senselessly bizarre. One wonders how the suspension will effect Neal's standing with the Canadian Olympic group. It's not just the five games he'll miss, but the question of whether in a tournament in which special teams will play a prominent role, you can afford to have someone on your team who has so little self-control.
[+] Enlarge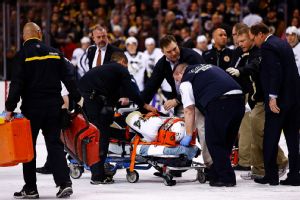 Jared Wickerham/Getty ImagesThe notion that Brooks Orpik should have to defend himself or risk getting injured after a legal play is part of the problem in today's game.
Finally, the Bruins not only lost
Loui Eriksson
to a hit from Orpik in that game, but also
Chris Kelly
to a broken leg courtesy of
Pascal Dupuis
. The replay of Kelly's injury shows that Dupuis isn't even looking at Kelly but is instead trying to make contact with a bouncing puck, but that won't make Kelly or the Bruins feel any better.
One NHL executive at the board of governors' meetings in California suggested that if Orpik had simply fought Thornton -- as Thornton had wanted after Orpik's heavy hit on Eriksson -- none of this would have happened. Oy.
If there is a problem the league's GMs and competition committee need to address, it's the notion that players should have to fight after delivering a legal body check. Whatever happened to simply taking a hit?
The sooner the league moves to punish players who go looking for fights in the aftermath of clean hockey hits -– there was no penalty assessed on the Orpik hit on Eriksson –- the sooner we have fewer incidents like the debacle in Boston on Saturday.
Lightning bitten by injury bug
While the Bruins deal with several injuries and the loss of Thornton (and continue winning, by the way), no team has it quite as bad as the
Tampa Bay Lightning
.
After being relatively injury-free through the first six weeks of the regular season, Tampa Bay lost
Steven Stamkos
to a broken leg in November and has been besieged by other key injuries since.
"It was exactly like the injury dam broke," head coach Jon Cooper told ESPN.com Monday.
The Lightning have piled up 101 man-games lost to injury, and at one point last week had 13 players in the lineup with fewer than 100 NHL games to their credit, and eight with fewer than 50 games.
On the night the Lightning got defensemen
Eric Brewer
and
Radko Gudas
back from injury,
Keith Aulie
and
Victor Hedman
both went down with long-term injuries. The two defensemen join Stamkos and veteran winger
Ryan Malone
among those with significant injuries.
One of the first things Cooper did when talking to his players about the spate of injuries is to make it clear they weren't going to use them as an excuse for on-ice performance.
"The one thing we'll never do is use injuries as an excuse because once you do that, we're done as a team," Cooper said. "The mindset has been, 'These are the 20 guys we're going with on any given night, now how do we get the most out of them?'"
But the rash of injuries that totaled more than 2,800 games of NHL experience has tested the team's organizational depth and forced players to play out of their comfort zone.
Valtteri Filppula
, for instance, is now the team's No. 1 center and
Tyler Johnson
is in Filppula's normal spot on the second line, meaning both are playing against a class of players they're not used to seeing.
Overall, Tampa has four rookies among in the top 30 in scoring among first-year players.
The team has held its own since Stamkos went down, going 5-5-2 overall and 4-1-1 at home. The team defense and goaltending have been excellent, but the team's offense has, perhaps predictably, gone south.
"The problem is we're really struggling to score," Cooper said.
Surprise for Sabres?
Among the interesting names being bandied about for the vacant
Buffalo Sabres
GM job is that of Tim Murray. The current assistant GM in Ottawa, Murray had a hand in building the Anaheim Ducks' Stanley Cup winner in 2007 as director of player personnel responsible for college free agents.
He has also served with the
New York Rangers
and
Florida Panthers
in various scouting capacities. Bloodlines don't hurt, either, and Murray is the nephew of current Ottawa GM Bryan Murray and former NHL head coach Terry Murray.
Fisher making a Selke case
Of all the trophies hockey writers vote on, the one that gives us most pause is narrowing the field for the Frank J. Selke Trophy as the league's best two-way forward. It is always difficult to balance the offensive side of the game with the work a player does killing penalties, taking key draws and shutting down the opposing team's top players.
So we listened with interest as Nashville head coach Barry Trotz talked about his top shutdown center,
Mike Fisher
. The team has struggled and Fisher's offensive numbers (seven goals, 12 points) aren't what he or the team hoped for, but he remains a key figure even though his work goes largely unnoticed.
"He's always been a guy, top centerman in the league, he ends up playing a lot of times head-to-head [against opposing stars] and I think he hasn't got any credit for that here the last couple of years," Trotz said in a recent interview. "He's scored and all that, but he's sort of under the radar and I think this year, especially this year, he's played really back to the level that I think has made him a real hard player, a Selke candidate.
"His numbers are modest, but they're solid for our team. He plays against the top guys almost every night. He plays heavy minutes and he plays a heavy game. He doesn't play a light, shadowy game.
"At the end of the night, you know you played Mike Fisher. At the same time he still operates on the penalty kill, still operates on our power play," Trotz continued. "Plays head-to-head against people, plays in all the key situations, takes key faceoffs, him and
Paul Gaustad
. He really is a guy who is very important to their team, but at the same time contributes on both sides of the puck.
"He's not a pure shutdown guy; that's why I don't think he gets the credit that he deserves. It's a hard league and he's a hard guy to play against."