May, 16, 2014
May 16
12:54
PM ET
Scott Burnside and Craig Custance talk about what's next for the Pittsburgh Penguins, in the wake of the firing of GM Ray Shero.
BURNSIDE:
Well, my friend, the ax fell, and it fell rather stunningly in Pittsburgh with the news Friday morning that GM Ray Shero would pay the price for another disappointing end to a Penguins playoff season -- although head coach
Dan Bylsma
will remain, at least temporarily, pending the search for a new GM. Still, it would seem to be a formality, given the firing of Shero, that Bylsma will at some point be dismissed as well, given that this is five straight years of playoff losses for the Pens to lower-seeded teams. But I admit I was a little bit more surprised that Shero, former GM of the year, was let go, although as you noted in our podcast Thursday, the fact that Shero stuck with Bylsma after last year's sweep at the hands of the
Boston Bruins
in the Eastern Conference finals inexorably tied their fates. So, now what? Like the
Vancouver Canucks
and
Washington Capitals
, the Penguins need to find a key piece to their organizational structure they hope will restore Stanley Cup hopes. Do you think assistant GM
Jason Botterill
will be in the mix, given his knowledge of the Pens' farm system, or will there need to be new blood with this hire? President David Morehouse said Friday that Botterill was a candidate and could in fact guide the team through the draft if a new GM isn't in place by that time. What about Tim Burke in San Jose or
Claude Loiselle
in Toronto? Or do you think it has to be a GM with a higher profile?
CUSTANCE:
To me, it has to be a GM who meets
Sidney Crosby
's seal of approval. Crosby might not formally have a say in the process, but I can't imagine them bringing in a guy whom Crosby wouldn't want around. That's why I found Bob McKenzie's speculation about agent Pat Brisson so interesting. Brisson's name was attached to speculation in Los Angeles when Dean Lombardi's job was in jeopardy, and that would have made a lot of sense if things hadn't taken off like they did for the Kings. Montreal was another destination in which Brisson's name was heavily attached before the Canadiens hired
Marc Bergevin
. Now comes this opportunity. These are some prime jobs, and you can't help but wonder if this is the one that convinces Brisson to cross over into management. The reality is he'd probably have to take a pay cut because of his impressive client list, not to mention the big deal coming for
Jonathan Toews
this summer. But he's close with Crosby, is no stranger to ownership in Pittsburgh and certainly qualified. If he's willing to do it, I think he's the best candidate. You?
BURNSIDE:
I think it's more important that a new coach is aligned with Crosby and what is going to get this team back on the right track. And, let's be honest, is there anyone anywhere who doesn't think that Bylsma's firing is now a formality whenever a new GM is hired? As an aside, I think it's criminal that ownership wouldn't simply fire Bylsma to give him a shot at some of the openings that are out there as of this writing. Very passive-aggressive. Still, it's weird how suddenly we're having similar discussions about this management-star dynamic that we've been having for some time now with the Washington Capitals and Alexander Ovechkin. I think the Brisson idea has merit, although the pay cut isn't to be overlooked. Brisson's partner, J.P. Barry, represents
Evgeni Malkin
, so lots of ties there. Too many? I wonder about that. Do you think it's overstating it to say this is a team at a crossroads now, and if so, do these hires become the most important moves since the Penguins won Sidney Crosby in the lottery in 2005? The new GM will have his hands full with the
Kris Letang
and
Rob Scuderi
contracts, and there is a significant issue of offensive depth, although credit to Shero for building an impressive group of defensive prospects, starting with
Olli Maatta
, who made the jump from junior to the NHL with great success this season. Still, I think the bigger hire will, somewhere down the road, be finding someone who can come in behind this bench and fix what is obviously a significant issue of getting the most out of the team's best players at the most critical times of the season. Seems counterintuitive that we would say that about Crosby and Malkin et al., but the proof is the proof. I keep wondering about a guy such as Ron Wilson, who's had a chance to recharge after flaming out in Toronto. What about
John Stevens
, who should have had the Vancouver job last summer? If Shero had not been fired, I'd have suggested Barry Trotz, but I wonder now if Shero and Trotz end up in Washington or Vancouver together.
CUSTANCE:
With Bylsma staying on, even temporarily, I absolutely agree that there could be a Trotz-Shero combo somewhere in the NHL soon. And that would be a heck of a team. I wonder how much the decision to keep Bylsma has to do with the reality that Mike Babcock has one more year left on his deal with the Red Wings? He'd be the perfect fit, and his willingness to play out the final season of his contract in Detroit opens up the intrigue even more. I think he'd love the opportunity to coach Crosby in the NHL and not just internationally, but he's also a guy who has a strong working relationship with Red Wings GM Ken Holland, sincerely appreciates the ownership in Detroit and really likes the prospects coming for the Red Wings, so he might ultimately decide to stick around. I like the Ron Wilson suggestion, and even though Shero is gone, I still think Trotz would have to consider Pittsburgh. If it becomes an opening, it's by far the best one available.
BURNSIDE:
Hey, I think Trotz is a heck of a coach. But if Bylsma is ultimately let go for having failed to get his team back to a Stanley Cup finals, at the very least it will be interesting to see if Trotz -- whose
Nashville Predators
, albeit not blessed with nearly the same talent pool but who were nonetheless solid teams and who still never advanced beyond the second round -- is the guy to take over the keys to the Penguins' star-studded lineup. Let me ask you this: Do you think the Penguins are that far away from being a contender again? Like Vancouver, is this a team that's seeing the window close on its championship chances before our very eyes? Seems impossible that it would be so but the facts are the facts. So, how important is this GM hire and the subsequent coaching hire we imagine is en route?
CUSTANCE:
I think that's part of the reason we're seeing these major changes coming from Pittsburgh. You can't have two of the best players in the world on your roster and only win one Stanley Cup. The success the Blackhawks are enjoying makes it look worse by comparison, which is a credit to Stan Bowman's ability to consistently surround Jonathan Toews and
Patrick Kane
with the right pieces. I'm not ready to say the window is closing, but these are Crosby and Malkin's peak years. Crosby is 26, Malkin is 27. Historically, once elite forwards start to get into their 30s, the production starts to decline. The Penguins simply can't keep wasting these prime years of their star players.
November, 8, 2013
11/08/13
5:59
PM ET
TORONTO -- As the members of the class of 2013 were handed their Hockey Hall of Fame induction rings Friday afternoon, the kickoff to a memorable weekend leading up to Monday night's official induction, it was impossible not to think about how much the game has changed and where it's headed.
Chris Chelios
could be as nasty as they come.
Brendan Shanahan
had more than 2,000 penalty minutes. The late Fred Shero coached the Broad St. Bullies.
None of them did anything that wasn't perfectly acceptable at the time, very much part of the hockey culture of their particular era.
"You can't elbow a guy in the head today," said Chelios, considered the greatest American player of all-time. "Back in the '80s? I'm going to try and take Mogilny's head off; and I did because it was allowed, it was tolerated, it was a two-minute penalty and that's it. Now with the rules? As a player you have to adjust."
And he would have adjusted. What makes great players great is that they can adapt to their surroundings. Chelios could have easily played in today's NHL, but he would have toned down the dirty stuff, picking his spots for sure.
"The whole game is evolving certainly," Shanahan said after picking up his HHOF ring, very much the face of that evolution as the head of the NHL's Player Safety Department.
"I do think our challenge every night is to try and get involved in a way where we don't lose the physicality of hockey. Sometimes that's a difficult job to do. We do it as a committee and we do our very best. But it's certainly a new direction. Sometimes you'll think back to the way you used to do things, the rules were different. It's a challenge."
Shanahan points to a game in Carolina years ago when he played with Detroit when he and
Bob Boughner
got into a stick-swinging incident.
"A vicious stick fight," Shanahan recalled. "It was vicious. And we both got match penalties. But there was no video of it. So we didn't get suspended."
Then Shanahan continues with a wry smile: "Boughner and I might have reached out to each other after the game to get our stories straight, to keep each other from getting suspended -- which years later I admitted to Colin Campbell. But I tell you what, that would have been leading off the news that night. I would not have been able to escape that one from Colin."
With more education on the long-term effects of brain injuries, the game is forever headed in a new direction.
"I never had a reported concussion in my career until my 19th year in the league, when I was actually knocked out cold," Shanahan said. "I know I must have had plenty of concussions. We just didn't know. It's also about more knowledge."
Ray Shero is one of the more outspoken GMs in the NHL when it comes to pushing for change and a crackdown on head shots and fighting. If that sounds at all like he's at odds with what his late father represented, it isn't.
Because of the Broad St. Bullies image, people forget that Fred Shero was a great hockey mind who was often ahead of the curve, ahead of his time for some of his coaching ideas. And he won championships in other leagues with teams that weren't full of tough guys.
The point is, Ray Shero said, if his father was alive today, he wouldn't bury his head in the sand over the issues at hand in the game.
"I think he'd really want to look at it," Ray Shero told ESPN.com Friday after picking up his father's HHOF ring. "Because I do think when I look back at when he coached, one of the reasons he's going into the Hall of Fame is because he was an innovator. I believe that he would want to have this discussion and look at things, and see that the game is changing.
"I don't think my father would be standing here today steadfast about not changing. As Brendan said, the game is evolving. Thirty years ago, there used to be a bench-clearing brawl every week. Obviously now there isn't. We just have to keep looking at it."
The key is to keep the sport as physical as possible while making it as safe as possible. That seems counter-intuitive at times, because it's awfully difficult.
"My view? I'm old school, and I don't want to sound like a cold-hearted guy, but there's risk and reward for when you're an athlete," said Chelios, who then glanced over to Shanahan a few feet away.
"Their job is to protect the players, and they're trying to do the best they can. There has to be some type of responsibility and onus on the players to respect each other. But I like the North American style of hockey, I'll take will over skill any time, mostly because I didn't have the skill that
Scott Niedermayer
had, he was just so smooth."
Niedermayer would have fit in today's game just fine. The silky smooth blueliner did his damage with his skating and passing hands, not his fists or his elbows.
He was there in the 2003 Stanley Cup finals when Devils teammate
Scott Stevens
crushed Ducks winger
Paul Kariya
with an open-ice hit that today would likely have been a suspension.
"There's definitely more awareness, which is a great thing, and I think it's headed in the right direction," Niedermayer said of the league's work on concussions.
Kariya came back to play in those Cup finals. Today's concussion protocol would likely have prevented that, although
Jonathan Toews
admitted after last season's Cup finals that he played through a concussion against Boston.
More often than not, the player needs to be protected from himself.
"Certainly, there is life after hockey, whether a player can believe that or not," Niedermayer said.
June, 14, 2013
6/14/13
7:03
PM ET
The NHL announced its first round of award winners Friday, and ESPN.com's Scott Burnside and Pierre LeBrun break down the winners of the Frank J. Selke (best defensive forward) and Jack Adams (coach of the year) trophies, as well as the GM of the Year award.
BURNSIDE:
Well, my friend, thanks to the lockout the annual NHL awards extravaganza in Las Vegas has been revamped and spread over two days during the Stanley Cup finals, with the first batch of winners unveiled Friday afternoon. The balance of the major awards will be revealed Saturday before Game 2 of the finals. Let's take a look at the three significant awards handed out Friday.
For me, the Selke was the most compelling because it was really a two-man race between
Chicago Blackhawks
captain
Jonathan Toews
and defending Selke winner
Patrice Bergeron
of the
Boston Bruins
. Toews and Bergeron are the heart-and-soul leaders of their teams, and Toews edged Bergeron for his first-ever Selke by a scant 10 voting points. I know you thought Toews should have been a finalist for the Hart Trophy (as league MVP), but he's certainly deserving of the Selke, which some folks consider one of the most prestigious awards in the game given that it recognizes a player's complete game. Now, what will be interesting is which of these two great forwards ends up wearing a Stanley Cup ring in the next couple of weeks. What was your take on the Selke voting?
[+] Enlarge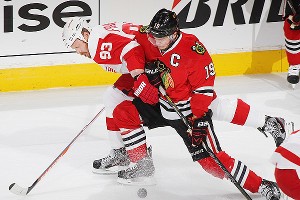 Dave Reginek/NHLI/Getty ImagesJonathan Toews' all-around game earned him his first-ever Selke Trophy this season.
LEBRUN:
I had Bergeron first on my official ballot and Toews second, but I'm not upset that Toews won it. I think they're both equally deserving, tremendous 200-foot players. Total toss-up for me. What upsets me more is that Toews didn't make it as a nominee for the Hart Trophy. I just can't believe that at all. But I guess that's a conversation for Saturday when the Hart is handed out (rumor is that
Alex Ovechkin
has won it). One thing I can tell you is that I was tremendously pleased to see Paul MacLean of the
Ottawa Senators
winning the Jack Adams Award as NHL coach of the year. Like many other media members, I've been touting him all year. Totally a slam dunk given what he did with the injury-ravaged Senators this season. It would have been an absolute travesty had the NHL Broadcasters' Association not voted him the winner.
BURNSIDE:
I fear you and I might come to blows when the Hart Trophy winner --and the NHLPA companion, the Ted Lindsay Award -- are announced, but I can certainly understand the Hart Trophy discussion as it relates to Toews. That's how important he is to the Blackhawks. And I agree entirely on MacLean. This is the second year in a row he was on the final ballot for coach of the year, and he easily outdistanced the second-place finisher, Joel Quenneville of the Chicago Blackhawks. Bruce Boudreau of the
Washington Capitals
was third.
The Jack Adams is a tough one because often it goes to a coach who gets his team to overachieve or does more with less, but there's no question MacLean's job in keeping his team on track without
Erik Karlsson
,
Jason Spezza
and
Craig Anderson
for long stretches of time reinforces that he is one of the keenest coaching minds in the league.
The other award of note announced Friday was the GM of the Year, and the
Pittsburgh Penguins
' Ray Shero earned that honor. I'm sure he'd rather his Pens were still engaged in playoff hockey, but he is full value for the honor given the moves he has made dating back to last June's blockbuster trade of
Jordan Staal
to Carolina, and continuing through his trade deadline acquisitions of
Jarome Iginla
,
Brenden Morrow
,
Douglas Murray
and
Jussi Jokinen
, even if those deals didn't quite pay off the way Shero had imagined.
LEBRUN:
People no doubt will question Shero winning given how the Pens were dominated in being swept by Boston in the Eastern Conference finals, but you have to understand that these are regular-season awards. To me, Shero is absolutely deserving and one of the very top GMs in the game. What I found curious, though, is that Scott Howson, fired as GM in Columbus early in the season, received two third-place votes, while Greg Sherman in Colorado also got a third-place vote. Um, are the GMs not taking their voting duties seriously? Honestly.
BURNSIDE:
I will point out that
Martin St. Louis
won the Lady Byng Trophy as the league's most gentlemanly player for the third time in the past four years. I know you were anxious about how that award voting was going to go. Saturday will be interesting, though, as there are rumors that
P.K. Subban
is going to win the Norris Trophy, which boggles my mind more than a little given the season
Ryan Suter
had in Minnesota. And I know there's going to be lots of debate if Ovechkin does walk away with the Hart, but we'll have plenty of time to kick that around on Saturday.
LEBRUN:
In defense of voters, I will say it was a challenging ballot for many voters given that the Eastern Conference and Western Conference did not play each other during the lockout-shortened season. So voters were limited somewhat in what they were able to witness firsthand from night to night. That's why I reached out to a bunch of scouts, who travel the most, to help form my opinion on the awards I voted on.
And we shall indeed see what Saturday brings, my friend.
June, 13, 2013
6/13/13
5:38
PM ET
For
Pittsburgh Penguins
GM Ray Shero, it was never about whether he should trade Evgeni Malkin but about whether Malkin wanted to be in Pittsburgh.
Playing alongside a superstar like
Sidney Crosby
, and thus being in the considerable shadow cast by the talented captain, is not for everyone.
As it turns out, though, it is exactly what suited Malkin.
The two-time scoring champ and former playoff and regular-season MVP has agreed in principle to an eight-year contract extension that will come with an annual cap hit of $9.5 million. The contract kicks in at the start of the 2014-15 season.
"When we spoke, it was clear to me that he wanted to be here," Shero told ESPN.com on Thursday.
"He made it clear he wanted to stay and play in the National Hockey League," the GM added, noting the lure of Kontinental Hockey League money back home in Russia was also an option Malkin had to consider.
In the wake of the Penguins' shocking sweep at the hands of the
Boston Bruins
in the Eastern Conference finals -- during which they scored just two goals and went 0-for-15 on the power play -- there was much debate about what changes should be made to the team and the organization.
There was some discussion about whether Shero would be better off to move Malkin, who could have become an unrestricted free agent at the end of next season, to try to spread out the talent and money on the team as opposed to having two big-time, big-salary centers eating up so much cap space.
But Shero looked at it from a different viewpoint: When you have two of the best centers in the game, don't you do everything in your power to keep them?
The answer was yes, and so he did.
"It's a high number, obviously, with a salary cap," said Shero, who can add and subtract with the best of them. "I do the math. I get it."
But this contract doesn't kick in until the start of the 2014-15 season, and early indications are that the salary cap, which will drop to $64.3 million next season, will rise to pre-lockout levels and beyond by that time. If so, that $9.5 million cap hit may seem less imposing.
So this contract is really about the future and the fact that Crosby and Malkin are now under contract together for the better part of a decade. (The extension Crosby signed last year takes him to 2025 with an $8.7 million annual cap hit, while Malkin's goes until 2022.)
Shero, of course, has been busy since the Pens were eliminated late last week.
In the face of questions about whether he would make a coaching change, Shero extended coach
Dan Bylsma
and his staff, although longtime coach Gilles Meloche had decided months ago this would be his final season as the team's goaltending instructor.
Now Shero will turn his attention to the immediate future, specifically the makeup of his blue line.
Brooks Orpik
,
Matt Niskanen
and Norris Trophy candidate
Kris Letang
can all become unrestricted free agents at the end of the season. The Pens have a handful of good young defensemen who need a shot at playing NHL hockey, so Shero must decide how to integrate those players into the lineup and at what point that integration should begin.
The biggest issue will be with Letang, who has high-end offensive skills but struggled mightily on defense in the playoffs.
In the coming days, Shero will sit down with Letang's agent Kent Hughes to see what the defenseman is looking for in terms of dollars and contract length. The feeling is that if Letang is looking to be paid as much as the league's best defensemen -- say in the $7 million-$8 million range with a seven- or eight-year deal -- it will be difficult for Shero to accommodate him given the other commitments he has made.
If that's the case, look for Shero to begin to immediately explore the trade market for Letang.
The situation is similar to a year ago when Shero began contract extension discussions with center
Jordan Staal
, whom he thought he could re-up long-term.
"But that turned very quickly," Shero said.
When it did, Shero worked out a blockbuster deal with Carolina at the draft that saw
Brandon Sutter
, a prospect and a first-round draft pick come to the Penguins in return for Staal.
One imagines a similar scenario unfolding with Letang is possible, if not likely.
"There's a lot of work to do but a lot of options," Shero said.
April, 1, 2013
4/01/13
10:42
AM ET
What an interesting week ahead for the league-leading -- and possibly record-setting --
Pittsburgh Penguins
.
On the record front, the team has won 15 straight games and can tie the NHL record for consecutive games won in a season with wins over the
Buffalo Sabres
at home Tuesday and at Madison Square Garden the following night against the
New York Rangers
. If the wins keep coming for the Pens, they could establish a record at home Friday night against the Rangers.
Although the Penguins remain the highest-scoring team in the league (3.36 goals per game), no team wins 15 straight, especially given the condensed post-lockout schedule, without being able to shut down opponents. The Pens have done that in spades of late, winning the past three games by shutout and allowing only nine goals in their past 11 games.
Wow. Also impressive is that starting netminder
Marc-Andre Fleury
and veteran backup
Tomas Vokoun
have been equally responsible for the top-end goaltending the team has received. Each has registered two shutouts during the streak.
But the assault on history has taken a distinct back seat in Pittsburgh over the past 48 hours, as the Penguins are waiting to find out how long they will be without captain
Sidney Crosby
, who took an errant puck to the mouth during his opening shift of Saturday's 2-0 win over the
New York Islanders
. Crosby, the NHL's leading point-getter,
suffered a broken jaw
and is out indefinitely.
Immediately, folks began to speculate on how long Crosby, who spent the weekend in a hospital, might be absent from the Pens' lineup. Four weeks? Longer? The bottom line is that no one knows. And no one will know until later this week, when doctors reassess the damage and the outcome of surgery performed shortly after the incident. If it's possible to gain any kind of vibe from those close to the situation, it's one of cautious optimism. That there don't appear to be any concussion-related symptoms is good news for the Pens, as is the fact Crosby's jaw is not wired shut.
The Pens have virtually locked up the Atlantic Division title, although the East's top seed could still be at play if they were to go into a slide and the
Boston Bruins
and
Montreal Canadiens
kept up their winning ways. Certainly without Crosby and top-four defensemen
Kris Letang
and
Paul Martin
, both of whom also are out with injury, the team's depth is going to be challenged in the short term.
But isn't that why GM Ray Shero acquired
Jarome Iginla
and
Brenden Morrow
to bolster the forward contingent and
Douglas Murray
to add to an already solid blue line? We're guessing Shero didn't expect to see that depth challenged quite so quickly, but perhaps better now than in late May. As for making further additions, don't expect Shero to make any more moves by Wednesday's trade deadline -- certainly none as impactful as his earlier acquisitions.