Cross Checks:

Ray Whitney
September, 5, 2014
Sep 5
1:44
PM ET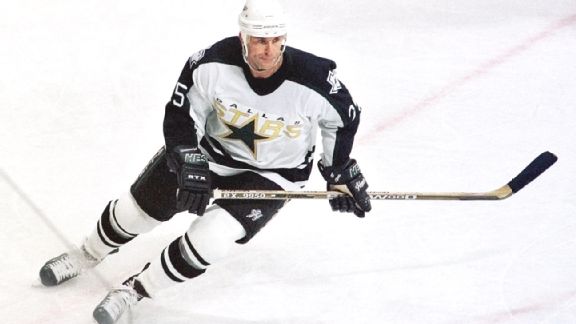 AP Photo/Bill JanschaFormer Stars player and GM Joe Nieuwendyk is back in the NHL after a year away from the league.
Hall of Famer
Joe Nieuwendyk
took a full season away from the NHL, although he never stopped watching hockey.
But Nieuwendyk needed a year away to recalibrate after being fired as general manager of the
Dallas Stars
following the 2012-13 season, spending some time with his family, before taking on his next challenge.
His next gig will allow him to stay in Dallas with his family while at the same time reconnecting with the NHL.
"I enjoyed my year with helping my son's hockey team, and now I can continue to do that," Nieuwendyk told ESPN.com this week after being named pro scout/adviser to
Carolina Hurricanes
GM
Ron Francis
.
"I had breakfast with Ronnie in the spring and we continued to talk during the summer. I have a lot of respect for Ron,'' Nieuwendyk said. "I played with him on the Leafs in '04, and we have mutual friends who work for him in Carolina. It just feels like something I wanted to do and hopefully I can help him any which way I can.''
When Jay Feaster was fired as GM in Calgary last season, rumors -- well-founded ones -- spread that Flames president of hockey operations Brian Burke had great interest in bringing former Flames star Nieuwendyk in as Feaser's replacement.
While Nieuwendyk has never talked publicly about that specific possibility, it is clear he's not ready yet to jump back into that demanding lifestyle of running an NHL team.
His new job with the Hurricanes will provide the best of both worlds: a link to NHL management and the chance to continue to help coach his 12-year-old's hockey team and spend time with his three kids in Dallas.
"This gives me an opportunity to stay involved in the game, being part of upper management conversations with Ronnie,'' Nieuwendyk said. "I think that's a good role for me at this point. I love helping my son's team out; that's been a lot of fun.
"I'll be based in Dallas, I'll see games here and keep an eye on the Western Conference a little bit for Ronnie,'' Nieuwendyk added. ``A big part of this, though, will be just to have to some real good conversations with Ron. I know he doesn't have a deep staff. So any time I can be a sounding board for him, he's probably going to go through a lot of the same things I went through as a (rookie) GM. We just have a good relationship. He's a sharp guy and a classy guy, I think he's going to be fine.''
The Bruins' cap challenges
The Bruins remain cap-challenged on the eve of training camp and it's likely they'll move a body or two over the next month or so to give themselves some breathing room.
That's a must when you consider that restricted free agents
Reilly Smith
and
Torey Krug
remain unsigned. Plus there's the fact Boston's getting dinged $4.7 million in cap carryover bonus overages from last season.
It's a good bet a trade happens here at some point sooner rather than later. From chatting to sources around the league this week, the names we keep hearing that the Bruins are listening on are defensemen
Johnny Boychuk
($3.36 million cap hit),
Adam McQuaid
($1.56 million) and
Matt Bartkowski
($1.25 million). All three are unrestricted free agents a year from now.
The Bruins likely have a pretty good idea from chatting to teams all summer long what deals they can make for either of those players. The question now is which one or two they can live without, leaving them with the best possible group intact.
The end for Whitney?
Is the Wizard nearing retirement? Tough to tell at this point but it's possible
Ray Whitney
has played his last NHL game.
"I'm not sure yet, and I'm not really tipping my hand one way or the other,'' Whitney told ESPN.com on Thursday. "I'm in shape, I'm skating, but I'm not too worried. There's obviously limitations to where I would go, but I'm not out there searching for anything, either.''
The sense at this point is that if a team calls, he'll listen, but he's not ordering his agent J.P. Barry to drop everything, either.
"I won't continue to skate for much longer," Whitney said quite candidly. "My interest in playing drops with each week that I don't get something, so I won't be pressing too much.''
The 42-year-old had 32 points (9-23) in 69 games with the Dallas Stars last season, although it was clear he wasn't a fit there anymore. He did put up nearly a point a game in the lockout season just the year before and had 77 points (24-53) in 82 games with the
Arizona Coyotes
in 2011-12. He can surely help somebody's power play.
Just a guess here, but given that Whitney and his wife and kids live in Scottsdale, Arizona, the Coyotes are probably one of the teams he'd be open to signing with. However, a source told ESPN.com that Arizona does not have any interest.
Hopefully Whitney catches on with another club, but if this is the end, what a career it's been. He won a Stanley Cup with the Hurricanes in 2006 and totaled 1,064 points (385-679) in 1,330 career regular-season games with San Jose, Edmonton, Florida, Columbus, Detroit, Carolina, Arizona and Dallas.
Bertuzzi's focus back on ice
Now that Todd Bertuzzi's settlement with
Steve Moore
is signed, sealed and delivered, his camp can focus on hockey matters.
With the possibility of a trial this fall keeping Bertuzzi occupied in recent months, there really wasn't any point in trying to talk to NHL teams about the UFA winger this summer.
But now that a trial has been avoided, Bertuzzi's agent, Pat Morris of Newport Sports, told ESPN.com Friday that his client hopes to catch on with an NHL team.
"Todd wants to continue playing," Morris said. "He's skating and is in great shape. A lawsuit is no longer an issue. We'll see what transpires in the coming weeks."
Easier said than done, of course. The 39-year-old was limited to 16 points (9-7) in 59 games last season in Detroit and that comes after the lockout year in which he played only seven games because of injury.
But Morris says Bertuzzi is skating and is ready to go. It won't be back in Detroit, though, where the Wings have a plethora of forwards and are still waiting to hear on whether
Daniel Alfredsson
.
January, 28, 2014
Jan 28
6:42
PM ET
The chatter has picked up this week as NHL teams prepare more and more for not only the March 5 trade deadline, but also the Feb. 7 Olympic trade freeze.
"There's definitely more talking going on," one team executive told ESPN.com Monday night.
"Some of the bubble/lower teams have begun to share their lists of players they might move if they fall out of it."
The question is how much will actually happen before next Friday's (Feb. 7) 3 p.m. ET Olympic trade freeze.
There are so many teams right up against the salary cap, which handcuffs some trades.
"Because of that, I still think most of the action, like 90 percent of it, happens after the Olympics, closer to March," said one player agent who has a player or two who likely will be on the move.
One player whose name I would have never predicted to even possibly be in the mix before the season is that of
New York Rangers
captain
Ryan Callahan
.
But he's a pending UFA July 1 and so far contract talks have not gone well at all, a source told ESPN.com Tuesday.
All of which led to some rumblings that the Rangers are exploring the trade market in case talks don't produce a contract extension before the March 5 trade deadline. My colleague Darren Dreger also reported on Callahan's trade possibility during our Insider Trading segment Tuesday evening on TSN in Canada.
You can imagine the reaction when Rangers GM Glen Sather called some teams over the past week to inform them that Callahan might be available.
"That's a pretty big name," one Western Conference source said.
Still, it seems hard to fathom Callahan moving, but it appears the Rangers are intent to not lose such a prized asset for nothing July 1 if they can't get him signed. So the clock is ticking.
Stay tuned ...
Boyle's future
The Sharks and
Dan Boyle
's camp chatted over the weekend in the wake of the
Patrick Marleau
and
Joe Thornton
signings, but I would certainly not say a deal is close as of now, although talks are ongoing.
Boyle remains the one veteran name who's unsigned in San Jose, as
my colleague Craig Custance detailed in his Monday blog
.
What I can gather at this point is the Sharks point to the 35-and-over rule (where deals count against the cap even if a player can't complete it) and have suggested that a one-year deal makes the most sense. It's what players in their late 30s have done in the past (such as
Nicklas Lidstrom
and
Daniel Alfredsson
).
But Boyle, I believe, wants a two-year deal at this point and feels he can probably play another three or four years of good hockey. And when you watch him play right now, you certainly can't disagree with that. He remains a high-end force.
In the end, I can see both viewpoints.
We'll see how it plays out ...
Kadri trade rumors
Hard to believe that
Nazem Kadri
can ignore the trade rumors that have circulated for the past two months, but that's exactly what the
Toronto Maple Leafs
center has tried to do.
It may very well be that he never goes anywhere, but it's a fact that other teams have called to inquire about him, which has led to the speculation in the NHL's biggest hockey media market.
"I kind of just forget about it, I've been around long enough to not listen to speculation," Kadri told ESPN.com after Tuesday's morning skate. "The amount of guys that have been on the trading block the last few years and nothing ended up happening, that's just crazy to me. So I just ignore it and go about my business."
No question he simply does not want to leave.
"Absolutely not. I've grown a lot of friendships and relationships here on this team, I'm close to a lot of guys. It would suck to leave. That's why I'm trying to contribute as much I can to make them want me here," Kadri said.
Pens' blue line
The Penguins organization is loaded with depth on defense, which also means Pittsburgh has decisions to make.
Whether the Pens make some of those decisions before the March 5 trade deadline or wait until the offseason depends probably on how hard other teams make them think with potential offers for one or two of their blueliners.
They've got free-agent decisions to make, too, on defense with Team USA Olympian
Brooks Orpik
as well as
Matt Niskanen
-- both UFA eligible July 1. Niskanen is having a terrific year.
There are youngsters in the AHL such as
Simon Despres
,
Brian Dumoulin
and
Philip Samuelsson
, as well as junior star prospect Derrick Pouliot, among others.
At least one if not two youngsters need NHL jobs next season, but there isn't room for everyone.
So it certainly would not be surprising to see the Pens deal a kid away before March 5 to get a winger with
Pascal Dupuis
out for the season.
But the blue line will need shaking out past this season heading into next year.
I am curious about one thing: I wonder if there won't be a few teams calling on
Kris Letang
. It just so happens that Letang's new extension kicks in next season and his salary will more than double from $3.5 million this season to $7.25 million next year, the first in an eight-year, $58 million deal he signed last summer.
Now, I am not saying the Pens are thinking of shopping him, in fact I have heard zero evidence of that being the case. But what I can see happening is another team making an offer thinking the Pens are so loaded on defense organizationally and need to find money to re-sign Niskanen and/or Orpik, plus make room for the likes of Despres next season. ...
You can see how another team might be thinking it might be worth making an offer to Pittsburgh on Letang ahead of the June NHL draft. Food for thought.
Stars' Whitney on rental list
Another rental name to remember before the March 5 trade deadline is pending UFA
Ray Whitney
of the
Dallas Stars
.
The 41-year-old winger has a modified no-trade clause, but I think he'd welcome a change to a contender if the Stars fall out of it.
Right now, Dallas intends to see how things go before the Olympic break and then decide based on where the Stars are in the standings what the organization will do with some of their its, including Whitney.
April, 25, 2013
4/25/13
9:39
AM ET
Jack Johnson
's calm belies the decidedly jittery situation in which the
Columbus Blue Jackets
find themselves.
Johnson was taking time before the Blue Jackets boarded their flight to Dallas, where they will play one of the most important games in the 13-year history of the franchise.
Did the defenseman stay up late the previous night to watch the
Stars
and
Sharks
play in San Jose?
Nope, Johnson said, explaining that because of the time change, he was in bed and waited until the morning to find out that the Stars had allowed two goals in a 30-second span in the third period en route to a 3-2 loss.
Surely the Blue Jackets were planning to gather en masse to root for the
Los Angeles Kings
on Wednesday night when they visited the
Detroit Red Wings
at Joe Louis Arena?
Well, Johnson said, he supposed if the game was on in the restaurant where they went for dinner, they'd keep an eye on the score. And of course guys would be keeping up to date on the game with their smartphones.
But as for gathering in one giant circle of nail-biting hockey players sticking pins in their Red Wings voodoo dolls ... uh, no.
That game, won impressively by the Red Wings 3-1, was beyond the control of the Blue Jackets.
Thursday's game in Dallas? That's something they can control.
"We're all very aware of what needs to happen for us and what's going on," Johnson said.
But, he added, "we have to win our last two games. At the end of the day, that's all we can control."
Detroit's win moved the Red Wings ahead of Columbus into the eighth and final playoff spot in the Western Conference with 52 points, one more than the Blue Jackets. The
Minnesota Wild
are still in the mix, one point ahead of Detroit, while Dallas (48 points) has the biggest challenge of those still in the hunt for a postseason berth.
All four teams have two games remaining, including Thursday's now-monster clash between Columbus and Dallas in Big D. The fact that both the Stars and Blue Jackets can still discuss the postseason at this late date is something of a minor miracle and adds an upbeat backdrop to the game.
The Stars have missed the playoffs in four straight seasons, and when general manager
Joe Nieuwendyk
dealt veterans
Derek Roy
,
Jaromir Jagr
and
Brenden Morrow
during the trade deadline period -- all of whom were set to become unrestricted free agents this summer -- it appeared the team was conceding that this would mark five in a row without a postseason game.
But role players such as
Vernon Fiddler
and
Cody Eakin
, who came to Dallas in the
Mike Ribeiro
trade last summer, have provided key production, while veteran
Ray Whitney
, back from injury, has rewarded the Stars' faith (they signed the soon-to-be 41-year-old to a two-year deal last summer) with much-needed leadership. Goalie
Kari Lehtonen
, also just back from an injury, has been solid as the Stars have kept a playoff drive alive far longer than expected.
Going 0-2-1 on their current road trip means the Stars' margin for error is zero, but they play at home Saturday night against the Red Wings, and if they can beat Columbus and get some help from the
Nashville Predators
, who play both Detroit and Columbus, perhaps it will mean something -- indeed, everything.
Columbus, on the other hand, was again trending toward a top draft pick in another desultory season that included the introduction of new team president John Davidson and the midseason firing of GM Scott Howson, who was replaced by Jarmo Kekalainen.
Suddenly the culture around the team shifted and coach Todd Richards began to receive consistent, hardworking performances from a hard-skating, forechecking team that might be short on flash but is long on grit. That, coupled with all-world goaltending from
Sergei Bobrovsky
, now a front-runner for the Vezina Trophy and a dark horse to win the Hart Trophy as league MVP, has seen the Blue Jackets go 17-5-4 since the beginning of March.
"We've got a lot of new faces here, and we really wanted to make sure the mindset and the goals of the team changed," said Johnson, who became a Blue Jacket at last year's trade deadline, when he was acquired from Los Angeles in a deal that saw
Jeff Carter
go to the Kings.
In the past, the goal seemed to be about getting into the playoffs, but that seemed shortsighted, Johnson said.
"Your goal should be to win the Stanley Cup because, truthfully, if you don't win the Cup, you haven't won anything," he said.
So the Blue Jackets, who have qualified for the playoffs just once in franchise history and were swept in that appearance, started thinking big, not letting a big deficit in the standings affect their level of play.
"I'm sure some teams didn't take us seriously that should have," Johnson said. "I wouldn't trade this group of guys in our room for anything."
After Thursday's game, the Blue Jackets close out their season Saturday at home against Nashville. If they don't beat Dallas, that game may become meaningless vis à vis the playoffs, but that's something to think about after Thursday.
For a team used to slinking out of regular seasons and trying to sell fans on the promise of something better down the road, there is a new excitement surrounding this late-season push.
"There's a buzz around the city," Johnson said. "It's been a long time since they've had these kinds of meaningful games."
April, 23, 2013
4/23/13
9:46
AM ET
When you make the playoffs every year since 1990, as the
Detroit Red Wings
have, you're going to run into some naysayers and skeptics along the way. That's been the case pretty regularly since the last lockout, and yet the Wings keep plugging along, filling holes and introducing new key characters from their seemingly limitless supply of dark horse draft picks.
This season has seen the Wings in as difficult a situation as we can recall in terms of keeping that playoff streak alive, what with the departure of future Hall of Famer
Nicklas Lidstrom
to retirement and veteran
Brad Stuart
to free agency and a host of injuries to the remaining blue-liners. But as the final week of the regular season began Monday, the Red Wings served notice that, hello, they're still the Red Wings, so hold off on the eulogies at least for a bit.
The Wings scored three power-play goals en route to a must-have 4-0 victory over the
Phoenix Coyotes
at Joe Louis Arena. The win didn't guarantee a postseason berth for Detroit; in fact, it didn't even push the Wings back into the top eight in the Western Conference. But it did put the Wings back in control of their destiny. They are one point behind the
Columbus Blue Jackets
and
Minnesota Wild
, who are in 8th and 7th, respectively. The Wings have three games remaining, as do the Wild, while Columbus has just two. Win out and the Wings are guaranteed an invite to the playoff dance once again.
Now, one big win does not blot out the issues that have plagued the Wings for most of the season. First, they have been unable to get into a real groove when it's mattered, failing to win back-to-back games in nearly a month. The offense has been spotty at best, and Monday's outpouring of goals was the first time Detroit scored more than three times since March 22. On Monday, the Wings relied heavily on the heroics of netminder
Jimmy Howard
, who recently signed a six-year contract extension. Howard stopped all 34 Phoenix shots, including 12 in the first when the Coyotes outshot Detroit 12-4 but closed out the period down 2-0.
Howard will need to be stellar down the stretch, as the Wings' final three games don't represent any kind of walk in the park. Detroit will host the
Los Angeles Kings
, who are still battling for home-ice advantage in the first round, and the lowly
Nashville Predators
on Wednesday and Thursday before visiting the
Dallas Stars
in their regular-season finale Saturday. The Stars have three games remaining, as well, and were just two points behind Detroit, setting up a potential winner-take-all dynamic for Game 48.
As for the Coyotes, Monday's loss virtually erases any shot at making the playoffs for a fourth straight season. It seems inevitable that last year's Western Conference finalists will join last year's Eastern Conference finalists, the
New Jersey Devils
, on the sideline as this wacky, shortened season winds its way to a conclusion. Just as the Devils were unable to overcome the loss of
Zach Parise
to free agency, the Coyotes likewise sorely missed the veteran presence and timely scoring of
Ray Whitney
, who -- not coincidentally -- has been a catalyst for Dallas as the Stars have stayed in the hunt for a playoff spot.
April, 10, 2013
4/10/13
8:52
AM ET
Funny how the expected can suddenly get turned on its ear in the push for a playoff berth.
A week ago, after the trade deadline had passed and the
Dallas Stars
had sold off three key pieces of today for a bunch of tomorrows, they were whipped 5-2 by the
Anaheim Ducks
. Fair enough. The Ducks are a good team, running away with the Pacific Division and gearing up for the postseason, while the Stars had apparently turned their attention to looking at some kids and starting to think about next fall.
But since that loss a funny thing has happened to the Stars. Instead of simply playing out the string after GM
Joe Nieuwendyk
moved captain
Brenden Morrow
,
Derek Roy
and
Jaromir Jagr
in the days leading up to the April 3 deadline, the Stars have won three straight. Tuesday night, Dallas overcame the loss of netminder
Kari Lehtonen
early in the game to a "lower body" injury and scored four times in the third period en route to a 5-1 victory over the defending Stanley Cup champion
Los Angeles Kings
.
Ray Whitney
, one of several pieces brought in last offseason to help catapult the Stars into the playoffs after four straight seasons out of the postseason mix, scored twice. So did journeyman
Vernon Fiddler
as the Stars look to the collective to keep their playoff dreams alive. The win moved Dallas into ninth place in the Western Conference, two points behind the
Detroit Red Wings
with nine games left for each team.
The loss of Lehtonen would be a backbreaker, at least in theory, although coach Glen Gulutzan described the injury as mild.
Richard Bachman
came on in relief, and while the youngster has struggled in a limited role this season with Lehtonen playing the bulk of the games, he was impressive, stopping 22 shots in 45:42 of play.
The road doesn't get any easier for the Stars. Of their nine remaining games, seven are against teams that are currently above them in the standings.
But maybe the schedule-maker knew something we didn't, because Dallas closes out the regular season April 27 at home against the Red Wings. After the trade deadline, many folks figured that would simply be another in a line of meaningless contests for a Dallas team that already was imagining next season. Might still turn out to be that way, but credit the Stars for giving us pause and for not playing to type.
November, 23, 2012
11/23/12
3:27
PM ET
Ray Whitney
wonders where to begin.
A veteran of four NHL work stoppages -- three owners' lockouts and one players' strike -- the 40-year-old winger has seen this same old movie too many times.
"We have to stop the cycle of work stoppages," Whitney told ESPN.com on Friday. "It kills the game. And I'm not saying this to kiss up to them, but it's not fair to the fans."
As popular a teammate you'll find in the game, Whitney has spent most of his career in nontraditional hockey markets, places such as San Jose, Florida, Columbus, Carolina, Phoenix, and now, Dallas.
The damage that the lockout causes in places like that just makes his head spin.
And for what, he wonders.
"To be out this long, for a game that was thriving, to be doing this kind of damage to the league makes no sense to us as players," said Whitney. "To me, it just shows a lack of respect for the game by the people in charge. They're not really hockey people, they didn't grow up loving the game of hockey."
Fired up and yet measured in his comments, Whitney is indeed frustrated.
"They're like schoolyard bullies right now; they want everything. That's not negotiating," he said. "With us coming down to 50-50 [split of revenues], I don't see the need for this to go as long as this has."
Like me, however, Whitney sees a deal that can be made.
"I don't think it's far apart at all, in fact I think it can be done in one afternoon," said Whitney, before building up to a laugh. "I'd stuff them all in a room and tell them they can't come out until it's done. And we're not sending any food, either."
It's been a whirlwind week. The NHLPA's latest offer was for the most part rejected by the league, which caused anger among the players. Then veteran blueliner
Roman Hamrlik
made headlines by calling out NHLPA executive director Don Fehr.
"Obviously he's frustrated, but I don't think it's fair for him to be making those comments from the other side of the ocean," Whitney said of Hamrlik. "He should be over here in the meetings if he wants to know what's really happening.
"But I also know you'd hear comments like that from the other side too, from owners, if it wasn't for the gag order. They're equally frustrated. It's frustrating for everybody."
Fact is, Whitney said, there's no reason for any player not to have a firm grasp of the facts right now.
"Over my three lockouts, this is by far the most informed we've been as players and a union."
In the meantime, there's been increased chatter among players about the merits of union decertification, something NBA players did last year to put pressure on owners.
"It's going to have to be somewhat of a reality at some point," Whitney said of the possibility of decertification. "We have to look at all our options to increase our leverage. We'll talk about that and decide what's best for us. ...
"What has the league given us in this deal so far other than a kick in the shorts? And they want us to keep giving? At some point we'll have to do something to put a bit more pressure on them."
Whitney understands that going down from 57 percent of the revenue pie to 50 percent was a reality players would have to likely accept after what happened in the NFL and NBA labor deals last season. But like many players, he's frustrated by the league's insistence on a number of changes to player contracting rights.
"It's not fair, to be honest," said Whitney.
Agreeing with Fehr, Whitney said the league's demands on contracting rights would lead to too restrictive a system, especially with demands such as a five-year limit on contracts and a 5 percent salary variation ceiling.
"There are some incredibly smart GMs out there, guys like Ken Holland and Lou Lamoriello," said Whitney. "They're not allowed to say anything but what the league is trying to do now is say, 'We don't trust you GMs, we want to put in a system that tells you how to run your teams now. We're going to cut your legs out. Kenny, I know you've got a genius mind when it comes to contracts and maneuvering things, but we're not going to allow that anymore. We're going to make it so the worst GM in the league can compete with you because your hands are tied.'"
To be fair, the league is looking to tighten up the system because costs got out of control in the last CBA, especially on the players' second contracts, which is why the league wants to push UFA to eight years service or 28 years old and why the league is seeking changes to salary arbitration.
Whitney understands the owners need some fixes, but he just wants a fair deal, not an agreement that will crush his side.
"Otherwise, we'll just be in another work stoppage in five years, which makes no sense," said Whitney. "All of this makes no sense. We could have been playing a long time ago."
July, 14, 2012
7/14/12
10:40
AM ET
By
Sarah Goldstein
| ESPN.com
Best player over 40?
I understand why write-in candidate Nicklas Lidstrom got so many votes. It is hard to imagine the Red Wings taking the ice without him, and, if he plays, he must be a front-runner for MVP of the Wings-Leafs alumni games.
But I didn't include him in the final results for which player over 40 will have the best 2012-13 season.
The results: 1. Teemu Selanne. 2. Martin Brodeur. 3. Jaromir Jagr. 4. Ray Whitney.
It was a tight race between Selanne and Brodeur, but Jagr and Whitney weren't even close.
[+] Enlarge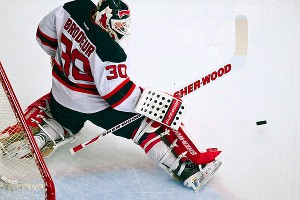 Cal Sport Media/AP ImagesDoes Martin Brodeur have another Stanley Cup finals run in him?
I expected Jagr to get more votes based on his name, but I don't disagree with the voters on this. Playing on a line with Claude Giroux would boost anyone's game, and traveling through the Western Conference with the Stars will be a new challenge (although it's not like he will be carrying his skates through airport security and waiting at baggage claim).
The Finnish Flash gets my vote mostly because I thought
the video announcing his return
was funny. But he also played all 82 games last season -- registering 26 goals and 66 points -- and has scored at least 25 goals in six of his past seven seasons. If the Ducks start next season like they finished this past season, Selanne should have a good year.
Brodeur's 2012-13 season may end up looking like a down year just because of the success the Devils had this past postseason. It is hard to follow up a run to the Stanley Cup finals unless you go on to win the Cup, and I don't expect the Devils to be playing in June now that Zach Parise has left for Minnesota. A short offseason also can't help the 40-year-old goaltender.
Poor Ray Whitney came in last, but it is tough when you are put in a group with guys named Selanne, Brodeur and Jagr. He had a good regular season, but a not-so-great postseason with the Coyotes last season. He'll likely help the Stars this season, but that team is about the future, so Whitney's and Jagr's greatest contributions will be in the locker room.
---
Best unrestricted free agent still available?
Most of you didn't disagree with
Craig Custance's rankings
and put Alexander Semin and Shane Doan at the top of your list of available free agents.
The general consensus was that you wanted Semin's talent and Doan's leadership.
"Doan for leadership, experience, and as a complete player. Semin for scoring."
-- Stephen Penko
"I'd have to say Semin, [Andrei] Kostitsyn, and Doan are the best still out there, in my opinion. Any team that is able to pick one of these guys up is going to do well, given that they don't pay through the nose for them. If Semin gets his issues hammered out and a team can get him for a good price, he could be a steal this offseason."
-- LonghornChamps1021
"Shane Doan should either stay in Phoenix or sign with Winnipeg. Playing in any other city would just be wrong."
-- Claven5577
---
Caption This!
We asked you to write the best caption for this photo of Dustin Brown at the premiere of
The Amazing Spider-Man
, and here are a few of our favorites: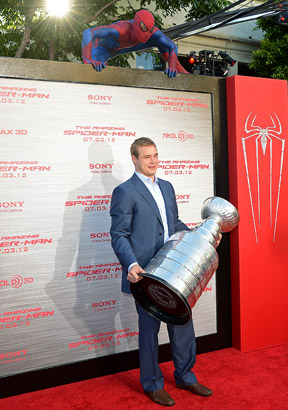 Jason Merritt/Getty Images
"Spider-Man over the wall for a line change with Capitan America."
-- Conrad_McLovin
"Spider-Man jumped on the Kings bandwagon."
-- Dan Moore
"Did the Kings sign Spider-Man as a free agent?"
-- Daniel Clarke
"The Cup goes Hollywood!"
-- Brian Gayfield
"I always feel like somebody's watching me."
-- TheBigPavelski
"Spidey is an angry Devils fan too."
-- Nathan Anderson
"Dustin off the cob webs."
-- Kurt J. Draper
"My spidey sense tells me I'm about to have a serious dustin' with the great Lord Stanley."
-- Matthew Morgan
This post is all about you, so let us know what you think and what you want to talk about. Share your thoughts on
Facebook
or on Twitter
@ESPN_NHL
or
@sarahgold8
.
July, 12, 2012
7/12/12
6:35
PM ET
By
Sarah Goldstein
| ESPN.com
The announcement of
Teemu Selanne
returning for his 20th NHL season adds to the group of "old guys" getting paid big money next season.
Selanne, who just turned 42 on July 3, signed a one-year, $4.5 million deal with the Ducks.
Apparently that is the going rate for the 40-and-up club.
Martin Brodeur
(Devils) and
Ray Whitney
(Stars) both signed two-year, $9 million contracts, and Dallas also gave
Jaromir Jagr
$4.5 million for one season.
Daniel Alfredsson
hasn't made a decision about next season and
Tomas Holmstrom
hasn't signed yet, but both guys would turn 40 in the middle of the season if they return -- and assuming the season isn't washed out by CBA negotiations.
So the question remains, which guy will have the best season in 2012-13?
Martin Brodeur:
1191 GP, 656 wins, 371 loses, 36 OTL, 2.23 GAA, .913 save percentage
Jaromir Jagr:
1346 GP, 665 goals, 988 assists, 1653 points
Teemu Selanne:
1341 GP, 663 goals, 743 assists, 1406 points
Ray Whitney:
1229 GP, 365 goals, 638 assists, 1003 points
Make your pick for the best guy over 40 in the comments field, on
Facebook
or on Twitter
@ESPN_NHL
or
@sarahgold8
.
(I know there are a few guys I didn't name, so feel free to nominate players not listed here.)
July, 1, 2012
7/01/12
2:31
PM ET
While the big fish continued to swim free in the free-agency waters Sunday afternoon, it was Joe Nieuwendyk and the
Dallas Stars
that made the first significant splash of free agency by inking ageless winger
Ray Whitney
to a two-year deal worth a total of $9 million.
Whitney turned 40 during the playoffs and his productivity declined precipitously as he registered only two goals and five assists in 17 postseason games as his
Phoenix Coyotes
made a surprise run to the Western Conference finals.
But Whitney was almost a point-a-game guy during the regular season for the Yotes, with 24 goals and 77 points, tied for 12th overall in the NHL.
Eight of those goals and 20 points came while the Coyotes were on the power play, and that is no doubt an attractive quality to Nieuwendyk, who traded scoring center
Mike Ribeiro
to the
Washington Capitals
during draft weekend and will be looking to replace some of Ribeiro's power-play production. Ribeiro had 63 points last season, with 15 on the power play.
While Whitney's age will be a factor in whether this deal works out in favor for the Stars, there is no doubt the Fort Saskatchewan, Alberta, native represents the kind of change in culture that Nieuwendyk is hoping to achieve in the Dallas locker room.
Whitney, who won a Stanley Cup in Carolina in 2006, will be counted on to act as a kind of mentor to young offensive stars such as
Jamie Benn
,
Eric Nystrom
and
Cody Eakin
(who came over from Washington in the Ribeiro deal). He also has the puck-moving skills to continue to help the young Dallas forwards maximize their potential.
As for the Coyotes, they moved quickly to fill the hole created by Whitney's absence by signing former
Calgary Flames
winger
David Moss
to a two-year deal.
The 30-year-old has 20-goal potential -- he scored 17 goals two years ago and 20 in 2008-09 -- and everyone who plays under former coach of the year Dave Tippett has a way of producing at the top end of their skill set.
Coach happy to get new star
Dallas head coach Glen Gulutzan was sitting in his vehicle in Saskatchewan hoping the rain would clear so he and his family could get back to a fast-pitch tournament in which they were entered. But he took time out to describe how happy he was to learn that Whitney would be on his bench and not wreaking havoc on the Stars in a Phoenix jersey.
"He was a thorn in our side last year," Gulutzan told ESPN.com late Sunday afternoon.
Entering his second season as a head coach, Gulutzan will sit down and talk with Whitney and new assistant coach Curt Fraser, who was hired away from the Detroit Red Wings' organization this offseason, about the best role for Whitney to play.
"He's such a cerebral player and a real professional from what I've been told," Gulutzan said.
"I think it's a good step forward for what we're trying to do in Dallas."
The fact Whitney is a right-handed shot should provide a new wrinkle to a Stars power play that ranked dead last in the league last season, the coach said.
As for hitting to the opposite field with power, Gulutzan said there wasn't much chance of that happening even if the skies did clear in Saskatchewan.
February, 9, 2012
2/09/12
8:45
PM ET
Ray Whitney
is on the radar of a few contenders and with good reason, the Wizard amazingly leading the
Phoenix Coyotes
in scoring at 39 years old.
An unrestricted free agent July 1, he could be on the move if the Coyotes fall out of the playoff race over the next two weeks.
Sources have told ESPN.com that Boston, San Jose and the
New York Rangers
covet the slick playmaker.
The tricky part is that Whitney has a no-move clause that calls for him to list eight teams to which he'd be willing to be traded. A source told ESPN.com on Thursday that that conversation had yet to happen, which makes sense since the Coyotes remain very much in the playoff race at this point.
Still, a name worth keeping an eye on.
RED-HOT ISLES
The
New York Islanders
are on a roll, and the last thing on their mind right now is the thought of being sellers come trade deadline day. They believe they've got a shot at a playoff spot in the East and that's their only focus at this point.
"Yeah, we have a lot of belief in that locker room," Isles GM
Garth Snow
told ESPN.com Wednesday. "Within the last few weeks, we've really turned it up a notch as a team. Our specialty teams have improved. We're just looking forward to the next game."
Veteran netminder
Evgeni Nabokov
has been lights-out of late. He's slated for unrestricted free agency July 1, which is why his name is often floated in trade rumors, but that's not what Snow has in mind at this point.
"We have no intention of moving Evgeni," Snow said. "He's been great for us. His performance speaks for itself."
There haven't been any contract talks between the Islanders and Nabokov's camp, but it's not out of the question down the road.
"Yeah, we'd consider all options, we're just not at that point yet," said Snow. "We just finished [signing] Frans [Nielsen] and we obviously have a few other players who are unrestricted free agents in July, so we'll just chip away at them."
Among those other UFAs-to-be is forward
P.A. Parenteau
. Talks have begun there but still no deal.
"We've been having a dialogue with his agent and we'll see where it goes," Snow said.
LEAFS HOST WINTER CLASSIC?
The
Toronto Maple Leafs
will play in Detroit for the Winter Classic next Jan. 1, the first step in what they hope is hosting one.
"We would definitely want to, the league knows we want to host it one day," Tom Anselmi, the COO of Maple Leaf Sports and Entertainment, told ESPN.com Thursday. "We'd like to host it either in conjunction or in the lead-up to our 100-year anniversary. But obviously we need to figure out the building issue."
The 20,000-seat BMO Field, where MLS team Toronto FC plays, is the most likely site for an outdoor NHL game in Toronto. But 20,000 seats won't cut it. The Leafs would need to expand the stadium, perhaps only temporarily, to have any chance at hosting a game.
Anselmi also reiterated the Leafs' desire to host the NHL Entry Draft and the NHL All-Star Game somewhere around or leading up to the club's centennial anniversary, which is in 2017.
SENS AT THE DEADLINE
Ottawa's slide down the standings has certainly tied the hands of GM Bryan Murray. He can't commit to being a buyer or seller at this point with his team on the playoff bubble.
"The one thing we have is a plan going forward, we think we know that we have some young kids coming that are valuable and we're not going to trade them," Murray told ESPN.com earlier this week. "We'll see if there's anything that makes sense, but in all likelihood it's status quo at the moment, anyway."
In a perfect world, if the Senators can climb back up the standings over the next two weeks and gain more comfort from the danger zone, they'll look to add a forward.
"We'll see, we'll let it play out here," Murray said. "If we bounce back, we may have to make a different decision. But at the moment, we're just going to hold and see if we can get our better players to play better."
Murray hasn't sat on his hands over the past month, though.
"I did make a couple of calls," Murray said. "I found out an approximate price. It's not cheap. I don't know how many trades there are going to be this year, but the people selling are going to have high demands. It sounds like that anyway."
DUCKS AT THE DEADLINE
Based on what I'm hearing from other teams, it would appear more and more that if the Ducks were going to move one of their big guys, it would likely happpen in the offseason.
You never say never, because the Ducks could get an offer for
Bobby Ryan
they just can't refuse before Feb. 27, but the prevailing thought around the league is that if the Ducks decide to move a big chip like Ryan or
Ryan Getzlaf
-- and that remains an if -- the offseason presents a better opportunity to involve more teams in the mix.
Just like the Flyers did with
Mike Richards
and
Jeff Carter
last June.
Besides, the Ducks are on a roll right now, so they haven't given up on the season.
Top offensive blueliner
Lubomir Visnovsky
could still move before Feb. 27, however, although the Ducks aren't giving him away. He's not a rental player, he's got another year on his deal, so Anaheim will move Visnovsky only in a traditional hockey deal, not a rental deal where it gets a bucket of pucks.
The interesting part about Visnovsky is that while his cap hit for next year remains at $5.6 million, pretty hefty, his actual salary drops to $3 million, so that might interest some teams.
Niklas Hagman
(UFA July 1) is getting some nibbles as well. He's a versatile player and your typical depth forward, rental addition.
LEAFS AT THE DEADLINE
The Leafs would have preferred to have made their deal by now. GM Brian Burke doesn't like adding players right at the deadline. He prefers to make his deals at least a month out so that the player or players have more time to get acclimated to the new surroundings.
But it didn't happen for the Leafs, just like it didn't happen for most other contenders who were shopping in January but found the prices too exorbitant given the lack of sellers.
The Leafs' desire is to add a top-six forward with size. They're not easy to find.
The other factor Toronto's front office must weigh is that the team has gone gangbusters since the calendar flipped to 2012, and one must consider that when contemplating making a roster move to a dressing room that's in sync right now.
"Yes, momentum and chemistry both factor in whether you shuffle the deck," Burke told ESPN.com Wednesday.
The key, at least in my opinion, is to make sure if you make a big addition that the reaction in the room is players feeling euphoric that the team has a better chance to win now. As opposed to wondering why a teammate they're fond of has been dealt.
Speaking of the Leafs, second-line center
Mikhail Grabovski
-- slated to be UFA July 1 -- remains unsigned, although his agent Gary Greenstin did recently chat with Toronto.
"I spoke with Maple Leafs management a couple days ago and I believe they understand our position and we understand their position," Greenstin told ESPN.com via email Wednesday. "Like I said before, Mikhail loves the city, organization and the fans, and we know the fans like him too. He would like to stay in Toronto and win the Stanley Cup with them, but he is in his prime years in his hockey career and this has to be right for Mikhail and it has to be right for the Maple Leafs."
KUBINA WRINKLE
Veteran defenseman
Pavel Kubina
will be an unrestricted free agent July 1, so naturally if and when the Lightning become sellers, he'd be a man of interest to contending teams.
One wrinkle to note, however. Kubina has a limited no-trade clause, which states the Lightning must ask him for the five teams he'd be willing to move to. That conversation has not yet happened.
June, 15, 2010
6/15/10
2:33
PM ET
When Ray Whitney wasn't moved at the March 3 trade deadline, it was implied there was mutual interest in him staying in Carolina.
But as both sides got to brass tacks early in the offseason, it was clear there wasn't a fit where it mattered most: $$$.
"We would like to bring him back and I think he would like to stay here, but at the end of the day, I think it'll be a financial decision," Hurricanes GM Jim Rutherford told ESPN.com on Tuesday. "It's probably going to be his last contract ... ideally there's a way to work it out for him to finish his career here, but as of today, that doesn't look like that's going to happen."
So, it's almost 100 percent Whitney is going to hit the free-agent market on July 1. No hard feelings, though.
"It's exciting," Whitney told us Tuesday. "I wish I had finished my career in Carolina, but I understand the direction they're going in. They're getting younger and I totally get it. I have a lot of respect for Jimmy and have nothing but good things to say about the five years I spent in Carolina."
"I like Ray a lot as a person, I really do like him," Rutherford said. "Whatever happens, I wish him the best."
As has always been the case during Whitney's underrated career, the forward will enter free agency somewhat under the radar. But there isn't a deep forward free-agent class this year, especially if Patrick Marleau and Tomas Plekanec stay put, something which has yet to be determined. Even if they don't, once Ilya Kovalchuk goes, and potentially Marleau and Plekanec, some team will be looking at Whitney in a hurry.
"Ray has been an incredibly consistent and durable offensive threat for his entire career," his agent, J.P. Barry, told ESPN.com. "Wherever he plays, he produces. When you actually analyze his production, you get a better perspective of how elite his accomplishments are in this league. 'Underrated' is truly an understatement when you actually see where he ranks offensively. While his peers' production have declined in their 30s, his production has actually increased the past five years."
Agents are always enthused about their clients, that's their job; so we'll take that statement for what it's worth. But Barry is right about Whitney's late-career production. He's averaged 24 goals and 67 points over the past five seasons, better numbers than his 10-year average of 20 goals and 60 points. Like a fine wine?
"Since the lockout, the game seems to have suited my game, and I think that's reflected in my numbers," Whitney said.
More interesting: Whitney's point production over the five seasons since the lockout (334 points) is better than the likes of Shane Doan, Rick Nash, Mike Ribeiro, Mike Cammalleri, Thomas Vanek, Teemu Selanne, Jason Arnott, Danny Briere and Patrik Elias, among others. But one would rarely lump Whitney with those players.
On the down side, Whitney turned 38 last month. You can't ignore that, especially given the 35-and-over rule in the CBA, which calls for the entirety of contracts signed by those players to count against the cap regardless of whether a player retires before the end of the deal.
That reality will make it difficult for Whitney and Barry to get more than a one-year deal on the open market. But given the scarcity among elite UFA forwards this year, Whitney's consistency and the fact he played 80 or more games the past two seasons, he may be able to squeeze out two years from a team.
And which will that be? Pittsburgh would be a decent fit; Whitney could play with either Evgeni Malkin or Sidney Crosby. What about Los Angeles? The Kings inquired about Whitney before the trade deadline. If the Kings strike out on either Kovalchuk or Marleau, Whitney could be a nice consolation prize.
Bottom line: Any contending team that wants to improve its power play should take a good look at Whitney.
More to ponder
• There's been speculation here and there about the
Columbus Blue Jackets
shopping their fourth overall pick, the theory being they want to get back into the playoffs picture ASAP and acquire a player to help them now. But Jackets GM Scott Howson squashed the theory Tuesday.
"That's not a goal of mine. I want to keep the pick," Howson told ESPN.com. "I'm not actively calling teams about the pick. But obviously, like anything, we're always open to discussion."
The Jackets are hoping to beef up at center this offseason, so if they were offered a decent player for the pick, I would think they might look at it. But I believe Howson when he says he's not shopping the pick just for the sake of it.
• On the Plekanec front, his agent, Rick Curran, has talked to Habs GM Pierre Gauthier a few times since Montreal's season ended, picking up where the two sides left off during the season.
"We've had a couple of discussions and they've been very productive," Curran told ESPN.com on Tuesday. "I'm always optimistic that we can get a deal, but we'll see."
Plekanec led the Canadiens with 70 points (24-45) in 82 games this past regular season. His production dropped off a little in the postseason with 11 points (4-7) in 19 games. How does Montreal replace that production next season if it can't sign him?
February, 5, 2010
2/05/10
12:57
PM ET
Editor's note: There's the March 3 trade deadline, and then there's the Olympic roster freeze that runs from Feb. 12-28. Between now and Feb. 12, ESPN.com's Scott Burnside and Pierre LeBrun will look at 10 potential trade baits and which teams have a chance to land some much-needed help.
Turning to Plan B
Scott Burnside: Well, Pierre, Thursday was a pretty exciting day, no? Ilya Kovalchuk was traded to New Jersey, but some teams that lost out on the star forward have to turn to Plan B. The focus also shifts to the rest of the rental players who are available before the deadline.
I'll start with Columbus' Raffi Torres. The gritty winger has struggled through injuries the past couple of seasons but is back on track this season, just in time to sign a new contract, as he'll become an unrestricted free agent in July. Remember how good he was for the Oilers back in 2006 as they cruised to a surprise berth in the Cup finals? Torres was a key part of that team. He has 16 goals this season, including three game winners, and will be on the move before March 3. I think he'd be a nice addition for a team looking for a little sand and offense. Thoughts?
Pierre LeBrun: You're right, the focus now shifts to those rental players available, and I can tell you the phone lines were burning back up at the Maple Leafs' offices in Toronto, where 19-goal man Alexei Ponikarovsky is available. But let's start with Torres, as you suggested. I checked in with a Blue Jackets source this morning, and there's nothing really new on that front other than that it's a near certainty the UFA-to-be will move. With his ruggedness and offensive talent, Torres would be a real nice playoff pickup. I can't help but think the Pittsburgh Penguins are keeping an eye on him; then again, I think the Penguins may end up with one of three wingers: Ponikarovsky, Torres or Ray Whitney.
Burnside: I wonder whether teams like Los Angeles or maybe even Colorado will be looking at Torres, given his playoff experience. I spoke with Colorado GM Greg Sherman this week, and the Avs will be pretty cautious about moving their young assets. Still, Torres might be a nice fit with a gritty, young Avs team that remains in the hunt for the Northwest Division title and home-ice advantage through the first round of the playoffs. (Both would be huge for a team trying to reconnect with its fan base.) Likewise, the Kings will want to add more playoff experience, as they also are in a position to have home-ice advantage in the first round. If they can't agree to a contract extension with Whitney, maybe Torres would be a nice Plan B for GM Dean Lombardi.
LeBrun: I think ownership will put some level of pressure on Lombardi to do something because it will have known he was on the final short list to land Kovalchuk. Whitney, at age 37, can't expect a three-year extension, not with the 35-and-older rule that says a player's average salary counts against a team's cap each year of the contract, even if he retires. The Kings would be willing to do a one-year extension; I have to think cooler heads will prevail there. But we'll see. The Penguins, I'm sure, are hoping the Kings miss out on him. From what I was told Thursday, the Penguins haven't called Carolina yet because they simply can't afford him right now. It's not so much that Whitney's $3.55 million salary is that big a deal, but it's the fact that Carolina won't take any salary in return in any Whitney swap. The Hurricanes want picks or prospects. So, if you're Pittsburgh with its tight cap room, it appears you have to wait until March 2 or March 3 to enter the fray.
Burnside: It will be interesting to see how Ponikarovsky fits into the picture. He is a big body, has 19 goals and has played in 23 playoff games for the Leafs. Obviously, his playoff experience isn't recent, but it's something. And if the asking price for Whitney is too high, both in terms of what goes back to Carolina and what Whitney might want in terms of a contract extension to waive his no-trade clause, the Toronto forward, like Torres, will be an interesting alternative for teams such as Los Angeles and Pittsburgh.
And what about Atlanta? Thrashers GM Don Waddell said Thursday night he'll be a buyer assuming his team stays in the hunt, and Ponikarovsky has played with Thrashers forward Nik Antropov. Hmm. Given the flurry of trades we've seen in the past week, do you think there will be pressure on GMs like Lombardi to try to get something done ahead of the Feb. 12 Olympic roster freeze, especially knowing a team like Pittsburgh likely will have to wait because of its cap issues?
LeBrun: I wouldn't be surprised if Ponikarovsky is the guy who ends up in Pittsburgh, but that's just a hunch. While we're talking about contenders, I should update a situation with the San Jose Sharks. It does appear a trade with the Carolina Hurricanes, from what I've been told, could go through as early as today. (The Sharks would acquire Niclas Wallin.) San Jose was hot to trot for a blueliner, and it appears it has one now. The trade was first reported by TSN in Canada on Wednesday night, but it has taken a while to complete the deal because of Wallin's no-trade clause. Good pickup for Sharks GM Doug Wilson if the deal is indeed completed. OK, my friend, enjoy your weekend!
• You also can get up-to-the-minute trade discussion in Rumor Central.
February, 1, 2010
2/01/10
11:33
AM ET
Editor's note: There's the March 3 trade deadline, and then there's the Olympic roster freeze that goes into effect on Feb. 12. Between now and Feb. 12, ESPN.com's Scott Burnside and Pierre LeBrun will look at 10 potential trade baits and which teams have a chance at landing some much-needed help.
Ray Whitney, Carolina Hurricanes
Scott Burnside:
Hello, Pierre. Welcome to our daily look at the trade landscape as we barrel along toward the start of the Olympic roster freeze on Feb. 12. The
Calgary Flames
,
Anaheim Ducks
and
Toronto Maple Leafs
have already rocked the NHL world with a couple of big deals this past weekend, and the
New York Rangers
may get into the act, as well. But let's talk today about a guy I know you have likened to this season's
Bill Guerin
:
Ray Whitney
, a savvy veteran who has a Cup ring and is a point-a-game player. He wouldn't be too big a hit in the wallet for the many teams that will be looking to acquire him from Carolina.
LeBrun: Yes, I think he's a terrific consolation prize for the suitors who lose out on Ilya Kovalchuk. But Whitney won't come cheap. Sure, his $3.55 million salary is not exorbitant, but Carolina is likely looking for a pick and/or prospect in return, which means inquiring clubs would be taking a sizeable cap hit without sending any salary the other way. For the Hurricanes, saving money isn't a bad thing since the medium-market club is not in the playoff hunt. So, for example, I think a team like the red-hot Ottawa Senators covets Whitney, but they can't fit his contract under the cap right now. Perhaps Whitney is a guy who doesn't move until closer to the March 3 trade deadline for that reason alone. We'll see.
Burnside: Agreed, the asking price for Whitney will likely be significantly higher than the third-round pick the Penguins sent to the Islanders on trade deadline day a year ago. Boston is in dire need of offense and has some high picks to move; you know Carolina GM Jim Rutherford would love to grab the Leafs' first-round pick that is now the property of the Bruins thanks to the Phil Kessel trade. That may seem like a lot for a rental player, but Whitney's value is going to be pretty high with teams like Los Angeles, the New York Rangers, Vancouver and others looking for offensive help and leadership.
LeBrun: Bruins GM Peter Chiarelli told me unequivocally the Leafs' pick is not in play. So you can forget that. But Whitney would be a nice addition to a Bruins offense that ranks dead last in the NHL. The Kings would be interested only as a Plan B if they don't get Kovalchuk. Whitney is a power-play stud and can play either the point or the forward position on the unit, so he's versatile. The Penguins and Senators are among the worst-ranked power-play units in the league, so for that reason alone I believe both teams will inquire. The Devils have slipped to 20th in goals per game, and while it's impossible to ever predict what silence-is-golden GM Lou Lamoriello will do, I can't see him not at least kicking the tires on a Cup champion and offensive wizard like Whitney.
Burnside: Pierre, given how Calgary GM Darryl Sutter went from "I'm not trading Dion Phaneuf" to dealing him to Toronto, I guess you have to take everything a GM says with a grain of salt at this time of year. But the pressure is definitely on Bruins GM Peter Chiarelli to do something to get his team back on track; the Bruins are poised to go from the top Eastern Conference team during the regular season in 2008-09 to missing the playoffs entirely this season. Would I trade a lottery pick for Ray Whitney? Probably not. But then again, I don't have the worst offensive team in the conference.
The Senators are certainly among the hottest teams in the league, but they aren't a particularly deep team when it comes to young assets. I would expect GM Bryan Murray will be pretty cautious about giving away what little he has, even for a player with Whitney's pedigree. Any other dark horses that might jump in on the Whitney action? How about Nashville?
LeBrun: Two dark horses could be Phoenix and, yes, Nashville. I'm told both clubs want to add some offense, but with money being a prime consideration, as you might suspect. In the case of the Coyotes, which suffered a brutal injury loss (Scottie Upshall), I'm told they can only really do a "dollar-for-dollar" deal, so I'm not sure how that would work with Whitney. The Preds are actually a respectable 13th in the NHL in offense, but rank a dismal 29th on the power play. That's why I think Whitney would be a good fit there. But remember, Scotty, Whitney has a no-trade clause; he controls his fate. He may get picky when the time comes for Rutherford to show him what's out there.
We should mention before we go that you and I both believe the Hurricanes may want to try to bring Whitney back July 1 as an unrestricted free agent. That's something to keep in mind for contending teams in case they had designs of trying to keep him around. Well, my friend, we'll talk again Tuesday!
• You can also get up-to-the-minute discussion in Rumor Central.