Cross Checks:

Rick Rypien
September, 5, 2012
9/05/12
8:49
AM ET
By
Sarah Goldstein
| ESPN.com
August, 17, 2012
8/17/12
11:13
AM ET
From the official NHLPA release:

NHLPA GOALS & DREAMS CUP HONOURS THE LATE RICK RYPIEN IN HIS HOMETOWN OF CROWSNEST PASS, ALBERTA
50 sets of equipment donated by NHLPA Goals & Dreams to local children in Rick's memory
…Celebrity hockey game featuring Bieksa, Glass, Hordichuk & Versteeg also held for local fans

CROWSNEST PASS/TORONTO (August 17, 2012) – The National Hockey League Players' Association (NHLPA) Goals & Dreams fund and NHLPA member Kevin Bieksa held the fifth NHLPA Goals & Dreams Cup on Thursday, as a way to honour Rick Rypien. The event was hosted in Rick's hometown of Crowsnest Pass, AB at the Coleman Sports Complex.

Children from local KidSport Alberta chapters and local schools participated in the fun hockey game to honour Rick and to celebrate the 50 complete sets of brand new hockey equipment the community received as a donation from NHLPA Goals & Dreams in Rick's memory. The local children were coached in the exhibition hockey game by four NHL players: Kevin Bieksa, Tanner Glass, Darcy Hordichuk, and Kris Versteeg.

Following the NHLPA Goals & Dreams Cup hockey game, the NHLPA members in attendance skated alongside local celebrities and some of Rick's family and friends in a charity hockey game in a capacity-filled Coleman Sports Complex. The enthusiastic crowd was treated to an inspired hockey game that helped raise funds for the Ricky Ryp Foundation.

Prior to the game, Bieksa, along with the other NHLPA members, presented to the Rypien family a memorial plaque and photo books from the NHLPA, honouring Rick's NHL career and recognizing his contributions to the game of hockey.

"Not a day goes by that I don't think of Rick, and I am thankful for the opportunity to join his family and friends in an evening celebrating his legacy," said Kevin Bieksa, NHLPA member and Vancouver Canucks defenceman, of his former teammate and close friend. "Coaching and visiting with these kids gave us a chance to remember what was important to Rick: giving back to kids through the sport of hockey. I think Rick would be proud to see his work continued this way through the NHLPA, KidSport and community of Crowsnest Pass."

"My family and I are very honoured to have the NHLPA Goals & Dreams fund make this donation in Rick's memory," said Rick's brother, Wes Rypien. "Rick loved giving back to the kids in Crowsnest and this donation only furthers his legacy. It was great to have Kevin, Kris, Tanner and Darcy here to be part of this special event."

NHLPA Goals & Dreams has partnered with KidSport programs all across Canada. With this recent contribution, NHLPA Goals & Dreams has now donated more than 700 sets of hockey equipment worth close to $400,000, in total, to KidSport programs nationally. The NHLPA Goals & Dreams Cup hockey events are held for selected programs that have previously received NHLPA Goals & Dreams donations.

KidSport Alberta works to provide all children the opportunity to experience the positive benefits of organized sports by removing the financial barriers that prevent so many Canadian children from activities like hockey. KidSport places great emphasis on cooperation, friendship, and self-esteem.

In 1999, the NHLPA launched the NHLPA Goals & Dreams fund as a way for the players to give something back to the game they love. Over nearly 13 years, more than 60,000 deserving children in 25 countries have benefited from the NHLPA Goals & Dreams donations of full sets of hockey equipment. To date, NHLPA Goals & Dreams has donated more than $21 million to grassroots hockey programs around the world, making it the largest program of its kind. For more information, log-on to www.nhlpa.com.

October, 19, 2011
10/19/11
12:53
PM ET
Before Tuesday night's game against the New York Rangers, the Vancouver Canucks paid tribute to Rick Rypien, who died this past summer. Rypien had signed a $700,000, one-year deal with Winnipeg a month before his death after spending parts of six seasons with the Canucks.
You can watch the tribute here (video courtesy of NHL.com):
August, 17, 2011
8/17/11
6:14
PM ET
This is what we do in the face of unexplained tragedy.
We ask questions for which there are precious few answers.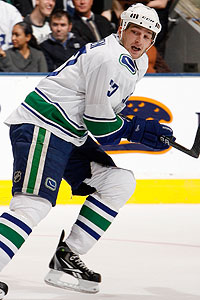 Abelimages/Getty ImagesRick Rypien twice took a leave of absence during his six seasons with the Canucks organization to deal with personal issues.
We demand change and action without really understanding what it was that led to the tragedy in the first place.
We wonder at what might have been done differently, what signs might have been missed.
Mostly, though, we try to make our way through the tangle of futility that always follows in the wake of such loss. It is so even for those who didn't know Rick Rypien, the Winnipeg Jets forward who never got to pull on the franchise's new jersey.
Rypien was found dead in his Crowsnest Pass, Alberta, home earlier this week. Even as tributes came pouring in for the scrappy winger who was, pound for pound, one of the fiercest players in the league, officials weren't releasing the exact cause of death. The Royal Canadian Mounted Police referred to it as a "non-suspicious sudden death."
And yet with every comment -- whether it was from a close friend and former teammate such as Tanner Glass or Jets assistant GM Craig Heisinger, who had known Rypien since the forward's junior days in Western Canada -- the implication has been that Rypien's mental health issues were directly linked to his untimely death.
An emotional Heisinger told reporters in Winnipeg this week that there were no signs of alcohol or drug abuse but that depression was at the root of Rypien's problems, even though it appeared the 27-year-old had turned a corner in recent months after twice leaving the Vancouver Canucks this past season for personal reasons.
After he signed with the Manitoba Moose of the American Hockey League late last season, Rypien's comments suggested he believed he was able to deal with his own problems and help others as well.
"The more that I go on, the more I can talk about it," Rypien told reporters in Winnipeg this past March. "Hopefully, one day I can help other hockey players that might be experiencing difficulty with whatever they're dealing with off the ice."
Those are haunting words given what happened this week and the fact that no one can seem to bring themselves to actually say what exactly happened to Rypien. Yet surely there is some hope in those words, too.
There is at least a modicum of hope that players who suffer from mental health issues aren't alone despite the helplessness that a loss such as Rypien's represents. Maybe there are many more stories that turn out the way Rypien imagined his might turn out. We must believe there are many stories that never get told because people find out they aren't alone and there is a way out.
We spoke with deputy commissioner Bill Daly on Wednesday about Rypien's death and the important role the joint NHL/NHL Players' Association behavioral program plays in situations such as Rypien's.
"Most people view it as a drug program," Daly said of the program that came into being in 1996 and has steadily evolved over the years to become "a very comprehensive employee assistance program."
Over time, the program has gained a tremendous amount of credibility among players, perhaps because it is a step removed from their direct employers, the individual NHL teams.
The program is highly secretive. For the most part, players enter the program anonymously, and the nature of the treatment is fiercely guarded unless players themselves are prepared to discuss it.
Whatever problem a player might face, the program's doctors ensure he is referred to specialists in that particular area. The program doesn't open its doors just to players, either, but for family members, too.
Over the years, the scope of the program hasn't changed (it was always designed to cast a wide net over player issues), but the players' acceptance that it is somewhere they can go to get help has grown significantly, Daly said.
Players sometimes come to the program of their own volition. Each player has a card that provides contact information that can be accessed any time the player feels the need, regardless of the problems he might be facing. As the comfort level with the program has increased, more players have been recommended by former teammates and friends, current teammates, coaches and management personnel, Daly said.
"Over time, other people within the hockey community have become much more comfortable with referring cases to the program," Daly said. "It's not always self-initiated."
The safety net that the program represents isn't foolproof. It doesn't catch all the problems. Earlier this summer, New York Rangers enforcer Derek Boogaard died after an overdose of Oxycodone and alcohol. The deaths of Boogaard and Rypien were quickly linked with the implication being that this is some sort of epidemic.
Daly said it's unwise to draw parallels between the two because they represented different issues. Boogaard's issues were addiction-related, while Rypien suffered from mental health problems, the deputy commissioner said.
Players who struggle with either can expect to find help within the league's behavioral program, but the fact that two players died in a short period of time does not necessarily suggest anything beyond the tragedy each represents.
Does that mean the league and the players' association stand idly by? No.
"My guess is we'll talk at the appropriate time with the players' association, making sure that we're comfortable with all of the mechanisms and programs we have in place, which are extensive," NHL commissioner Gary Bettman told The Canadian Press on Wednesday at the league's research and development camp in Toronto. "I don't think any sports league does more than we do, but maybe there's more, as we focus on it, that we need to focus on.
"I know it's always hard for people to accept, but sports is a microcosm of society in general. And life isn't always easy."
Are there things the program can do better, differently? Perhaps.
"They happened, and you have to take a look at how and why they happened," Daly said. "But I don't think it's a commentary at all on the effectiveness of the program we have in place."
At times like these, it's reassuring to know that not every question is without an answer.
October, 22, 2010
10/22/10
1:51
PM ET
ESPN.com's Scott Burnside and Pierre LeBrun break down the NHL's decision to suspend Vancouver's Rick Rypien for six games following his altercation with a fan:
Burnside:
Well, my friend, the long arm of the NHL law has descended upon
Vancouver Canucks
forward
Rick Rypien
to the tune of a six-game suspension. I know you had predicted somewhere between two and 70 games (way to hedge your bets), but I figured six to eight games would be about right. NHL commissioner Gary Bettman and league discipline czar Colin Campbell hit the right note with Rypien, who crossed the line, albeit briefly, in grabbing a fan in Minnesota earlier this week. Your thoughts?
LeBrun:
I predicted between 5-10 games, my friend, so I was also right, but just not as prescient or precise as yourself because you had the courage to narrow your pick. I'm going to sleep fine tonight knowing Rypien received some sizable discipline, but I have to be honest and say that, if I was in Bettman's shoes, I would have gone closer to 10 games. Again, I'm OK with the six games, but believe I would have gone just a tad longer. To me, you can't understate to players that touching the paying public is completely out of bounds. Having said that, Rypien was not a repeat offender, which is important to point out.
Burnside:
Whenever the league hands out supplemental discipline, we're always looking for "the message" the league is sending. Everyone knows it's wrong to maul a fan and it rarely, rarely happens. And this isn't Mike Milbury crawling up into the seats to whack a guy with his penny loafer; it was a momentary grapple. Wrong, yes. But how is the message made any clearer by suspending the guy for 10 or more games? It is what it is and the league got it right. The problem, I think, is when you try to compare this suspension with on-ice issues, like the repeated blows to the head we've seen even in the early going this season.
LeBrun:
We polled fans on ESPN.com this week after the incident and 35 percent wanted "1 to 5 games" and another 35 percent wanted "6 to 10 games" with "11 or more games" and "20 or more games" receiving less than 15 percent support each. So I guess the league nailed it for the majority of fans, as well. What could have made the suspension worse is if the league considered the trifecta of events that happened in that sequence Rypien will never forget -- a late (some would say sucker) punch to
Brad Staubitz
when the Wild enforcer was being held down by a linesman, Rypien seeming to shove linesman Don Henderson and then the shoving of the fan as he left the ice. But we're being led to believe neither of those transgressions factored into Friday's suspension.
Burnside:
Yes, not a good night for Rypien, and yet another odd incident in an early season full of oddities, including
Mike Ribeiro
's arrest in a Dallas-area restaurant for public intoxication, Detroit and New Jersey unable to ice full teams because of injuries and salary-cap woes and the
James Wisniewski
gesture toward
Sean Avery
, to say nothing of the head injuries around the league.
LeBrun:
Quite frankly, when you look at the off-field/off-court issues in other sports, we've got it pretty good in hockey. NHL players are overwhelmingly solid citizens. This was an isolated incident with Rypien and the fan, something the league had to take into consideration in making its final judgment. There was no epidemic to stamp out. If there were, I guess 10-20 games might have come into play. All in all, I think the Rypien incident will quickly wash away from the public's mindset. There's hockey to watch.
October, 20, 2010
10/20/10
9:30
AM ET
What was Rick Rypien thinking when he shoved a fan during Tuesday night's game against the Minnesota Wild? We've got a few "guesses":
1. "I thought I saw a bug on the guy's jacket and I didn't want him to get stung."
2. "He was very close to the edge of the steps and I didn't want him to take a tumble."
3. "Well, it's almost Halloween, and whenever I hear that part of 'Werewolves of London' where the song goes, 'He'll rip your lungs out, Jim', well, I go a bit bananas."
4. "I thought I heard him say, 'Let's rumba.'"
5. "It wouldn't have looked very good if I throttled our own goalie, would it? Six goals on 18 shots? Against Minnesota? Yikes."
October, 20, 2010
10/20/10
12:52
AM ET
Rick Rypien
will feel the wrath of the NHL's arm of justice.
One thing NHL commissioner Gary Bettman does not tolerate is altercations between NHL players or personnel and fans.
In April 2009, he suspended
New York Rangers
coach John Tortorella for a game -- in the playoffs -- for throwing a water bottle at a Capitals fan in Washington. Personally, I didn't think the water bottle heave looked too dangerous, but the playoff suspension spoke to Bettman's lack of tolerance for anything involving the paying public. One playoff game, as we always say, is worth at least five in the regular season.
So if you're Rypien, you better have saved up a few bucks from your $575,000 salary, because you're about to lose a significant chunk of it.
Talk about 30 seconds that Rypien would like to get back from Tuesday night:
At the end of a skirmish with Wild tough guy Brad Staubitz, Rypien gets in a late punch at a defenseless Staubitz, who is being held by a linesman. The punch doesn't look too powerful, but given the next sequence of events, not a good start.
Rypien seems to push or shove linesman Don Henderson near the Canucks' bench before Vancouver coach Alain Vigneault comes over to intervene and get Rypien off the ice.
Poor old Vigneault, who was trying to do the right thing. Next thing you know, Rypien jumps at a Wild fan who was cheering his exit.
That Wild fan is one lucky young man. He could have easily been at the wrong end of a
Rob Ray
or
Tie Domi
fan beatdown had Rypien not been pulled off by Canucks teammate
Manny Malhotra
.
And here's the thing: Rypien is a no-name, rugged checker. The league won't sweat making him sit like it would if
Alex Ovechkin
hit someone from behind again. It can go to town on this guy.
The NHL's disciplinarian is Colin Campbell, but I guarantee that by 11 p.m. ET, he already had several e-mails from Bettman, if not a phone call. While Bettman usually gives Campbell his space on suspensions, the commissioner will have his say in this one. Guaranteed.
October, 20, 2010
10/20/10
12:34
AM ET
By
ESPN.com staff
| ESPN.com
Vancouver Canucks center Rick Rypien pushed a fan during a game against the Minnesota Wild on Tuesday night, but this isn't the first time NHL players or coaches have clashed with spectators: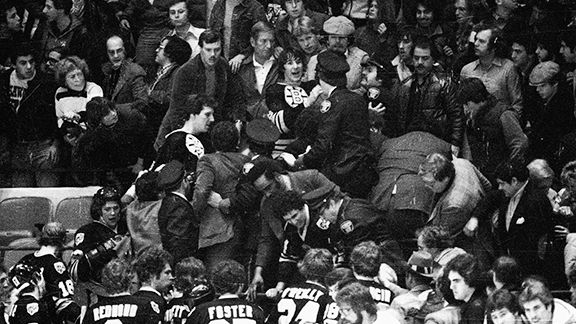 B Bennett/Getty Images
Dec. 23, 1979 -- The Shoe Incident
Boston Bruins players went over the glass and into the stands at the end of a game against the New York Rangers at Madison Square Garden. The incident started when a fan, John Kaptain, allegedly reached over the glass and hit Stan Jonathan with a rolled-up game program and then reportedly stole the Boston enforcer's stick. Boston forward Terry O'Reilly was the first to climb over the glass, but the incident will forever be remembered for what happened next. Boston teammate Mike Milbury entered the stands and began to hit Kaptain with the fan's own shoe.
"I grabbed his shoe, took a little tug on it, and then sort of double pumped," Milbury once recalled to The New York Times. "I don't know if I hesitated for a minute because I thought I'd be vilified for the next 30 years, but I gave him a cuff across the leg, and then I did what I thought was probably the most egregious thing of all: I threw his shoe on the ice."
In all, 18 Bruins players entered the stands. All of them were fined $500, while O'Reilly (eight games), Milbury (six) and Peter McNab (six) were suspended. Four fans, including Kaptain, were arrested.
April 14, 1992: Rob Ray
Why this fan charged the Buffalo Sabres' bench, we'll never know. But he did just that during a Buffalo Sabres-Quebec Nordiques clash at the ol' Le Colisée. The fan jumped onto the ice, and Buffalo's Rob Ray took charge. He also broke down the incident after the game. Ray was not suspended for the incident.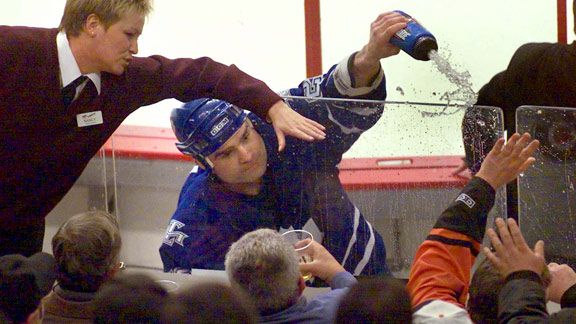 AP Photo/Miles Kennedy
March 29, 2001: The Sin Bin
While serving a penalty in the third period of a playoff game between Toronto and Philadelphia, Tie Domi squirted water at Flyers fans who were heckling him just outside the penalty box. Then, another Philly fan tried to climb over the glass to punch Domi. The fan missed and fell into the penalty box, and Domi wrestled with him before security guards pulled away the Leafs enforcer. Domi continued to play in the game but later was fined $1,000 by the NHL. The fan was ejected from the game, cited by police and fined $150.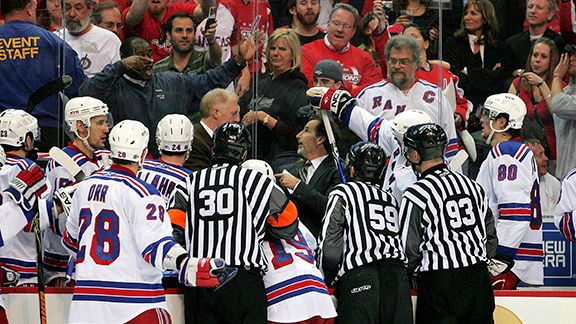 Len Redkoles/Getty Images
April 24, 2009: As Torts Turns
In the third period of Game 5 of the East quarterfinals series between New York and Washington, Rangers coach John Tortorella got into a verbal confrontation with a fan behind the bench. He squirted water at a fan, and a video replay then showed the coach heaving a green water bottle into the crowd. Tortorella then grabbed a player's stick and held it high, waving it in the fan's direction. The coach was suspended for Game 6 of the series.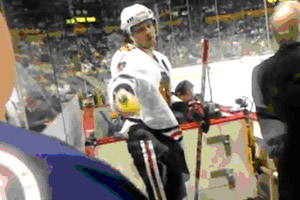 YouTube
April 22, 2010: The Sin Bin, Part 2
A YouTube clip showed a fan striking up a conversation with Chicago Blackhawks defenseman Duncan Keith during Game 4 of the Western Conference quarterfinals series against the Nashville Predators in Music City. While Keith was serving a penalty, the fan asked questions through a partition in the plastic glass about Keith's salary. As Keith rose to leave the box, the fan joked about a family member "pulling the fire alarm at the hotel." At that point, Keith took a bottle and squirted water at the fan through the partition. The NHL took no action against Keith, who went on to win the Stanley Cup with Chicago.
Information from The Associated Press was used in this report.