June, 23, 2014
Jun 23
4:15
PM ET
Inducted into the Hockey Hall of Fame as the class of 2014 will be coach Pat Burns, Dominik Hasek, Peter Forsberg, Mike Modano, Rob Blake and referee Bill McCreary. What a class! Here's a selection of some of the responses from the Twitterverse.
ICYMI: 2014 #HHOF inductees are: Hasek, P. Forsberg, Modano, R. Blake, P. Burns, B. McCreary. http://t.co/msyCLfMDoA pic.twitter.com/ZjQhMHZkLy

— NHL (@NHL) June 23, 2014
Lynn Burns: "I know that Pat would've been so happy, so grateful, so proud to accept this honour..."

— Stephen Whyno (@SWhyno) June 23, 2014
Lynn Burns (2): "... It's a very emotional day for the Burns family, I can tell you that."

— Stephen Whyno (@SWhyno) June 23, 2014
Like most everyone, feel Pat Burns HHOF selection today was long overdue. But still nice to see it happen. Bill McCreary well deserved, too

— Pierre LeBrun (@Real_ESPNLeBrun) June 23, 2014
Hasek on trade to #Sabres: "Probably the best thing that could happen to me because in Buffalo I got a chance to play & prove I could play."

— Buffalo Sabres (@BuffaloSabres) June 23, 2014
Congrats to all the HHOF inductees. As an American, love seeing Mike Modano get in on first try. Huge impact on the game in the States.

— Craig Custance (@CraigCustance) June 23, 2014
Hall of Fame inductee Bill McCreary recalls D. Hasek's one question at '98 Olympics before shootout vs. Canada; is Gretzky shooting?

— Scott Burnside (@ESPN_Burnside) June 23, 2014
Rob Blake, #LAKings Assistant GM, will be inducted into the Hockey Hall of Fame. HHOF: http://t.co/TiVp1fGvfb pic.twitter.com/hTo4DNrSs0

— LA Kings (@LAKings) June 23, 2014
Don't think anyone is going to argue with Blake, Forsberg, Hasek and Modano. A royal class. But disappointed a female player not put in. ...

— Pierre LeBrun (@Real_ESPNLeBrun) June 23, 2014
Plenty of ground to make up for in women's player category and don't see why someone doesn't go in every year. Just my view.

— Pierre LeBrun (@Real_ESPNLeBrun) June 23, 2014
HHOF'er Rob Blake: "When you receive that call you're speechless because you're kind of replaying everything throughout your career."

— Stephen Whyno (@SWhyno) June 23, 2014
Thank you to the @HockeyHallFame @DallasStars @DetroitRedWings @PARaidersHockey what a humbling honor. Words don't do it justice.

— Mike Modano (@9modano) June 23, 2014
Congratulations to former #Sens goalie Dominik Hasek on his induction into the Hockey Hall of Fame! pic.twitter.com/c8l5jFddpa

— Ottawa Senators (@Senators) June 23, 2014
On the day he was elected to the NHL Hall of Fame, @9modano was at funeral for Richard Durrett. Pretty much says it all about both of them

— Ed Werder (@Edwerderespn) June 23, 2014
Hasek won 6 Vezina's, 2 Hart's as a member of the #Sabres. MORE PHOTOS: http://t.co/KFgKg4l3bE #TheDominator pic.twitter.com/RmJffeX09V

— Buffalo Sabres (@BuffaloSabres) June 23, 2014
Just spoke to #NJDevils GM Lou Lamoriello, whose told me last year he got "chills" at idea of Pat Burns making HHOF. Same now that it's real

— Stephen Whyno (@SWhyno) June 23, 2014
Pat Burns to be inducted into the Hockey Hall of Fame. A well-deserved honour for a great coach. #GHG

— Geoff Molson (@GMolsonCHC) June 23, 2014
What a Hall of Fame class: Hasek, Forsberg, Modano, Blake, plus Pat Burns and the great ref Bill McCreary. Wow. That's covering all bases.

— Kevin Allen (@ByKevinAllen) June 23, 2014
Tremendous honor for former #Avs defenseman Rob #Blake, too. #HHOF pic.twitter.com/KreXUfHVTg

— Colorado Avalanche (@Avalanche) June 23, 2014
Happy and sad that Pat Burns is going to the Hall of Fame. Happy because it's well deserved, sad because he was not alive to see it.

— Don La Greca (@DonLagreca) June 23, 2014
Hasek on @HockeyHallFame induction: "What a great honor for me to be inducted and what can I say? ... I am very thankful." #TheDominator

— Buffalo Sabres (@BuffaloSabres) June 23, 2014
Modano on Hall election: "What an amazing phone call to get. Just speechless, at a loss for words at what this has really meant for me."

— Chris Miller (@Cmillstrib) June 23, 2014
March, 17, 2011
3/17/11
4:32
PM ET
TORONTO -- The evolution of Rob Blake continues in earnest.
Fresh off his newly appointed job with the NHL's hockey operations department, the future Hall of Famer was announced Thursday as part of Team Canada's management staff for the upcoming IIHF men's world hockey championships in Slovakia.
We're talking about the possible grooming of the next Steve Yzerman and Joe Nieuwendyk, both young star GMs in the NHL and massively important voices in the future of the sport.
[+] Enlarge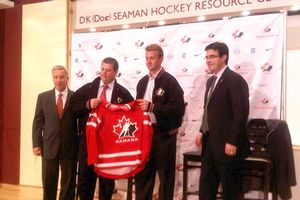 Pierre LeBrun/ESPN.comRob Blake was announced Thursday as part of Team Canada's management staff for the upcoming IIHF men's world hockey championships in Slovakia.
Blake is falling in line, picking up his post-playing career education by combining NHL league office experience with international hockey. Yzerman went to Red Wings U under Ken Holland and Jim Nill, who both had Hockey Canada management experience, before taking on the big job in Tampa. Nieuwendyk had front office college classes in Florida and Toronto before getting his break in Dallas. .
Will Blake run a team one day or work his way up the league food chain? Who knows, but right now it's all about gathering experience.
"Yeah I think you're trying to broaden your learning scope," Blake told ESPN.com Thursday after being announced as an assistant GM to Dave Nonis for Team Canada. "It's about the learning aspect. The league and the hockey operations part has been great. This is more the managerial aspect, working with players. In both cases it relies on my past experiences, which is good."
Anaheim Ducks GM Bob Murray and Hockey Canada executive Brad Pascall round out the Team Canada management team.
"Rob is a level-headed bright person and will be a great addition to Hockey Canada," Yzerman told ESPN.com. "He's an excellent choice to assist Dave."
Yzerman and Nieuwendyk were part of past Canadian management teams for the world championships, the annual May event that cobbles together mostly NHLers who didn't make the playoffs. Wayne Gretzky, the game's greatest player, was also and a part of Team Canada's management team and helped run the 2001 team in Germany ahead of his Olympic duties in 2002.
Gretzky, Yzerman ... Blake. Anyone see symmetry there?
"There's no question," Hockey Canada president Bob Nicholson told ESPN.com. "I just spent a day or two with [Blake] in meetings -- he's got the vision, he's got the feel and he's got the details. What amazes me with all of our elite players is how good they are with detail. I look back to Wayne and Steve, and now Rob, it's amazing. They come in and they've never done this, and it's like they've been in this for years."
Since Gretzky and Yzerman ran the Canadian Olympic team, can Blake be far behind?
Blake's face reddened like a tomato when I asked him about being part of the Olympic team staff three years from now.
"It would be an honor," he said.
Nicholson said anything is possible. At this point, the Hockey Canada president said nothing is set in stone yet for 2014 in Sochi, Russia. Certainly you'd think Yzerman would have the right of first refusal, given his gold medal delivery in Vancouver, just like Gretzky got to return for a second Games after running the '02 team that ended Canada's 50-year Olympic men's hockey drought.
Based on the impression I got from Blake, that decision is way, way down the road. For now, it's baby steps. He said he loves his new job at the NHL and is passionate about the opportunity with Team Canada. Blake's involvement is key for helping convince NHLers to partake after their seasons have ended. It's often a tough sell, same for Team USA. But in Blake, you've got someone who valued his world championship experience as a player, winning gold in 1994 and '97 for Canada. Blake has mentioned many times during his career that his experience at the spring tournament was immeasurable in helping him develop into an NHL star.
"The opportunity is tremendous and with success is even better," Blake said. "I was fortunate to play on two gold medal teams in Italy and Finland. That's even more important now when I look back at it in terms of what we accomplished and what you take with you. Now that I look back in terms of how it played a role in my career, it was real important."
Just like his new assignment is important. Just a stepping stone to greater things to come for him.
Nonis vs. Burke:
Nonis, the senior vice president of hockey operations in Toronto, will be going up against his boss and friend Brian Burke, Maple Leafs GM, at the worlds. Burke is expected to be announced next week among the committee of NHL GMs that will run Team USA at the event.
"I try not to talk to him now so it'll be a little easier," said Nonis, joking. "Listen, I've already had some people ask me that question and ask how it's going to be with Brian more than likely heading up the U.S. team; this isn't anything to do with myself against Brian or any kind of side bets or anything like that.
"The fact is that there's a number of good teams -- the U.S. will have an excellent team in this tournament, the Czechs always do, the Russians are the No. 1-ranked team in the world. It's about putting the best Canadian team together and beating whoever we play. If that ends up being the U.S., we have to be prepared for them, or whoever else gets in our way. At the end of the day, it's about putting the best team together. There won't be any personal issues at all in this one."
January, 15, 2011
1/15/11
9:02
PM ET
Still very much in the preliminary stages, the NHL has pegged its six teams to start next season overseas.
The Edmonton Oilers, Washington Capitals, Buffalo Sabres, New York Rangers, Los Angeles Kings and Anaheim Ducks have been asked by the league to partake in next season's Premiere Games, multiple industry sources told ESPN.com Saturday.
My colleague E.J. Hradek of ESPN The Magazine first hinted as much in a tweet Friday night.
Again, I stress that this is preliminary. The six teams still haven't signed off on it and are contemplating the league invite.
For the Rangers, Kings and Ducks, it would be a second go-around at the Premiere Games. The Rangers opened in Prague against Tampa in October 2008, while the Kings and Ducks played the first Premiere Games in London, to kick off the 2007-08 season.
It makes sense for the Rangers to go again since Madison Square Garden, undergoing impressive renovations/improvements next summer, won't be ready for the Rangers until mid-October, a source said Saturday.
But perhaps the most intriguing possibility is the Caps playing a game in Moscow. You know how much Washington captain Alex Ovechkin would love that.
The tentative plan is for six NHL games in six cities and the Caps in Moscow is one of several options being looked at.
Blake's hire almost finalized
It's taken quite a while, but the NHL should soon finalize the hiring of future Hall of Famer
Rob Blake
. I'm told it might get done in time for the All-Star Game, which Blake is expected to attend. Blake, who retired last season, will begin work in hockey ops under Colin Campbell but will remain based in Southern California. Blake has already been helping out, consulting with
Brendan Shanahan
on the All-Star weekend changes.
Senators coaching rumors
The rumor that just won't go away is that GM Bryan Murray tried to dump coach Cory Clouston but owner Eugene Melnyk denied him.
"Simply not true," Murray told ESPN.com Saturday before his team flew to Washington.
Having said that, if the Senators keep losing games, I can't help but think Murray will finally fire Clouston. Obviously he wouldn't comment when I asked him that Saturday. The veteran GM continues to work the phones hard trying to make a trade.
An important discussion needs to take place between Murray and Melnyk on the GM's future. Murray's deal is up at the end of the season. He has to decide if he still wants to run this team, and in turn, Melnyk must decide if he still thinks Murray should be the man to run it. That's a discussion that will happen before the end of the season.
Slumping Sharks' coaching
Well, you knew it would happen at some point with the Sharks' season going the way it is. People have begun to ask whether San Jose would consider a coaching change. I spoke with Sharks GM Doug Wilson on Saturday and he said no way, that Todd McLellan and his staff were not the issue. The players have underperformed and the team has had key injuries, the latest being to
Ryane Clowe
. McLellan is one of the best coaches in the NHL and I can't imagine how a change there would do any good. This is about the core of this team waking up and playing up to its potential.
Limping Red Wings
OK, this is getting ridiculous. The Red Wings, already without
Pavel Datsyuk
, Dan Cleary,
Brad Stuart
,
Mike Modano
and
Chris Osgood
, lost veteran winger
Tomas Holmstrom
to a broken finger Friday night. Wings GM Ken Holland told ESPN.com Saturday that Holmstrom doesn't need surgery but is out three to four weeks. Star goalie
Jimmy Howard
also left Friday night's game in Columbus with a bruised knee. Holland said he's day to day, so that at least doesn't appear serious. The Wings GM was able to laugh when I suggested he get rid of the black cat hanging around the team.
"We just need to survive until the All-Star break," Holland said. "We should get Datsyuk and Cleary back after that. Just need to keep grinding it out."
Emery's comeback
An update on a
story I wrote earlier this season on the amazing comeback attempt
of
Ray Emery
. His four-month rehab stint is nearly complete, his agent J.P. Barry told ESPN.com Friday. Barry said Emery is very close to getting the green light to return. What appears likely is a return to the AHL at first to prove himself. Guess who's been pelting him with shots lately to get him ready? None other than
Eric Lindros
.
This and that
Kim Johnsson left the Blackhawks last season after suffering another concussion. I'm told he feels better but not well enough to come back and play. He's an UFA.
The Islanders have already shipped out Dwayne Roloson and James Wisnewski. What will they do with Matt Moulson? He's also an UFA July 1. I'm told the plan is to try to sign him, but if that fails, they have to listen to offers. He wants to stay so hopefully a contract can be worked out.
The Blue Jackets on Saturday placed defenseman Mike Commodore, 31, on re-entry waivers, hoping a team will claim him at half the price. Weekend waivers end at noon ET Monday. Commodore has two more years left on his deal after this season at a $3.75 million cap hit, although his actual salary decreases from $3.8 million this season to $3.5 million next season and $3.35 million in the last year. So a team claiming him this weekend would be on the hook for half of all that.
Owen Nolan entered the weekend with 21 points (6-15) in 19 games with Zurich of the Swiss League. He turns 39 next month and hopes to catch on with an NHL team this season. He would have to clear NHL waivers if he returned.
October, 9, 2010
10/09/10
8:52
PM ET
Patrice Bergeron removed himself from the summer's UFA market after agreeing to a three-year, $15 million extension Friday.
You can expect another big-name center, Joe Thornton, to follow suit. I've been told that unless something drastic happens, the San Jose Sharks captain should have an extension signed within the next couple of weeks.
In a perfect world, the Sharks would have taken care of this over the summer, but Thornton put all his focus on becoming a first-time father in July and that sort of shelved the contract talks. He's got the right priorities.
Thornton, whose agent is his brother, John Thornton, is also in the process of building a new home in San Jose; that should be a clear indication he had zero intention of playing the UFA market July 1. Imagine if he did. When was the last time a center of Thornton's stature was on the market? In any case, won't happen. He loves it in San Jose and his new deal will get done soon enough.
Once Thornton signs, Brad Richards will really be the only star center eligible for UFA status next summer. Because of the Dallas Stars' ownership situation, contract talks between Richards and the team have been quiet. Richards would fetch big-time attention as the only bona fide center on the market.
Bergeron contract and the CBA
The breakdown of Bergeron's contract is interesting: $4.9 million next season, $3.55 million in 2012-13 and $3.55 million in 2013-14 season with a $1 million signing bonus paid each year. But here's the clever touch: His Year 2 signing bonus is payable Aug. 1, 2012,
before
the current CBA expires.
So if there's a work stoppage, he still gets the $1 million bonus. And if there's another salary rollback in the new CBA, as some people suspect, the $1 million bonus for 2012 will not be affected. Plus, he gets his highest salary in Year 1 before the expiry of the CBA and a possible salary rollback. Nice job by Bergeron's agent, Kent Hughes, with this contract.
Chara signs, too
The Bruins were busy this weekend, weren't they? They also locked up captain
Zdeno Chara
to a seven-year, $45.5 million extension. On Friday morning, I spoke with Chara's agent, Matt Keator, and was given the impression no deal was imminent.
"When I talked to you yesterday, it didn't look like it would happen at that point," Keator told ESPN.com on Saturday. "These are sensitive, delicate discussions and, at a certain point, it really didn't look like it would happen. But it came together and he's happy."
Chara will be 41 in the final year, but this is no cheat deal. He'll be earning $4 million that season. There's no half-a-million fake year here. A league source confirmed to ESPN.com on Saturday that it has no problem with this contract. And when you factor in what a fitness freak Chara is, you know he plans on playing at 41 and likely beyond.
"He's planning on playing beyond this deal," Keator said.
This is also the first contract affected by the Ilya Kovalchuk rule. Since Chara's deal brings him past the 40-year-old threshold, the Kovalchuk rule introduced in the CBA last month does apply because Chara will turn 41 before the deal's expiration on June 30, 2018. That means the cap hit will be $6.917 million in the first six years of the deal and $4 million in the last season. Under the old rules, the cap hit would have been $6.5 million throughout.
Here's the extension breakdown:
2011-12: $8.5 million
2012-13: $6 million
2013-14: $8 million
2014-15: $7 million
2015-16: $7 million
2016-17: $5 million
2017-18: $4 million
Solid job by Keator to get Chara front-loaded money. Again, with a possible labor disruption in mind, Chara will put $8.5 million in the bank before a possible lockout and/or salary rollback.
Shea Weber talks
I am told contracts talks with
Nashville Predators
captain
Shea Weber
will soon begin in earnest. The Preds did communicate with Weber's agent, veteran Don Meehan from Newport Sports, last month in terms of expressing their vision for the franchise and what an important part Weber is in that vision. The team showed that by making him captain in the offseason, too.
Talk about the most important set of contract talks in franchise history. Weber, a stud blueliner, will be a restricted free agent July 1, only one year away from being eligible for unrestricted free agency.
There are three clear scenarios here:
1. He signs an extension and life is good in Music City.
2. He does only a one-year deal to bridge himself to his UFA year and he can do this by going to salary arbitration next summer.
3. The Preds get nervous they can't sign him to a long-term extension and put him on the trade block over the summer.
Because he's RFA this upcoming offseason, there isn't the same kind of urgency as Atlanta had last season with Kovalchuk, but the Preds still want to start the process.
"Definitely sooner rather than later," Preds GM David Poile told ESPN.com on Friday.
Rob Blake updateA few weeks ago, I wrote about the possibility of Rob Blake joining the NHL's front office. The feeling-out process continues and Blake was in the NHL's war room this weekend in Toronto to get a feel for what goes on in the hockey operations department.
"It's been good, it's been interesting," Blake told ESPN.com on Saturday. "A lot more goes into a game than you think as a player. Tonight will be a busy night in there."
Blake said he was slated to meet with NHL executive vice president and director of hockey operations Colin Campbell later on Saturday.
"Brendan [Shanahan, vice president of hockey and business operations for the NHL] has shown me around the hockey ops office," Blake said. "Really just trying to find a good fit. It's been interesting. Hopefully something will come out of it."
NHLPA update
Now that NHL rosters have been finalized, players across the league will begin to vote on whether to endorse Donald Fehr as the new executive director of the NHL Players' Association. They will also vote on the new constitution.
The voting is expected to be completed by early November. Fehr has been touring with teams and will continue to do so this month. He just met with three of the six NHL clubs opening their seasons in Europe this past week. Most teams will wait until they meet with Fehr during his fall tour before they hold their vote.
September, 26, 2010
9/26/10
12:02
AM ET
VANCOUVER, British Columbia -- The NHL's head office may soon add another former big-name player to its ranks.
Having already brought in Brendan Shanahan last year as the league's vice president of hockey and business affairs, two sources have told ESPN.com that Rob Blake could be next.
Blake, who retired this past summer after a star-studded career, is slated to meet with league officials this upcoming week to see if there's a fit for him. The idea is he would work alongside Shanahan, although remain based in Southern California.
Blake told ESPN.com during this past postseason that he wanted to remain involved in hockey after his playing career was over. He's always been one of the brighter minds in the game, taking an active role in NHL Players' Association affairs and being an original member of the competition committee after the lockout. Colin Campbell, the NHL's executive vice president and director of hockey operations, has spoke highly of Blake for his competition committee work.
Blake's relationships with Campbell and Shanahan are key factors in the league's interest in him.
Theodore in Minny?
With Josh Harding likely out for the season with a serious knee injury, a source told ESPN.com on Saturday that the Minnesota Wild are looking at unrestricted free-agent netminder Jose Theodore as a possible replacement for the backup netminder. It doesn't mean the Wild will end up signing him, but a source confirmed they were looking at the veteran Theodore.
Redden update
Talk about the high and lows of life these days for Wade Redden.
On the one hand, he just welcomed his first child into the world this past week, a baby girl. Then, on Saturday morning, he finds out from New York Rangers GM Glen Sather that he's been put on waivers, which will pave the way for his eventual demotion to the AHL. The Rangers want to erase the defenseman's $6.5 million cap hit.
"There's a lot of stuff going through my head right now," Redden told ESPN.com on Saturday.
He said the birth of his child outweighs anything else.
"That kind of takes precedence over everything," Redden said. "We just got home yesterday from the hospital. Everyone is doing well."
Redden's waiver period ends Monday at noon ET. Then, if he clears waivers, the cap-challenged Rangers will at some point officially send him to Hartford of the AHL. It is then up to Redden to report if he wants to protect the four years and $23 million left on his contract.
"I really don't have any conclusions right now," Redden said. "I got to take this time and see what develops. But at this point, I don't have any answers for you. We'll see what happens. I haven't made any decisions yet. I have some time to think about it."
He's not shocked it has happened since it's been rumored all summer long, but he wished he could have played at least one preseason game. The next logical step is to resume his career in Hartford and see where that takes him.
"Hopefully I can get somewhere where I can play and enjoy the game again," Redden said.
Redden is a classy guy; hopefully this all works out for him.
Savard update
Marc Savard cleared the air on his situation after meeting with local media in Boston on Saturday.
Apart from confirming he's been grounded by post-concussion syndrome, he also revealed to reporters that one of the most prevailing symptoms in his battle was depression. That's common for players recovering from post-concussion syndrome.
"I talked to him today, he's getting better," Bruins GM Peter Chiarelli told ESPN.com on Saturday. "I'm not a doctor, but in talking to him and having seen him the week before and a week and half before that, he's getting better."
But he's not skating right now, and that's not going to happen soon.
"He'll have to go through normal protocol and pass all the tests, and once he's through that, we'll bring him along slowly," Chiarelli said. "He may be a month, a month and a half from officially getting on the ice. It could be two months, I don't know. It's tough to tell."
This and that
• Marek Svatos, unable to land an NHL job this summer, was in his native Slovakia on Saturday, arranging for a Russian visa after agreeing to join Omsk of the KHL on Friday.
• The Ducks have tried Bobby Ryan at center during camp/preseason, and if they like what they see, that'll stick with it and make Saku Koivu their third-line center. Having Ryan Getzlaf and Ryan and Koivu as your 1-2-3 punch at center certainly wouldn't be too shabby. Ryan played center with Teemu Selanne on his right wing Saturday night in Vancouver.
• Speaking of the Ducks, word is they covet Canucks blueliner Kevin Bieksa; but, for the time being, with Sami Salo injured long-term, Vancouver isn't in a hurry to move a defenseman.