Cross Checks:

Ron Francis
September, 5, 2014
Sep 5
1:44
PM ET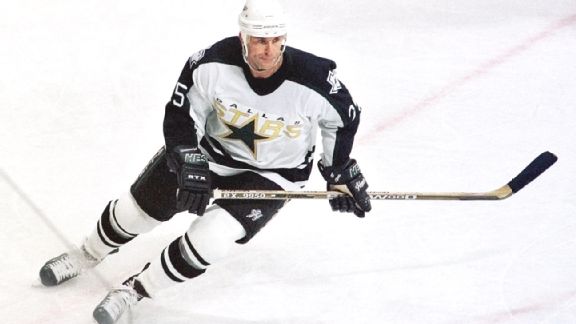 AP Photo/Bill JanschaFormer Stars player and GM Joe Nieuwendyk is back in the NHL after a year away from the league.
Hall of Famer
Joe Nieuwendyk
took a full season away from the NHL, although he never stopped watching hockey.
But Nieuwendyk needed a year away to recalibrate after being fired as general manager of the
Dallas Stars
following the 2012-13 season, spending some time with his family, before taking on his next challenge.
His next gig will allow him to stay in Dallas with his family while at the same time reconnecting with the NHL.
"I enjoyed my year with helping my son's hockey team, and now I can continue to do that," Nieuwendyk told ESPN.com this week after being named pro scout/adviser to
Carolina Hurricanes
GM
Ron Francis
.
"I had breakfast with Ronnie in the spring and we continued to talk during the summer. I have a lot of respect for Ron,'' Nieuwendyk said. "I played with him on the Leafs in '04, and we have mutual friends who work for him in Carolina. It just feels like something I wanted to do and hopefully I can help him any which way I can.''
When Jay Feaster was fired as GM in Calgary last season, rumors -- well-founded ones -- spread that Flames president of hockey operations Brian Burke had great interest in bringing former Flames star Nieuwendyk in as Feaser's replacement.
While Nieuwendyk has never talked publicly about that specific possibility, it is clear he's not ready yet to jump back into that demanding lifestyle of running an NHL team.
His new job with the Hurricanes will provide the best of both worlds: a link to NHL management and the chance to continue to help coach his 12-year-old's hockey team and spend time with his three kids in Dallas.
"This gives me an opportunity to stay involved in the game, being part of upper management conversations with Ronnie,'' Nieuwendyk said. "I think that's a good role for me at this point. I love helping my son's team out; that's been a lot of fun.
"I'll be based in Dallas, I'll see games here and keep an eye on the Western Conference a little bit for Ronnie,'' Nieuwendyk added. ``A big part of this, though, will be just to have to some real good conversations with Ron. I know he doesn't have a deep staff. So any time I can be a sounding board for him, he's probably going to go through a lot of the same things I went through as a (rookie) GM. We just have a good relationship. He's a sharp guy and a classy guy, I think he's going to be fine.''
The Bruins' cap challenges
The Bruins remain cap-challenged on the eve of training camp and it's likely they'll move a body or two over the next month or so to give themselves some breathing room.
That's a must when you consider that restricted free agents
Reilly Smith
and
Torey Krug
remain unsigned. Plus there's the fact Boston's getting dinged $4.7 million in cap carryover bonus overages from last season.
It's a good bet a trade happens here at some point sooner rather than later. From chatting to sources around the league this week, the names we keep hearing that the Bruins are listening on are defensemen
Johnny Boychuk
($3.36 million cap hit),
Adam McQuaid
($1.56 million) and
Matt Bartkowski
($1.25 million). All three are unrestricted free agents a year from now.
The Bruins likely have a pretty good idea from chatting to teams all summer long what deals they can make for either of those players. The question now is which one or two they can live without, leaving them with the best possible group intact.
The end for Whitney?
Is the Wizard nearing retirement? Tough to tell at this point but it's possible
Ray Whitney
has played his last NHL game.
"I'm not sure yet, and I'm not really tipping my hand one way or the other,'' Whitney told ESPN.com on Thursday. "I'm in shape, I'm skating, but I'm not too worried. There's obviously limitations to where I would go, but I'm not out there searching for anything, either.''
The sense at this point is that if a team calls, he'll listen, but he's not ordering his agent J.P. Barry to drop everything, either.
"I won't continue to skate for much longer," Whitney said quite candidly. "My interest in playing drops with each week that I don't get something, so I won't be pressing too much.''
The 42-year-old had 32 points (9-23) in 69 games with the Dallas Stars last season, although it was clear he wasn't a fit there anymore. He did put up nearly a point a game in the lockout season just the year before and had 77 points (24-53) in 82 games with the
Arizona Coyotes
in 2011-12. He can surely help somebody's power play.
Just a guess here, but given that Whitney and his wife and kids live in Scottsdale, Arizona, the Coyotes are probably one of the teams he'd be open to signing with. However, a source told ESPN.com that Arizona does not have any interest.
Hopefully Whitney catches on with another club, but if this is the end, what a career it's been. He won a Stanley Cup with the Hurricanes in 2006 and totaled 1,064 points (385-679) in 1,330 career regular-season games with San Jose, Edmonton, Florida, Columbus, Detroit, Carolina, Arizona and Dallas.
Bertuzzi's focus back on ice
Now that Todd Bertuzzi's settlement with
Steve Moore
is signed, sealed and delivered, his camp can focus on hockey matters.
With the possibility of a trial this fall keeping Bertuzzi occupied in recent months, there really wasn't any point in trying to talk to NHL teams about the UFA winger this summer.
But now that a trial has been avoided, Bertuzzi's agent, Pat Morris of Newport Sports, told ESPN.com Friday that his client hopes to catch on with an NHL team.
"Todd wants to continue playing," Morris said. "He's skating and is in great shape. A lawsuit is no longer an issue. We'll see what transpires in the coming weeks."
Easier said than done, of course. The 39-year-old was limited to 16 points (9-7) in 59 games last season in Detroit and that comes after the lockout year in which he played only seven games because of injury.
But Morris says Bertuzzi is skating and is ready to go. It won't be back in Detroit, though, where the Wings have a plethora of forwards and are still waiting to hear on whether
Daniel Alfredsson
.
August, 22, 2014
Aug 22
12:29
PM ET
The
Carolina Hurricanes
made significant changes in their front office and behind the bench --
Ron Francis
took over as general manager while former
Detroit Red Wings
assistant coach Bill Peters replaced Kirk Mueller as head coach -- following the team's 13th-place finish last season. But the personnel has not fluctuated much.
And considering that the roster remains largely intact, Carolina's top players really have to step it up, according to former Hurricane Jeff O'Neill.
"When you have a lot of long-term [contracts], guys locked in to big money, there is a philosophy around the league that you are only as good as your bad contracts," O'Neill told ESPN.com in a recent telephone conversation.
And that leaves at least a few players under some pretty intense scrutiny for the 2014-15 season. Chief among them, according to O'Neill, is goaltender
Cam Ward
.
[+] Enlarge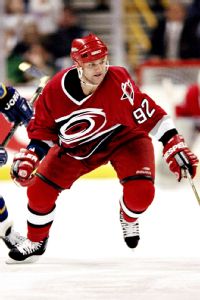 Getty ImagesFormer Hurricane Jeff O'Nell laments a lack of identity and one bad contract in particular in Carolina.
Ward, who is signed through 2015 on a six-year, $37.8 million deal, was hampered by injury for much of last season. But his performance even before that had waned significantly.
"I look at their team and they have some really good pieces there, but Cam Ward, he's gotta be to the Carolina Hurricanes what
Jonathan Quick
is to the LA Kings," O'Neill said. "I love the guy, but he hasn't been good enough or consistent enough to give the team a chance to win every night."
O'Neill, who played seven seasons for the Canes, expects
Anton Khudobin
to push even a healthy Ward for the starting position, leaving Ward in a pressure-laden spot heading into camp.
"This is probably the last chance for him in this organization because he's being pushed to the brink by Khudobin," said O'Neill, who now works as a television analyst.
O'Neill also said that
Eric Staal
and
Jordan Staal
both need to be better to form the power tandem the Hurricanes envisioned when they united the brothers in Carolina. And young defenseman
Justin Faulk
has to be at his best for the 'Canes to truly compete for a playoff spot.
And don't even get O'Neill started on
Alexander Semin
, whose contract he finds "disgusting" and suspects will go down as "the biggest mistake" former GM Jim Rutherford has ever made.
Semin is inked through 2018 on a five-year deal that pays him $7 million annually.
"I like him for five-minute segments, but when the going gets tough, he just doesn't compete," said O'Neill, who is known for both his colorful personality and unapologetic opinions. "If he had any work ethic or intangibles, he'd be better than [Alexander] Ovechkin. He's that talented."
But O'Neill does see some positive things on the horizon for his former club, namely Francis' unwavering desire to win and the hire he made to help lead the way.
Though many suspected that Francis would hire Rangers assistant coach
Ulf Samuelsson
, the GM opted instead for Peters in a move that few expected.
"I give Ron Francis a lot of credit, because I thought he'd go with one of his close friends like Ulf Samuelsson. It's pretty easy to go with someone you know, but he went outside of the box with someone that was talked about a lot in coaching vacancies," O'Neill said. "I really don't know a whole lot about [Peters], but he will have fresh ideas. What I like about [having] a new coach is there are no ties there, it's a fresh start, and it's an opportunity for everyone to prove themselves right off the hop."
O'Neill isn't buying into the idea of a culture change just because of those changes, though. That starts from the top down, but ultimately it's for the players to enforce, and the Hurricanes have to prove they are up for the task.
"I hear the term 'culture change' tossed around quite frequently, but that only happens when you have a visiting coach come in and you hear, 'These guys are tough to play against,'" O'Neill said.
Playing against the
New Jersey Devils
, O'Neill was always aware that there was no margin for error, no leeway for making stupid plays. He sees that in a similar fashion with the
Los Angeles Kings
right now.
"You know every time you touch the puck, they are going to kill you," O'Neill said. "Toronto, Carolina, the Islanders, they just seem to have no culture right now."