June, 29, 2014
Jun 29
11:07
PM ET
During a conversation with
Edmonton Oilers
center
Sam Gagner
in Nashville in March 2013, he spoke about the steep learning curve the youthful Oilers faced in returning from the hockey wilderness.
He was thoughtful and well-spoken in talking about how time can't be rushed, that you can't just fast-forward three years and get through the painful process of learning to win.
He was likewise emphatic that no NHL player gets used to never being in the playoffs.
Then a few hours later, the Oilers were waxed 6-0 by the Nashville Predators.
Gagner, one of the talented young players who was supposed to usher in a new dawn of success for the Oilers when they drafted him sixth overall in 2007, was dealt to the
Tampa Bay Lightning
for
Teddy Purcell
on Sunday night. Gagner was immediately sent to the
Arizona Coyotes
along with winger
B.J. Crombeen
for a sixth-round draft pick in 2015 where Gagner will get a chance to play top six minutes following the buyout of
Mike Ribeiro
on Friday.
The moves come two days after the Oilers made talented young center Leon Draisaitl the third overall pick in the 2014 draft. Does Gagner's departure open the door for Draisaitl to join the Oilers next fall when the 2014-15 season begins? Perhaps.
The Oilers certainly haven't been shy about rushing top picks into the NHL life. The results speak for themselves as the Oilers haven't made the playoffs since going to the 2006 finals.
Will next season be any different?
Hard to imagine this team could find itself among the top eight in the rough and tumble Western Conference whether Draisaitl is in the lineup or not, although the 6-foot-3 Purcell gives them added size and he has 20-goal potential. And Purcell was a dynamo during the 2011 playoffs, producing 17 points in 18 games as the Lightning advanced to the Eastern Conference finals.
In terms of salary cap issues, Purcell and Gagner make roughly the same. Purcell makes $4.5 million through 2015-16, while Gagner's cap hit is $4.8 million through 2015-16.
The Lightning also sent
Nate Thompson
(with a cap hit of $1.6 million annually through 2016-17) to Anaheim for two draft picks in 2015.
The moving of four players (Crombeen makes $1.15 million and is under contract through the 2014-15 season) frees up close to $5.6 million in cash and $5.65 million in cap space for the Lightning, who added
Jason Garrison
during the draft weekend and recently signed
Ryan Callahan
to a new six-year contract worth $5.8 million annually.
It's also believed GM
Steve Yzerman
may also make use of the extra cap space to go after another defenseman once free agency begins on July 1.
As for Gagner, who has never appeared in a single NHL playoff game, he joins an Arizona Coyotes team that has missed the playoffs in two straight seasons after advancing to the 2012 Western Conference finals.
Last summer they signed Ribeiro to a four-year deal hoping he could replicate the point-a-game pace he was on during the 2013 season in Washington. It didn't happen and Ribeiro was bought out Friday with GM Don Maloney saying there were off-ice behavioral issues that the team couldn't put up with.
Gagner, who has never scored 20 goals, should thrive playing for Dave Tippett. The Coyotes face the same issues as every other non-playoff team in the Western Conference -- especially playing in the ultra-competitive Pacific Division -- in that there are no easy paths to the postseason. Still it's hard not to imagine that Gagner's move to Phoenix means he's closer to finally getting that first shot at the postseason than had he stayed an Oiler.
February, 6, 2014
Feb 6
12:42
PM ET
We're a day away from Friday's 3 p.m. ET Olympic roster freeze, so you can expect trade talks to pick up a little, although I suspect most of the action will wait until the March 5 trade deadline.
Still, a source told ESPN.com on Thursday that trade talks have intensified between the
Edmonton Oilers
and
Los Angeles Kings
regarding Oilers center
Sam Gagner
.
Gagner carries a $4.8 million cap hit through the 2015-16 season, so he's not your traditional rental player. And Los Angeles has very little wiggle room under the salary cap, so it's unclear yet how they could do this before Friday's deadline.
But the Kings are desperate for offense, sitting 29th in goals per game at 2.26.
The Kings are also believed to have interest in
Matt Moulson
,
Mike Cammalleri
and
Thomas Vanek
-- all three of whom have expiring contracts.
January, 10, 2014
Jan 10
4:47
PM ET
Well, well, Big Buff back up front, eh?
Bring out the 2010 Stanley Cup Chicago flashbacks.
Roberto Luongo
may not sleep now for a while, but
Dustin Byfuglien
is back at forward after playing on defense the past three and a half years.
At least for now, anyway.
Winnipeg Jets
coach Claude Noel is dealing with injuries and a slumping squad, so this is his way to switch things up. Byfuglien will be on the top line with
Andrew Ladd
and
Bryan Little
for Saturday's game against the
Columbus Blue Jackets
.
[+] Enlarge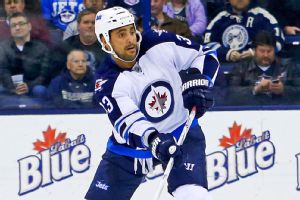 Kirk Irwin/Getty ImagesDustin Byfuglien has a minus-16 rating while averaging 26:03 of ice time on the Jets' blue line.
"We've got some guys banged up, so does everybody, but we've also got guys who haven't got on the scoreboard for quite some time," Noel told ESPN.com on Friday. "My group is kind of stuck to a certain degree. I'm just trying to unclog this thing.
"The other thing is he's an impact player who's hard to handle in a lot of areas; he can help us there. It's a change that might be a breath of fresh air. Will it last long? I don't know. We'll take it game by game for now and see where it goes."
Byfuglien will remain on the point on the power play, so the switch is for even strength purposes. Noel tried this very briefly midgame last season.
"We went down this road last year just for a little bit, the end of a period in one game and the end of a period in another game as well. ... It really hasn't been revisited until now," Noel said. "I had a conversation with him a couple of days ago just about some things and his play, this and that, and this came up."
Byfuglien hasn't been a full-time forward since he was so effective at it in the spring of 2010, helping the Blackhawks win the Cup. He switched to defense once traded to Atlanta that summer, in part because he made it clear that's where he felt more natural and where he prefers playing.
Oh, but was he ever good up front in the spring of 2010.
"He was hard to handle that whole playoff. He scored 11 goals [in 22 playoff games], and he was a factor in helping them win," Noel said. "But he hasn't done it much since then. So we'll see where this goes."
Quite frankly, with the Jets on a four-game losing streak in the midst of a season that has them last in the Central Division, why not try something like this? What is there to lose?
It's not like Byfuglien was having a stellar defensive season on the blue line, as underlined by his minus-16 rating, worst on the Jets.
Heck, if anything, it might take the attention away from the constant frustration and anger seeping into a group that has been losing too many games. It can be a deflective measure.
"That's not why I'm doing it. It's just about trying to win games," Noel said. "But if it happens to bring us a breath of fresh air, fine. But it's really about trying to change things."
This means breaking up the top line.
Blake Wheeler
moved to a line with
Devin Setoguchi
and
Olli Jokinen
at practice Friday after playing most of the past few years with Ladd and Little.
"Once in a while you need to break them up," Noel said of the Ladd-Little-Wheeler line. "I'm not thinking they won't be back together because they've had really good chemistry.
"But for now, we're just trying to get some things going with our whole group."
Gagner on market?
Front-office sources from other teams around the league confirm that center
Sam Gagner
is available in Edmonton.
He's a better player, to be sure, than what he's shown this season, after a broken jaw in preseason set him back. But he has a contract that makes you blink a little: two more years after this season with a $4.8 million cap hit. His salary actually jumps to $5 million next season and in the final year.
Perhaps more troublesome is the early asking price that the Oilers are apparently looking for.
"They want a top-four D or a power forward. Not sure they can get that for Gagner," said one front-office source. "If they want that, maybe they need to put one of the other kids on the block."
I certainly don't blame Oilers GM Craig MacTavish for possibly trying to move Gagner or another forward from his top-nine group. That's where his strength is, and he's got holes everywhere else. More importantly, it's been a nightmare season, and he can't just sit on his hands and wait out the season without trying to shake things up.
All the power to him if he can net what he wants for Gagner.
Tim Murray in Buffalo
It's going to be interesting how new Sabres GM Tim Murray proceeds on the coaching front in Buffalo.
No doubt his new boss
Pat LaFontaine
would have hinted strongly to Murray that he's very fond of interim head coach Ted Nolan.
And certainly I think Murray will give the Nolan experiment a fair shake.
But it's hard not to think that in the back of his mind he doesn't have thoughts of
Luke Richardson
joining him from AHL Binghamton, where the two have had a strong relationship the past few years.
April, 15, 2013
4/15/13
2:43
PM ET
It has been awhile since we've been to Edmonton -- almost as long as it has been since the Oilers qualified for the playoffs, in fact -- but we still can't help but imagine that Bruce Springsteen's "Glory Days" plays in a nonstop loop around the Oiler offices, every day, all day.
That song must have been running full blast Monday, when the news broke that GM Steve Tambellini had been fired and replaced by former head coach Craig MacTavish.
The man behind the firing and the man who introduced the new (er, old?) face of the Oilers' management team on Monday was former GM
Kevin Lowe
, who ascended to the title of president of hockey operations back in 2008, but who has never really let go of the tiller, just as he has apparently never let go of the team's past.
And although Tambellini was an "outside" hire, he was Lowe's hire, and now that Lowe has replaced one pal with another even older pal in MacTavish, has this team really taken a step anywhere but in a circle?
MacTavish, who was the head coach the last time the Oilers made the playoffs, in 2006 -- when they made a surprise run to the Stanley Cup finals, losing in seven games to Carolina -- had returned to the team last year as the team's senior vice president of hockey operations.
MacTavish will be replaced by former Oiler assistant GM Scott Howson, who was fired earlier this year in Columbus, where he was both unpopular and by virtually every measuring stick unsuccessful during his tenure there as GM.
If you think the Oilers organizational chart looks like one of those optical illusions where the stairs are both ascending and descending in a perpetual circle, that's because it is.
Still, there has been nothing circular about the Oilers' evolution as a team -- just a straight descent.
They have missed the playoffs every season since that improbably Cup run in 2006. And even though they have managed the improbable, not to mention embarrassing, feat of collecting three straight No. 1 overall draft picks -- and could conceivably earn a fourth if they get lucky in the math department for a second year in a row (all teams that fail to make the playoffs have at least a shot at the No. 1 pick) -- they still appear to be a team without a clue.
Yes, they have talent.
Taylor Hall
,
Ryan Nugent-Hopkins
and
Nail Yakupov
, who represent the fruits of those three first-overall picks, are gifted players.
Jordan Eberle
is a world-class talent too, and the four are among the team's top five point-producers this season (the fifth is another Oiler prospect,
Sam Gagner
, who was taken sixth overall in 2007).
They also somehow managed to coax
Justin Schultz
, one of the top defensive free agents on the market last summer, to sign on.
And there's the rub, no?
That the Oilers have talent isn't the issue. When you're as lousy as they've been since 2006, you should have young talent. That's how it's supposed to work, and even the least hockey savvy of front offices should be able to make use of repeated top-10 draft picks.
But acquiring talent and building a team are vastly different animals and that's where Lowe and his staff have failed miserably.
Vision? Ha. What's that?
A grand plan to use repeated failures to build a foundation for the long term a la the
Chicago Blackhawks
,
Pittsburgh Penguins
or
Los Angeles Kings
? Ha-ha. Not here. Not yet, at least.
Tambellini paid the price for those failures on Monday with the Oilers in the middle of a season-crushing five-game losing streak during which they have been outscored 17-4. The skid crippled any hopes the youthful Oilers might have of making the playoffs and highlighted some of the myriad holes the organization has failed to address, not the least of which is passable defense and goaltending and leadership.
Tambellini's fault? Maybe. The results are the results.
But before Tambellini it was MacTavish's fault (he "stepped down" as head coach exactly four years ago, in fact), then it was Pat Quinn's fault, then Tom Renney's and, well, funny how the blame always seems to fall away from Lowe, whose roots with this team date to 1979 when the Oilers selected the defenseman 21st overall and whose fingerprints continue to be found all over this aimless franchise.
Does anyone really think that any of those moves happened without Lowe's absolute blessing or, worse, at his prodding?
We recall a conversation with rookie head coach Ralph Krueger in Nashville shortly before the Oilers were embarrassed 6-0. He talked about need to temper outside expectations for a sudden revival against the reality of the steep learning curve this team needs to follow.
Fair enough. And we hope MacLowe, er, MacTavish, has enough sense to let Krueger get on with the complicated task of teaching this team how to win.
It was certainly interesting, though, to hear MacTavish talk Monday about his lack of patience and how he believes the time is ripe for bold moves for this team. But will he have the autonomy to make such moves? More to the point, will he have the autonomy and the hockey smarts to put in place the kind of hockey plan that was obviously missing?
No one knows whether MacTavish has the goods to turn this team around. He acknowledged as much Monday, saying that it doesn't matter what is said today, rather the actions that take place down the road will represent the true test of where this team is headed.
But the fact is MacTavish is yet another link to a past whose light continues to shine white hot on the present. Until he produces a winner or at least a team that looks like a team, he will be just another buddy getting a promotion, especially given the number of quality hockey minds toiling in other organizations, like Paul Fenton,
Tom Kurvers
,
Claude Loiselle
, Jim Nill et al., who have more impressive credentials.
In the end, we can't help but wonder if this is less about personnel and more about environment.
Look at the change at the very top in Montreal, a team that constantly struggles with the ghosts of past glories and how that has invigorated the Northeast Division-leading Habs. How about the change in Columbus, where new president John Davidson and new GM
Jarmo Kekalainen
are making a last-minute, spirited run at a playoff berth after years of being a laughingstock.
Lowe even played into the strange Oiler dynamic Monday, talking about how he knows about winning because he won Stanley Cups. True, but that was almost two decades ago. Two decades. Holy time warp, Batman.
Which makes you wonder where Oilers ownership is in this equation. What does Daryl Katz see when he looks at the circle dance being played out in the team's boardrooms?
Or is Katz listening to too much Bruce Springsteen too?
How does that line go?
"She says when she feels like crying she starts laughing, thinking about/glory days."
For Oiler fans, there has been far more crying than glory for a long, long time and Monday's shuffling of the deck chairs seems unlikely to change that anytime soon.
October, 16, 2012
10/16/12
10:10
AM ET
By
Sarah Goldstein
| ESPN.com
February, 12, 2012
2/12/12
11:40
PM ET
Here's all you need to know about the weekend's action without having to watch the pesky games. It's like CliffsNotes/Coles Notes without the gaudy bee stripes.
SUNDAY
--The Red Wings
tied the record for most consecutive home wins
, even without
Jimmy Howard
in net. They have a chance to set the record Tuesday against Dallas. Start covering the furniture with plastic because the champagne is coming out.
--
Evgeni Malkin
continues to light it up
, scoring a pair to give him a 5-5-10 February. El Penguinos don't need that Crosby fella.
--
Ryan Callahan
made like
Sam Gagner
, scoring his fifth goal in three games
to lead the Rangers over the Caps
. The Rangers are 19-5-1 in their past 25 games. Considering the distractions his team has had this season, John Tortorella has to be a lock for the Jack Adams.
--
Jaroslav Halak
earned his fifth shutout in his past 10 starts
as the Blues blanked the Sharks
. Oh, and as if the Blues aren't scary enough,
Andy McDonald
came back after sitting for 51 games as a concussed guy. Now if only someone would buy the team.
--
Corey Perry
's not going anywhere, especially after
firing his impressive hatter
against the Woe Jackets.
SATURDAY
--
Mats Sundin
's number was retired -- sorry, the Leafs are above that tradition, so that should be "honored" -- before the Leafs-Habs game. As is usually the case in Toronto, the fans got all teary-eyed about a great player they didn't appreciate when he was playing for them. Sundin did the best he could, people. Dude deserved more love after being the captain of a rodeo that had bucking broncos
Shayne Corson
,
Darcy Tucker
and
Travis Green
.
-- Again with the Evgeni Malkin: He kept the scorekeeper busy with his five-point night in a throwback 8-5 win over the Jets.
Jordan Staal
came back and scored, too. Sheesh. Cribbed from Elias: Malkin's third five-point game of the season made him one of three players to score five or more points in three games in one season since 1998–99. The other two:
Alex Ovechkin
, in 2007–08 and
Sidney Crosby
, in 2009–10.
-- The Bruins beat the Predators in a shootout.
Pekka Rinne
made twice as many saves as
Tim Thomas
, but lost anyway. I don't trust Google Translate, so I'm uncertain if the Finnish Pekka complained afterward on his Facebook page about the injustice of it all.
-- Sam Gagner ends his amazing scoring streak in Ottawa. Doesn't he know most out-of-town folks have to go across the river to Gatineau to score?
February, 6, 2012
2/06/12
10:02
PM ET
TORONTO -- A little chat with Dad during the All-Star break has done wonders for
Sam Gagner
.
Frustrated by a season that saw him dropped mostly into a third-line role and trade rumors swirling around him to boot, the 22-year-old
Edmonton Oilers
forward got some well-needed advice from his father,
Dave Gagner
, a former NHL All-Star forward himself.
"It came from my experiences when I played, I had to go through a lot of adversity early on, and people doubting me like I was a failure as a first-round pick," Dave Gagner told ESPN.com during Monday night's Oilers-Leafs game at Air Canada Centre. "You have to learn to deal with it and forget about it and focus on the game. He's been able to maintain his confidence level pretty good throughout all this, but it's tough when a lot of people are doubting you, and when you're that young.''
His mind at ease from the pep talk with Dad -- who was selected 12th overall by the
New York Rangers
in 1983 and is now the director of player development for the
Vancouver Canucks
-- Sam Gagner has exploded out of the All-Star break with 13 points (6-7) in four games, eight of them of course in that one memorable evening against the
Chicago Blackhawks
last Thursday night.
"The trade rumors are something that I haven't really dealt with up to this my point in my career because I'm so young. That was tough to deal with,'' Sam Gagner told ESPN.com Monday. "But the All-Star break was really good for me, just to re-energize and refocus. I changed my mindset as I was coming back. I wanted to get rid of the distractions and just focus on what it takes for me to be a great player in this league. I think that was a big thing for me and hopefully I can just keep it going here.''
It's as if Gagner, Edmonton's first pick (sixth overall) in the 2007 NHL entry draft, has decided enough was enough. He doesn't want to be left behind in this Oilers renaissance that is keyed by youngsters
Jordan Eberle
,
Ryan Nugent-Hopkins
and
Taylor Hall
. He wants to remind people he's got lots of talent, too. And there's a little advice from Dad in that sentiment, too.
"He's played 336 NHL games,'' Dave Gagner said during his son's 337th game. "Now is the time to take charge, take the bull by the horn. He's a great kid that way, he's always listened, he's always been very coachable that way.''
His trade value could have only gone up with his performance over the past seven days. But the Oilers insist they are not looking to move him.
"We're not shopping Sam Gagner,'' Oilers GM Steve Tambellini told ESPN.com just before puck drop Monday night. "We've always been consistent with Sam. We've always wanted him to be an emerging contributor that can provide leadership and talent to our hockey club. And I don't see anything else but that.''
Another NHL GM told ESPN.com Monday that Gagner could be had but it would be a steep price to pay. Of course, you could say that for a lot of players on all 30 NHL rosters.
What's apparent is that when Gagner was being used as a third-line winger this season, it certainly wasn't where he pictured the rest of his career playing out. On Monday night, he centered Hall and Eberle on the top line for a third straight game, picking up an assist on the opening goal.
He's shown in the last few games what he can do in a top-six role.
"I've always wanted that if I was going to get a consistent opportunity to make sure I was ready for it,'' said Sam Gagner. "Obviously with Taylor and Jordan, they're such great players, you want to be a guy that really steps up playing with them.''
Long term, let's be honest here, Nugent-Hopkins is the No. 1 center on this team. Which means if there's a future in Edmonton for Gagner, it's going to be as a No. 2 center. Which is still a top-six role.
"His skating is just above average and his size isn't great," an NHL scout, who requested anonymity, told ESPN.com. "But he's got great hands, he's smart and he competes real hard, which is what you like to see. And he's got a great shot from in close.''
There was certainly nothing wrong with his game last Thursday night when he tied a club record held by Wayne Gretzky and
Paul Coffey
for most points in a game. Talk about royal company. The Great One sent Gagner a text while Coffey also reached out, and on Monday morning even met with Gagner at the Air Canada Centre.
"It was incredible for them to take time to do that,'' Gagner said of Gretzky and Coffey. "For Paul to come here (Monday) morning and say hi to me, and for him and Wayne to contact me after that, it just shows how classy they are. It's a great part of our game and it meant a lot to me.''
What meant a lot to Gagner, too, was coming right back out Saturday night against Detroit and having another productive game with three points (2-1). He didn't want his eight-point game to be a one-hit wonder.
"That was a big thing for me. I wanted to make sure I continued to play the same way," said Gagner. "A lot of times after a game like that, you start maybe cheating for points and think it's going to come easy. I just wanted to play the same way, go hard to the net and try and create as many chances as I could. Obviously, my linemates have done a great job helping me out. We're just hoping to keep it going.''
His post-All-Star tear has also provided him a moment of clarity.
"I think it helped clear up some doubts in my own mind of what I am as a player," he said. "It helped with my confidence. I always knew I had the ability to be that player. Given the opportunity in the last little while, it's been great for me and it's help me to realize that. I hope I can just keep it going here. Whatever happens in the future, it happens. All I focus on is my game and becoming a better player.''
Pierre LeBrun covers the NHL for ESPN.com
February, 3, 2012
2/03/12
11:24
AM ET
By
ESPN Stats
and
Information Group
| ESPN.com
Edmonton's
Sam Gagner
had a hand in all 8 Oilers' goals, with 4 goals and 4 assists, tying the Oilers' franchise record for points in a game, done once before by
Paul Coffey
and twice by Wayne Gretzky. Gagner is the 1st player with 8 points in an NHL game since
Mario Lemieux
on New Year's Eve in 1988. Gagner entered the game with just 5 goals in 43 games this season. It's his 2nd career hat trick. His previous high for points in a game was 4.
From the Elias Sports Bureau: Sam Gagner had 4 goals and 4 assists in the Oilers' 8-4 victory. Gagner is only the 2nd player in NHL history to record a point on every one of his team's goals in a game in which his team scored at least 8 times. Mario Lemieux scored 5 goals and had 3 helpers in an 8-6 win for the Penguins over the Devils on December 31, 1988.
Most Points in Single Game - NHL Since 1987-88 Season
Sam Gagner 8 Thursday
Mario Lemieux 8 Dec. 31, 1988
Bernie Nicholls
8 Dec. 1, 1988
Mario Lemieux 8 Oct. 15, 1988
Most Points in a Game - Oilers Franchise History
Thursday: Sam Gagner >>8
March 1986: Paul Coffey 8
Jan. 1984: Wayne Gretzky 8
Nov. 1983: Wayne Gretzky 8
>>1st 8-point game in NHL since Mario Lemieux in December 1988
February, 3, 2012
2/03/12
10:44
AM ET
Today, the fellas go at it over Sam Gagner, the Blackhawks and Jimmy Howard's pinkie. Bring it.
BURNSIDE:
Greetings, my friend. Well, that was one for the ages for Sam Gagner on Thursday night, wasn't it? The young Edmonton Oiler who has been the subject of trade rumors scored four times and added four assists as the Oilers spanked the
Chicago Blackhawks
8-4. It's the second time this season the Hawks have been crushed by the lowly Oil, having suffered a 9-2 pasting earlier in the season. Gagner, the sixth overall pick in the 2007 draft, has never quite lived up to expectations, and you wonder whether he is another example of a player who was rushed too quickly -- and the result has been an eroding of confidence and production. Even with his four-goal outburst Thursday, Gagner has just nine goals on the season and has never topped the 16-goal mark. Likewise, he has yet to equal the 49-point mark he established in his rookie season.
So, does a night like Thursday that saw him equal a franchise mark established in the Oilers' glory days by Wayne Gretzky and
Paul Coffey
suddenly make him attractive on the open market? You'd have to think Blackhawks GM Stan Bowman will remember this performance as he trawls for some offensive depth and a defenseman before the Feb. 27 trade deadline. Of course, Hawks fans will be up in arms about another disappointing defensive/goaltending outing that saw
Corey Crawford
yanked early in the third period after having allowed five goals on 28 shots. There aren't any real obvious fixes to the Hawks' goaltending issues, assuming you believe there are issues.
Evgeni Nabokov
? Hardly seems like an upgrade. What say you, my friend?
LEBRUN:
Gagner got to play between
Taylor Hall
and
Jordan Eberle
on Thursday night, and you saw what he can do when he gets an opportunity. What a sensational and historical night for Gagner. He's been subject of trade rumors because his camp wondered whether he'd be a better fit elsewhere because he's mostly played on the third line this season. His people believe that he's at least a second-line center. If the Oilers do trade him, and that's far from certain, they'd require a top-four defenseman in return, the one area they're keenly focused on improving. My sense, though, is that the Oilers will keep Gagner.
As for the Hawks, now 25th in the NHL in goals against per game, the search for a defenseman takes on added pressure after that mess. Crawford must take his share of the blame, as well, but I really don't think the Hawks are looking for another goalie at this point. I think they're committed to the sophomore netminder. He was dynamite in the first round of the playoffs against Vancouver this past spring, and there's no way that was a fluke.
BURNSIDE:
Here's the dilemma for Bowman, as I see it. The Blackhawks can light it up with anyone in the league -- they are fourth in goals per game -- and have a blue line that boasts top-end talent in former Norris Trophy winner
Duncan Keith
, Canadian Olympian
Brent Seabrook
and up-and-coming blueliner
Nick Leddy
. But right now, where would you rank their goaltending in the conference? Hard to argue that Jimmy Howard (more on him in a moment),
Roberto Luongo
/
Cory Schneider
,
Brian Elliott
/
Jaroslav Halak
,
Pekka Rinne
and
Antti Niemi
wouldn't rank ahead of Crawford (and Chicago backup
Ray Emery
). Throw in
Jonathan Quick
, who is having a Vezina-worthy season in Los Angeles, and
Niklas Backstrom
of the eighth-place Wild, and you could argue quite persuasively that the Blackhawks have the worst goaltending of the eight teams currently in the playoff bracket in the West. Can they overcome that and win a round or two or more? Well, that's the great debate, no?
The Blackhawks, in the middle of a nine-game road trip, travel to Calgary on Friday night. Calgary is another one of those teams trying to decide if it's a buyer or a seller. If the Flames fall off the pace -- they are five points out of eighth in 11th place as we speak -- you have to wonder whether GM Jay Feaster might entertain offers for
Miikka Kiprusoff
. The veteran netminder has a no-move clause through the end of this season, but the Flames' rebuilding has to start somewhere, no? And given Feaster's repeated insistence that he's not moving captain
Jarome Iginla
, maybe Kiprusoff is where it starts. And if you're Chicago, well, food for thought, no?
LEBRUN:
The Hawks won the Cup with an untested rookie in Niemi in June 2010. I rest my case. Speaking of goaltending, though, the Red Wings will have to do without Howard for a bit. The NHL's wins leader (32) suffered a broken pinkie finger in Thursday night's 4-3 shootout victory at Vancouver. The Wings officially say Howard will miss two games before being re-evaluated after the team returns home from its road trip. A source told ESPN.com Friday morning that he might be out two weeks or so. Either way, it doesn't sound too serious.
Joey MacDonald
has been called up to back up
Ty Conklin
, whom head coach Mike Babcock hasn't showed a whole lot of confidence in this season. This should be an interesting test for the Wings.
BURNSIDE:
You are right about the Red Wings' goaltending depth issues. Conklin has played in only 10 games this season and has an .886 save percentage. Even though Howard's injury doesn't sound that serious long-term, do you think this hastens the urgency to find a more suitable backup for the Red Wings? It was GM Ken Holland, after all, who tried to nab Nabokov a year ago when the former San Jose mainstay cut short his experience in the Kontinental Hockey League. The
New York Islanders
grabbed him, however, and Nabokov has been OK with a pretty mediocre Islanders squad. But he's not the long-term answer there. (
Kevin Poulin
appears to be the heir apparent with
Al Montoya
still looking to get a shot at the No. 1 job, too.) So, Nabokov to Detroit does seem a logical move and perhaps even more so with Friday's news.
LEBRUN:
I think it really depends on how Conklin or MacDonald do in Howard's absence and how long Howard ends up being out. If for some reason the backups struggle and Howard doesn't heal quite as quickly as the Wings had hoped, maybe it forces Detroit's hand. But otherwise, I don't think that's a priority for Detroit right now. My understanding is that the Wings will consider acquiring a top-six forward the most important item on their shopping list before Feb. 27, and that remains the case even with Howard's injury.
Well, my friend, enjoy the weekend, and we'll get back to this next week.
December, 1, 2010
12/01/10
6:44
PM ET
In honor of "Movember," many NHL players started growing moustaches to raise money and awareness for cancers affecting men.
Anaheim forward George Parros led the way by shaving off his moustache at the beginning of the month and growing it back.
Now that the month is over, it is time to see who grew the best stache.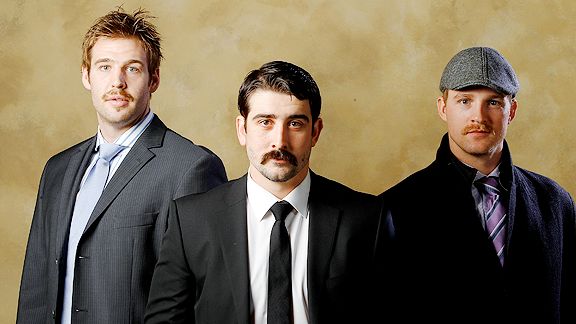 Bruce Kluckhohn/NHLI/Getty ImagesThe Wild's Clayton Stoner, Cal Clutterbuck and Kyle Brodziak show off their Movember moustaches.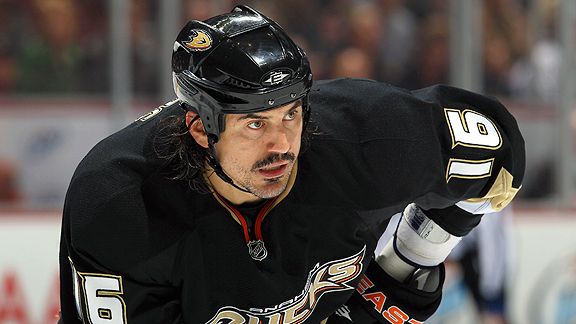 Jeff Gross/Getty ImagesParros has an apparel line, 'Stache Gear, using his moustache as the logo, that raises funds for cancer.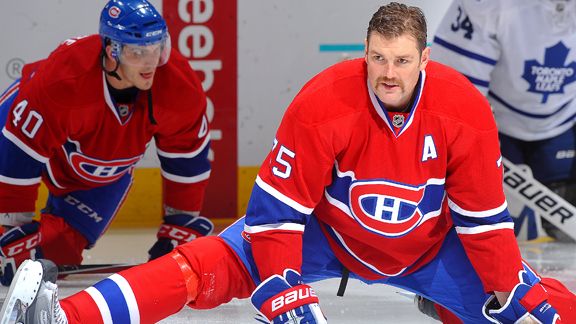 Francois Lacasse/NHLI/Getty ImagesCanadiens captain Hal Gill led his teammates in an effort to raise awareness.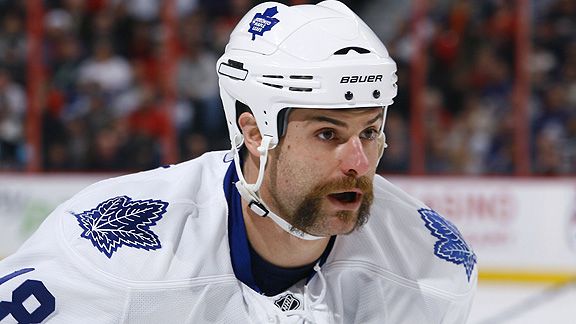 Phillip MacCallum/Getty ImagesGrowing a moustache was nothing new for the Maple Leafs' Mike Brown.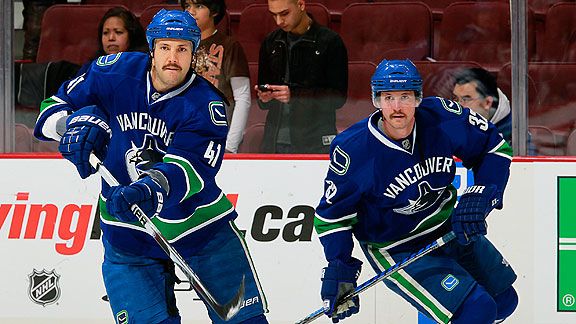 Jeff Vinnick/NHLI/Getty ImagesCanucks players Andrew Alberts and Joel Perrault joined in the fun.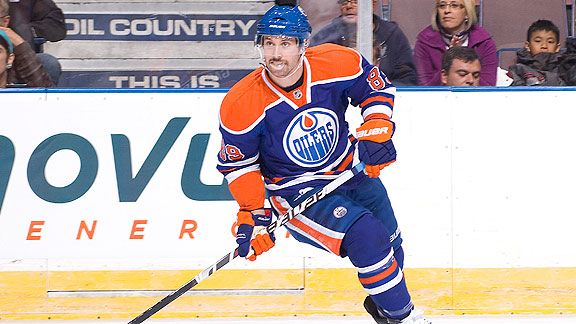 Andy Devlin/NHLI/Getty ImagesSam Gagner was one of 10 Oilers players to grow a moustache for Movember.